January 21 - 27, 2018: Issue 344

North Narrabeen Surfers Carving It Up At 2018 Carve Pro At Maroubra Beach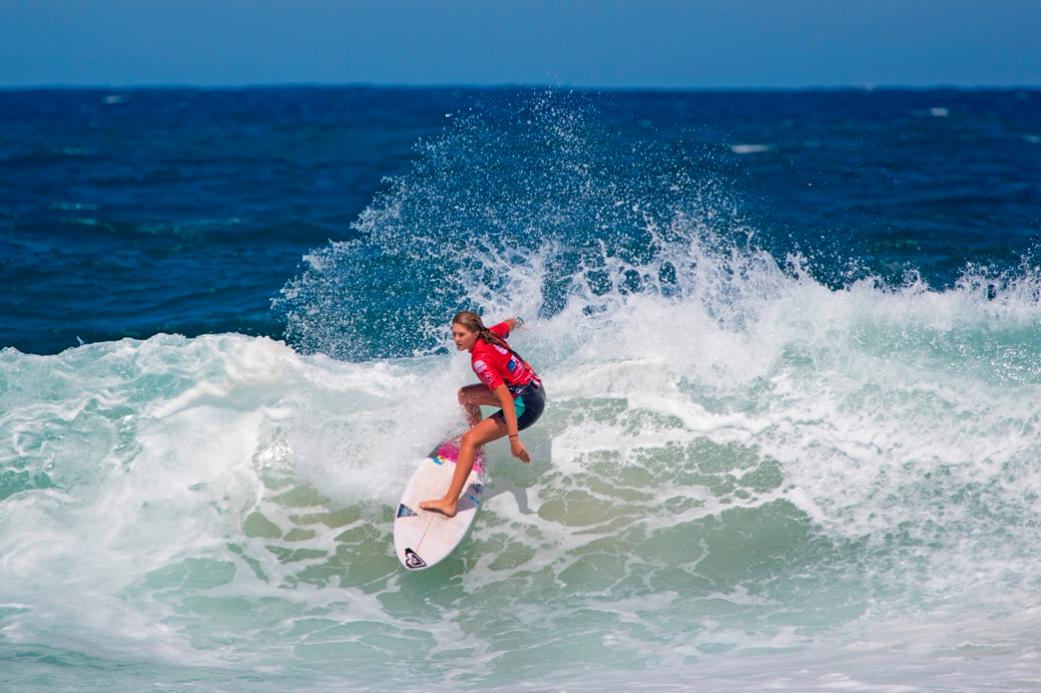 North Narrabeen's Sophia Chapman on her way to a Round One victory at Maroubra. Sophia eliminated the

Women's

top seed
in Saturday's quarterfinals and will surf on semifinals and

Finals day - today, Sunday January 21st

.
The Carve Pro runs at Maroubra Beach from January 18 - 21 and will be

broadcast live on the 20th and 21st at
www.worldsurfleague.com
and on the WSL App.

Head there for more information, highlights and images.
Photo by Ethan Smith / Surfing NSW.
Maroubra Beach is currently hosting the 2018 Carve Pro World Surf League (WSL) Qualifying Series (QS) 1000 event.
The elite four-day competition – which is the first of four stops on the Vissla NSW Pro Surf Series – takes place from 18 – 21 January, 2018.
200 of Australia's and the world's most promising male and female surfers are competing in the event.
Jacinta Greenup (Cabarita, NSW), Hinata Aizawa (Burleigh Heads, Qld), Jordan Winstrom (Cronulla, NSW), Tye Koolis (Maroubra, NSW)
Sophia Chapman (North Narrabeen, NSW)
and Shira Arakawa (Maroubra, NSW) were all awarded wildcard entries into the event and will make an appearance in the seeded rounds.
Carve Director Matt Whyte said the event had gone from strength to strength over the last few years.
"The Carve Pro has grown exponentially since it went from a Pro Junior to a Qualifying Series event in 2016," said Whyte. "Since then, we've seen competitors who were junior stars grow into genuine QS warriors and we can't wait to see who emerges through the ranks when the event kicks off."
What's happened so far, Thursday to Saturday,
HERE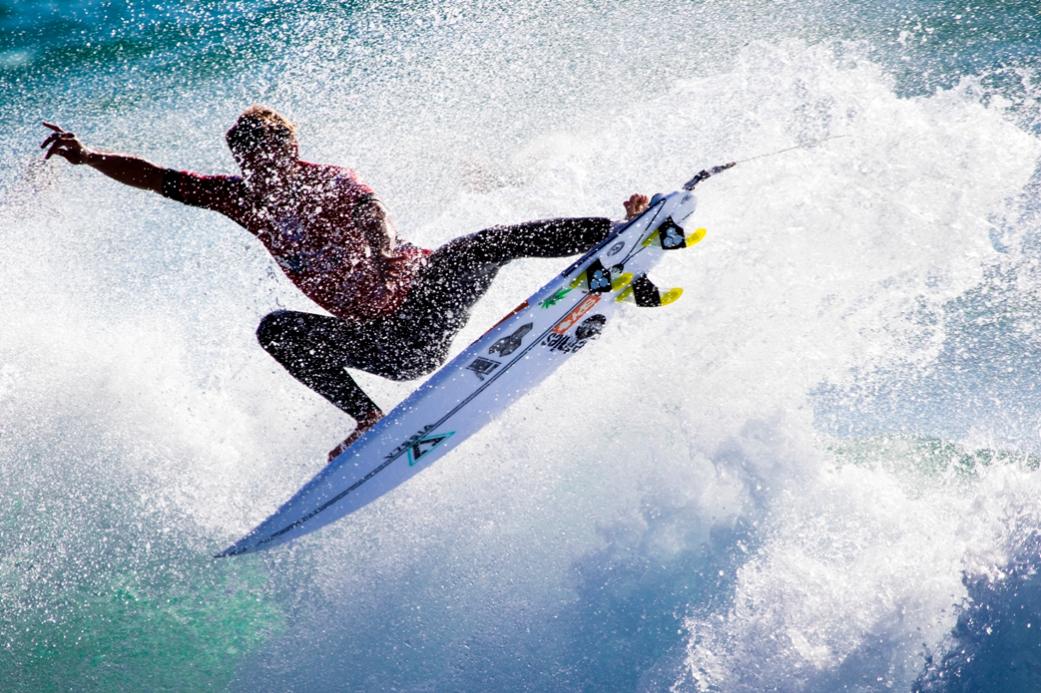 Jordy Lawler, also a North Narrabeen surfer, progresses through Round 3 at the 2018 Carve Pro.
Photo by Ethan Smith / Surfing NSW.
Sydney Art Space (Mona Vale) 2018 Exhibition of Sculpture, Drawing and Painting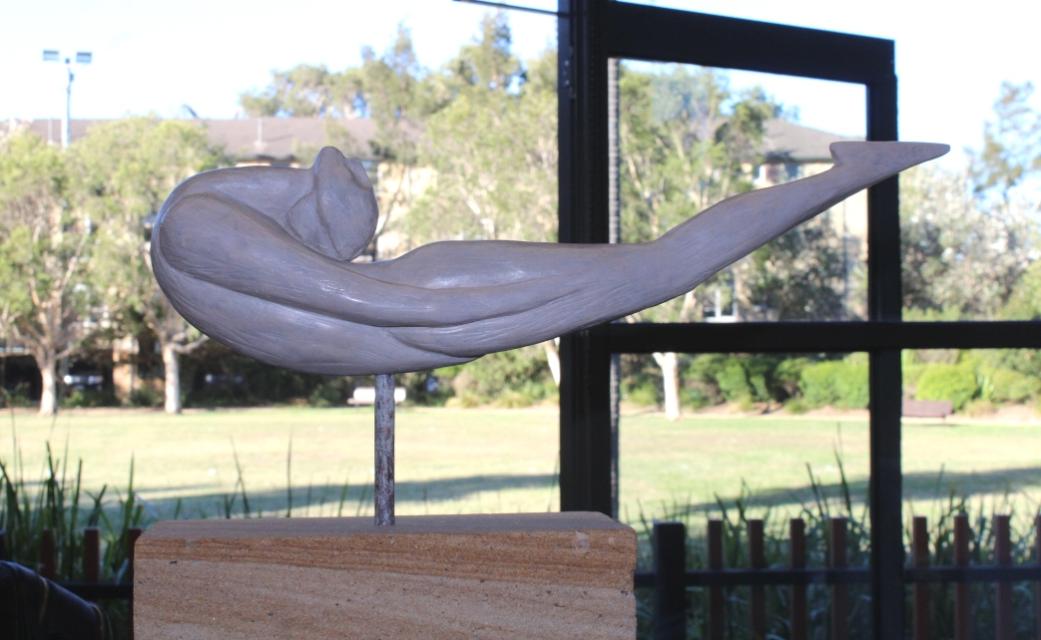 Birdwoman, Tina Henry - Acrylic resin, oxides, sandstone base - Not For Sale.
The Sydney Art Space yearly exhibition kicked off on Thursday this week at Avalon Recreation Centre with some great artworks, including 51 Sculptures and 35 Drawing and Painting exhibits.

The Exhibition's final day is today, Sunday January 20th - open until 4 p.m.
Celebrating another year of fabulous creativity at Sydney Art Space with students and tutors, the Exhibition shows what can be done with skilled creatives to show you 'how to'.
Sydney Art Space, at Mona Vale, is the inspiration of multi-form artist and educator Christine Simpson who had the dream of creating an art's environment that provided quality art courses, quality art tutors and diverse and interesting open forums and workshops for the broader community.
Being principal educator at Ingleside's The Shed Sculpture Studio for the past 12 years, with a Diploma in Education, and the completion of a Master of Fine Art and Master of Studio Art at Sydney University's Sydney College of the Arts, Christine's arts practice-education knowledge led to the opening and delivering of a quality arts teaching facility.
Councillor Penny Philpott opened the exhibition, stating she was overwhelmed by the range of talent and works displayed.
"I know there's so much talent on the northern beaches, but wow, look at what is here in this room. Congratulations to all of you Artists, you have done an amazing job. Congratulations to all the teachers present too, I'm sure the results reflect what you have given too.
Christine tells me what we see here tonight is the work of 40 pupils.
I went to university with Christine at the Sydney College of the Arts and she was fun and inspirational, just like all the works shown here. The mixture of mediums here is just great; Paper Mache, clay, bronzes, the Life Drawing works are fantastic.
Michael Regan, Mayor for the Northern Breaches, in a rash moment called me the 'Minister for the Arts'. I think he was joking but I said 'I'm running with it'.
For years and years I pushed for funding for the Arts and we got 4 million dollars which we're in the process of spending. A million dollars of that is going to a new creative space somewhere in this area.
I had a walk around in the Pittwater area with Councillor Alex McTaggart and we had a look at several places that may be suitable for this new creative space.
I saw the Avalon Golf Course clubhouse and I think that would be wonderful. I'm not sure if it's up for grabs, but it would be wonderful because we could do Residencies there.
I'd also urge you to look forward to the walkway that is going in from Manly to Palm Beach as we will be putting some form of sculpture into there. All you Sculptors should keep an eye out for this as it will present a great opportunity for you.
Bayview Yacht Racing
Association (BYRA): For Fair Winds Sailing In Pittwater's Estuary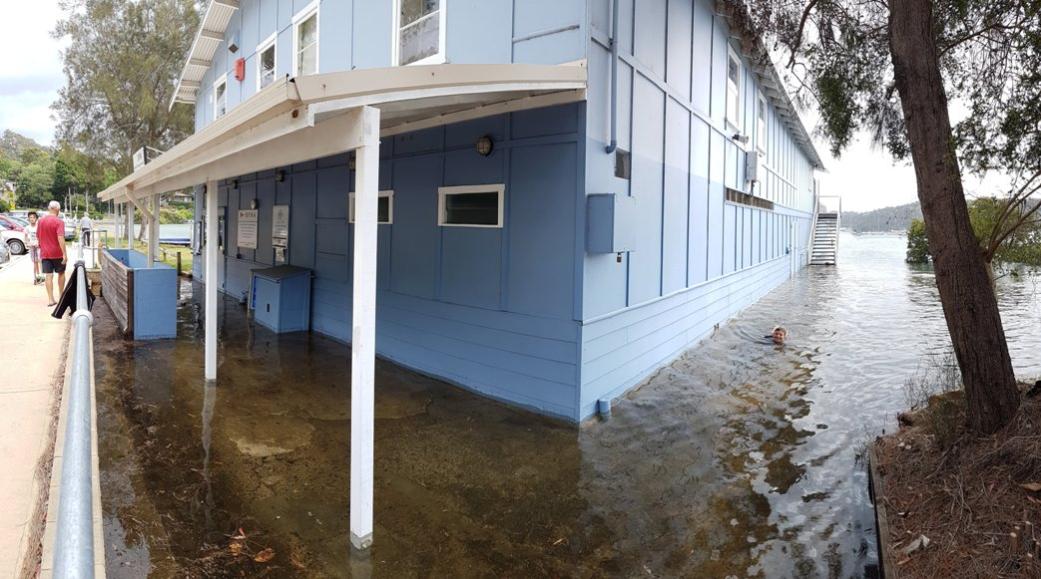 King Tide at BYRA, Summer 2017-2018 in Pittwater - photo courtesy
Ian Urban of the NS14 fleet
Our Profile of the week is the wonderful
Bayview Yacht Racing
Association (BYRA), a Pittwater institution to many.
Rob Warnes, Commodore of BYRA, has a passion for sharing the great waters of Pittwater and a love of sailing with everyone aged 8 to 80 or over!

"This year rather than having a particular day or morning for TRY A SAIL it has been decided that every Sunday is a TRY A SAIL Day and we welcome newcomers." Rob told us this week.
"At t
his time of year, new members can join for the second half of the season at a 50% discount. So, if you have friends interested let them know."
BYRA, Pittwater's Family orientated Sailing Club, is holding a

Learn to Sail course

in the sheltered waters off the Clubhouse in Bayview this week.
Youngsters from 8 and 14 years are welcome. Over the three days the course their Australia Sailing qualified coaches will introduce the sport of Sailing, regulations and safety, with lots of educational activities for the kids to learn in a safe environment.
Boats and life jackets are provided by the club.
BYRA'S SUMMER HOLIDAY SAILING PROGRAM
23 TO 25 JANUARY 2018 FROM 9:30 TO 3:30PM
On Friday, January 26th, members will be volunteers helping out at Avalon Sailing Club's 2018 Australia Day Regatta - the two clubs have been sailing against each other, and enjoying sailing together, since the earliest years of both of these on the Pittwater estuary based clubs.
This week a small insight into one of Pittwater's GREAT Sailing Clubs - jump aboard, you won't be sorry getting involved in sailing here - these are great people making sure everyone gets a chance to enjoy the best waterway in the world!
2018 Surf Life Saving Interstates Championships: New South Wales Wins!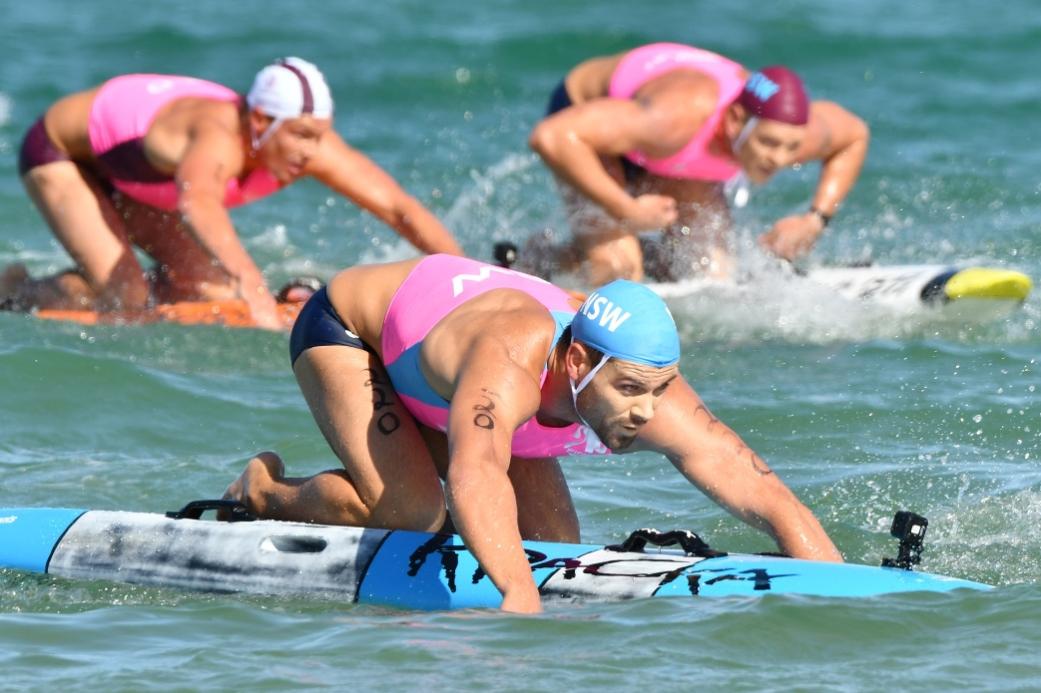 Temperatures Soared As New South Wales Won The 2018 Interstate Championships
Report and photos by Surf Life Saving Australia
The racing was as heated as the temperature at the 2018 Interstate Championships today where the star studded New South Wales (NSW) team secured the title.
With just nine points on second place it was a fight to the finish for the winning team who finished on 280, followed closely by Queensland Cyclones with 271. West Australia wrapped up the third place with a total point score of 192.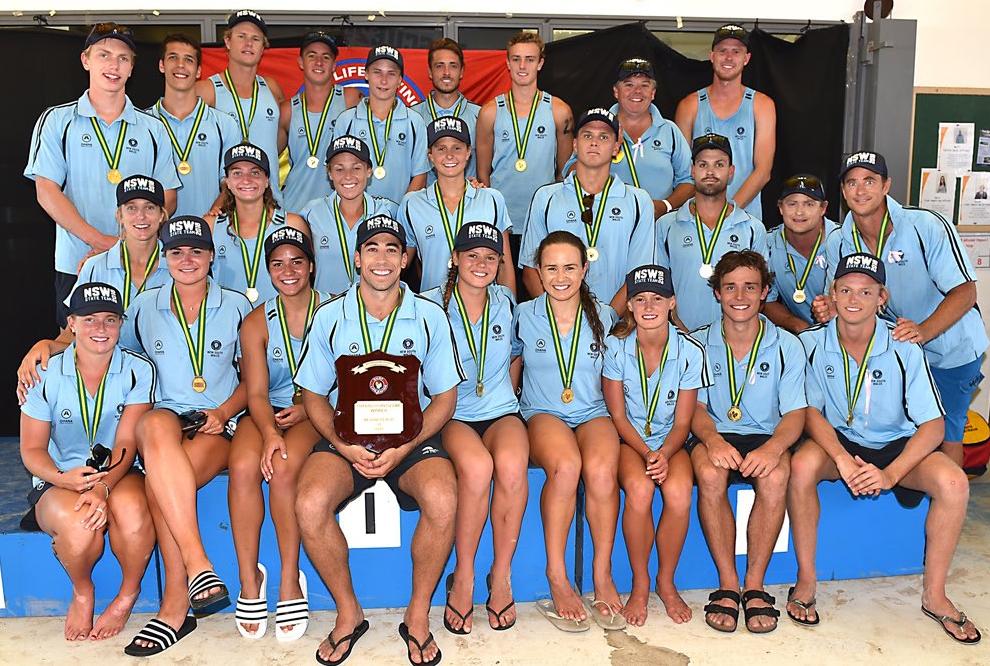 It may very well have been the strategic power play used in the men's and women's open flag's that paid dividends for NSW, with wins from Jake Lynch and Bree Masters earning a solid 26 points for the team.
"We stacked the beach time this year and call it a power play, but it did mean we had to make our water people step up" said NSW Coach Jim Walker.
"All the young kids coming into the team, Nicola Owen, Naomi Scott, Lizzie Welborn, Jemma Smith, Hayden White, Mitchell Trim, they all had to step up and they did."
Walker beamed with pride at what he called a truly united team effort by every member of the 24-strong team.
"We didn't have an individual performance, we didn't have an individual person we had a team performance. That's what got us home."
Rip Curl GromSearch National Finals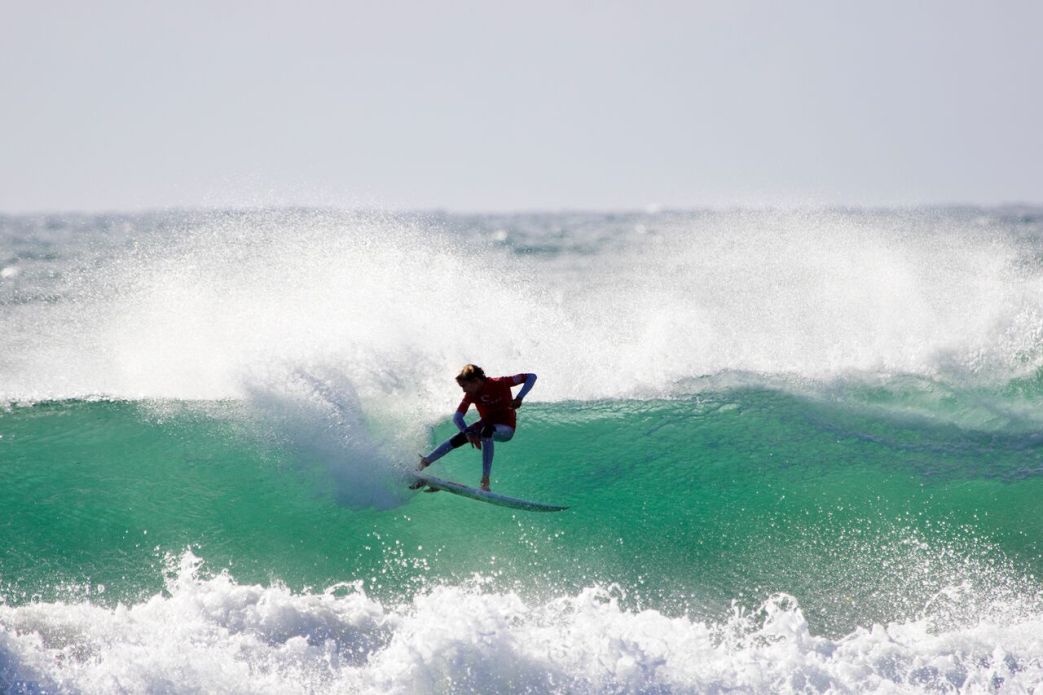 Manly's Winter Vincent, wins 12's Boys in GromSearch Finals 2018 - Photo by Ethan Smith / Surfing NSW.
The final day of the Rip Curl GromSearch National Final pres. by Flight Centre shifted north to Sandon Point on Wednesday, January 17th, where competitors were greeted with pumping four-to-six foot waves.
Nyxie Ryan (Lennox Head, NSW) was able to nab her third GromSearch National Title in as many years, taking out the 14-Girls division. Ryan was able to post a near perfect 9.43 wave score in the final which gave her the upper hand against fellow event standout Cedar Leigh-Jones (Whale Beach, NSW) who held onto the lead for a large portion of the heat.
After blowing away spectators and judges in the early rounds, Winter Vincent (Manly, NSW) was able to continue his highlight reel performance through the final 12-Boys heats. Vincent came up against a blistering Matt Boyle (Currumbin, Qld) in the final, which saw both surfers trading off a handful of decent scores. However, Vincent was able to get the edge thanks to posting a 6.93 wave score on his final wave of the heat.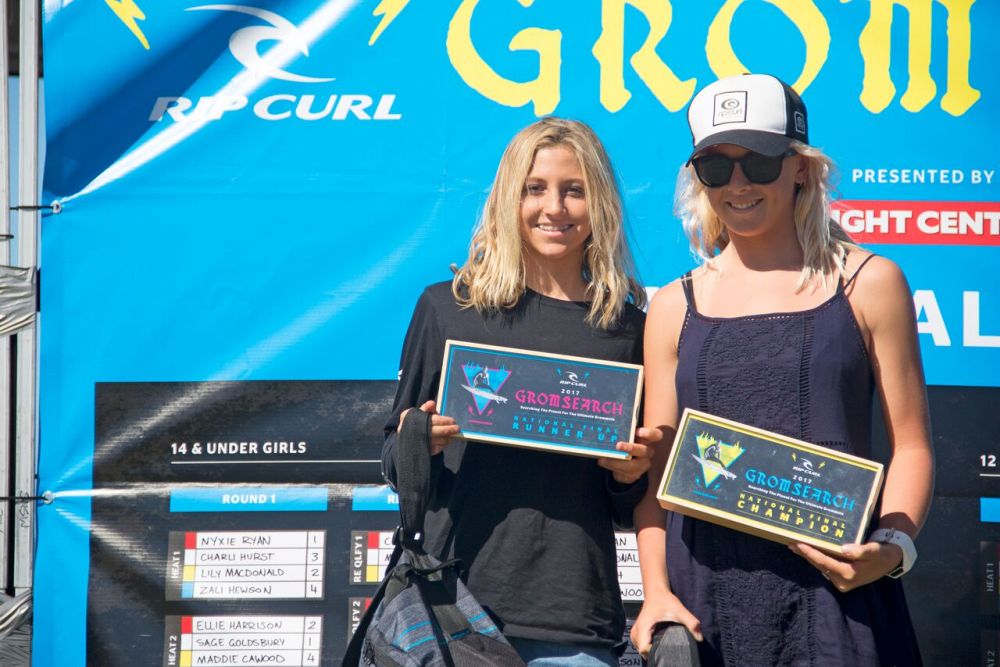 14-and-Under Girls - Whaley's Cedar (left) and
Nyxie Ryan
Summer In Pittwater: 2018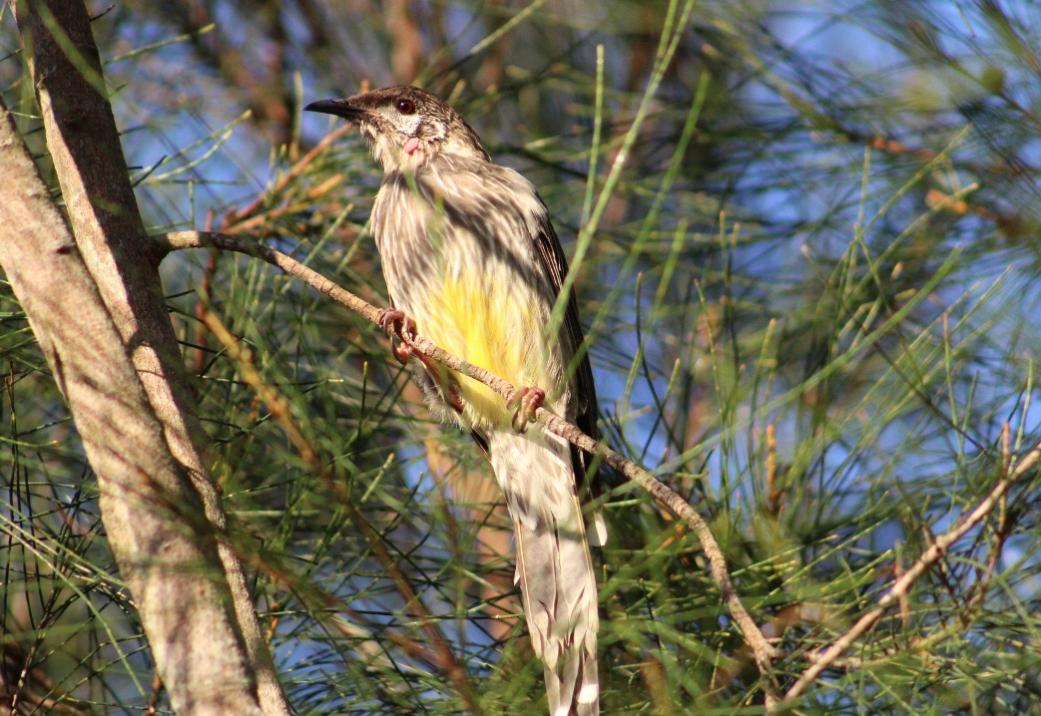 The Red Wattlebird - Anthochaera Carunculata
The red wattlebird (Anthochaera carunculata) is a passerine bird native to southern Australia. At 33–37 cm (13–14 1⁄2 in) in length, it is the second largest species of Australian honeyeater. It has mainly grey-brown plumage, with red eyes, distinctive pinkish-red wattles on either side of the neck, white streaks on the chest and a large bright yellow patch on the lower belly. The sexes are similar in plumage. Juveniles have less prominent wattles and browner eyes.

The red wattlebird was first described as the wattled bee-eater by the Irish surgeon and naturalist John White in his Journal of a Voyage to New South Wales, which was published in 1790. He wrote that it was the "size of a missel thrush, but much larger in proportion". The taxonomic descriptions in White's book are believed to have been written by the English naturalist George Shaw, who is generally credited as the author by subsequent authorities. The specific epithet, carunculata, was introduced later in the same year by John Latham. The word is derived from caruncula, Latin for a small piece of flesh. Both Shaw and Latham assigned the red wattlebird to the genus Merops. The species was moved to Anthochaera in 1827 by the naturalists Nicholas Aylward Vigors and Thomas Horsfield.
Common names include gillbird, gilly warbler, barkingbird, muttonbird, butcherbird, what's o clock and chock. The red wattlebird was given names by the local indigenous people that were onomatopoeic (sounding like the calls they make). Names recorded include wodjalok, durdal, doongorok, and djoongong (this last name is also applied to the western wattlebird). In the Eyre Peninsula in South Australia, the local Barngarla people knew it as ngarkarko or ngarkabukko. The local people of Denial Bay in South Australia called it noggal, and the Ngarrindjeri people of the Lower Murray region in South Australia knew it as rungkan.
Early colonists, and those who visited Pittwater, often used to hunt this bird, called by them 'gillbird', for food. Perhaps one of the reasons it is so 'flighty' around humans now.
Visit My Holiday By Charles De Boos – 1861
There are three recognised subspecies.
The nests of red wattlebirds are often parasitized by the pallid cuckoo (Cacomantis pallidus), and less commonly by the Pacific koel (Eudynamys orientalis). Nest predators include the brown goshawk (Accipiter fasciatus), black falcon (Falco subniger), pied currawong, Australian raven (Corvus coronoides), common brushtail possum (Trichosurus vulpecula), domestic cat, and snakes.

The species is found in southeast Queensland, New South Wales, Victoria, South Australia and southwest Western Australia in open forest and woodland, and is a common visitor to urban gardens and parks. Loud and conspicuous, the red wattlebird is generally found in trees, where it gets most of its food; occasionally it forages on the ground. It is one of the largest nectarivorous birds in the world, feeding from a wide variety of flowering plants. Insects also comprise part of its diet. It is territorial and at times aggressive to birds of other species, often defending rich sources of nectar. Breeding throughout its range, the red wattlebird builds a cup-shaped nest in a tree and raises one to two broods a year. Although it has declined in places from land clearing, it is classified as Least Concern on the IUCN Red List.
photographed at Careel Bay, January 19th, 2018 - A J Guesdon picture
Past Features Archives (pre 2014)
Pittwater Online News was selected for preservation by the State Library of New South Wales and National Library of Australia. This title is scheduled to be re-archived regularly.
Archived Issues (2014 on) may be accessed here: pandora.nla.gov.au/tep/143700