April 2 - 8, 2017: Issue 307

Warriewood Rustys Prove They Are Really A GOLD Aussie Surf Boat Team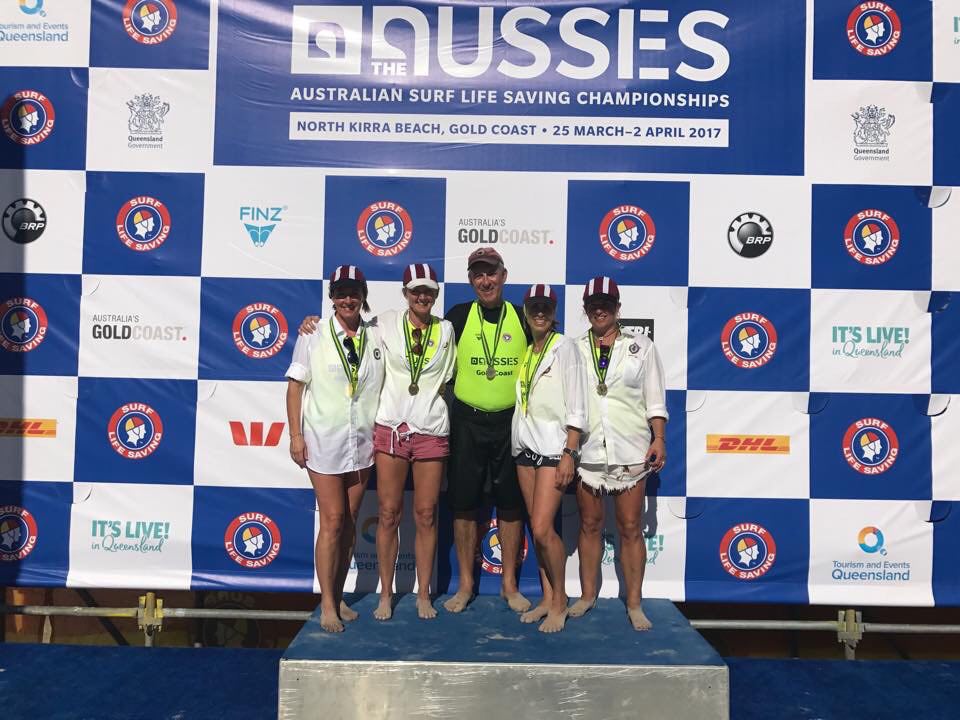 The Rustys : Tanya Deer, Russell Lamb, Alex Coates Lou Barnett and Kathryn Maguire
Coolangatta Gold Gold GOLD for team Warriewood at the 2017 Aussies!
Congratulations to sand specialist Adam Gee for his Gold in the men's 45-49.
Adam said after the win, " This is incredibly special as I have been told this is the first individual gold for Warriewood Club. This makes me very proud to bring this gold medal home to such a wonderful club!
Warriewood also achieved a gold medal in the men's 170 relay.
Adam Gee posting, "This was an incredibly hard fought medal as one week ago team mate Ben Hargy was taken to hospital with appendicitis. Fortunately team mate James Leggett-Budden stepped up and raced with only one week notice. Every team member gave 100%. "
Congratulations also to the Russell Lamb Rusty's who also won gold in the surf boats.
Coach and Sweep Russell Lamb said yesterday, "These girls have trained 6 times a week for 3 years so they earned it. They are a pleasure to coach."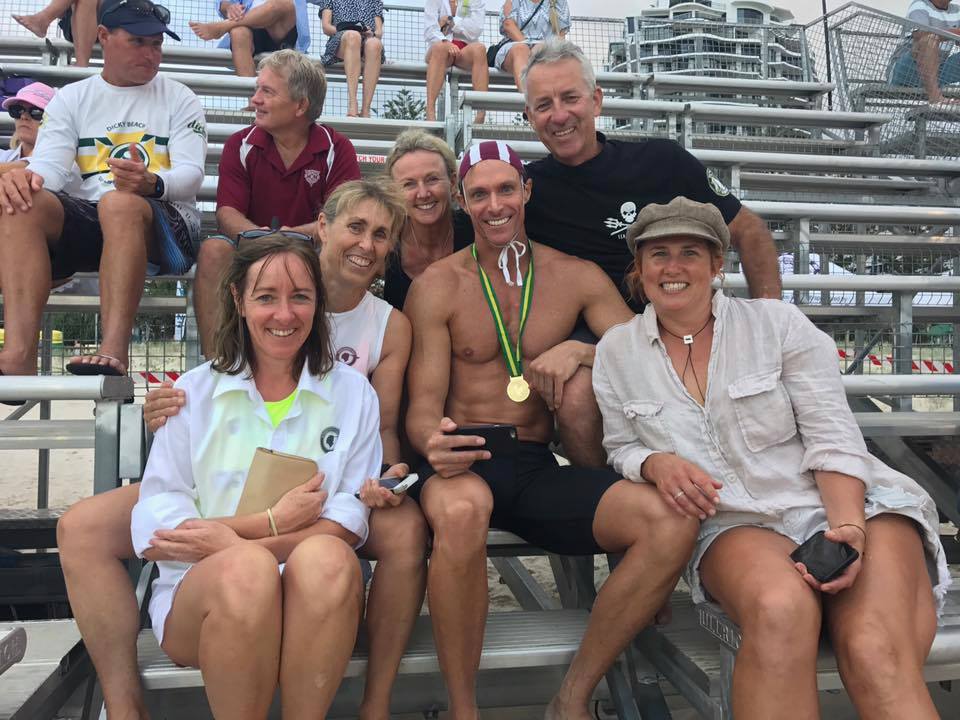 Adam with the Rustys - those winning smiles!
Pittwater RSL Dedication Of New Cenotaph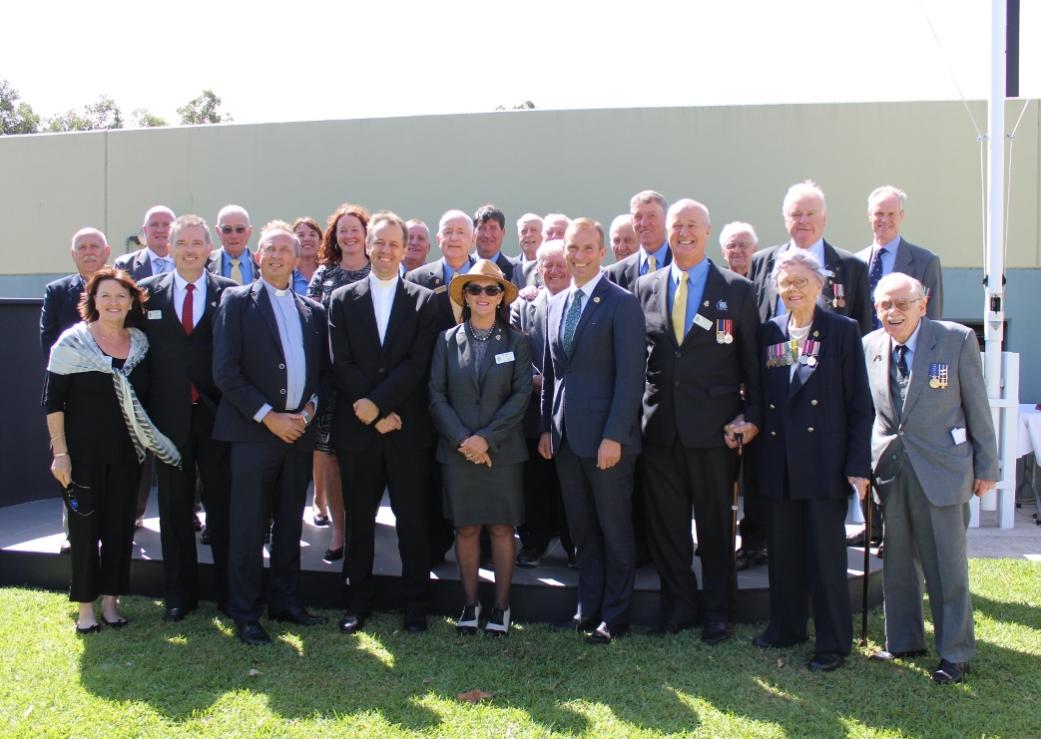 On Friday March 31st the Pittwater RSL dedicated their new Cenotpah.
Deborah Carter, President of the Pittwater RSL Sub-Branch, welcomed The Hon. Rob Stokes, NSW Minister for Education and Member for Pittwater, Kylie Ferguson, representing the Council, The Reverend Jason Ramsay (Newport), Father George Kolodziej (Pittwater - Diocese of Broken Bay) Jason Manning, CEO Pittwater RSL Club,
Aldo Sirotic, President, Pittwater RSL Club, Pittwater RSL Sub-Branch Members, Pittwater RSL Club Board of Directors and guests.
Jason Falinski, Member for Mackellar, sent his apologies, having been detained in Canberra.
Extracts from President Carter's Address:
We are here today to dedicate our relocated Cenotaph and this is a combined effort between the Pittwater RSL Club Limited and the Pittwater RSL Sub-Branch.
This wonderful Cenotaph was put in place three years ago. We always had our official ceremonies at the top Cenotaph but this was rapidly growing too small for those who would gather to honour those who had served. This original place of dedication will be turned into a Garden of Remembrance as this site is still very important to us.
This new Cenotaph will be far more suitable for the growing number of people who attend our Services, such as the ANZAC Day Dawn Service and Remembrance Day Commemorative Services.
Today we gather to dedicate this new Cenotaph formally in the correct manner.
Before we begin the prayers and Dedication Ceremony I would like to share a small insight into the History of the Pittwater RSL.
Records from ANZAC House show that on the 6th of December 1934 an Executive Committee for Pittwater Sub-Branch and authorizing a charter in the name of Pittwater Sub-Branch. The early records of the sub-Branch show that meetings were held in a building situated in Mona Vale Village park. This building was situated in front of the tennis courts and in front of the bandstand, approximately where the Mona Vale Memorial Hall, the community hall, now stands. The building was of weatherboard construction with a kitchen attached and was also part of the old Newport Surf Club which had been relocated to the site in the late 1920's. These premises were also used as change rooms by the cricketers and football players.
Resident Birds Baffled By B-Line Sleight Of Hand: Where Did All Our Trees Go?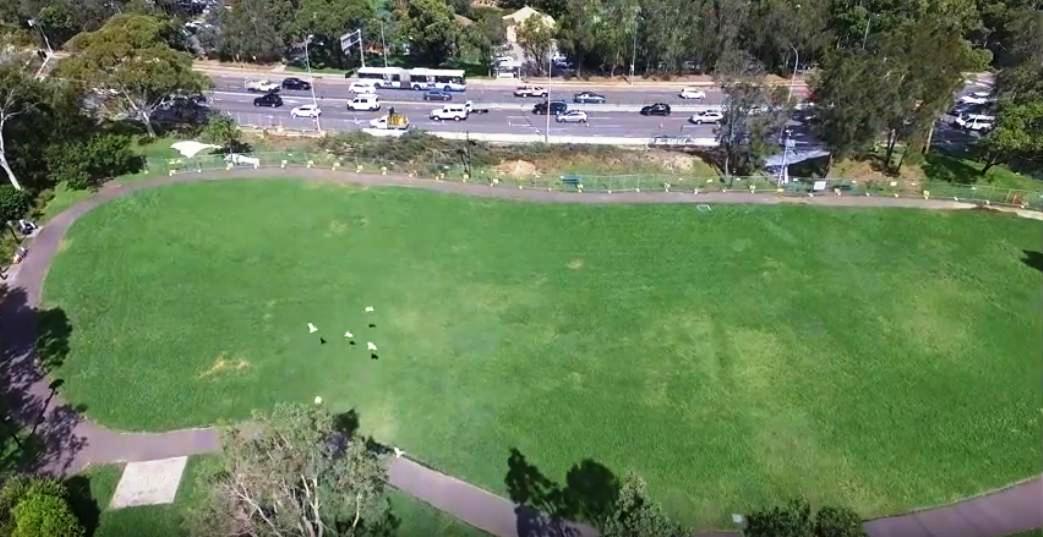 Mona Vale Village Park, Saturday afternoon, April 1st. Image courtesy John Illingsworth
The B-Line works proceeded at full steam this week, pausing only on Wednesday when two Avalon Beach residents took action to oppose the cutting down of Mona Vale Village Park trees by occupying the space the trees were being removed from.
Police officers were called and attended, including a commander. The decision was that the police would take no action to keep people out of the enclosed area, on the basis that it is Crown Land, but that they entered at their own risk.
Their protest meant the end of the tree loppers works for that day.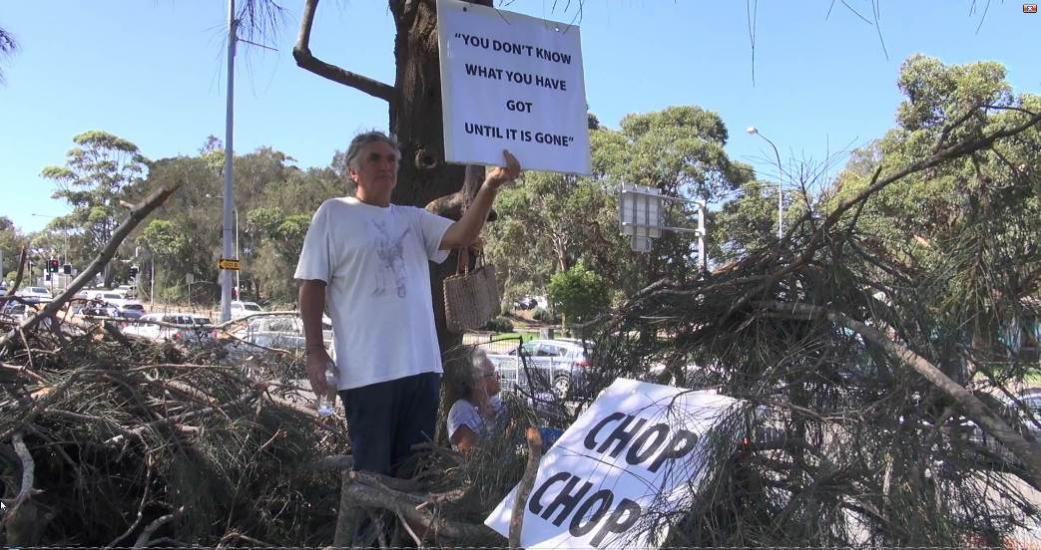 Photo courtesy Mark Horton, 2017
Forced Amalgamations Hit "Procedural Fairness" Snag That May Bring Every Imposed Merger Completely Undone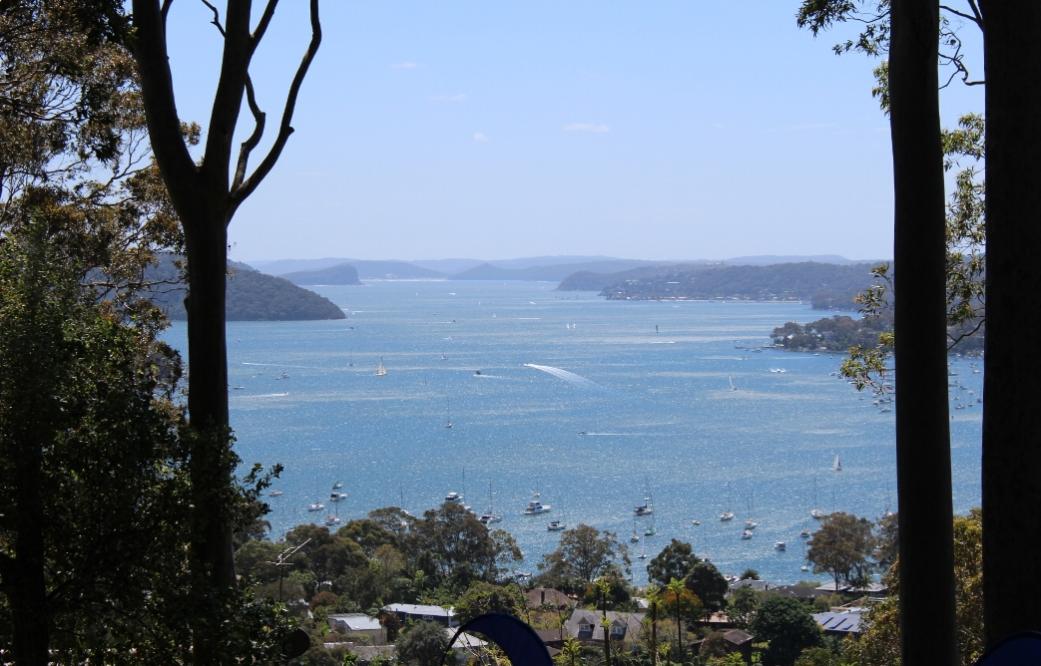 News this week that the Ku-ring-gai Council forced merger with Hornsby Shire should not proceed in its current form, as 'the appellant was denied procedural fairness in that the delegate had relied in his report on the KPMG documents which were not made available to either the appellant or the delegate' has been heartening news for forced amalgamation opponents within Pittwater.
In addition, Judge Basten pointed out that "Release of the material was also necessary for public participation in the public inquiry to be meaningful."
This case point echoes that stated by many who have said that the whole of the 'amalgamation process' had been predetermined and any 'public hearings' were farcical.
Ku-ring-gai were successful in obtaining a copy of their Delegate's report in April 2016, although they had to do so in proceedings against the state government in the Supreme Court at that time too.
Then Ku-ring-gai Mayor Cheryl Szatow
said
"Garry West's report does nothing to dispel the cynicism surrounding the whole merger process that is being stage managed by the Baird government."
"This is a Premier and a government that has wasted millions and millions of dollars over the last four years pushing the merger process, when the outcome was already decided."
According to Mayor Szatow, some of the 'most incredulous' parts of the report included:
" • Despite 83% of submissions and speakers at the public inquiry expressing strong opposition to the merger, consistent with the results of an independent survey conducted in 2015, those views were discounted as 'no impediment to the amalgamation proposal'. In fact, the attitude of ratepayers and residents is a mandatory legal consideration under Section 263 of the Local Government Act.
• His financial conclusions for why a merger should proceed based on superseded data and without the KPMG report, which has still not been publicly released. The Delegate accepted the state government's financial claims about mergers without testing the veracity of those claims.
• An allegation that Ku-ring-gai Council had manipulated residents' submissions to the public inquiry with form letters, which is untrue."
Similar sentiments were stated when Pittwater was required to answer its own case to be 'Fit for the Future' and then again when 'scale and capacity' became the means test and a prelude to all being judged per a KPMG report that still hasn't been released.
Richard Pearson's report is now available, without having to go to court, and which dealt only with Warringah Council's merger proposal for the forced amalgamation of Manly, Warringah and Pittwater, here:
This week we spoke to sacked by the state government Pittwater Councillor Bob Grace who indicated a fight for Pittwater along similar grounds may now be reassessed.
12 Thousand Best Friends Saved By Monika's Doggie Rescue: Ingleside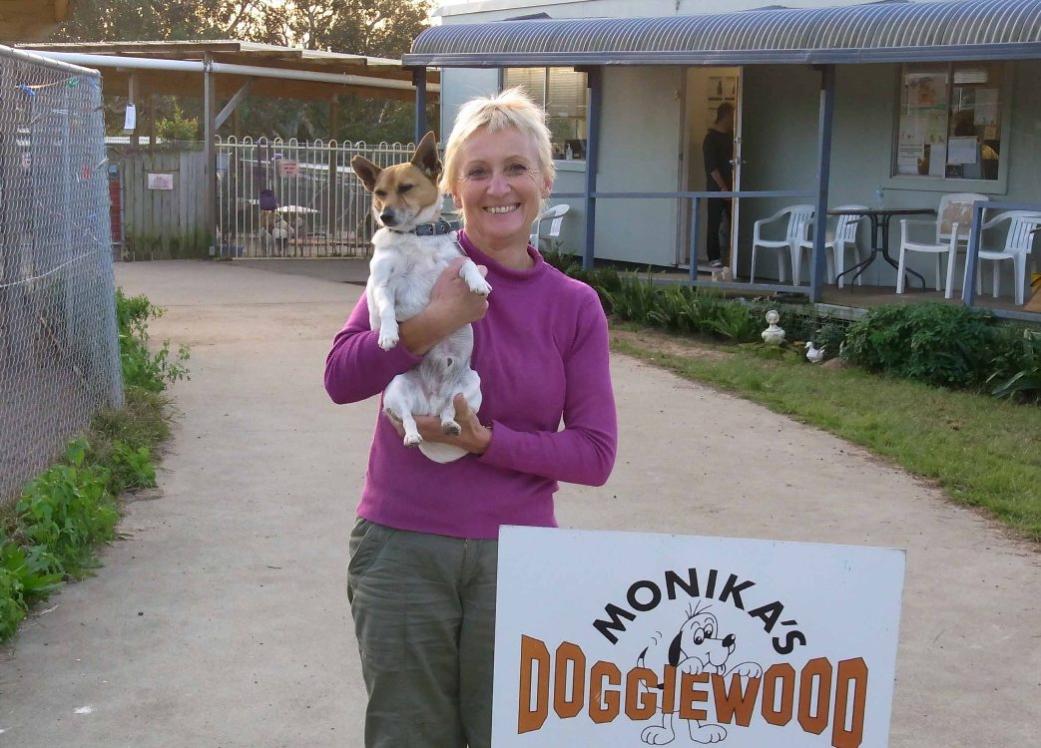 Doggie Rescue CEO Monika Biernacki - photo by Corrine Daw
Sydney's largest NO KILL animal welfare organisation Doggie Rescue, have now reached a new milestone and have saved 12,000 dogs from death row, re-homing each of them with loving families.
That is 12,000 healthy, loving creatures who would otherwise have faced certain death and become a statistic.
These dogs have been rescued from pounds around NSW and represent what happens when they are given a second chance at life thanks to founder and CEO Monika Biernacki.
"The number of dogs facing death row every day in Australia is truly shocking. These beautiful animals all deserve the opportunity to find their forever home and I am so proud that 12,000 of them are now happily part of their new families", explains Monika.
Sir Adrian Curlewis CBE CVO Awarded Gold Distinguished Service Medal
From the left: Cameron Smart, The Duke of Edinburgh's International Award Australia Board Member, His Excellency General the Honourable David Hurley AC DSC (Ret'd) Governor of New South Wales, Ian Curlewis, son of Sir Adrian Curelwis CBE CVO and Peter Kaye AM, CEO of The Duke of Edinburgh's International Award Australia
Yesterday His Excellency General the Honourable David Hurley AC DSC (Ret'd) Governor of New South Wales, presented The Duke of Edinburgh's International Award – Gold Distinguished Service Medal posthumously to His Honour Sir Adrian Curlewis CBE CVO for his service to the Award in Australia. The medal was accepted by Sir Adrian's son, Ian Curlewis at a ceremony at Government House, Sydney.
A Gold Distinguished Service Medal is awarded for eminent, exceptional service and achievement and limited to one per year that the Award has been operating in Australia.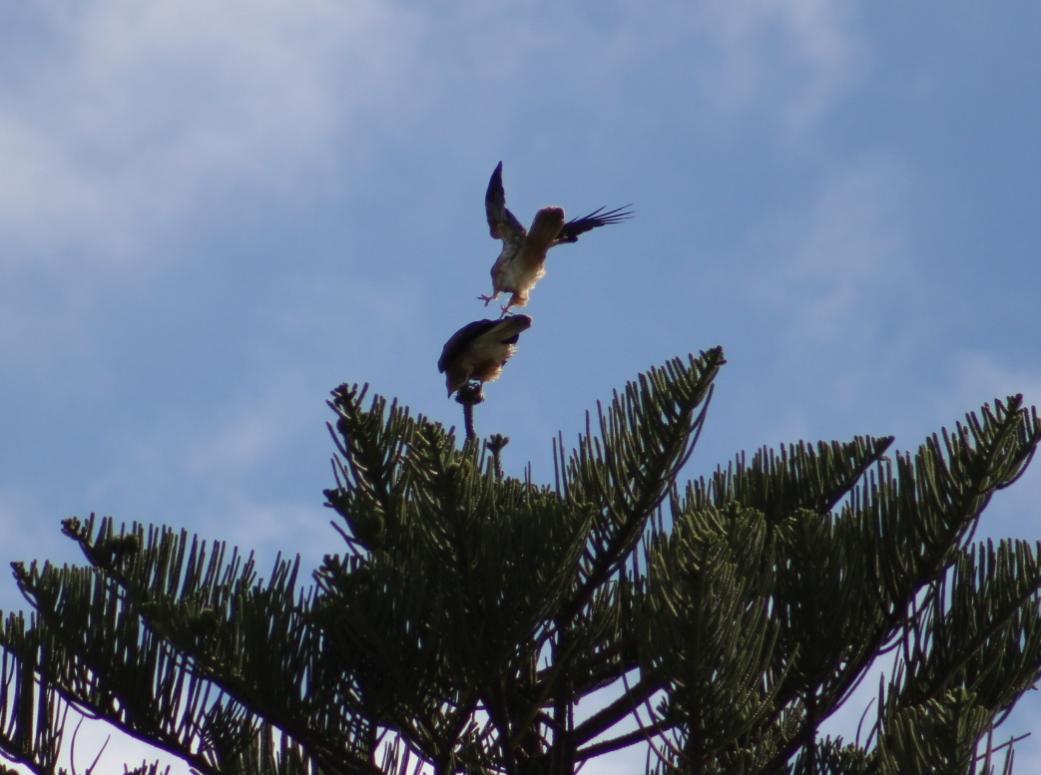 Whistling kite (Haliastur sphenurus) pair having a tiff over food in Norfolk pines at Palm Beach Ferry wharf, Pittwater Park, Friday March 31st, 2017.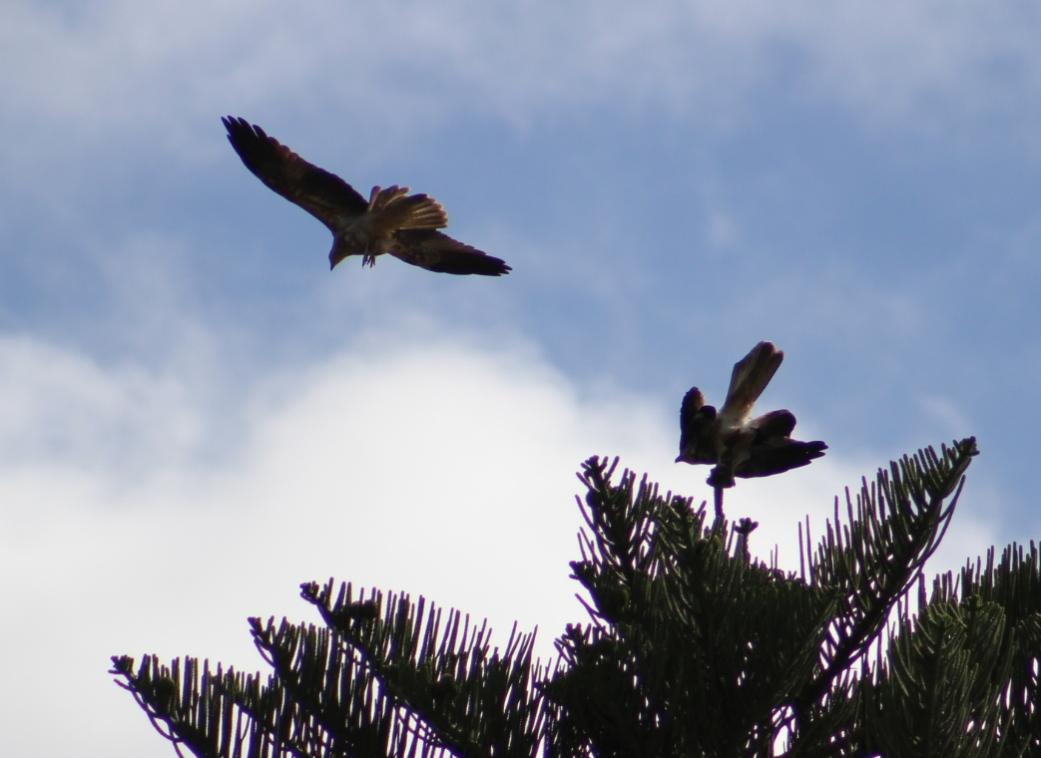 Past Features Archives (pre 2014)
Pittwater Online News was selected for preservation by the State Library of New South Wales and National Library of Australia. This title is scheduled to be re-archived regularly.
Archived Issues (2014 on) may be accessed here: pandora.nla.gov.au/tep/143700