August 14 - 20, 2016: Issue 276
Jason Waterhouse - Lisa Darmanin Hold on to Position 1 in Rio 2016 Olympics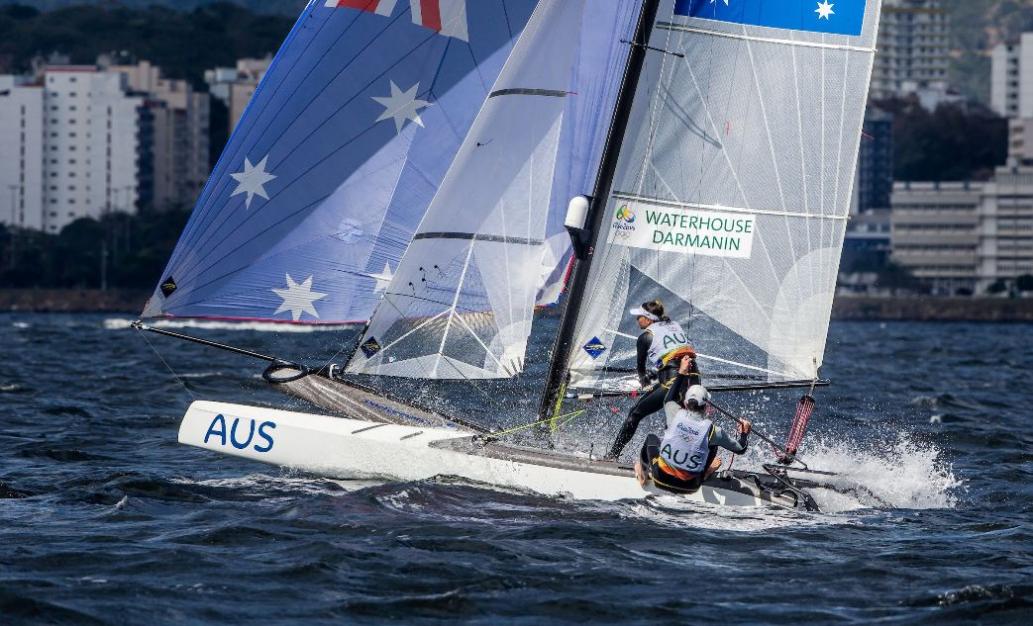 Still taking nothing for granted - the Waterhouse/Darmanin Nacra 17 strive to try and make it all count. Photo courtesy Sailing Energy/World Sailing
The 2016 Olympics Campaign of cousins Jason Waterhouse and Lisa Darmanin has brougt challenges. Day One the fleet was sent in after two races of the scheduled three heats which meant four were run on Day Two.
The Nacra 17 competitors then had a lay day and came back this morning our time for another three heats.
World Sailing's Andy Rice reports:
'The debut of the Mixed Multihull was a baptism of fire, or rather rain and incredibly fluky conditions for the 20 crews...

Some of the favourites had a torrid time on day one, including four-time World Champions Billy Besson and Marie Riou (FRA). Carrying a painful back injury, Besson is struggling to walk, let alone leap around the trampoline of a 17ft catamaran, and the French are lying in 15th overall. Even worse though for the Spanish crew of Fernando Echavarri and Tara Pacheco who are in 18th overall, not a great start for Echavarri whose last appearance at the Games was in Beijing 2008 when he won the gold medal.'

Jason and Lisa were placed 4th overall after day one, coming in 6th in Heat one and 9th in Heat two.
Day two Andy Rice states was
'After four brutal three-lap races for the Nacra 17 fleet, two teams sit tied at the top on equal points. The Australian crew's two race wins put Jason Waterhouse and Lisa Darmanin (AUS) in first place ahead of Ben Saxton and Nicola Groves (GBR), while in third place and nine points behind the leaders is the Italian crew of Vittorio Bissaro and Silvia Sicouri. '

They placed 4th in third heat, 1st in fourth and fifth races and a 5th in the sixth race!

After this mornings races, and p
lacing 15th in heat seven, and 11th in both the eight and nine heats, they are still holding on to first place position at 46 points – Argentina sit on 49 in second position.
French rivals Billy Besson and Marie Riou, who have been widely reported as the favourites, placed 2nd in the seventh heat and won both the eight and nine heats – they are in 7th position after nine races on 57 points.
At 4.40 a.m. Sydney time, Sunday August 14th, they reported:
'Beautiful Sunny Day with windy wavy conditions on the Copacabana offshore course. Despite our high scores those around us had mixed results as well. Racing tomorrow is going to be nail-biting! We will be fighting hard all the way.
Thanks everyone for your support and messages.'
There are three final heats scheduled for Monday before the Medal Race this coming
Wednesday 17th of August at 3.05 am our time.
Women's Rugby Sevens Gold Medal Historic Step Forward Started at Narrabeen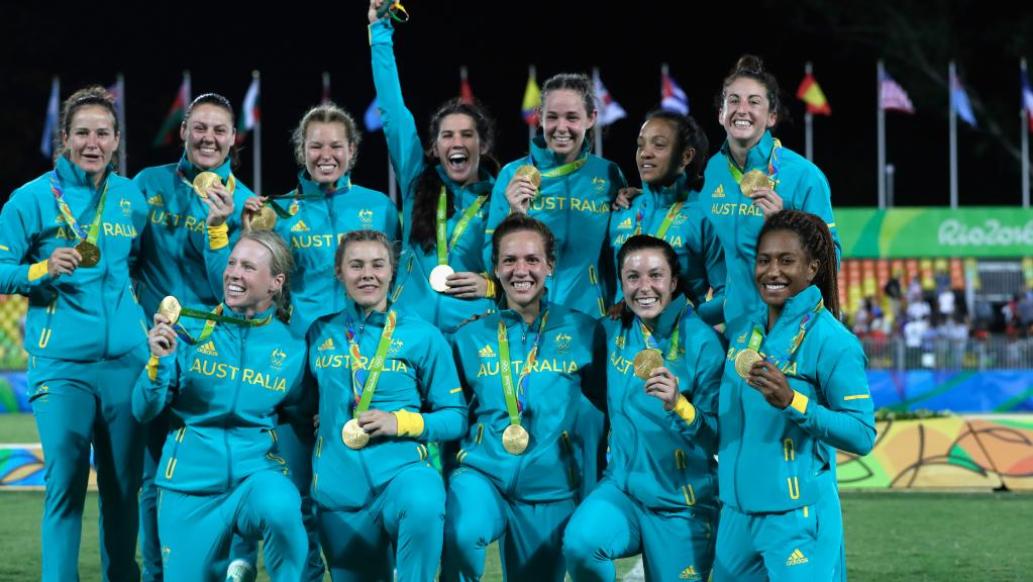 Gold medallist team Australia celebrate with their gold medal after the medal ceremony for the Women's Rugby Sevens on Day 3 of the Rio 2016 Olympic Games at the Deodoro Stadium on August 8, 2016 in Rio de Janeiro, Brazil. (August 9 our time) Photo by Jamie Squire/Getty Images
In 2014 a local Pittwater Club, wishing to generate fundraising to support the Women's Rugby Sevens requested this news service
visit the training
session of these ladies at the Sydney Academy of Sport and Recreation on Narrabeen Lagoon.
This was one tough training session and these were very determined girls supported and guided by a great coach.
On August 9th 2016, Tuesday morning Sydney Time, those same faces and voices appeared again, on the others side of the world, fulfilling what they had strived for and inspiring the next generation of women rugby players.
These Australian women made history by winning the first gold awarded in women's rugby sevens at the Olympics with a tight 24-17 triumph over trans-Tasman rivals New Zealand at the Deodoro Stadium.
"Definitely a family culture we've got going down at Narrabeen" Shannon Parry stated in a post gold medal presentation interview,
"I think the tournament just shows the growth of women's rugby," she said.
"Fingers crossed come 2020 (Olympics) it will be there for Tokyo as well."
Parry's team-mate Emma Tonegato, who scored Australia's opening try in the final, expects women's sevens rugby to reach a new level of participation and interest, especially in Australia.
"I think this is great for rugby sevens and what it can do for rugby sevens in Australia," she said.
Avalon and Palm Beach Recognised in Surf Life Saving NSW Awards of Excellence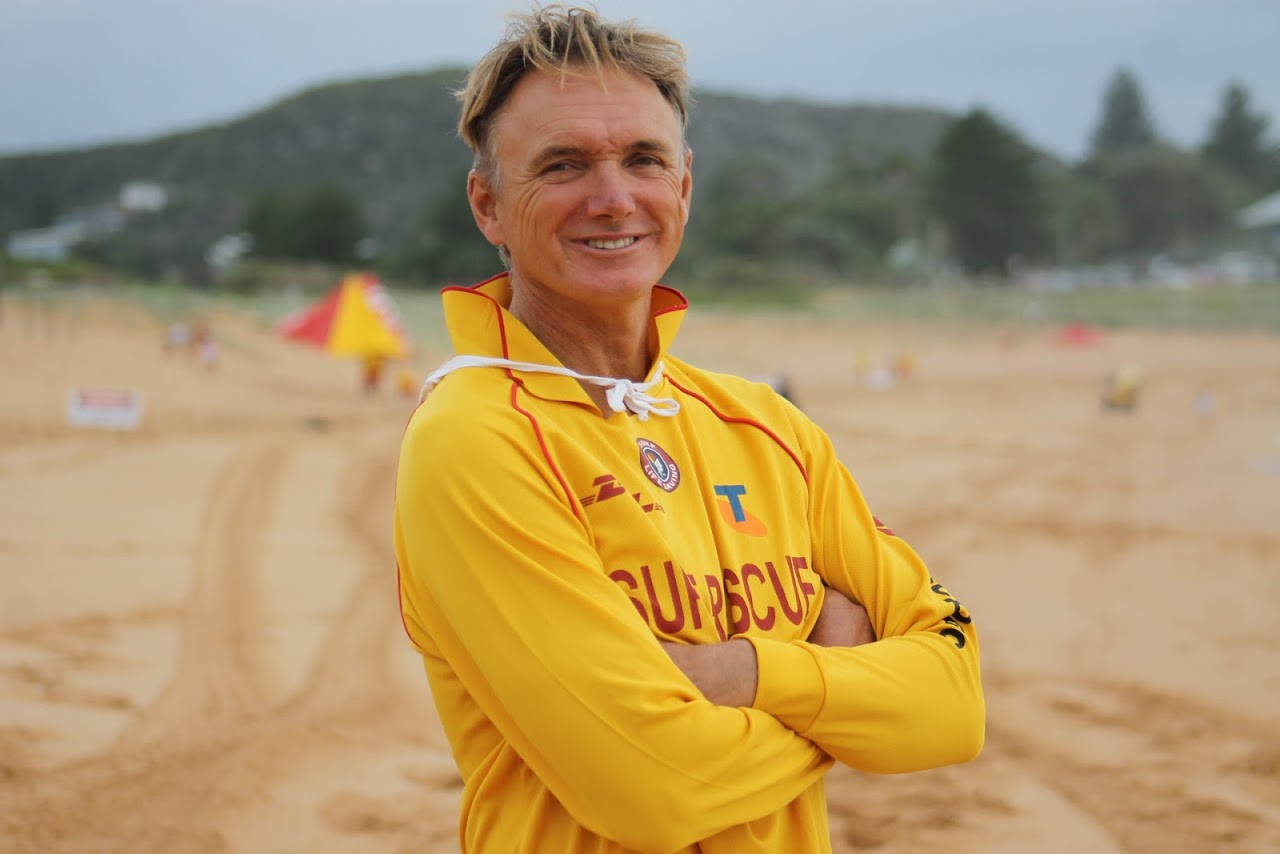 Mike Stanley-Jones, the
Youth Program at Avalon Beach SLSC he oversees and began has won the Surf Life Saving NSW

Initiative

of the year Award at last night's (

Saturday

August 13th) Awards of

Excellence

. - AJG pic.
The Youth Program at Avalon Beach SLSC, Mike explained in February 2016, is about offering young adult life savers options to extend themselves and their skills:
'We decided that Nippers shouldn't finish at 14 because that's when they are trained; they know their First Aid and have become quite self sufficient. If we dump them, what do they go on with next?
A decision was made to carry it through, to extend this to Under 15's and Under 16's and I now have a group who are Under 17's. We were 42 strong last year, and all 42 in that squad did their Bronze. '
We aren't centered around competition, they've had enough of competition by then, have done their Nippers or done other things which were competition based. They're into doing things for social reasons, really want to be able to hang around with others, still do what they're asked to do, but basically get to spend time with their mates, those they've already spent years with through Nippers, and are comfortable around.
I've focused activities around self-sufficiency, I want them to grow and trust them with stuff that's probably a year or two above them, to let them grow into that role.'
Peter Spence is also a dual awardee this year, named Coach of the Year at the Surf Life Saving NSW Awards of Excellence.
All winners and more HERE
Bernard Farrelly: A Community Tribute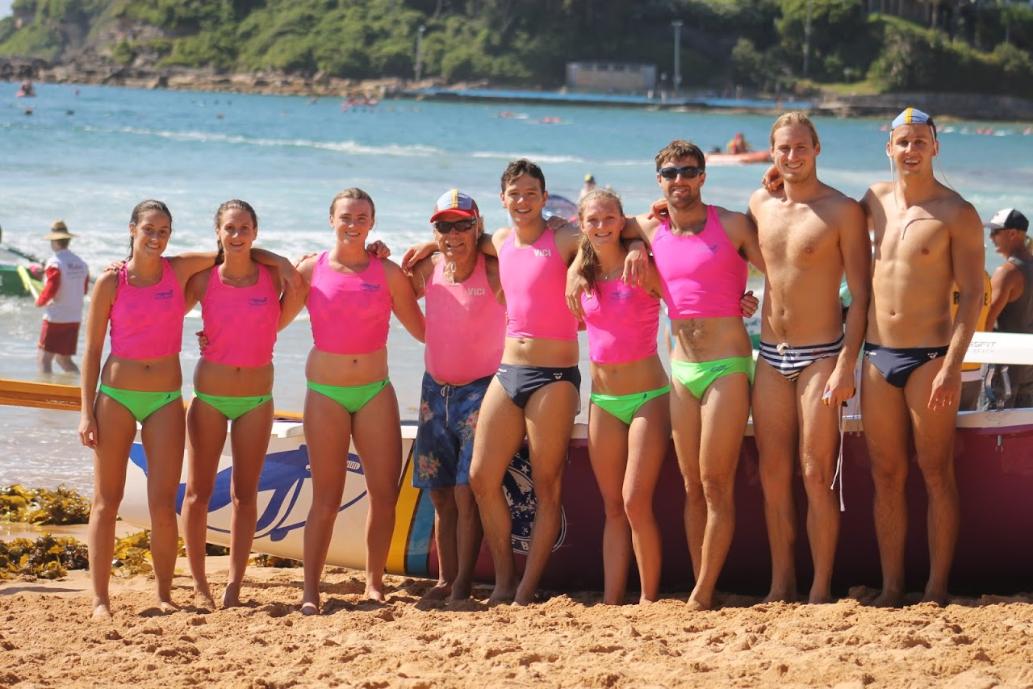 Mr. Farrelly and his Whale Beach SLSC boat crews at SLS SNB Branch Carnival, February, 2016. AJG Picture.
Reams have been written this week about a gentleman with backbone, a backbone that would only bend when he was surfing, skateboarding, sweeping a surfboat, windsurfing, paddleboarding, surf-ski racing but perhaps not so much when he was hang-gliding.
Why known for backbone?: when smoking marijuana smoking became synonymous with surfing by 1969, a sport which is about immersing yourself in pure elements by being a pure element yourself, he spoke out:
"Does the beach take dope, do the waves take dope, do the sea gulls take dope?" Mr. Farrelly wrote "Man, if you're part of that scene, you won't, either."
He wasn't alone in this stance. It was preceded in 1964 by a belief that the emerging 'surfie' loafers would be replaced or that surfing itself would return to those who were about surfing, as stated in a Four Corners interview, and echoed by his fellow purists that same year.
Why backbone II: when grubby fingers started infiltrating a sport dedicated to and founded in altruism, he stood up against this too:
"Midget Farrelly created Surfblanks Australia in order to break a local monopoly that was strangling the surfboard industry by offering unlimited credit (on blanks and materials) while at the same time competing against its customers by retailing finished surfboards at wholesale prices.
Midget's first passion was surfboard making (from age 14) but he recognised the reality of having to become a foam maker in 1968 as he watched long established brands go out of the industry with huge blank and material bills they could not support.
Surfboard makers are creative people. Their product is more like art than consumer product. They inspire other surfers with new design, shape and colour. Their joy comes from what they make with their hands. Being business minded is near to last on their priority list.
To this day Midget encourages shapers/makers to avoid debt (blanks and materials), look at their bottom line and be profitable so that they might stay in the industry they love."
Retrieved from: www.surfblanksaustralia.com/about-us/our-business/why
Above: Midget at Palm Beach SLSC Fundraiser, January 2016.
Put on your sailing shoes: the 2016-2017 sailing and boating season on pittwater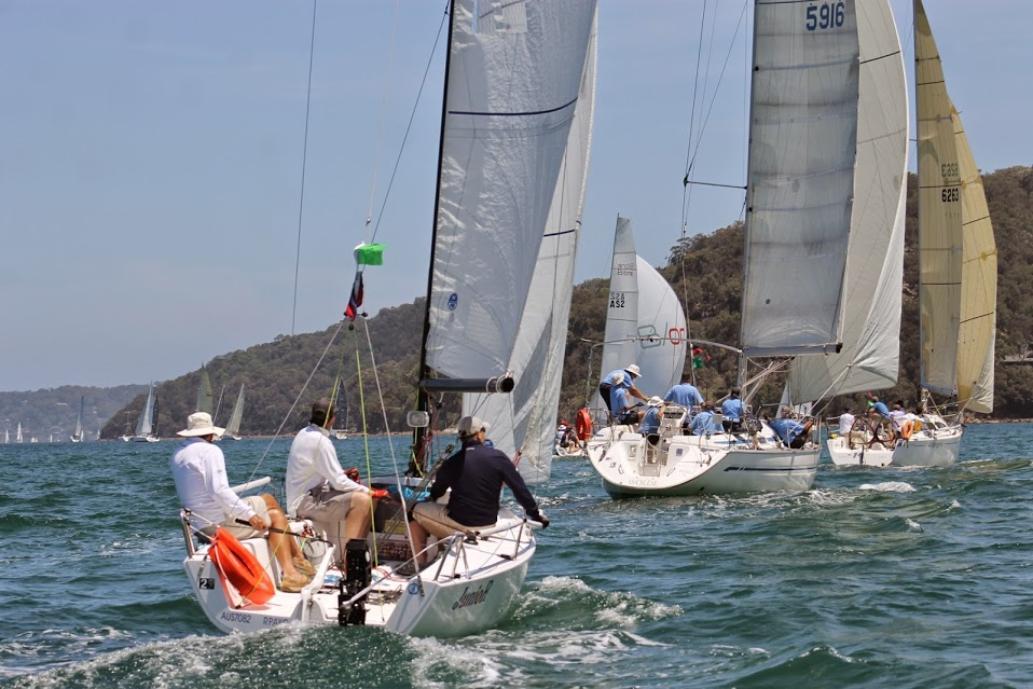 Put on Your Sailing Shoes!
You've got to put on your sailin' shoes
Put on your sailin' shoes
Everyone will start to cheer
When you put on your sailin' shoes
Little Feat – 1972
Which is the shoe that can go from restaurant to backyard lawn cricket pitch to boat deck?: the sailing shoe!
With the 2016-2017 Summer Sailing Season about to officially open on Pittwater, not that we're not sailing all year round!, we thought we'd have a quick look into what is coming up for Sailing, Boating and Paddling clubs based on Pittwater, most beautiful estuary in the world!
An overview of each runs this Issue
HERE
Winter in Pittwater: 2016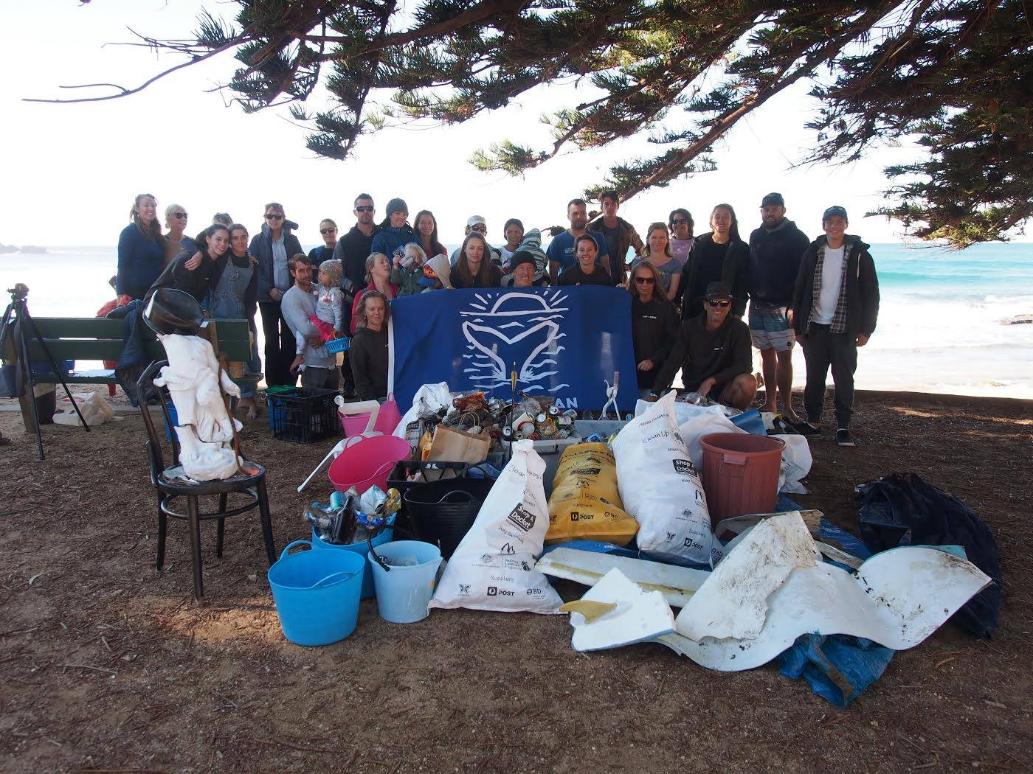 Wander Lightly - Living Ocean and community volunteers clean Avalon Beach earlier this Winter - pciture courtesy Sarah Tait.
Living Ocean/Wander Lightly Beach Clean up: Palm Beach August 21
Our next clean-up is at Palm Beach on the 21st of August
For this cleanup WanderLightly & Living Ocean are proudly supported by the Boathouse at Palm Beach and will be following a slightly different format.
At 9am the Boathouse has ever so generously offered to put on Bacon & egg rolls & coffee when you bring your own reusable cup in - but you must bring your own cup for the free coffee!
(Don't fear if you don't have one yet as they do sell them onsite)
You will need to register with the Facebook event as numbers are limited for the coffee/breakfast combo. Helpers however are not!!
Over breakfast and coffee we will be giving a talk on ways you can make living with less plastic easier so come armed with those tricky questions!
At 10am we will continue with our regular cleanup & at 11am the tally counting will begin.
9am - Bacon & egg rolls & coffee put on by the boathouse & living Plastic free talk
10am - Beach Clean
11am – Tally counting for Tangaroa blue
A bucket or bag to collect trash in and a pair of gloves to keep your mitts safe – we have a very limited amount of these so its handy when you bring them.
Read the report on the recent Mona Vale Beach Cleanup
Past Features Archives (pre 2014)
Pittwater Online News was selected for preservation by the State Library of New South Wales and National Library of Australia. This title is scheduled to be re-archived regularly.
Archived Issues (2014 on) may be accessed here: pandora.nla.gov.au/tep/143700