July 3 - 9, 2016: Issue 270
Surf Life Saving Sydney Northern Beaches Branch Awards of Excellence:
2015/2016
Nine new Life Members representing centuries of service, especially if you take into account South Curl Curl's Kevin Moffatt who has been involved with that club for almost 51 years, along with Ron Pomering (Warriewood SLSC), Alan Butler (
Queenscliff SLSC)
, Suzanne Rossi (
Collaroy SLSC)
, Rhonda Lycett (Mona Vale SLSC), Craig Susans (
Queenscliff SLSC)
, Thecla Haven(
South Narrabeen SLSC),
David Torevell (
Freshwater & Queenscliff SLSCs)
and Nigel Penn(Bilgola SLSC) who have contributed at least 20 years apeice, were a keystone award at this years Sydney Northern Beaches Surf Life Saving Awards of Excellence and highlight a sustained dedication to their individual clubs and duties as an official at a Branch, State or National level - sometimes all three.
To be considered for Life Membership of the Surf Life Saving Sydney Northern Beaches (SNB) by the Life Membership and Honours Committee (Committee) members must have rendered sustained and conspicuous voluntary service to SNB via one or more of the following criteria:
a. Twenty (20) years such service, twelve (12) of which must have been as an elected officer of SNB.
b. Twenty (20) years such service, a minimum of five (5) of which must have been as an elected officer of SNB or another branch, SLSNSW or SLSA.
c. Twenty (20) years such service, as an active member of any standing boards or constituted committees.
d. Thirty (30) years such service, sustained and conspicuous to a club or clubs.
Among these new Life Members are two dual Award winners.
Mona Vale SLSC's Rhonda Lycett was also named Branch Recorder of the Year, while Bilgola's Nigel Penn, won the Official of the Year Award too.
"I am very honoured by my peers, my colleagues. To be afforded this honour is just amazing. There are so many worthy nominees, '' Nigel said after being named Official of the Year. "To get Life Membership is terrific, unexpected and I am very grateful. Once again very honoured.''
Nigel Penn - Bilgola stalwart
Rhonda, who has been with Mona Vale SLSC since 1978, said at the Awards of Excellence: ''It is such a great honour. I am flabbergasted, actually. I have been a member of the Branch for so long. It is so rewarding.''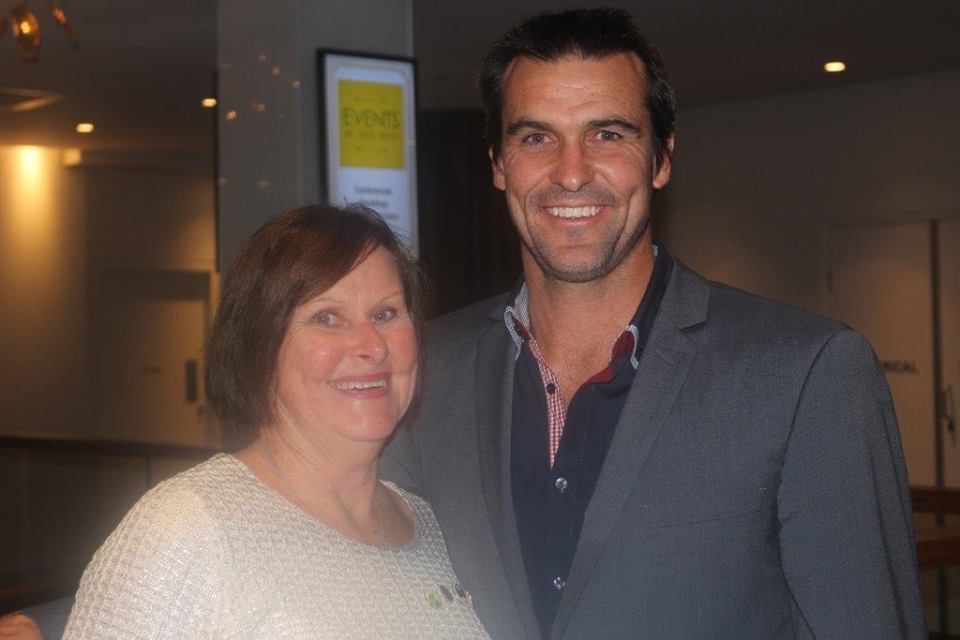 Rhonda with her son Bryce Munro - who joined as a Nipper in 1978 and is now one of Mona Vale's medal wining Boat Section as a Sweep.
Rhonda first became involved in surf lifesaving back in 1978 when her son Bryce (Munro) joined Nippers at Mona Vale. The following year, Rhonda took on treasurer at Mona Vale Surf Club. In 1985 that her recording days began. Apart from Branch duty, she hasn't missedtoo many State carnivals as a recorder over all those years. And she also recorded at National Nipper carnivals for years. Rhonda, who has received the Branch Distinguished Service Award, dismisses any talk that she's about to stop recording. "Why would I? I have met some wonderful people in surf lifesaving and one of my closest friends who lives at Coffs Harbour, I met through surf lifesaving.''
Rhonda has every reason to feel very proud of her son Bryce who won three Aussies titles as a boat sweep for Mona Vale. - From SLS SNB Shorebreak - Issue 24, March 2016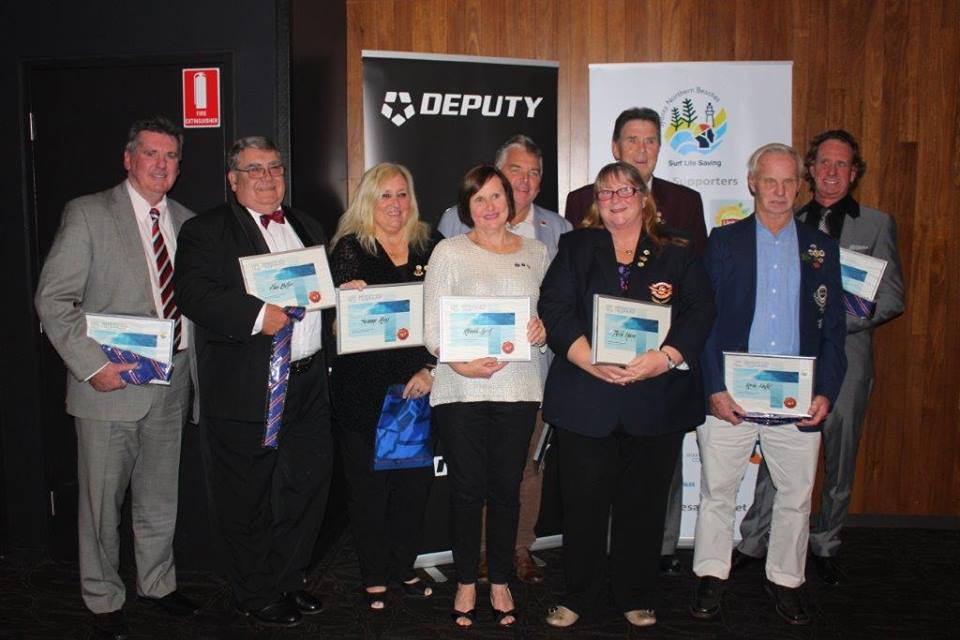 New Life Members (from left) Ron Pomering, Alan Butler, Sue Rossi, Rhonda Lycett, Craig Susans, Thecla Haven, David Torevell, Kevin Moffat and Nigel Penn.

Another Award for recognising sustained and committed building up of their clubs, the branch, and thereby the saving of lives through Surf Life Saving, is the Outstanding Service Award, given to members of clubs and SNB Branch or both who have rendered outstanding service to their clubs and SNB branch over a period of ten years. This season Shannon Job (North Steyne SLSC), Kaz Marks (Narrabeen Beach & Dee Why SLSC's) and Christine Hopton (Avalon Beach SLSC) are three ladies who have, and continue to do a lot for many.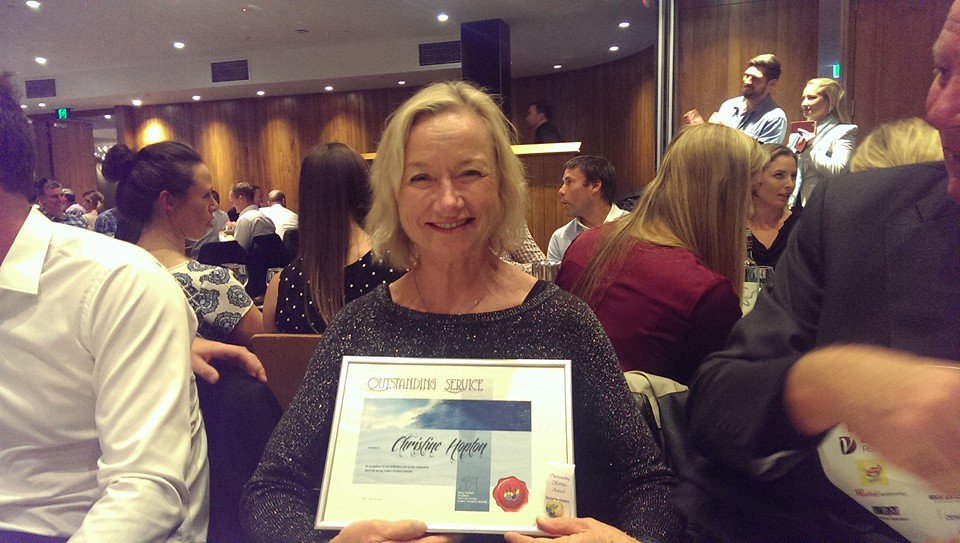 Avalon Beach SLSC's Christine Hopton
The Harry Ragan Outstanding Service Award went to Glenn Tolan Mona Vale SLSC, while the Raymond Matthew Brown OAM Radio Operators Award Stan Buckman Manly LSC and the Sydney Northern Beaches Branch Volunteer of the Year, Ben Matthews, of Newport SLSC. Ben has right sided hemiplegia but devotes a lot of his time to surf lifesaving. He is an able member of the Newport training team and has assisted training new Bronze Medallion and Surf Rescue Certificate groups for almost six years. Ben is part of Newport's IRB racing team and, outside of surf lifesaving, volunteers at Rural Fire Service. For two years Ben volunteered to mentor a young boy at Newport Public School who also suffers with the same type of Cerebral Palsy as he does.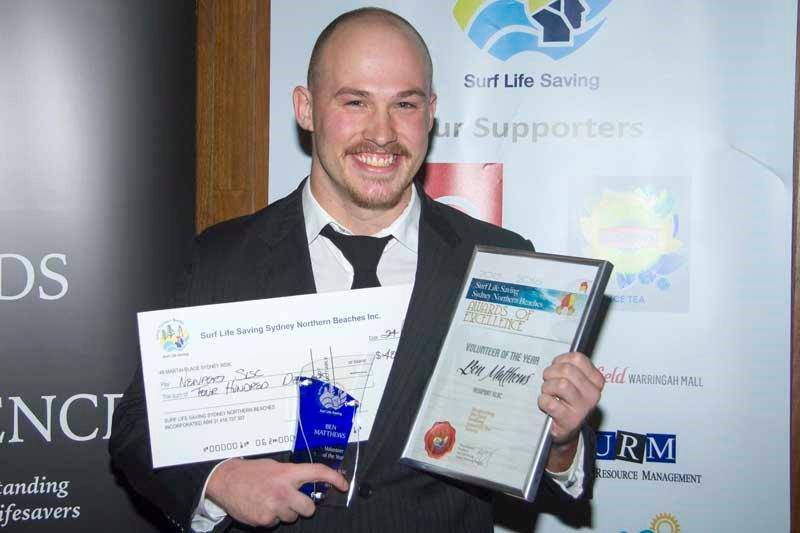 A proud moment for Ben at the Branch Awards night. Picture by Bill Sheridan
Recognising continually developing everything needed to support each club in the Branch and individual members, to keep improving what's done and how it's done, to ensure everything runs smoothly is not always seen but the results show. Whether it's Education, Assessing, Training, being the Most Improved Club or in Administration, every facet of a club and a branch makes what happens on the sand and in the water of the highest standard possible.

North Curl Curl SLSC lifesaver Clare Hagon was named Branch Facilitator of the Year last season. This season Clare won her second Branch Facilitator of the Year Award.
''To win two - I don't really believe it,'' Clare said after collecting her award, ''It has been a busy year but I have really enjoyed it. I just love education. I love sharing the skills, the knowledge and the interests. It's good.''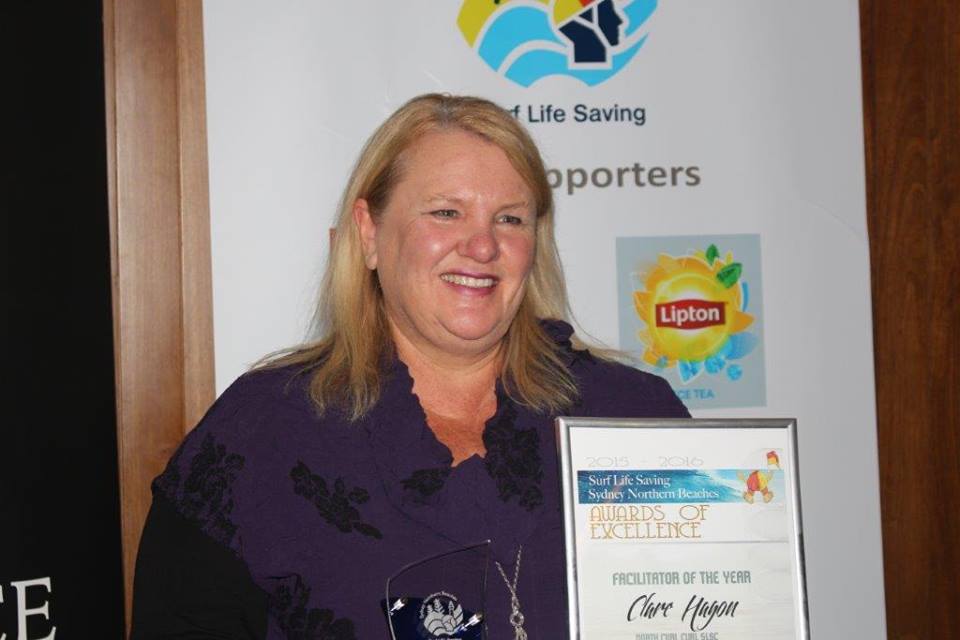 Pictures: Clare with her award; and with Branch Director of Education Adrienne Lowe (left), Kim Spicer (North Palm Beach, winning Most Improved Club and Club Award for Education), Freshwater's Lindsay Davis (Assessor of the Year), Dee Why's David Spink (Trainer of the Year) and Clare.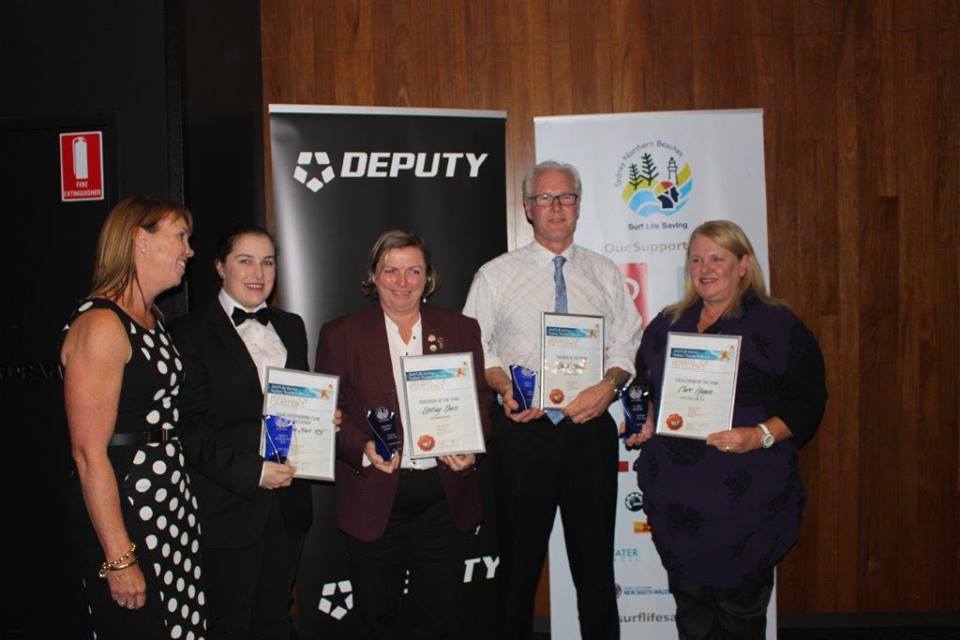 In Administration there were four winners this year, Avalon Beach SLSC, Newport SLSC, North Curl Curl SLSC and Freshwater SLSC.
It's all about Saving Lives, as this year's theme 'Licenced to Save Lives', with a fun invitation to 'Dress Bond Style' underlined. This year two clubs the Warriewood SLSC and Avalon Beach SLSC, won the Rescue of the Year, as both clubs were involved in the same rescue while training in a surf boat, one of the first pieces of equipment of rescue equipment to be used by Surf Life Savers. The Warriewood-Avalon rescue also won State and National for the month (May-June). Both clubs received a board for their Rescue of the Year Award - a newer form of rescue equipment!
Warriewood's Jen Spencer, one of the top female masters athletes in the Branch, and Warriewood's Club Captain, appeared on stage twice at the Awards of Excellence at Dee Why RSL Club on Friday, first to be Highly Commended in Life Saver of the Year, and with Avalon's Melissa Hall for Branch Rescue of the Year.
''I feel very proud,'' Jen said. "I love surf lifesaving and being a part of it. I am proud of the contribution I give and also of the support I get from all the other members, not only in my club but at Branch and the Support Services as well. It is really important to acknowledge the team. No-one can do it on their own.''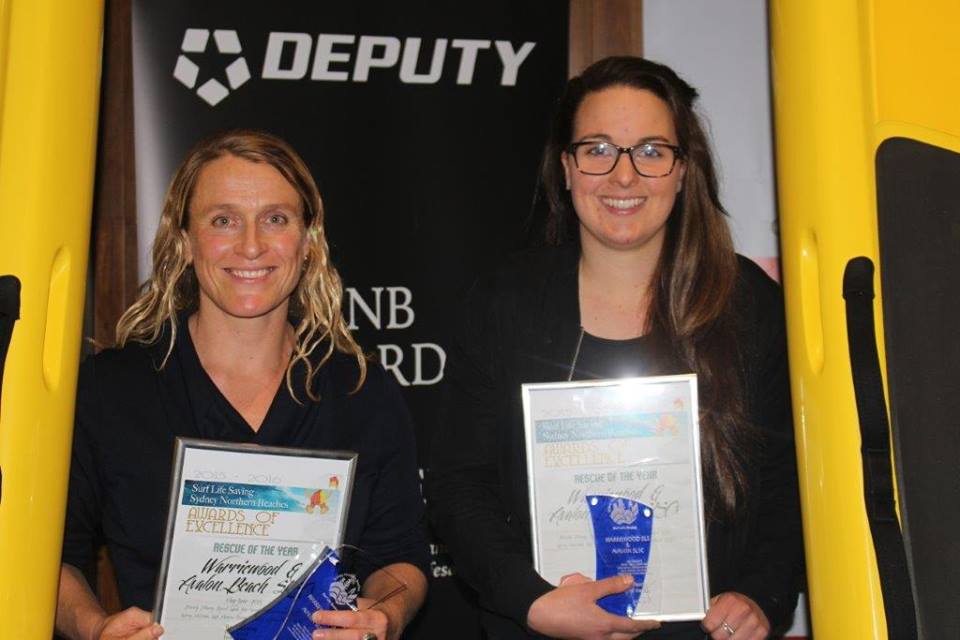 Picture: Jen Spencer (left) and Melissa Hall.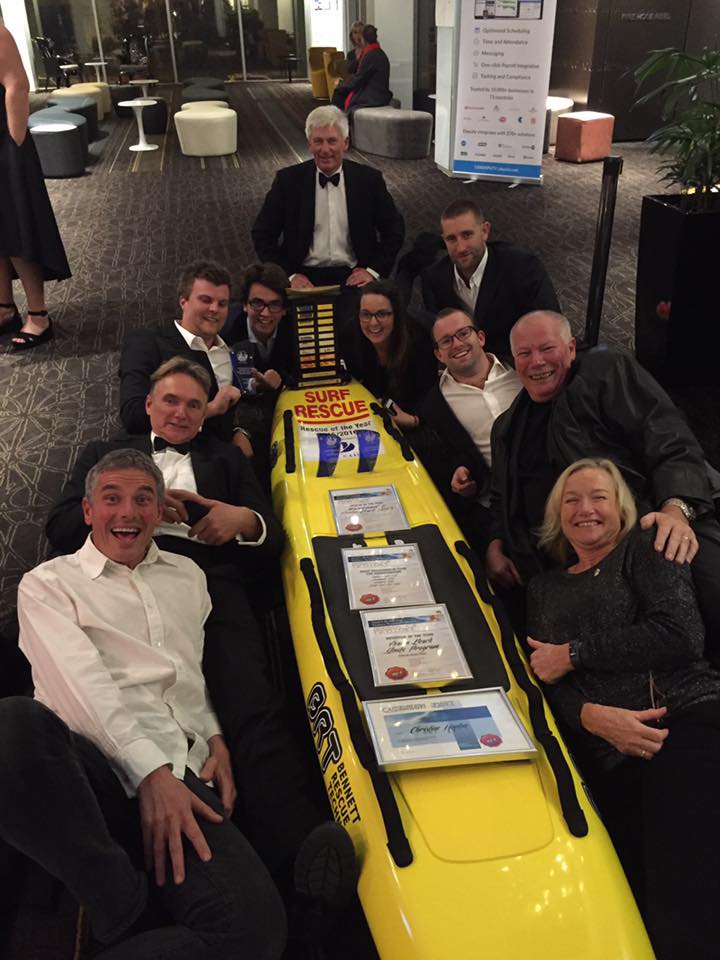 Avalon Beach SLSC Members with their awards and new board
There were dual winners this season for the Young Lifesaver of the Year Charles Kellaway Whale Beach SLSC and Kyra Jenkins North Steyne SLSC. Whaley member Charles mentioned the great leadership group that's part of his club. Charles said: ''It's fantastic. I put a bit of work into it but I was guided by John, Georgia and Floyd along the way.''

Charles has just completed his third season with Whale Beach. "I started through Knox Grammar as a school sport,'' he said. ''I enjoy fundraising and putting in the patrol hours."
Charles with his award
North Steyne lifesaver Rebecca Chapman is Branch Life Saver of the Year. A member at North Steyne since Under 6 Nippers, two years ago Rebecca was Branch Young Life Saver of the Year, then took on the role of Club Captain.
''It is certainly quite an honour and something that was very unexpected because the candidates for this award were very high,'' Rebecca said. ''The role (club captain) is very challenging but rewarding,'' Rebecca said at the awards evening.
North Steyne also won the Patrol Assessment while club member Kyra Jenkins is joint Young Life Saver of the Year. ''It shows what we are doing right on the beach. It is a huge effort,'' North Steyne's Club Captain said.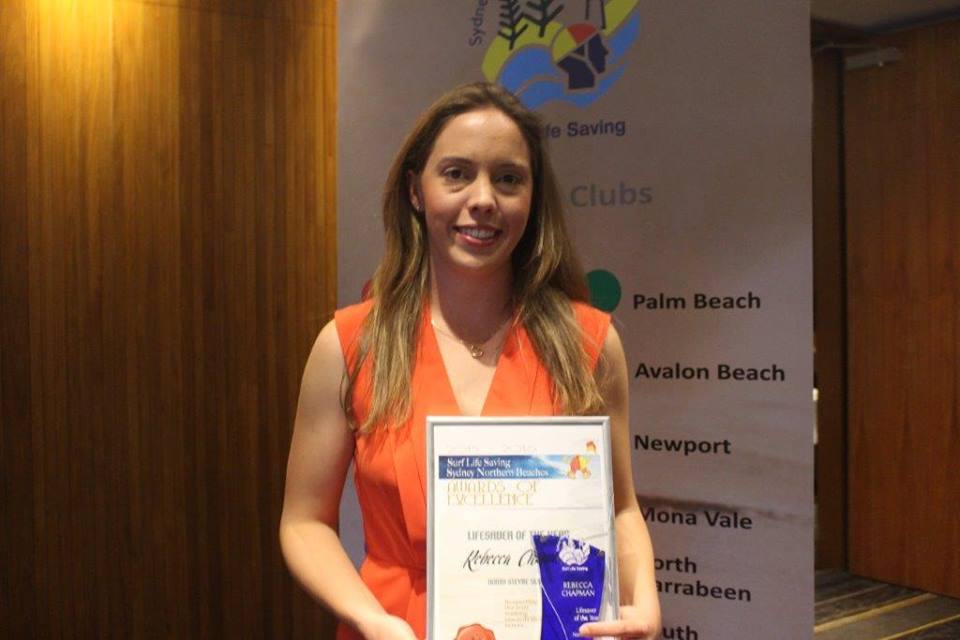 North Steyne's Rebecca Chapman

The other end of the scale is fostering, equipping with the needed skills and inspiring the next generation. The Initiative of the Year was awarded to Avalon Beach SLSC for their Youth Program, headed up by Mike Stanley-Jones, a gentleman who epitomises a 'let's do it' philosophy and bridging the gap between where being a junior and becoming a fully fledged Patrol Member begins.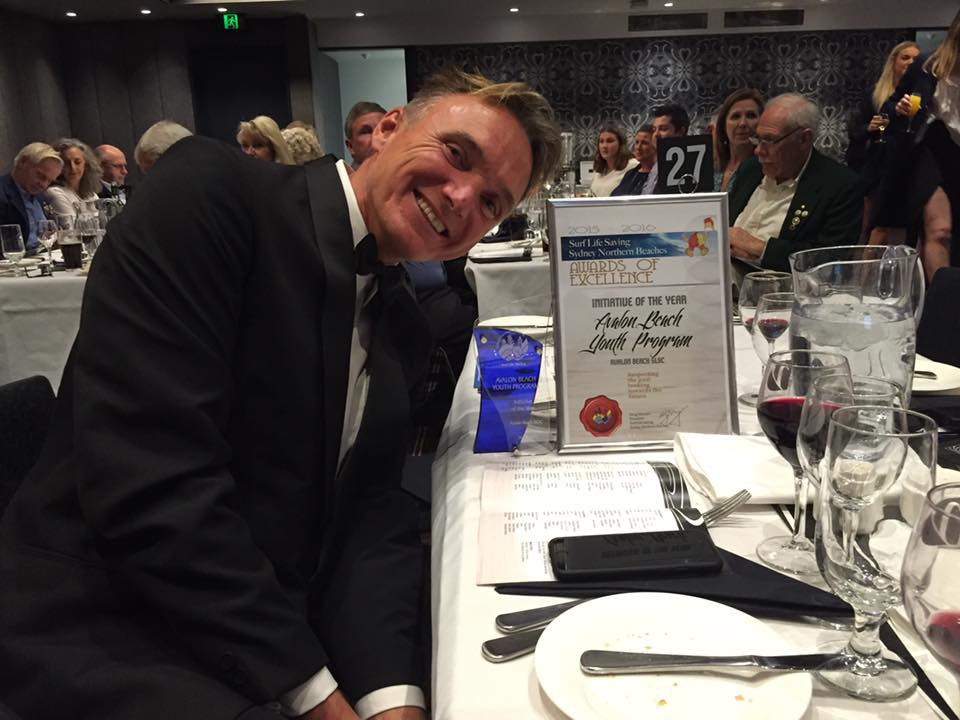 Mike Stanley Jones with the Initiative of the Year Award
Surf sports plays a vital role in maintaining and exercising the skills and fitness needed as well as showcasing what Surf Life Saving is all about. Each Carnival during the season, whether one hosted by a club, by branch, by state or the nationals (The Aussies) is great at promoting camaraderie between club members and the clubs themselves and also serves to remind those outside of the biggest volunteer organisation in Australia that from these ranks come world recognised Olympians, the best coaches and life saving innovations that have been adopted around the world too.
Coach of the Year is Peter Spence Palm Beach SLSC, Young Athlete of the Year is Callum Lowe-Griffiths Queenscliff SLSC, Masters Athlete of the Year is Michael Gedz Queenscliff SLSC, Athlete of the Year is Georgia Miller Newport SLSC, back to back awards for her too, while Team of the Year is the Palm Beach 'Pumas' Palm Beach SLSC who this season won the Branch, State and Aussies titles and also represented NSW at the Interstate Championships.
Kate Molloy, Alison Olmstead, Emily-Jane Recny and Georgia McCarthy, sweep Stephen Cox, who had to have an Operation towards the end of the season, when Boat Captain Peter Spence stepped in, having also fufilled sweeping for the Pamly Patriots after Matt Giblin had pre-season accident too, are the Palm Beach Pumas. During the Aussies they won every single race!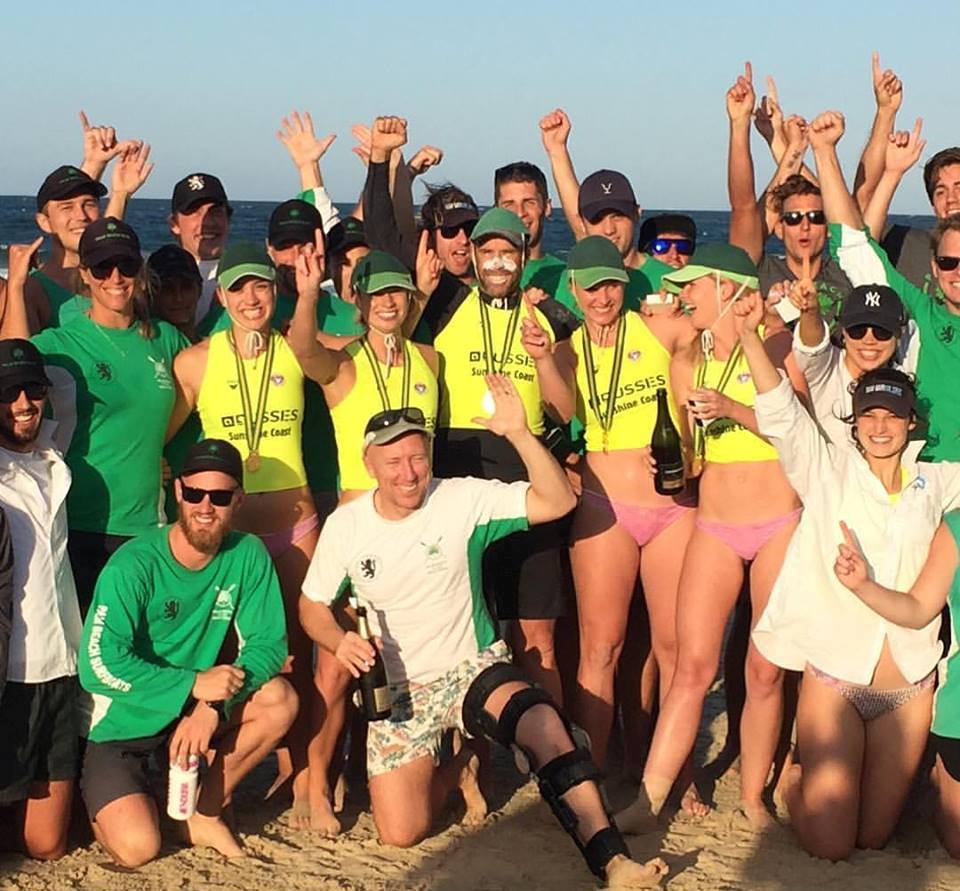 Palm Beach SLSC brought it home - GOLD for the Palmy Pumas in U23 Women - undefeated all Aussies, impressive stuff — Crew: Emily-Jane Sharpington-Recny, Georgia McCarthy, Alison Olmstead and Kate Molloy, Sweeps: Peter Spence, Stephen Cox, at Aussies 2016 - Surf Life Saving Australian Titles.
Peter Spence, Coach of the Year, has put many a season into lifting up the Boat Section at Palm Beach SLSC and the results are in - a great year for Palmy and Mr. Spence who, when not on the water, can be seen attending to the boats themselves in the yards at Palmy - there's no just turning up and getting on the water there, a lot else goes on before and after each season and right through them.
Avalon Beach SLSC Pinkies took out the Branch Under 23 Men's point score as did Newport's Mad Dogs in the Under 23 Women's.
Nathan Wellings sweep, along with Tom Curnow, Matt Mayall, Nick Sampson and Andrew Bright were the Youth development team for the Trans-Tasman surf boat.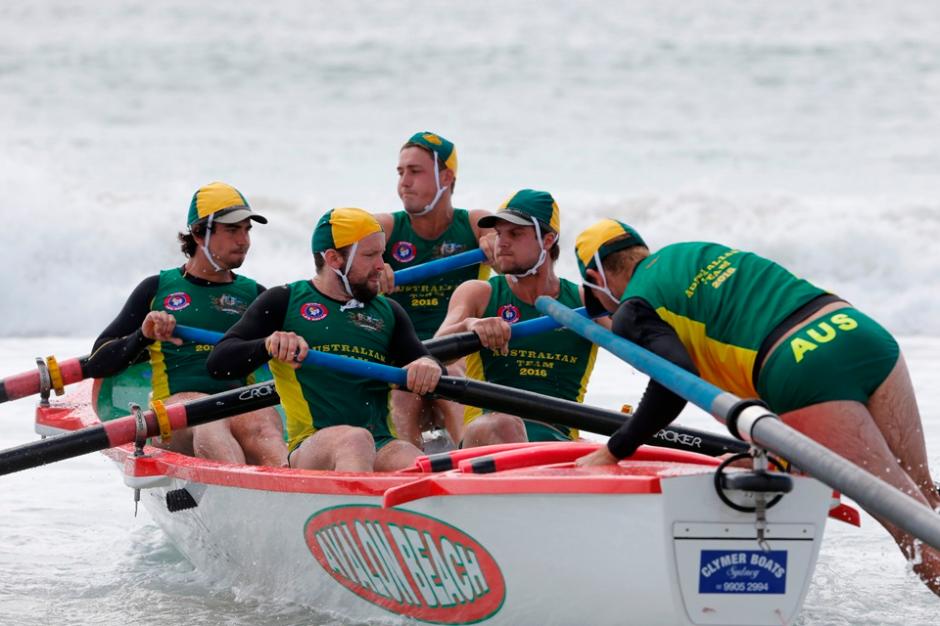 Trans Tasman 2016 Youth Development Team - Avalon Beach SLSC - picture courtesy NAVY ASRL
The Mad Dog girls, Celestine May, Celia Peppitt, Piret May, Monique Hegarty, sweep Robert Emerson placed in the top 12 in the country at this year's Aussies, rowing their first season together.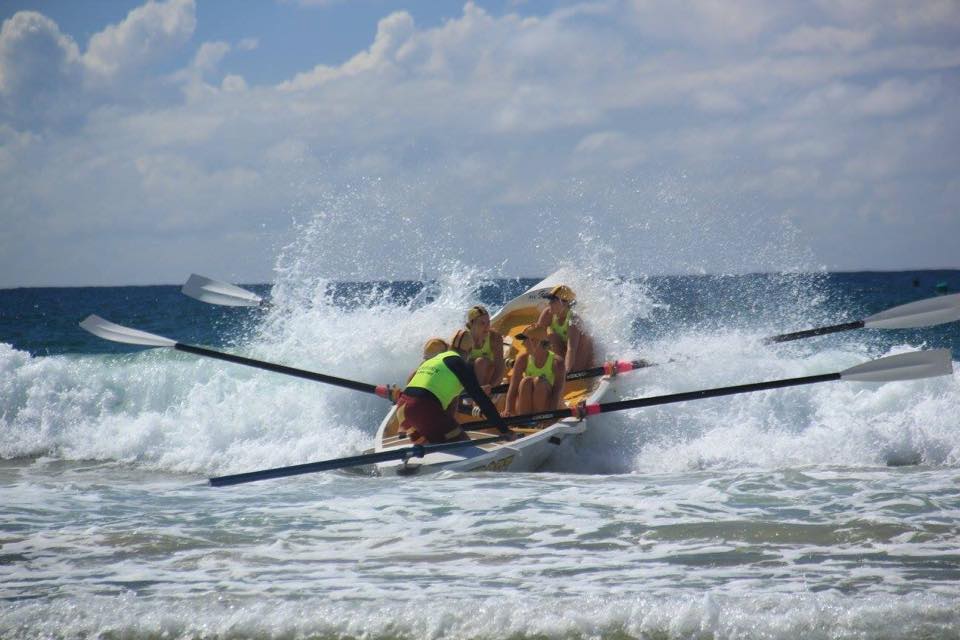 The Mad Dogs at the Aussies - picture courtesy Julie Hegarty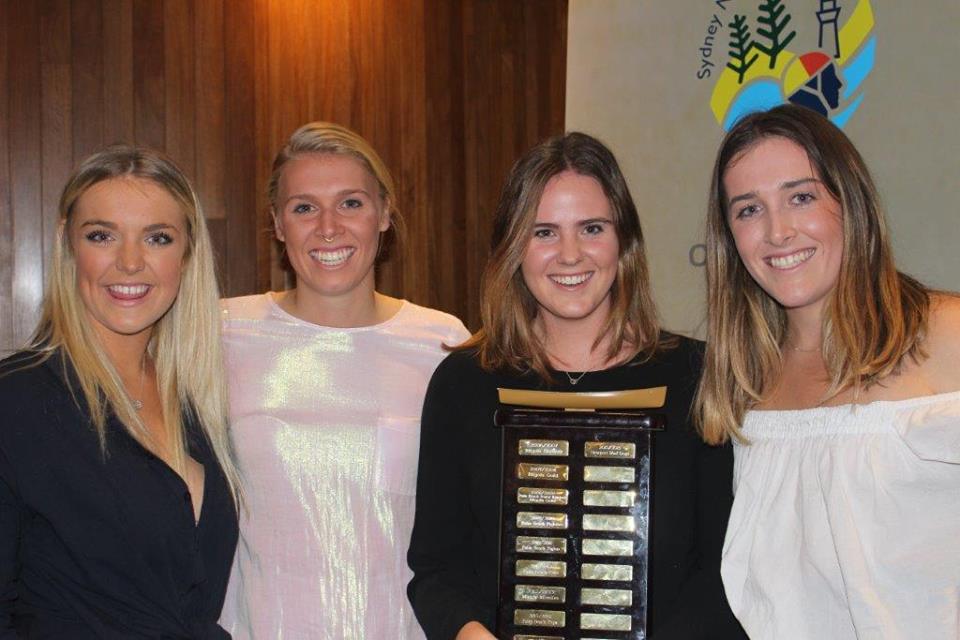 Picture: Monique (left), Piret, Celia and Celestine.

The Alan Fitzgerald MBE Branch Championship Point Score was won by surf sports giants Manly LSC, while Newport, Newport, Newport won the Lionel MacDonald OAM Branch Championship Handicap Point Score and the Bennett Boards Overall Carnival Handicap Point Score Newport SLSC. They're getting it right at Newport with their Training Academy and overall great attitude, placing third overall at the Australian Championships this year.
A member of this Newport Team is Athlete of the Year, Georgia Miller.
"Being up against Jay (Furniss) and Michael Kember is a massive thing and I am so happy to come away with it,'' Georgia said on recieving her second in a ro Athlete of the Year Branch Award. Georgia's next big assignment is with the Australian team for the world championships in The Netherlands in early September. ''Unfortunately, I just fractured my wrist. I had a fall and stuck my hand out. It's nothing bad but I just have to get it right,'' she said.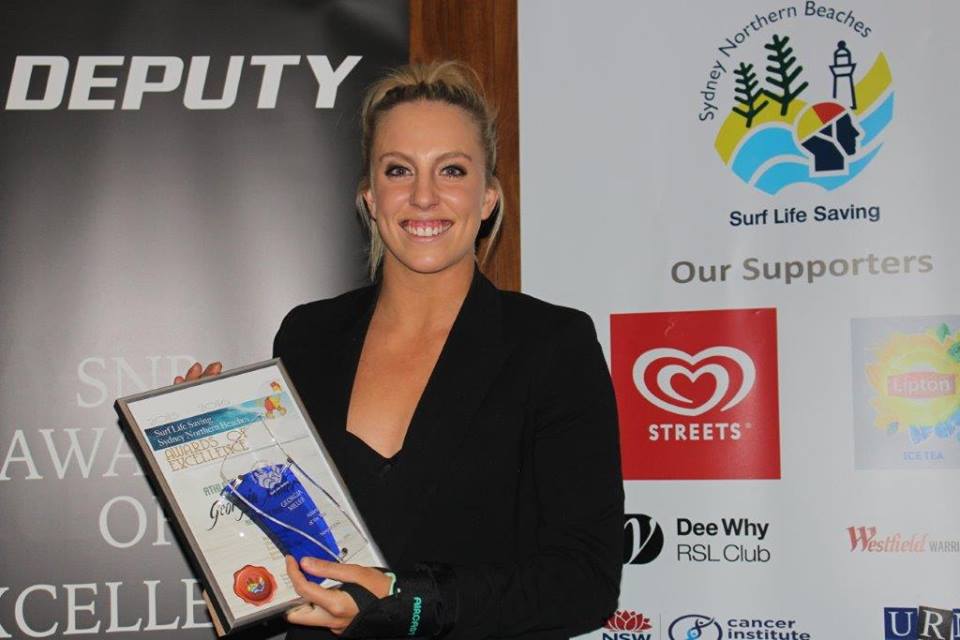 Georgia Miller - Athlete of the Year.
It's no secret that those who maintain their fitness even while maturing can bring their best to all other areas of life too. This seasons Masters Athlete of the Year can still run rings around many of us not even half his age. Queenscliff's Michael Gedz is Branch Masters Athlete of the Year for the second time in three years and hopes to compete for a long time yet.
''A lot of hard work goes into it (training). I am a bit chuffed really,'' he said after receiving his award at the Awards of Excellence. ''It caps off a really good season. I won (the award) two years ago but you don't do it for the awards but it is good to get recognised,'' he said. "I do a lot of stuff outside of competing which I am proud of.''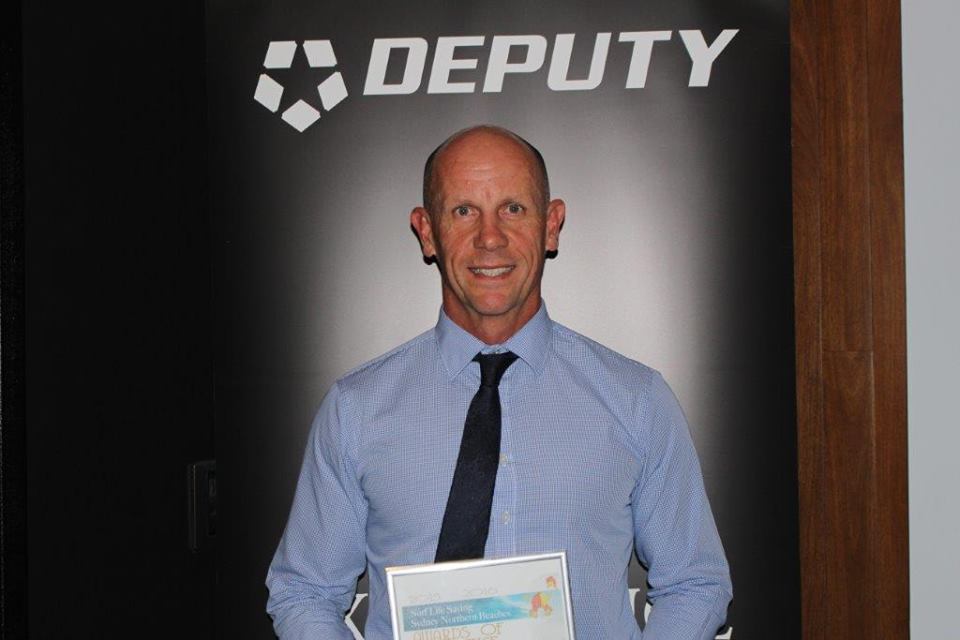 Mr. Gedz with his award
The following progress to the Surf Life Saving New South Wales Awards of Excellence: the Surf Sports Official of the Year, Surf Sports Coach of the Year, Young Athlete of the Year U19, Athlete of the Year, Masters Athlete of the Year, Team of the Year, Volunteer of the Year, Administrator of the Year, Initiative of the Year, Trainer of the Year, Assessor of the Year, Facilitator of the Year, Rescue of the Year, Young Lifesaver of the Year U19, Lifesaver of the Year.

Surf Life Saving Sydney Northern Beaches Branch Awards of Excellence
2015/2016
Winners List
Outstanding Service Award Shannon Job North Steyne SLSC
Outstanding Service Award Kaz Marks Narrabeen Beach & Dee Why SLSCs
Outstanding Service Award Christine Hopton Avalon Beach SLSC
Distinguished Service Award Sue Troy Freshwater SLSC
Branch Life Membership Rhonda Lycett Mona Vale SLSC
Branch Life Membership Suzanne Rossi Collaroy SLSC
Branch Life Membership Kevin Moffat South Curl Curl SLSC
Branch Life Membership David Torevell Freshwater & Queenscliff SLSCs
Branch Life Membership Alan Butler Queenscliff SLSC
Branch Life Membership Thecla Haven South Narrabeen SLSC
Branch Life Membership Craig Susans Queenscliff SLSC
Branch Life Membership Nigel Penn Bilgola SLSC
Branch Life Membership Ron Pomering Warriewood SLSC
Alan Fitzgerald MBE Branch Championship Point Score Manly LSC
Lionel MacDonald OAM Branch Championship Handicap Point Score Newport SLSC
Bennett Boards Overall Carnival Handicap Point Score Newport SLSC
Cedric T Walton Competition Recording Award Rhonda Lycett Mona Vale SLSC
Harry Ragan Outstanding Service Award Glenn Tolan Mona Vale SLSC
Raymond Matthew Brown OAM Radio Operators Award Stan Buckman Manly LSC
Dee Why RSL Club Official of the Year Nigel Penn Bilgola SLSC
Dee Why RSL Club Coach of the Year Peter Spence Palm Beach SLSC
Thredbo Young Athlete of the Year Callum Lowe-Griffiths Queenscliff SLSC
RFi Group Masters Athlete of the Year Michael Gedz Queenscliff SLSC
URM Athlete of the Year Georgia Miller Newport SLSC
Dee Why RSL Club Team of the Year Palm Beach 'Pumas' Palm Beach SLSC
Westfield Warringah Mall Administrator of the Year Charles Longley South Narrabeen SLSC
Bill Buckle Trainer of the Year David Spink Dee Why SLSC
Bill Buckle Assessor of the Year Lindsay Davis Freshwater SLSC
Bill Buckle Facilitator of the Year Clare Hagon North Curl Curl SLSC
Cancer Institute NSW Volunteer of the Year Ben Matthews Newport SLSC
Northern Beaches Council Initiative of the Year Avalon Beach Youth Program Avalon Beach SLSC
Dematic Young Lifesaver of the Year Kyra Jenkins North Steyne SLSC
Dematic Young Lifesaver of the Year Charles Kellaway Whale Beach SLSC
Dee Why RSL Club Rescue of the Year Warriewood SLSC & Avalon Beach SLSC
President's Award Wet 'N' Wild Nipper Coastal Visit North Steyne SLSC
Deputy Lifesaver of the Year Rebecca Chapman North Steyne SLSC
Lipton Ice Tea Patrol Assessment Competition 1st place North Steyne SLSC
Lipton Ice Tea Patrol Assessment Competition 2nd place Newport SLSC
Lipton Ice Tea Patrol Assessment Competition 3rd place Queenscliff SLSC
Lipton Ice Tea Patrol Assessment Competition 4th place Narrabeen Beach SLSC
Lipton Ice Tea Patrol Assessment Competition 5th place Dee Why SLSC
Lipton Ice Tea Patrol Assessment Competition 6th place North Palm Beach SLSC
Lipton Ice Tea Patrol Assessment Competition 7th place South Narrabeen SLSC
Streets Most Improved Club North Palm Beach SLSC
Streets Most Outstanding Club Categories
Lifesaving South Narrabeen SLSC
Education North Palm Beach SLSC
Member Services Freshwater SLSC
Surf Sports Freshwater SLSC
Administration Avalon Beach SLSC
Administration Newport SLSC
Administration North Curl Curl SLSC
Administration Freshwater SLSC
Streets Most Outstanding Club 1st place Freshwater SLSC
Streets Most Outstanding Club 2nd place Dee Why SLSC
Streets Most Outstanding Club 3rd place North Palm Beach SLSC
Streets Most Outstanding Club 4th place North Steyne SLSC
Streets Most Outstanding Club 5th place Manly LSC