August 22 - 28, 2021: Issue 507

Early Spring Bushflowers: Pittwater Is Blooming Beautiful
photos by Selena Griffith
Spring is bursting out all over now around Pittwater and in the national parks - this week some great photos from Selena Griffith; pure eye candy for those who are safer indoors at present.
Many thanks to Selena for bringing a taste of the great outdoors to all those who love seeing what's happening in the bush. For those who'd like to see some of the great flowers Selena photographed on the other side of Australia in 2017, please visit A Stroll Through Kings Park And Botanic Garden: Perth - Western Australia
Currently we are just days out from the time of Ngoonungi in the D'harawal calendar. The D'harawal Country and language area extends from the southern shores of Port Jackson (Sydney Harbour) to the northern shores of the Shoalhaven River, and from the eastern shores of the Wollondilly River system to the eastern seaboard.
Ngoonungi: Cool becoming warm, September-October
Flying foxes appear
Ceremonial time
Miwa Gawaian in flower (Waratah)
Selena certainly found plenty of waratahs in full flower and about to bloom, as well as their seed pods. This resonates especially through her family as the waratah that is on all NSW licences is by her mum and one of Australia's best Artists' Pamela Griffith, who kindly allowed a sharing of her then current exhibition as the Pittwater Online News October 2020 Artist of the Month.
The most well-known species in this genus is Telopea speciosissima, which has bright red flowers and is the NSW state emblem. The Waratah is a member of the plant family Proteaceae, a family of flowering plants distributed in the Southern Hemisphere. The key diagnostic feature of Proteaceae is the inflorescence, which is often very large, brightly coloured and showy, consisting of many small flowers densely packed into a compact head or spike. Species of waratah boast such inflorescences ranging from 6–15 cm in diameter with a basal ring of coloured bracts. The leaves are spirally arranged, 10–20 cm long and 2–3 cm broad with entire or serrated margins.
The name waratah comes from the Eora Aboriginal people, the original inhabitants of the Sydney area, and their word 'warada' meaning 'beautiful' or 'seen from afar'...
It's certainly a waratah brimming verge in the local annual seasonal turns of Pittwater at present: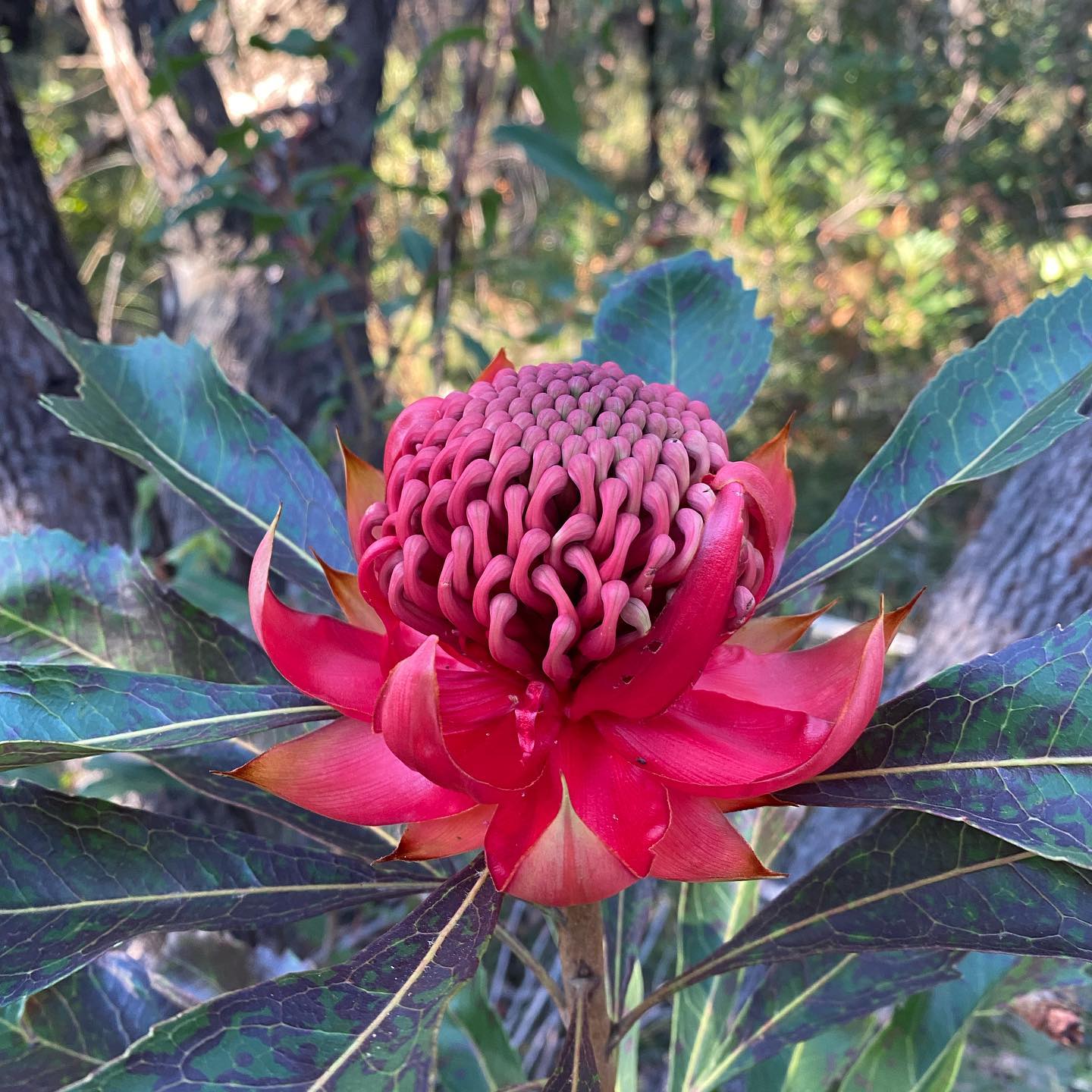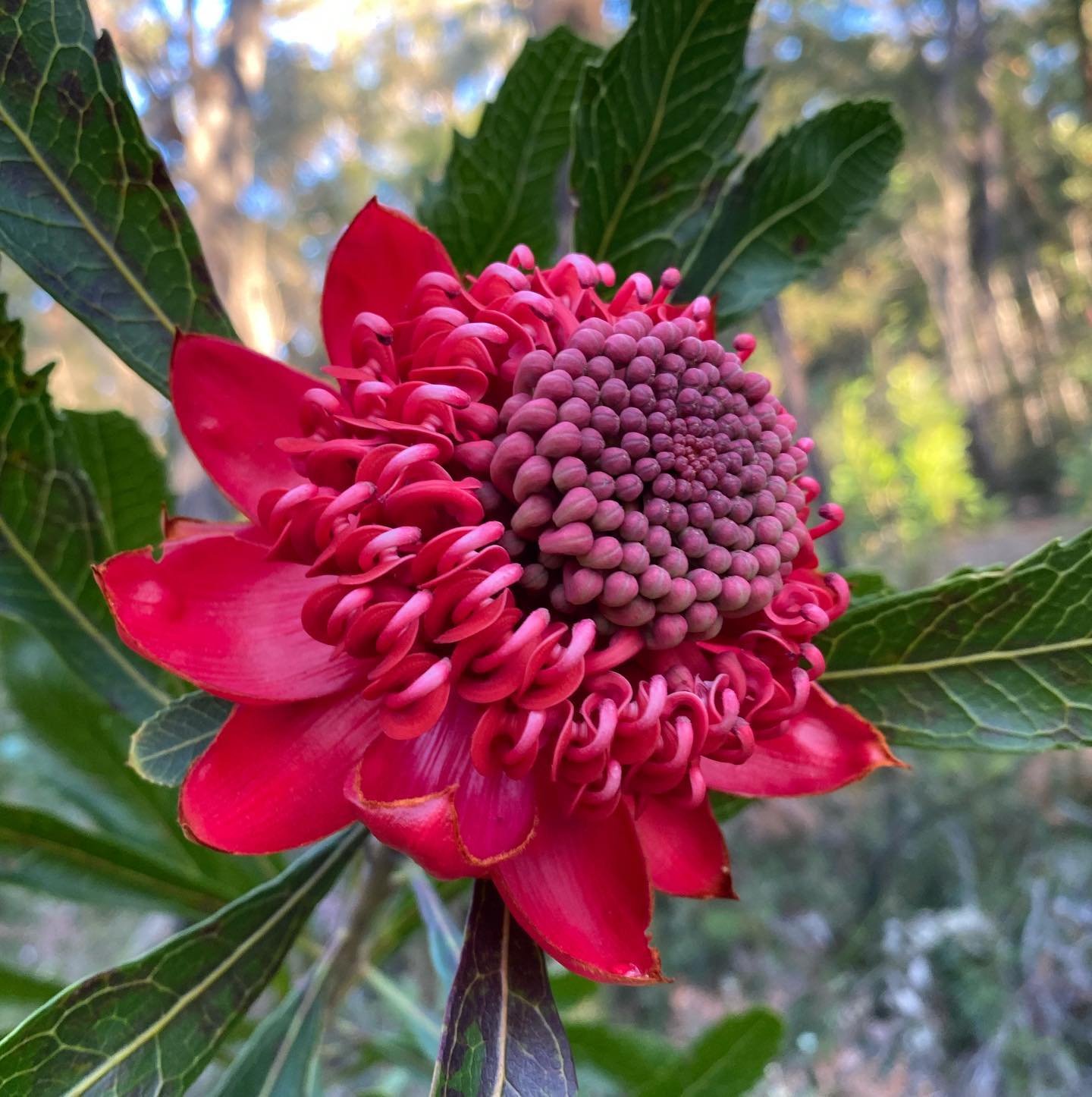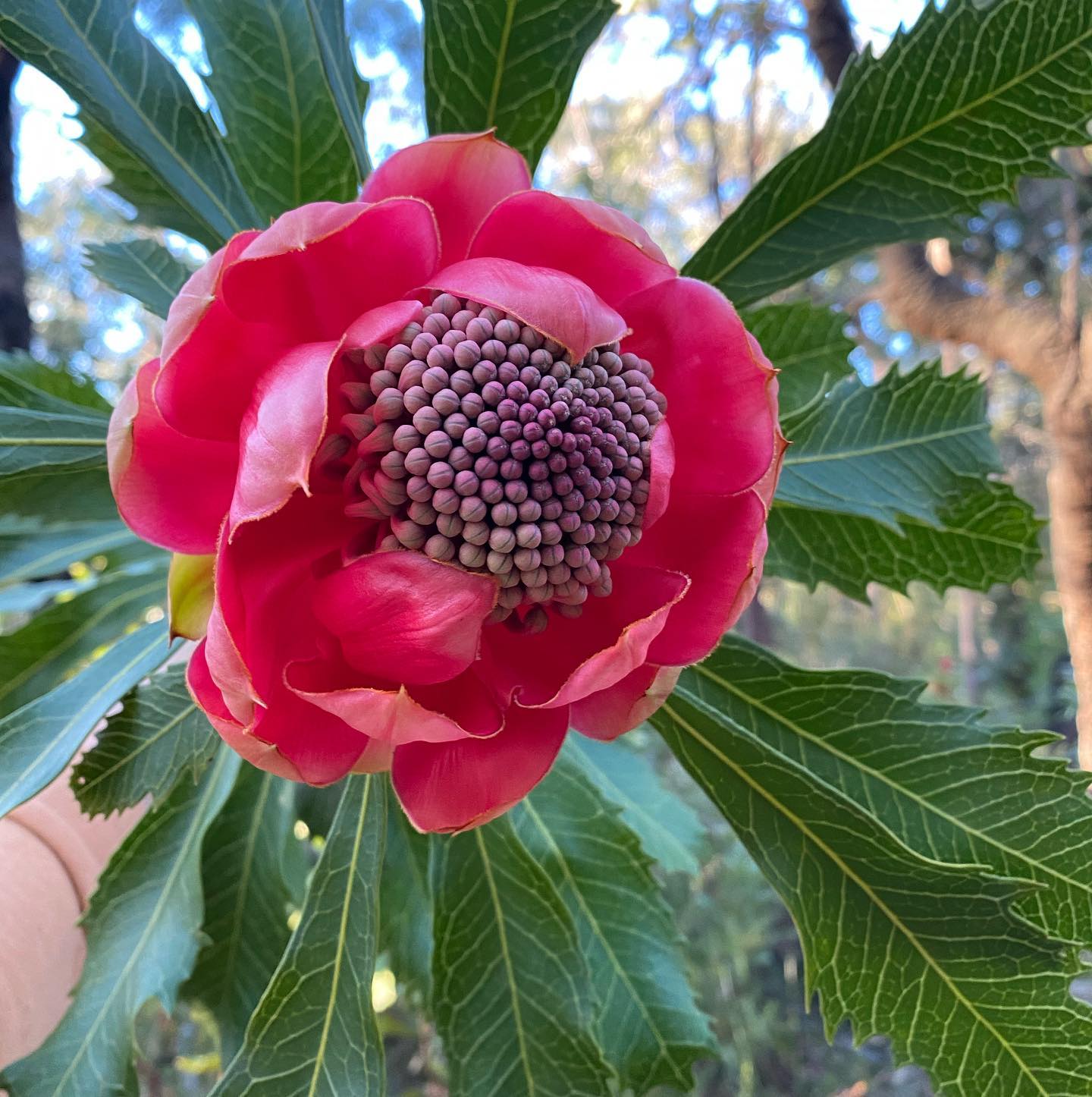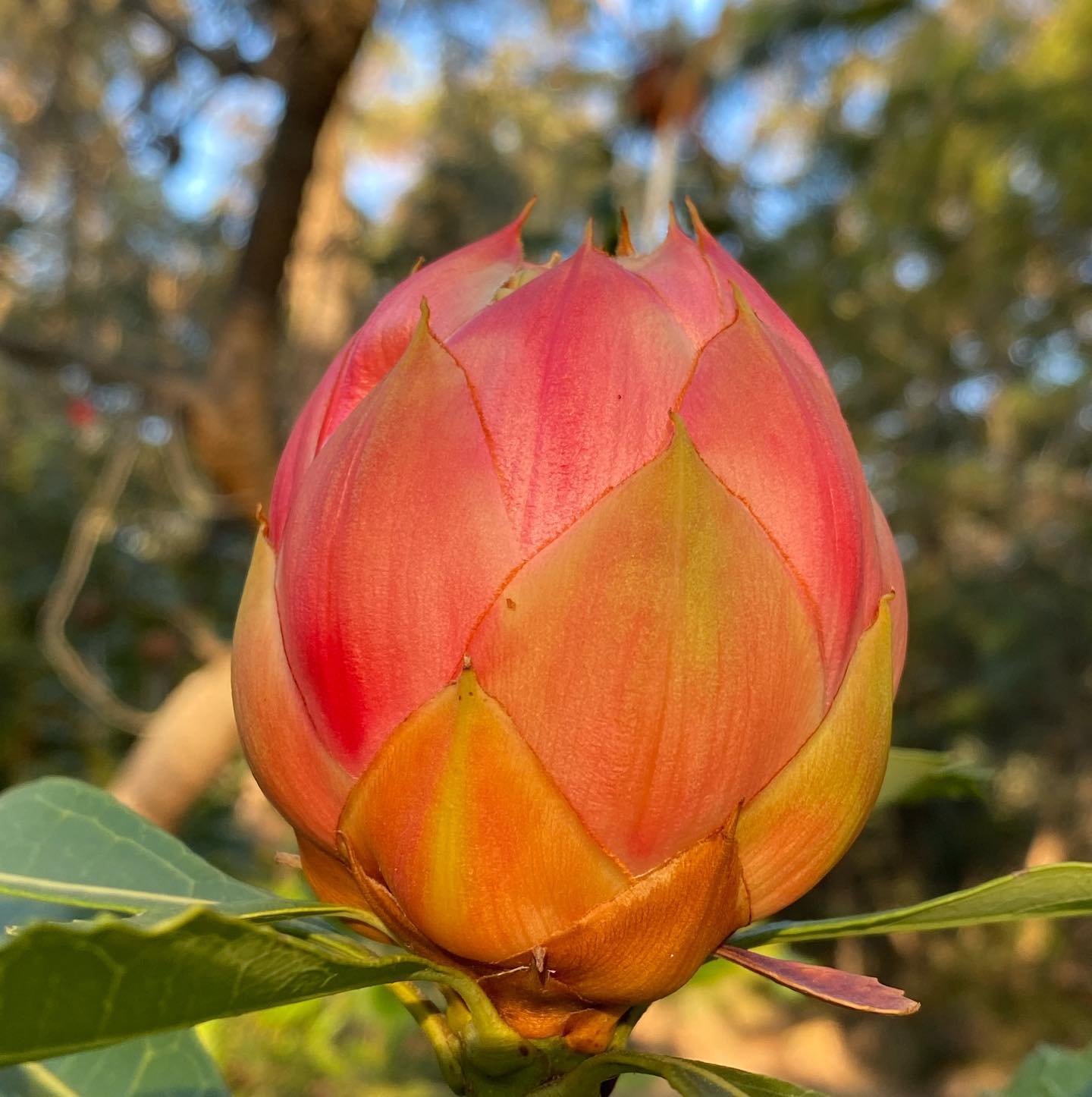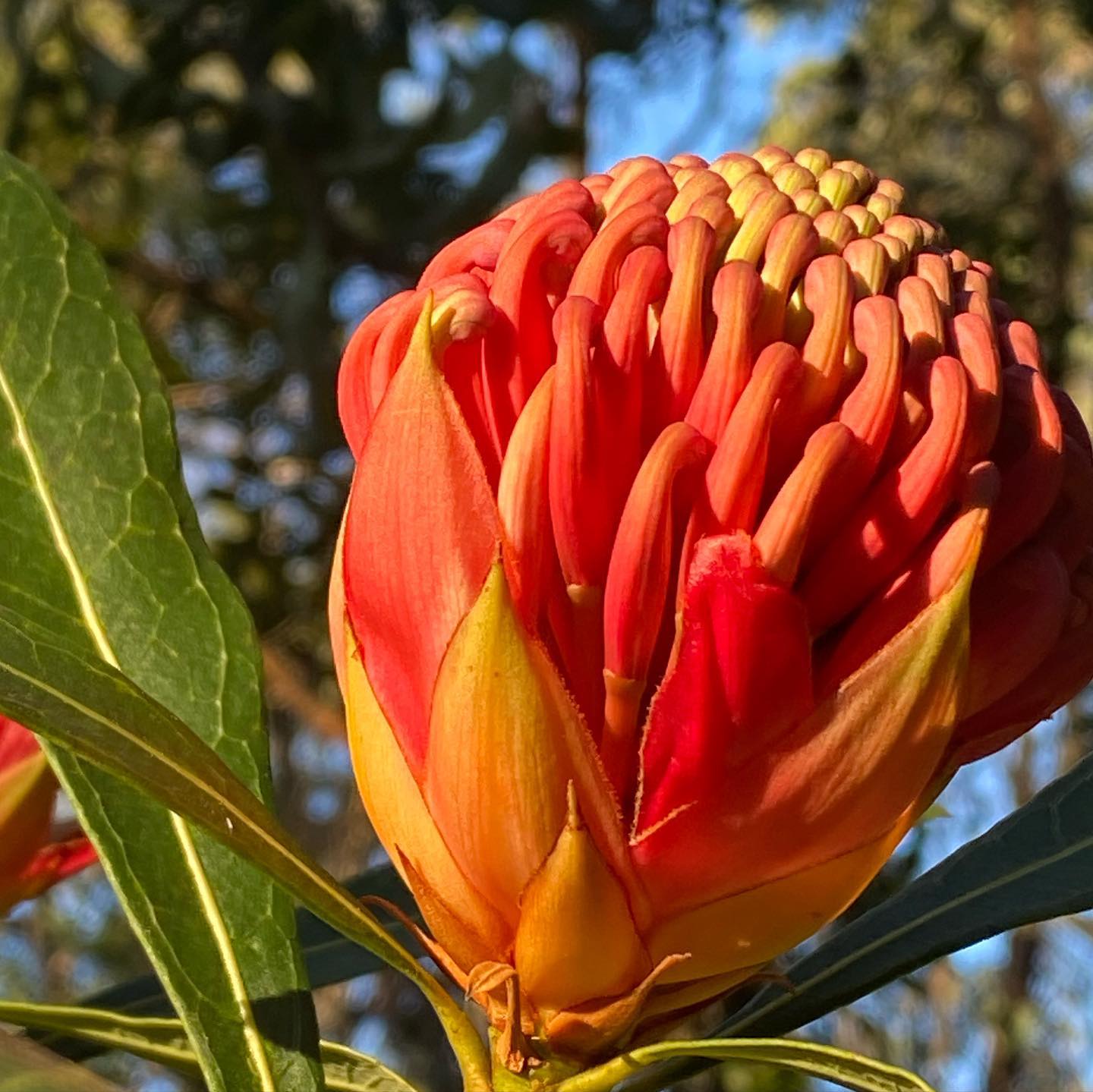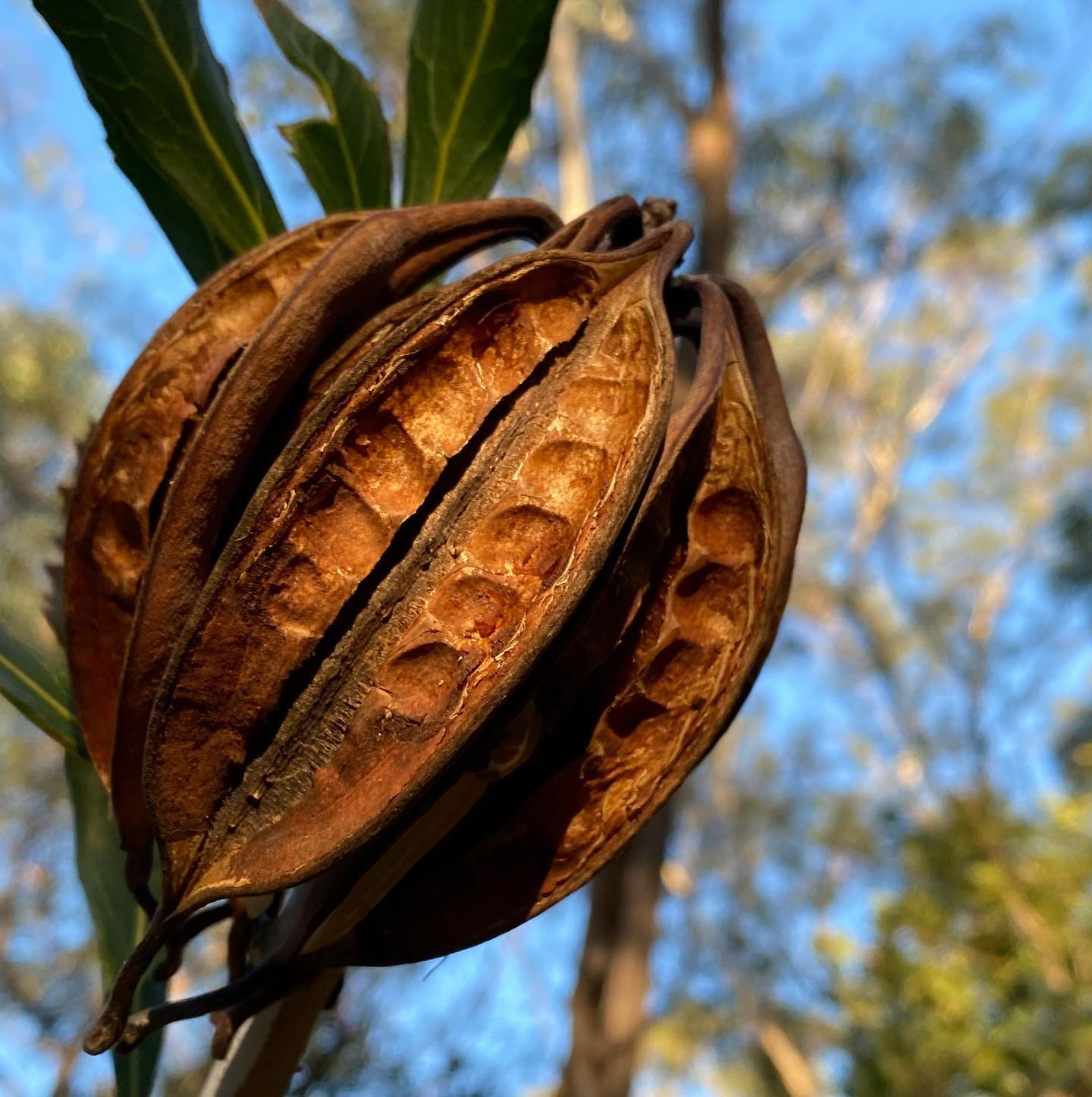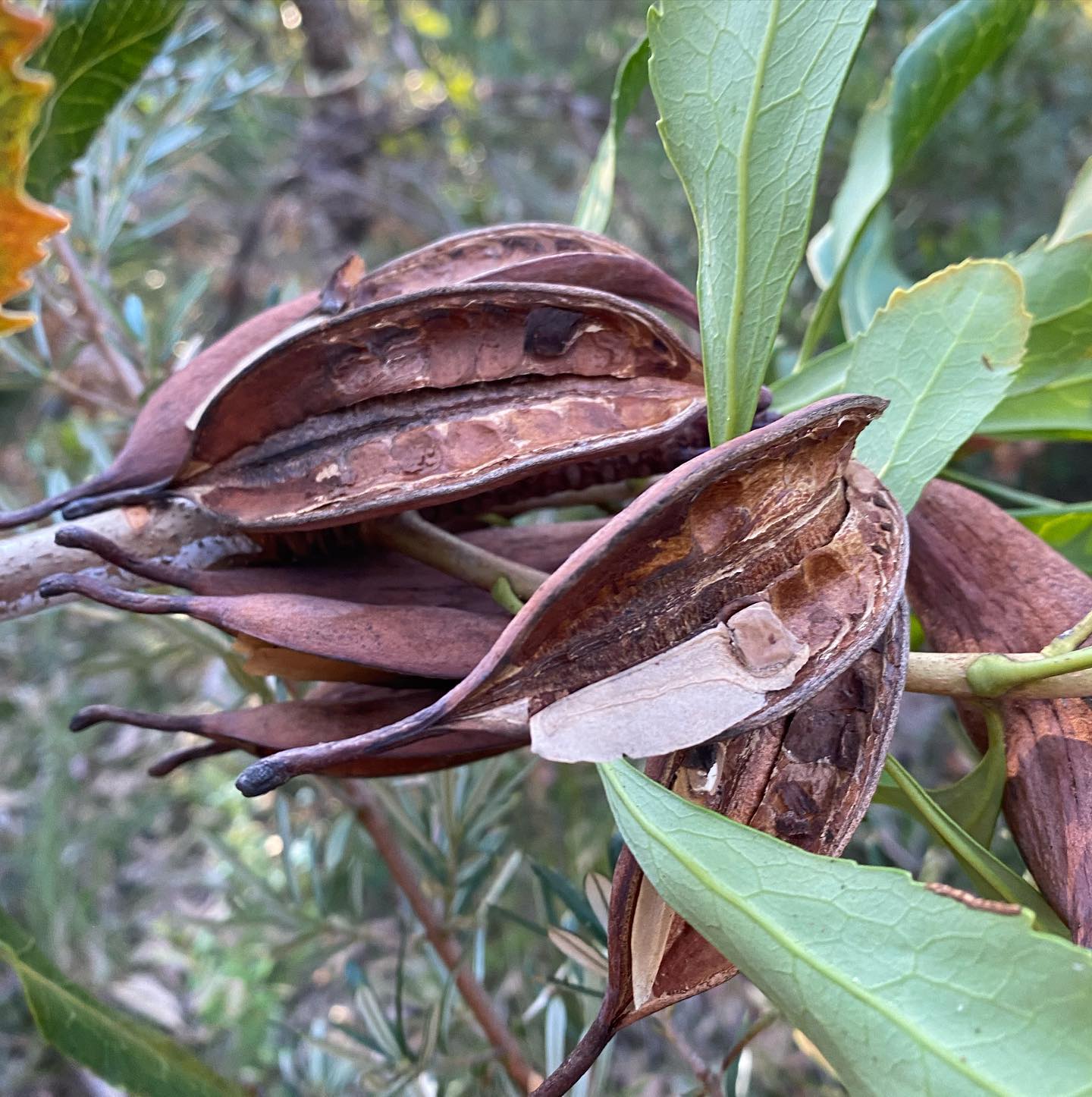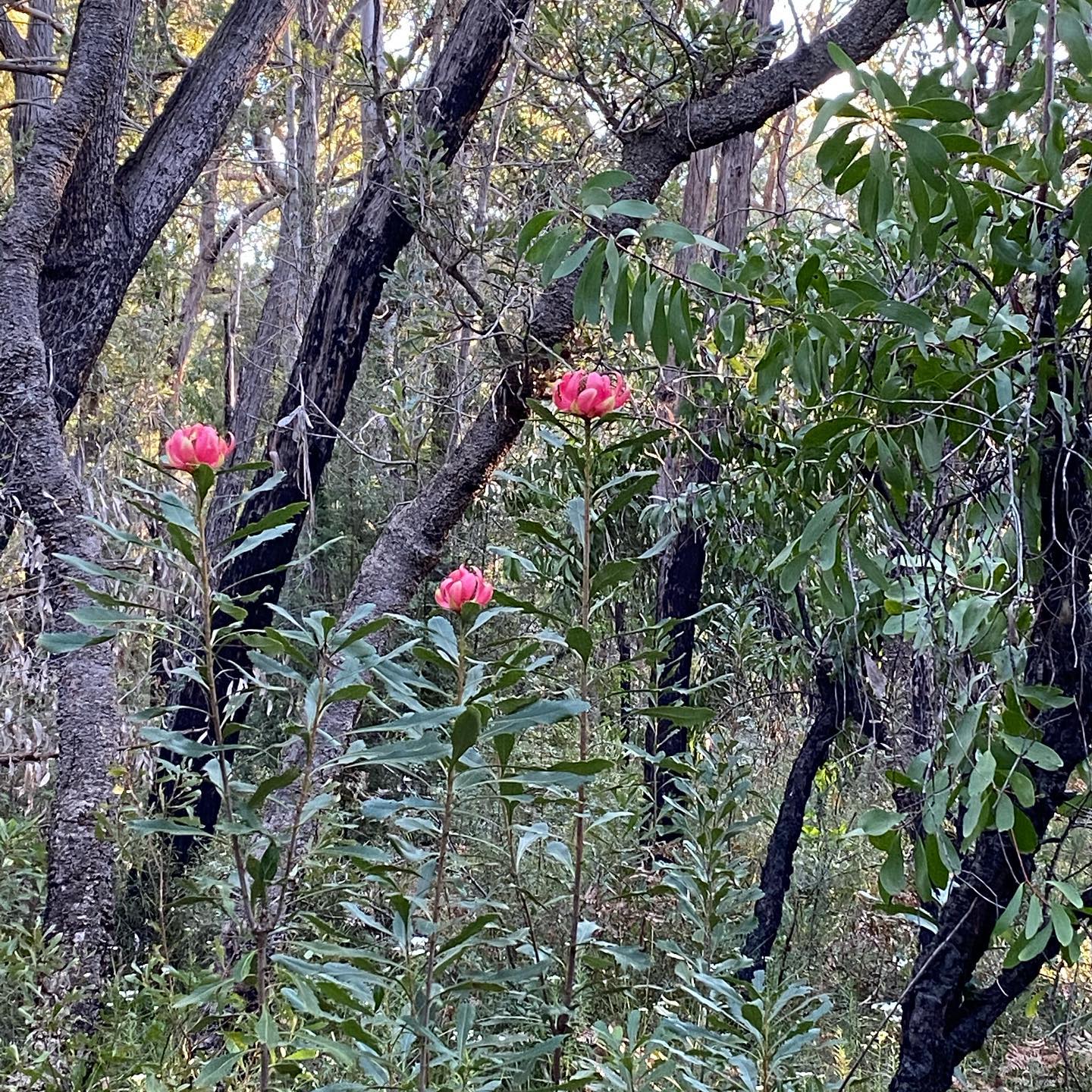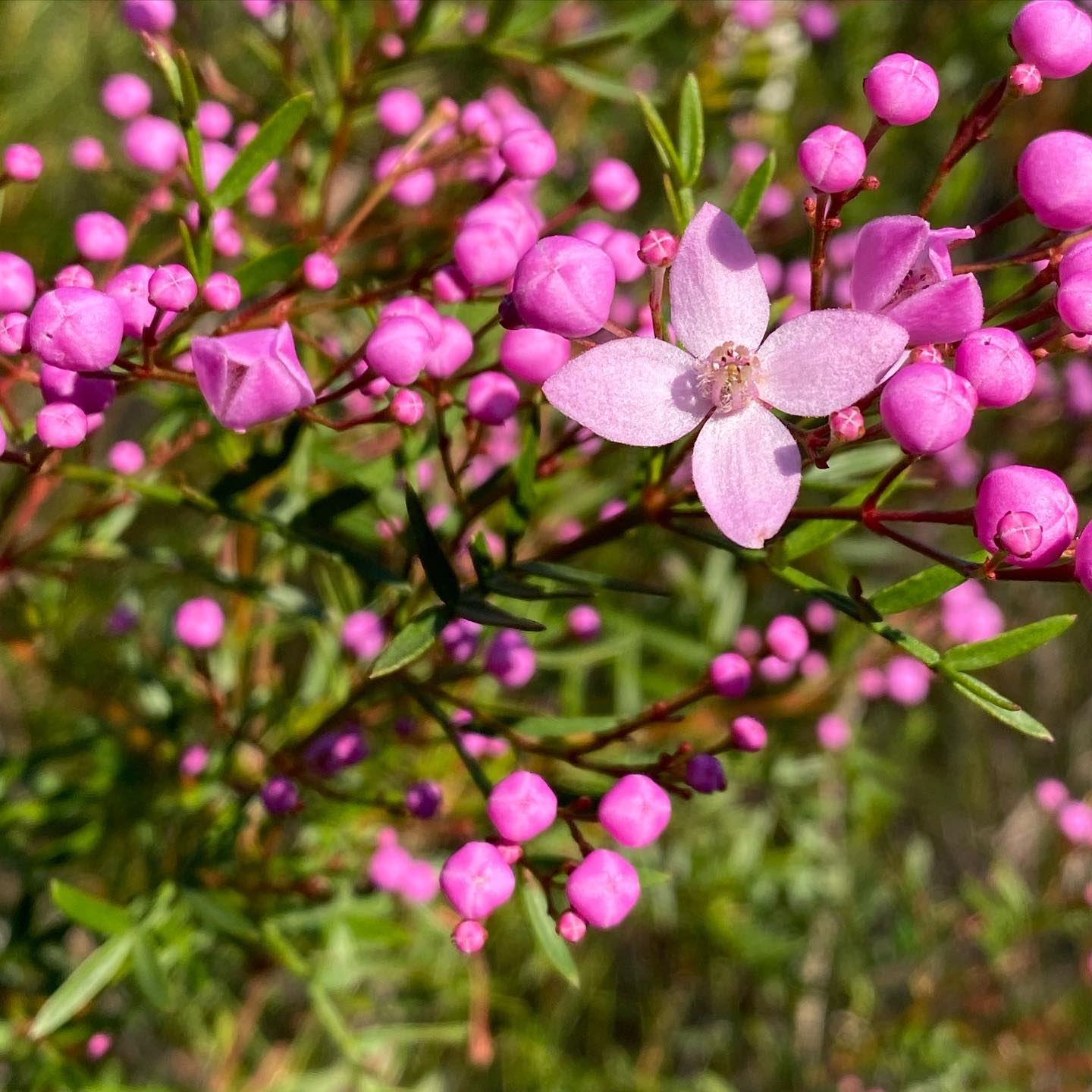 Ledum Boronia aka Boronia ledifolia - The underside of the petals when seen in bud are red. The strong scent of the foliage comes from oil glands. This identifies it as a member of the Rutaceae plant family which includes citrus and the herb Rue. Information courtesy Pittwater Natural Heritage Association (PNHA)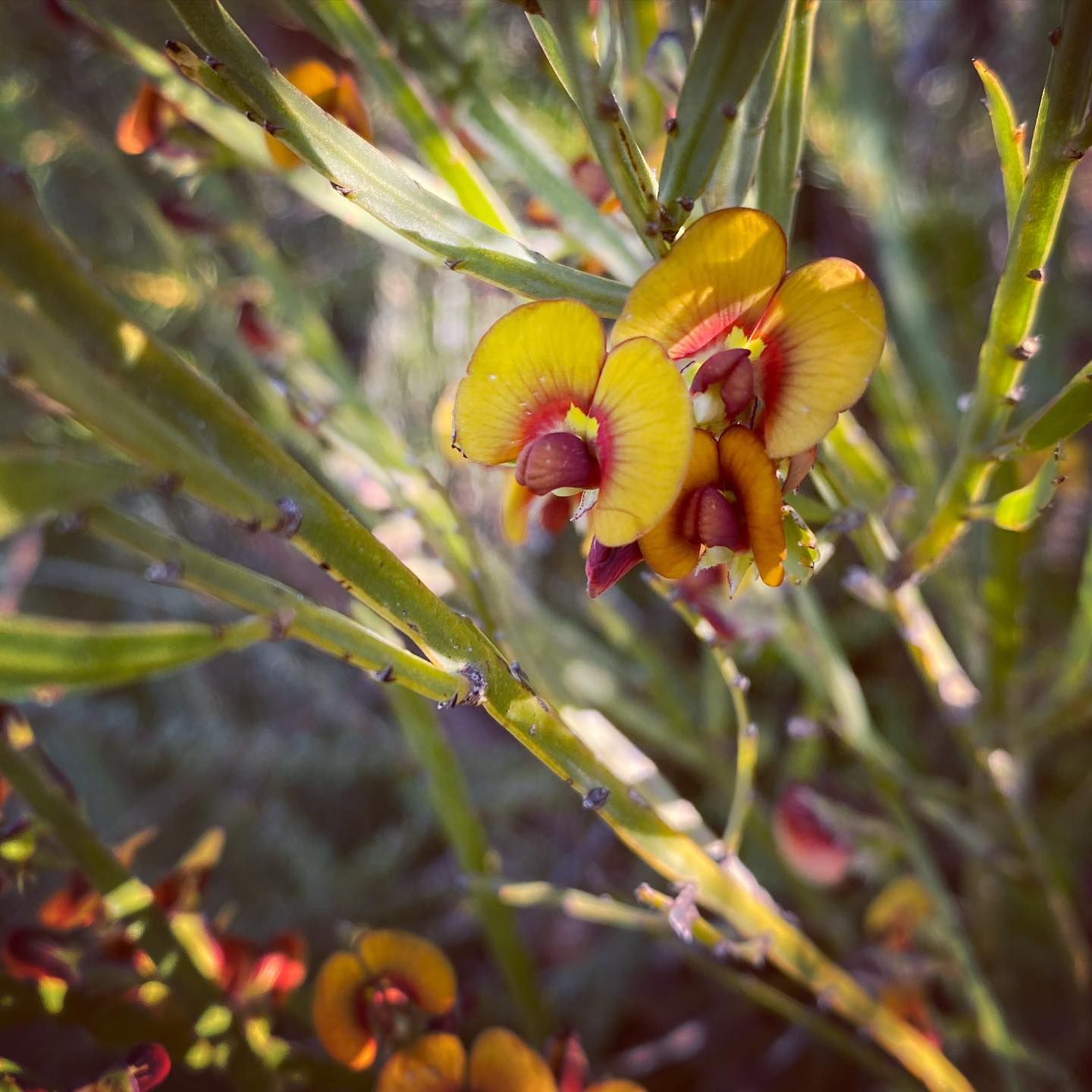 Bossiaea scolopendria - 'Plank Plant'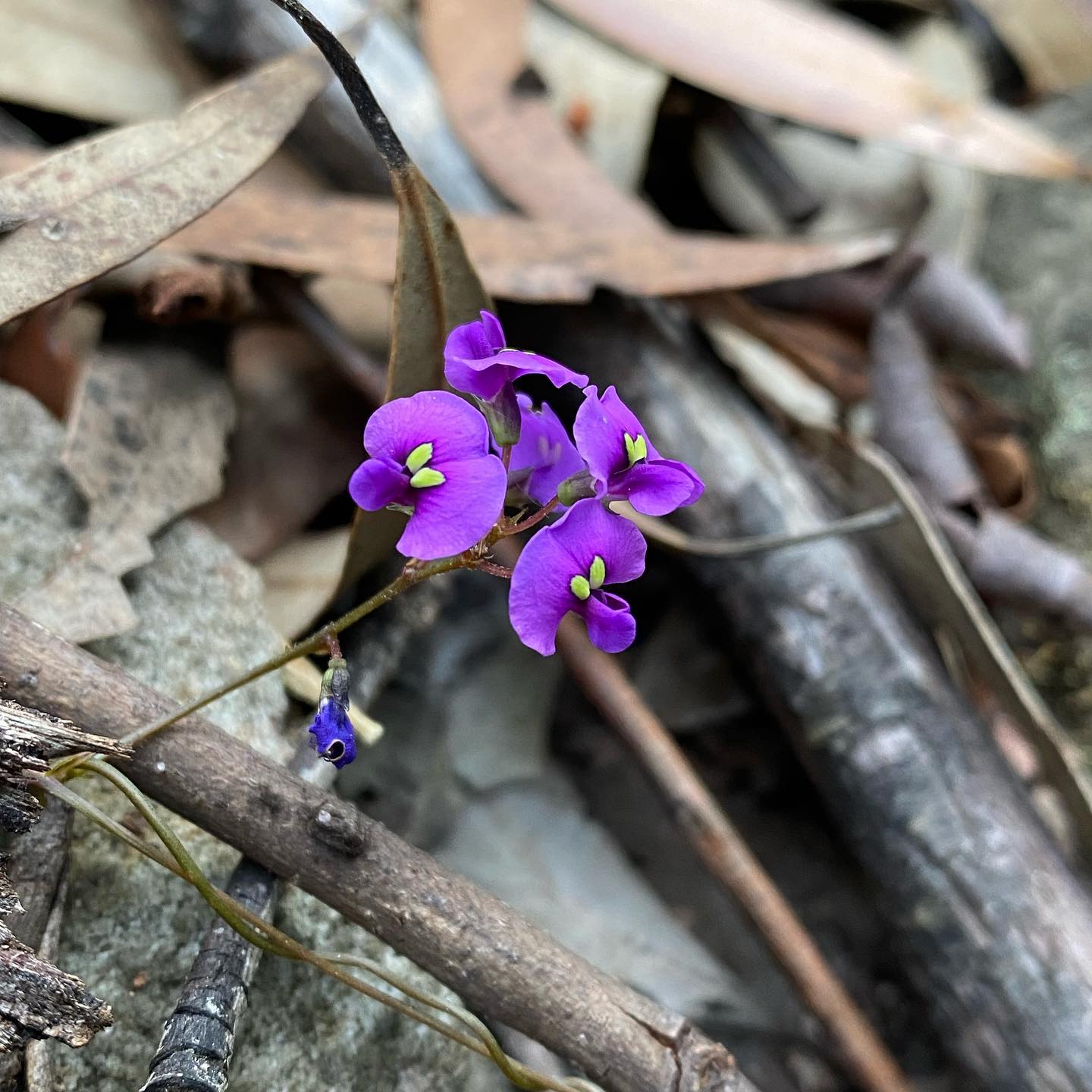 False Sarsaparilla (Hardenbergia violacea) is a species of Australian flowering Native plant, known in Australia by the common names false sarsaparilla, purple coral pea, happy wanderer, native lilac and waraburra (which comes from the Kattang language; Worimi, or Gadjang (also spelt Kattang, Kutthung, Gadhang, Gadang, Gathang) is an Australian Aboriginal language of New South Wales). It grows as a climbing vine, but also as a subshrub. Flowering in late Winter and all through Spring.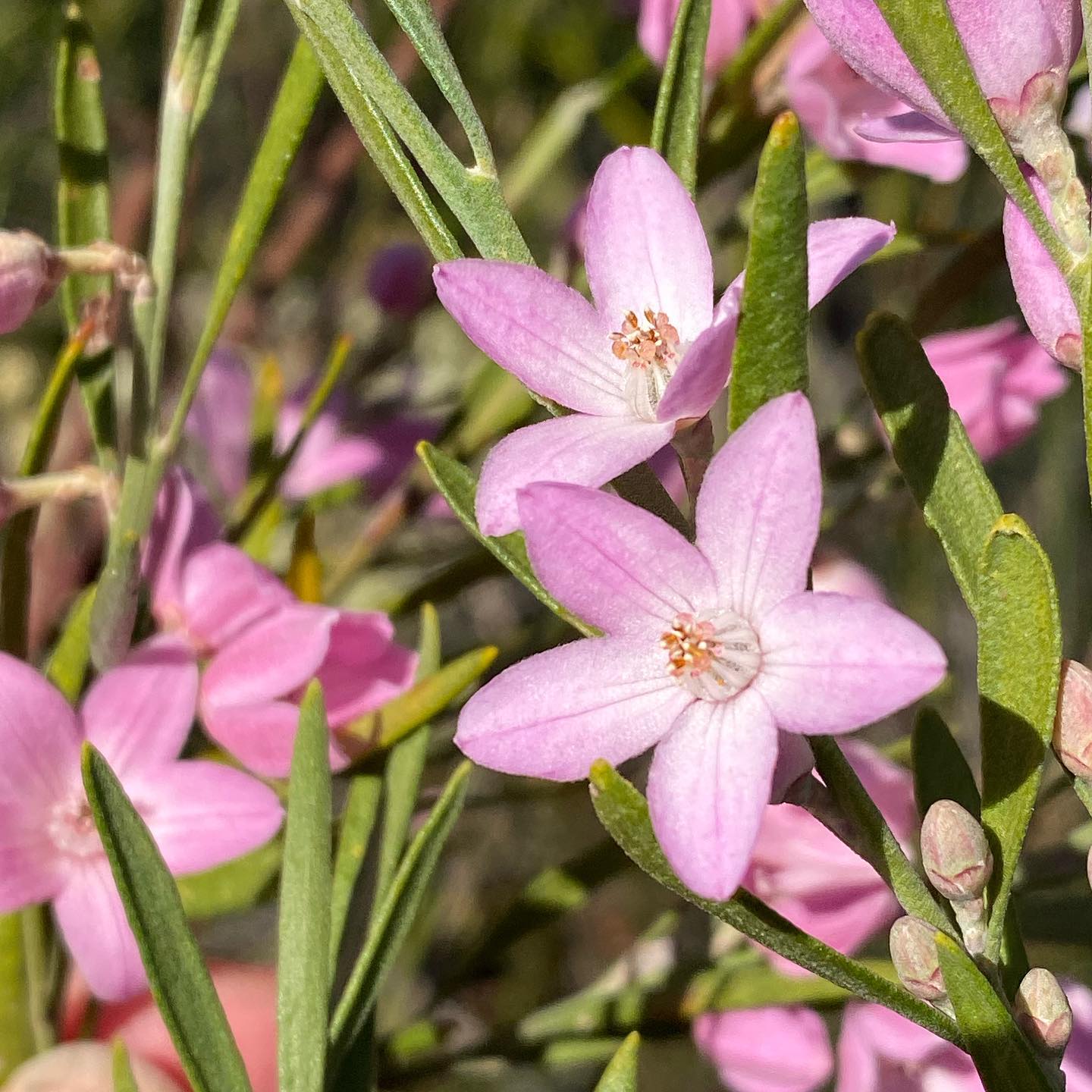 Eriostemon australasius - Wax Flower

Beautiful wattle details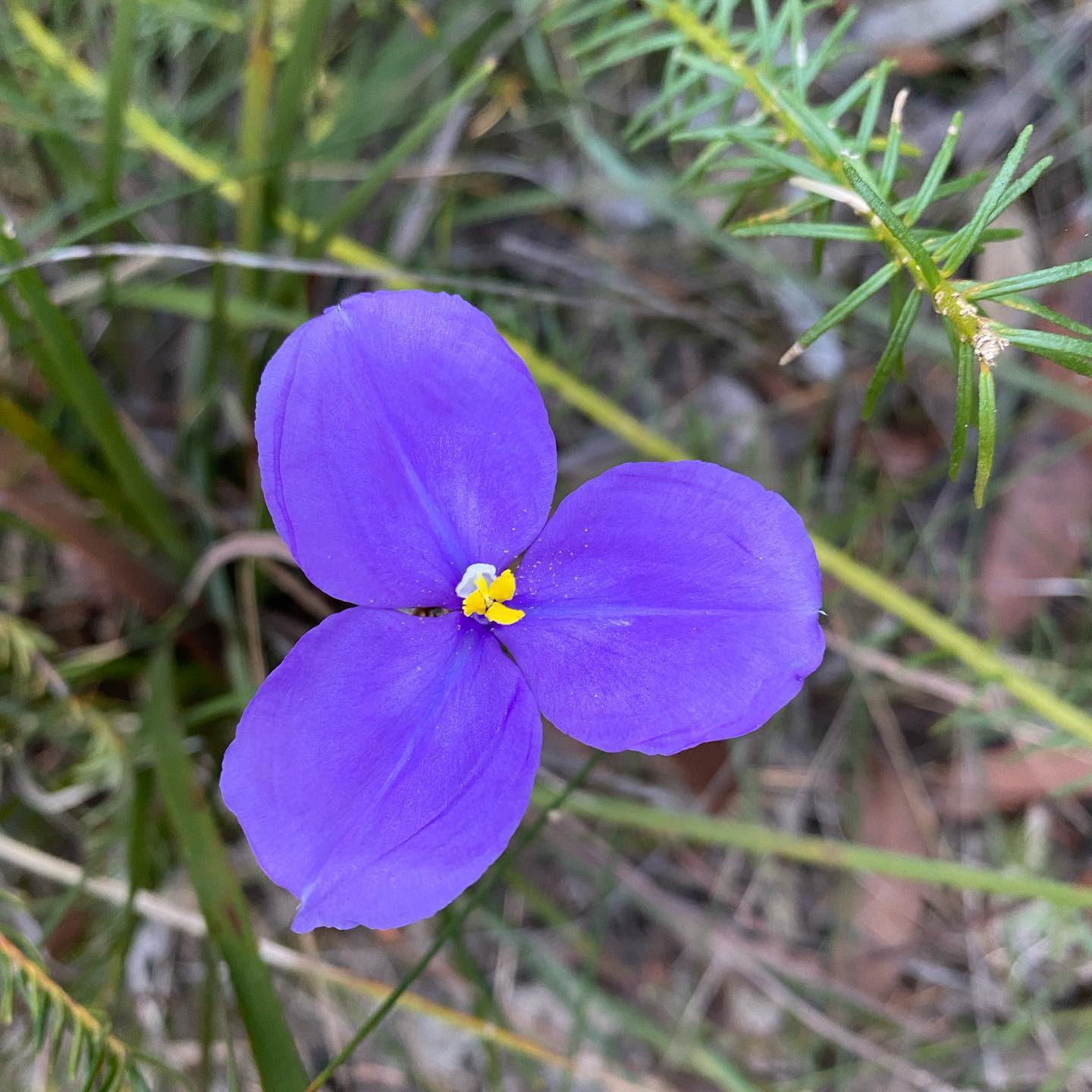 Native Iris, Patersonia sericea - Patersonia is a genus of flowering plants in the family Iridaceae commonly known as native iris or native flag. It was first described as a genus in 1807 by Robert Brown. It is native to Australia, New Guinea, New Caledonia, and insular Southeast Asia. The genus name is a tribute to the first Lieutenant Governor of New South Wales in Australia, William Paterson.