Artist Of The Month October 2020: Pamela Griffith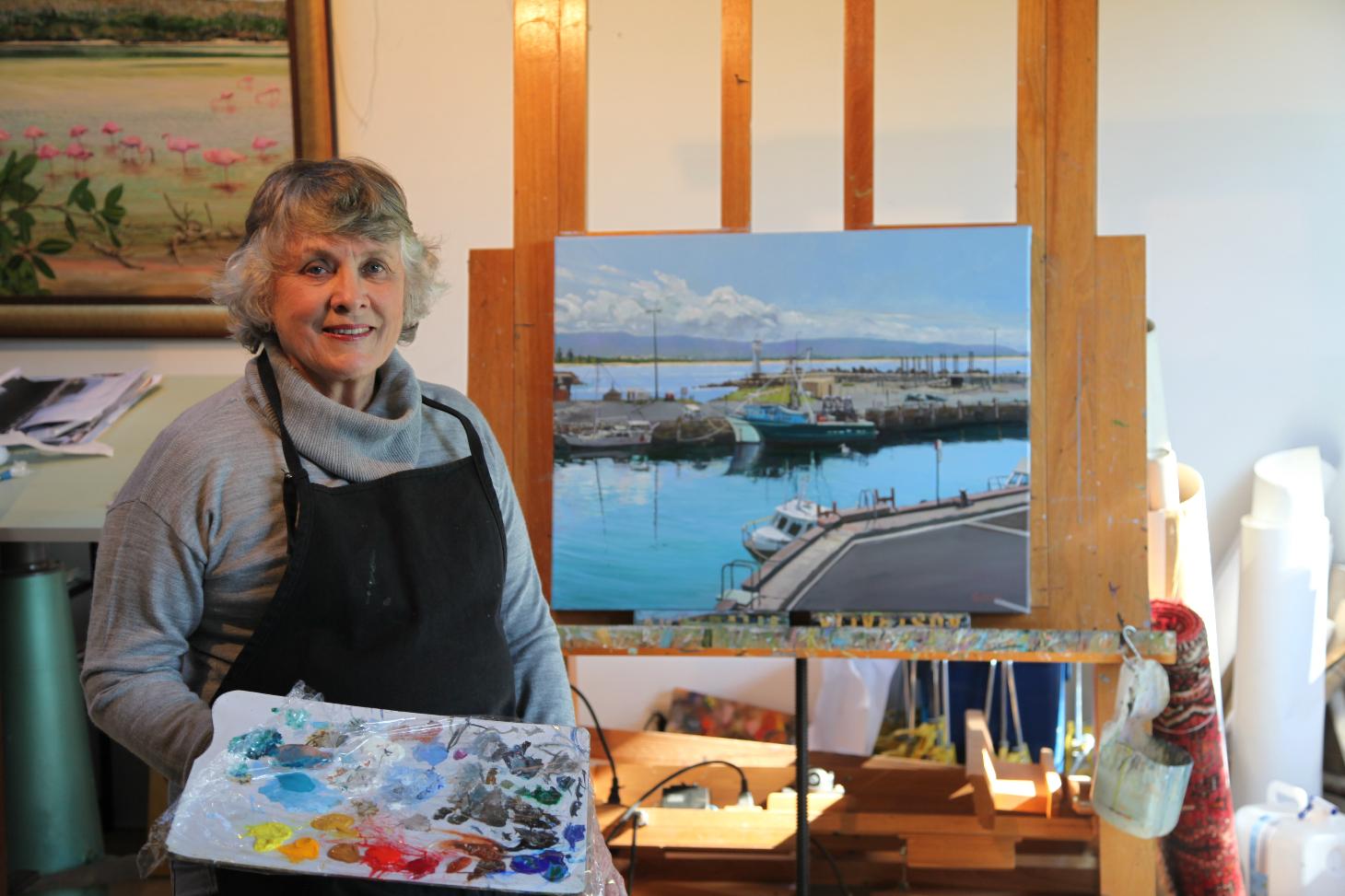 Pamela Griffith - Wollongong Then And Now
An exhibition of Illawarra landscapes painted by Pamela Griffith in 2019, and photographs from the collection by Charles Kerry depicting the same locations some 130 years apart.
Special Event- Finnisage: Sunday 25 October 1– 3pm: Join us for a final exhibition walk through and talk with artist Pamela Griffith. Afternoon tea provided. Free, all welcome
Virtual tour of Pamela Griffith Wollongong Then and Now exhibition

In continuing the Pittwater Online focus on encouraging residents to get out of Pittwater and visit and support our regional areas and peoples during a very challenging year, for the 2020 Spring School Holidays an insight into a wonderful Australian Artist with local connections could not be passed up - we wanted to run this earlier in 2020 and are thrilled that the time has now come!
Pamela Griffith visits our area regularly to spend time with her daughter, also a mum, and Academic, Design Thinker, Entrepreneur, Public Speaker, Board Director and ex-Pittwater Councillor Selena Griffith. Pamela is also visiting our area to develop a project along similar lines to the current Pamela Griffith - Wollongong Then and Now exhibition and was thrilled to hear from the Editor of Pittwater Online that Mr. Kerry visited and photographed everywhere along our peninsula, including the newly gazetted Ku-ring-gai Chase National Park - and was one of several early Australian photographers to do so, including Robert Hunt, Henry King, Charles Bayliss, Samuel Woods, E A Macpherson, Rex Hazlewood and even a resident of here in Arthur Vogan, and many others. Mr. Kerry was a frequent visitor to our area and one of the gentlemen behind a scheme to run motor omnibuses to Pittwater, as announced at the official opening of George Brock's 'The Oaks' at Mona Vale in 1906. His images illuminate many a History page run here and show the changes between the landscapes of early Pittwater and what is present now.
This is the painting done from the bush walk I did with Selena. There is only a small window to paint the waratahs so the timing was perfect.
It is one metre by one metre and will go on display at the Fellia Melas Gallery on the 24th of October. The exhibition is called ''Spring''. The gallery opening runs from 10 am to 3 pm; 2 Moncur St, Woollahra.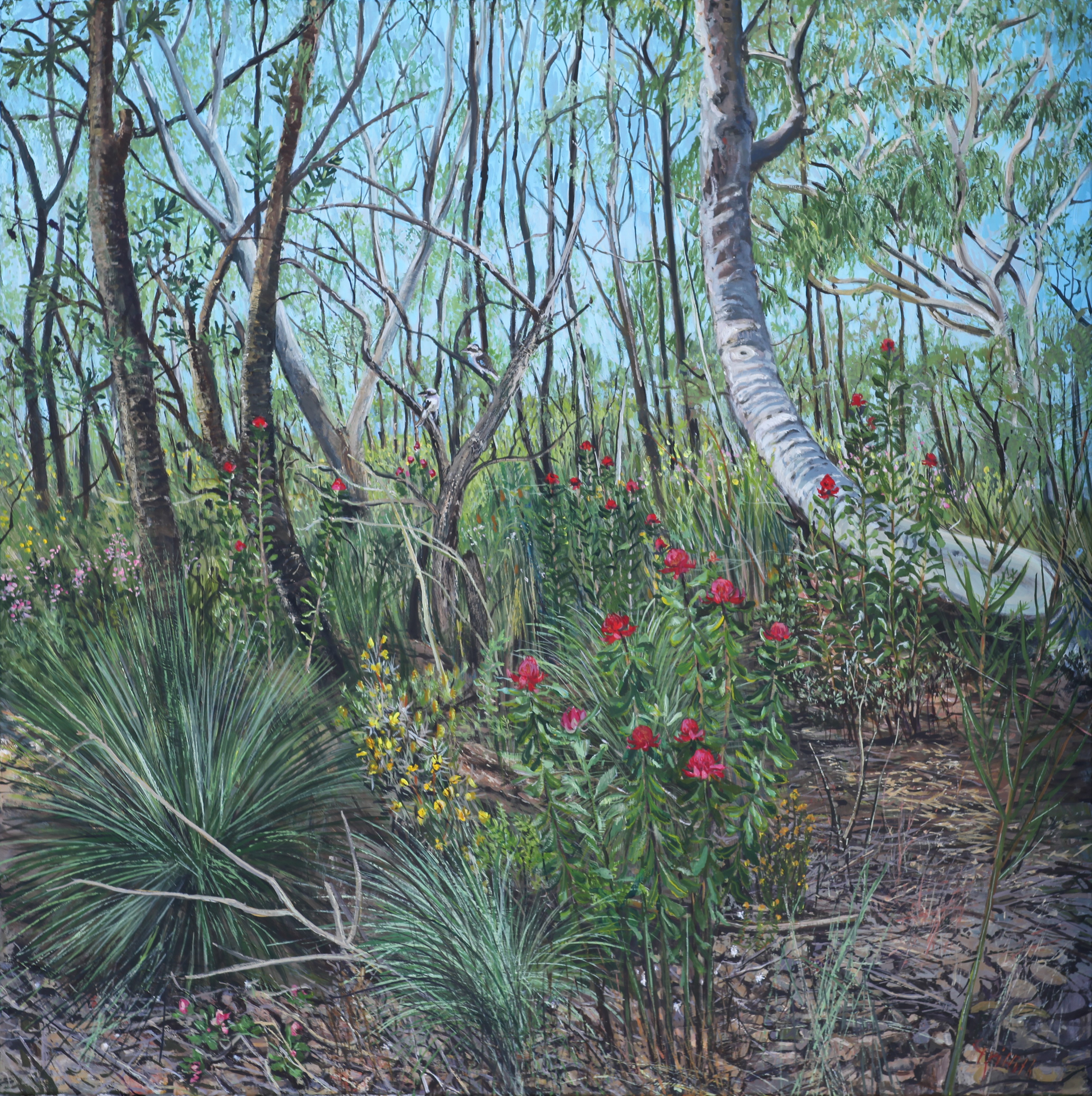 Hawkesbury Spring by Pamela Griffith, September 2020

More on that project, and Pamela, as it comes to fruition!!
In the meantime - if you fancy a train trip or journey by road to Wollongong now is the time to do it. By train the scenery is marvellous and if you go by road you can take in the magical engineered Sea Cliff Bridge. This feature segment of the Grand Pacific Drive has quickly become an international icon. Port Kembla Harbour is going though a transformation and there are the marvellous rock pools and sandy beaches along the way, and of course, Spring is a great time for a landscape artist to capture the stunning beauty of the Illawarra should you wish to head south to develop your practice.
For over 50 years Pamela Griffith has made aspects of the Australian landscape the prime subject of her art. Her closeness to her grandparents who grew up in Wollongong and came from pioneering families in the area encouraged Pamela to paint a series of works on this beautiful city as a process of getting to know the family history. By showing Griffith's paintings and etchings in conjunction with the colonial photographer Charles Kerry, that are part of the Galleries permanent collection, this exhibition enables the viewer to simultaneously look at both times past and time present. It is possible therefore to imagine a future time when a viewer will see Griffith's work as a unique record of the Illawarra in the years leading up to 2020 and marvel at how times have changed.
Covid19 prevented the exhibition opening in March and the Gallery was closed until July 1st. Already many people have visited the exhibition and have allowed time to enjoy both the 19th century photography and Griffith's delightful works on canvas, etchings and watercolours. Her work ranges from the landscape of the Illawarra and its natural life to the edges of the Royal National Park in the north. In the south it stops near Windang beach, taking in Lake Illawarra along the way. Ever-present is the backdrop of the escarpment with the wonderful blue-greens of the slopes. Her large study of Governor Game Lookout near Garie Beach shows off the vivid colour of the Gymea Lilies against the clear blues of sky and sea.
It is not surprising that this outstanding show has been kept on display by the gallery for more people to be able to see it, but Pamela Griffith - Wollongong Then and Now will close on the 25th of October - so if you want to see the works in their place and then wander through their physical landscapes - head south this October and enjoy a taste of Wollongong and an Illawarra Spring.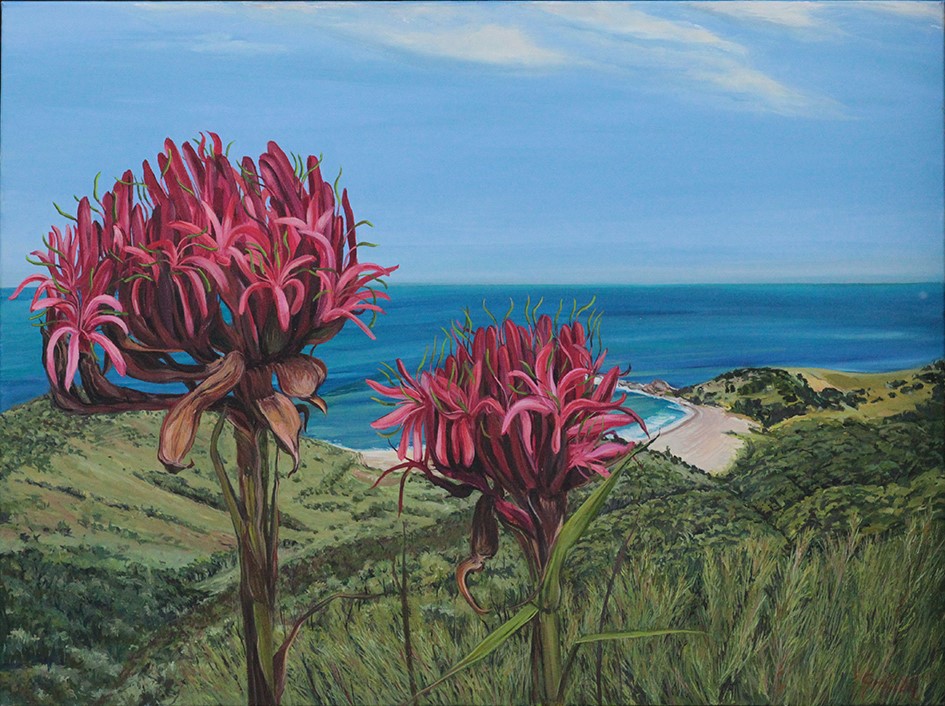 Governor Game Lookout - Oil on canvas, 91.5 cm x 122 cm, completed February 2019, Catalogue price $7,500
Other paintings of the elegant sweep of Sea Cliff Bridge, surely one of the most beautiful feats of engineering imaginable, captures the the smooth curves of the road as it loops around the untamed slopes of Coalcliff next to the sea. Unlike many landscape painters Griffith includes people in many of these scenes and in this way implies land use which is very different now to the rural images depicted by Charles Kerry.
Pamela says of Pamela Griffith - Wollongong Then and Now ;
Wollongong Art Gallery is one of the largest regional galleries in Australia with an important collection of Australian art highlighting the unique energy and creativity of the Illawarra. My first involvement with the gallery was in 1997 when I collaborated with local musician Don Harper to produce the Illawarra Suite of etchings. The musical compositions were performed at the gallery along with an exhibition of my work illustrating the themes. My works in the Wollongong Gallery collection have been used repeatedly in group shows.

WAG offered me an exhibition with a proviso that as my starting point I build on the work in the gallery collection by Charles Kerry, 19th century photographer extraordinaire. I seized the opportunity and began to cover his territory around the Illawarra. Pioneer members of my family were identities in Wollongong about the time Kerry's photographs were taken which explains my great affection for the Illawarra. Grandmother Lavinia Figtree's painting of the corner of Church and Market Street is in the gallery collection and It is one of the few existing images of Wollongong town about 1905.

I began this exhibition by planning to use transparent water-colours. I set up my caravan in a number of the excellent camping grounds along the coast and work began in this mobile studio. As it turned out it was difficult. I found oil and acrylic works on canvas were more appropriate to capture the landscape, a landscape that is rich in solid colour. I began these works by sketching directly on the canvas then after blocking in the colours I completed the detailed work in my studio in Southern Sydney away from dust and heat and the constant interruptions by curious people. I captured the escarpment in constantly changing moods. Clouds form by the afternoon to replace the morning mist. The brightly lit, sun drenched, mid-day scene is sometimes sea spray affected. The sun rise and sun set produced remarkable subjects. I took two years to do this show so I was able to enjoy all four seasons of change.

A concertina watercolour folder suited a story about the Mall, the production of which was so much fun that I produced another folder of local people enjoying the outdoors. The use of watercolour enabled me to do genre images that would not easily have translated to works on canvas. This exhibition includes a full gambit of the mediums that I use as well as the many techniques I have worked hard to master.

I have always maintained that Australian artists are shy of using green. I like to think that I have mastered the rich variety of greens in the Australian bush and lush coastal areas. The same goes for the dramatic Pacific blues and grand skies that are so characteristic of the Illawarra. I hope I have shown in my work how the local people have taken to seaside culture with their playing fields, walkways and cycleways that connect one beach to the other.

I have been painting Australian landscapes for more than fifty years. My goal has been to create images that reflect the nature of this country. My commissioned landscapes have been gifted by Federal, and State Governments, and Universities and private institutions to dignitaries visiting Australia for major events. My waratah image that is on NSW State Licences, has reached a large audience. My etchings form a huge body of work that is distributed in private and public collections all over the world. I have provided a legacy of images that can be used repeatedly in Australia's service. "Pamela Griffith - Wollongong Then And Now" will make sure that this wonderful part of the NSW Coast is celebrated for its beauty. The exhibition is further enriched because we can compare the colonial Wollongong photographed by Kerry with the bustling city of today.
If you make a day of it there are lovely picnic spots along the coast, many of which have been painted by Pamela Griffith for this show. Wollongong Art Gallery is a service of Wollongong City Council and is a member of Regional and Public Galleries of NSW.
Program Director's statement
Wollongong Art Gallery has Australian art, from artworks by Indigenous Australian artists that reflect powerful connections to country, to early post-settlement landscapes documenting the unique features of the Australian environment to more recently contemporary visions of an environment in crisis.
Artist Pamela Griffith's exhibition Wollongong Then and Now explores the residue of colonisation as it has evolved over time.
Responding to photographs of the region taken by Charles Kerry 130 years ago Griffith revisits and depicts the same landscapes today paying witness to the changes that have continued unabated since that time and to the things that once lost can never be retrieved. It is a valuable lesson of which current and future generations should constantly be reminded.
Pamela Griffith is a consummate artist whose passion for Australian fauna and flora and the landscape in which they flourish has been the subject of her work over many years and across multiple mediums. We would like to thank Pamela for the unbridled enthusiasm and commitment she has provided this project.
We hope you not only enjoy the exhibition but like Pamela, take time to consider the continuing impact we have on the landscape around us.
John Monteleone
Gallery Program Director
Artist statement.
I often seek to reveal how human impact on the planet over the last three centuries compels us to reconsider the relationships between art, the environment and ourselves.
This Wollongong 'Then and Now' exhibition has given me a chance to study the photographs of Charles Kerry, 1857 - 1928, of Wollongong about 1890. These sepia prints are a starting point for my exploration of much the same area.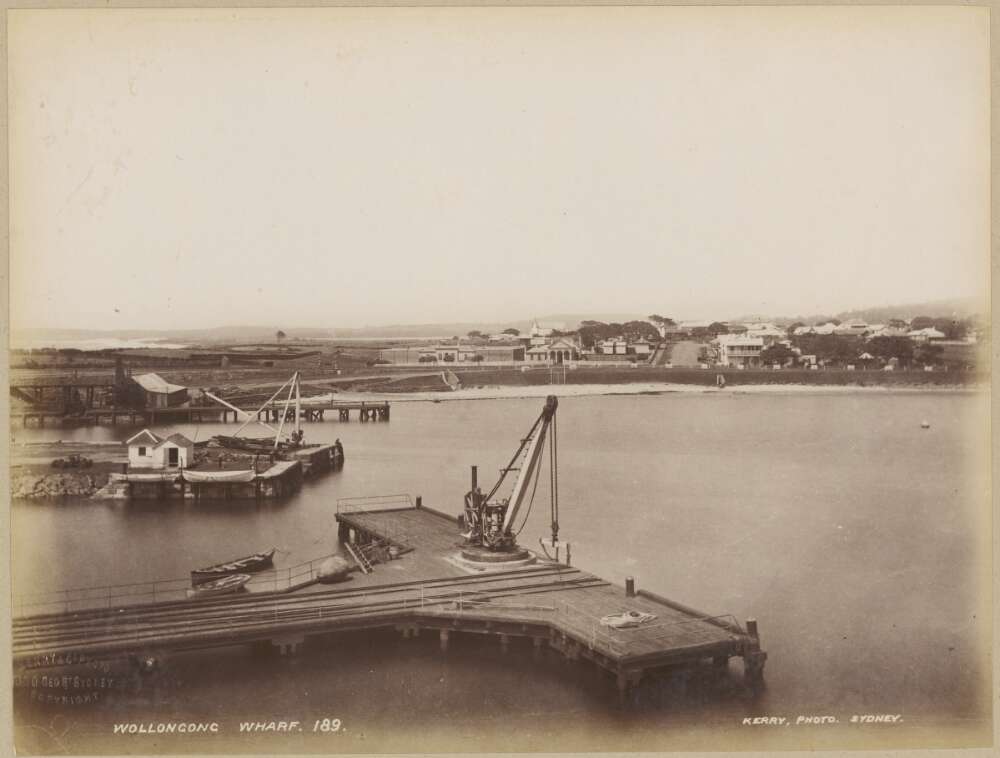 Wharf at Wollongong, New South Wales, ca. 1880s, by Charles Henry Kerry (1857-1928), part of the National Library of Australia album ''LOC Album 71-Album of coastal scenes and towns, Illawarra, New South Wales, ca. 1880s ''.Retrieved from http://nla.gov.au/nla.obj-140609482

This exhibition examines how Kerry depicted aspects of Wollongong and how it is now which highlights the way the environment has been viewed over the over the last hundred or so years from deeply held perspectives of interconnected ties to the universe to colonial beliefs that imagine nature as a hierarchy of species with men at the top, also the modern emergence of ecological ethics.
This timely exhibition opens on the heels of landmark reports from the United Nations that underscore the dire and impending consequences of climate change. We are forced to conclude humans' activities are having a dangerous impact on the environment and, as a result, there is an extreme risk of irreversibly affecting all built, and natural systems. It is critical to our time to acknowledge that humans, animals, water, land and sky are all connected.
I seek to reconsider Wollongong art history within the context of environmental history and the study of living things' relation to their surroundings. The exhibition, by contrasting old and new images, highlights shifting visions and realities of nature reflecting and shaping societal attitudes toward the natural world. As perspectives emerge, we are leaning that the natural world is not a fixed concept but dynamic reality.
I do not write about myself and my life. I consider my paintings, drawings and etchings are, in effect, my journal. I can look at a painting or etching I have done and remember what was going on in my life at that time. To create this show I camped in various camping grounds in and around Wollongong and painted both plein air and studio studies of what I experienced. I referenced Kerry's photographs and these provided a boundary and map of where I would limit my activity. As my family on my mother's side came from Wollongong I used my time camping there to also imagine what it must have been like when they arrived by sailing ship to settle in what was a boom city. My grandparents were pioneering locals at the time that Kerry did his photographic studies so this made this project all the more interesting.
Wollongong Art Gallery
Open Tues-Fri 5pm
Weekends 12 - 4 pm
Corner Kembla and Burelli Streets Wollongong
Phone 02 4227 8500
www.wollongongartgallery.com
www.facebook/wollongongartgallery
Pamela Ann Griffith
BArtEd, FRSN
Website: www.pamelagriffith.com
Bachelor Art Education, Sydney College of Advanced Education, 1983
Diploma of Art Education, Alexander Mackie College of Advanced Education, 1976
Founding Vice-President, Southern Printmakers Association, 1978 -
Founder and Director, Griffith Studio and Graphic Workshop, 1976 -
Fellow, Royal Society of New South Wales, 2017 -
Member, Australian Watercolour Institute, 2017 -
Life Member, Royal Zoological Society of South Australia, 2004 -
Member, La Perouse Museum Society 1988 -
Member, Print Council of Australia 1966 -
Pamela's professional raison d'être is her contribution to the artistic life of Australia through her concerns for its environment and nationhood, which are symbolised by her interpretations of the Australian landscape, wildlife, and history. In more technical and didactic directions, she was instrumental in reviving the practice of intaglio printmaking, which had fallen into decline during World War II. In so doing, she became a pioneer of colour printmaking in Australia, ultimately leading to a catalogue of works of over five hundred etchings and lithographs and approximately one thousand other works, consisting of drawings and oil, acrylic, and watercolour paintings (Figures 1a-z). The intention of her art always has been to capture the spirit of Australia through a representative style that exploits strong composition and colour palette, drama and action, and individuality and distinctiveness. She has trained and assisted a generation of Australian artists in printmaking. Within her workshop, she has been responsible for the creation of nearly three hundred prints by three dozen Australian artists.
As one of Australia's most recognised artists, Pamela's prints and paintings have been commissioned widely across international as well as State and Federal Government levels. Her works are in the permanent collections of, inter alia:
International Governments
Premier of the State Council, Beijing, China
Prime Minister, Paris, France
Prime Minister, Vilnius, Lithuania
Sultan and Yang di-Pertuan of Brunei, Brunei
Federal Government
Parliament House, Canberra, ACT
Old Parliament House, Canberra, ACT
Prime Minister of Australia, Canberra, ACT
Family Court of Australia, Sydney, NSW
Family Court of Australia, Parramatta, NSW
Artbank, Sydney, NSW
State Governments
Parliament of New South Wales, Sydney, NSW
Governor of New South Wales, Sydney, NSW
Family Court of New South Wales, Sydney, NSW
Family Court of New South Wales, Parramatta, NSW
New South Wales Government Architect, Sydney, NSW
Public Works Advisory, Sydney, NSW
International Museums
Metropolitan Museum of Art, New York, USA
Musei Vaticani, Città del Vaticano, Italy
Musée National de la Marine, Paris, France
Musée Lapérouse, Albi, France
Principal Australian Museums
National Gallery of Australia, Canberra, ACT
National Trust of Australia (NSW), Sydney, NSW
The Mint (Sydney Living Museums), Sydney, NSW
Powerhouse Museum, Sydney, NSW
Mitchell Library, Sydney, NSW
State Library of New South Wales, Sydney, NSW
La Perouse Museum, La Perouse, NSW
Regional Art Galleries
Bathurst Art Gallery, Bathurst, NSW
Bundaberg Art Gallery, Bundaberg, QLD
Dubbo Art Gallery, Dubbo, NSW
Joan Sutherland Performing Arts Centre, Penrith, NSW
Maitland Regional Gallery, Maitland, NSW
Manning Regional Art Gallery, Taree, NSW
Perc Tucker Regional Gallery, Townsville, QLD
Tamworth Art Gallery, Tamworth, NSW
Tweed River Art Gallery, Murwillumbah, NSW
Wagga Wagga Art Gallery, Wagga Wagga, NSW
Wollongong Art Gallery, Wollongong, NSW
Australian Universities
Charles Sturt University, Wagga Wagga, NSW
University of Melbourne, Melbourne, VIC
University of Sydney, Sydney, NSW
UNSW Sydney, Sydney, NSW
Hospitals
Austin Hospital, Heidelberg, VIC
Blacktown Hospital, Blacktown, NSW
Nepean Hospital, Kingswood, NSW
Sydney Children's Hospital, Westmead, NSW
Corporate Collections
Comalco (now Rio Tinto Aluminium)
Commonwealth Bank of Australia
Fairmont Hotels & Spas
Hagemeyer Brands Australia Pty. Ltd.
Hilton International Hotels
Kimberly Clark Australia & New Zealand
Nissan Australia
Qantas
Regent Hotels & Resorts
Four cornerstones of contribution to the artistic life of Australia that have pre-occupied Pamela during her professional life of over 55 years. These areas reveal her concern for the Australian environment and nationhood through her interpretations of the Australian landscape, its wildlife, and its history, in particular, their depictions through printmaking. These cornerstones are epitomised through a number of representative publications:
First, she is the author of a major book about her interpretation of the Australian landscape through her art (Figure 2):
Pamela Griffith, Australia: An Artist's Journey through the Landscape. International Artist Publishing, Chatswood, NSW, 2003 (168 pp.)
Second, her artistic endeavours also have been the subject of numerous exhibition catalogues, an example featuring her work on Australian wildlife being:
Pamela Griffith, Judith Jensen, Joanna Mendelssohn, and Penny Olsen, Teeming with Life: The Wongaloo Project. Gallery Services, Townsville, QLD, 2015 (89 pp.)
Third, her cognisance of the importance of Australian history is demonstrated by another book written by her - Pamela Griffith [uncredited], The Roadmakers: A History of Main Roads in New South Wales. Department of Main Roads, Sydney, 1976 (359 pp.).
Her attention to Australian history also is highlighted by the current solo exhibition of over forty paintings at the Wollongong Art Gallery, Wollongong, NSW. The focus of the exhibition is how the historic photographs of the region taken by Charles Kerry & Co, circa 1890, have inspired her to interpret regional history through her paintings.
Fourth, her efforts in establishing printmaking as a major force in Australian art have been documented in another major exhibition catalogue, which is an overview of the influence of the Griffith Studio and Graphic Workshop on this development- Roger Butler and Kate Milner, Prints from the Griffith Studio: 1978 - 2011. Hazelhurst Regional Gallery & Arts Centre, Gymea, NSW, 2011 (56 pp.).
The importance of this latter effort is emphasised by the fact that the Griffith Studio and Graphic Workshop, through Pamela's roles in formal instruction and as a master printer, has been responsible for developing the printmaking skills and enabling the publication of prints by a line-up of major Australian artists, including Matthew Ablitt, David Boyd, Tony Coleing, Adam Cullen, Ian Dodd, Christopher Gentle, George Gittoes, Michelle Hingerty, Christopher Hodges, Michael Johnson, Terence O'Donnell, Pixie O'Harris, Geoffrey Proud, Trevor Riach, Jorg Schmeisser, Wendy Sharpe, Tim Storrier, Blake Twigden, David Voigt, Trevor Weekes, John Winch, Margaret Woodward, and Salvatore Zoffrea. Her multigenerational influence is shown by the fact that she also trained Michael Kempson in editioning, who is in charge of printmaking at UNSW Art & Design as well as being the founding Director of Cicada Press, which fosters education and research in the printmaking process.
In addition to her paintings and prints of Australian landscape, wildlife, and history, she also is a noted portraitist of prominent Australian public figures, having been commissioned to create the portraits of many notables, including, inter alia:
Sir William Deane, AC, KBE, 22nd Governor-General of Australia (1996-2001)
Dame Marie Bashir, AC, CVO, Governor of New South Wales (2001-2014)
Cardinal George Pell, AC, Cardinal of the Catholic Church (2003-)
Bishop Kevin Manning, Bishop of Parramatta (1997-2010)
Dame Joan Sutherland, OM, AC, DBE, La Stupenda
Richard Bonynge, AC, CBE, conductor
Elena Kats-Chernin, AO, composer
Henry Szeps, OAM, actor
Professor Ross Steele, AM, Francophile academic, University of Sydney
Since her first major one-person exhibition in 1978, Pamela has exhibited widely across Australia and internationally in over one hundred solo exhibitions, including in New York and Hong Kong, and over fifty group exhibitions.
Significant Contributions to the Artistic Life of Australia
Pamela's contributions to the environment and nationhood of Australia through her art are reflected by the high-profile nature of her public commissions, a selection of which is as follows:
Significant Contribution 1: Bicentennial Toile and Macquarie Toile
In 1987, she was commissioned by Ascraft Fabrics, on behalf of the Royal Australian Historical Society (RAHS), Sydney, NSW, to design and mass-produce two commemorative Bicentennial toile fabrics that depicted key events in colonial Australian history. The Bicentennial Toile (Figure 6) depicts twelve scenes from the first three years of settlement of the Sydney colony, in three colour variants in a single-repeat pattern over an area of 147 cm by 100 cm. The Macquarie Toile (Figure 7) complements this by depicting twenty-four scenes of the period during which Lachlan Macquarie served as Governor of NSW (1810-1821), in three colour variants of double-repeat pattern over a smaller area of 86 cm by 74 cm. The toiles served important fundraising functions in that proceeds from their sale went to the RAHS; the fundraising was facilitated by Pamela's donation of all of her efforts. She undertook the work to design the toiles and to ensure their fabrication using cotton grown and spun in Queensland, woven in New South Wales, and printed in Victoria – the first such all-Australian effort to produce historic artistic textiles. The Bicentennial Toile is recognised as Australia's commemorative textile and, as such, has been used extensively in Australian embassies throughout the world. Examples of both toiles are archived in the Powerhouse Museum.
Significant Contribution 2: Mary MacKillop Toile
Having established a unique position in Australia for innovative design and manufacture of printed fabrics, in 1993, she was commissioned by the Sisters of Saint Joseph of the Sacred Heart, Sydney, NSW, to design and produce a toile to support the beatification of Sister Mary MacKillop (Figure 8). It was presented to Pope John Paul II at the Powerhouse Museum as a gift from the children of Australia during his visit to Australia during 18-20 January 1994. It subsequently entered the collection of the Vatican Museums; it also is archived in the Powerhouse Museum. The toile shows the life of Mary MacKillop through thirty-one religious, rural, and domestic scenes of her life, in four colour variants of a single-repeat pattern over an area of 142 cm by 72 cm. The toile also served the purpose of fundraising for the ultimately successful beatification; again, Pamela donated her efforts to this cause. It was sold worldwide for use in a variety of ways to spread the Mary MacKillop story. Pamela also donated additional images used to illustrate the life of Mary MacKillop in a book (Pauline Wicks, Mary MacKillop: Inspiration for Today, 2005) and sixteen pamphlets, all published by the Trustees of the Sisters of St Joseph of the Sacred Heart, Croydon, NSW. The images created by Pamela for the toile also were used as part of the foundation collection of the Mary MacKillop Place Museum, North Sydney, NSW.
Significant Contribution 3: APEC Heads of State Collection
In 2006, she was commissioned by the Australian Department of the Prime Minister and Cabinet to produce a limited-edition colour etching for presentation to the twenty-one Heads of State who were attending the Asia-Pacific Economic Cooperation (APEC) meetings held around Australia during January to August 2007 (Figure 9). Prime Minister John W. Howard presented a suite of three prints, including one of Pamela's, all of which had been selected by the National Gallery of Australia to comprise the suite. A limited-edition leather-bound edition of her book, Australia: An Artist's Journey through the Landscape, also was presented to each of the participants. The suites of prints now are housed in the various Embassies and Consulates of the participating nations. Pamela also was commissioned to produce artwork for the menu for the formal wives' dinner hosted by Mrs. Howard.
Significant Contribution 4: Field Guide to Royal National Park
A public science and environment contribution was her support of a major book on the natural history of the Royal National Park on the Sydney Coast Track, which was published to celebrate the one hundredth anniversary of the world's second oldest national park; it was released in 2013 at the Royal Botanic Gardens, Sydney, NSW:
Robert J. King, Editor. Field Guide to Royal National Park. Linnean Society of New South Wales, Sydney, 2013 (170 pp.).
The Linnean Society of NSW was founded in 1874 and is dedicated to the promotion of the study and cultivation of natural history. Pamela allowed free reproduction rights for seven illustrations of plants and birds, including her paintings of waratahs for the front cover and of kookaburras for the back cover.
Significant Contribution 5: ANSTO-UNSW Sydney Wetland Ecology
A recent demonstration of Pamela's commitment to science and the environment through her art practice is a poster commissioned in 2016 by the Australian Nuclear Science and Technology Organization (ANSTO) in conjunction with the Centre for Ecosystem Science, UNSW Sydney. This work has been reproduced in both poster form (Figures 11a & b) and in large-format travelling-booth form (Figure 12) to support these groups' work in the effects of water quality on bird life. The poster, of which there were two sizes (86 cm by 120 cm and 60 cm by 84 cm), had a print run in the thousands and was distributed widely around Australia. Again, Pamela donated her time and talents to assist this effort in Australian ecology.
Significant Contribution 6: Resonances of Inspiration – A Centenary of Federation Project
As part of Pamela's contribution to Australia's Centenary of Federation activities, she was commissioned in 2001 to design a large-scale sculptural embroidery entitled Resonances of Inspiration (Figure 13), a title dedicated to the people who have made contributions to the culture of the Penrith region over the preceding century. The work was executed by the Creative Embroiderers of the Penrith Valley and it was funded by the Australian Department of Communications, Information Technology and the Arts. Forty embroiderers contributed to its creation and it consists of five triangular sails of approximate dimensions 3.5 m by 1.0 m, standing proud of two elaborately embroidered panels and spanning approximately 3.5 m by 2.0 m. It was presented to the community in the presence of the Governor General of Australia Dr. Peter Hollingworth. It hangs in the foyer of the Joan Sutherland Performing Arts Centre in Penrith, NSW.
Significant Contribution 7: Animals of the Asian Zodiac
In 2008, the year of the Beijing Olympics, Pamela was invited by Dr. Zeny Edwards, President of the National Trust of Australia (NSW), to commemorate Chinese philosophical principles by producing a suite of relief prints that depict the twelve animals of the Asian Zodiac (Figure 14). This suite, entitled Animals of the Asian Zodiac, was exhibited in the Annie Wyatt Room of the National Trust Centre, Observatory Hill, Sydney, NSW; this exhibition was designed to coincide with a parallel exhibition celebrating the Beijing Olympics in the adjacent S.H. Ervin Gallery.
Significant Contribution 8: NSW Driver's Licence Design
Perhaps Pamela's most conspicuous contribution to Australian artistic life is her being commissioned by Olivetti S.p.A. in 1995 to prepare artwork for the Roads and Transport Authority of New South Wales (RTA). Four of her watercolour paintings of waratahs were used subsequently on NSW drivers' licences (Figure 15). As a result, every licensed driver in NSW to this date holds a licence that bears one of these images. Pamela worked with a panel of experts with the RTA to complete these hologram-containing licences, which were the first electronic drivers' licences in the world.
Upon her investiture as a Fellow of the Royal Society of New South Wales in 2017, Pamela received the following citation:
Pamela Griffith is a leading Australian artist having worked for nearly 50 years as a painter and printmaker. Her works are represented in National, State and Regional Gallery collections across Australia, and in major corporate and private collections in Australia, England, France, Germany, USA, and Asia. Major commissions include Bicentennial and Macquarie toiles; Mary McKillop toile; portraits of Dame Joan Sutherland, Richard Bonynge, Sir William Deane, Cardinal Pell and recently Marie Bashir, plus numerous private portraits. Pamela has taught art at Schools and Technical Colleges, has published a book of her prints a copy of which was presented to HM The Queen, and is a public speaker.
For the exhibition Animals of the Asian Zodiac, Dr. Zeny Edwards, President of the National Trust of Australia (NSW), wrote in the exhibition catalogue:
The Zoological Society has awarded Pamela an honorary life membership because of her untiring efforts to make people aware of the plight of endangered animals, now global victims of climate change. Her love for animals makes this portfolio so appropriate and timely to coincide with the Beijing Olympics. I commend it to you.
Upon reviewing the same exhibition for the Sydney Morning Herald on 23 August 2008, the art critic Mr. John Mac Donald wrote:
At the same time as the Yin-Yang, in another part of the National Trust building, Pamela Griffith is showing a suite of relief prints called Animals of the Asian Zodiac and a selection of earlier works. A consummate technician, Griffith is quite happy to describe herself as a "conservative" artist, which makes a change from all those witless conformists who think of themselves as radicals. Her images are straightforward in style but this belies the amount of work that goes into each print. She is an artist who has long followed her own path, acquiring a large, much deserved following.
Pamela Griffith's 55-year career-length effort in the promotion of the artistic life of Australia has been done through her dedicated efforts to support several generations of artists and through her creation and dissemination of art that reflects her devotion to the Australian environment and nationhood through her impressions of its landscape, wildlife, and history.

Biography compiled by Charles Sorrell.
A few examples from the current Pamela Griffith - Wollongong Then and Now exhibition: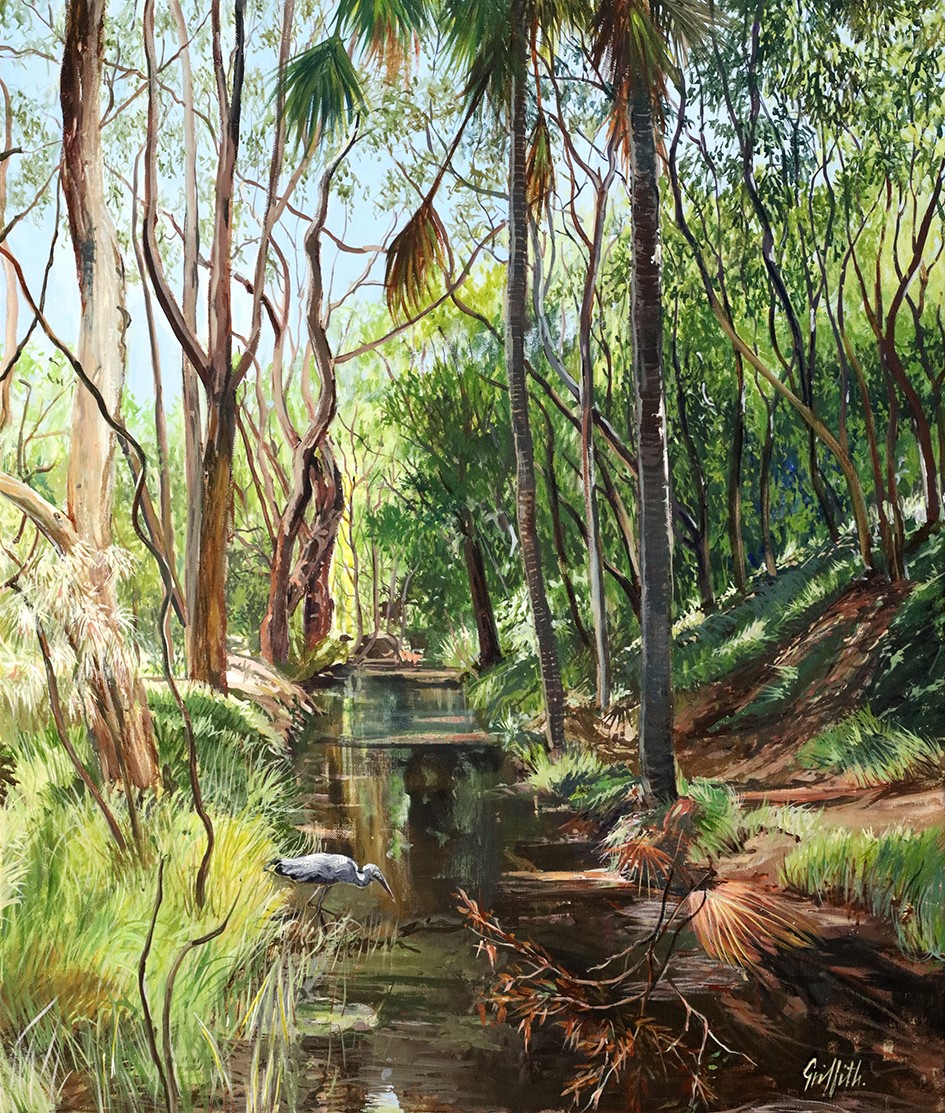 Stanwell Creek - Acrylic on canvas, 66.0 cm x 56.0 cm. Completed March 2019 - $3,500

Wongawilli Colliery - Acrylic on canvas, 41.0 cm x 51,0cm. Completed August 2019, $2,250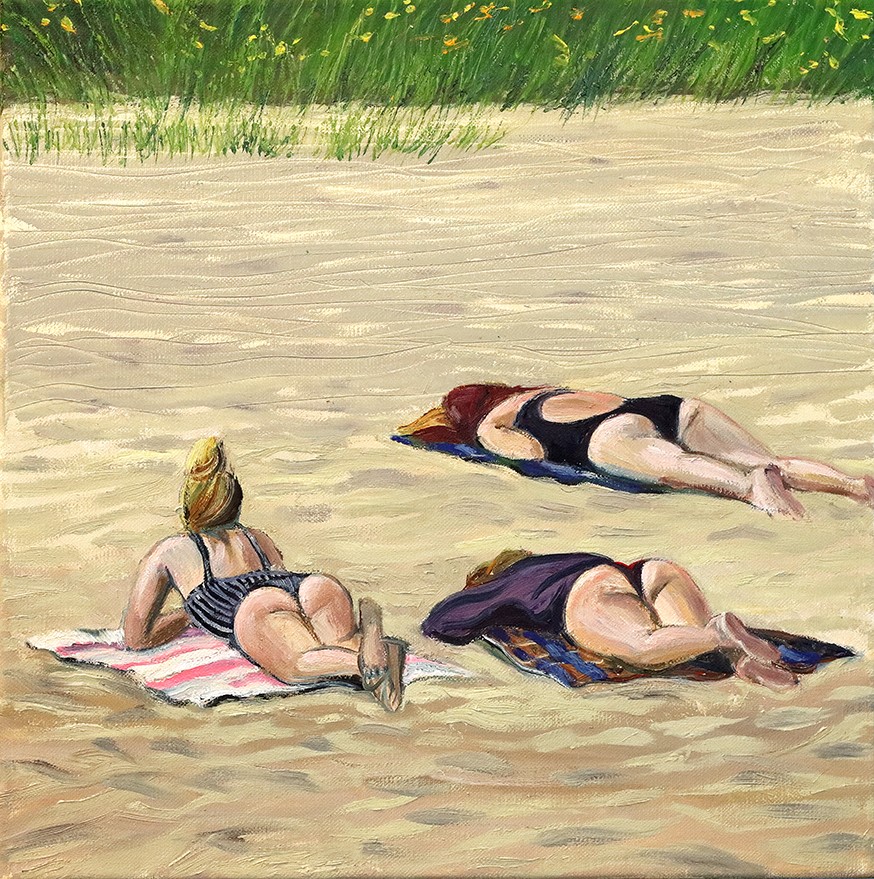 Sunbaking - Acrylic on canvas, 30.5 cm x 30.5 cm. Completed February 2019.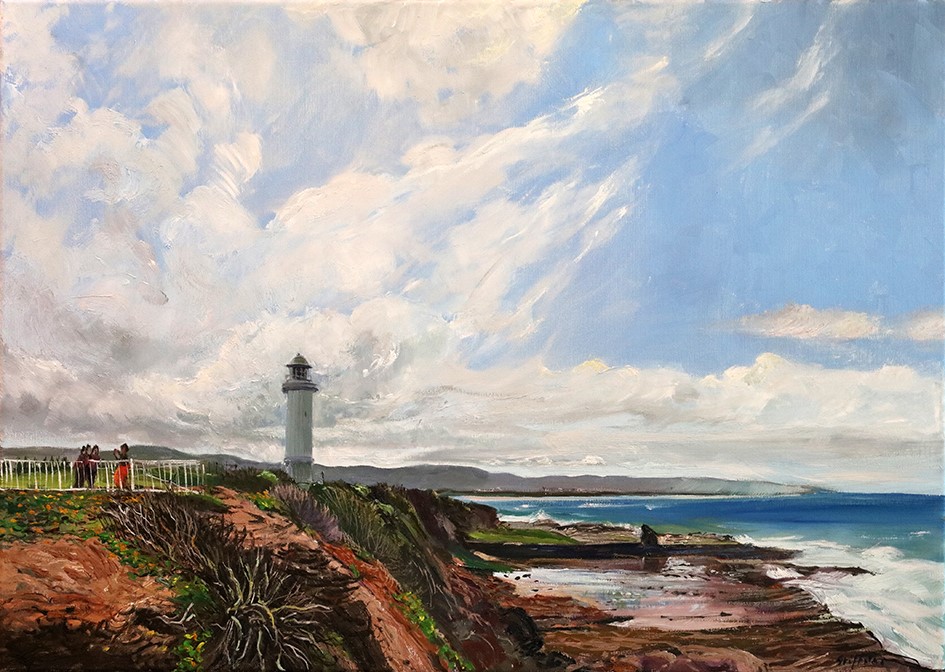 Wollongong Lighthouse, Flagstaff Point, Oil on canvas, 50.0 cm x 70.0 cm. Completed February 2019, $3,950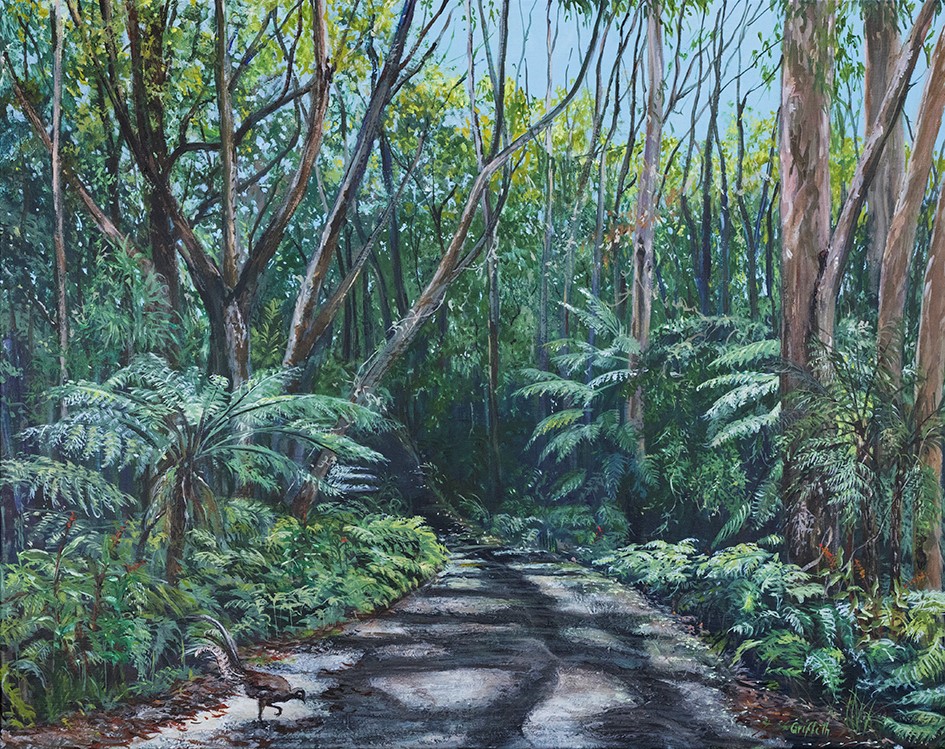 Mt Kembla Rainforest, Acrylic on canvas, 61.0 cm x 76.5 cm. Completed September 2019, $4,250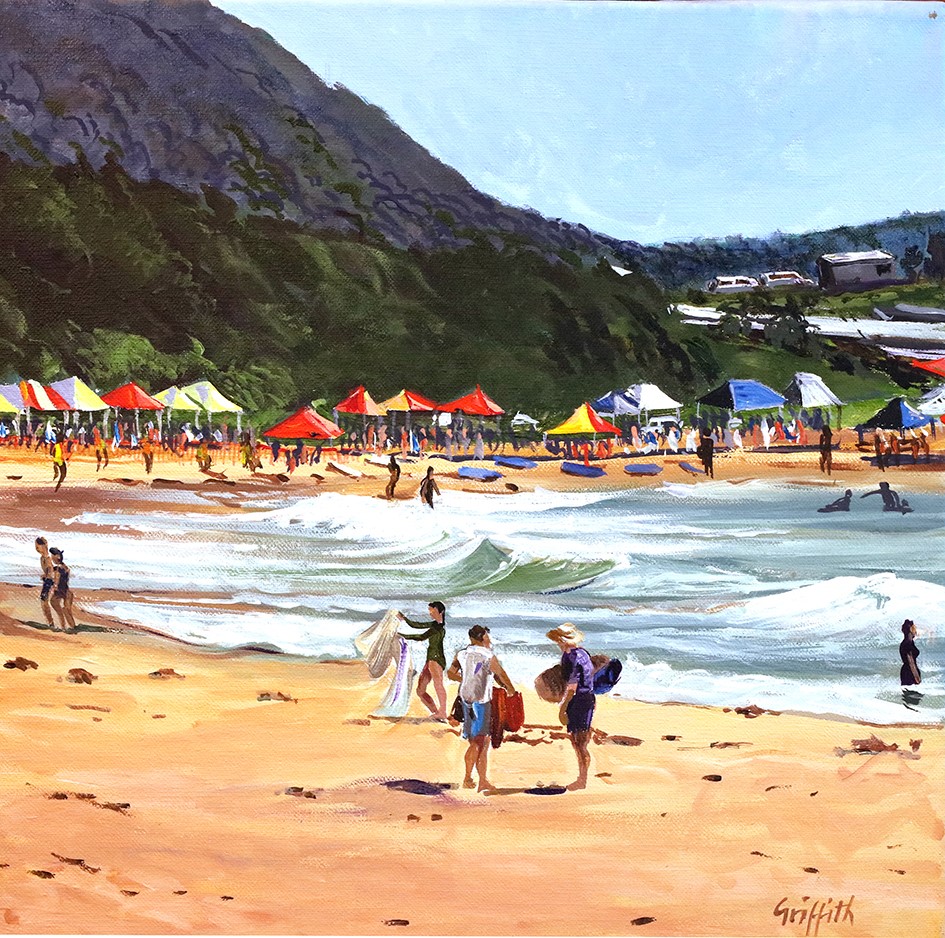 Sandon Point Beach, Acrylic on canvas, 30.5 cm x 30.5 cm. Completed March, 2019.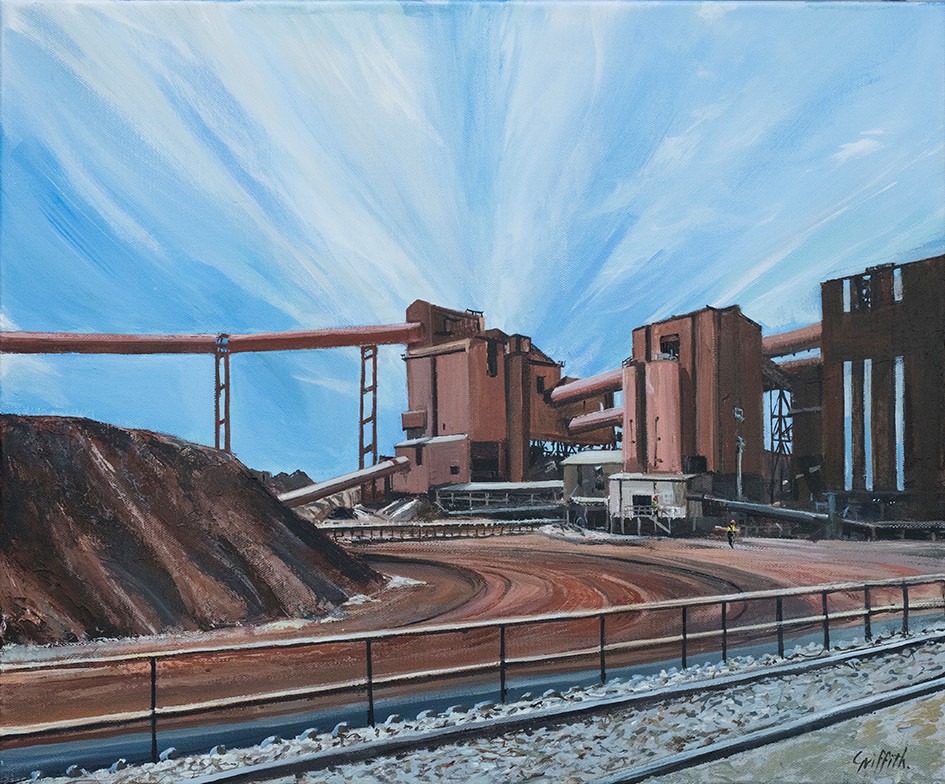 Port Kembla Steelworks, Acrylic on canvas, 51.0 cm x 61.5 cm. Completed August 2019, $3,500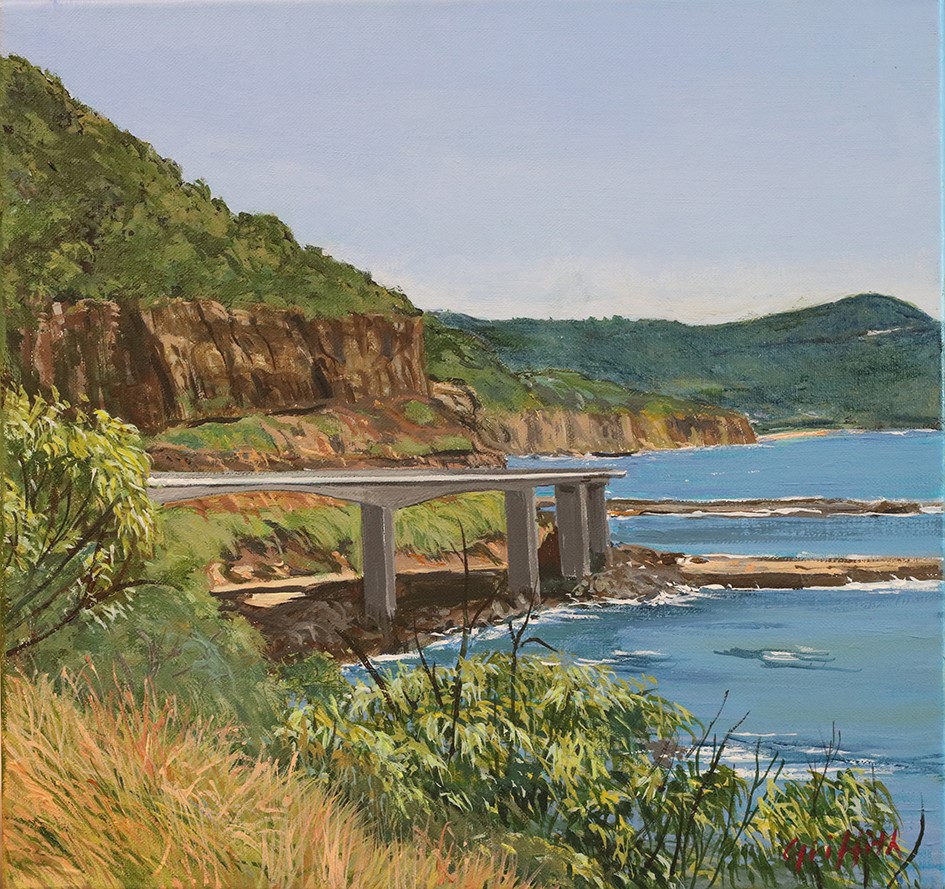 Seabridge, Acrylic on canvas, 30.5 cm x 30.5 cm. Completed March, 2019, $1,500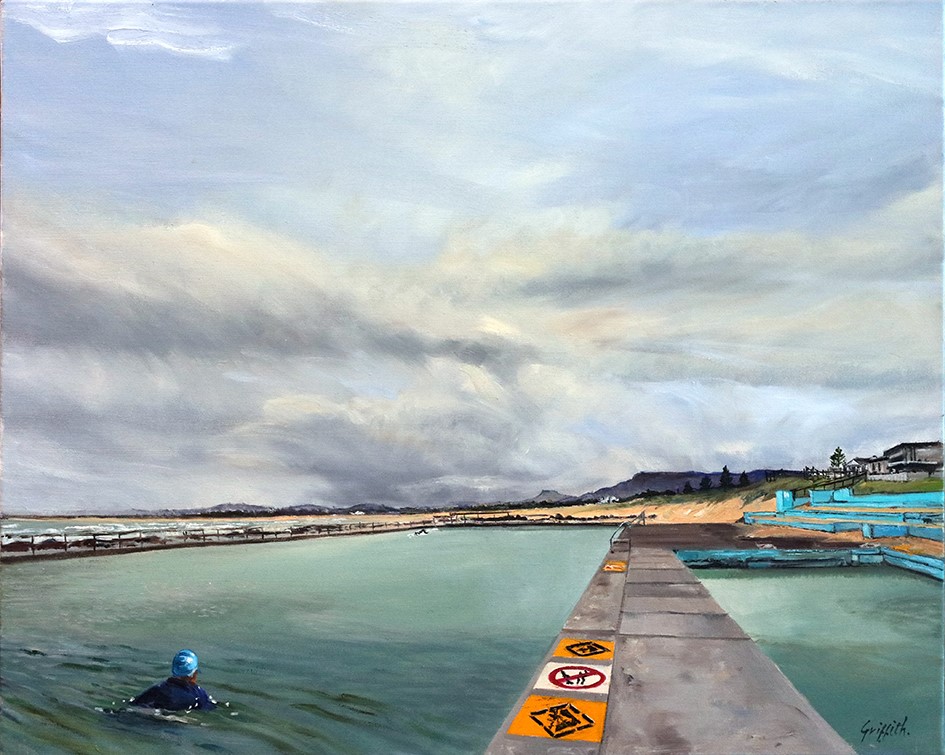 Towradgi Baths, Oil on canvas, 60.5 cm x 75.5 cm. Completed January 2019.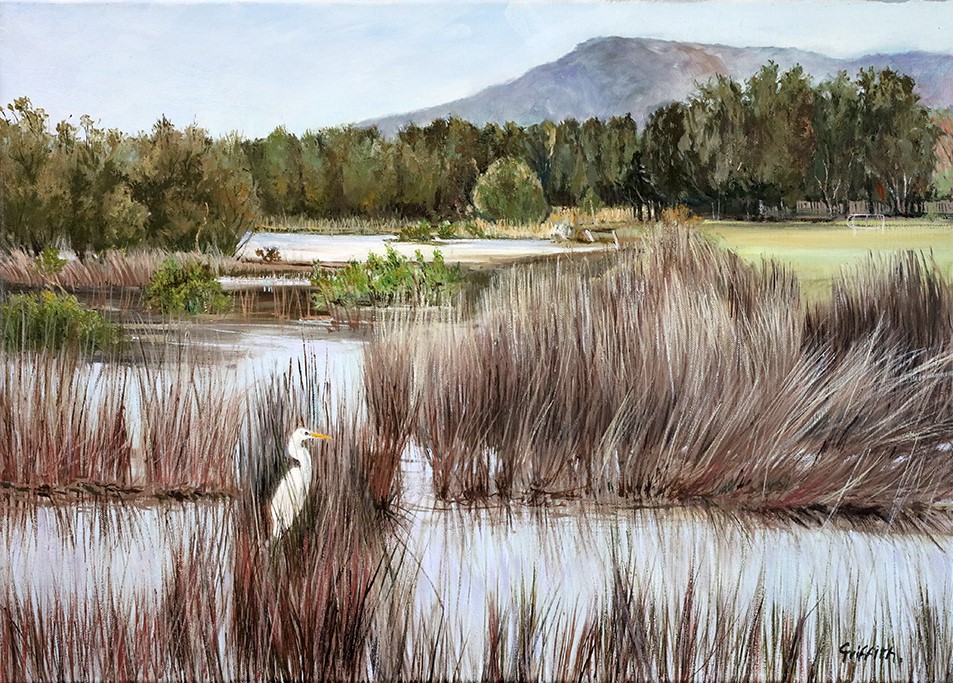 Fairy Meadow Creek, Towradgi, Oil on canvas, 50 cm x 70 cm. Completed December, 2018, $3,950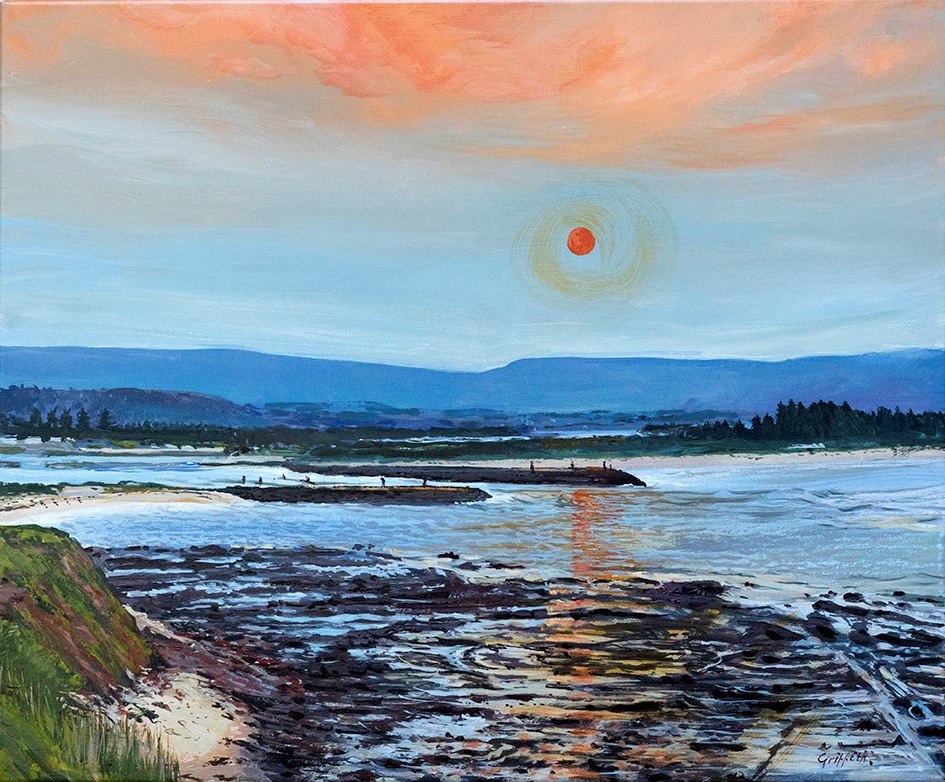 Lake Illawarra to the Sea, Acrylic on canvas, 50.0 cm x 61.5 cm. Completed August 2019, $3,500
Fisherman's Beach, Five Islands, Acrylic on canvas, 61.0 cm x 91.5 cm. Completed August, 2019, $4,950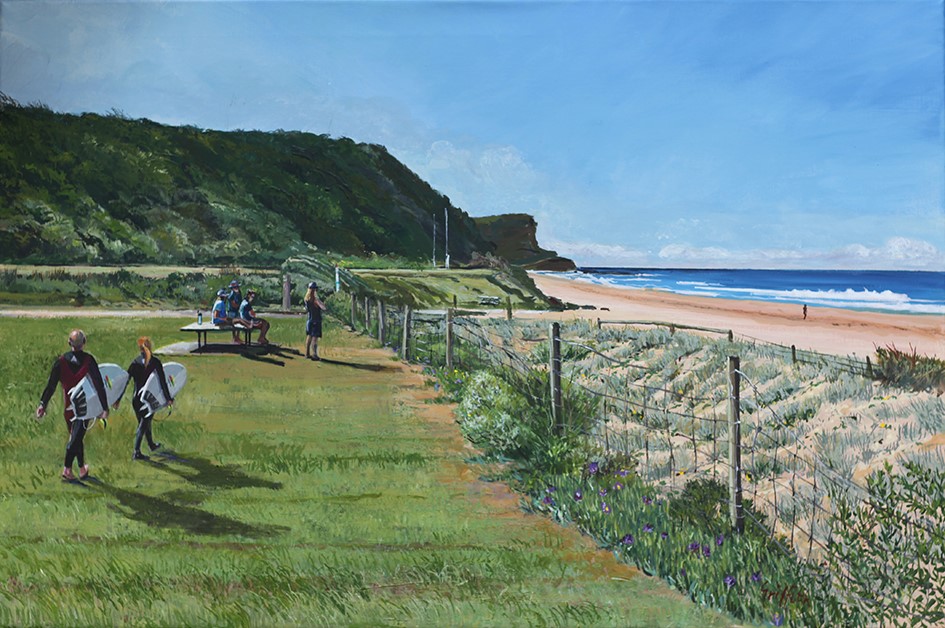 Garie Board riders, Acrylic on canvas, 61.0 cm x 91.5 cm. Completed January, 2020, $4,950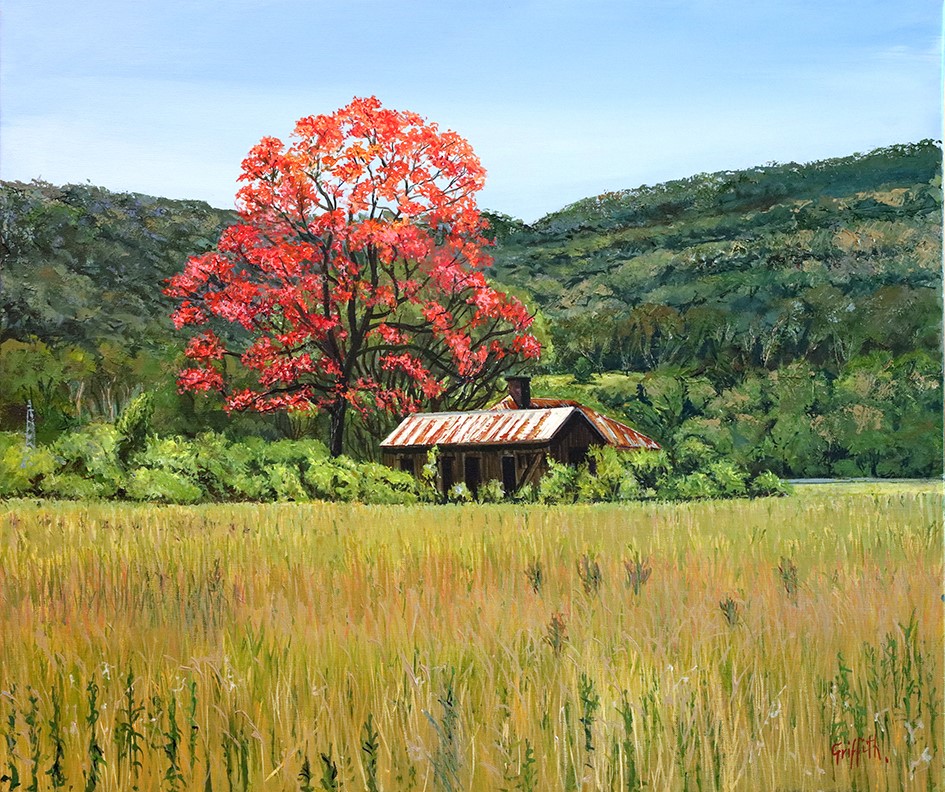 Illawarra Flame Tree, Dapto, Acrylic on canvas, 56.0 cm x 66.0 cm. Completed March, 2019, $3,500