April 23 - 29 2023: Issue 580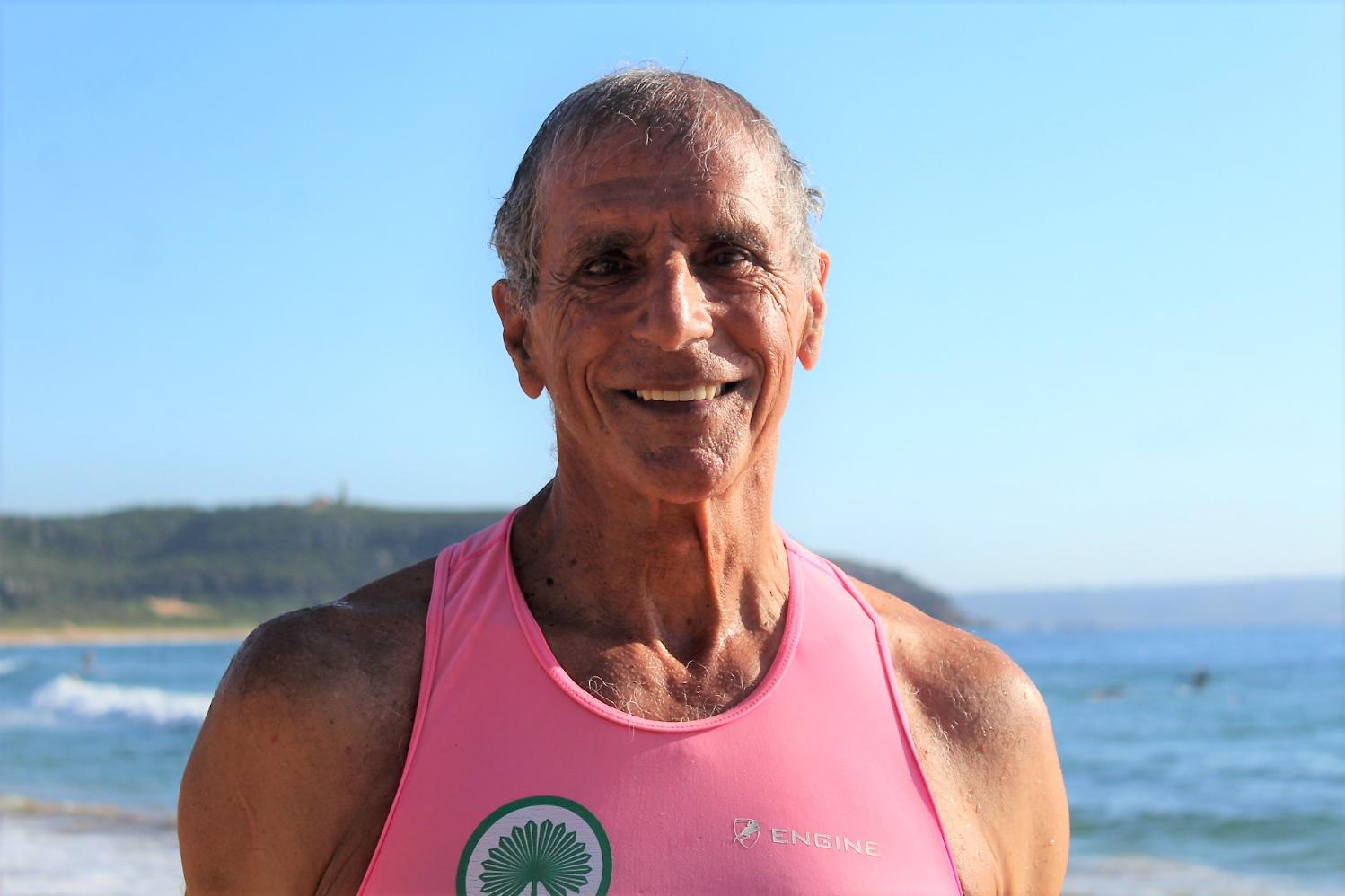 The 2022/23 NSW beach volunteer patrol season started on Saturday 24 September 2022 and finishes on Tuesday 25 April 2023 (ANZAC Day). Our beaches and the volunteer surf club patrol members who look after others on the water and sand remain a place where 'democracy on the sand' occurs and you may mix with people of all ages and from many different backgrounds. Your local surf life saving club is a wonderful place to learn about and contribute to your community along with meeting people you will get to watch grow up if they are Nippers or Cadets and Freshers, and grow older with, if they are adults.
The gentleman who led out the 2023 carnival named for a founding member of Palm Beach SLSC and the 'father of Surf Life Saving', the Adrian Curlewis Masters Twilight Carnival, was Doug Ferris.
Doug commenced the carnival with the honorary 'icebreaker' swim, taking the stead of Ian Curlewis, Adrian's son, who had done so for every year of the carnival until now. Ian passed away recently, and is much missed during Summer at Palm Beach.
Doug, who knew him well, said, ''I'm honoured to lead out the swim at this special carnival. Ian was a lovely chap and we'll be thinking of him as we take part in this event today.''
Doug Ferris has just completed 64 years as part of surf life saving and Palm Beach SLSC and looks forward to his 65th year as part of this surf club. In fact, being a part of this club features amongst Doug's favourite memories – and now that has extended into a third generation of water-loving family members, with his children also serving the community on the beach during Patrol Season.
As the flags are lowered over the 2022-2023 NSW Season a few insights from a gentleman who has been a rugby player, a car racer and fulfilled a lifetime of making some of Australia's best high quality shoes as the son of Michael Farres of Meschell Faris Shoes, but who states his lovely family and his days on the beach at the Barrenjoey end of Pittwater are what is best about his life.
You're 81 now Doug – where were you born and where did you grow up?
In Sydney in 1942 – my parents were of Lebanese descent and I grew up in Haberfield originally. We moved to Northbridge when I was 8 years old, in 1950.
What did you do for fun growing up there?
I went down to Northbridge baths and had a swim most days. Neither of my parents could swim, so I learned to swim in my uncle' Emile Moufarrige's pool in Mudgee - he was the Mayor there for a while. My uncle taught me how to swim – he had a backyard pool. This was one of the first backyard pools there as this was back in the late 1940's. My cousins were all keen swimmers as well.
When we moved to Northbridge I continued the swimming at the baths and that's where I picked up the swimming schools and learnt more. I moved to Scots College in 1954. One of the teachers there, Kenny Hawthorne, polished my swimming style up and I ended up being the Open Champion, which I was pretty happy with.
Did you go in state competitions as well?
Not really. In those days I played rugby as well.
So rugby during the Winter?
Yes, Rugby Union – I played with Gordon for many years. I ended up dropping it for motor racing – did that for a few years.
Where were you doing the motor racing?
The Sydney circuits; Oran Park, Warwick Farm, Katoomba had a circuit then, and I also raced at Bathurst a few times and travelled around a bit, down to South Australia, Victoria and up to Queensland at one stage. I did that for 5 years and was only moderately successful.
What were you driving?
I had an MGA to start with and a Lotus Formula 2. It was exciting and I loved it, but I didn't have much money and honestly couldn't really afford it. I then got married in 1969 and separated in 1987 and remarried in 1990, so family became my priority.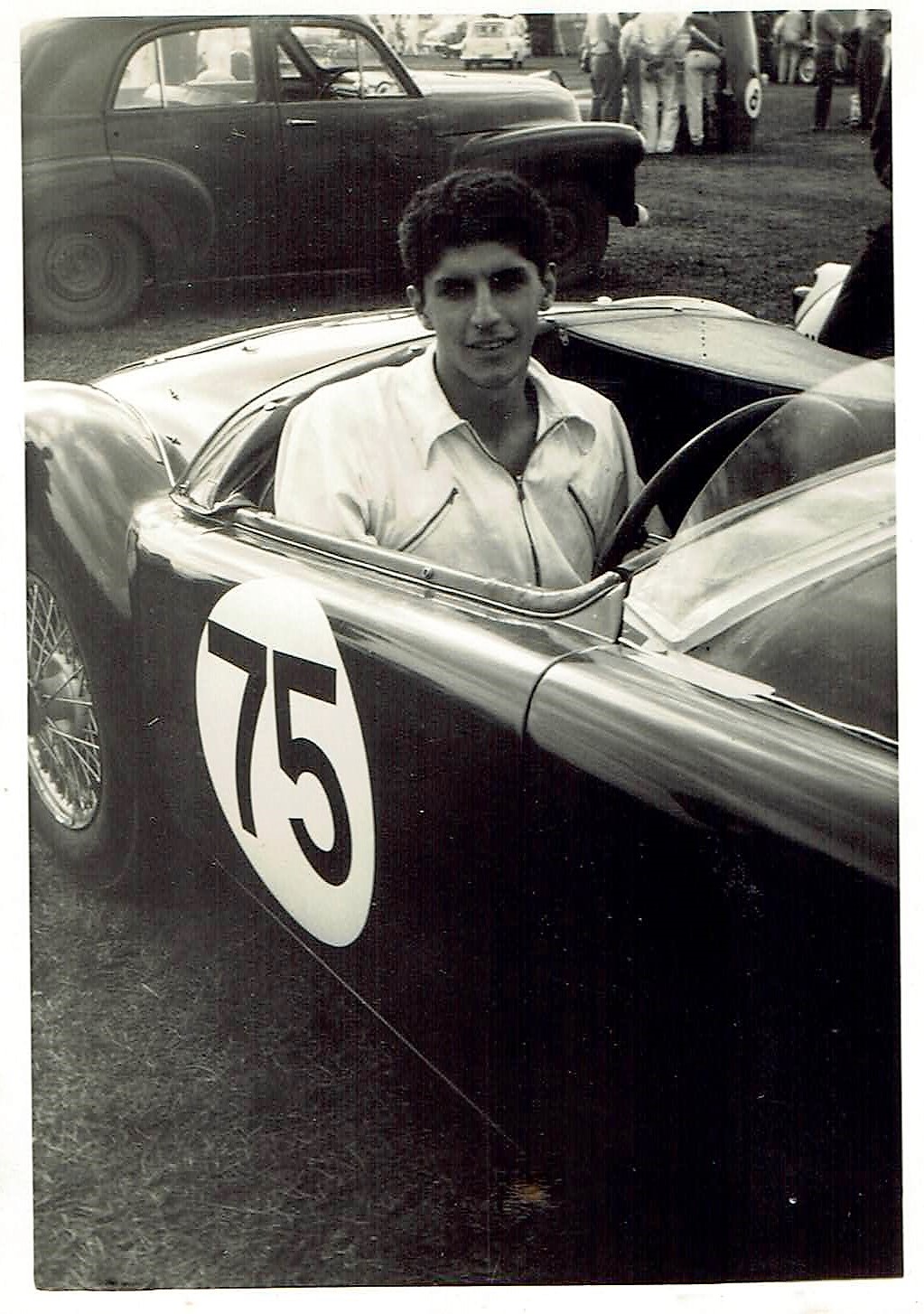 First day racing aged 21, at Warwick Farm, MGA car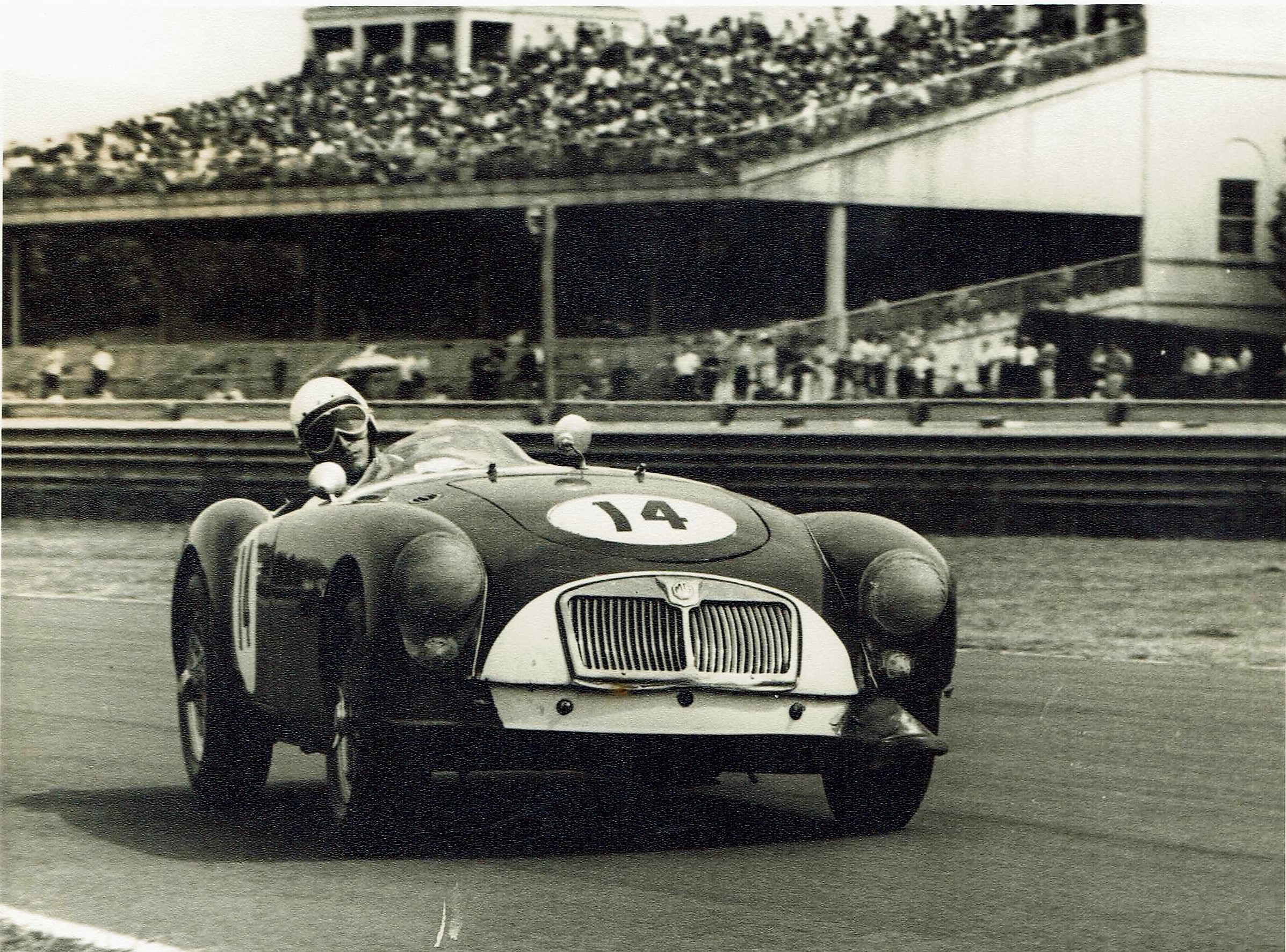 Warwick Farm, MGA, aged 23, 1965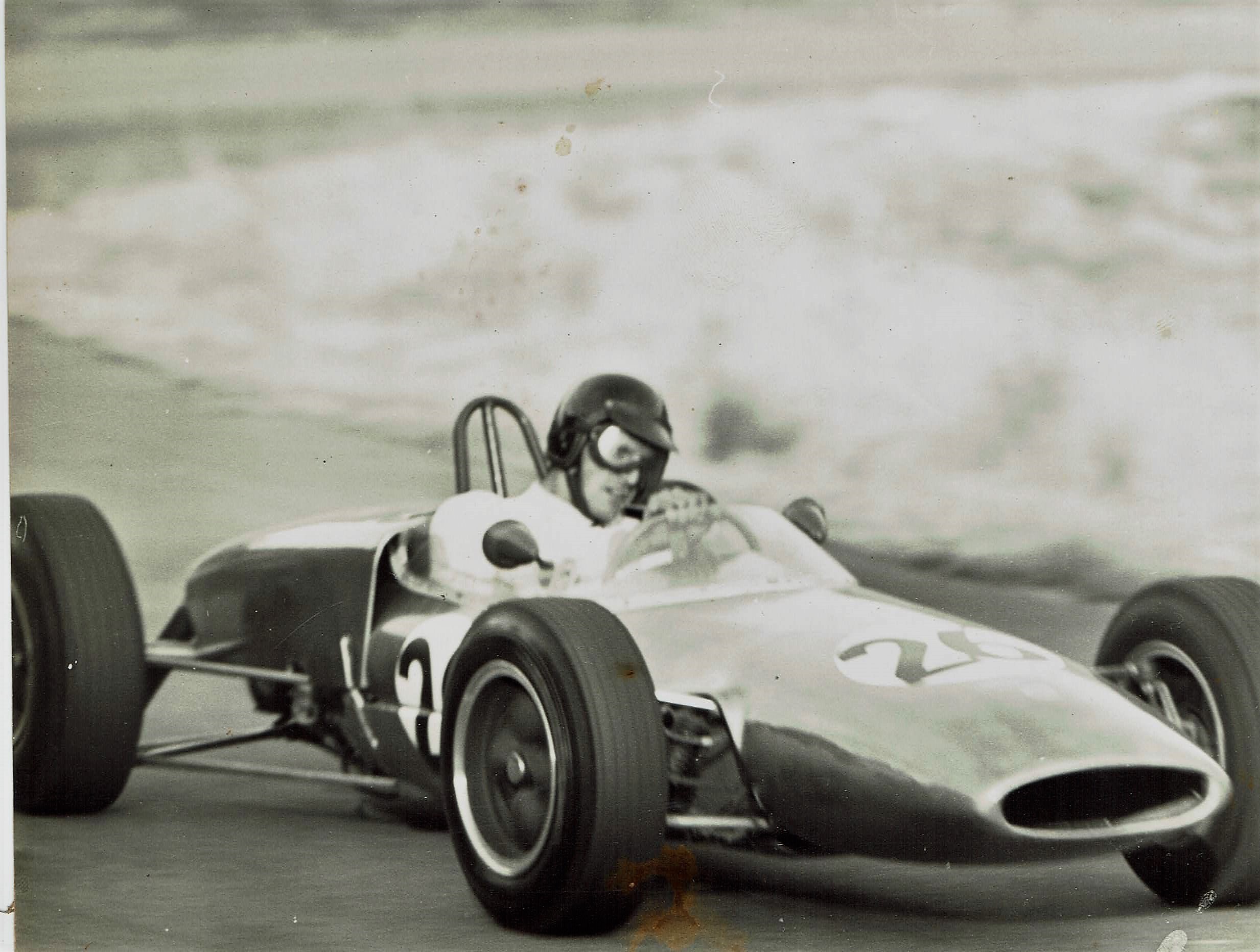 Lotus Formula Two, Catalina Park, Katoomba, 1967, aged 25
When did you join Palm Beach surf life saving club?
I joined Palm Beach surf club the year after I left school, in 1959. I competed for Palm Beach then for a few years in the belt races and the swimming races.
The life saving belt is a generation back in equipment for many – what was it like using those?
They were pretty tricky because if there was any seaweed in the water it would get caught around the rope as you swam out and create drag. They were quite heavy and not easy to swim with – you had to be a reasonably strong swimmer to make progress when using them. Not that comfortable, but they did the trick. We certainly did quite a few rescues on and off over the years using these. They worked, but they were certainly slow and inefficient.
These days there is the rescue tubes and rescue boards. The IRB's, the jetskis – we have everything we need to help people rescue those in trouble.
What competitions were you representing the club in in the line and belt?
At Branch level to start with and I did do a State level one as well. We had a carnival down at Palm Beach in big seas one year and held the belt race and only 2 of us made it. One was a guy called Chapman, he was the Australian champion at that time, he was an amazing swimmer. So he and I were the only ones that made it – it was on television that night and that's my only claim to fame (laughs).
Joining Palm Beach Surf Life Saving Club in 1959; did you come and stay at the clubhouse as a bunkee?
Yes, I certainly was. I used to hitchhike out from Northbridge, and it would take quite a while. We would stay there Friday and Saturday nights and hitchhike home on Sunday afternoons.
We would have a terrific amount of fun – the Fresher years and our first few years there were fantastic. Bruce Sherrington, was the guy who went around to the schools promoting Palm Beach as they were short of Patrol Members during the late 1950's and needed. So a bunch of us from Scots' went down to Palm Beach. And of course Shore school is a popular place for members too – there's a long history from the formation of the club of students from there joining and helping at Palm Beach. There are a lot of other schools of course, but those two were the main ones in those days.
It's not like today where there are hundreds of Members helping out over the Patrol Season.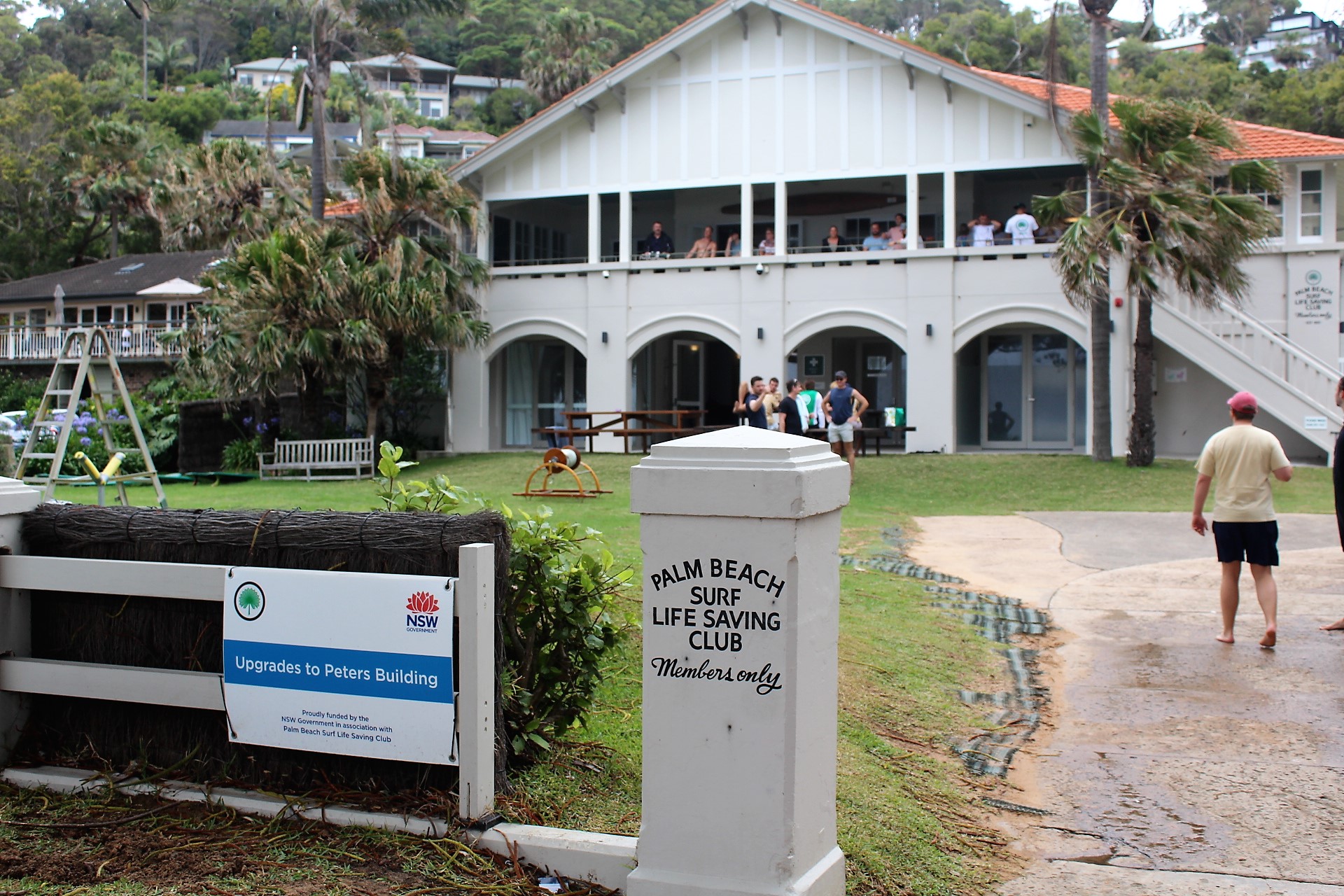 Did you have any challenging rescues during your time as a Patrolling Member?
We had a few. I remember a sandbank collapsing and people being swept out to sea – and that was a mass rescue, we were pulling people out of the water left, right and centre. There were plenty of other single rescues but that was the main one I remember. The sandbank was down the south end, and this was a freakish event which I have not seen since – it wasn't a huge sea, it just happened. All these people were standing in the water one minute and being swept out to sea the next. We were all hands on bringing people in.
You recently led out the Tribute Swim in the Palm Beach SLSC Adrian Curlewis Twilight Masters Carnival – are there other Carnivals you have taken part in?
Yes; in the Masters carnivals I've been taking part in those for 30 or more years. We as a club have gone to Branch, State and Australian championships as a PBSLSC Masters Team. This is a great bunch of people – Gordon Lang is an incredible motivator. Over the last 10 or 15 years he's been my main reason for getting and staying involved in this division. He loves doing things to promote the movement and he's a great competitor himself. He's just so enthusiastic that he gets and keeps you motivated.
You have been a Member at Palm Beach for 64 years then this Season?
Yes, I'm lucky in a way that I'm still quite active with swimming and it's a blessing for me as I love doing things in the water.
So 'use it or lose it'?
Absolutely. I'm a great believer in that. I live at Balmoral so I'm lucky to be here as I live next to the water and most mornings I'll walk down and have a swim. A couple of mornings a week I'll have a surf with my daughters – we all ride surfboards.
Which is your favourite beak?
Avalon – North Avalon is an incredible wave if you ride malibu boards, we all love it, even the grandchildren come out – sometimes there could be 8 of us in the water at the one time; 3 of my children and 4 of my grandchildren. It's a great feeling, I'm a lucky man to be able to do that.
Yes; a Ferris lineup! So why have you stayed with Palm Beach for 64 years – why have you not joined another club?
Oh look, Palmy is just one of those things; it's an amazing club to be a part of with a great culture and has remained so through the years. The club itself has one of the most amazing positions along the coast, maybe in the world, certainly along the East Cast of Australia. You have the facilities themselves; the Cabbage Tree Club, the Pacific Club and the women's contingent and support, and the Members clubhouse itself. There's always a marvellous atmosphere – every time you go down there you know someone and you can have a coffee or a lunch or a drink and catch up – it's perfect for me.
What do you like so much about swimming; what does it give you?
I'm a water person, not a land animal – I can run but I've never felt comfortable running whereas I feel comfortable swimming and always have.
I was a shoemaker for all of my working life, so strong in the upper body, and I think that helps, it certainly helps with swimming. I'm comfortable in the water, nice and relaxed. I go fishing quite a bit too, it's where I like to be.
A shoemaker?
The business was called "Meschell Faris Shoes". This was an French/Anglicised version of my father's name Michael Farres. Perhaps he thought that this would be more acceptable at that time. The family changed their surname to Ferris after migrating from Lebanon in an effort to become more 'Australian'. The family bought a farm near Orange but not long after they moved there my grandfather was killed by a falling tree, so my grandmother and seven children moved back to Sydney. My father later established a large shoe factory in Surry Hills and supplied small and major retailers such as David Jones.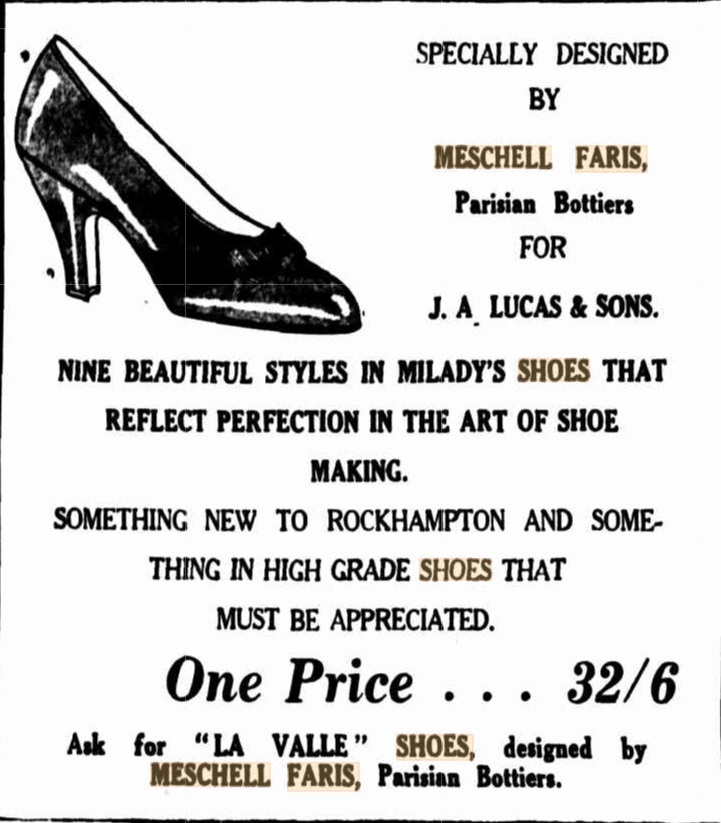 Advertising (1936, October 2). The Evening News (Rockhampton, Qld. : 1924 - 1941), p. 2. Retrieved from http://nla.gov.au/nla.news-article201216308

Australian Shoe Designer On Visit To Perth
Fashion shoes with lower heels would shortly be produced In Sydney. Mr. Meschell Faris, a well-known Australian shoe designer, said yesterday. This would enable women of all ages to buy fashionable styles.
Mr. Faris, who is visiting Perth for the first time, has brought a number of attractive new-style shoes in unusual colours and materials. Two new colours, valenciago and taupe-a soft beige-fawn colour-were becoming popular, he said. One pair of attractive evening sandals was made of 96 separate pieces of gold-leafed leather and had a 3 ½ in. heel. Another pair of shoes had toe-caps and heels of tan kid, with fawn linen between. This would be a suitable shoe to wear with summer linen frocks, he said. The linen in the shoe could be quickly cleaned with white spirits. The heel of the shoe was of medium height and suitable for walking. When shoes were designed for special wear they should not be worn for other occasions, he said.
A dainty shoe designed for afternoon and cocktail wear could not be expected to stand up to casual every-day wear. Mr. Faris said that he was in close touch with French and Italian shoe designers, from whom he obtained styles which he adapted to Australian conditions. Commenting on the care of shoes, he said that white buckskin shoes should never be cleaned with water. A dry-cleaning set, consisting of a soft brush and white chalk, was suitable and prolonged the life of the shoe. Reptile skin shoes could be cleaned with a clear cream. In Sydney strap sandals were becoming popular for afternoon and cocktail wear, he said, many of them having 4 ½ in. heels. Court shoes with rhythmic lines accentuating the V-line were also worn a lot. Australian Shore Designer On Visit To Perth (1950, September 14). The West Australian (Perth, WA : 1879 - 1954), p. 16. Retrieved from http://nla.gov.au/nla.news-article47886304
I started at Meschell Faris (which my father established in 1935), after I left school in 1958. Unfortunately, the business became unviable due to a change in government policy, which moved to low tariffs on imports in 1974. I restarted the business in 1978 making bespoke handmade dress shoes for women with difficult fittings or requiring orthotics, at 538 Military Road, Mosman. From there I moved to 181 Ourimbah Rd, Mosman in 1996 and continued making shoes until 2006, when I retired. I still enjoy making handmade leather products which I give away to various friends or donate as prizes for events etc.
Meschell Faris at 538 Military Road, Mosman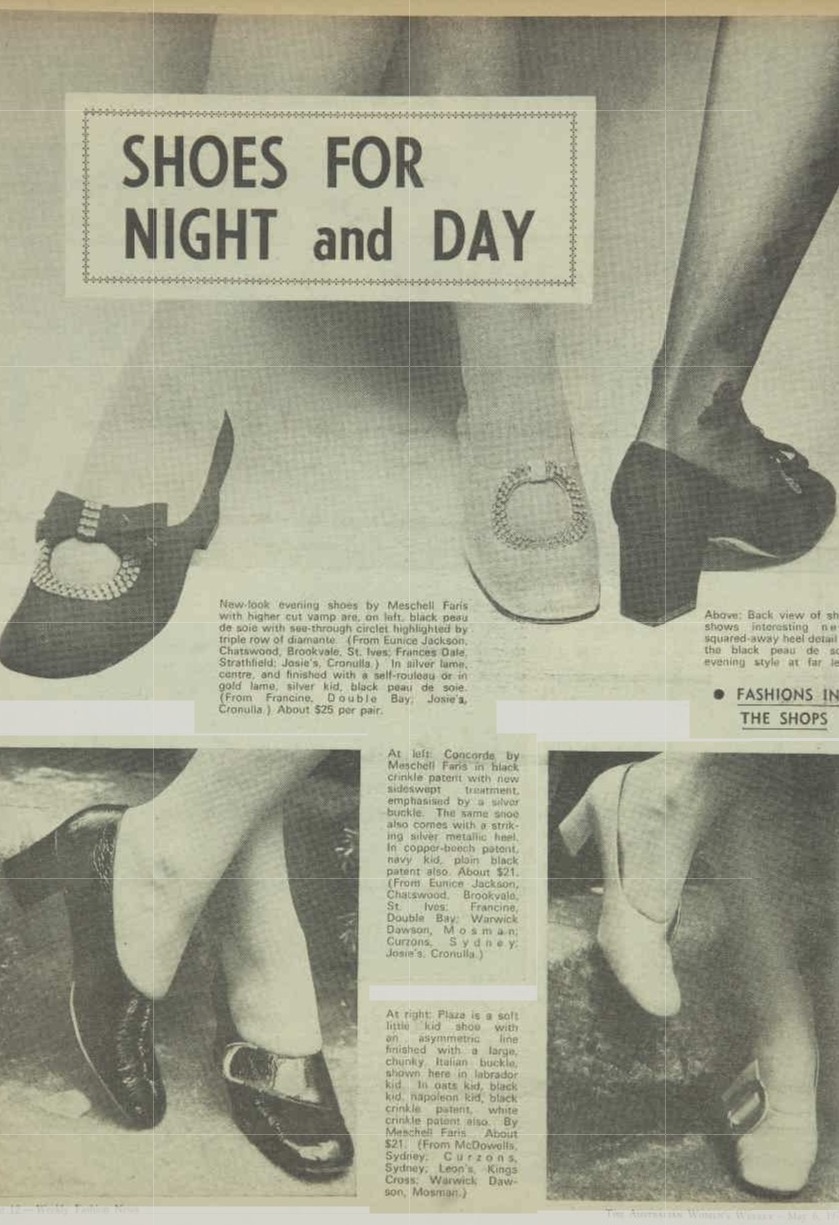 SHOES FOR NIGHT and DAY (1970, May 6). The Australian Women's Weekly (1933 - 1982), p. 12 (Weekly Fashion News). Retrieved from http://nla.gov.au/nla.news-article51275742

My mother's family migrated in the late 1800's, due of the Ottoman push into Lebanon. The family bought a farm on the Darling Downs but after droving cattle to Sydney for sale, my grandfather decided he preferred the bright lights of the 'big smoke'. He worked hard and from nothing started Nile Industries, producing towels, sheets etc. and became very successful. The family was determined to become part of their new country and only English was allowed to be spoken in their home - as a consequence neither I nor any of my cousins can speak Lebanese.
As you draw to the end of your 64th Season in surf life saving and look forward to your 65th at PBSLSC, what has being part of Surf Life Saving given to you?
Wonderful friendships that have lasted for decades – camaraderie is the word. When you compete with guys and girls in teams and you're going away to carnivals, interstate or wherever, you form a bond. These are my favourite memories of being part of the movement – although I'm not a driven man as far as the competing goes, I go in it and enjoy it and do as best I can but the result, whatever it is, is not as good as just being there and being part of a team.
And of course, I learnt skills through having to do the Bronze and learn First Aid. This has extended into the next generation within my family, which I'm grateful for. Both my daughters, are members of the Pacific Club and my eldest daughter is a member of Avalon Beach surf club, and both are doing incredible things in surf life saving. Aisha has done training and is also a great competitor during carnivals. My daughter Emma is also a great athlete, amongst other achievements, she won the female section of the Jack Carter Cup - this is an ultra marathon event which includes swim, ski, run and board race - something I am very proud of. My son Joshua as a Member of PBSLSC is the one who carried this on to a greater extent than myself – he did everything; all the activities, all the life saving techniques and he was a Patrol Captain for a long time and is now a mentor for the Patrols at Palm Beach. He's been involved in some pretty big rescues himself.
What are your favourite places in Pittwater and why?
Palm Beach obviously – for the connection I have had over many years, and the beauty of the place.
Avalon Beach as well – again for the connection, two of my children live in Avalon and for my it's another really favourite spot; I love the atmosphere – the people who live there are all water lovers and there's a real sense of community – all the Tradies who you see out in the surf, they're just terrific guys, the women too – they're as keen as sportspeople as the men. The children are all in to it.
In fact that whole Avalon to Palm Beach peninsula there's just a family feel – Palm Beach is a bit more sleepy and more of a laid back place, and Avalon has a really terrific vibrant vibe to it – I love it, love Avalon, I think it's a great place.
What is your 'motto for life' or a favourite phrase that you try to live by?
For me it's 'never give up'. Having been divorced and been lonely for a few years, I think that was what kept me going then. I have been very happily married to my second wife for 33 years now. So never give up, always look to the future, and have a loving family. Most of my life revolves around my family; my wife and my children and my grandchildren.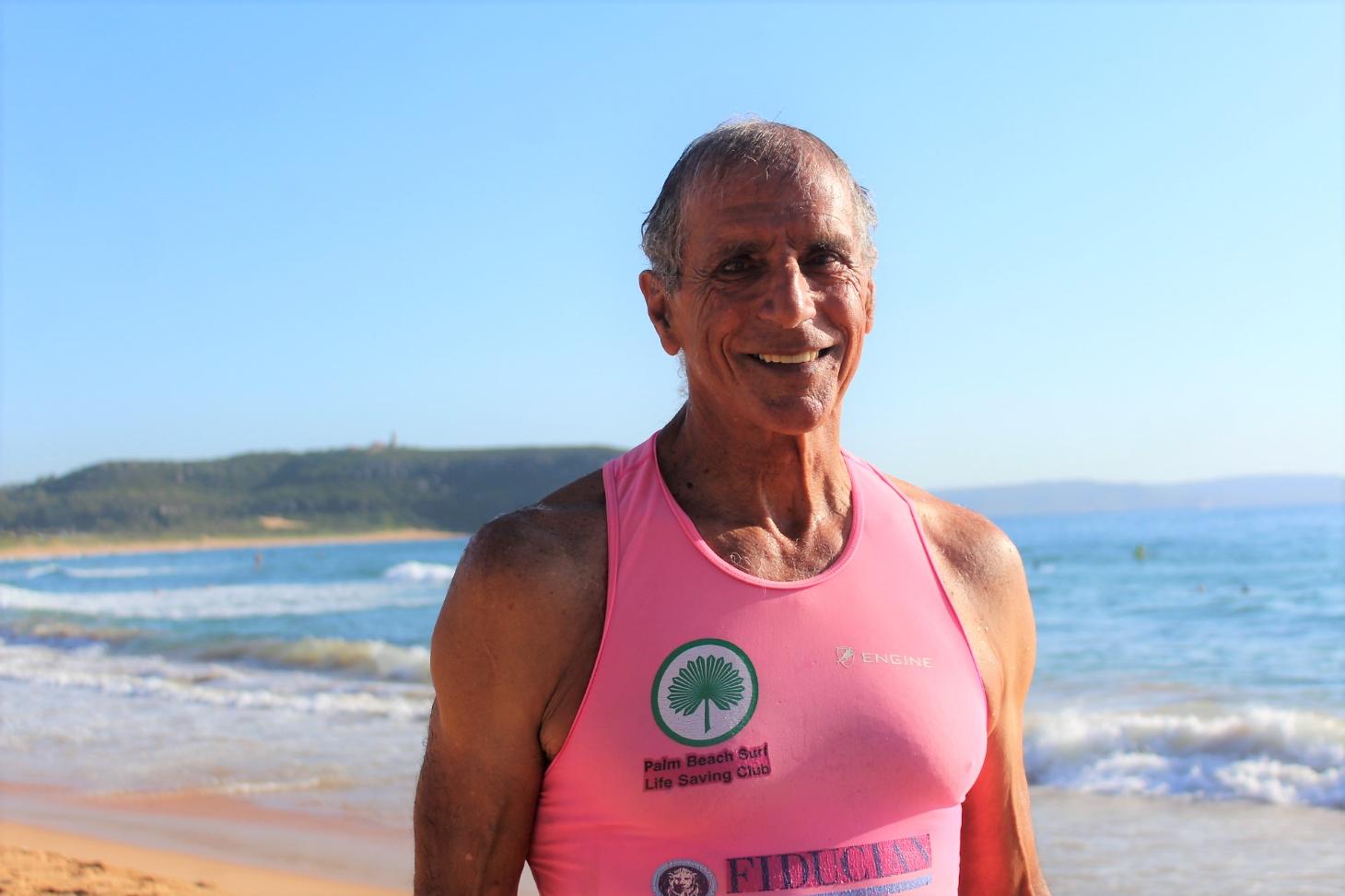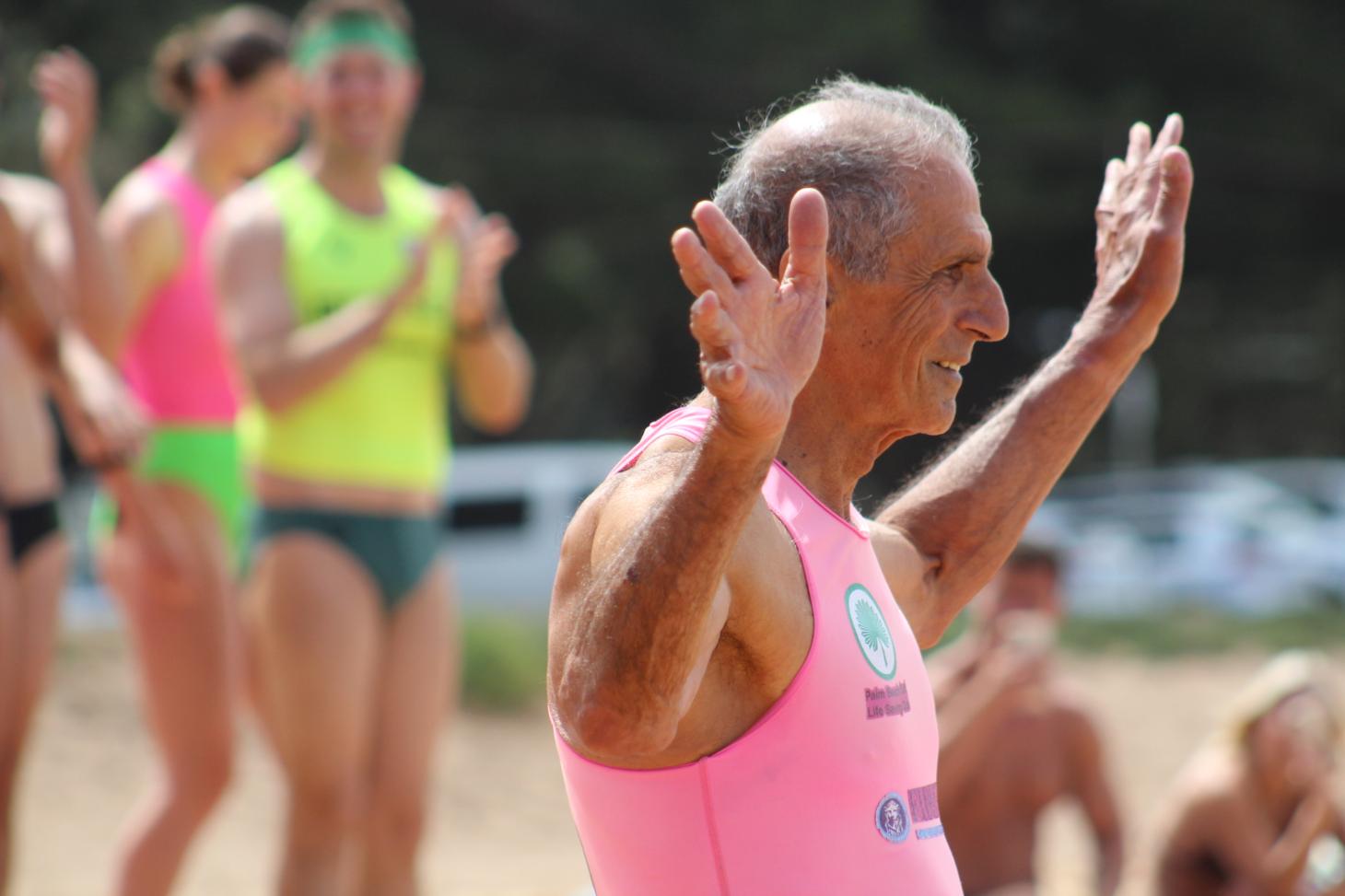 Doug being applauded by fellow PBSLSC Members as he commences the
2023 BBB's Carnival
swim as well - given a 60 second handicap he still came back to the sand minutes before everyone else.