September 22 - 28, 2019: Issue 422
Doctors to take centre stage at next hearing of hospital inquiry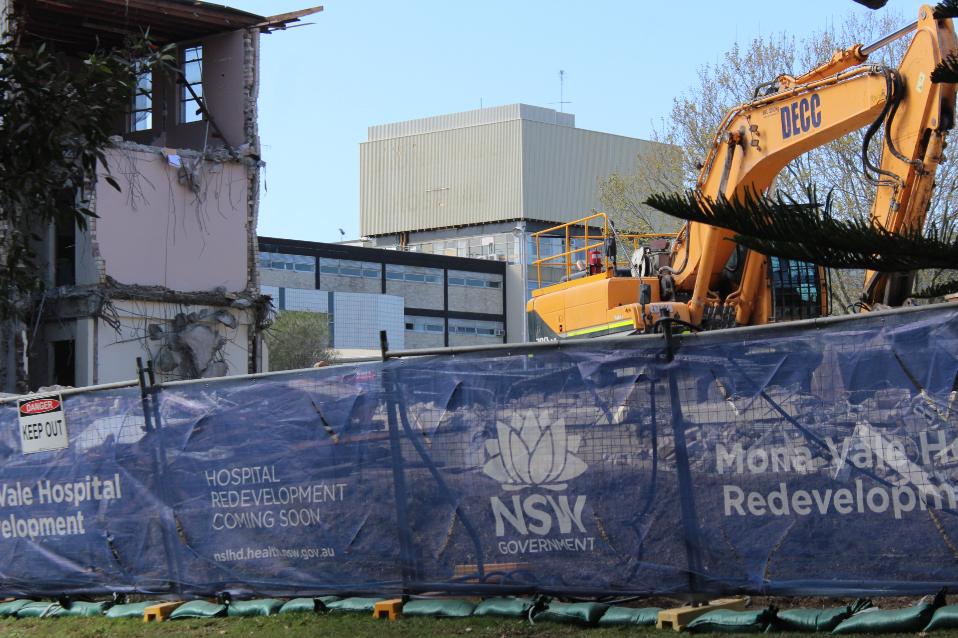 Doctors will have their turn to tell the parliamentary inquiry into Northern Beaches Hospital (NBH) about their concerns at its next hearing on Monday.

Save Mona Vale Hospital chairman Parry Thomas said many local doctors were very concerned about the situation at NBH and the loss of Mona Vale Hospital (MVH).
"It's great the clinicians are very engaged with the community on this issue and we're speaking with them more and more," Mr Thomas said.
"Despite the ongoing campaign by locals over many years, the NSW government is continuing to ignore our wishes by pulling down Mona Vale Hospital while the inquiry is underway.
"If you can get along and support the people while they give evidence at Monday's hearing, it would be fantastic."
The Nurses Quarters and main building at the Mona Vale Hospital Campus have been fenced off and interiors stripped in recent weeks. Late last week demolition of these structures commenced.
Amongst Monday's witnesses will be local resident Professor Richard West AM, a highly-regarded surgeon who alerted the community to problems that would arise with the closure of MVH's emergency department and the inadequacy of services at Northern Beaches Hospital.
Local GPs appearing at the hearing include Dr Suzanne Daly, who has campaigned tirelessly to retain MVH. Dr Daly was responsible for circulating a petition that gained more than 11,000 signatures and was delivered to the NSW Parliament.
The Australian Medical Association's NSW branch will also be represented by both its CEO Fiona Davies and a board member, Dr Fred Betros. The AMA (NSW)'s submission outlined contractual problems for doctors at the NBH and reported staff working up to 110 hours per week.
The first hearing of the NSW Upper House into NBH and its impact on Mona Vale and Manly Hospitals was held on August 26.
Mr Thomas addressed the inquiry's first hearing outlining problems the Pittwater community now faces accessing hospital treatment and the dysfunction at the new hospital.
Phil Walker, from the informal group Friends of Mona Vale Hospital, presented evidence from his freedom of information requests into the construction of the new hospital – in particular raising questions about the safety of its cladding and the external fire stairs.
And Friends of Northern Beaches Maternity Services spokeswoman Helena Mooney outlined problems with the private model of obstetric care adopted by the hospital – especially the high rate of interventions at other Healthscope run hospitals.
Before Monday's hearing, another witness local historian Dr Jonathon King will be interviewed on ABC radio 702 at 8.30am.
Monday's hearing will run from 10am to 12.45pm in the Macquarie Room at Parliament House, on Macquarie St, Sydney. It will be webcast live at: https://www.parliament.nsw.gov.au/Pages/webcasts.aspx
Full details of Monday's program can be seen at: https://www.parliament.nsw.gov.au/lcdocs/transcripts/2183/Hearing%20Schedule%20-%2023%20Sep%202019.pdf