October 30 - November 5, 2022: Issue 560
Council Wins AR Bluett Memorial Award 2022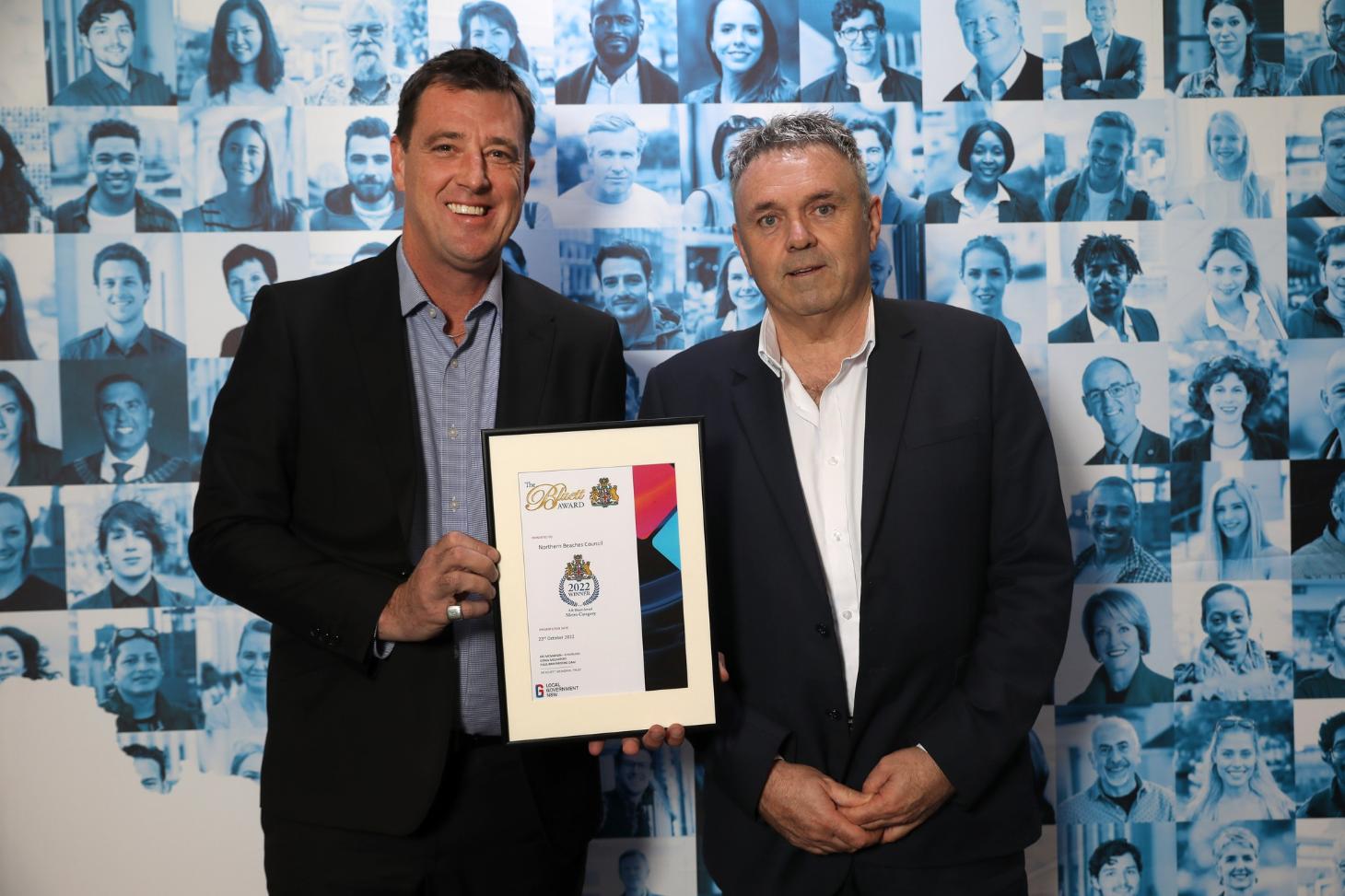 Mayor Michael Regan and CEO Ray Brownlee accepting the award. Photo: LGNSW
From 23 to 25 October 2022, Councillors from across NSW held the LGNSW Annual Conference. This annual event provides an opportunity to share ideas, seek inspiration, and help determine this sector's policy directions for the coming year. It is also when the annual AR Bluett award winners are announced.
This year Mid-Western Regional Council and Northern Beaches Council have been awarded the prestigious AR Bluett Memorial Award for outstanding achievement in local government.
Mid-Western Regional Council took out the award's Regional/Rural category, while Northern Beaches Council was crowned the Metropolitan winner.
LGNSW President Darriea Turley congratulated the two councils on their win.
"Mid-Western Regional Council and Northern Beaches Council are both very worthy recipients of the AR Bluett Award as both have demonstrated excellence and progress in local government throughout the past year," Cr Turley said.
"On behalf of LGNSW, I congratulate the councillors, council staff and the communities from both councils on this terrific accolade."
The AR Bluett Memorial Award has been awarded annually since 1945 in commemoration of Albert Robert Bluett, who served as the Secretary and Solicitor to the Local Government and Shires Associations of NSW for 30 years.
Mr Bluett was highly respected by the legal profession and Ministers of the crown, and was instrumental in writing the Local Government Act of 1919.
The AR Bluett Awards are judged by the three honorary Trustees – Les McMahon (Trustee Chairman), Genia McCaffery and Paul Braybrooks OAM.
Mr McMahon said judging for this year's award was particularly tough based on the excellent nominations received.
Mr McMahon said Mid-Western Regional Council completed a number of key projects over the past year that improved customer service and diversified the local economy.
"Mid-Western Regional Council's focus on driving improvements across all facets of its organisation has delivered enormous benefits for its community," Mr McMahon said.
"It completed a range of projects including the Mudgee Arts Precinct and Stage 2 of the Glen Willow Regional Sporting Complex, while also undertaken a range of customer service improvements."
Northern Beaches Council, meanwhile, led its community through a number of challenges including the ongoing COVID-19 pandemic and unprecedented wet weather events.
"Despite the challenges, Northern Beaches Council was still able to deliver a $76 million capital works program, with a focus on resilient and sustainable infrastructure, while also undertaking a comprehensive community services program to assist all members of its community," Mr McMahon added.
Mr McMahon thanked all the councils who took the time to nominate for the AR Bluett Memorial Award.
"Despite all the hurdles local government has had to overcome this year, it was heartening to see councils right across NSW achieving so much for the benefit of their communities."
Mayor Michael Regan welcomed the accolade and praised his fellow Councillors, CEO and all Council staff for their commitment to providing the highest quality service to the Northern Beaches community.
"Winning the AR Bluett is an incredible honour and I am thrilled Northern Beaches has been recognised," Mayor Regan said.
Mayor Regan said that 2021/22 was a challenging year with the pandemic continuing to take its toll as well as devastating rainstorms which led to the Northern Beaches twice being declared a natural disaster zone.
"We worked with our community to get through the worst of it, conducting door-to-door welfare checks, facilitating hundreds of additional waste collections and supporting our local businesses in recovery," he said.
"For the long term we endorsed a comprehensive Resilience Strategy to create better community connections, strengthen our economy and enhance environmental protection so as a Council and community we weather any future disruptions.
"We took every opportunity to reconnect our community and boost our economy through award winning events. Our Sun Run was the first mass participation event in NSW after COVID restrictions lifted, we reshaped Taste of the Beaches and we pulled off a massive new event, PLAY MANLY, rewarding Manly CBD with a 9% uplift in visitor spending during the festival.
"And we still delivered a solid $76 million capital works program despite the disruptions, including completing the Mona Vale Surf Club - an incredible and roundly welcomed new community asset.
"Our focus on resilience and sustainability led to the rehabilitation of Careel Creek, installation of over 2000sqm of sustainable concrete, support for solar on schools and a diversion of more waste from landfill - up from 49% of domestic waste in 2018/19 to 66% in 2021/22.
"Our continued focus on the customer saw customer satisfaction score shift from 71% in 2019 to 88% in 2022.
"A huge thank you to all our staff and volunteers, Councillors, the CEO and Directors. And to the many in our community who gave feedback on draft projects, partnered to deliver events or initiatives, sat on our working groups or otherwise engaged with us. You have all contributed to this significant recognition."
Background to Mona Vale SLSC Build
On December 21st 2015 Pittwater Council resolved to provide in principle support for the rebuild of Mona Vale Surf Club, and began preliminary investigations to prepare a detailed business case for renewing the facility at Mona Vale Surf Life Saving Club. The business progressed to the planning phase and was identified in Council's capital works program to develop an agreed concept plan in collaboration with the Mona Vale Surf Life Saving Club. The new building proposed to be constructed on the existing surf club site was to be two stories with a floor area expected to be twice that of the existing facility.

In June 2011 the Independent Pricing and Regulatory Tribunal (IPART) approved Pittwater Council's application for a special rate variation (SRV). This resulted in an increase in rates over three years (2011-2014). The funds support additional infrastructure works and environmental programs. A ten year Community Contract was established to ensure accountability and transparency over the financial years 2011/12 to 2020/21. The final projects under this community contract were included in the Northern Beaches Council's 2021/22 Budget and included Mona Vale Surf Life Saving Club's new clubhouse.
Member for Pittwater Rob Stokes announced in October 2018 the NSW Government has provided a further $2.5 million to assist with the upgrade of Mona Vale Surf Life Saving Club.
The funds were in addition to $1.4 million allocated to the project in 2017, bringing the NSW Government's total contribution to $3.9 million.
The new building floor area was proposed to be in the vicinity of 1400m2. The building is approx. 1690m² in built area including balconies. The original building's built area was approx. 933m. The new building has two storeys with lift access. The building is approximately 8.5m in height at the highest point.
The build was commenced in late May, 2021. Visit: Members Get Plastered To Mark Official Start Of New Mona Vale SLSC and Mona Vale SLSC's New Clubhouse Grand Opening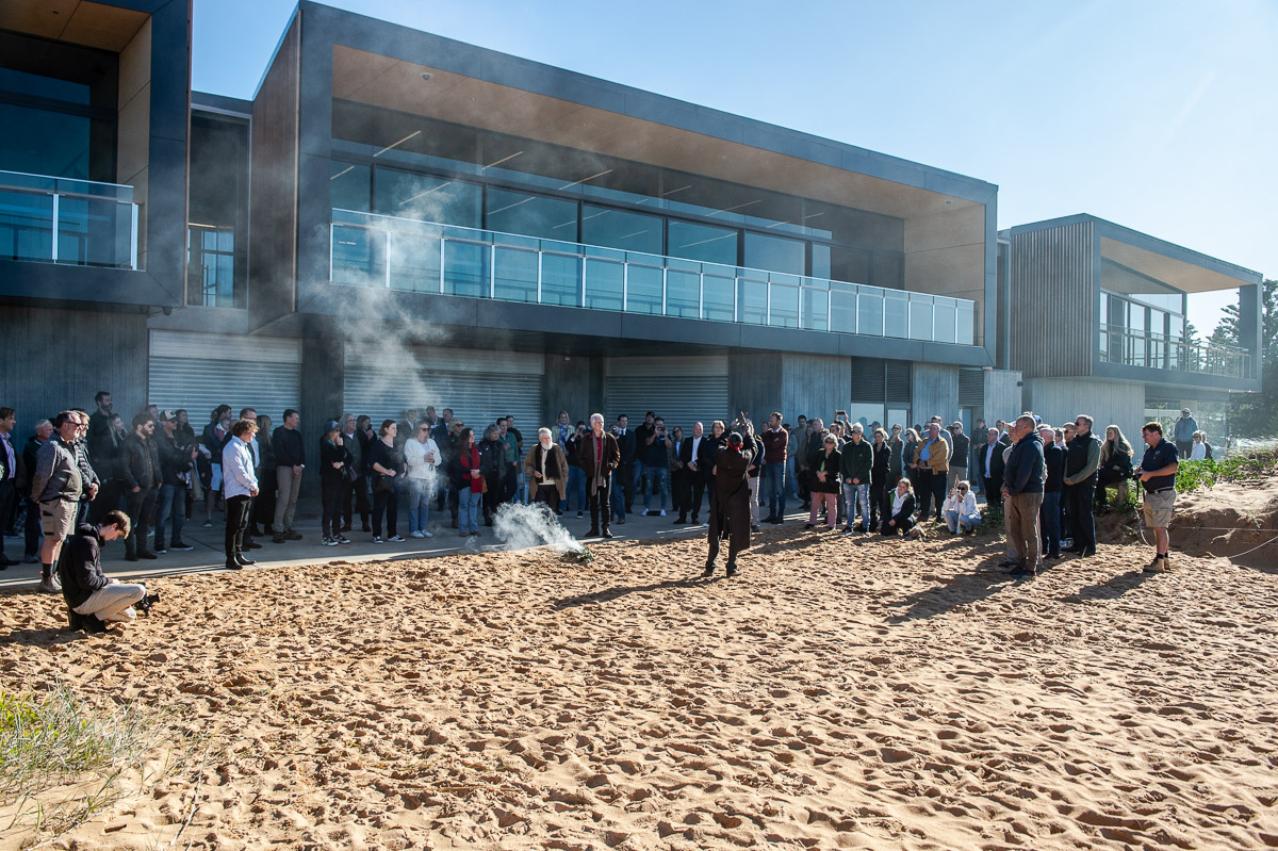 Traditional Smoking Ceremony to commence Official Opening of NEW Mona Vale SLSC Clubhouse. Photo: Michael Mannington OAM