May 30 - June 5, 2021: Issue 496
Members get plastered to mark official start of new Mona Vale SLSC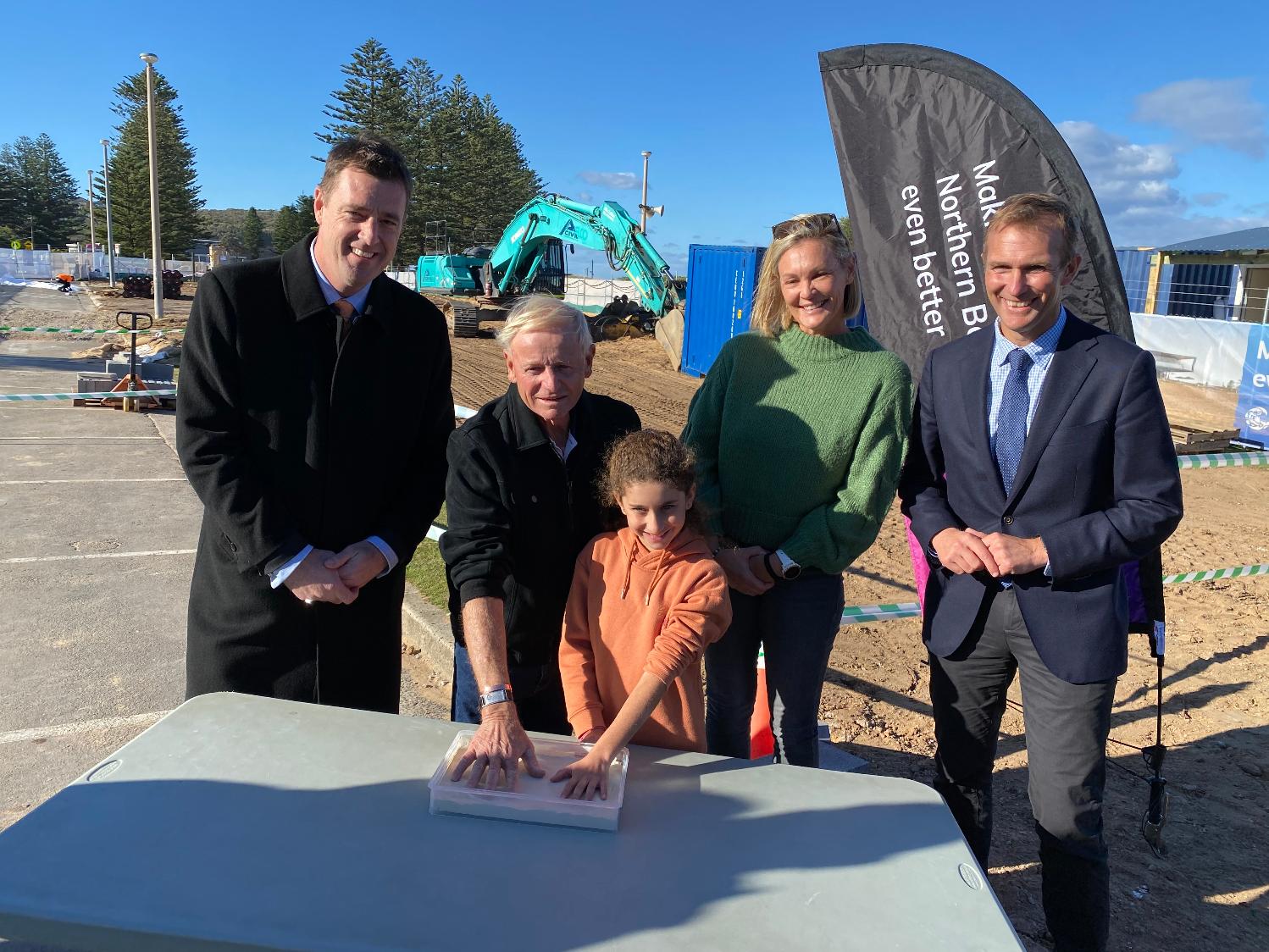 Photo: L-R: Mayor Michael Regan, club members Christian Boss and Avigail Kedmi-Gencher; Mona Vale SLSC President Paula Tocquer, Member for Pittwater Rob Stokes MP. Image supplied.
May 28, 2021
Community members turned out today to celebrate the start of construction of the $10 million new Mona Vale Surf Life Saving Club. It is the second major beachfront community infrastructure to commence in as many months after construction of the $7.5 million Long Reef Surf Club started in April.
To commemorate the occasion, one of the Club's senior members and one of its youngest members had their handprints cast together in plaster to be displayed later in the new clubhouse.
Christian Boss - 77 years old - joined Mona Vale in 1959, while nine-year-old Avigail Kedmi-Gencher joined as a six-year-old nipper in 2018.
With construction scheduled to be completed in time for its centenary year, the club began life in 1923 on the dunes near Darley Street. In 1934, a new clubhouse was built 100 metres to the south of the existing club, and then in 1969 it evolved to dwell on its current site.
Mayor Michael Regan said the 52-year-old clubhouse had served the community exceptionally well but needed a complete overhaul to service the needs of 1,600 club members, Council Lifeguards and a growing community.
"The new club will facilitate surf club operations, including increased on-site storage capacity for surf lifesaving equipment, better access to the beach, function space, first aid and family change facilities, and a nippers' room," Mayor Regan said.
"However, its pièce de résistance sure to be a local drawcard will be an 70 seat café and 90 seat restaurant offering magnificent vistas of the stunning Mona Vale Beach and South Pacific Ocean."
"The delivery of this project will see the area transformed into a vibrant, activated precinct with significant public amenities.
"I would like to sincerely thank our partners that worked together with Council to make this clubhouse a reality – local MPs, the NSW Government and the Mona Vale SLSC members who dug deep to fund this project."
Member for Pittwater, Hon Rob Stokes said the new clubhouse is a vital upgrade to one of our most important community facilities.
"Mona Vale is one of Sydney's most popular beaches during summer and its lifesavers perform an invaluable service.
"Surf clubs aren't just places that accommodate surf rescue equipment and training facilities – they're also key community hubs used by dozens of local groups and organisations.
"This project has been on the to-do-list for many years – so it's great the NSW Government is partnering with Northern Beaches Council and the club to get work underway," Mr Stokes said.
Locals, lifeguards and club members are thrilled with the long-awaited new facilities that will increase floor space to 1690 square metres over two levels.
Mona Vale SLSC President Paula Tocquer said she and many others had been involved in getting the project off the ground for eight years, and was overjoyed that it was to finally become a reality today.
"Many members have expressed a little sadness to see the old building go. So many memories were made in the old clubhouse. But we are all very excited to have a new place to call home," Ms Tocquer said.
"Council has been great to work with. It has been a great partnership that will result in a much-need community building."
The New Mona Vale SLSC
The facilities proposed include, but are not limited to, equipment storage, gym, restaurant, public amenities and changes rooms, function area, lifeguard room, office and a first aid room. There will be a commercial space for the café.
The new building floor area is proposed to be in the vicinity of 1400m2. The proposed building will be approx. 1690m² in built area including balconies. The original building's built area was approx. 933m. The new building is to have two storeys with lift access. The building will be approximately 8.5m in height at the highest point.
External materials will be raw, earthy and robust that can withstand the coastal environment. The concept design explores the use of textured and exposed concrete and timber.
The concept design has provided for a height of 3.5m in the storage area. This will enable vertical storage of surf rescue boards.
Environmental initiatives include the use of raw materials, sustainable timber, natural ventilation where possible, rain water storage tanks, WELS rated and efficient tapware and solar panels.
The building is set back from the current dunes in-line with the acceptable coastal report. The building has been designed to meet the requirements of the Building Code of Australia.
The proposed new, larger building will meet the existing and future needs of the club and the community by providing new and improved amenities and accessibility. The new building will also address existing safety issues and reduce long term maintenance costs by implementing environmentally sustainable initiatives.
In addition to the Mona Vale Surf Life Saving renewal project Council approved two new external public amenities buildings, as part of the 2019-2023 Delivery Program. As a result public amenities at Mona Vale Beach with the construction of new amenities in Apex Park and the upgrade of the existing amenities adjacent to the pool are part of this project.
The surf club's new building is designed to feel inclusive and accessible to a broad cross-section of the community. Facilities will be family-friendly with spaces and amenities catering to all generations of lifesavers. Particular consideration will be given to welcoming migrant communities, who are a principal target for water safety campaigns.
The new clubhouse will be open and active on all sides, with a café at ground level and sightlines through to the water, linking both park and beach. Elevated glass pavilions will house a restaurant, lounge bar and function room, angled to capture the spectacular views and outstanding natural beauty.
The functional space will be doubled almost within the footprint of the previous structure. New revenue streams will be established, including café and restaurant tenancies and flexible function spaces for private hire. Sustainable design elements serve to minimise water and energy use and long-term maintenance requirements.
Mona Vale SLSC members envisage the new facility will exceed all expectations in its scope to boost membership revenue, secure the club's future and create an enduring legacy for the community.
Warren and Mahoney are the Architects for the building, scale and stamped drawings available here, and other documents in Mod2019/0454. At its March 23, 2021 Meeting Council accepted the Tender of Kane Constructions Pty Ltd for the Redevelopment of Mona Vale SLSC and Beach Amenities for the sum of $9,077,787 excluding GST.
Concept design (Apr 2018)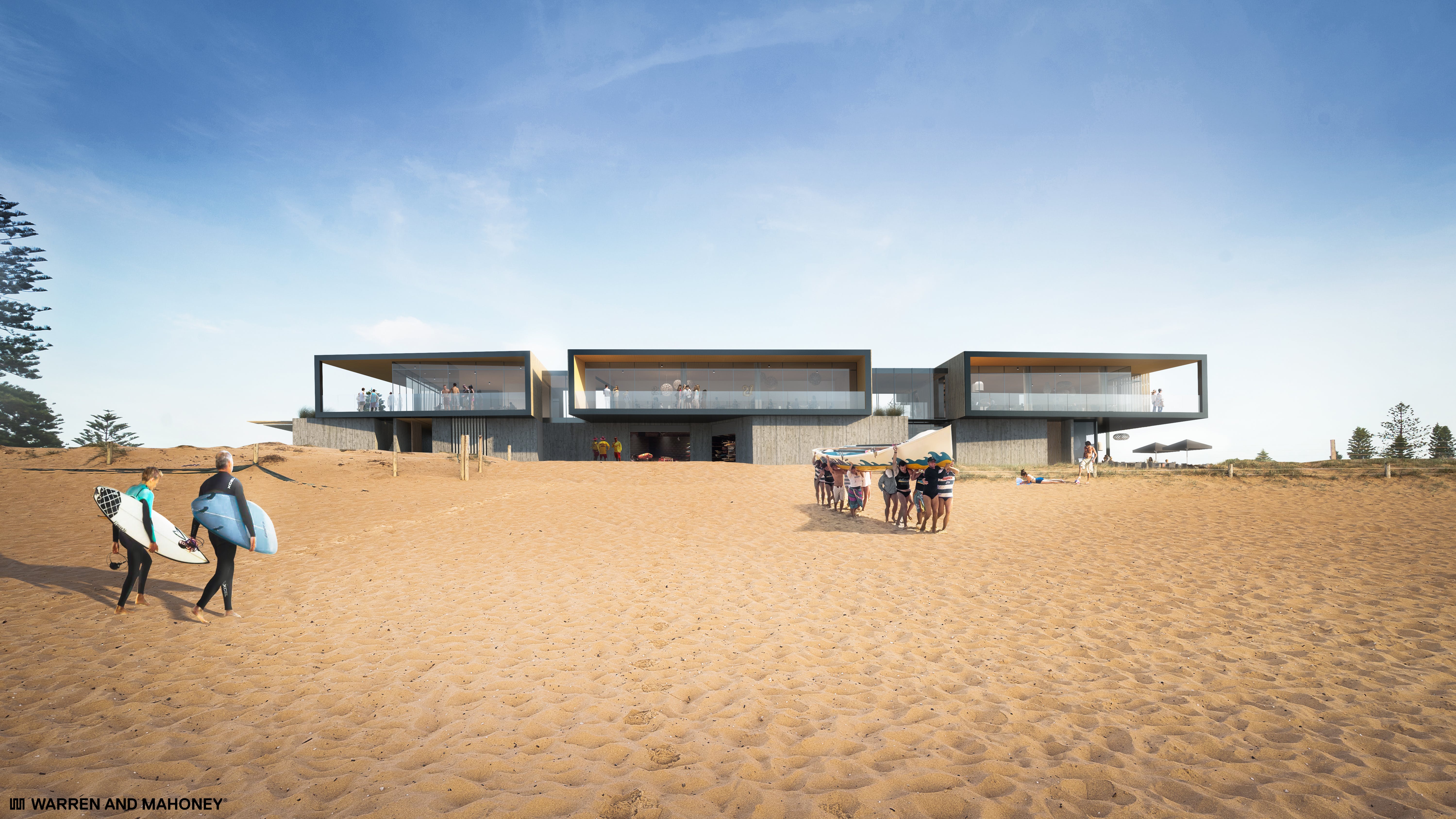 Mona Vale Surf Lifesaving new Clubhouse: Beach access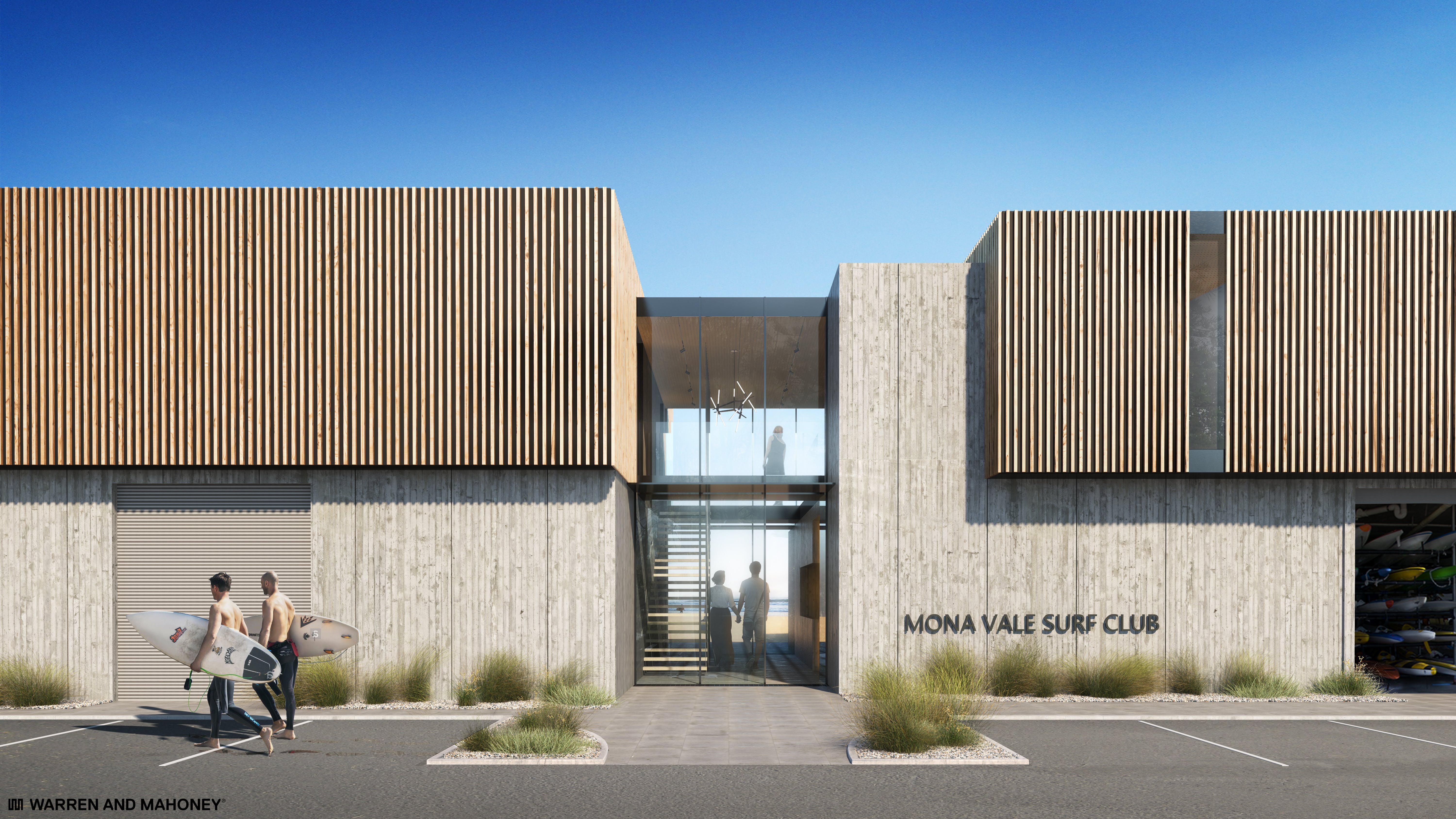 Mona Vale Surf Lifesaving new Clubhouse: Entry via Surview Road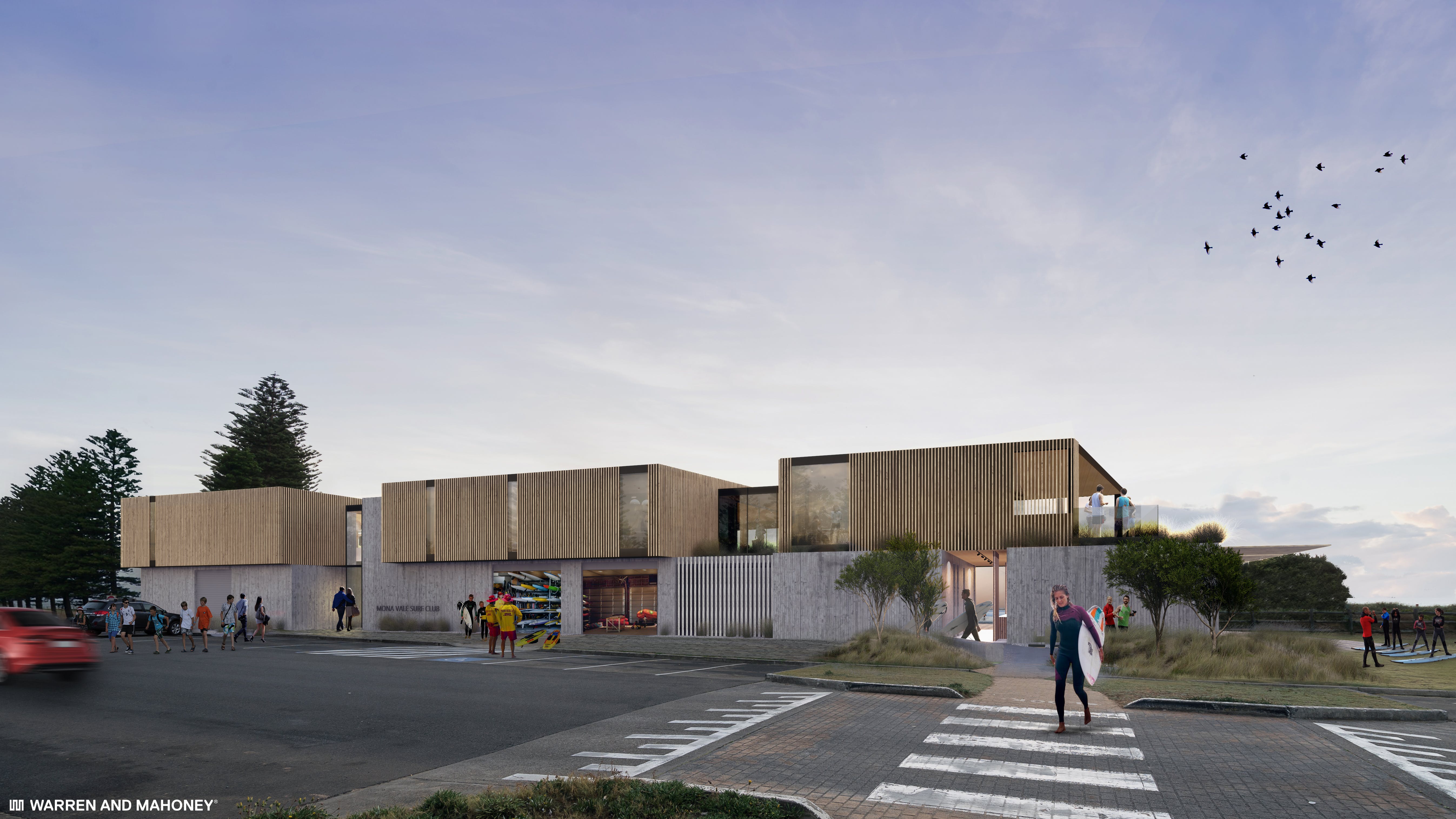 Mona Vale Surf Lifesaving new Clubhouse: Surfview Road access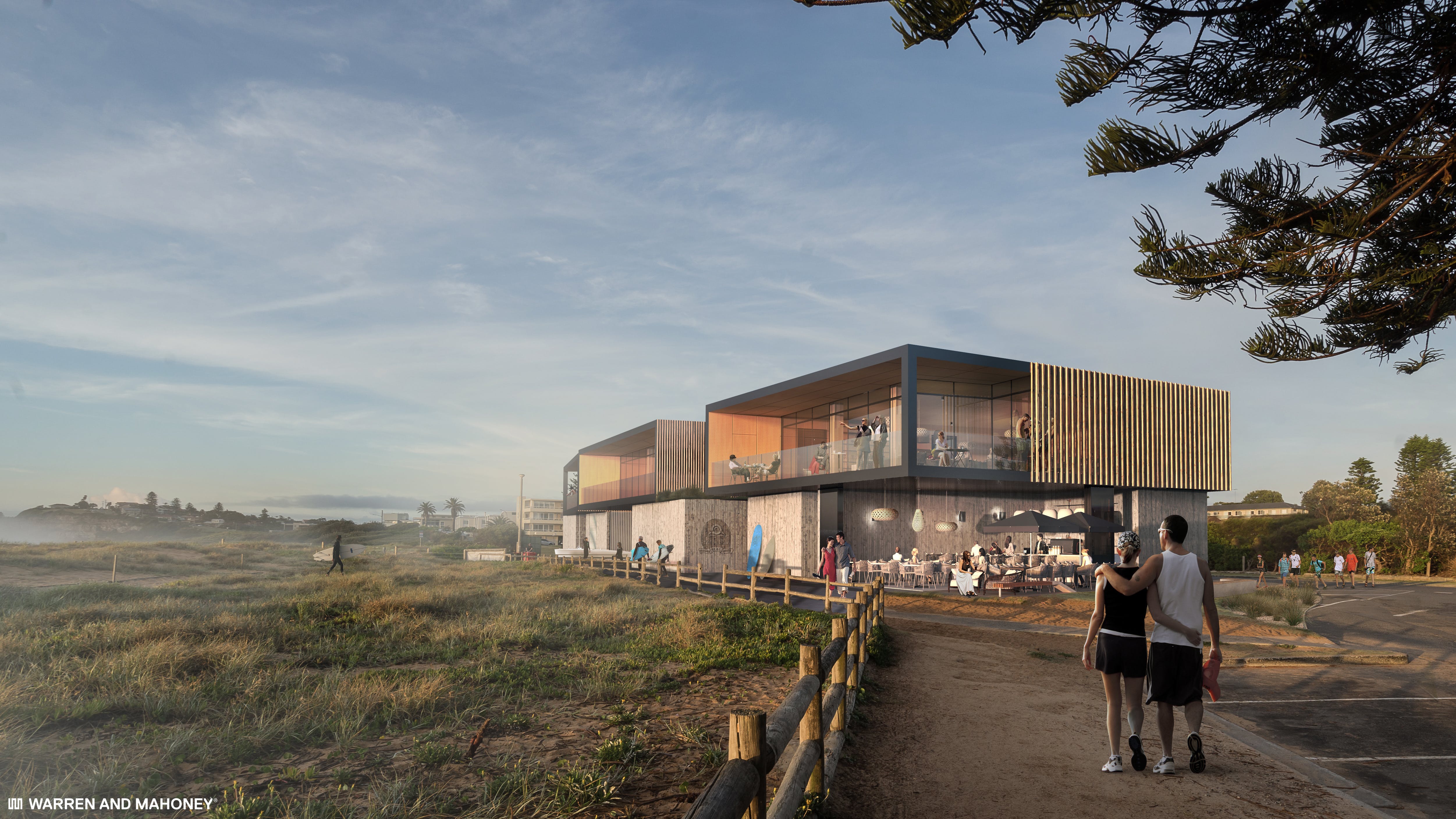 Mona Vale Surf Lifesaving new Clubhouse: Walking path view