December 17, 2017 - January 13, 2018: Issue 342
Palm Beach Walkway and Landscape Plans Misses a few Consult, coastal Study and historic storm Marks - boardwalk wipeout

photo copyright Guy Finlay.
The Palm Beach Walkway from Palm Beach Ferry Wharf to Governor Phillip Park has commenced, a much needed safety measure for those visitors alighting from Palm Beach ferry wharf and walking to Palm Beach and great for residents who love cycling or walking out to the beachfront.
The community engagement aspect has attracted some criticism, which could be attributed to the community's cold shoulder of local council 'news' while under Administration but also reflects a growing audience of people finding their news online, through social media and the like, and a turning away from what is called 'old media' by academics.
An information session scheduled for November 6th and
scheduled to run from 11 a.m. to 2 p.m
. in Pittwater Park at Palm Beach Ferry wharf was cut short due to an impending storm, finishing, according to witnesses, at 12.45 p.m. which unfortunately left those who came ten minutes later, residents in Barrenjoey road and Waratah street Palm Beach, whose properties are affected by that section of the Palm Beach walkway and who had only just been informed of the development, already commenced by then, without answers to queries.
One gentleman stated he had not been contacted at all by council and the walkway encroaches on his land. Others have also expressed a 'first I've heard about it' experience, which can be attributed to a section of dwellings being holiday homes along that stretch where people may be absent, but as many are occupied full-time, year round, it doesn't explain the gap between;
'
So far, for this project, the Palm Beach community has also been provided with;
• An information letter that was issued out 2 weeks ago with project contacts
• Email updates
• Project signage onsite
• Drop In sessions
• 1:1 meetings with residents along Barrenjoey Rd (ongoing)
• Regular onsite discussions with community during site visits
• Palm Beach Walkway Project Page Updates'
and the experience of residents affected who did show up afterwards and most definitely live along that road.
A subsequent 'editing' of the
Palm Beach Walkway
webpage on council's website to modify this change of time and make it appear that was the original intention seems silly when no one wants anyone standing out in a storm and those who received the email stating the times still have that notification. It took residents asking Councillor Vincent de Luca OAM to inquire on their behalf to ascertain the reason for the disappearance.
Cr de Luca's inquiry as to those queries not answered and people who are hearing about this for the first time was answered with 'All residents who are directly affected by the walkway project (along Barrenjoey road) are currently being consulted via house visits, emails and phone calls'.
Our own query brings this heartening response; 'The concept design review process also includes the residents along Barrenjoey Rd that are directly impacted by the walkway. Once the concept design is ready, all residents along Barrenjoey Rd that are impacted will have the opportunity to review the design and provide feedback prior to these specific works taking place.'
Those who attended also dispute the webpage's report of 'We received lots of positive feedback and general excitement about the project.' at the Information session. One gentleman stating 'it was half a dozen residents questioning the "fit for purpose" doubts (negative) reaction to the published map of the South Palm Beach section! '.
There are also residents along that Barrenjoey and Waratah stretch who are seeing walkway may be appearing at kitchen or bedroom level, and are wondering how their privacy has been taken into account, so let's hope the 'feedback provided' is to be taken genuinely into account and
if the plans need to be modified, that can be done as quickly as the webpage is modified.
Fortunately it has been ascertained that more Information Sessions will be held in 2018. The boardwalk works are not scheduled to commence until January 29th 2018 so there is time for discussions to take place.
Plans for Palm Beach South
The Palm Beach South Landscape design have also been causing a few question marks - particularly among those who use Kiddies Corner for children, who anticipate a longer hotter walk for the knee-high if plans, already passed, go ahead to remove parking to enable the installation of a boardwalk. Those who utilise the by the sand access to give the elderly and disabled a chance to get in the water are also critical of the planned removal of parking.
In the
council meeting agenda
addressing the
Palm Beach South Landscape Plan
it is stated there were 32 responses, averaging out at $187.50 per paid advertisement response, with respondents '
The main issue raised in the submissions is the loss of approximately 10 to 12 parking bays at the southern end of the beach to accommodate a short boardwalk. However, it is recommended to retain the boardwalk to address pedestrian safety in this area, particularly for elderly people and children
. ' - just how many of that 32 were objecting to the loss of access is not stated.
The statement that only 10 to 12 parking spaces will be lost, from Wiltshire park towards the southern end, is not in keeping with the drawings which show landscaping installed beachside in a longer stretch than this.
The intention to install an extra disabled parking space are part of the replies received but no mention of 'pram parking' alike that which helps families with little children in other places and spaces.
For those that go to South Palm Beach there is a resident who has started a petition to stop the boardwalk and loss of parking into Kiddies Corner or any of South Palm Beach. He has been parking on the sand side for many years, is a Palm Beach resident of over 36 years and he will be there in his white van with his wife under an awning if any would like to sign.
When Pittwater Online spoke to him on Saturday (December 16th) he stated only two people he had spoken to so far had any idea that changes were planned for Palm Beach or that they had already been passed. In just a few short hours he has already gathered 95 signatures.
The Petition reads:
WE THE UNDERSIGNED DO NOT WANT:-
a) Any changes made to the current parking which has ALWAYS been allowed along the beach at the southern end of Ocean Road, Palm Beach.
b) A boardwalk built along this section which would prove totally impractical to maintain due to sand movement and storm wave action.
A PDF version is available below should anyone wish to gather signatures. We have been asked to have these emailed back to us and we will then forward them to the gentleman gathering the same.
Email petitions to
pittwateronlinenews@live.com.au
Here the 'fit for the purpose' query is raised again. The flyer showing what is planned, and the webpage does not indicate where or when the Coastal Construction and Management plans were done to demonstrate how a boardwalk placed along the sand will not contribute to the loss of sand in storm events or be subject to destruction and ongoing replacement after a storm event. Nor is any Coastal Management Plan with any independent coastal management authority regarding the placement of the boardwalk on the south palm Beach sand available.
A query as to how this will be 'fit for the purpose' brings a response that it will be 'designed to withstand storm events'. An example of a boardwalk which is continuously exposed to storm events is the boardwalk within Narrabeen Rock Pool'.
Narrabeen Rock Pool is built in rock, its boardwalk on pylons based in cement and surrounded by cement walls - if something similar is used to anchor a boardwalk into Palm Beach sand large scale erosion will ensue alike that which finds Collaroy in trouble and residents who bought homes along a stretch that should always have been left as it was originally found
experiencing a nightmare the whole community runs to alleviate.
Every year multiple massive east coast low pressure storm systems build up and send huge swells into Palm Beach and each time waves smash into Kiddies Corner. High tides without storms can look like this: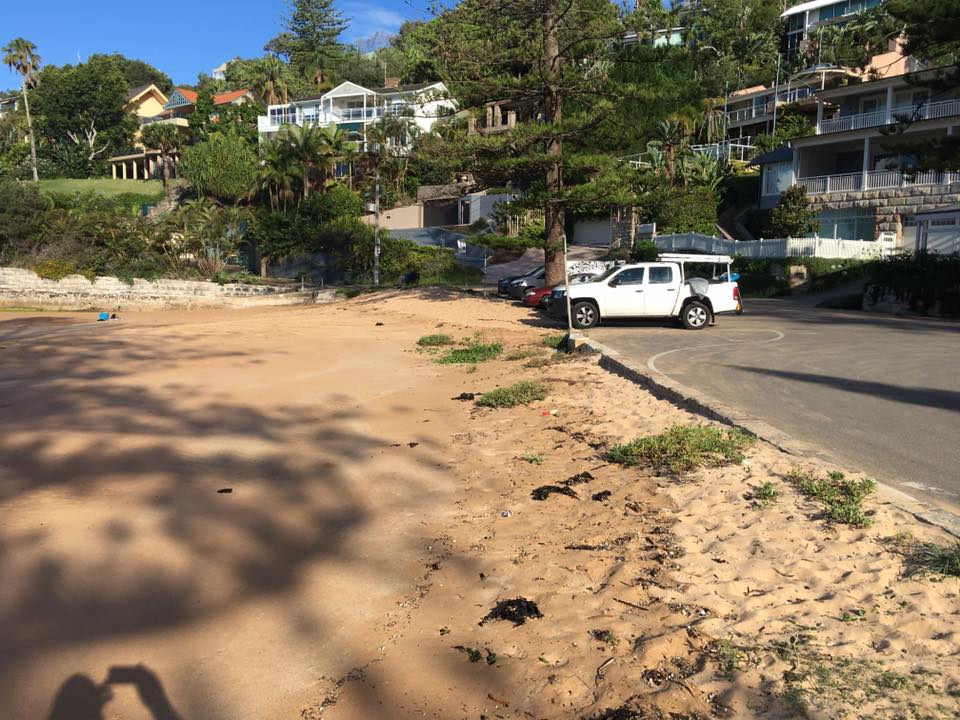 Kiddies Corner high tide mark December 6 2017 photo courtesy Guy Finlay

Each beach authority that sets up a wall to stop swells gets a disastrous effect. Swells that reach walls backwash and take large amounts of sand with them. The best example of this is Fairy Bower Beach in Manly, a beach that still extended out beyond the pool in the 1960s. Today at low tide visitors are lucky to have 5 feet of rock strewn shell fragments and broken glass debris. At high tide the water laps up the base of the wall. During storms it comes into the streets.

Another example is the burger bar and boat shed structure that once stood next to the bathing/change
pavilion
. It was wiped out by a storm and was never replaced.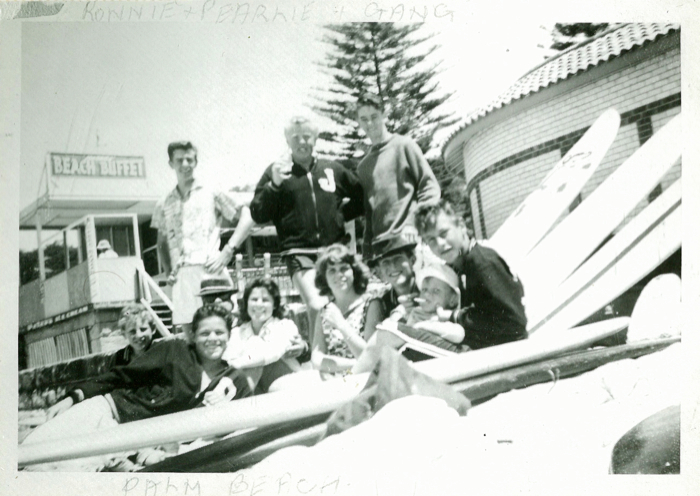 Some original Beachcombers Surfboard Riders Club Palm Beach NSW 1961 near the present day dressing sheds. Note Johnny Hawkes Beach Buffet in the background washed away in king tides. The Beachcomber's Club was underneath the Beach Buffet. Photo courtesy Ron Turton.
The plan to raise the height of retaining walls leading into the boardwalk would exacerbate erosion during storms.
"Sand is all that should be on a beach." residents state, many aghast at the potential loss of another stretch of sand only beach.
Those who find the
boardwalk
slated for
south
Palm Beach not fit for purpose are generally 100% behind three quarters of the rest of the plan - apart from that section towards the north curve of the beach past Black Rock where holes do appear, right up to where the walkway is planned, during storm seasons. A
similar
suck that has helped create the steep banks that appear towards North Palm Beach where dunes have been installed.
As no start date is listed on the Palm Beach (South) Landscape Masterplan webpage, unlike those works progress timeline listed for the Walkway, perhaps those growing number of opponents to the loss of sand area at yet another beach may get to see the
Coastal Management Plan that must accompany this installation and that will prove everything that's ever happened before is wrong - or won't apply here.
Still won't help those families though - it's called 'Kiddies Corner' for just that reason - it's the kiddie's corner. Nor will the elderly who must now employ a cane find access easier. At least there will be another disabled parking space, and just one little hurdle to get over before you get to be on the sand.
Petition
below - click on 'save as'.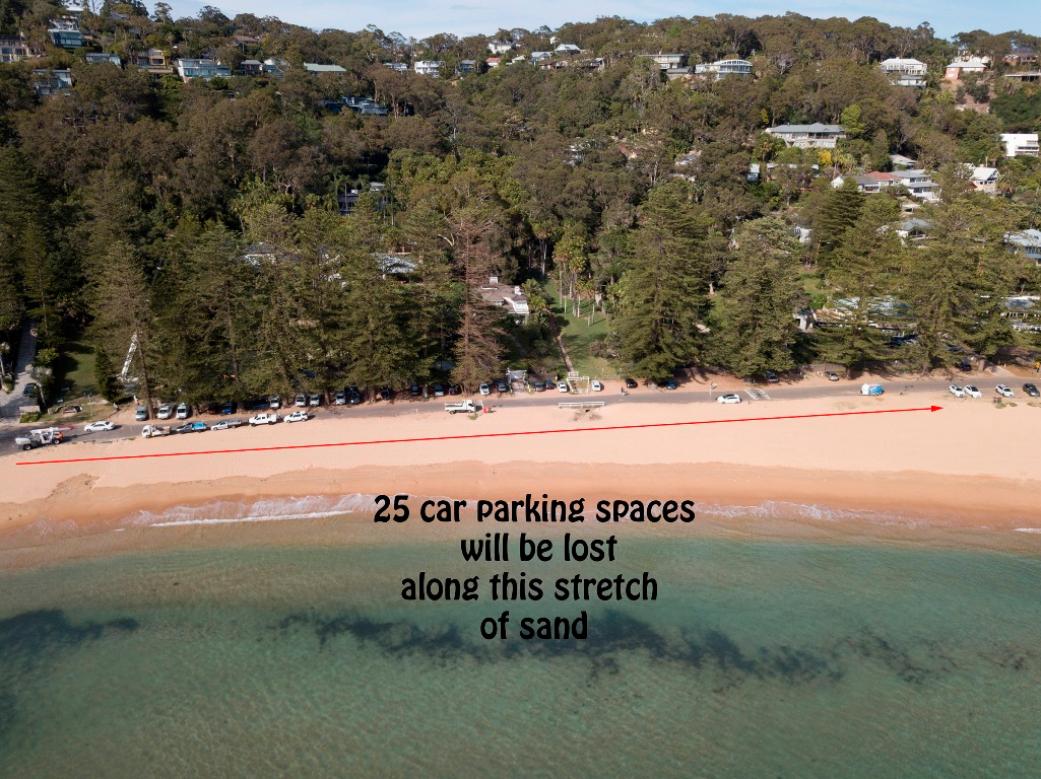 photo copyright Guy Finlay.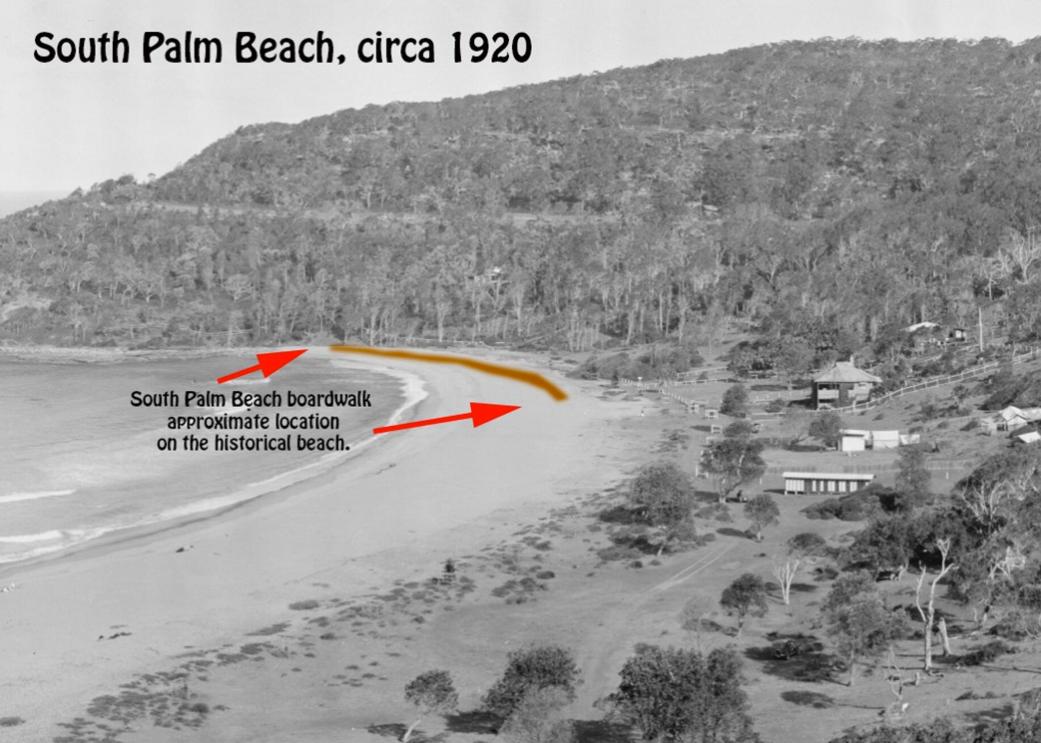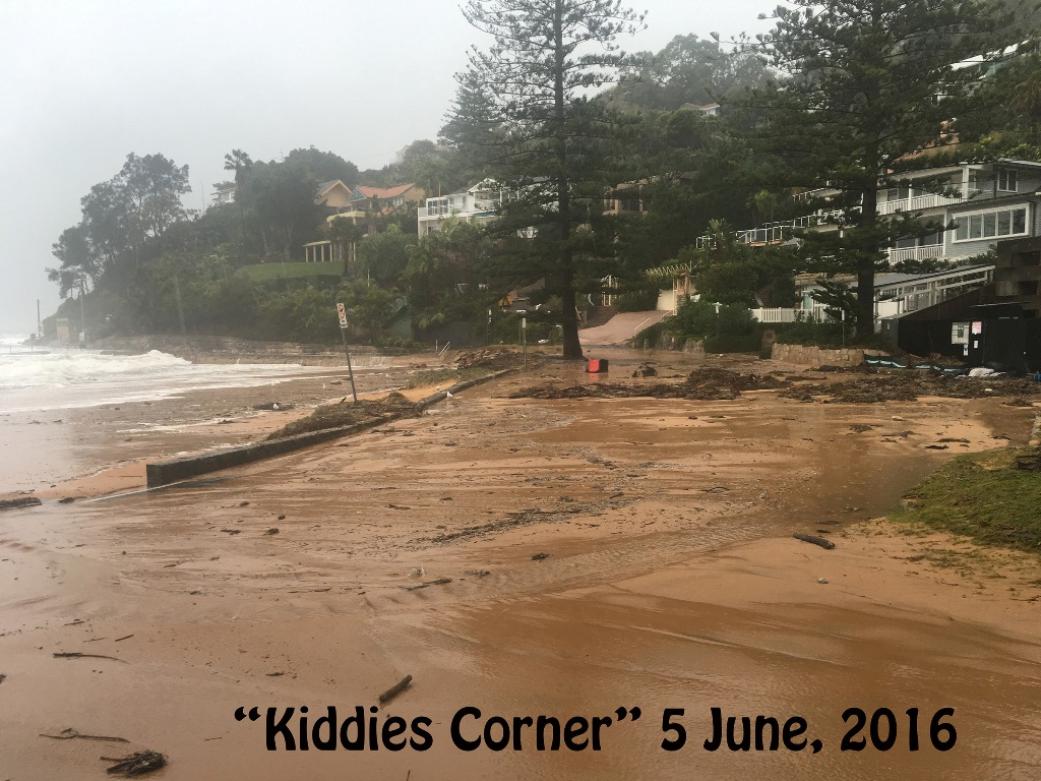 photos copyright Guy Finlay.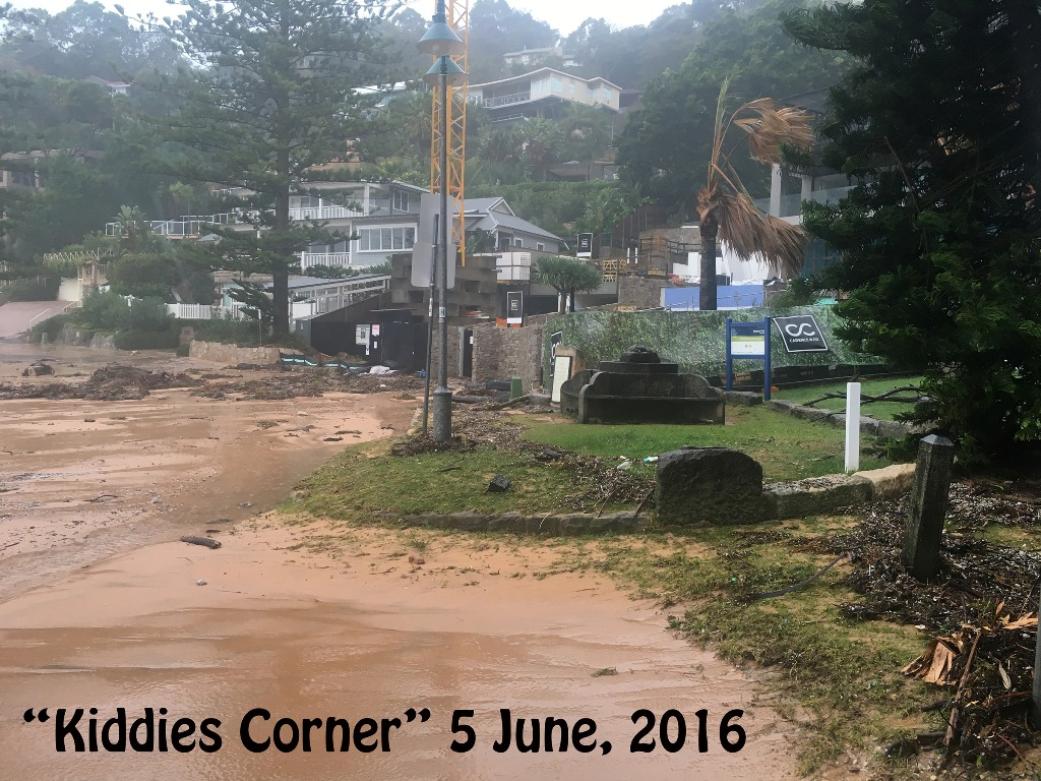 photos copyright Guy Finlay.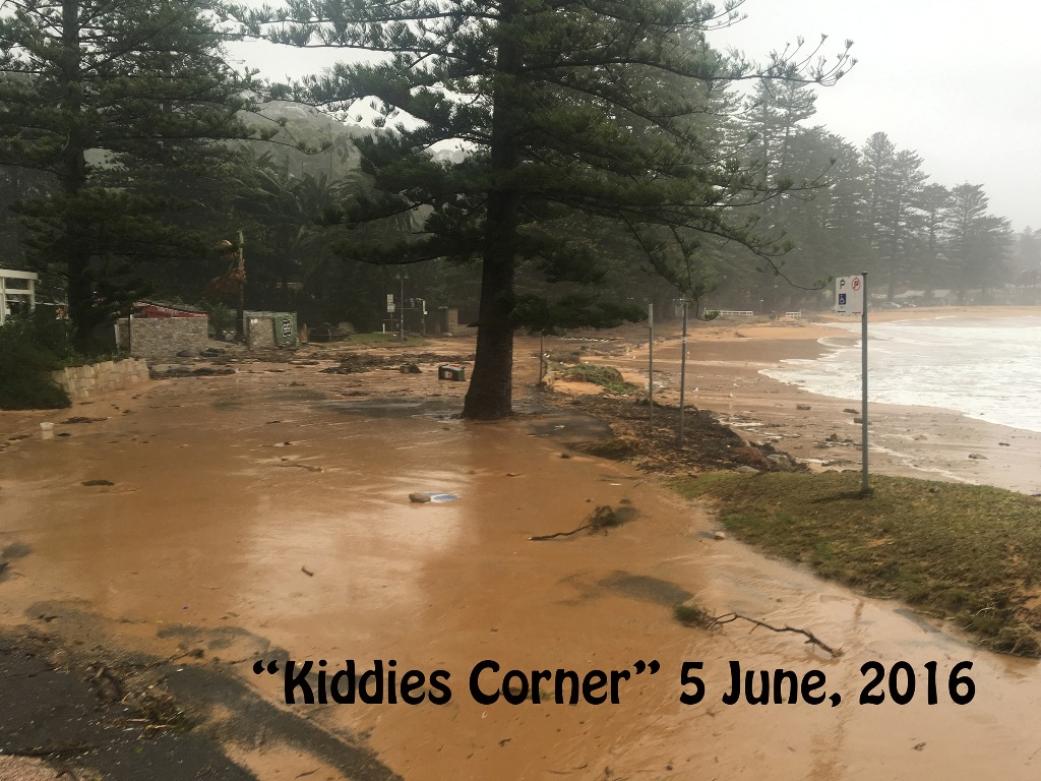 photos copyright Guy Finlay.