November 11 - 17, 2018: Issue 383

Bill Leimbach's face is sun weathered, he's a man who has spent his life outdoors, in the light, capturing real stories of real people. With over 40 years of Producing and Directing Documentaries and Films, most of them in places known for weather extremes, his squint not only occurs when he's focusing in on how to present the story through evolving vision, that squint is looking forward too, towards the next production and records that should be made.
In Canberra today the multi award nominated and winning film Beneath Hill 60, the true story of the 1st Australian Tunnelling Company's mining Hill 60 in the Ypres Salient on the Western Front and setting off what was then the biggest explosion known to humankind, apparently felt in Dublin and heard in London, will be screened as part of Remembrance Day activities. This is one of Bill's films - one story that 'had to be told'.
There are a lot of Bill Leimbach productions, in fact there are so many films and documentaries, someone needs to make a definitive filmography of his work. Bill has worked with the best in the business here. The works are authentic - well researched, well written, well acted and directed. They 'stick' with you - the mark of any decent film.
It's not only films he's been an integral part of getting made that he's interested in either. Next Saturday Bill has arranged a screening of another WWI favourite of the thousands of Australians sent oversea, The Sentimental Bloke, which is also marking its century this month. The screening will take place at the Avalon Bowling Club with Elanora's The Volantinski Quartet providing music to accompany the classic silent film and even a menu of food from 1918 to heighten the whole experience for those who attend.
Mr. Leimbach speaks energetically throughout what is perhaps his thousandth interview by now. It's the same vitality that gets films made, or in his sons, founders of Lime Cordiale, gets songs out and are 'bored' when not working hard. The boys get into the acting, Oliver having done a few spots in a few Lucky Country Productions. Louis is good at Artful and Acting. Their mum Karen Leimbach is an excellent cellist.
All of which reflects how films such as The Sentimental Bloke were made, by a family of mutli-talented individuals - which is how it still works in the Australian Film Industry - a band of mates, both male and female, pooling their talents over decades to produce films and documentaries that stick - as much as do cheeky cameos in each other's films, Bryan Brown appearing in Lime Cordiale's 'Say It' video, directed by his daughter Matilda Brown springing to mind.
A few minutes with Mr. Leimbach:
Where were you born?

In California, in San Diego. I grew up in San Diego. I came over to Australia a few decades ago. In fact November is the 100th anniversary of The Sentimental Bloke and is also 40 years since I came to Australia.
What brought you to Australia?
Film. I went to film school in London and met a lot of Aussies up there. I was working for the British Film Institute and worked on an Australian week they had where great Australian film people and films were the focus- Peter Weir and Bruce Beresford, Phil Noyce – they were all there and I was helping show them around London as well as see all these classic Australian films.
I got to like these guys; Australia was the new way – the French had finished, the English had finished and the new wave was Australian film.
The first couple of films I was involved in after Film School were in Indonesia – so I would R and R in Bali and met more Aussies there. I figured I loved this lot and so I migrated. By that time I had a wife and two little girls, so I brought them down here and have been making films here ever since.
What was the first film you made in Australia?
Walkabout to Hollywood – a film about David Gulpilil. The film that I wanted to make was the story of Bennelong and Phillip, their relationship, but the story was just a little too big for that time. I sold the idea to the McElroys and we were going to make a historical television series of that but it was still a little too big for that time. But Bennelong was going to be played by David Gulpilil from the very beginning. When that film disappeared the BBC said, 'well while you're there and have David Gulpilil, why not make a film about him?'. So I made a film called 'Walkabout to Hollywood'. At that time David was going over to make his third film there. He was the most popular Australian in America at that time – this was before Jack Thompson, Mel Gibson, Bryan Brown - the only Australian they knew was David Gulpilil. He was in Walkabout, Storm Boy, The Last Wave and Mad Dog Morgan. Four films were playing at one time in L.A. with David Gulpilil – he'd walk down the street and everyone knew him.
So I followed him over there while he was working on a film called 'The Right Stuff'. We shot some stuff there and came back and I went to Arnhem Land with him.
From there I got more and more involved in the Aboriginal world and the outback. I have made quite a few films over the years in that area. I also then got into the history of Australia, of Gallipoli, and made a feature film about the Western Front called Beneath Hill 60, which is the biggest feature film I've made – so far. This was a 10 million dollar film I made about 8 years ago.
I got involved in the outback and they asked me to do a TV series called Troy Dann's outback adventures for kids, so that was 26 hours with Troy Dann all around the outback.
How did you get into film to begin with; what was the start?
Through photography. I started with a camera, a Nikon in fact. I was a skier and then a surfer so I'd shoot skiing and then when the snow finished I'd shoot surfing, in California and then I went to Hawaii and photographed some of those bigger waves you get there. This was before I went to the U.K., where I spent my 1970's.
What I did was do some major travelling through South America, spending a couple of years down there – by this time I had two cameras and four lenses. I had a lucky incident down there in meeting a photographer who was working for Colliers, the encyclopedia. They were throwing out all their black and white photographs and moving into colour photographs. So they needed everything; Brazil, Chile, Peru, rice, Indians, ocean liners, everything.
So we were busy; we'd take some photos, send them the roll, they'd use three maybe and send me back $300 bucks and that kept me going – I spent two years down there.
By the time I came back I felt a little bit stilted with that. I wanted the more lucid motion; I wanted storytelling and sound – and so I wanted to go to Film School.
I met a wise Director who said 'one thing I should tell you is go to a Film School where you want to spend the next ten years of your life as you will. You will meet a cameraman, you'll meet a sound guy and you'll work with that Designer and that Editor and you'll just hang with that crew for a while.
I didn't want to work in L.A. and the woman I was about to marry was a Pom and so I went to London Film School.
The last film of yours many people here would have seen here at the Bowlo is Under the Lino - The Life & Art of Bruce Goold...
We sold out Under the Lino twice and showed it here. I love this place (Avalon Bowling Club); it's my pub and I love hanging out here and catching up with people. There's so few venues that don't have pokies as the main attraction. Although they have a few pokies in there they're in a corner and their main focus here is the place being used as a recreational hall and a bowling club. During the week and on Sunday's there's always great music and there again, there are so few places that have live music now.
My sons have a band called Lime Cordiale who are playing at Narrabeen RSL on the 9th, once again, one of the few places dedicated to promoting and allowing access to live music. Narrabeen RSL is the last bastion of live rock around here. Mona vale pub hasn't built anything new, the room upstairs, Where so many saw bands for decades, is gone. Moby's is no more. This place (Avalon Bowling Club) is one of the few places left where a band can play loud.
Under the Lino with Bruce, where did the idea come from?
I've known Bruce for years, he's a friend. I noticed he was getting older and that nobody had ever really brought the whole story together in film. I tried to take it to the ABC to get finance and get it commissioned. They had just done something on Martin Sharp and another piece on Brett Whitely and something on the Yellow House and they felt they had covered that period. They only have 15 hours a week for Arts and have to spend their budget over everything; architecture and painting, dance, ballet, and so they couldn't afford to commission it. I decided to crowdfund it, which I'd never done before. I met a lot of interesting people doing that.
I used my sons once again, the score is by Lime Cordiale. Ollie edited it because one of the ways he makes a living, as a day job, is to edit other people's stuff, video clips, that sort of thing, and Louis is a great composer, so they composed the music and edited that as well.
How did this show (The Sentimental Bloke) come together?
The reason I put this show together is I'm on the board of directors of the Vision Splendid, the outback film festival which occurs during winter. This is the only film festival that shows only Australian movies and it's the only one in the outback. This festival attracts all the grey nomads on their way through to the Northern Territory or places like Birdsville for example.
Last year we had 10 thousand people that came through for the weekend. It was a lot of fun.
This year they had this show, The Sentimental Bloke, because the director of that festival is Russian and wanted to have this Russian group that he knows about as part of the festival. I saw it and everyone had such a great time. The film is silent so the music was playing to accompany it and everyone had a great time, they could enjoy the film, the music and get really involved; 'look out behind you!' and that kind of thing. The audience could really engage with it, it's such a fun night.
I talked to the National Film and Sound Archives to get permission to run the film and as for the band, The Volantinsky Quartet, 'We all live in Elanora Heights'.

So I booked a Saturday night as I figured that way people don't have to worry about getting up to go to work in the morning and can enjoy themselves.
For the night I'm having Natasha Burbury, who is an up and coming cuisine specialist, and a friend of my boys. Natasha has a focus on modern vegetarian foods but for The Sentimental Bloke with The Volantinsky Quartet she has done a lot of research on 1918; what was the food, what were they eating – and so she has devised a little menu and people will be able to eat off their lap while watching the film.
Natasha will have a talk and present some insights about the food. I will also do a talk about the film. The Volantinsky Quartet are great, they play a lot of Eastern European music but also throw in a Waltzing Matilda or Still Call Australia Home. So this is set to be a really fun night for everyone who comes.
I think we need more of these kinds of events around and I figure if I get a hundred people coming then I'll break even and everyone will have a good time.
Your sons are the founding members of Lime Cordiale – going back a generation was your father creative too, or your grandfather?
No my wife Karen is a musician, that's where they get their talent from. She's a cellist for the NBO and has an orchestra at Cammeray and another at Newport school. So the kids grew up singing and playing and have been involved in music since they were 8.
My wife used to teach Julia Stone cello and they figured well, Angus and Julia Stone are a brother-sister combo that's worked out, we can do it as a brother team.
All of your works are about real people real stories. What's next for Lucky Country Productions?
What I'm working on next is one on Sharpe. When I did the story on Bruce I of course came across the story of the Yellow House. Bruce was one of about 12 guys in there. They then went on to Mambo and Bruce worked in there with Reg Mombassa.
Martin went into a different world, he went back into the Wirian house in the western suburbs and finally inherited the house. He had this little enclave of people and was working on Luna Park. He tried to warn everybody that that place was shabby. Leon Fink couldn't get a lease on it; Neville Wran wouldn't give him a lease that wasn't month to month, so he wasn't putting any money into it. Martin said 'something bad is going to happen there' and it surely did; the Ghost Train fire – six kids and two adults burned in there. Martin was very traumatised by that event.
So he did everything he could to try and save that place but at the same time people were trying to buy it out from under the people who owned it and who owned the lease? Abe Saffron – so it's the artists versus Mr. Sin – and that's the basis of the story; the longshot versus Mr. Saffron.
Are you crowdfunding that one too?
No, that's a 6 million dollar movie I'm doing with Michael Gudinski.
Before Martin came back to paint Luna Park he was living in London with Eric Clapton. Eric was playing with Cream at that time and Martin wrote two songs "Tales of Brave Ulysses" and "Anyone for Tennis?". Those two songs became million dollar sellers. He lived on those royalties in that house because his grandparents wouldn't let him have it, so it went to his mother and it was held in her name. So, he had that money form eric to keep him alive and then eventually eric came down to play at the Hordern, saw what Martin was doing and said to him. 'you watch your back, they'll burn your place you know.'
Martin started putting fire extinguishers all over the house – there were six other fires in the Eastern Suburbs at that time you know, some of them rumoured to be insurance purposes. So I've got Ian David who wrote Blue Murder, he wrote the script for me, and Gudinski is getting all that music organised. Not only did he live with Eric, he did album covers for Bob Dylan and Jimi Hendrix and Donovan.
I've sent you a video clip of where it's at at the moment.
40 years in Australia Bill, what do you love about Australia?
The people, the beaches. I just this morning picked my wife up from the airport; she's been over in England to see her mother and she's so happy to be back – seeing these spaces around us, the beaches – Australia is our home. I have four lovely kids, two grandkids – who'd want to be anywhere else?
What are your favourite places in Pittwater and why?
I like Clareville beach. When the wind is nor' easterly or there's a southerly, you can go there and it's like glass. On a weekday there's nobody there. I like swimming out amongst the boats for exercise – I'm a swimmer and can get bored swimming in the pool.
I like North Palmy and I love the lighthouse and the boathouse.
And I like this place, the Avalon Bowling club – I like the Bowlo.
What is your 'motto for life' or a favourite phrase you try to live by?
Keep Filming!
There's so many things to film, so many things to capture, so many interesting stories. I'm an anthropologist by trade. I started by making films down in the Amazon and then went to Irian Jaya and made my first doco there and I could go back and make another 30 stories focused on there, and equally could make another 30 stories focused around here – But – I can also say there's not enough dough to do that. It's really interesting watching the new short docos' on iView and YouTube – everyone has a camera now and so the whole thing is changing. One of the reasons cinemas are so empty is because everyone has got it on YouTube or their home theatre.
But still, there are so many stories that should be told and so my motto is to just keep filming until I drop.
Ghost Train - Teaser
By Lucky Country Productions

THE SENTIMENTAL BLOKE With The Volantinsky Quartet
THE SENTIMENTAL BLOKE was first screened 100 years ago this coming November. It is regarded as the supreme achievement of Australia's Silent Film era. The heartfelt, sympathetic storytelling, its mixture of comedy with realistic Woolloomooloo backgrounds, and its Australian box office success played a major role in defining Australian national character on screen. The film is an adaptation of C.J. Dennis' much-loved poem about an ex-convict who experiences the love of a good woman for the first time.
This newly restored copy will be presented with a live 100 minute musical accompaniment, composed and performed by The Volatinsky Quartet. The Quartet composed the music for this silent film, whose original score has long been lost. They play an exotic combination of instruments, with Russian-trained Lucy Voronov (cimbalom & hammer-dulcimer), impro-cellist Anatoli Torjinski (from Odessa), Kiev-trained mandolin/guitarist Stephen Lalor and master percussionist Jess Ciampa - all laced with the flavours of Russia, the Balkans and Australian quirky classics. They have been a headline act at WomAdelaide, Woodford and Fairbridge Festivals & their music is often heard on ABC FM.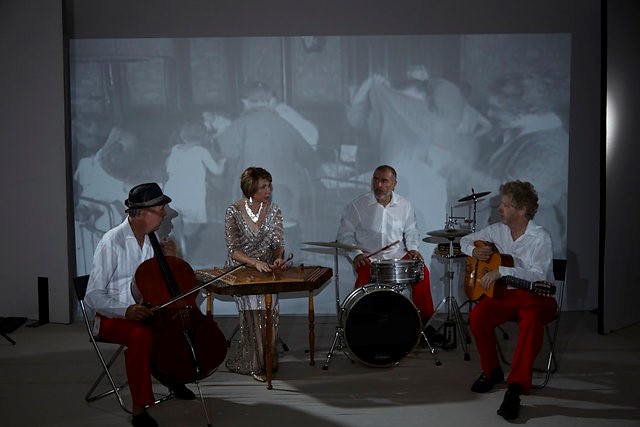 The 100 minute film was directed by the famous Raymond Longford and the cast features the love of his life Lottie Lyell. It was lost for decades until found in a vault at New York's Eastman Kodak, filed mistakenly as THE SENTIMENTAL BLONDE.
One of the prints made from the new negative was screened to renewed enthusiasm at the 1955 Sydney Film Festival, and its director Raymond Longford was discovered to be still alive, working as a nightwatchmen on the Sydney waterfront. The National Film and Sound Archive have allowed us this copy to celebrate its 100th anniversary.
Avalon resident, Film Producer Bill Leimbach, will introduce the film
and tell some of the story behind the making of this landmark collaboration of Raymond Longford & Lottie Lyell. The film transformed Lottie into Australia's first international film star. But she also contributed to the screenplay, art direction, editing and production. The British press called their film, "The best that has been made in Australia".
Lyell and Longford went on to form a very influential and pioneering partnership, making two or three films a year - half hour pieces, totally silent. They started a relationship but Longford could not marry her as his wife Melena would not give him a divorce until 1926 – the year after Lottie Lyell died – at the age of 35.
Today the couple are remembered with a most prestigious award named in their honour, the LONGFORD LYELL AWARD - the Australian film industry's highest accolade for an individual for their "unwavering commitment over many years to excellence in the film and television industries and has, through their body of work, contributed substantially to the enrichment of Australian screen culture". Since the introduction of the award by the AFI in 1968, winners have included Peter Weir, Tim Burstall, Bud Tingwall, David Stratton, George Miller, Phillip Adams, Phillip Noyce, Jack Thompson, Geoffrey Rush and Cate Blanchett.
Avalon Bowling Club will come alive with The Volantinski Quartet on stage accompanying the 100th anniversary of the film, playing to 150 lovers of film, history and exotic music.
Leimbach said, "I saw this SENTIMENTAL BLOKE accompanied by the QUARTET at a film festival in Queensland earlier this year. Everyone had such a wonderful festive night. I approached the Quartet to ask if they could come down to NSW and do the same. They answered excitedly, they would love to - they live in Elanora Heights!"
Don't miss this fantastic opportunity. There will be food, bar drinks and plenty of fun as we laugh and cry and dance in the memory of this great Australian achievement.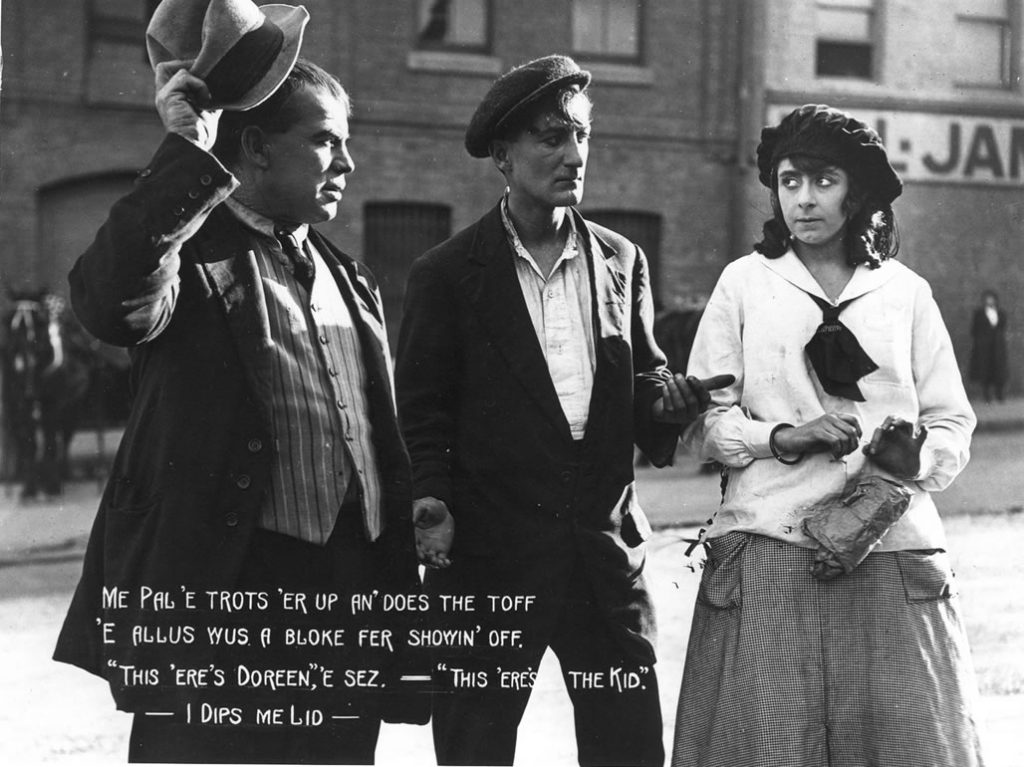 After attending University in California Bill trained in FILM at London Film School and the BBC. He worked in the UK Film and TV industry for ten years before moving his production company to Australia in the 1980s from where he has produced films for National Geographic, Discovery, PBS, BBC, ABC and SBS and Australian commercial channels 7, 9 and 10.
His programs have been seen around the world..
His awards include:
Academy Award Nomination for Best Feature Length Documentary - RAONI.
AFI Best Director & Best Documentary for MUSICAL MARINER. LOGIE nomination for Best Director for FIRST FLEET: RIGHT OF PASSAGE
LOGIE nomination for best TV series (Producer/Director) 26 episodes of OUTBACK ADVENTURES.
Bill Leimbach:- The Bali connection
Bill Leimbach is an American filmmaker who has made anthropological documentaries for the BBC and on his own before making Balinese Surfer last year. He has migrated to Australia and is now living at Palm Beach with his photographer wife Claire and their two daughters. Filmnews talked to him about his filmmaking.
How did you start making films?
I did a university degree in maths and started working in the aircraft industry in L.A. for about nine months and then I threw it up and went travelling in South America — skiing in Chile, surfing in Peru — and taking photographs. Before I went to South America I went to Expo 66 in Montreal where the whole theme of the exhibitions was on film. All the countries were using film in their displays, they had horizontal and vertical screens, 360 screens— it blew me out about the potential of film.
On the trip I met Claire travelling and taking photographs, and we met some commercial photographers who paid for their travels with their photography, so we started taking it seriously. I began to get interested in the anthropological and ethnographic aspects of photography and filmmaking, and decided to study filmmaking. I did a three-year course at a film school in central London.
How did you start actually making films?
I got a job doing the photography for David Attenborough who was doing a series for Time Life on the last wildernesses — I got the Borneo assignment, and while there he was also making three documentaries for the BBC on Borneo. I spent some time discussing things with him, and decided this was what I wanted to do. I hadn't ever been in a stone-age world before. I spent the money I got from the Time Life assignment going to Asmat — some people I met in Borneo told me about the Asmat people in New Guinea — how you could only get there once a month in a four-seater plane — how they were the last people Michael Rockefeller had been with before he disappeared. We persuaded the missionaries to fly us in, took lots of photos for a book that Claire and I are still working on, and did some reconnaissance for a film.
How did the film come together?
Asmat
I knew the sort of crew I needed for the shoot. I went back to London to raise some money for the film and get the crew together. I had to do some small jobs to raise some money, and then I exploited the Michael Rockefeller angle to raise some finance from some Americans. I headed off to Indonesia with Jean-Pierre Dutilleux and Lome Blair as crew, and we couldn't get permission to go in and film. So we had to do it surreptitiously. We broke down all the equipment into parts, and paid two other people as well to help us carry all the parts in our luggage. From Bali we island-hopped into Asmat and then got to Otjenep, a renegade village reputed to be the last place Rockefeller had been. We were with them for six weeks filming the ceremonies they hold to bring in the spirits of their dead relatives. We had to bring in the Rockefeller incident to give it some marketability. The disappearing world alone wasn't keeping people's interest — television is so fast.
How did you feel about documentary I filmmaking?
I had been inspired by Brian Moser I who made the Disappearing World I series for Granada, and Robert Gardiner, who was the first to use synch sound and sub-title it for TV documentaries. Television was inclined to buy up footage, and put their own voice-overs. I wanted to film so that we kept the dignity of the primitive man, to really give the feeling of what it's like to live in a Stone age tribe.
We shot 20,000 feet and I got back to London. I'd never edited a whole film before — doing it with Jean-I Pierre there was a clash of personalities — he had a crazy Godard-ish feel, I and I'd been inspired by Gardiner. We wanted to make a film for cinema release but we ran out of money so we sold a 90-minute film to the BBC, and then sold the BBC's version to the States. His BBC version has David Attenborough's voice on it and is heavily narrated. Still we sold the film to Japan, France, and Germany.
Why then did you return to Bali?
Well, I'd been to Bali several times on my way in and out of the jungle, as R & R, and had watched the Balinese gradually accepting surfing. So many of the films I'd been making had been fairly depressing in that change was destroying a culture, and I wanted to make a film that was positive, in the way that surfing was positive and was opening up the boys' lives.
In Asmat and the Amazon when you take away their cannibalism and their headhunting their rituals and their culture begin to fall apart. But Bali has an incredibly strong culture — but so is surfing a strong culture — and I wanted to make a film about how the two cultures enrich each other. I persuaded the BBC to pre-purchase Balinese Surfer and the BBC religious department to make a film on Lawrence Blair at the same time. I'd known Lawrence for five years, and I could film him actually falling in love with the place, relating his impressions and comparing them with his studies of comparative mysticism all round the world. So I persuaded the BBC to put up the money for me to shoot both at more or less the same time.
Doing the two films together gave me more time — allowed me to be more independent. Usually the BBC expects a documentary to be made in three weeks — I took three months to make the two. Balinese Surfer was the first film I had directed on my own. On the one hand I didn't have to fight with another person — on the other hand I had to rely on my own judgement. I've still got another 45 minutes of footage, and I'm talking to an Indonesian distributor about putting it all together to show in cinemas in Indonesia. There's this enormous and incredibly keen cinema-going audience in Indonesia who don't know about such things as are shown in Balinese Surfer. Bill Leimbach: (1979, January 1). Filmnews (Sydney, NSW : 1975 - 1995), p. 3. Retrieved from http://nla.gov.au/nla.news-article213732630
BBC Two –
Appears in
Issue 2824
1 January 1978
Pages 69 and 71
The World About Us
Balinese Surfer
The Balinese are fearful of the sea and of the evil spirits that live in it; they are neither voyagers nor fishermen. Many of their exotic rituals and ceremonies are designed to placate the spirits of the ocean. But some of the best surfing waves of the world break on their coast and the young Balinese, guided by western surfers, have suddenly overcome their traditional dread and are on their way to becoming some of the most skilful surfers in the world.
This film looks at the tensions between their traditional spirit-bound life and the new world they are beginning to see.
Film editor TREVOR WILLIAMSON Producer BILL LEIMBACH
Series editors MICHAEL ANDREWS and ANTHONY ISAACS
Contributors
Editors: Michael Andrews
Editors: Anthony Isaacs
Balinese surfer.
⦁ Leimbach, Bill. (Producer)
⦁ Farrant, Yuri. (Photographer)
⦁ Williamson, Trevor. (Film editor)
⦁ Dutton, Tony. (Producer)
⦁ Flax, Richard.
⦁ Survival Films.
Published Sydney : Survival Films [production company], 1978.
Medium [motion picture]
Physical Description 1 film reel (52 min.) : sd., col. ; 16 mm.
Subjects
Surfing -- Indonesia -- Bali Island.
Sports -- Indonesia -- Bali Island.
Dance -- Religious aspects.
Bali Island (Indonesia) -- Religious life and customs.
Bali Island (Indonesia) -- Social life and customs.
Shows how the younger generation on the island of Bali have overcome the traditional Balinese fear of the sea to excel in the sport of surfing. Also explains the Balinese attitude to religion and how it is absorbed into every facet of their lives, especially their art and dancing.
Credits; Producers, Tony Dutton, Bill Leimbach; director, Bill Leimbach; photographers, Bill Leimbach, Yuri Farrant; editor, Trevor Williamson; sound, Tony Dutton, Richard Flax.

The musical mariner [New Guinea] / David Fanshawe ; produced and directed by Bill Leimbach
Lucky Country Productions
[ Video : 1987 ]
Winning World War 1Image
[ Video : 2008 ]
Keywords: Great Britain. Army. Australian and New Zealand Army Corps; Documentary television programs - Australia.; War television programs.
... , Bill Leimbach ; writer, Jonathan King. English ; English captions for the hearing impaired.
Troy Dann's outback adventures for kids. producer/director, Bill Leimbach ; writers, Bill Leimbach ... [et al.] ; produced by Becker Television in association with Outback Legend Productions and Fenton Group EntertainmentImage
Becker Entertainment (Firm)
[ Video : 2 versions : 1998 ]
Balinese surfers 2 : waves of change /​ directed by Bill Leimbach.
Also Titled True stories (Television program)
Other Creators Leimbach, Bill.
Published 2002.
Medium [videorecording]
Physical Description 1 videodisc (DVD) (51 min.) : sound colour ; 2002.
Subjects
Pollution -- Indonesia -- Bali Island.
Surfing -- Indonesia -- Bali Island.
Environmental protection -- Indonesia -- Bali Island.
Sustainable development -- Indonesia -- Bali Island.
Bali Island (Indonesia) -- Religious life and customs.
Summary
In 1976 Bill Leimbach made "Balinese Surfer" about the first boys to surf in Indonesia. He returns to discover what has happened to those boys and their island paradise. 25 years ago the first foreign surfers arrived in Bali. They left a legacy behind, which has become an industry and to some, even a fortune. This sequel re-visits those original Balinese boys to see what has happened in their lives, to their island and to the sport of surfing itself. One has become a Hindu priest, two have become surf-wear millionaires, while another works for Qantas Bali Tours. We follow the old boys as they use the glamour of the young generation of national 'surfing sports stars' to bring media attention to some of the environmental issues ahead of them - plastic pollution, sewage run off into the surf and reef bombing -- ABC website.
Notes
⦁ Off-air recording.
⦁ Broadcast on ABC-TV, 21st February 2002.


Gallipoli : untold stories from war correspondent Charles Bean and front line

T. W. & Associates
[ Video : 2005 ]
Keywords: Bean, C. E. W. (Charles Edwin Woodrow), 1879-1968.; Great Britain. Army. Australian and New Zealand Army Corps.; World War (1914-1918)
... King and Micheal Bowers; adapted for the screen by Bill Leimbach. "A 90th anniversary tribute ... Anzacs. Directed by Bill Leimbach ; produced by Matthew Duffy.Cameras, David Collins ... [et al ...
Bill started working with Jonathan King in 1982 on a film project about a madcap journey across Australia to meet the friendly dolphins of Monkey Mia. In 1988 they put together the 'First Fleet Re-enactment' TV Special for Channel 7. This involved sharing a cramped cabin on the eight month voyage with 11 tall ships from England to Australia.
Since then they have co-produced books, films and now interactive CD-ROMs on many varied topics, from heritage to hypertext.
In 1992 they sailed together again this time on 'The Great Columbia Race', to create a film and book on Christopher Columbus's 500th anniversary sail across the Atlantic Ocean, where hundreds of traditional sailing ships form around the world raced across the Atlantic to commemorate the first encounter with America in 1492.
'Strike Me Lucky', the story of Australia's claim to being the biggest gambling nation in the world and 'Kidnappers In Paradise', the history of slavery in the Pacific, are two other heritage projects Leimbach and King have developed and produced together.
Bill has been creating media in all formats since 1968. Originally trained as a photographer Bill spent his early years photographing the tribal worlds of New Guinea, Borneo and the Amazon jungle. Bill then entered film school in London in the class of 1972.
His first production as producer/director with the BBC was 'Wow Asmat' about the tribe from Indonesian New Guinea, that allegedly killed and ate Michael Rockefeller, the son of the American Vice President. Since then he has made films on every continent.
'Equa' is a film, music CD, and CD-ROM produced and directed by Leimbach about the world of equatorial music. For over a year, he and his team filmed and recorded some of our hottest and most spectacular music and dance around the earth's 3800km tropical belt.
Bill was also one of the originators of Dick Smith's 'Australian Geographic Show'. The aim of this project was to bring the famous magazine to the TV screen, with some of its best stories of adventure, heritage, destination, technology and conservation.
'The Last Swagman' was the story of Australia's legendary swagmen, told through the eyes of one especially rugged but noble Australian, Drew Kettle. Full of great outback characters, mythology, stockmen, rodeos, outback station life and bush antics.
Bill's filmography (only to 1994):
1976 Wow Asmat
1977 Raoni
1977 Jangadeiros
1978 Umbanda
1979 Balinese Surfer
1979 Balinese Vision
1980 Walkabout To Hollywood
1982 Money Mia
1986 Quest For Healing
1987 Women of New Guinea
1987 Musical Mariner
1988 First Fleet
1989 The Great Camel Race
1990 Strike Me Lucky
1991 The Last Swagman
1992 The Great Columbus Race
1993 The Australian Geographic Show
1994 Tropical Heartbeat (Equa)
Bill has two daughters, Carli and Tania, and two sons, Oliver and Louis. He currently lives in Pittwater with his wife Karen. Retrieved from: http://www.websterworld.com/websterworld/waltzing/b/billlach176.html
Balinese Surfer - Wave Of Change 2