January 26 - February 1, 2020: Issue 435
Australia Day 2020 Honours List
On January 26th 2020, the Governor-General and Chancellor of the Order of Australia, His Excellency General the Honourable David Hurley AC DSC (Retd), announced 1099 awards in the 2020 Australia Day Honours List.

Included in the list are:
837 recipients of awards in the General Division of the Order of Australia (5 AC, 59 AO, 224 AM and 549 OAM)
26 recipients of awards in the Military Division of the Order of Australia (1 AO, 13 AM and 12 OAM); and
236 meritorious awards.
The List includes the highest ever percentage of women recipients in the General Division of the Order of Australia - 41.6 per cent.
As the late great Harvey Rose OAM stated during numerous speeches when Mayor of Pittwater – this area has one of the largest percentage numbers of people doing volunteer work in some capacity to better the community. This year's list of Australia Day Honours reflects that ongoing commitment to do for others and for community in many capacities and fields.
MEMBER (AM) IN THE GENERAL DIVISION OF THE ORDER OF AUSTRALIA
Ms Rachel Ann GRIFFITHS, Palm Beach
For significant service to the performing arts as an actor.
Film includes
Actor, over 30 films including ''Hacksaw Ridge' (2016); 'Saving Mr Banks' (2013); 'My Best Friend's Wedding' (1997); and 'Muriel's Wedding' (1994).
Director/Producer, 'Ride Like a Girl', 2019.
Television includes
Actor, numerous International productions including ''Brothers and Sisters', 2006-2011; and Six Feet Under', 2001-2005.
Actor, 'When We Rise' docudrama miniseries on gay rights, American Broadcasting Corporation (ABC) Television, USA, 2016.
Actor numerous Australian productions including 'Rake'; 'Paper Giants'; 'Kath and Kim'; and 'House Husbands'.
Director of several episodes of, 'Nowhere Boys', ABC Television, 2015.
Co-creator, Executive Producer, Co-star, 'Total Control', drama series ABC Television, 2019.
Theatre includes
Patron, Green Room Awards, 2004-2010.
Actor, 'Other Desert Cities', Broadway, USA, 2011-2012.
Actor, several productions with the Melbourne Theatre Company including 'Proof' (2002); 'A Doll House' (1998); and 'Grapes of Wrath' (1994).
Member, Woolly Jumpers community theatre group, 1990.
Activism and Advocacy
Patron, Hagar Australia (against human trafficking, slavery and abuse), current.
Campaigner, various organisations including Oxfam and the Global Charter of Basic Rights.
Key lobbyist, Introduction of Australia's modern slavery act, 2019.
Critical proponent for the ban on passports for convicted child sex offenders, 2018.
Advocate, The Sacred Heart Mission.
Supporter, Marriage Equality and Gay Rights.
Other
Board Member, The Australian Centre for the Moving Image, since 2016.
Awards and recognition includes:
Best Female Actor in a Play for 'Proof', Helpmann and Green Room Award, 2002.
Several AFI Awards.
Academy Award nomination and Screen Actors Guild nomination for Best Actress in a

Supporting Role for 'Hilary & Jackie', 1999.

Golden Globe Award, 2002.
Screen Actors Guild Award, 2001.
Five Emmy Award nominations.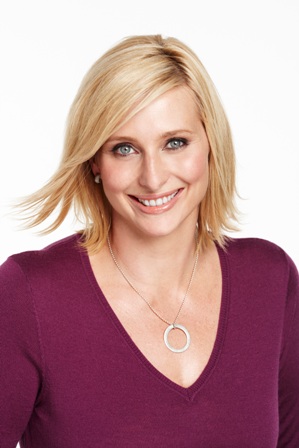 Ms Johanna Leigh GRIGGS, Collaroy
For significant service to community health, to television, and to sport.
Beyond Blue
Board Member, Beyond Blue, since 2014.
Chair, Be You National Advisory Council.
Community
Inaugural Ambassador, The McGrath Foundation, 2005.
Ambassador, The Humpty Dumpty Foundation, since 1998.
Seven Network
Host, Olympic Games, Commonwealth Games, Australian Open and the Melbourne

Cup, since 1993.

Host, Sportsworld, 2001-2006.
Host, Better Homes and Gardens, since 2005.
Host, House Rules, 2013-2019.
Swimming
Bronze medallist, 100-metre backstroke, Auckland Commonwealth Games, 1990.
Silver medallist, 4x100m Relay, Perth World Championships, 1991.
Dr Robyn Rae IREDALE, Scotland Island
For significant service to people with an intellectual disability, and to education.
Fragile X Association of Australia
Volunteer, current.
President, 2013-2016.
Board Member, 2003-2013.
Australian National University
Adjunct Associate Professor, Australian Demographic and Social Research Institute, 2008-2016.
Visiting Fellow, 2005-2007.
University of Wollongong
Associate Professor, School of Geosciences, 1999-2005.
Coordinator, Migration and Multicultural Societies Program, Key Centre for Asia Pacific Social Transformation Studies, 1999-2001.
Member, Women's Research Focus Group, 1996-1998.
Migration / Ethnic Affairs
Director, Mates Consulting P/L, 2005-2015.
Executive Director, Asia Pacific Migration Research Network, 1995-2007.
Director of Research, Human Rights and Equal Opportunity Commission, 1988-1990.
Member, NSW Inquiry into the Recognition of Overseas Qualifications, 1988-1989.
Member, Australia's National Population Council, 1987-1993.
Program Officer, Ethnic Affairs Commission of New South Wales, 1985-1988.
Member, Australian Population Association, 1981-2001.
Member, Indo-Chinese Refugee Association, 1979-1995.
Publications include
'Handbook of Chinese Migration, Identity and Wellbeing', 2015.
'Return Migration in the Asia Pacific', 2003.
'Migration in the Asia Pacific Region: Population, Settlement and Citizenship issues', 2003.
'Minorities on the Move: Case Studies of Migration in Contemporary China', 2003.
'Return Skilled and Business Migration and Social Transformation', 2002.
'Contemporary Minority Migration, Education and Ethnicity in China', 2001.
'Immigration and Australia Myths and Realities', 1998.
Mr David Harley JACOBS, Newport
For significant service to Australia-Japan relations, and to business.
Australia Japan Business Co-operation Committee
Chief Executive Officer, since 2015.
The Australia-Japan Link (advisory)
Chief Executive Officer and Founder, since 1989.
Hunter Phillip Japan Limited
Australia-Japan Economic Institute
Director/Head, 1979-1989.
BIS Shrapnel
Australia Japan Society of NSW
Past President.
Past Vice President.
Non-executive Director, 2001-2015.
University of Sydney Business School
Founding Executive Committee Member, Business Alumni Network.
Awards and recognition includes:
Japan Foreign Minister's Commendation, Government of Japan, 2016, 'To those who have contributed to strengthening the friendship between Japan and Australia and deepening the bilateral relationship'.
MEDAL (OAM) OF THE ORDER OF AUSTRALIA IN THE GENERAL DIVISION
Mrs Ronda May ALTERATOR, Warriewood
For service to netball.
Narrabeen Youth Club (NYC)
Director, 2009-2018.
Committee Member.
Life Member.
Member, since 1977
NYC Netball
Past President.
Junior Vice-President, 2009-2018.
Coach, many years.
Manly Warringah Netball Association
Committee Member.
Mentor and Coach, Umpires Program, over 30 years.
Member, 30 years.
Awards and recognition includes:
Ted Blackwood Volunteer of the Year, 2016.
Outstanding Service Award, Manly Warringah Netball Association, 2006.
Senior Club Person Award, Narrabeen Youth Club.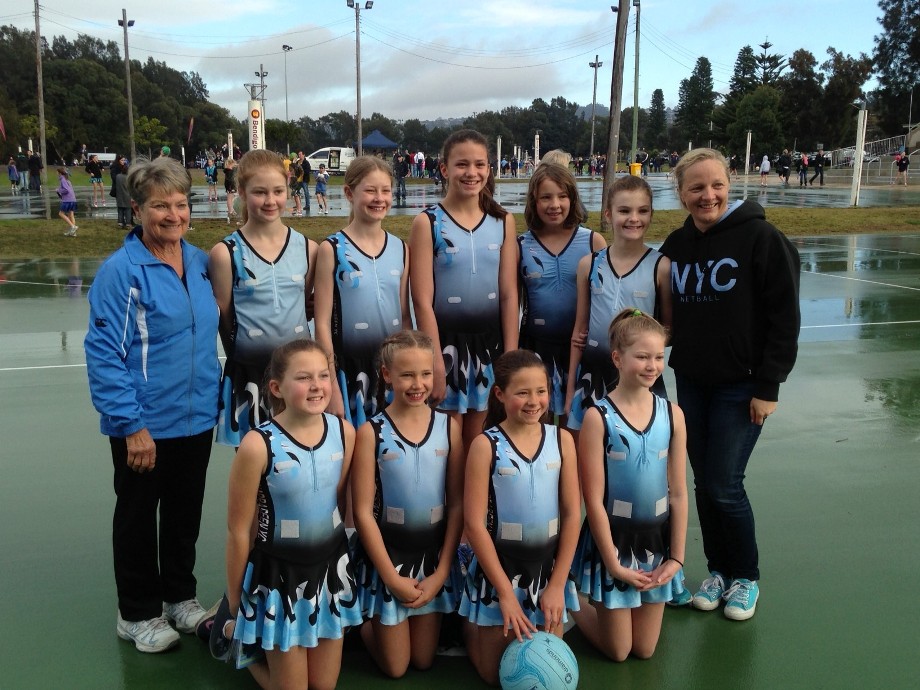 2014 NYC 11D winners, Team 23 coached by club President Ronda Alterator, who played another Narrabeen 11D, Team 22 coached by club Secretary Gail McDonough.

Mr Jason Paul BAKER, Curl Curl
For service to rowing.
Rowing
Head Coach, Scots College, current.
Member, Coaching Staff, Australian Rowing Team, current.
Rowing Coach, Para-rower Erik Horrie, since 2013.
Sydney Rowing Club
Rowing Coach, current.
Former Senior Development Coach.
Awards and recognition include:
· Para Rowing Coach of the Year, Rowing Australian, 2018.
· Coach of the Year, Rowing Australia, 2013.
Ms Judith Anne CHARNAUD, Warriewood
For service to conservation and the environment in Timor Leste.
OzGREEN (not-for-profit environmental organisation)
Manager, East Timor Environmental Project (based in Oecusse), since 2001.
Volunteer, since 2004.
Coordinator of Youth in Action, GREEN Games (annual sporting festival), current.
Involved with leading a number of other projects, including 'Kids, Companies, Creeks', 'MyRiver' and 'YouthLEAD'.
Supporter, Green TL (local affiliated NGO in Timor Leste), ongoing.
Other
Founding Member, Narrabeen Lagoon Committee.
Member, Manly Friends of Oecusse, 2009-2017.
Awards and recognition include:
Paul Harris Award, Rotary District 9685, 2008.
Rotary Pride of Workmanship Award, Balgowlah Rotary Club, 2007.
International Area of Service Award, Belrose Rotary Club, 2014.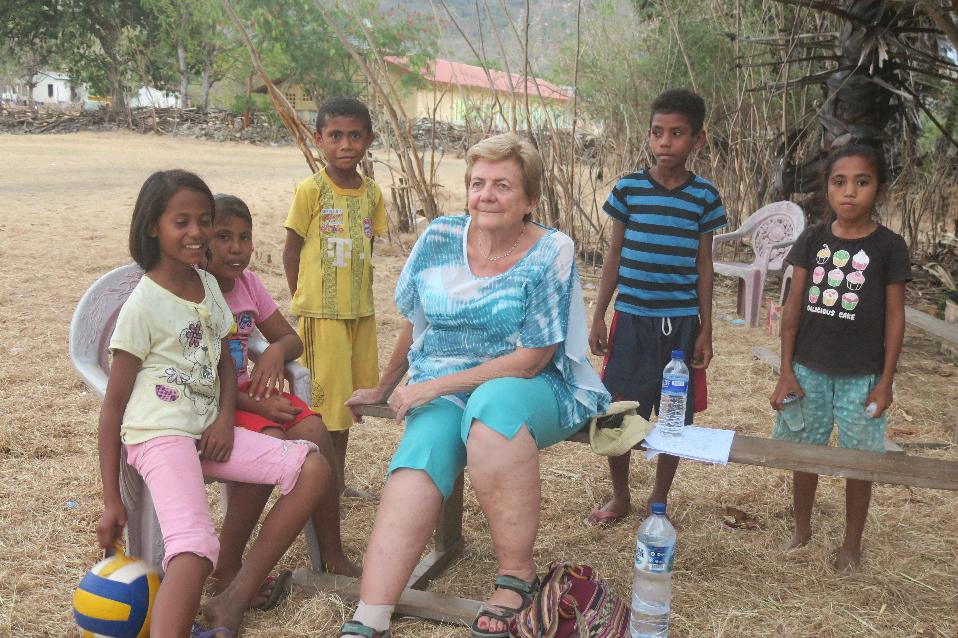 Judith in Timor Leste
Mr Warren James CREE, Belrose
For service to youth, and to the community.
Sydney Grammar School Cadet Unit
Officer of Cadets, 1992.
Major (ACC), Officer Commanding, since 1998.
Advocate, National Adventure Training Award.
Davidson Rural Fire Brigade
Member, since 1986.
Brigade Captain, five years.
Deputy Group Captain, Warringah/Pittwater District, since 2000.
Awards and recognition includes:
Recipient, Deputy Commander Australian Army Cadets Commendation, 2015.
Recipient, Cadet Long Service Medal (2 clasps), Australian Army Cadets, no date.
Recipient, National Medal, 2003, 1st clasp, 2016.
Recipient, 30 Year Long Service Medal, Davidson Rural Fire Brigade, 2015.
Recipient, Life Membership, Davidson Rural Fire Brigade, 2007.
Mr Mark Leeds FERGUSON, Avalon Beach
For service to veterans and their families.
Palm Beach Sub-Branch, The Returned and Services League of Australia
Trustee, since 2010.
President, since 2002.
President, Northern Beaches District Council, 2001-2007.
Delegate, Northern Beaches District Council, 1997-2000, since 2008.
Member, since 1995.
Vietnam Veterans (Northern) Association
President, 2001-2017.
Committee Member, since 2001.
Awards and recognition includes:
Life Member, Returned and Services League of Australia.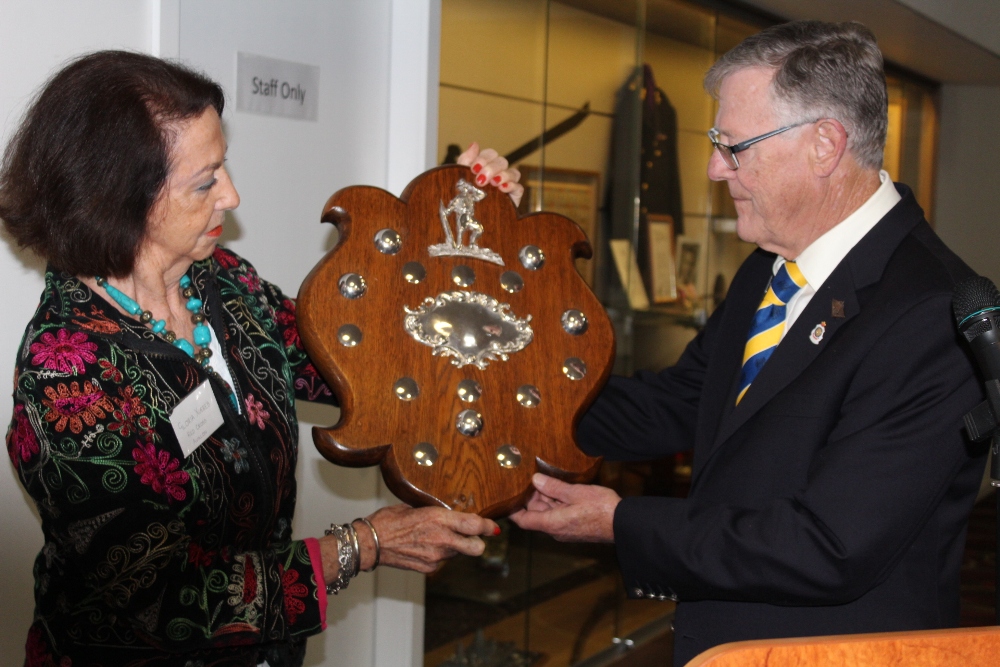 Mr Peter Turnbull HEMERY, Newport Beach
For service to sailing.
Australia Day Regatta
Honorary Secretary, since 1990.
Royal Sydney Yacht Squadron
Member, since 2002.
Secretary and Chief Executive Officer, 1990-2001.
Sailing
Regatta Director, Sydney Harbour Regatta, 2006-2019.
Regatta Director, Farr 40 Class World Championship, 2004-2005.
Chief Executive Officer, Royal Prince Alfred Yacht Club, 2001-2004.
Member, Sydney Harbour Special Events Committee, 1997-2001.
Member, Sydney Olympic Sailing Alliance, 1997-2001.
Mr Michael MANNINGTON, Bilgola Plateau
For service to the community through a range of organisations.
Community
Founder, Volunteer Photography, since 2000, now called Community Photography, current.
Volunteer, IT and AV support, Pittwater Probus Club, current.
Technology trainer, Avalon Computer Pals, since 2006.
Volunteer, Dee Why Camera Club, current.
Volunteer IT support, Newport Resident's Association, current.
Friends of Currawong Pittwater
Manager, Information Technology, current.
IT Campaign Manager (campaign to save Currawong Workers' Holiday Camp at Pittwater), Friends of Currawong, 2009.
Photographer.
Awards and recognition includes: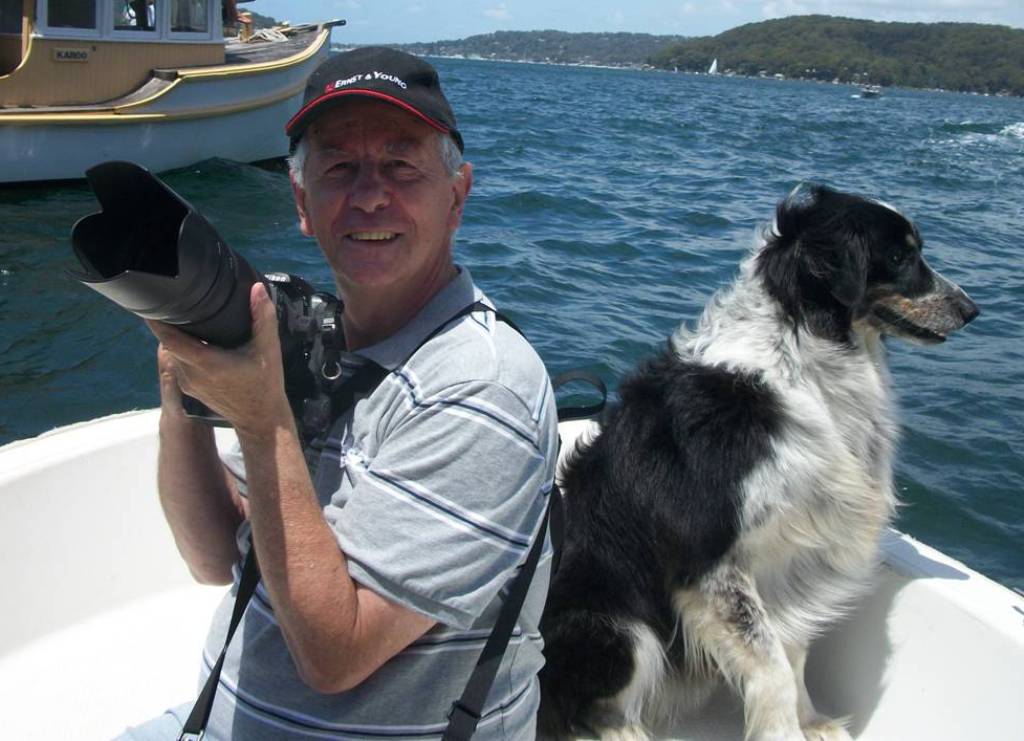 Michael Mannington, 'photographer at large' at Woody Point Yacht Club's annual Putt Putt Regatta, January 2012, with Cheeky 'pooch at large'.
Ms Maree Therese NUTT, Newport
For service to the international community through poverty eradication organisations.
RESULTS Australia
Chief Executive Officer, 2005-2018.
President, 2003-2005.
Volunteer, 1989-2005.
United Nations Association of Australia
Involved, Sustainable Development Goals program, 2015.
Involved, International Year of Microcredit organising committee, 2005.
Parliament of Australia
Member, Secretariat for Australian TB Caucus, 2016-2018.
Mona Vale Hospital
Rehabilitation Therapist, 1995-2000.
Awards and recognition includes:
Recipient, Impact25 Award, Pro Bono Australia, 2016.
The late Mr Guy Alan WINSHIP
Late of Belrose NSW 2085
For service to the community through social welfare organisations.
Executive and voluntary roles
Founder and Chief Executive Officer, Good Return, 2003-2018.
Board Member, Salvation Army International Development, 2016-2018.
Board Member, World Education Australia, 2003-2018.
Voluntary Director, Habitat for Humanity Australia, 2016-2018.
Voluntary Founding Member, Australian Committee, International Year of Microcredit,

2005.
AUSTRALIAN POLICE MEDAL (APM)
Detective Superintendent David Caldwell DARCY
Detective Superintendent Darcy joined the New South Wales Police Force in 1983 and performed General Duties until 1985 when he transferred into criminal investigation roles on the Central Coast of NSW until 1993. He then transferred into the Policy Program Unit and was promoted to the rank of Sergeant in 1995 at the Kings Cross Police Station in General Duties.
In 1996 he was transferred into an executive support role during the NSW Royal Commission into Police Corruption and then later to the Commissioner's Executive Support Group. In 1999 he was promoted to the rank of Inspector as Commander, City East Region Target Action Group & Anti-theft Unit.
He was promoted to his current rank of Superintendent in 2002 and has been an operational superintendent for 18 years as Commander of Kings Cross in 2002, Bankstown in 2005, and Manly in 2008. He is currently the Commander of the Northern Beaches Police Area Command.
An example of his service was his successful coordination of a multi-agency approach to the sink hole emergency at Collaroy in 2016 that included evacuation of residents and the security of dwellings to prevent collapsing into the ocean. He has also contributed to the local community's response to suicide prevention, mental health, community safety and crime prevention.
Detective Superintendent is an accomplished Police Commander who has served the community of New South Wales for over 36 years.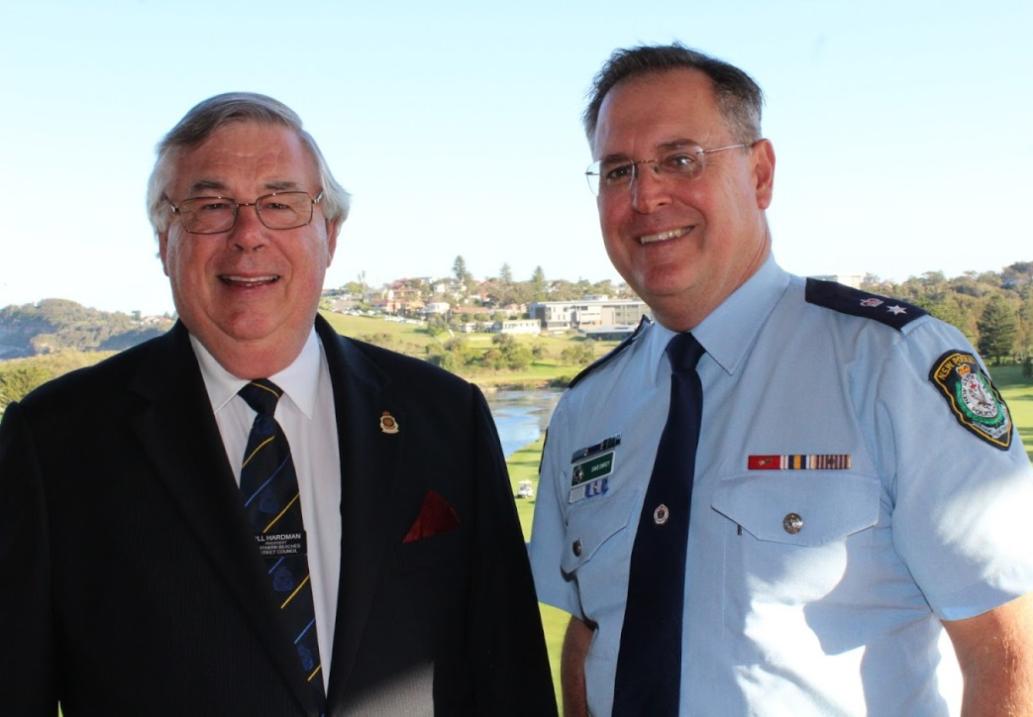 2016 photo of President of Forrestville RSL Sub Branch and Northern Beaches District Council of RSL sub-branches, Bill Hardman, with NSW Police Force Commander, Detective Superintendent Dave Darcy.