March 11 - 17, 2018: Issue 351
Soil from Mona vale, Narrabeen, Frenchs Forest, Dee why and manly to Form
part of the 2018
Anzac Memorial Centenary Project
in Hyde Park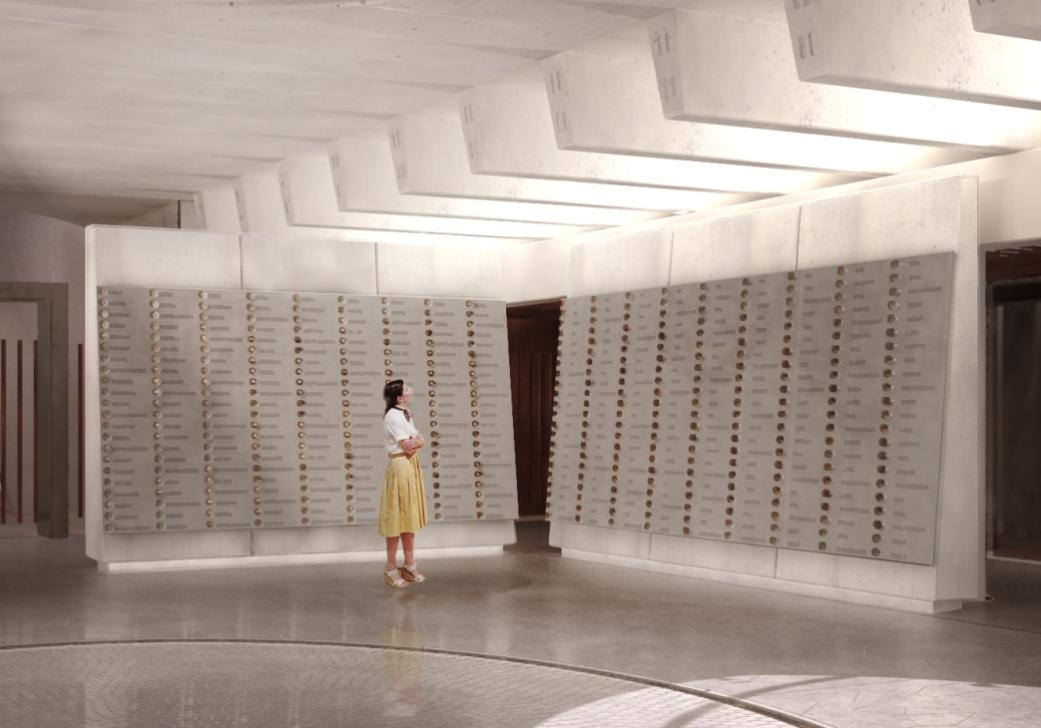 The Walls of the Hall of Service as envisioned by Fiona Hall - image courtesy JPW
As part of the Anzac Memorial Centenary Project, soil samples will be taken from sites across new south wales and displayed in the Hall of Service as part of a permanent artwork by artist Fiona Hall.
The NSW Government is upgrading the Anzac Memorial in Hyde Park to realise the vision of the Memorial's original architect, Bruce Dellit, including a water cascade reaching south through the park to Liverpool Street. It will also have new education and exhibition spaces and storage for the Memorial's collection.
Soil from Mona Vale, from Narrabeen, from Dee Why, from Frenchs Forest and from Manly is part of the project.
For an insight on Mona Vale's own war Memorial please Visit: Remembrance Day 2016: War Memorials - Mona Vale, November 14, 1926 or Remembrance Day 2016: War Memorials - Manly, October 14, 1916
Also available: The Porter Family- Newport: Five Soldier Brothers Who Served During World War I and Traces Of WWII Coast Watchers Found On Bangalley Headland - 1942
Acclaimed artist Fiona Hall has devised a public art project that will resonate with everyone in NSW. A plaque for every town, suburb and locality around NSW that enlistees for the First World War gave as their place of address is being forged. A sample of soil collected from the area by local residents will sit alongside the place name. Close to 1700 plaques will be displayed on mass around the walls of the Hall of Service.
On Wednesday March 7th the Launch of the Anzac Memorial International Soil Project, took place in the Speaker's Garden, Parliament House, Sydney.
Honouring 100 significant sites of Anzac Spirit
8 March 2018: The Hon. Gladys Berejiklian, Premier of NSW
From the battlefields of France and Kokoda to Vietnam and Afghanistan, NSW's international military history will be honoured as part of a new artwork for the Anzac Memorial in Hyde Park.
NSW Premier Gladys Berejiklian and Minister for Veterans Affairs David Elliott announced the 100 significant sites where soil samples will be collected for the artwork, designed by artist Fiona Hall as part of the Centenary of Anzac commemorations.
The 100 international sites across 31 countries and jurisdictions have been carefully chosen to represent the State's involvement in Australia's international military history.
Ms Berejiklian said the project aimed to collect soil samples from 100 sites to be displayed in a ring set in the floor of the Memorial's new Hall of Service.
"This artwork will honour more than a century of service, from 19th century battles to recent Australian peacekeeping missions in Afghanistan, Iraq and the Pacific," Ms Berejiklian said.
Mr Elliott said the list of significant sites had been limited to 100 to symbolise the Centenary of Anzac, and did not seek to be a compete record of Australian battle honours.
"Of the 102,800 Australians who have died on active duty since 1885, all but a few hundred lie beneath foreign fields. The soil represents the ground on which the ultimate sacrifice was made, and where many who made such a sacrifice still lie," Mr Elliott said.
As part of the same artwork, the walls of the Hall of Service will also feature soil samples from 1699 locations across NSW that enlistees for the Australian Imperial Force gave as their home address.
Mr Elliott said it will serve as a focal point for future generations to learn about Australia's military history as well as the service and sacrifice of our country's defence personnel and their families. The Anzac Memorial upgrade will be completed in late 2018.
________________________________
Resolution of the list of place names
A draft list of NSW place names for the artwork was created by extracting the address information from the Australian Defence Force Academy's AIF* Project database of First World War enlistees. Its data has been developed, refined and tested over a 30 year period.
The draft list of addresses was initially reviewed by Dr Peter Orlovich, a 50 year member of the Geographical Names Board (GNB), and then checked by staff of the GNB, representatives of the Veterans community and the NSW Office for Veterans Affairs (OVA). At the conclusion of the review process close to 1,700 NSW locations were confirmed.
On the project's completion
When Fiona Hall's artwork is complete and on display, Memorial visitors will be able to view interesting information on each listed location via digital devices. Information will include the details and date the local soil was collected, the names of every enlistee who gave that location as their home address, and pinpointed maps showing the local area and its surrounding memorials and schools.