March 22 - 28, 2020: Issue 443
Joern Utzon, Surfing in Pittwater, World War 2 invasion preparations, and their place in the history of two local boatsheds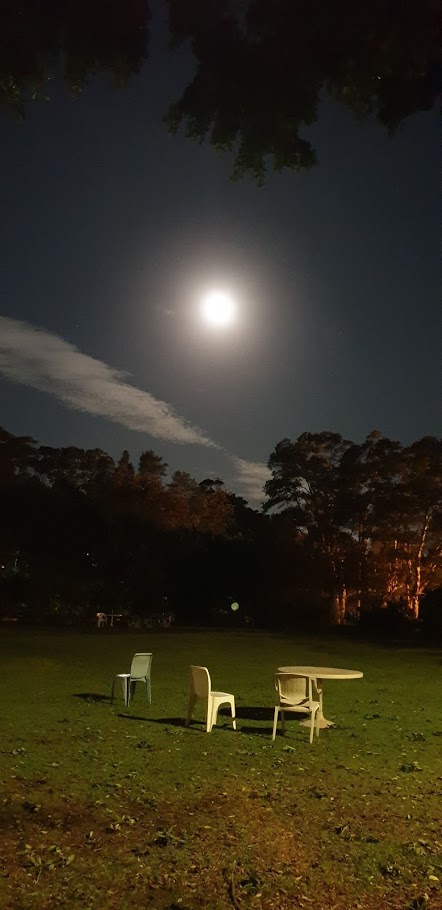 Once again President Geoff Searl brought some fascinating local history to light at the latest ABHS meeting, held at the Bowlo on a lovely evening on 10 March 2020.
His presentation included some interesting facts that even many long time residents of the area either did not know or were only vaguely aware of.

Did you know, for instance, that:
- Joern Utzon, the architect of Australia's world famous icon, Sydney Opera House, had his project design office at Goddard's Boatshed, just north of Sand Point?

- it was once possible to catch a surfable wave in Pittwater just north of Sand Point?

- during WW2 all the small boats in Pittwater were towed up the Hawkesbury River to prevent their use by invading Japanese forces?

- there was a boat building industry here in Pittwater?
The following are just a few highlights of Geoff's very informative show and tell.
Goddards Boatshed, Snapperman Beach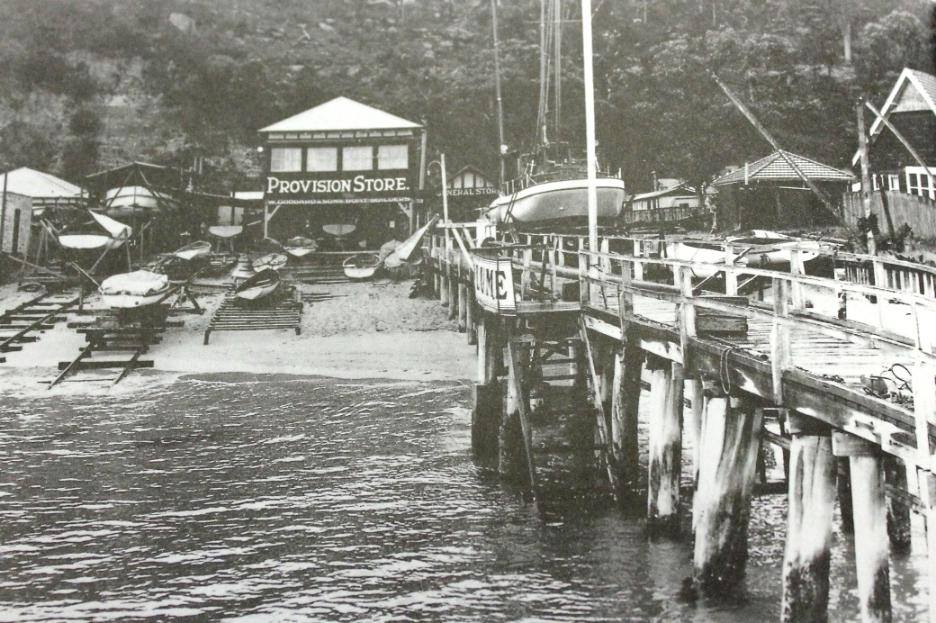 William Joseph Goddard built a huge boatyard complex at Snapperman Beach off Iluka Rd in about 1930. Many small boats were built there, following on from those built at an earlier boatyard he had nearer the golf course - including the 'Reliance' built in 1919, still operating on Pittwater.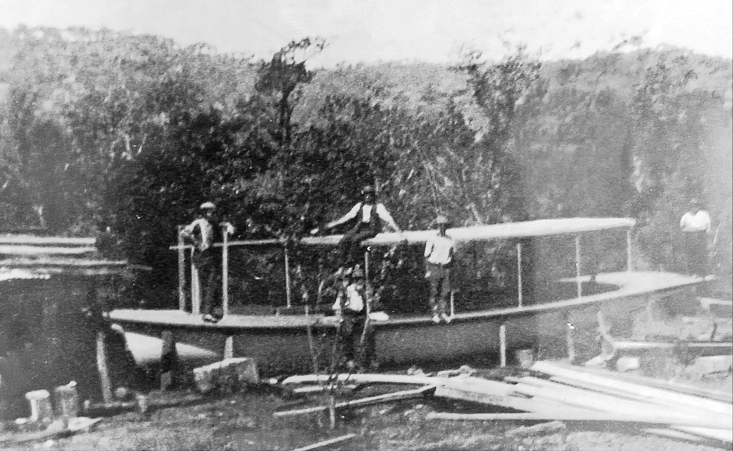 The Reliance at Goddards, Palm Beach, 1919
World War 2 and Goddard's
During World War 2 Goddard's were ordered by the Government to tow all pleasure craft from Pittwater to 'Crosslands' locality at the head of Berowra Waters. This was carried out by Charles Henry 'Chick' Witchard with the boats towed in a line behind the 'Falcon', a boat built by Goddards.
Singapore fell to the Japanese in 1942, and the threat of invasion of Australia's East Coast was real. New Guinea was invaded in 1942, numerous ships were sunk off the NSW coast by Japanese submarines, Sydney was shelled, and there was also a mini submarine attack in Sydney Harbour. West Head's gun emplacements were built during 1941 -42 and an anti submarine boom installed at the entrance to Pittwater. Local, Mavis Crowley (nee Hillier) has told Geoff her family kept a packed suitcase under each bed in case a quick evacuation was necessary.
In a piece of dark humour some of the boats towed up the Hawkesbury River were later seen floating back out to sea during a flood in April 1943.
Surfing at 'Goddard's Pier'
Given the right swell direction, size and wave period, large ocean swells can occasionally come into Pittwater as smaller waves suitable for surfboard riding, sometimes refracting around Barrenjoey or bouncing off the western shore, and break along the Pittwater side of Palm Beach.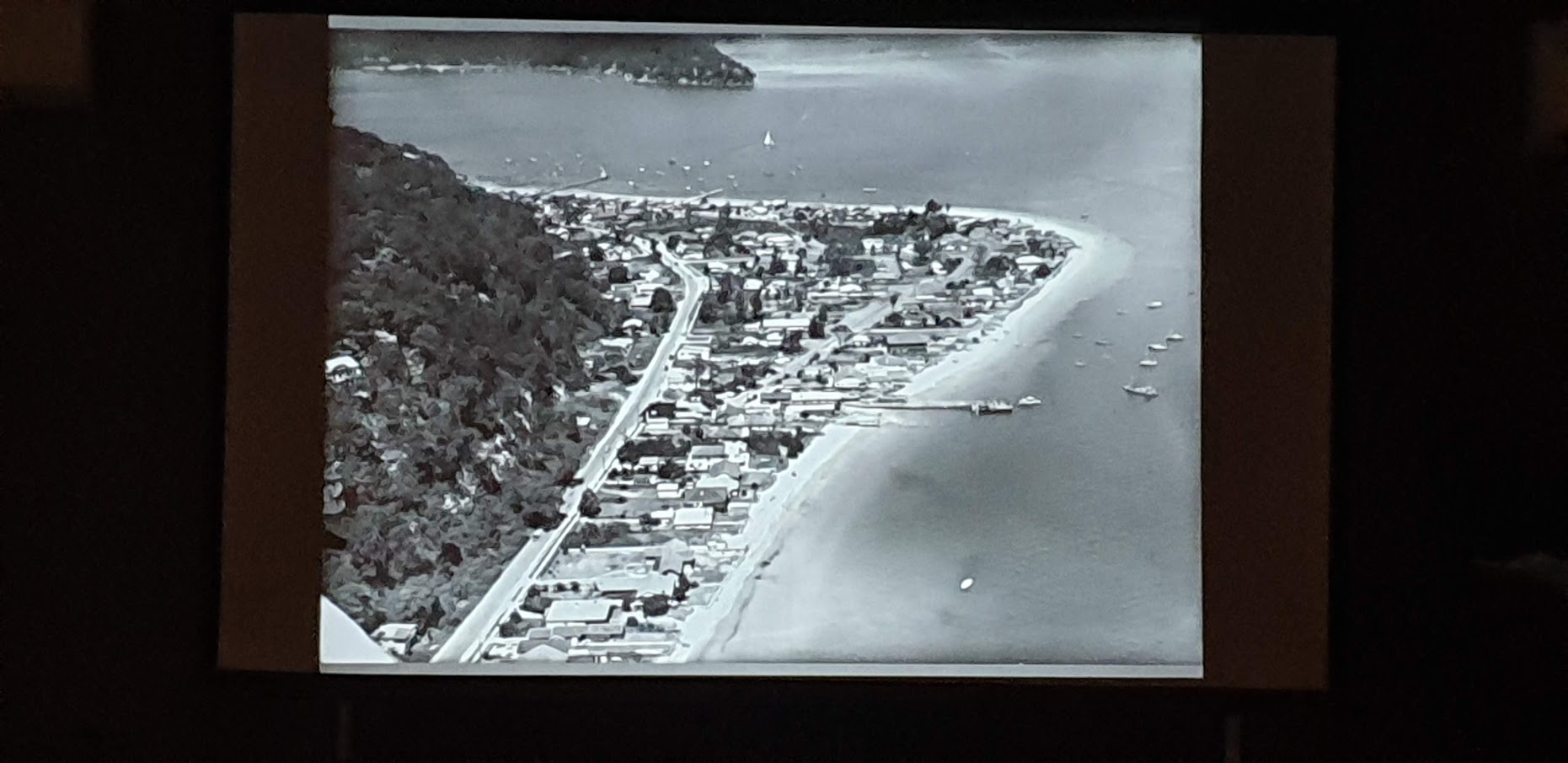 Back when there was more sand at Sand Point, before the seawalls were constructed, waves occasionally broke near Goddard's wharf in similar circumstances.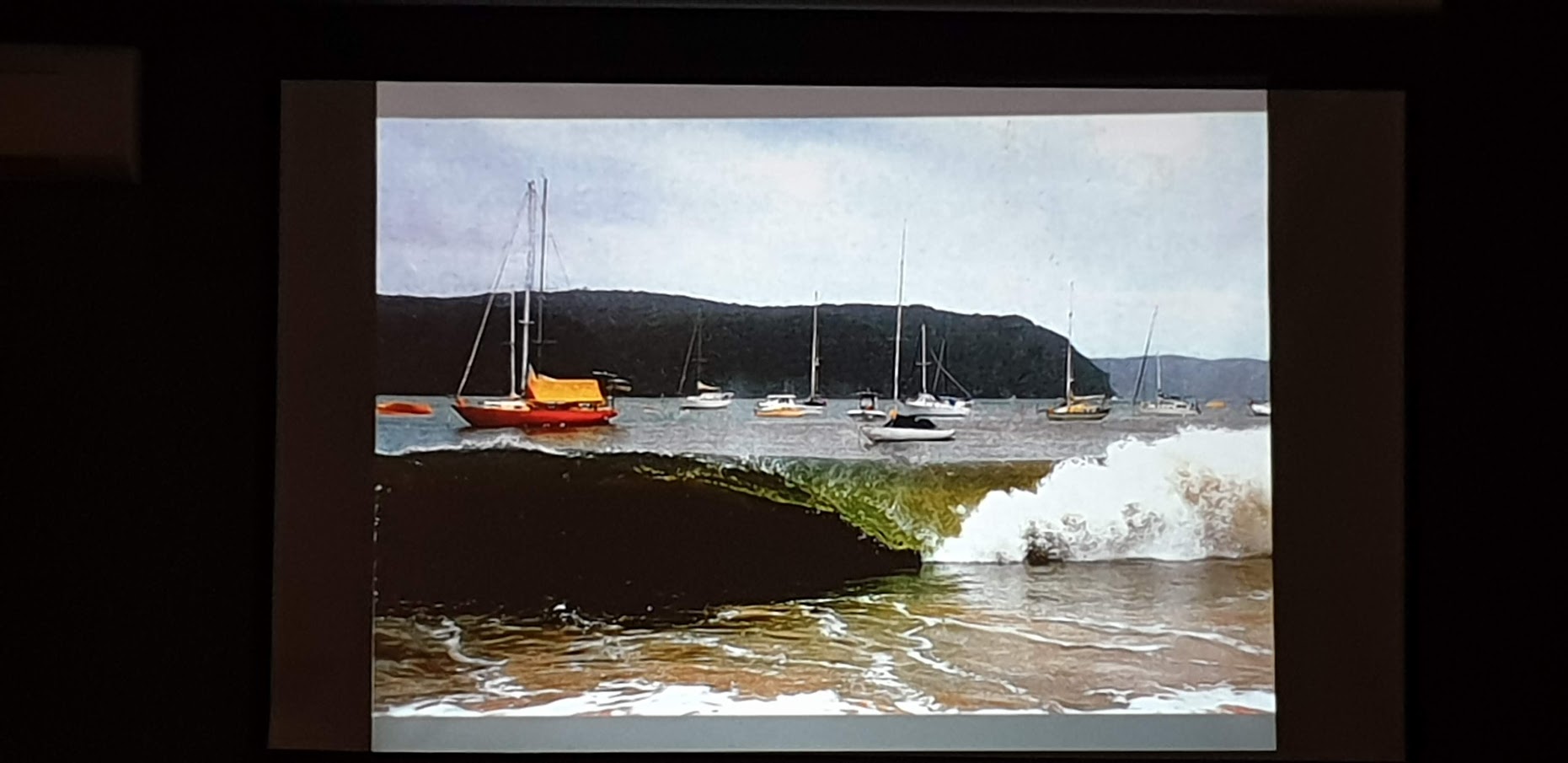 A photo well known to surfers of the time was published in 1963, showing Jeff Andrew riding a wave of unusual size at 'Goddard's Pier', as surfers called it.
Photo of surfing - Jeff Andrew... in The Australian Surfrider.
Author: Jack Pollard
Publisher: Sydney, Murray [1964]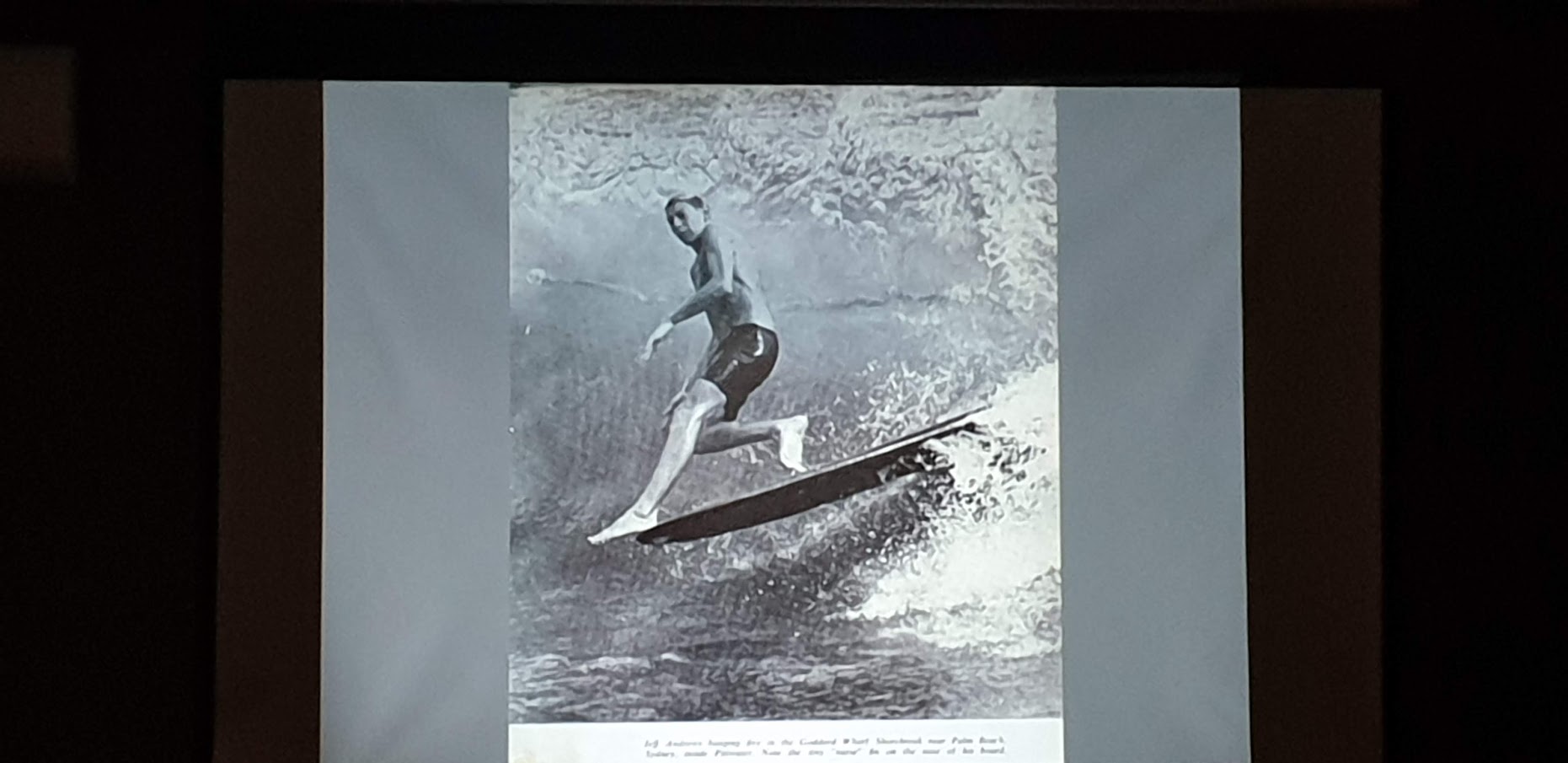 Easterly waves outside can refract right round and come onto shore at Snapperman as WNW waves as shown in Google Maps satellite pic.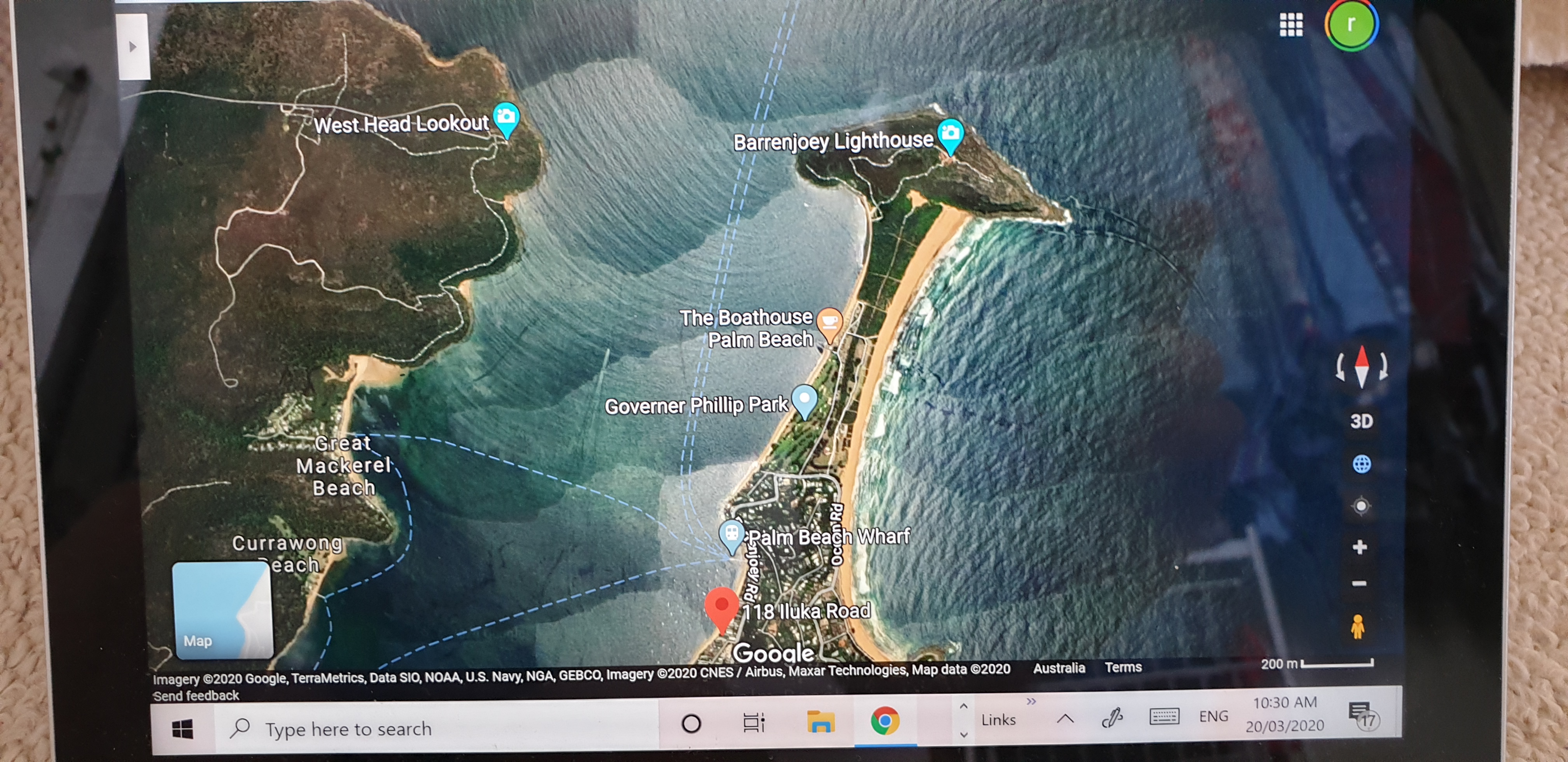 Picture taken this week ..trying to look like a wave..a shadow of its past: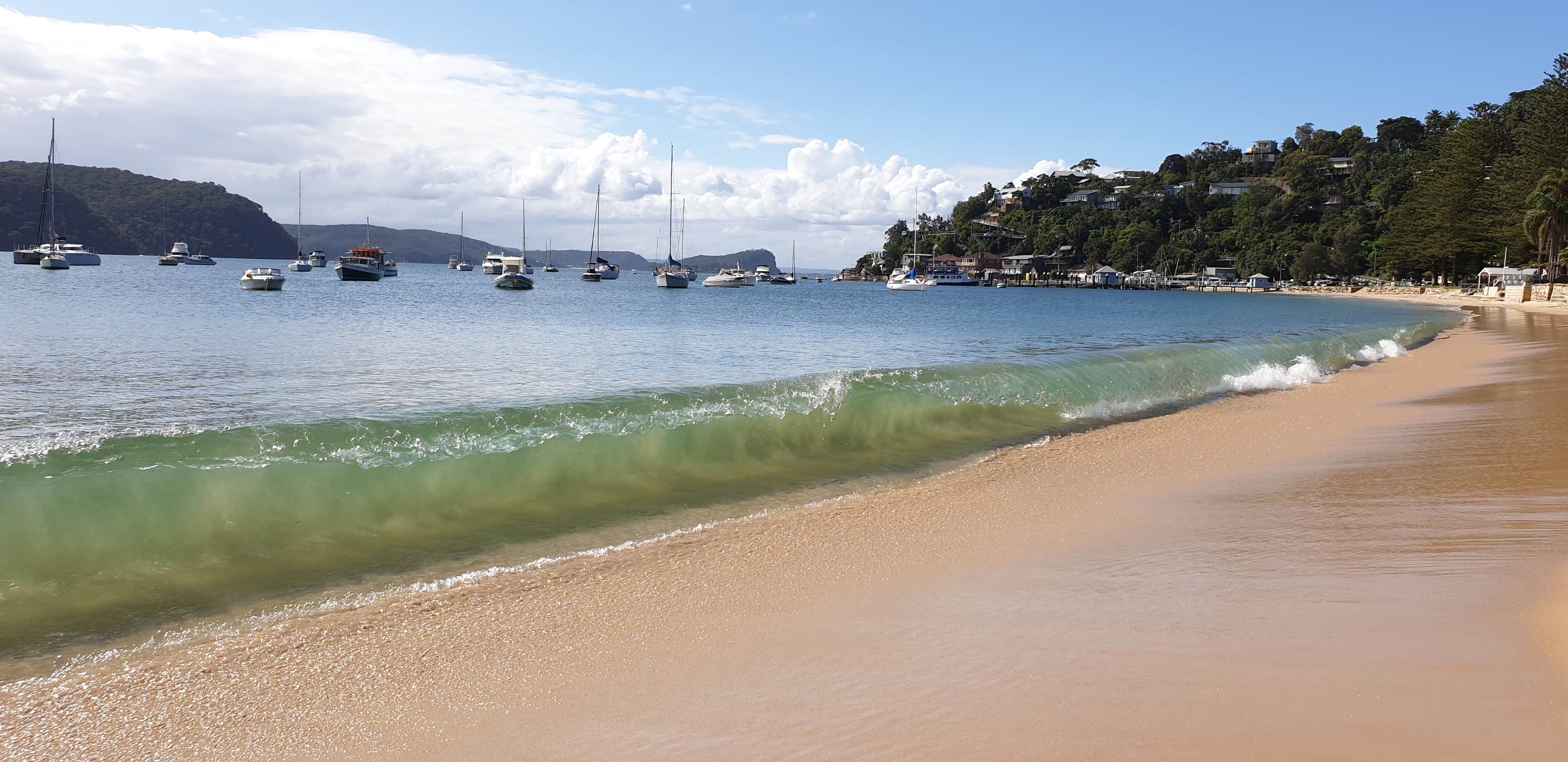 Joern Utzon and Goddard's
In 1964 Joern Utzon moved his drawing office for the Opera House project from Bennelong Point to Goddard's Boatshed, to distance himself from increasing tensions with the government of the day and press intrusions over the increasing cost of the Opera House project. The Utzon family lived at Bayview, and later at Palm Beach and Joern reportedly said Pittwater reminded him of the Oresund in Denmark.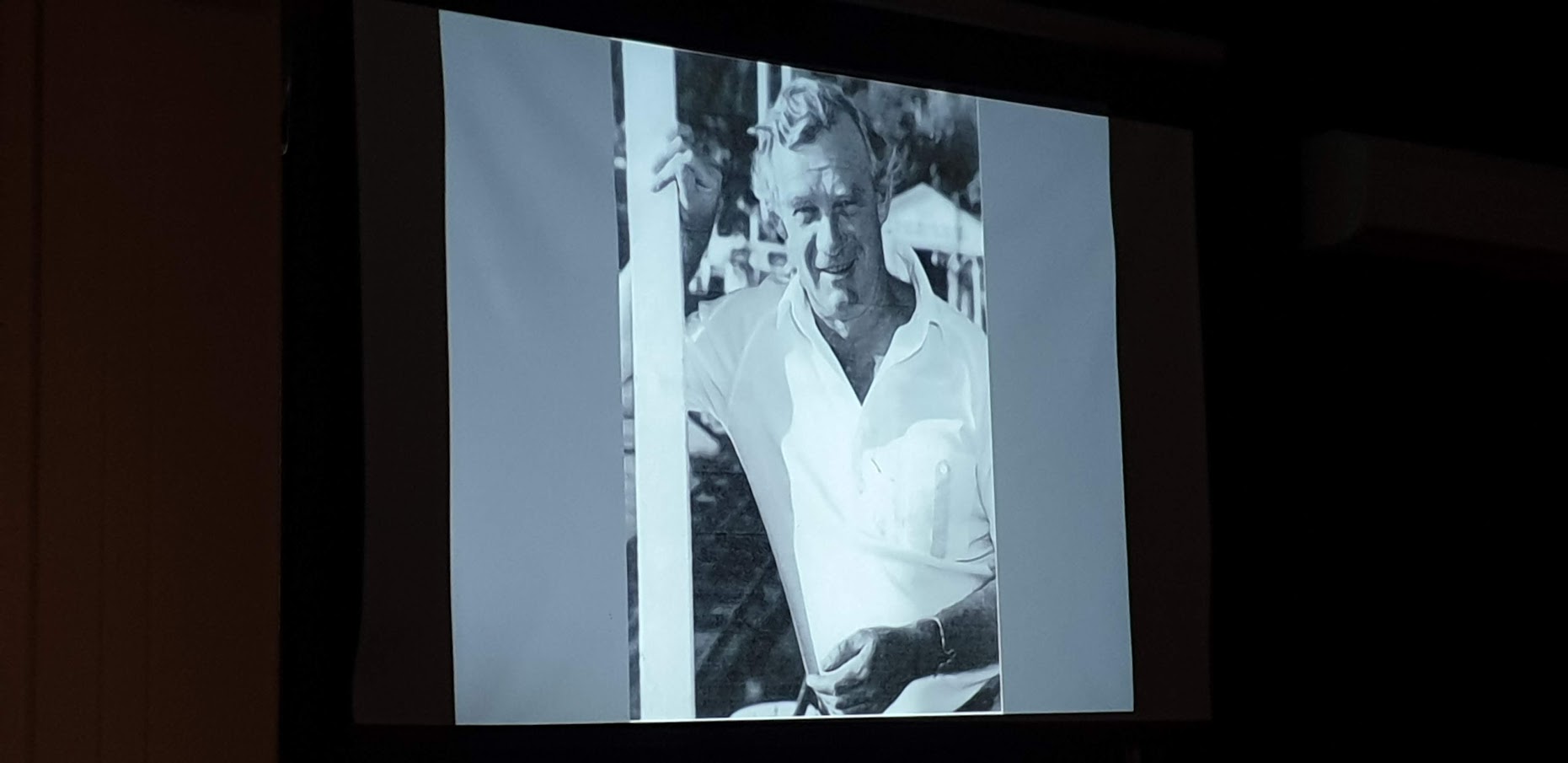 Joern and his team occupied the ground floor of Goddard's, and installed a solid glass wall along the front, which would have afforded an inspiring view from the drawing boards.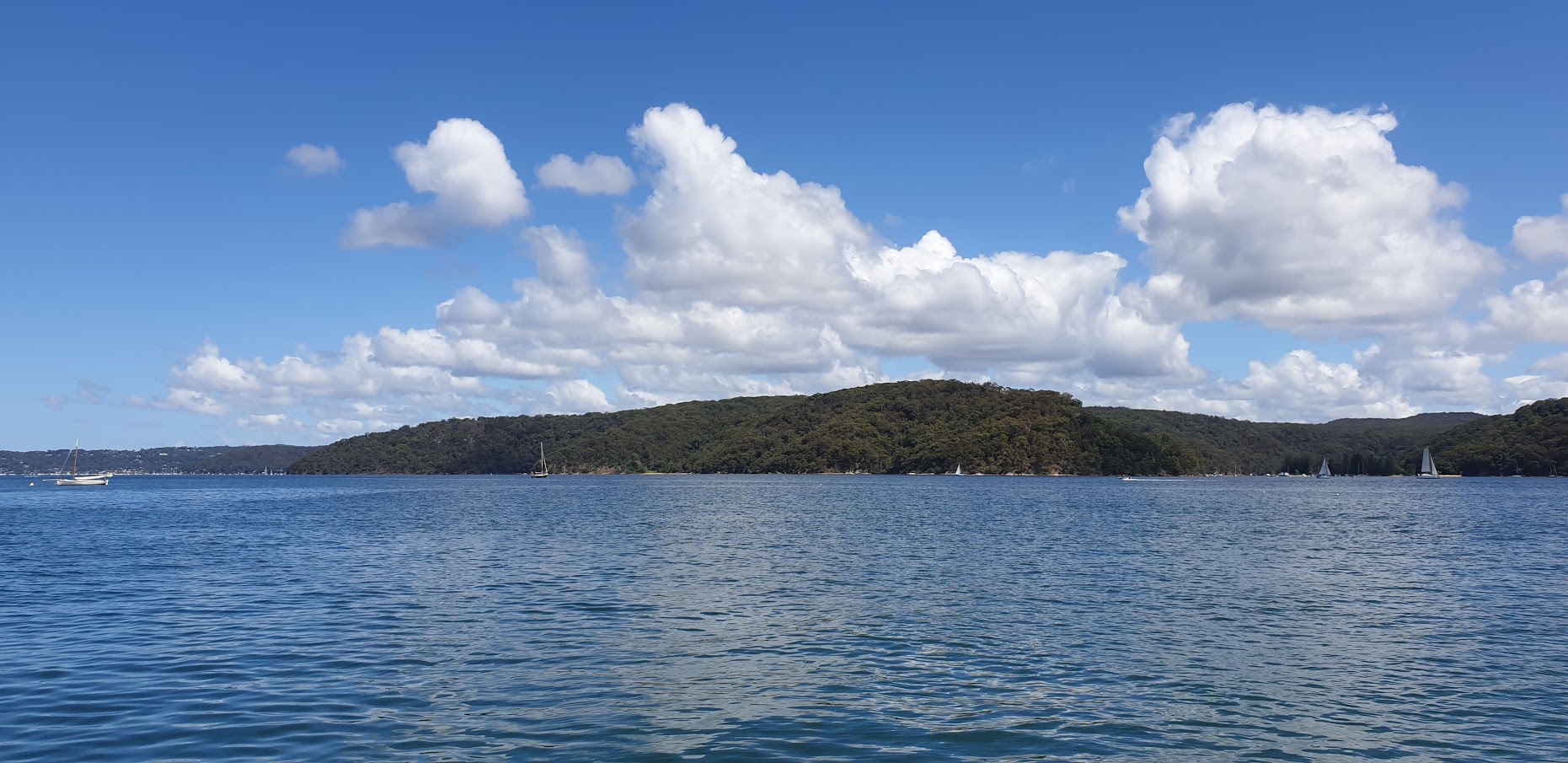 He worked there until leaving the project and returning to Denmark in 1966.
Today there is a house at 118 Iluka Rd, where Goddard's Boatshed and Joern Utzon's drawing office for the Sydney Opera House, were once located.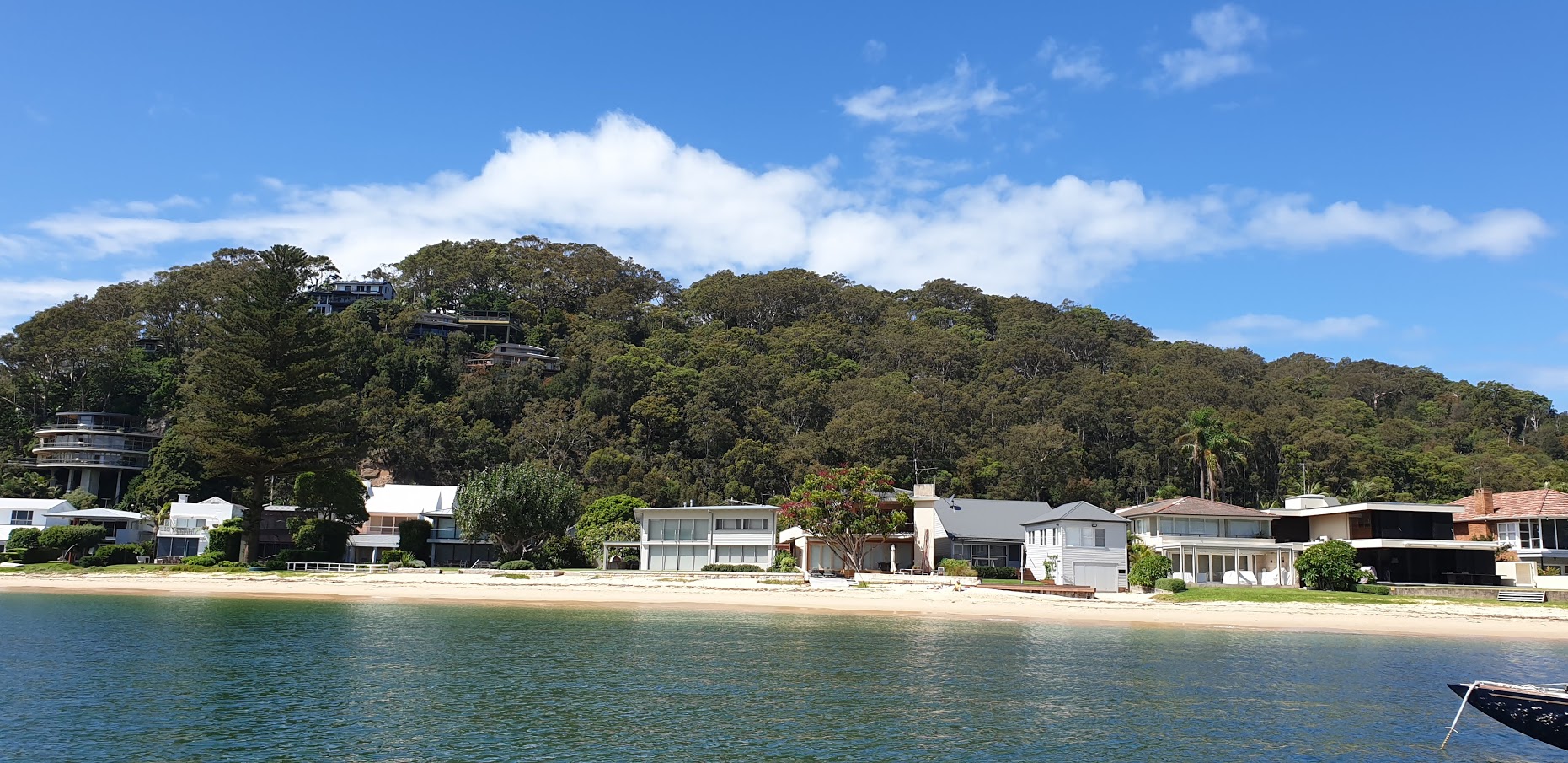 Goddard's Boatshed. Snapperman Beach; Goldthorpe and Smith's Boatshed, Careel Bay; and Port Jackson and Manly Steamship Company
In 1942 Port Jackson and Manly Steamship Company (PJMSC) bought Goddard's business - the wharf, boatshed, store, liquor licence and ferry services. In 1945-47 'Rambler Star', 'Currawong Star' and 'West Head' were all built for the Pittwater services.
PJMSC didn't stop at Goddard's. They also bought another boatshed, Goldthorpe and Smith, just around the corner in Careel Bay.
George Goldthorpe and T. Smith were war buddies who had pooled their resources and built up a boat business at the other end of Iluka Rd. The partnership lasted 15 years, then they split – Goldthorpe bought Smith's share and then PJMSC bought the company.
PJMSC relocated Goddards business from Snapperman to the site of Goldthorpe and Smith's business in Careel Bay by barge. They relocated everything except the building itself, including a 3-rail slip to handle bigger boats, as well as the Manager, 'Chick' Witchard, and renamed the business Palm Beach Marine Services.
Chick, his wife and 3 sons, including John (whom many of you know), moved into the shed.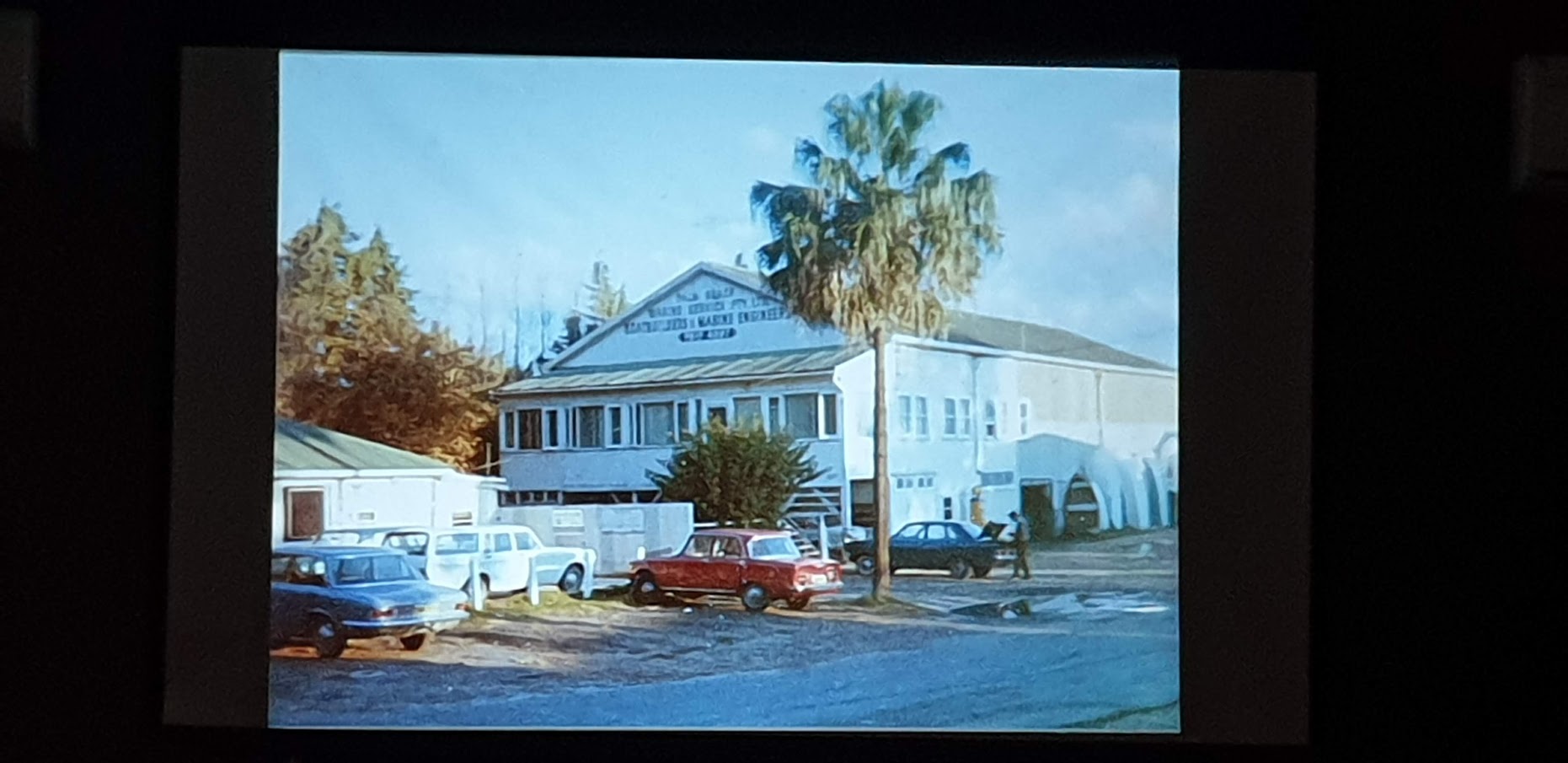 Chick, based at Careel Bay, was on call 24/7 for Halvorsen's Hire Boats from Bobbin Head for customers who got into trouble. Chick took 'West Head' out single handed in a storm once to rescue the 'Morna'.
The Witchard family later moved to Central Road. Chick retired in 1981 and died at the age of 94.
Architect John Andrews bought PBM in the mid 1970s and had a drawing office at the back and the side of the Careel Bay boatshed. The shed was later demolished and replaced by a 4 unit creation by renowned architect Walter Barda (pics of side and front))
Palm Beach Marine still operates moorings from the wharf.
John Witchard and Peter Verrils provided many of the photos shown on the night.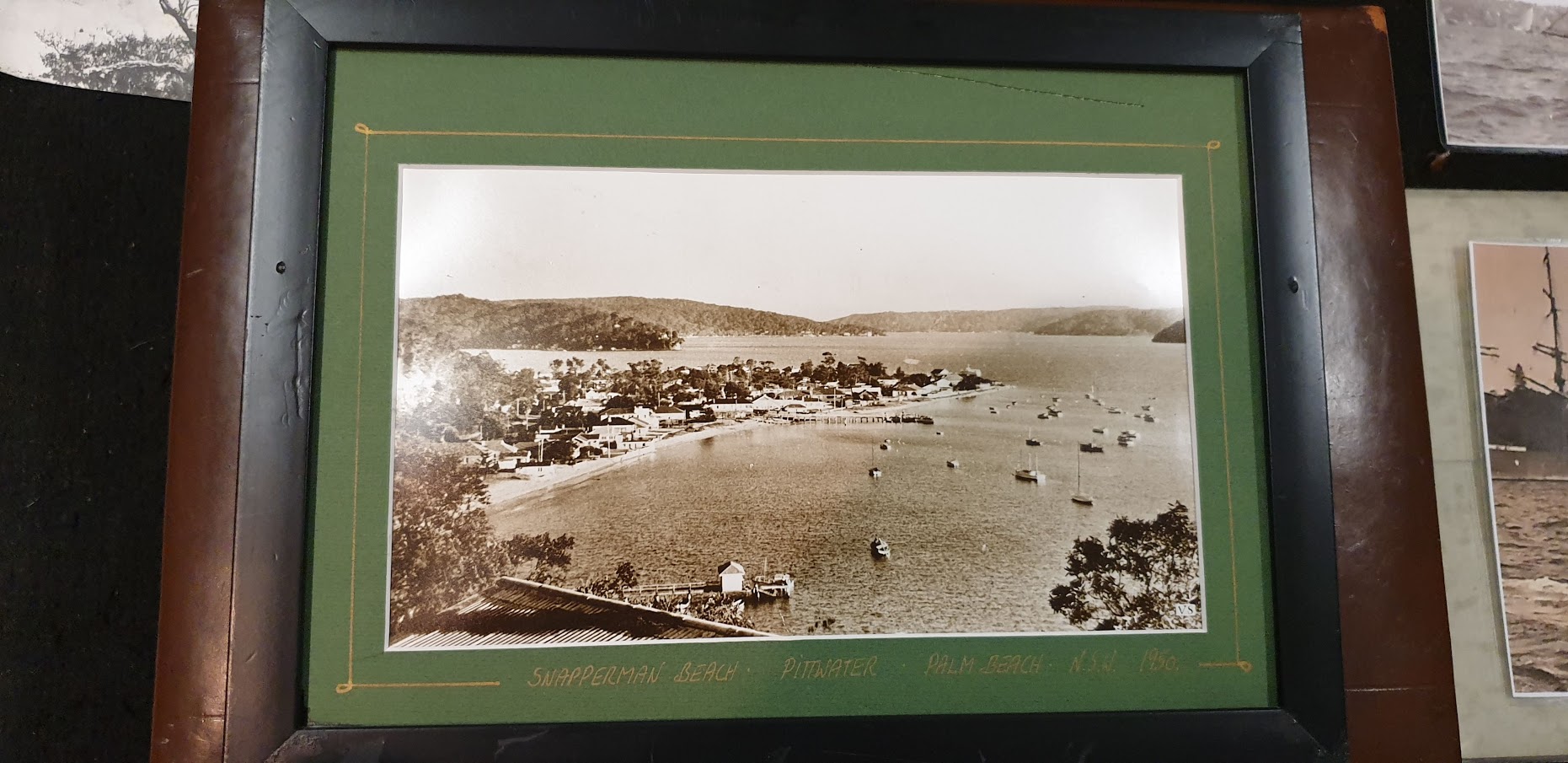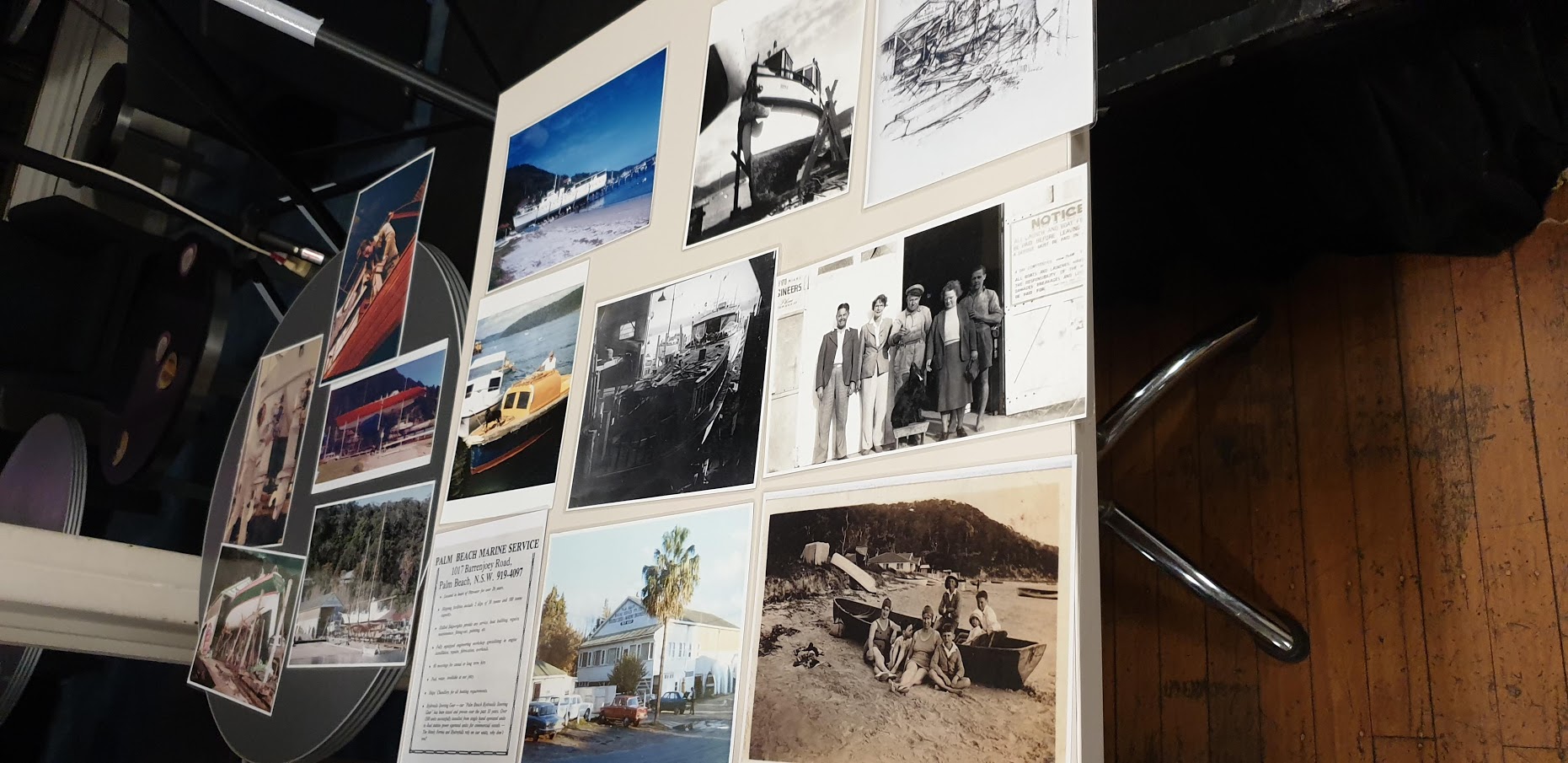 ________________________________________________________________
In opening the meeting Geoff noted that sadly some more fine Avalonians have passed on:
– Doreen Cherry OAM in February.
- Merv Howden 18 Feb. aged 92 - an early and wonderful teacher at Avalon PS. He and wife Midge had 4 children including Melanie who is an ABHS member. Grandson Tasman (currently studing History at ANU, and recently returned from studying at Uppsala University in Sweden), helped transcribe some of ABHS audio cassettes.
– Penny Fuller – Geoff's blond class mate from 1950s at Avalon PS. The only remaining member of the Fuller family is John, co-developer of the IRB at Avalon Beach with Warren Mitchell.
– Jack 'Bluey' Mercer was not an Avalonian but figured locally. He helped establish West Head Fortifications in the 1940s. A great old bloke – Jack died 97 years old.
______________________________________________________________________
A happy piece of news: an early photo of Avalon Beach framed for sale years ago by ABHS was spotted in Melbourne recently and has returned home.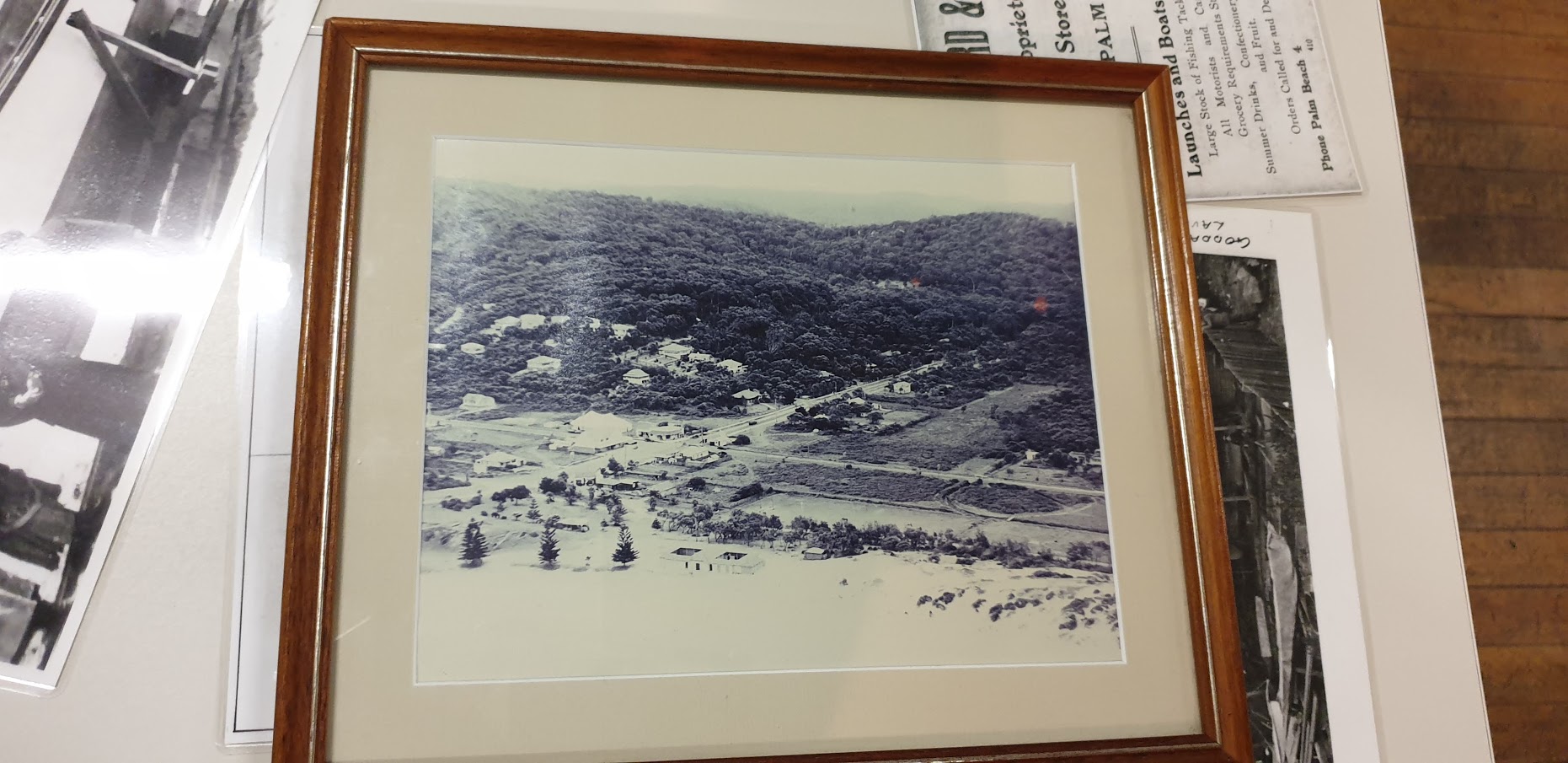 Next meeting of the ABHS will be on the second Tuesday in June. All welcome to enjoy the talks and share refreshments. Be sure to put it in your diary.
(pic of Crowd)
Report and Photos by Roger Sayers