February 6 - 12, 2022: Issue 525
ABHS AGM 2021
Featuring Geoff Mills - The Penguin Man of Lion Island
Held 14 December 2021
The Avalon Beach Historical Society's AGM was well attended by 50 members and guests in Covid safe conditions, pre December changes.
ELECTION OF OFFICE BEARERS AT THE AGM OF THE ABHS TUESDAY 14 DECEMBER 2021
The following office bearers held office for both the 2019 - 2020 financial year and the 2020 – 2021 year. The vote of the meeting was unanimous to re-elect:
PATRON - JOHN STONE
PRESIDENT – GEOFF SEARL OAM
SECRETARY – NINA GOW
TREASURER – CHRISTINE ELLIS
COMMITTEE MEMBERS – SUE MORROW COLLETTE SEARL
HONOURARY PUBLICITY OFFICER – ROGER SAYERS OAM
President Geoff ran through a number of updates including;
Sponsorship of the fees for next four meetings at the Annexe (the old scout hall in Dunbar Park), by new members Matthew and Amy Young of Laing and Simmons Careel Bay Wharf office. Unfortunately Matthew and Amy couldn't make the night with his dad in hospital.
ABHS is grateful for the assistance and the kitty was boosted by a welcome donation by the Palm Beach Avalon Beach Chamber of Commerce after it disbanded.
The meeting featured an interesting talk and slide night by Geoff Mills, who spent a good deal of time in the 1980s on Lion Island, doing penguin counts over 5 years for the NPWS which was responsible for the island at that time.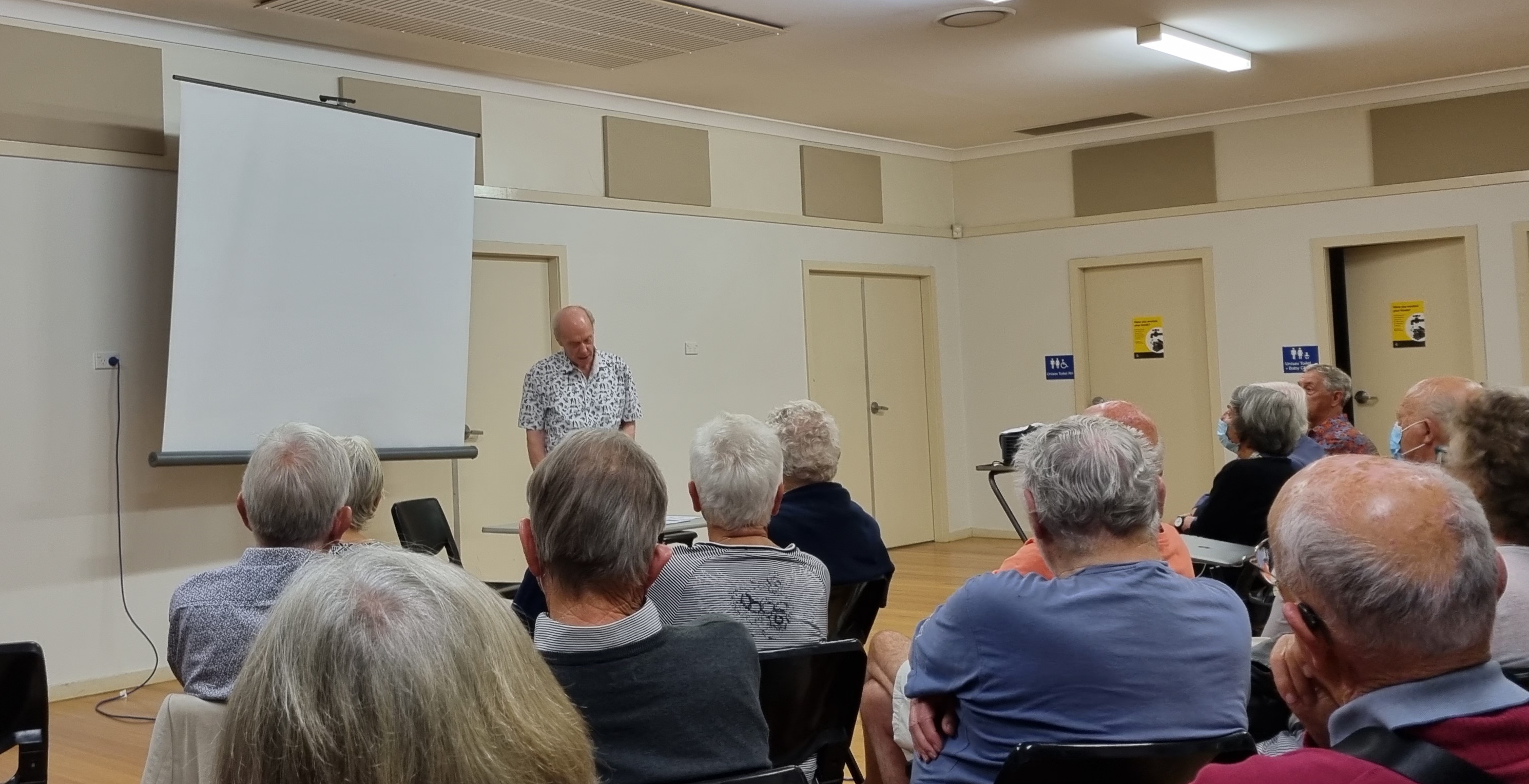 He had permission to camp on the island overnight, each 3rd Saturday of the month and found the best time to make his counts was in the evening when they came ashore. He regularly counted 30-40 birds coming ashore to roost for the night. The meeting speculated about possible causes for declining numbers from general observation, including the fur seals that took up residence on Barrenjoey a while ago.
His research subsequently led to a job with the Australian Antarctic Division banding Adelie penguins on Macquarie Island.
Geoff's recollections and anecdotes were the subject for numerous questions from the interested audience.
President Geoff outlined some posts on Facebook about the use of some of the ABHS photos from its website without any acknowledgement, which is not only rude but wrong as it conveys an impression the person posting has done the necessary research. ABHS was in fact defended by local Guy Finlay who told the person in no uncertain terms what they were doing was wrong, supported by Geoff, and hopefully will discourage further misdemeanours.
A number of other local historic photos compiled by Geoff included a photo of a Koala in Avalon in 1945 held by Geoff's grandfather, to show they did exist! Other members informed of some fewer and fewer sightings through the 1980s and 1990s when there were very few. John Stone provided the visual display of the photos, many of which had been taken by himself at Paradise Beach and along Avalon roads.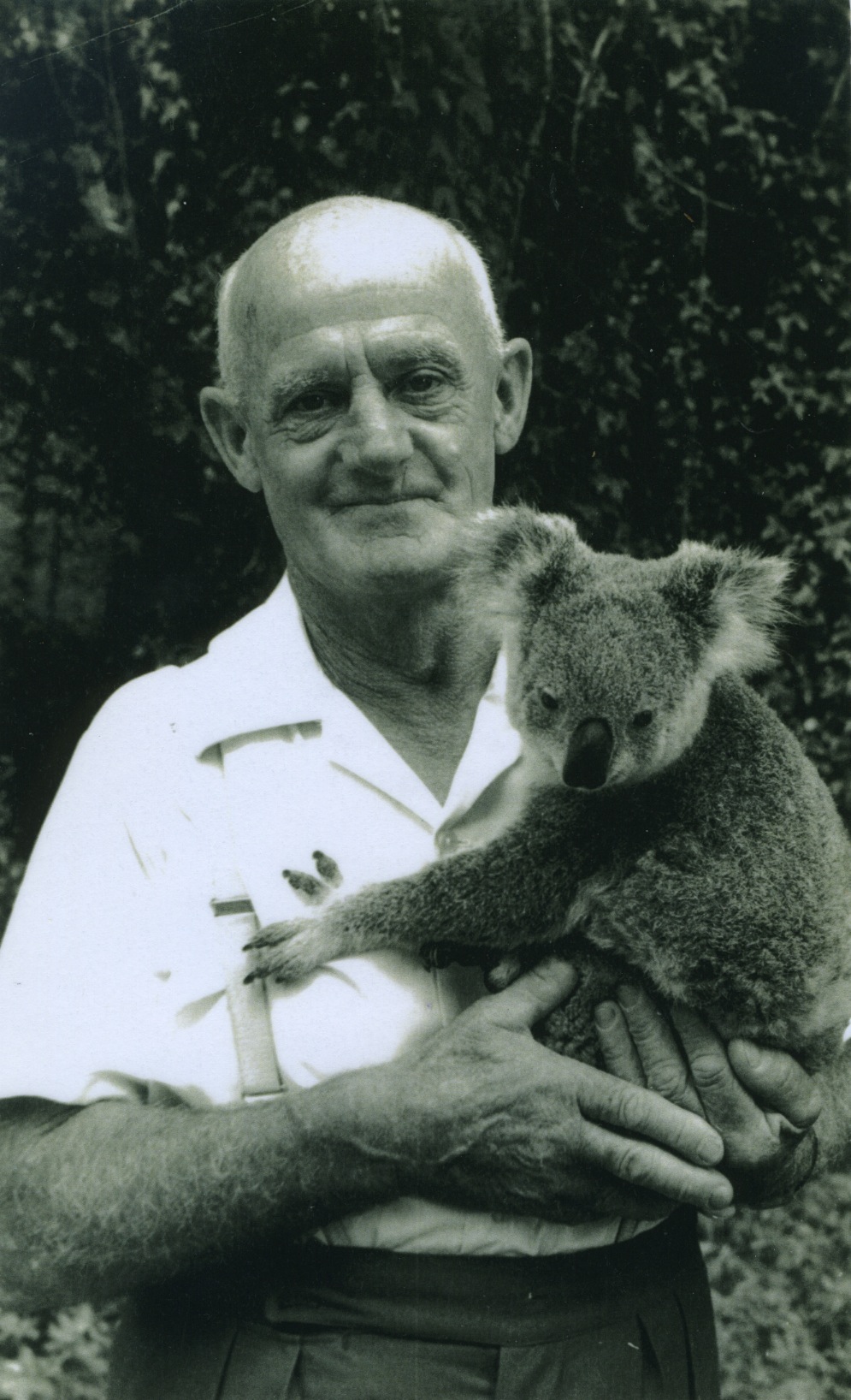 George and Koala - from the collection of Geoff Searl OAM, part of the ABHS records
Geoff's maternal grandparents lived at 64 Avalon Parade in a house built by his grandfather, William George Pryor on land they bought in 1944. George (who had three daughters) was a very gentle man and this koala looks very content and secure in his arms in their backyard. George worked originally as a coach builder, later branching out into carpentry. He 'fitted out' the retail shops on the ground floor of the heritage-listed 2-storey building on the corner of Avalon Parade and Old Barrenjoey Road for A. J. Small. - from the records of Geoff Searl OAM
John's photo from Thursday June 1st 1967 edition of Pittwater News - the caption reads 'An alert John Stone was able to snap this picture of an "Avalon koala" as it strolled beside his car near Paradise Beach.' From the ABHS Collection and courtesy John Stone
ABHS 2022
The 10th Great Historic Photo exhibition will be held on the June 2022 long weekend in the Avalon Beach Recreation Centre, fingers crossed!!
Next meeting is scheduled for March 8th 2022 and our guest speaker will be Anne Spencer. Anne will talk about Bilgola Beach, Bilgola House and one of its most famous occupants, Walter Oswald Watt, Australia's first military pilot.
All welcome for the photos and talks which always provide interesting insights into local history, as well as for the supper following.
Find out more at: https://abhs.org.au/
Report and photos by Roger Sayers OAM