Artists of the Month February 2019
FAMILIA | GROUP EXHIBITION
Most people in Pittwater would be aware that our area is being increasingly enriched by the presence of Brazilian people who have emigrated to be in this beautiful place through marriage or by choice. The match is a natural one - a place so vibrant is bound to attract those whose spirit reflects the same.
On February 8th 2019 a new exhibition will open at the Be Brave ArtSpace at North Avalon that will allow visitors to see into what this place has inspired in six of these Creatives.
A group of six Brazilian visual artists based in Sydney have gathered to share their experiences and collaborate with each other. This exhibition, entitled 'Familia' is the collaboration resulting from their individual journeys coming together in a group.
The exhibition showcases creations by Cassia Bundock, Fabio Manzini (a.k.a. juxta.fab), Flavia Julius, Lia Marx - Photos & Films, Marisa Pasicznik Ross, and Murilo Manzini (a.k.a. Muzi).
"Familia" invites the spectator to visit their homeland and to deconstruct stereotypes and paradigms.
As they've settled in their new land, the artists gravitate towards their roots, renegotiating personal and artistic identity and connection as they live their lives and practice their art in an intercultural dialectic space.
New and previous lives, locations and families come together; new cultural references and fresh feelings have merged with ingrained memories and emotions.
Where the original family is created by a union of marriage or blood, the familia is made and re-made by new transnational engagements as their journeys and lives continue in Australia.
'Familia' blends the Brazilian bossa with the spirit of the Australian bush. It fuses and renegotiates rhythm and happiness, colours and dots, the beach and the city.
The exhibition is part of Be Brave ArtSpace's summer calendar. The gallery is located at 5-7 Careel Head Rd, Avalon Beach NSW 2107.
The Familia group exhibition will run February 8th through to March 3, 2019.
The opening night is February 8th from 5 to 8 PM. All Welcome!

Below runs a little on each Artist and examples of their work.
FAMILIA
Originally from Brasil.
Proudly made in Australia.
Um grupo de artistas brasileiros que residem na Austrália se reuniu para colaborar e o resultado foi a exposição intitulada "Familia".
Os organizadores do movimento são os artistas Ana Lia Maxx, Cassia Bundock, Fabio Manzini (Juxta.fab), Flavia Julius, Marisa Pasicznik e Murilo Manzini (Muzi).
A exposição "Familia" convida o espectador a visitar suas referências natais e a desconstruir esteriótipos e paradigmas.
Ao migrar, os artistas vivenciam a releitura de suas origens, a reconstrução de sua identidade pessoal e artística e o intercâmbio cultural intrínseco neste processo de reconexão com a terra e com pessoas.
Com a mudança, agora, não são apenas os laços de sangue que os unem às pessoas, mas sim os compromissos sentimentais que eles constroem no caminho.
"Familia" traz um pouco da fusão Brasil-Australia, uma visita ao redescobrimento; uma mistura de trópico, de brisa, de bossa, de mar, de cores, de simpatia e do jeito brasileiro de viver num cenário acolhedor e diverso como a Austrália.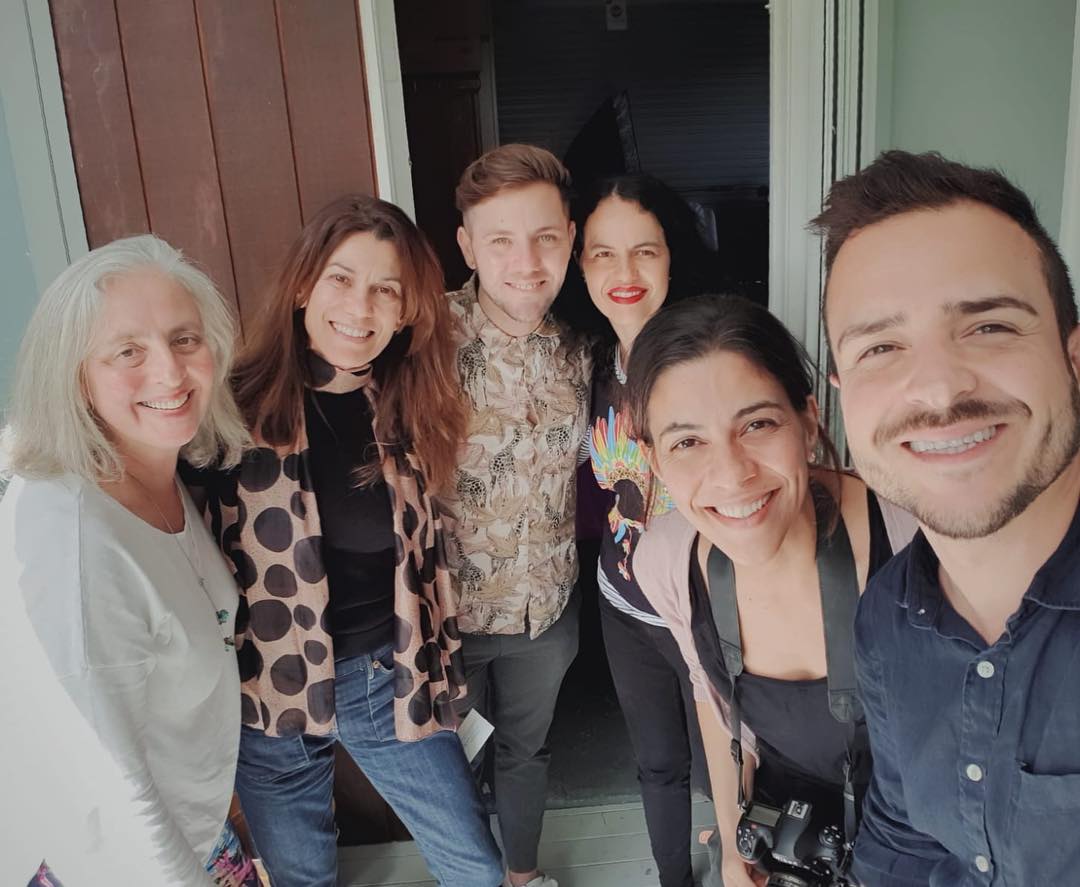 At Avalon Beach in November 2018 - finessing their upcoming Familia Exhibition
Cassia Bundock
Founder of Paulista Gallery
Paulista Gallery is an art space and online store housed in the lush environment of Bayview. Paulista Gallery dedicates its focus to the research and the radiation of the all aspects of contemporary art making - with the core purpose to make available works that possess authentic views of the world.
Paulista Gallery began as an idea of founding director Cassia Bundock, a Brazilian-Australian art lover and social communicator.
Cassia's appreciation and involvement with artistic practice started early - born and raised in the neighbourhood of Bixiga; a Paulista bohemian central district only a few blocks away from the Museu de Arte de Sao Paulo (MASP) on Avenida Paulista, where paintings of Lasar Segall, Portinari, Di Cavalcanti amongst other modernists could be admired and where Cassia would go, as a child, on bicycle's cruises under the 74 metres of freestanding modernist building designed by Lina Bo Bardi.
This neighbourhood also houses several theatres and it is only a jump from the Teatro Municipal, a city landmark of a Renaissance, Baroque and Art Nouveau style, where the teenager Cassia would go watch the Grupo Corpo perform modern dance.
It wasn't until a long trip to France in 1991 that Cassia had her passion for art emerge more consciously, on her return to Brazil she started painting and participated in two group exhibitions within an artist run initiative.
To support her artistic endeavours, Cassia used her degree in marketing to work in the advertising, media, design and home interiors industries , the latter leading to a creation of a new project where Cassia worked with influential architects and designers such as Claudio Bernardes and Arthur Casas producing a design exhibition and facilitating collaborative work within a sustainability concept framework.
Cassia moved to Australia in the 2000 with her two children. At that time she was interested in assemblage and worked with wood, baroque images, paint and other objects to create mystical and reflective pieces.
Cassia produced two exhibitions in Sydney and traded with art collectors and galleries until the arrival of her third child made travel more difficult. After a few years working in marketing, Cassia made the decision to study art academically and enrolled at first in the post-graduate course of Art Administration later moving to Curating and Cultural Leadership, both at the UNSW Art and Design.
The desire to bring accessible and contemporary artistic objects from Brazil to Australia and from Australia to Brazil has been a constant element in Cassia's life .
" I am quite interested in the juxtaposition of cultures and languages and observe the cultural exchange that occurs. I think it has to do with my own experience of displacement and identity affirmation from living as a diaspora."
The Gallery was named Paulista for the density that represents being Paulista - a vast, pluralist, syncretist, hybrid and polemic society. São Paulo - the place that houses everything Paulista - is an alpha city built by Brazilians from all over the country as well as by foreign immigrants from many parts the world. It is from São Paulo that culture and progress emanate to all parts of the country and the globe.
Fabio Manzini

(a.k.a.

juxta.fab

)

juxta.fab (Fabio) is a Brazilian born collage artist based in Sydney, Australia. He has a background in marketing and advertisement, and throughout his professional life, he has applied his visual aesthetic to promote brands and people.

Fabio is married to Muzi, who unpretentiously introduced him to the world of visual arts, especially to the creative path of deciphering feelings when putting artworks together.

Fabio has always been a restless and a very rebellious individual. Since he was a kid, he always relished making analogical collages juxtaposing personal pictures with famous characters of the media.

Through humour, Fabio found a way to overcome his wounds and difficulties in life. Always playful and ironic, he appreciates creating imaginary circumstances, where kids, animals and cartoon characters have a genuine voice in the scene.

Fabio likes to create magical memories where he can interact. Through the colourful and boundless universe of collage, Fabio found the perfect contemplative practice: something bright and fun to share and also help him developing personal and spiritual awareness.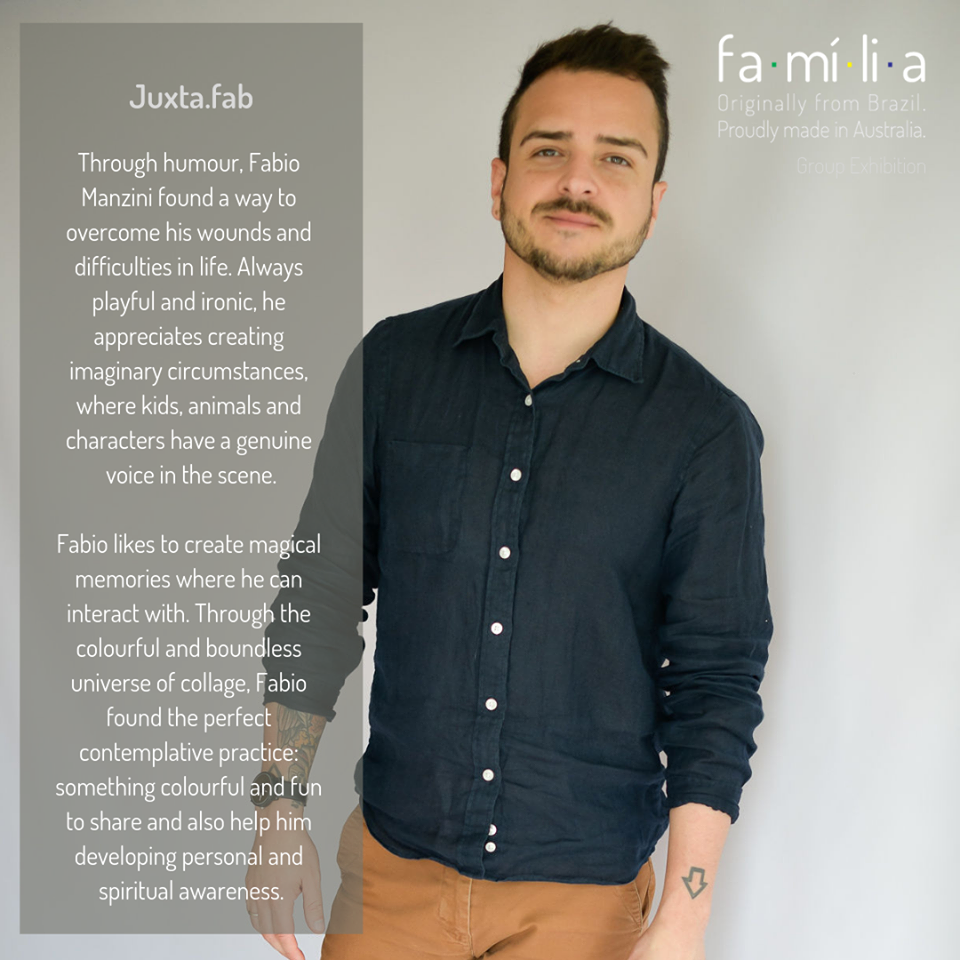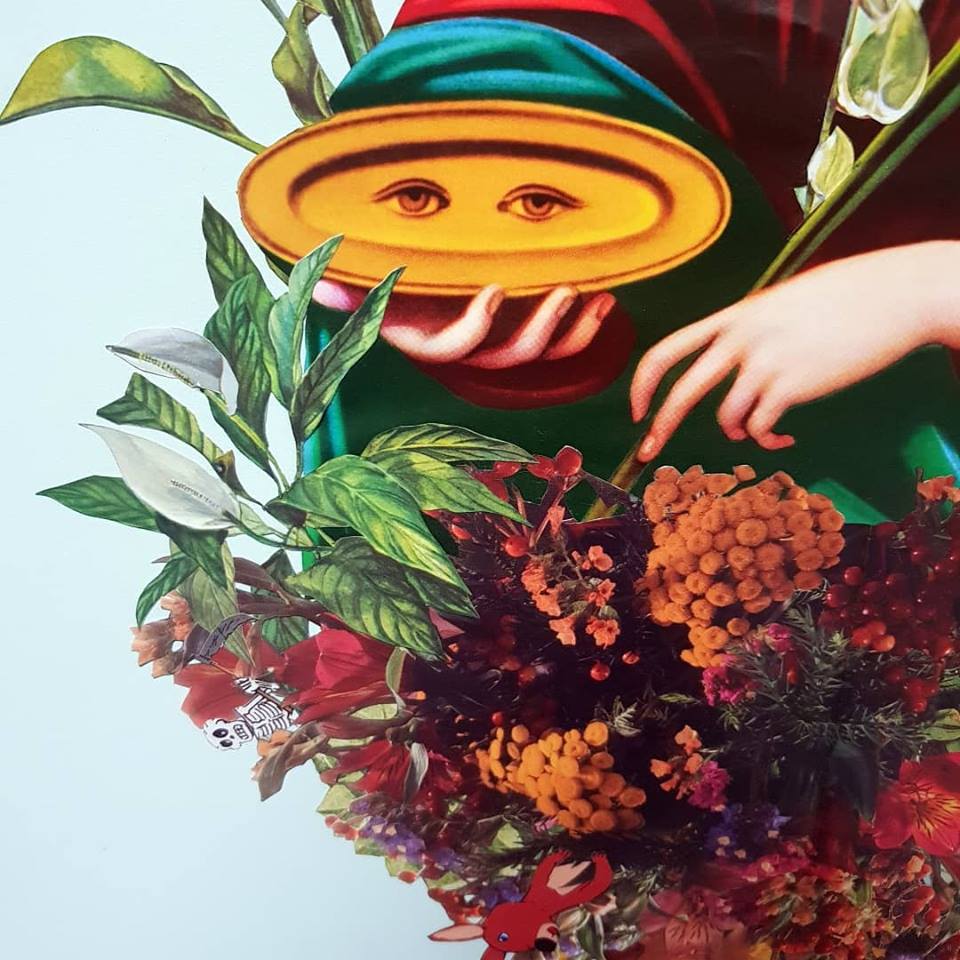 Flavia Julius
Website: www.flaviajulius.com.au
I was born in one of the planet's largest cities. Sao Paulo is busy. It's grey yet colourful, noisy, polluted, super cultural, gastronomic, dangerous, exciting, full of cars, buildings, helicopters, motorcycles, injustice, social inequality: extremely rich, extremely poor people. Not an easy place... But I love it, my roots are there.
Speaking about love! That's why I moved to Sydney. I am married to an Aussie, I met him on the Amazon. We bumped into each other in the middle of nowhere because we share a huge passion for travelling. I call Australia home now. It's a fantastic country, perfect for bringing up our three children.
For years I took private oil painting classes in Brazil with a very talented artist. I kept painting as a hobby for more than a decade, until 2014, when I decided to take the plunge and create art for a living. Meanwhile, I worked in advertising as well as travel journalism. I have had two travel books published in Brazil by Panda Books. Writing will always be there, I go back to it every now and then, and will probably invest more time in it again in the future.
Since moving to Australia, Aboriginal art and culture became an inspiration as much as Indigenous and African culture were in Brazil. I incorporated dot painting in my technique, always very aware and respectful of any possibilities of culture appropriation. I paint my own stories, my background. I paint Brazil, my experiences, feelings and desires for change.
In terms of artists, I am influenced by Monet and other Impressionists, Van Gogh, Cézanne, pointillism, Matisse, Paul Klee, Brazilian art naif, Brazilian modernism, street art... Music plays a huge role when I'm painting. Samba, bossa nova and other Brazilian rhythms run in my veins. I love reading and listening about philosophy, sociology, anthropology and, of course, history of art. I am more than anything inspired by people, people who have fought, and who currently fight for a better world, for human rights, equal rights.
Because of my angst for change, my work is turning towards political issues (still a work in progress, so not listed yet). Social inequality in Brazil and around the world bother me immensely, it's time I dealt with the issue.
I hope I can help somehow.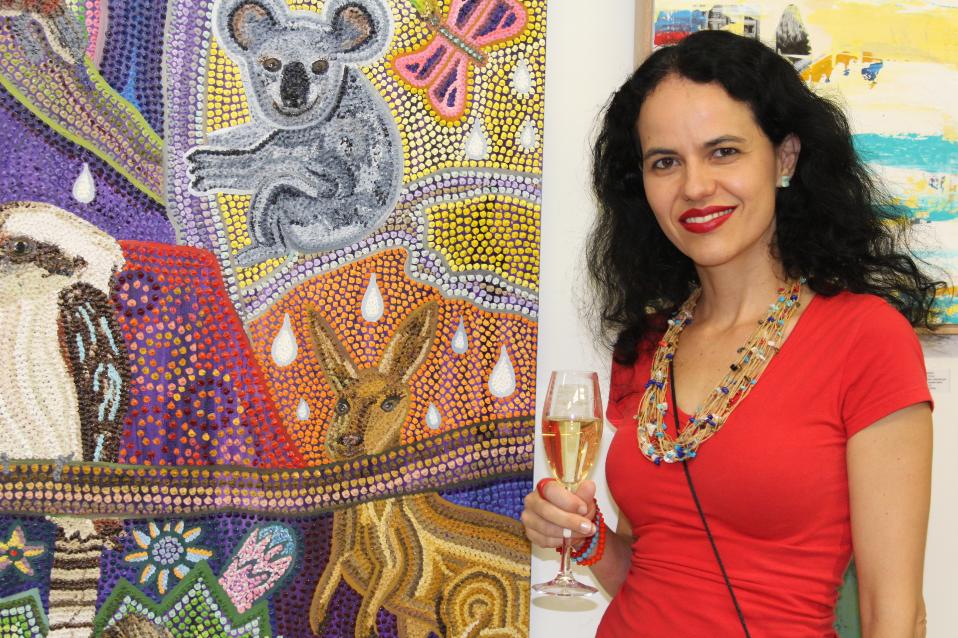 Lia Marx - Photos & Films
Website: www.liamarx.com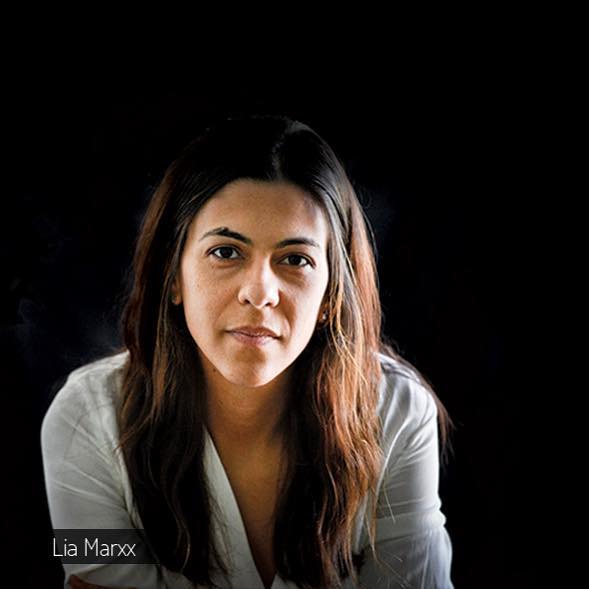 Capturing people's lifestyle stories is a practice I have worked in for over 22 years.
I inspire myself by the art of capturing the beauty of nature, where there is no posing, lighting effects, manipulation or any control over the natural environment.
I provide a fun and relaxed photo session.
I aim to get the camera to work with the light and scene so post-production becomes almost unnecessary and we can keep the authenticity of the natural moment, the real you.
My passion comes from keeping remarkable moments, from creating an everlasting memory. It can be by freezing a moment or via a film or even an underwater moment.
I call it films because they have something to say, a message to keep, not just a video without a purpose.
I hope the unique art we will create together will inspire our world and yourself.
My three children are my source of inspiration. I am a Mum of three beautiful souls.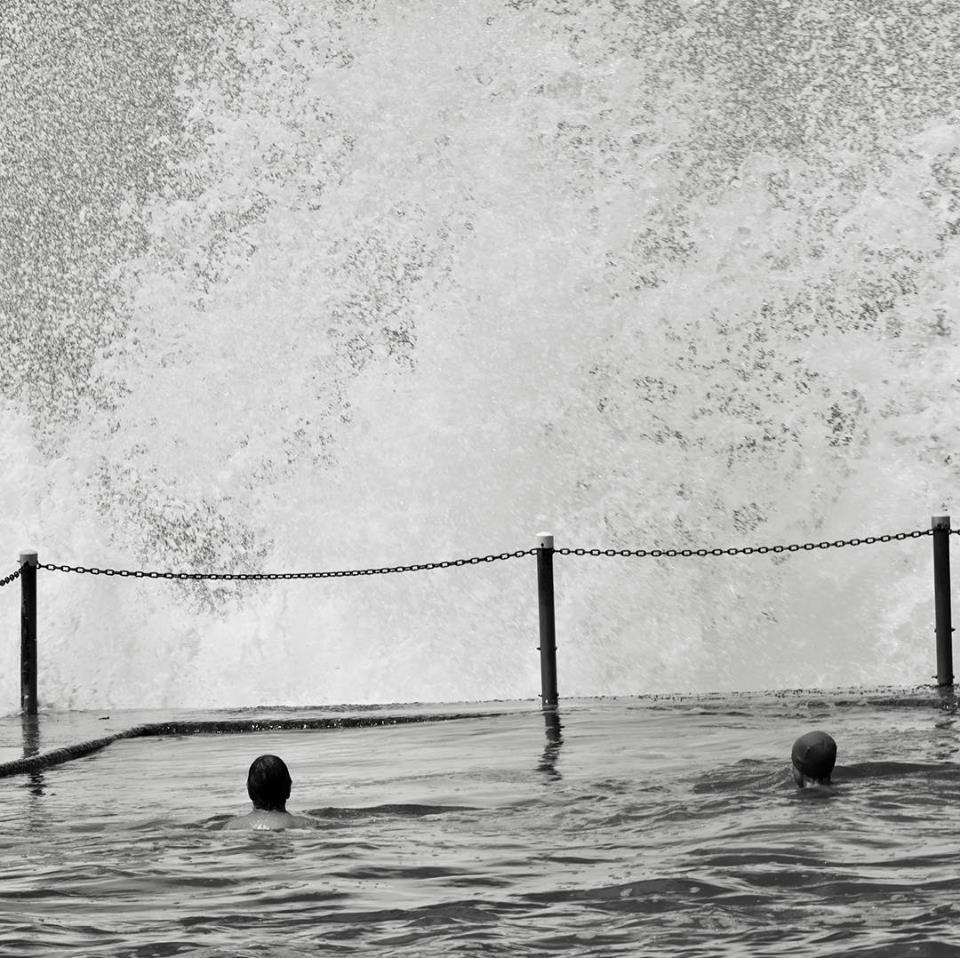 Avalon splash pool.

Marisa Pasicznik Ross
Website: http://www.marisapross.com/
I was born in Brazil.
I studied Graphic Arts and many years of practice in printmaking and exploring painting, drawing at Open Studio of Fundacao das Artes de Sao Caetano do Sul.
I moved to Australia in 2006 and recently obtained a Diploma in Visual Arts at The Sydney Gallery School, Meadowbank (2014).
After many years working in marketing, environmental communications and other customer related jobs, I am a student at Sydney College of the Arts.
I love the sea, beaches, under the sea and marine wildlife. I feel fascinated by the beautiful design and shapes of corals, fish and shells and its atmosphere that brings me a feeling that I associate with happiness.
My artworks are mainly inspired by the sea.
Experimenting with new media and techniques also absorbs my attention.
Works in
Photography

Painting

Printmaking with Woodcut

Printmaking with Silk Screen

Linocut Printmaking.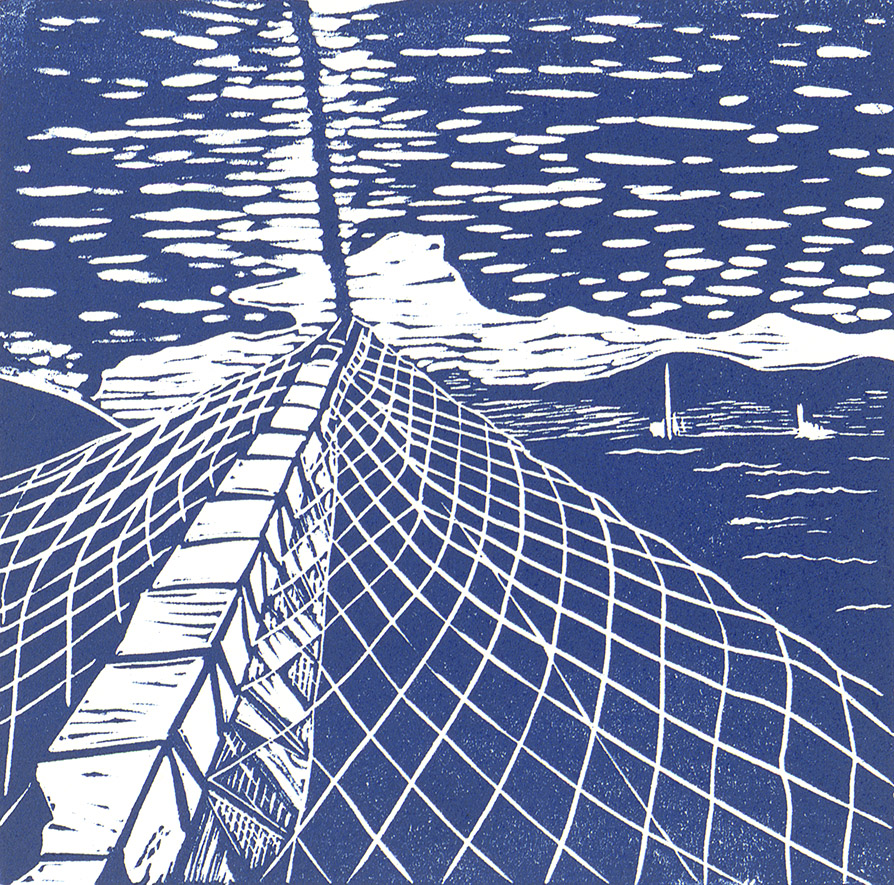 I took a picture in Ilha Grande, Rio de Janeiro's coast a long time ago…I transformed it in a linocut later

Murilo Manzini (a.k.a. Muzi)
Website: muzi.com.au
Muzi aka Murilo Manzini is a Brazilian born visual artist and illustrator based in Sydney, Australia.
Muzi has a background in design, passing through visual arts at Central TAFE in Perth and RMIT in Melbourne, and has always loved to spend his time drawing and painting.
As a young child, his favourite past time was to lay on the ground with a box of crayons and paper and allow his imagination to flow, constantly creating images to add to his very own personal gallery, set up in his bedroom. As he grew up and faced the obstacles thrown at him by life, he would continually find himself inspired by his healing process.
Muzi with the Lord Mayor of Sydney, Clover Moore - they stand on either side of one of his works
Muzi feels that life is full of fragile and vulnerable moments which should never be denied but embraced. He sees genuine beauty when those experiences are overcome and turned into awareness and strength. He is a spiritualist and intuitive to everything around him, and he loves to be surrounded by positive energy, nature, and clean spaces.
He is a firm believer that his true nature and state of mind, are an integral part of each piece of artwork he creates. He is attracted to elements such as flowers, crystals, vintage toys, and young male figures, and they are often referenced as main subjects in his current work. The end result of each art piece he creates is a wondrous medley of various techniques and applications, including watercolour, acrylic, digital composition, markers, and mixed media, which all move rhythmically together, and sometimes overlap each other, no matter the chosen surface.
On his website, Muzi shares his beliefs through his art, and also sells his original handmade, digital, and limited edition products.
All commission requests are considered.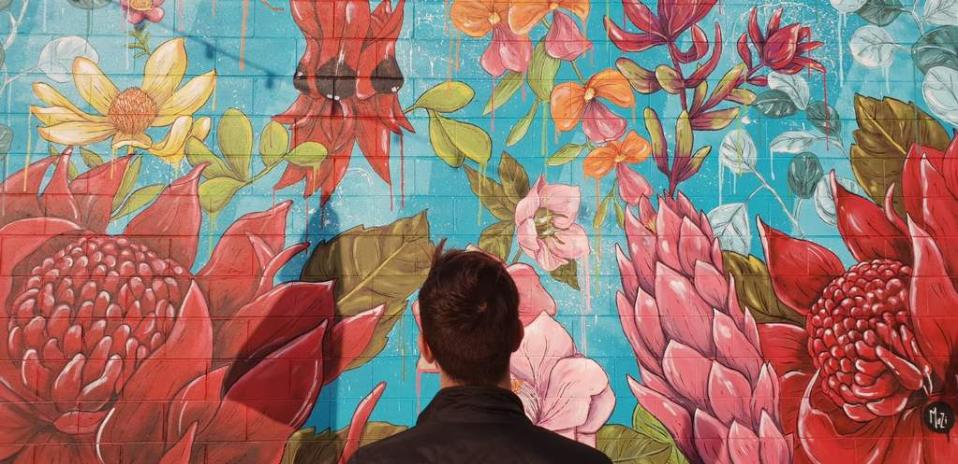 Muzi before one of his Murals - located in Broadway, Sydney