Artist of the Month November 2019
Jan Murray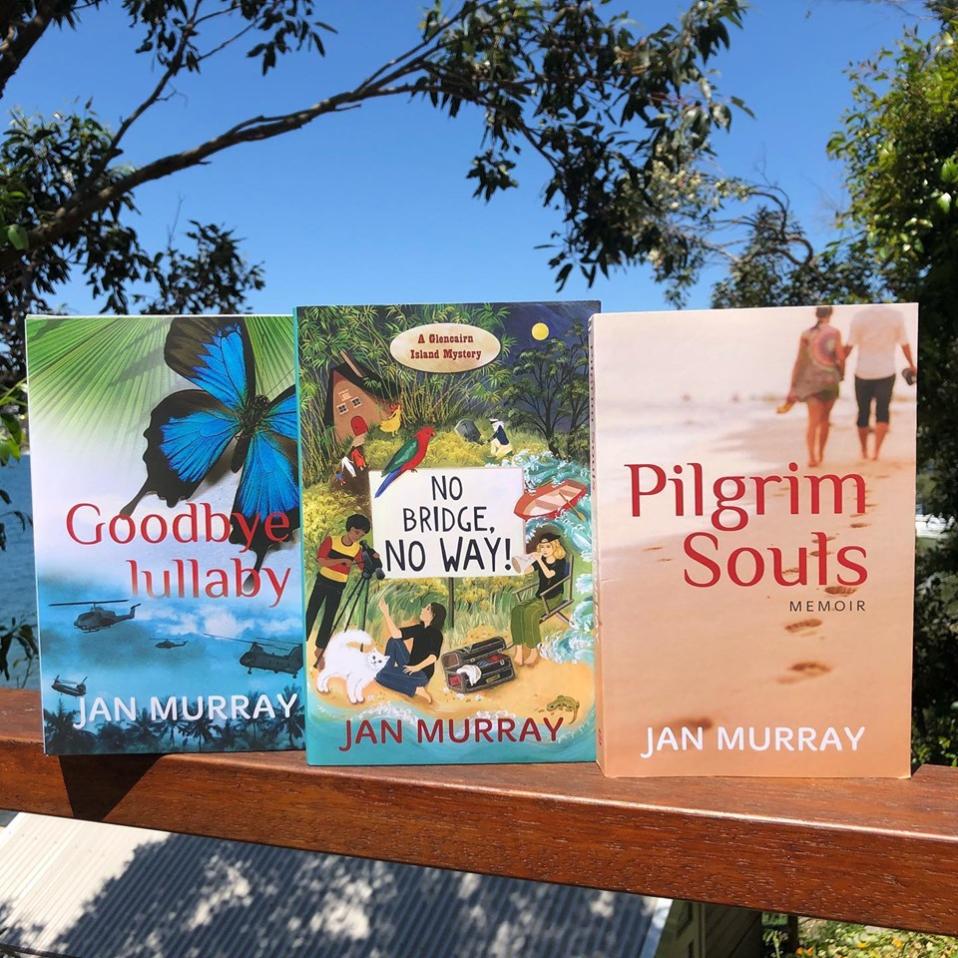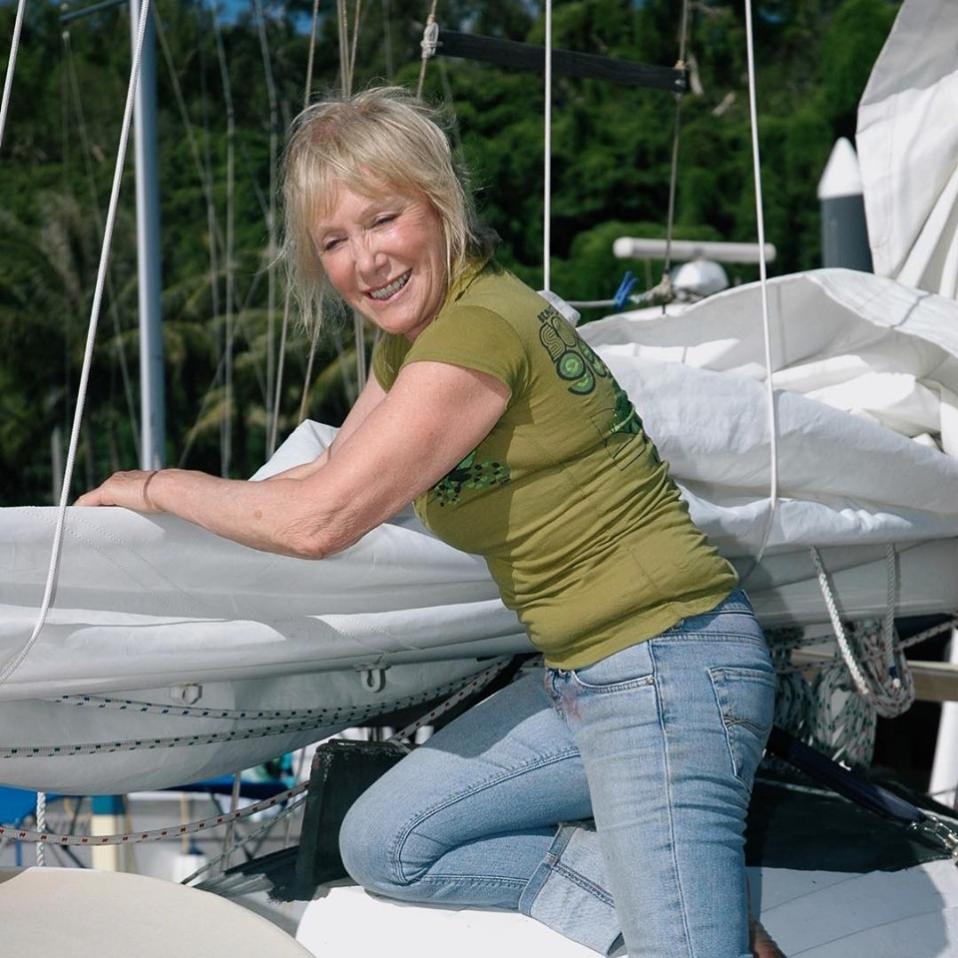 Jan Murray - 'crewing', July 2019
Jan Murray has lived long enough to have had several professional occupations but the one she is most proud to proclaim from on high is that of mother and grandmother, 'Nonna'.

Jan left school at fourteen, married young, producing five spectacular offspring before hearing the siren call of the feminist revolution, at which time she abandoned the kitchen (but not the children!) and headed for the lecture theatre, graduating with Honours in Political Science and English Literature. And every day she blesses Germaine Greer and Gough Whitlam for opening her eyes and showing her the way.

She worked as a speech writer and press officer for federal politicians before establishing her own PR consultancy, Jan Murray & Associates Pty. Ltd, which, in the Eighties handled a raft of high-profile briefs such as the NSW State Government's Disability Awareness Campaign, Sanctuary Cove gala opening and the 1988 Australian Bicentennial First Fleet Reenactment Voyage.
Amid the horror of the 1994 Sydney bushfires, Jan set up the Lord Mayor's Bushfire Appeal and, pro bono, raised a record $11.4million from corporate Australia.
She is listed in "The Australian Women's Register"; "The Media: A New Analysis, Windschuttle (1988)" and others.
With the arrival of the Hawke Government in 1983, Jan was expected to perform the traditional role of dutiful wife to a federal minister. Not easy! Jan was Modern Woman; a graduate, a business woman and a political activist and a busy parent. Stepping outside the stereotype earned her the media headline, 'The Spouse That Roared'.
In more recent times she made her mark as a panellist on the popular daytime show, Beauty & the Beast, where, for a decade, she went head-to-head with her fellow panellists and the moderator Stan Zemanek, to create lively and often, controversial television.
Before deciding to go in full-time as an author a few years ago, Jan earned her living as a freelance writer; writing everything from business papers, political campaign strategies, blogging for a start-up organic skincare range, and turning in regular columns for health and beauty magazines. Her 2010 memoir, "Sheer Madness; sex, lies and politics" (Harlequin MIRA), hit the SMH's Top Ten. Her 2012 novel, "Goodbye Lullaby" (Harlequin MIRA), was also a significant publishing success.
In recent times, Jan has found delight in writing for children, believing that having reared five and grandmother to fourteen, ranging in age from 27-yrs to 3-yrs, she has hands-on knowledge of what kids like to read.
Having said that, however, she makes the point that she often despairs when out and about, at just how few kids have their head in a book. It's eyes-on-the-screen and that bothers her. Every day, she blesses J.K. Rowling (whose real name, by the way, is Jo Murray!) for Harry Potter and the way in which that phenomenon encouraged kids to read.
Jan sets the first in her Glencairn Island Mystery Series, "NO Bridge, No Way!", on a fictitious version of Scotland Island and on fictitious characters populating the off-shore community. She believes the locals will have fun with this quirky adventure story.
Jan, a sailor, a dreamer, a happy Nonna to those fourteen grandchildren (7 boys, 7 girls), and a long-time local resident, lives a secluded life in her off-shore community; below a mountain and below the poverty line.
It's a glorious writing life!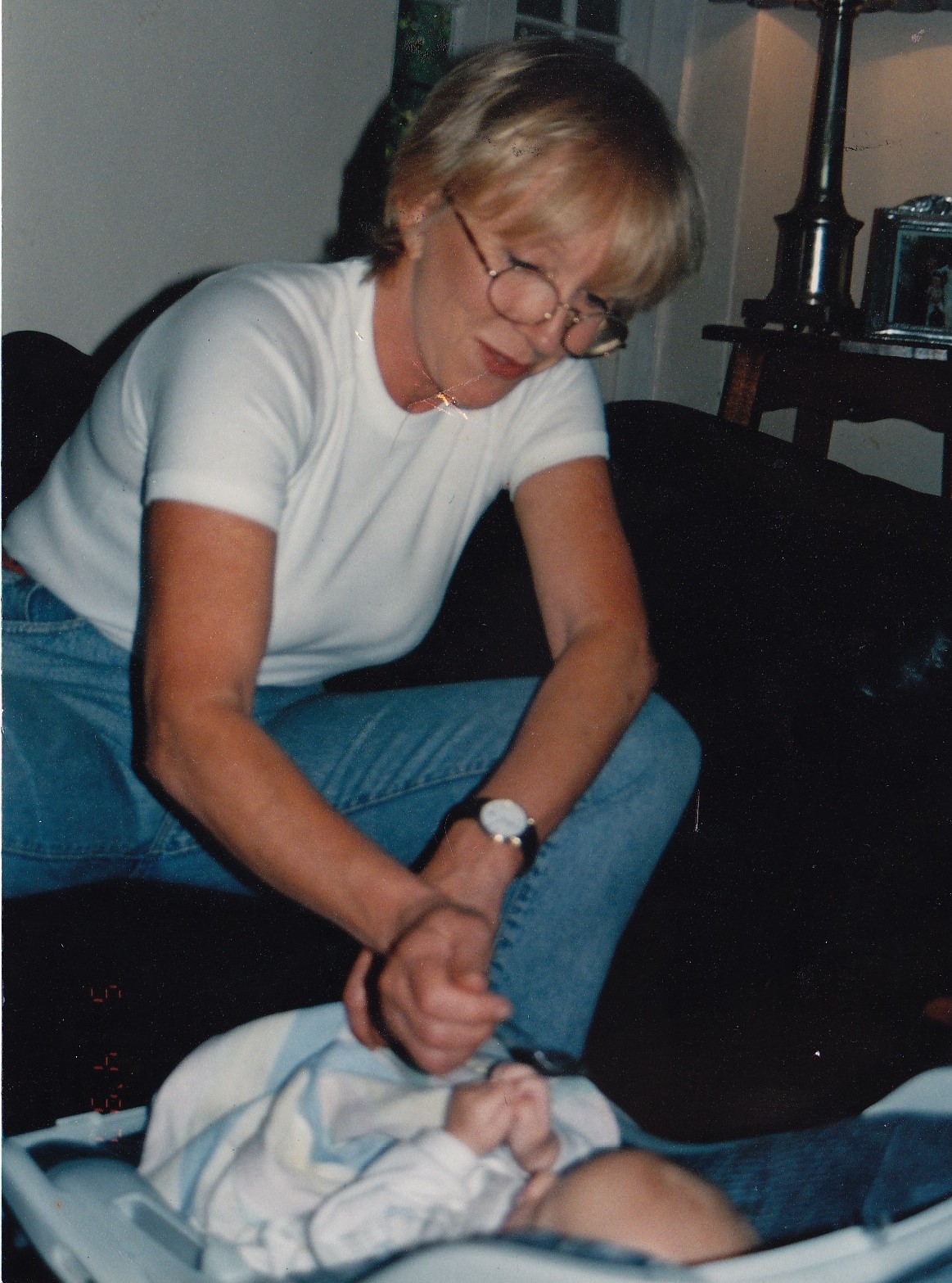 Jan 'Nonna' Murray
On October 30th Jan's three latest books were launched, including her pet book (!) "NO Bridge, NO Way!". It's the first of Jan's children's series, set on Scotland Island, her home for these past two decades. "NO Bridge, NO Way!" is for primary school readers, 8-11yr-olds.
The three books are available at bookstores and on Amazon, etc. and the first children's book at a reduced price for local kids at the Pasadena Pantry.
Jan is also donating copies to our public and school libraries.
I'm not in this to make money...I want kids to get their heads out of screens and READ BOOKS!
Jan also teaches creative writing, and has compiled a free download, 'The Writer Is You', on www.janmurray.com for the enthusiastic beginner who thinks/ knows they have a book in them just screaming to get out.
Details of her new books run below, including a small extract from NO Bridge, NO Way!
Visit: www.janmurray.com

Extract from the children's novel, "No Bridge, No Way!"
By Friday morning it is no longer just a rumour. The Island is buzzing with the news and a bunch of kids on Glencairn are ready for the fight. It was school morning, last day of term. The wharf was packed. The Curlew was about to pull in.
'Hey, you guys?' yelled Zoran as he flew down the jetty, leap-frogging three dogs and four schoolbags before skidding to a halt in front of the twins. 'Did you see the Star's front page?'
'It's hideous!' said Angel. 'It's actually going to happen! Can you believe grown-ups?'
'I can't believe anyone could be so dumb!' wailed Honey. 'Hey, here comes Zanth.'
Xanthe was out of breath by the time she reached the end of the jetty and lobbed her heavy schoolbag at her feet. 'Oh, boy!' She took a deep breath then studied the faces of her friends. 'So, I take it everyone's heard the news!'"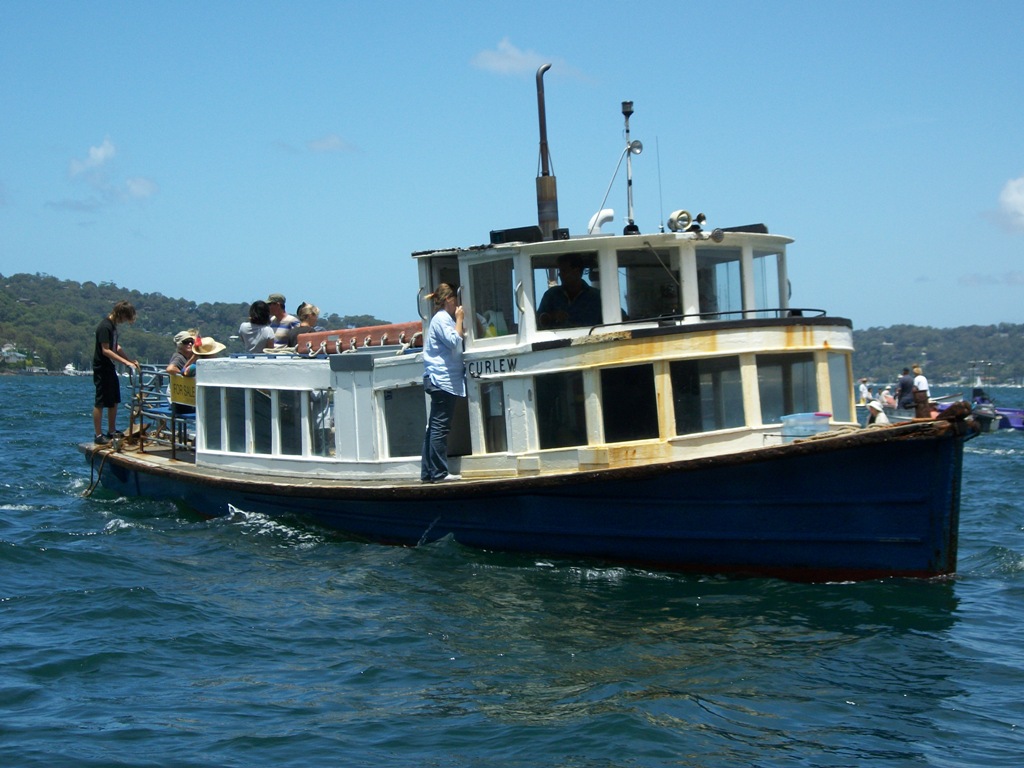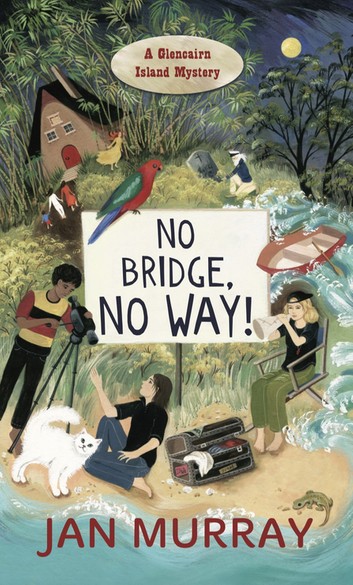 NO Bridge, NO Way!
An ugly rumour is doing the rounds on Glencairn Island. A big city developer intends to build a bridge across from the mainland.
No way!
The kids of the Fabulous Island Film Unit are up for the fight, and their weapon will be the video they make for Youtube to showcase the importance of leaving the island an island!
Unfortunately, they have no idea how hard Dwayne Slew, Sales Supremo of Ugject Developments,will fight them, even to using a little kidnapping!
Xanthe, a girl always running ahead of herself to prove she's worthwhile organises the resistance. But if Xanthe, Zoran, Jack and the Summers twins (Honey & Angel) are to use the scary old mansion around on the dark side of Glencairn as their chosen film set, they must first find out if it's really haunted.
The Fabs take a trip to the forbidden cliffs, where they meet the mysterious old sea captain Lars Lindquist, his cat Pi*Wackitt, and others like him who will join the fight to save Glencairn. Only problem is; these characters are from another century!
Pilgrim Souls
Memoir
by Jan Murray,
Published 2019
Life often turns on the flip of a coin. That's how it was for the author, who tells her story of a chance meeting at a roundabout in Byron Bay in 1997 that changed her life forever.
This is an absorbing and provocative memoir that asks us not to judge, but to think. Written with the same gusto that made Jan Murray a controversial but popular TV personality for many years, one who relished tackling serious social issues, and who wasn't shy about offering her opinions, her story will stay with the reader long after closing the last page.
Book clubs will relish this memoir – full of events and yarns that are often funny, often poignant, but always engaging, a story full of raw emotions and thought-provoking ideas. A page turner. We need to know where the roller coaster ride will end.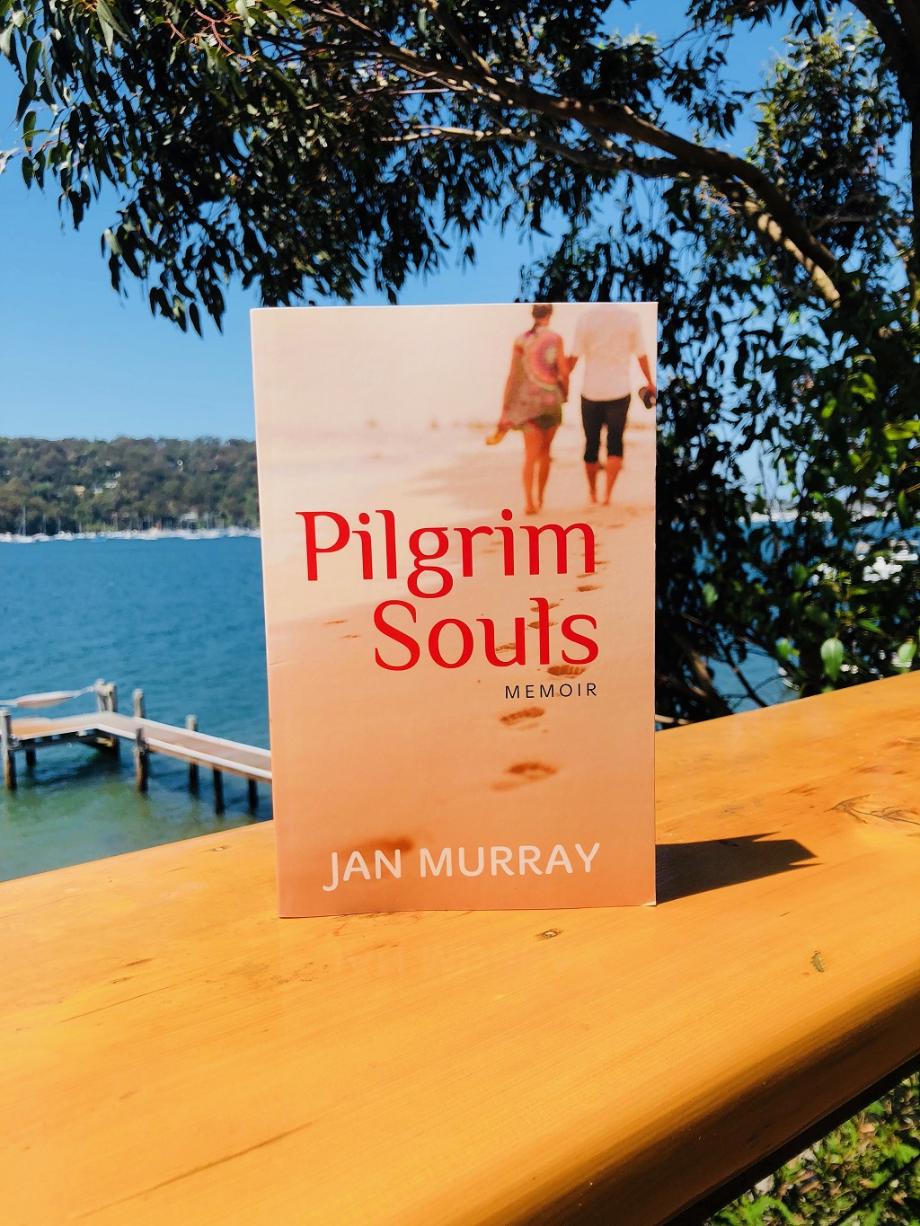 Goodbye Lullaby
Revised Edition of 2012 publication
By Jan Murray
Miki Patrick is a dangerous woman. As a vocal anti-war activist assisting draft dodgers, Miki is on the run from the Federal Police. It's 1971. The days of the infamous Vietnam Birthday Lottery. As the numbered marbles roll around in the barrel, Australia holds its breath. No one more so than Miki.
In 1951, the sixteen-year-old and her best friend, rebellious, potty-mouthed Jude Brenner, make a pact when they decide that together, they can rare Miki's 'illegitimate' baby son. Full of bravado, they hit the road, only to find they are ill-prepared for the hardships and hypocrisy of life in the Outback. On a night worse than others, their pact collapses in bitterness and recriminations, leaving Miki to make a heartbreaking decision.
It will take one particular marble being drawn from the barrel in 1971 to bring the two women together again, now in a desperate race against time to find their somewhere child.