Artist of the Month - March 2017
Jude Rose
Jude Rose
Jude is a dedicated and passionate painter and printmaker. She mainly works in oil on linen and canvas. Her recent works are based on the feeling she gets from dancing Argentine tango, the passion and femininity, the connection with the music, the partner and the floor.
She loves the tactile and dramatic quality of linocuts, and the vivid colours and textures of the Pacific, Asia, South America and Australia. Her main goal is to take the viewer on a visual journey of symbols and forms, a trip into another world.
Jude enjoys the never ending and constantly changing challenge of light and shade, the undulating surfaces in nature, and the play with forms. She presents a creative melange of symbols and layers that draw the viewer into another realm that mesmerizes intrigues and tantalises with lush form and colour.
She is influenced by the great masters, and some contemporary artists such as Frida Kahlo, and the writings of many contemporary authors such as Gabriel Garcia Marquez., being intrigued by the combination of fantasy and reality as is evident in their work.
Also a noted textile designer, she is responsible for many notable works such as the design for the commonwealth swimsuit design in 1982. She is currently working on a series of linocuts on fabric for furnishings.
Her colourful and sometimes whimsical prints are a celebration of life and show a deep affinity for the colour and light of the natural world around her.
Jude was teaching and painting in the beautiful Illawarra area, but has moved back to her other home base - Pittwater, and currently resides in Warriewood. Jude enjoys swimming, yoga, tennis, photography, salsa dancing, Argentine tango dancing, singing acapella and music.
Her prints and paintings are represented in art galleries and private collections throughout Australia, America and Europe.
Jude was born in Darwin, NT, Australia, and spent her early childhood in Australia and Malaysia. She then lived in Paris, France. After travelling extensively throughout the world studying various printing and painting techniques, she settled in the Illawarra area, where she teaches and paints full time.
Jude features as our
Profile of the Week
to open March's focus on Autumn brilliance in colours and one of our brilliant local creators.
Exhibitions:
1971-1980 Traveled extensively throughout South America, South Africa, Asia
and Europe studying printing and painting
Studied Art at Atelier Sornas, Paris
Studied at Beaux Arts, Paris
1980-1990 Freelance designer and illustrator for Speedo Swimwear and
Windsurfer
1990-1995 Completed many commissions including 8-metre mural for Whaley's
Cafe, Whale Beach NSW.
Civilization Graphics, Avalon
Anita Ellis Gallery, sell-out exhibition
Bow Wow, Palm Beach
Solo exhibition at Strokes Gallery, Paddington
Arthouse, Sydney
Mullumbimby Art Gallery
Cape Gallery, Byron Bay
L'Eglise Exhibition, Brittany, France
1995-1999 Avalon Art Gallery
Palm Beach Art Cafe
Newport Beach Artworks
Artstream, Newport
2000-2006 Wynne prize for landscape,
Salon des refuses, 2000
Mosman Art Prize 2000, 2002, 2003, 2004, 2005.
Teaching gifted children part-time in her studio.
Teaching ceramics to adults once a week.
Preparing a body of work for exhibition at the end of 2006
Developing a range of textile designs based on new series of linocuts.
Front page of SMH with photo of Archibald entry of Richard Clapton
2007-2009 Working on preparation for works on paper exhibition.
Inks on hand made paper and linocuts.
2009-2010 Affordable Art Show, Nov 2010, Sydney.
Producing body of works influenced by Argentine tango.
2011-present day, working on a nature series of drawings depicting rare and endangered species of plants and animals.
2014 - Postcodes From The Edge, Wollongong Art Gallery - 2nd Prize
2017 Two Exhibitions at Rust in Avalon Beach 'Lush' and "Alchemy' - working on metaphorical linocuts (Inlets, islands and more), Still Life oils, Continuing a series of ink drawings titled 'On The Brink'.
Teacher:
Taught Linocut printing at Barrenjoey High School
Taught drawing at Avalon Primary School
Taught adults with special needs privately
Taught children with special needs at Mona Vale Primary School
Completed book plates for the library of Dr. Mark Ferson
Worked on the backdrops for the Rock Estedford for Barrenjoey High School three years running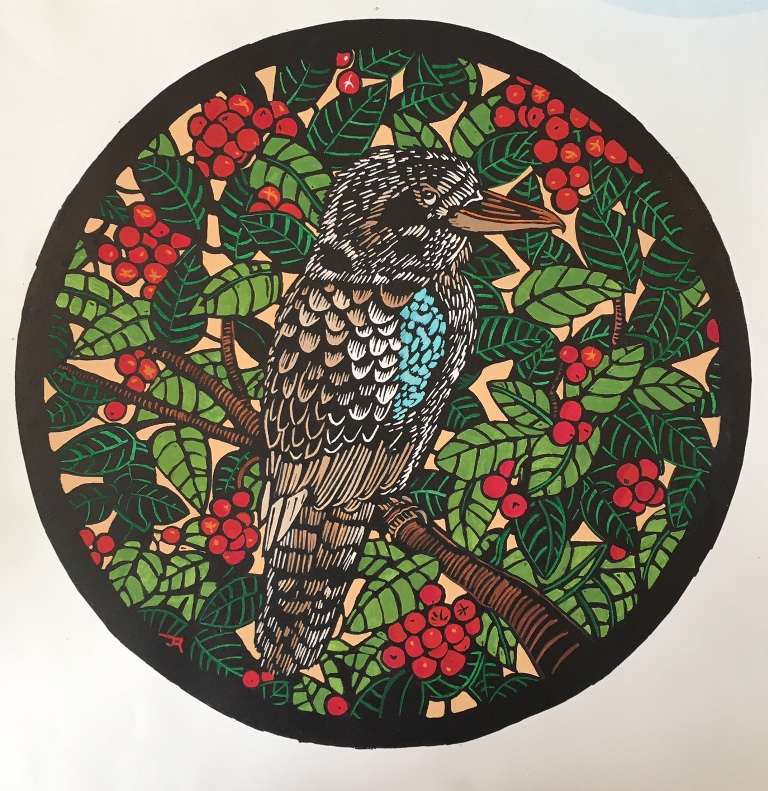 Kookaburra in the Lilly Pilly
Linocut
35cm diameter -
$420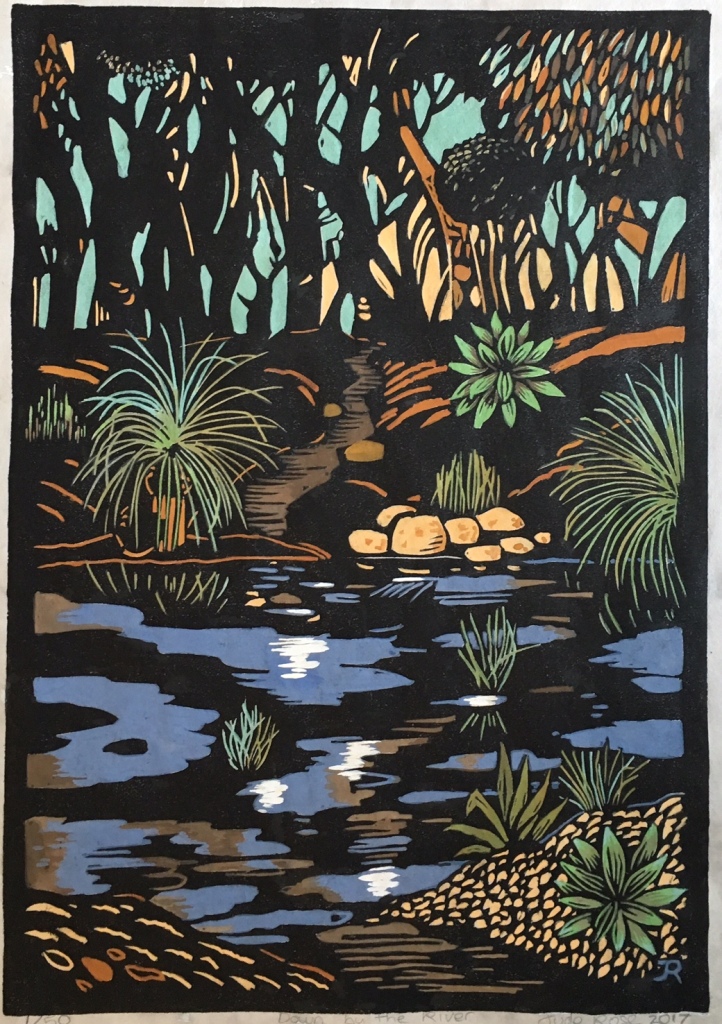 Down by the River
Linocut 38x27cm - $420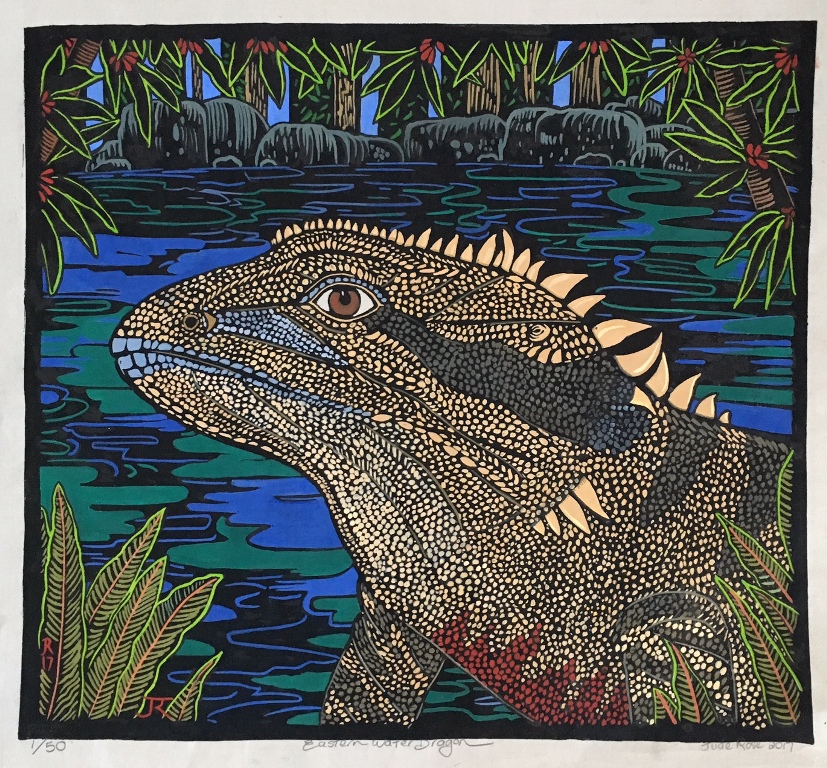 Eastern Water Dragon
Linocut 41x37cm - $450 Unframed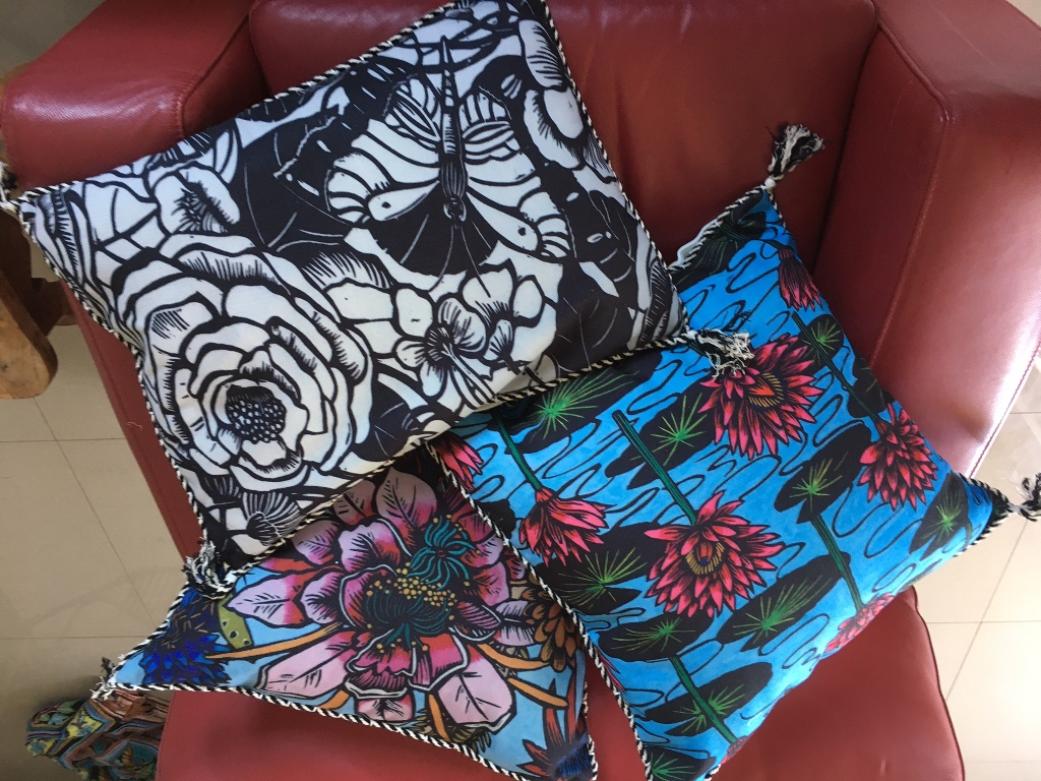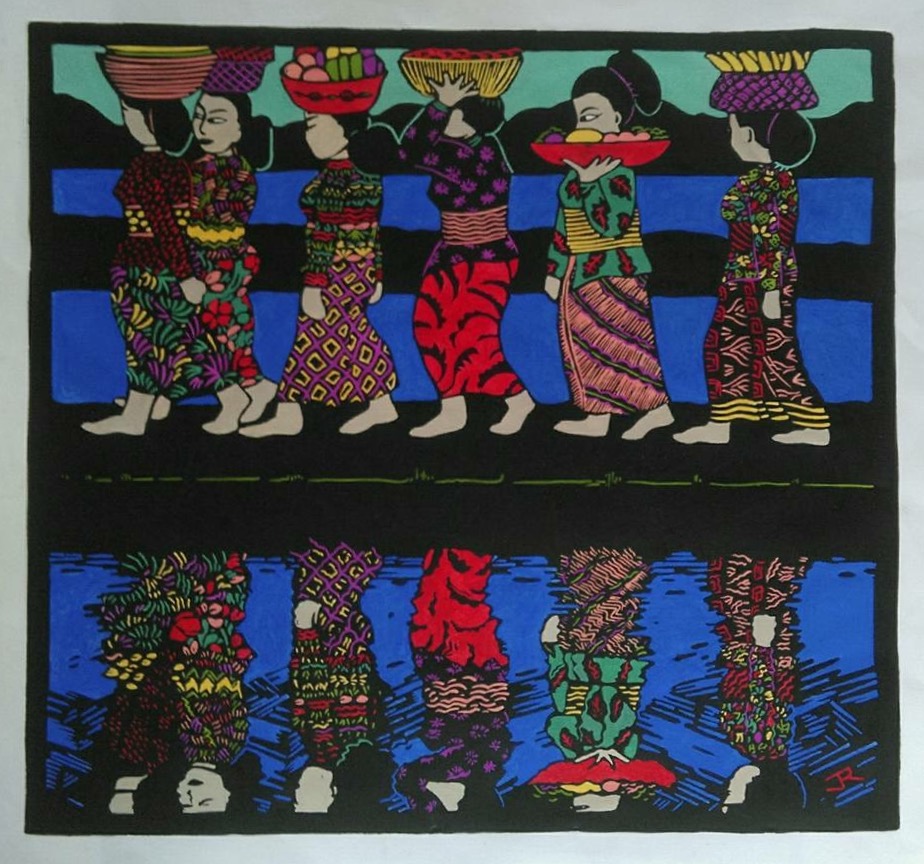 The Procession
Linocut: All linocuts are hand made 48x44cm - $500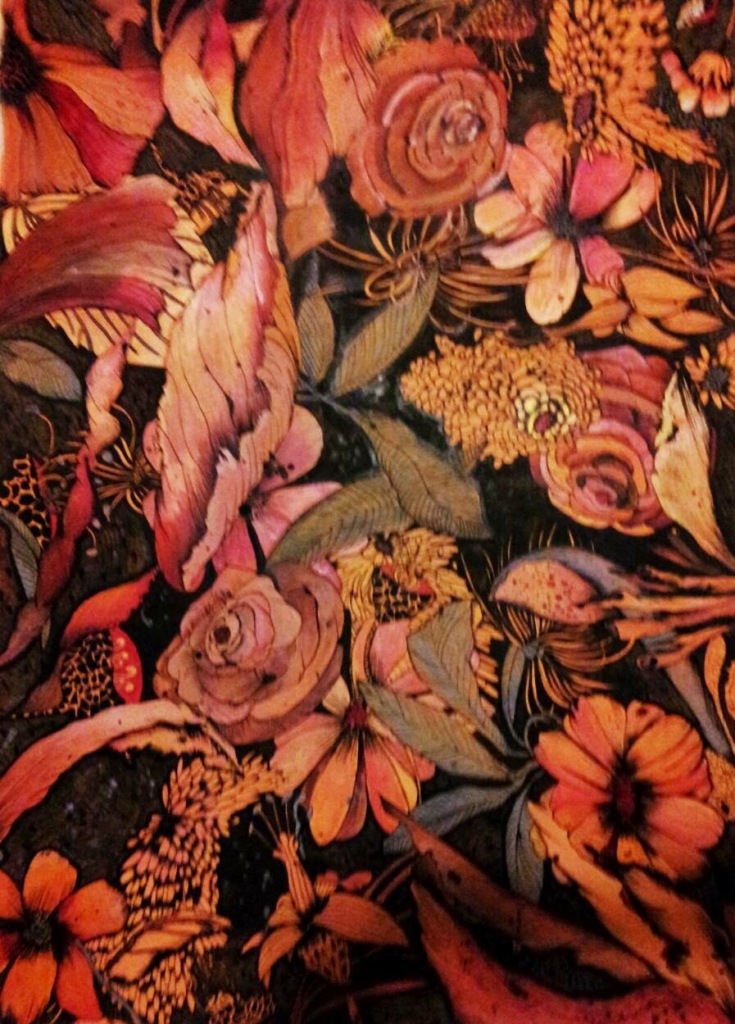 The Webs We Weave
Ink on hand made paper -
70x80cm -
$690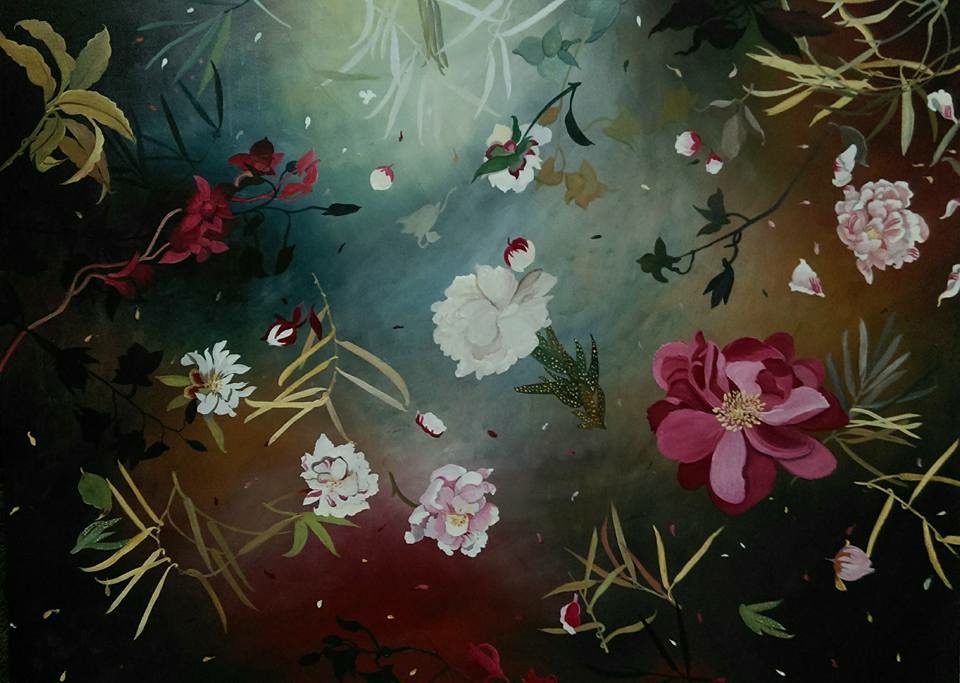 In the Heart of Stillness
Oil on linen - 125x92cm - $1890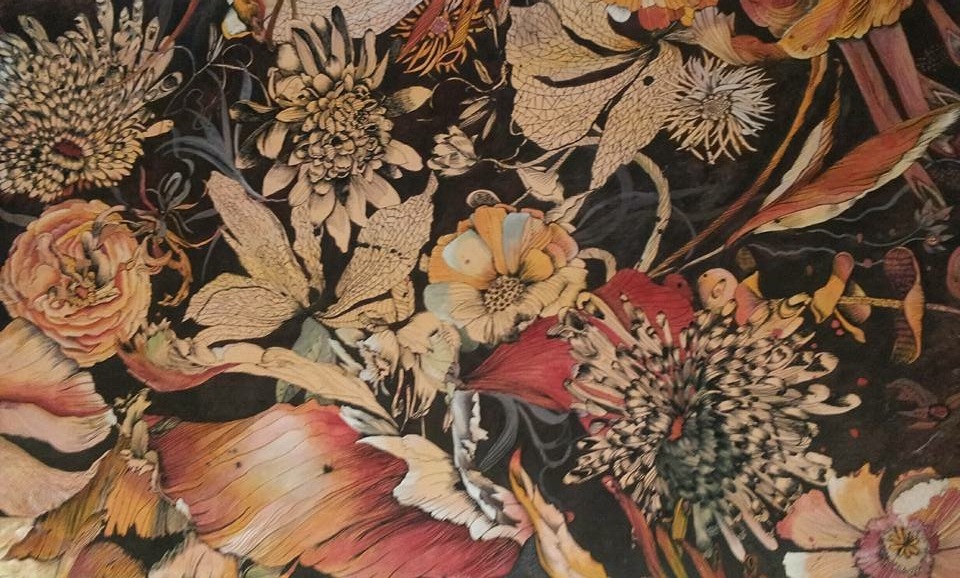 On The Brink
Ink drawing - 120x90cm - $890
Copyright Jude Rose, 2017.