November 24 - 30, 2013: Issue 138
HARKEN International Youth Match Racing Championship Celebrates 21 Years - Hosted by RPAYC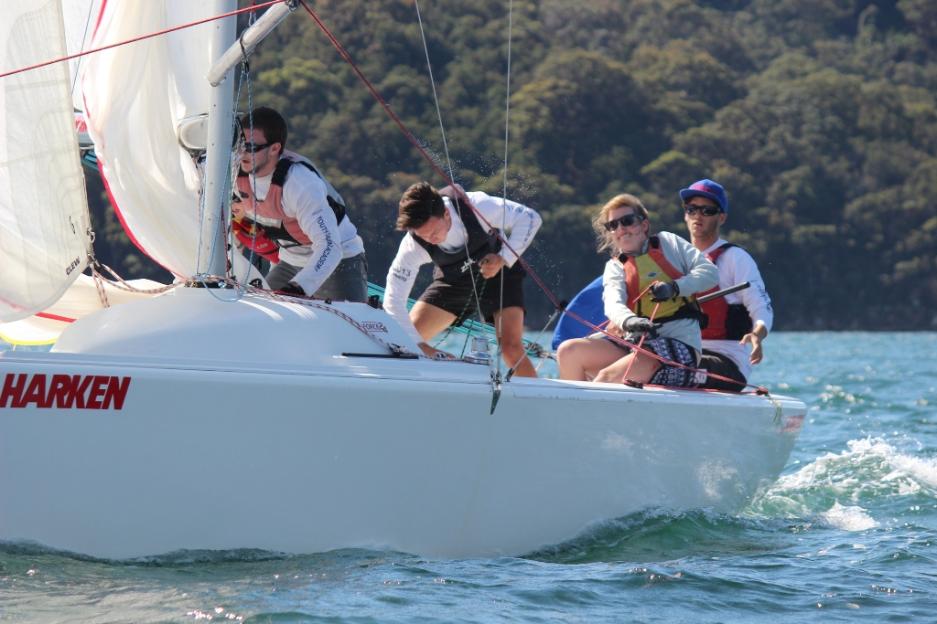 Oliver Hartas (CYCA) and crew working hard in the final flight - Day Three of Harken International Youth Match Racing 2013. Picture/caption by Damian Devine, 2013
The HARKEN International Youth Match Racing Championship, hosted by the Royal Prince Alfred Yacht Club is celebrating its 21st year. Racing began Wednesday November 20th on Pittwater and continues today, Sunday 24th of November.
"The HARKEN" as it is known in youth sailing circles worldwide, stands out as one of the premier events for youth on the international match racing calendar and has during its 21 year history served as a launch pad for a number of local yachting stars including dual winning skippers James Spithill, Michael Dunstan and Seve Jarvin.
Full reports on the first three days by Damian Devine, RPAYC Marketing & Publicity Manager HERE and to Celebrate this 21st year, this week's Pictorial by the same gentleman showcasing some great pictures from the first three days HERE.
Pittwater's Marita Macrae Wins Lifetime Achievement Award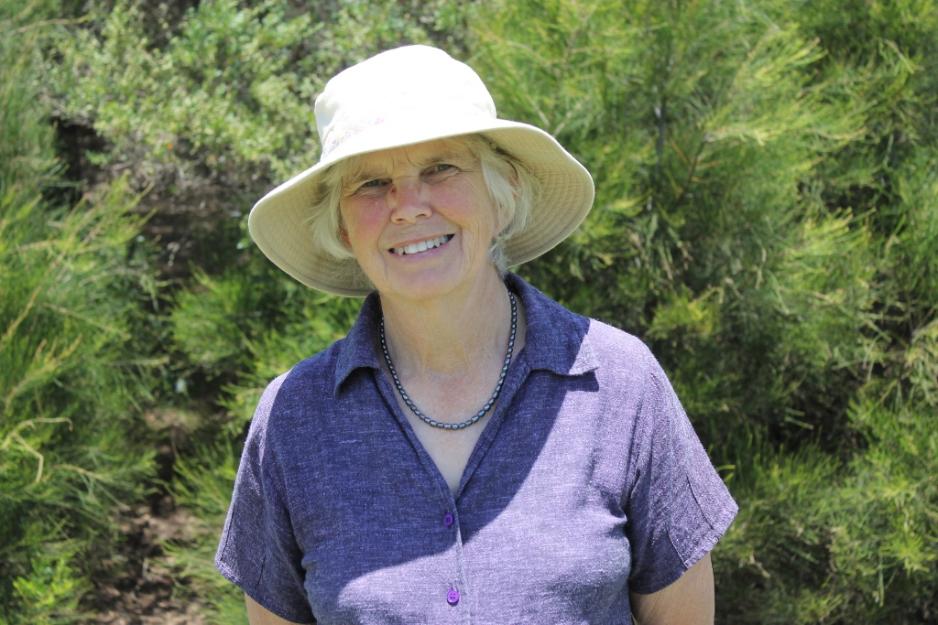 Pittwater's 'ECO WARRIOR' Wins State Award
Pittwater resident and longstanding environmental volunteer Marita Macrae OAM received the Ruth Readford Award for Lifetime Achievement at the 2013 NSW Coastal Management Awards held in Port Macquarie on the 14th of November.
The award honours an individual who has dedicated significant energy, time and commitment to the improvement and management of the NSW coast.
Pittwater Council Mayor Jacqueline Townsend said she was delighted that Marita had been honoured with the prestigious award.
"I have had the privilege of witnessing first-hand the amazing benefits to our community and to our environment that stem from Marita's tireless efforts as an activist, educator and selfless volunteer," said Mayor Townsend. "She has been involved in a multitude of community and environmental causes in Pittwater's bushland and along the coast," the Mayor said.
"Marita has established and participated in community volunteer groups too numerous to mention; restoring and rehabilitating degraded coastal habitats including estuarine and freshwater wetlands, littoral rainforests, coastal dunes and headland heaths."
"The much-lauded Friends of Avalon Dunecare Group was established by Marita in 1990, continuing to this day in its efforts to control invasive weeds and stabilise and revegetate remnant dunes at Avalon Beach."
Mayor Townsend said that community bushcare groups including Bangalley Headland and Mona Vale Dunes continued to benefit from Marita's depth of knowledge and experience as a qualified bush regenerator.
In 1994 Marita co-founded the Pittwater Natural Heritage Association in order to raise public awareness of the value of the natural resources of the Pittwater area. Marita is also a Director of the not-for-profit Pittwater Environmental Foundation.
"Over a period that spans close to 25 years, Marita has inspired and encouraged others to become involved in caring for our natural heritage."
"I am also pleased that Pittwater Council, along with other government agencies have been able to provide support to Marita and these community organisations to successfully complete dozens of environmental restoration projects," added Mayor Townsend.
_____________________________________________
Interview by Pittwater Online News HERE
Pittwater's Coastal Ambassador's Program Wins NSW Award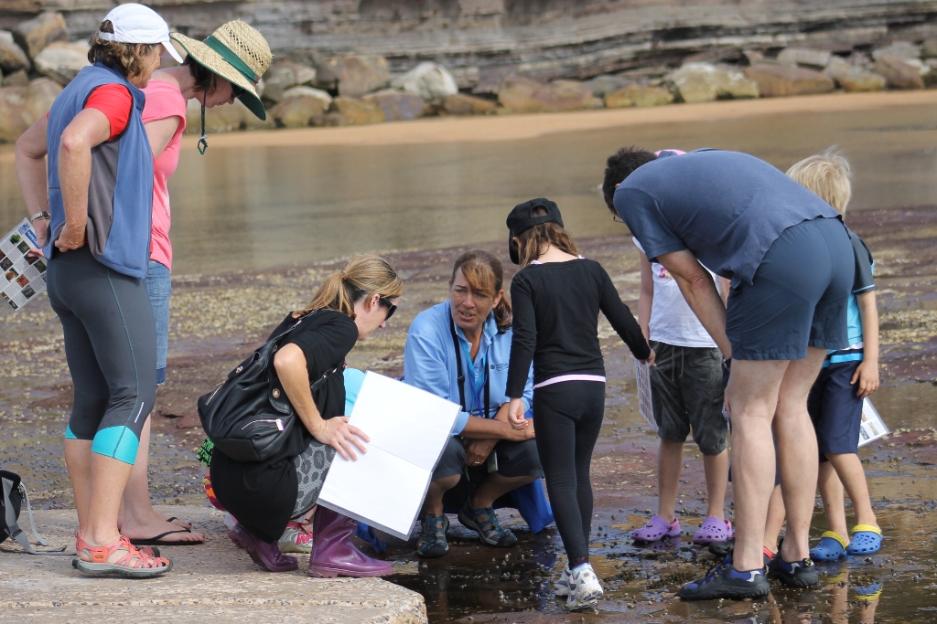 Sally Powell of the CEC (Coastal Environment Centre) at Narrabeen teaching children about our Coastal Platforms in February of this year. Picture by A J Guesdon, 2013.
Pittwater Council's Coastal Ambassadors program has picked up an award at the 2013 NSW Coastal Management Awards. This great program which last year went state wide has this year focused on surf life saving clubs.
Full story HERE