August 12 - 18, 2012: Issue 71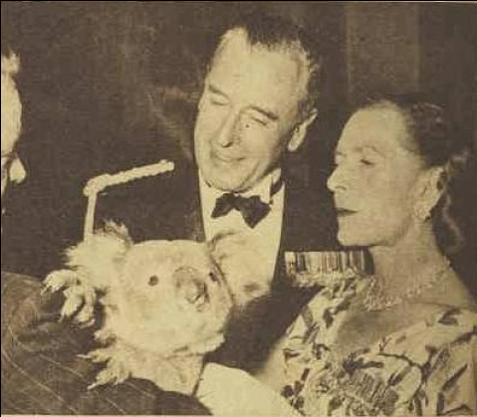 GEORGE, the four-year-old koala, was the guest of honor at a naval reception given by Rear-Admiral Buchanan. Sir Edward Hallstrom sent the bear after hearing Lady Mountbatten had never seen one. SEA LORD'S VISIT. (1956, April 18). The Australian Women's Weekly (1933 - 1982), p. 24. Retrieved from http://nla.gov.au/nla.news-article51776056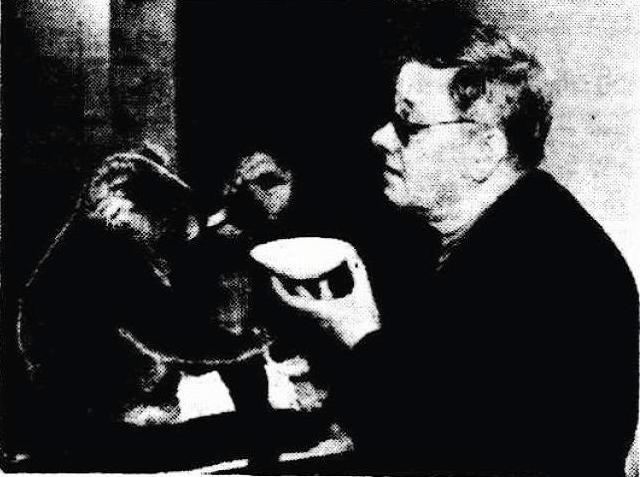 INJURED KOALA AS PATIENT); Koala being fed on milk by Mr J. Hallstrom, of Willoughby (NSW), who is nursing it back to health despite two broken hind legs and a broken forefoot. The bear is tied to a rubber cushion, has its injured limbs in plaster, and supports itself by the upright post. INJURED KOALA AS PATIENT. (1943, December 1). The Mercury (Hobart, Tas. : 1860 - 1954), p. 6. Retrieved from http://nla.gov.au/nla.news-article25981748
Australian newsreel item, title reads: "Rare Albinos". 1940 or 1949? Watch full video (Pathe does not allow publication) at: www.britishpathe.com/video/albinos-bears-and-kangaroo-aka-koala-kangaroo/query/koalas
Two albino koala bears in E J Hallstrom's Mona Vale sanctuary, feeding in a tree. (2 shots). CU Koala eating a leaf. (2 shots). MS White koala bear walking along ground. MS and CU Six-month old albino Kangaroo named "Girlie", being by E J Hallstrom.
Koala Bears Threatened By Extinction 1962 - Video
A valley in the Australian bush land, E J Hallstrom's Mona Vale sanctuary. Date found in the old record - 16/02/1962. Koala bear. Various shots of the koala bears walking climbing trees and playing in them MS. Two kangaroos standing by trees. Sir Edward Hallstrom with two companions strolling through his sanctuary where he tries to preserve breeds of animals that like the Koala are near extinction. Koala mother with baby on back climbs tree. Sir Edward Hallstrom looking up into tree. Various shots of koala bears. Watch full video (Pathe does not allow publication) at: www.britishpathe.com/video/koala-bears-threatened-by-extinction/query/koala+bears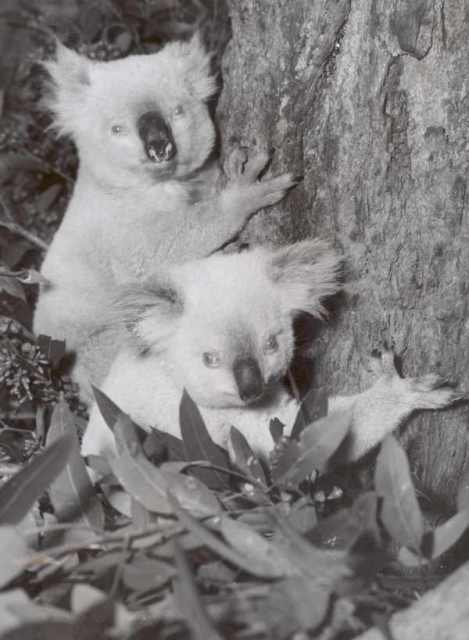 Two white koala bears [i.e. koalas] which Sir Edward Hallstrom has bred. [picture]. Sir Edward, of the Taronga Zoo Trust had taken almost six years to develop the pure white strain of koala. [ca. 1935] Argus Newspaper Collection of Photographs, State Library of Victoria. Date on reverse of photograph. This work is out of copyright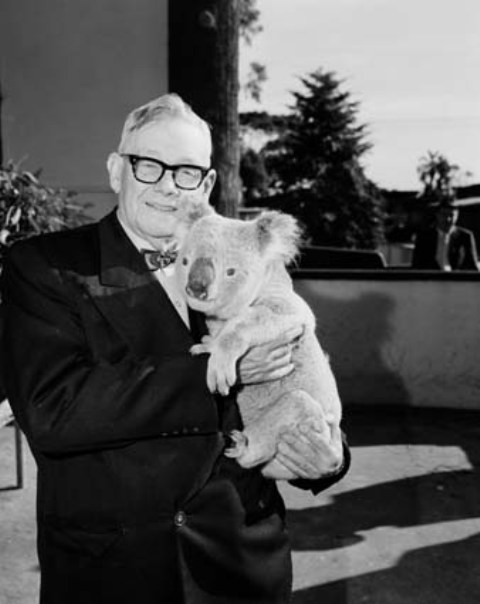 Sir Edward Hallstrom, with a Koala at Taronga Park Zoo 1964. Sir Edward grows the special variety of eucalypt leaves needed for koalas diet PRINCIPAL CREDIT: photographer J Fitzpatrick. From and Courtesy of Australian National Archives Image no. : A1200, L47870.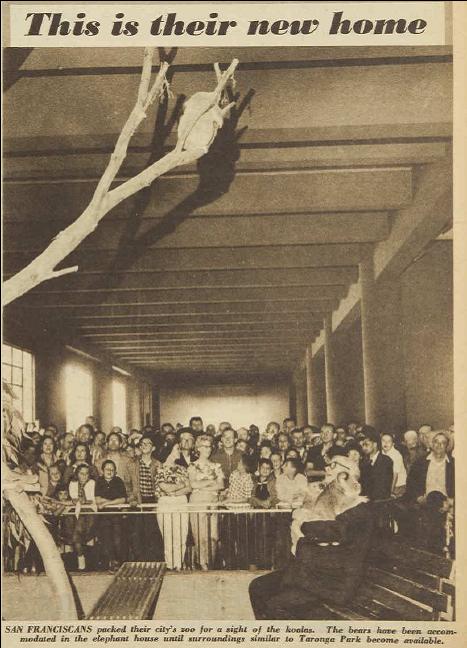 Incidentally:
Kuring-gai Reserve For Koalas
The Chief Secretary, Mr. Clive Evatt, announced last night that the Government had granted £7,500 to establish a koala reserve in Kuring-gai Chase. Mr. Evatt said the president of the Kuring-gai Chase Trust, Mr. Colin Burnside, other members of the trust, and the Fauna Protection Panel had chosen a suitable site.
It was between Bobbin Head and Mount Colah, and covered about 100 acres. The site had every advantage needed to make an ideal home for koalas and other native animals. HELP OFFERED Mr. E. .J. Hallstrom, well known philanthropist and deputy chairman of the Fauna Protection Panel (established 1948), had offered to help the trust in any way possible. Mr. Evatt commended the trust on its public spirit in establishing the reserve. He said he hoped other trusts and authorities would follow its good example. Kuring-gai Reserve For Koalas. (1950, July 22). The Sydney Morning Herald (NSW : 1842 - 1954), p. 3. Retrieved from http://nla.gov.au/nla.news-article27573919
New Boat For Rescue Men
Sydney philanthropist Sir Edward Hallstrom will buy a new surfboat for North Narrabeen lifesavers to replace the one they lost on Friday night in a rough weather rescue. Sir Edward said last night that the lifesavers showed great courage in rowing four miles at night through mountainous seas. He told a "Sunday Herald" reporter: "Tell the surf club to get in touch with me. I'll get them a new boat."
The president of the North Narrabeen Surf Club, Mr. J.King, said: "We'll get in touch with him immediately."
Towed Five Miles Out To Sea
The surfboat-which cost' £400 two years ago-was lost when six lifesavers went to rescue Mr. and Mrs. Rupert Kathner from their 27ftauxiliary yacht Alcyone 11, in danger of being smashed on rocks near Mona Vale. The yacht, with its rudder smashed, was only 30 yards from the rocks when the surf-boat reached it.
One of the lifesavers, KenHodges, dived from the surf-boat and swam with lines to the yacht, which was towed five miles out to sea.
Twice the line snapped and. both boats were in peril when the police launch Nemesis took the Kathners and the lifesavers on board.
The surfboat, leaking badly, sank. Other lifesavers who took part in the rescue were Jim Mason, Norman Ambrose, Ron Well, Les Brown, and R. Noonan.
They were at a dance at North Narrabeen Surf Club when Sergeant Adams, of Narrabeen police, sought their help. Mrs. Kathner, of Rose Bay said last night: "All concerned in the rescue did a colossal job.
Could See Rocks Looming Up: "We could see the rocks looming up when Ken Hodges dived from the surfboat and passed us a line. It was a nightmare when the line broke. "I don't know how the surf-boat battled through the seas. It was the most courageous feat of endurance I have ever seen. "Time and time again I thought it would sink before other help arrived."
Towed by the Nemesis, the yacht reached its mooring at Rose Bay shortly after 4 a.m. yesterday. The rescue operations had lasted for more than seven hours.
TAILPIECE.-A new surf-boat will cost about £450. New Boat For Rescue Men. (1952, December 28). The Sunday Herald (Sydney, NSW : 1949 - 1953), p. 3. Retrieved from http://nla.gov.au/nla.news-article18504886
GOVERNMENT NOTICES - REAL PROPERTY ACT NOTICE
Applications have been made to bring the undermentioned lands under the Real Property Act. Plans may be inspected and caveats lodged at the Land Titles Office. Sydney, until the respective dates mentioned
5th MARCH 1954
No 38027 Edward John Lees Hallstrom 5 a 2'/_ p lot 54 sec1 Mona Vale Est Darley St, Mona Vale.
Advertising. (1954, January 29). The Sydney Morning Herald(NSW : 1842 - 1954), p. 18. Retrieved from http://nla.gov.au/nla.news-article18407097
No 38028 Edward John Lees Hallstrom 3 a 1 r 25'A p lot,56 sec 1 Mona Vale Est Bassett St. Mona Vale
No 38029 Edward John Lees Hallstrom 2 a lr 393i p pt lot57 sec 1 Mona Vale Est DarleySt, Mona Vale
Advertising. (1953, August 14). The Sydney Morning Herald(NSW : 1842 - 1954), p. 12. Retrieved from http://nla.gov.au/nla.news-article18379617
Bayview Koala Sanctuary
At Mona Vale a farm of 40 acres known as the 'Zoo Farm' produced feed for the creatures of Taronga Zoo. The farm was managed by Charlie Bishop with other workers including Stan Wenman and Brian Godwin. The land was purchased in 1947 by Sir Edward Hallstrom (1886-1970) solely for this purpose. A member of the Taronga Zoo Park Trust from 1941 to 1959, its president from 1948 to 1959 and honorary director until 1967, an animal lover from an early age, Mr Hallstrom thought the farm would ensure the animals in his keeping would have the fresh food they required.
Overlooking Bayview Golf Course, with Annam Road and Beaumont Crescent as its perimeters, E J Hallstrom had a private zoo that came to be known as a Koala Sanctuary. On these acres Mr Hallstrom nursed koalas back to health and reintroduced them to their natural habitats. Mr Hallstrom also had one of the most extensive collections of birds, particularly parrots, and here too albino kangaroos from Tasmania and two sets of twin white wallabies were given a home. This was not his first venture in Pittwater. Edward Hallstrom was among those involved in helping George Taylor get airborne from North Narrabeen's sand dunes in 1909.
It is for his many philanthropic works and large monetary donations to medical facilities that this gent is now known. He sought publicity for the plight of koalas and other animals incessantly. In the koala, adorable to look at even if a testy at times, he found a large crowd of instant and curious admirers. Most of those he cared for were given names, like pets. Stories regarding his Koala Sanctuary and those whom he introduced to the bear ran from the 1930's until 1960.
Perhaps, the writers of the letters do not know that both in my private capacity, and at Taronga Park, I am continually having birds and animals sent to me or placed under my care because of their ill-health or injury. These birds and animals are restored to health, returned to their owners, or returned to their natural habitats. From injured koala bears sent to me, I have built up a sanctuary where these injured creatures are now breeding, and are under the jurisdiction of the Fauna Board. E.J.L. HALLSTROM (F.R.Z.S.). Mosman. Letters. (1950, September 5). The Sydney Morning Herald(NSW : 1842 - 1954), p. 2. Retrieved from http://nla.gov.au/nla.news-article18176586
Mr. Hallstrom has two zoos of his own-one of 40 acres and another of three acres. He breeds koalas, and he owns what is acknowledged to be the finest private collection of parrots in the world. His favourite bird? The black cockatoo. A star patient a few years ago was a koala with two broken legs. It was to have been destroyed, but Mr. Hallstrom had it brought in for special treatment. Plaster splints were made, and the koala was nursed back to health. Today it nibbles happily at the gum tips in one of Mr. Hallstrom's private zoos. Doesn't know how much. (1951, October 22). Barrier Miner(Broken Hill, NSW : 1888 - 1954), p. 4. Retrieved from http://nla.gov.au/nla.news-article48658529
More Than 50 Injured Koalas Saved At Coastal Sanctuary By A STAFF CORRESPONDENT: A CAR sped along the Pacific Highway towards Sydney late one summer night. There was a bump against the front mudguard, so slight that it was hardly noticed by the driver. Anyone watching closely, however, would have noticed a grey ball of fluff, lit up for a moment by the headlights, bounce on to the side of the road. After a time they would have seen it crawl away into the bush. That injured animal was a koala. A number of koalas, which sleep during the day and move around at night, have been hit by cars. Some have been killed.
The more fortunate of the injured ones find their way to the private sanctuary run by Mr. E. J. Hallstrom, industrialist and naturalist, at Mona Vale. Mr. Hallstrom is president of the Taronga Park Trust. There they are joined by others of their kind, who have got into fights among themselves, been caught in traps, fallen from trees, been burned in bush fires, and suffered a variety of injuries. During the past five years 50 to 60 koalas have been treated there, mainly for fractures and burns. Over 80 per cent, have regained normal health.
Mr. Hallstrom deals with cases of simple fracture himself. He calls in a vet. for compound fractures and other difficult cases. It was found that koalas strongly objected to being treated lying down. So a special apparatus was devised to enable them to recover in their natural sitting-up position. It consists of an upright wooden post, mounted on a rubber cushion. The bear sits with its legs straddled each side of the post, and clings to the wood with its claws. After its broken limbs have been set, they are strapped into a suitable position around the post.
How They Are Fed: If the animal is capable of feeding itself, a box of leaves and a canister of water are left within easy reach. Otherwise it is fed with milk from a spoon. A young koala which was picked up in a gutter at Vaucluse had two fractured limbs and a broken pelvis. The injured parts of its body were set in plaster, and it was carefully nursed for nearly three months. It is now well and the mother of a baby at Taronga Park.
I drove out with Mr. Hallstrom to see the 20-odd koalas at present convalescing at Mona Vale. The sanctuary is in typical bush scenery, on a hillside overlooking the sea. More than 5,000 young trees, mostly grey gums, have recently been planted to ensure a good supply of natural feed. Injured koalas spend their time in a shed during wet weather, and in a small paddock "hospital" clear of trees (to avoid further injuries from falls) when it is dry.
When they, are well enough to climb and take care of themselves, they are released into a 15-acre paddock, where they live in completely natural surroundings. The paddock is also used for breeding purposes. I saw several of the convalescents perched in the trees. Some were sleeping peacefully in the forks of branches. Others, with their young in pouches or on their backs, were crawling precariously amongst the thick foliage after food.
"Mac," a bush veteran who helps Mr. Hallstrom look after the animals, nodded at one young mother who was working her way obstinately along a particularly slender branch. "If it snaps." he said, "she'll be back in hospital. Mostly they send the young ones out on the tricky branches after they're a few months old. Two months in the pouch, a month being carried piggy-back, and they're ready to fend for themselves. I've seen them hanging on as cool as cucumbers with a westerly blowing the branches all over the place."
I asked "Mac" how he dealt with burns, and how the animals behaved when they were hurt.
"Burns," he said, "I treat with salt and water solution and special emulsions. Where their eyes are closed up I use silver nitrate drops to take off the scum. Most of them sit still during treatment and don't make any fuss. They're not overburdened with brains, but they seem to realise we're trying to help. I've known them scratch and nip a bit at first, but they soon get tame enough to be handled. Once they get well and back in the trees again it doesn't take long before they forget 'civilisation'."
Mr. Hallstrom explained that most of the koalas get injured "on nocturnal prowlings after food and females," or during bush fires when they curl up in the trees and refuse to budge. "Although their fur is close-knit and highly resistant to water," he continued, "they have been known to die of pneumonia. Twenty-odd years ago hundreds of thousands died of a disease rather similar to sinus. "With pneumonia and septic conditions setting in around fractures, I usually give a few shots of penicillin." More Than 50 Injured Koalas Saved At Coastal Sanctuary. (1950, September 6). The Sydney Morning Herald (NSW : 1842 - 1954), p. 2. Retrieved from http://nla.gov.au/nla.news-article18181334
The Sanctuary, a place of healing, was also offered as a place of study; Koala Study Centre For N.S.W.. The Chief Secretary, Mr. C. H. Matthews, said last night that, the deputy chairman of the Fauna Protection Panel, Mr. E. J. Hallstrom, had offered to make his property at Mona Vale available for research into the conservation of koala bears. He said Mr Hallstrom would put up any buildings required and would provide labour for the care of the animals. He said that he and the panel appreciated Mr. Hallstrom's generosity. It was intended, to use the property as a centre for scientific investigation into the breeding, feeding, and diseases of koalas.
EXPERT ADVICE: The panel would-have the advice of experts, including Professor P.D. F. Murray, Challis Professor of Zoology at the University of Sydney. Mr. Matthews said the panel was making a State-wide survey to find out about-how many koalas there are. He appealed to the public to give the chief guardian of fauna. Mr. F.J. Griffiths, any information about the location of koala colonies in New South Wales Mr. Griffiths is in the Chief Secretary's. Department. Koala Study Centre For N.S.W. (1949, October 18). The Sydney Morning Herald (NSW : 1842 - 1954), p. 2. Retrieved August 11, 2012, from http://nla.gov.au/nla.news-article27577048
The Koala sanctuary was also used as a breeding place with some koalas being sent to the United States of America, despite a ban on exporting these creatures, in 1952 to be part of a film 'Botany Bay'. Released in 1953 this American drama directed by John Farrow and starring Alan Ladd, James Mason and Patricia Medina was based on a novel of the same name by Charles Nordhoff and James Norman Hall. Two kagaroos were also flown in to appear the film.
Hollywood "limit" on koalas Sydney, Thursday: Four koala bears being flown to Hollywood on Sunday for the film "Botany Bay'' must be returned within six months, an official of the N.S.W. Chief Secretary's Department said today. Any young born to the bears, two males and two females, also must be re-turned, he added. About 56lb. of gum leaves will be on the plane to feed the bears on their 40-hourtrip. Mr. E. J. Hallstrom, Sydney philanthropist, said today the State Government had issued a' special permit for the bears to leave Australia for the first time since their export was banned 25 years ago. "Probably about 2,000,000 people will see the bears during their stay at San Diego Zoo, where they will be expertly cared for," Mr. Hallstrom said. Hollywood "limit" on koalas. (1952, January 4). The Argus(Melbourne, Vic. : 1848 - 1956), p. 3. Retrieved from http://nla.gov.au/nla.news-article23155540
These koalas came from the Mona Vale Sanctuary and recognised Hallstrom when he visited them at the San Diego Zoo late in January 1952. Sir Hallstrom ran into controversy during this episode which he resolved with customary logic:
We Might Lose Our 4 Koalas; Canberra. - Four koala bears flown to America for a film, "Botany Bay," don't know all the fuss they're causing back home. Mr. Clive Evatt, N.S.W. Chief Secretary, who authorised the bears' departure, wants them returned to Australia. But Sir Earle Page, Federal Health Minister, says the Commonwealth will not allow the animals to return by air, because disease might be introduced. He doesn't mind if they come by sea, spending a quarantine period on the way. Mr. E. J. Hallstrom, from whose private sanctuary the bears were taken, says they could not survive a sea trip, and wants them to stay in America. Unless they return to Australia in the form of a skin rug, the bears look like forming the first permanent koala colony outside Australia. We Might Lose Our 4 Koalas. (1952, February 12). Barrier Miner (Broken Hill, NSW : 1888 - 1954), p. 3. Retrieved from http://nla.gov.au/nla.news-article49235794
However, they will remain in the zoo on indefinite loan from the Taronga Park Zoological Gardens in Sydney. This loan from the 'land of living fossils' is expected to last as long as the small marsupials do well in San Diego. 'It is purely an experiment,' Mr. Hallstrom said. There are not likely to be any other koalas exported because of the strict embargo imposed by the Government when they almost became extinct a quarter of a century ago. The need for Mr. Hallstrom's brief visit arose, he explained, after Mrs. Benchley directed so many fineries to him about the koalas' care that answers would have become encyclopaedic if he tried to write them down. He said he examined the bears this morning and they appear to be adjusting quite well to California's varieties of eucalyptus, the koala's only diet. He added he was satisfied with Mrs. Benchley's plans for a spacious koala enclosure. | Four Koalas Loaned to America. (1952, March 14).Centralian Advocate (Alice Springs, NT : 1947 - 1954), p. 15. Retrieved from http://nla.gov.au/nla.news-article59835828
SOMETHING TO BEAT THE CHEST ABOUT: "I can 'sell' the Zoo like nobody else," says 71-year-old Mrs. Belle Benchley, director of the San Diego Zoo, who describes herself as "rather a plain person-always the most inconspicuous person aboard a plane, and no relation of Robert's." An old friend, Sir Edward Hallstrom, was there to meet Mrs. Benchley and they drove straight from Rose Bay to Taronga Park. "We have many more monkeys and apes than you have, but only two rhinos-you have five or six-and your trees full of koalas. I'd like to pick me up another koala. "Our zoo," she added, "is the only zoo in the world, outside Australia, with koalas. Now isn't that something to beat your chest about'? SOMETHING TO BEAT THE CHEST ABOUT. (1954, April 6).The Sydney Morning Herald (NSW : 1842 - 1954), p. 8. Retrieved from http://nla.gov.au/nla.news-article18418704
Although the koalas appeared at first to be adapting well to their new environment and diet they did not live as long as they may have at home. In 1959 this gentleman was able to send more koalas from his Mona Vale Koala sanctuary to zoos in the US:
AMERICAN ZOOS GET SIX KOALAS-PLUS; Californians considered themselves lucky when, despite many Australian protests, they recently got six koalas from Sydney. Now, in San Francisco, Sir Edward Hallstrom has announced that two of the bears will soon have babies. LEAVING for the U.S., Blinky Bill, one of the six koalas, had a last look at Sydney from the arms of air hostess Audrey Bailey.
SIR EDWARD, chairman of Sydney's Taronga Park Zoo Trust, travelled with the six koalas on their flight to America earlier this month. They are the only koalas in captivity outside Australia. Soon after their arrival in San Francisco he said that two of the females had been mated. The city's Fleishacker Zoo could expect more "teddy bears" soon. The bears-two males and four females-come from Sir Edward Hallstrom's animal sanctuary at Mona Vale, N.S.W. Three will be kept in the San Francisco zoo and three will go to San Diego, where the last koala in America died a few months ago.
Enormous crowds of men, women, and children queued for the first sight of the furry little animals in San Francisco. Sir Edward Hallstrom was pleased to note the koalas' appetites, and predicted a long and happy life in California for them. A local newspaper is running a contest for children, offering prizes for the best names for the koalas. Sir Edward, who has received the key to the city for his gift, made a careful inspection of the elephant house and pronounced it "very fine temporary accommodation." He suggested, however, that 15ft. be trimmed from the eucalyptus tree to forestall the bears jumping on to a nearby roof. San Francisco Zoo director Mr. Clarey Baldwin said the permanent site for the koalas would be modelled closely upon the facilities at Taronga Park. AMERICAN ZOOS GET SIX KOALAS — PLUS. (1959, April 29). The Australian Women's Weekly (1933 - 1982), p. 5. Retrieved from http://nla.gov.au/nla.news-article51774539
During the 1960's the food from the farm was analysed and found to be lacking in Vitamin E and the lucerne far too rich for the animals it had been grown for. By the 1970's the Western Plains Zoo began producing hay for the Taronga zoo and the farm was subdivided and sold from 1976 until the last parcel had been bought in 1984. The Koala Sanctuary was known as the Bellbird Estate by 1977 and although used for 'orientation' runs by local schoolchildren, who recall lots of koalas in the trees there, the sanctuary was gone.