January 19 - 25, 2020: Issue 434
Ella McFadyen's love of pittwater:
An Environment, Wildlife and children's Champion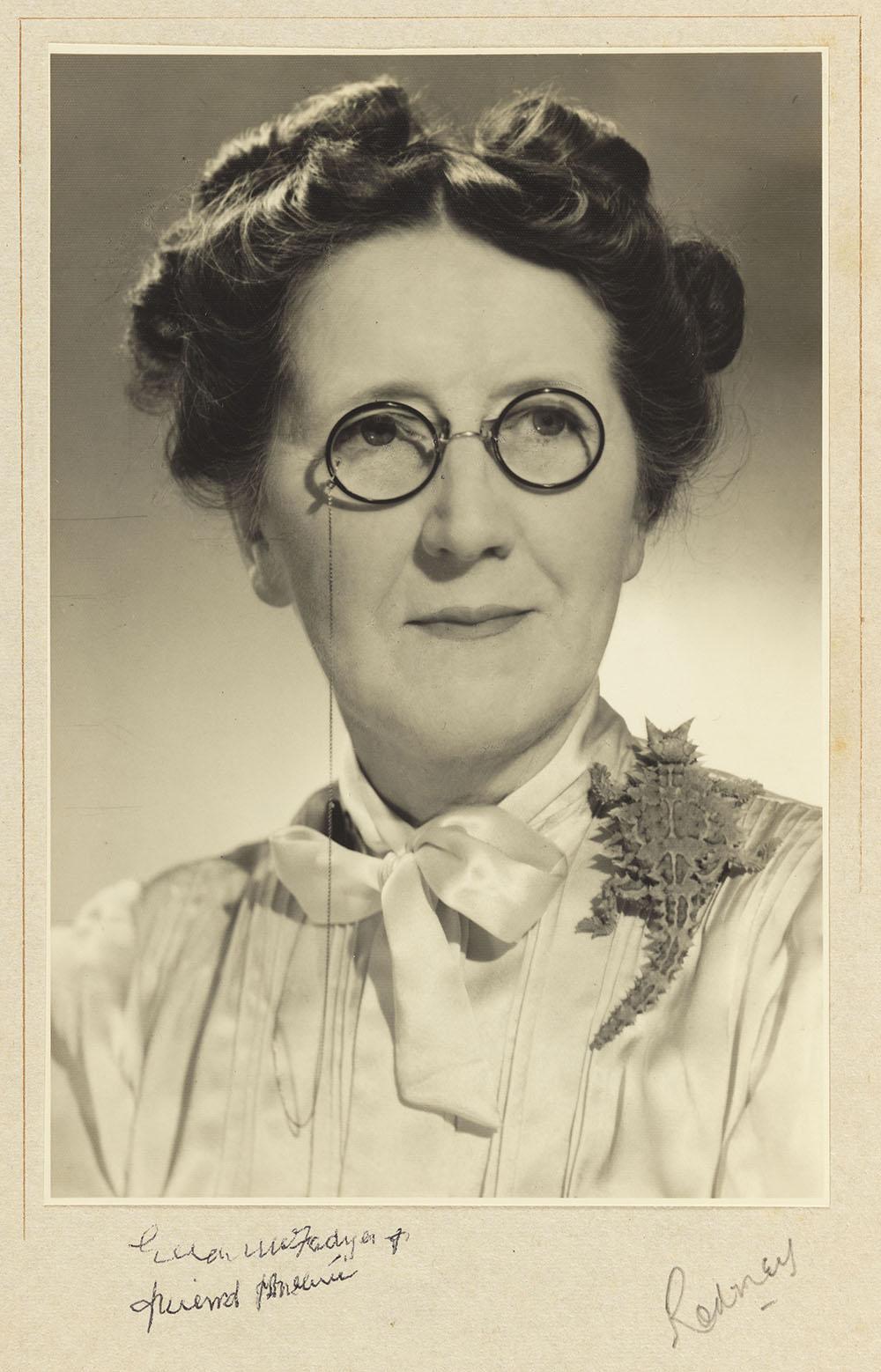 Ella McFadyen, 1940's, photo courtesy State Library of New South Wales
Although Ella McFadyen covered a lot of ground, literally and in the physical sense, during her time; travelling throughout rural New South Wales and Queensland, in the Pacific to the Solomons and New Guinea in 1925, to Cronulla for another 'break', one of the places she visited frequently as a Boomerang Walking Club member, and for respite, was Pittwater.
Ella McFadyen (1887-1976) was a journalist, editor, writer of books for children, poet and amateur photographer with a passion for the environment (and inspiring youngsters to be amongst this through forming the Boomerang Walking Clubs), a deep love for animals, and sharing insights about the natural world with children. She conducted the Children's Page of the Sydney Mail (as "Cinderella") until that publication finished in 1938 and also wrote for the Sydney Morning Herald Women's Thursday section, Australian Town and Country Journal and many other newspapers and magazines.
Her love of the great outdoors and Australia's wildlife, and sharing that with children, features in just about everything she did and wrote, while her passion for photography captured scenes and animals of here we may not recognise in some cases. Ella's words paid numerous tributes to our environment and bore witness to seeing the little things as much as the great landmarks that have not changed much since she first visited. Her responses to her child and young adult readers spoke of the peninsula and shared tidbits of information on everything from the flowers to the Seasons and weather and what can be found where.
Ella May McFadyen was born a second generation 'Australian' (or third generation if you take into account her mum was born here) on November 26th, 1887 at 'Burrundulla', John-street, Stanmore. Ella was one of five girls and two boys born to Donald and Mary McFadyen. Soon afterwards the family moved to 'Airlie' in Garfield street, Five Dock. The suburb of Five Dock was named, apparently, 'from the fact of there being five natural inlets or docks on the western bank' - or there were. The earliest documented reference to Five Dock is in the Sydney Gazette, February 3, 1805. In 1806, Governor King granted this bay to surgeon John Harris, who named it 'Five Dock Farm', and this comprised the entire bay, including the current-day suburbs of Five Dock, Abbotsford, Drummoyne, Chiswick, Russell Lea and Rodd Point.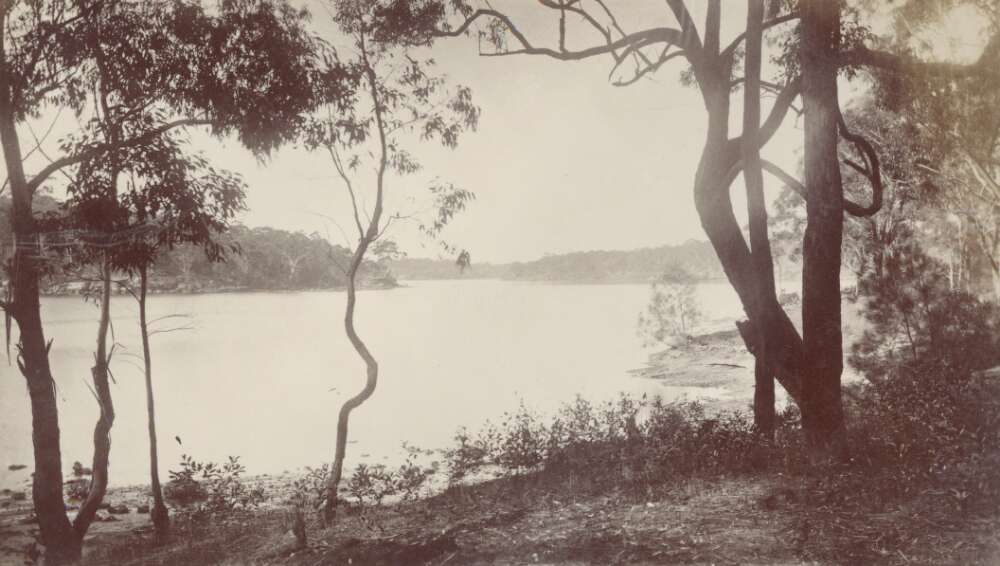 (1880). Parramatta River, Five Dock, Port Jackson, New South Wales, ca. 1880 Retrieved from http://nla.gov.au/nla.obj-140536671

The farm was eventually sold and broken up into smaller parcels of 30 to 60 acres and, being so close to town, began to be developed. By the 1890's, when the McFadyen family lived there, a tramway system had been installed making this area popular among those who had families who they wanted to have space and fresh air and who had to catch a tram to town to work.
While the family lived in Five Dock her two brothers were born as was another sister, while her youngest sister was born at Point Clare, Brisbane Water, in 1904, when the family moved there for a short time.
Her father was a businessman and did a far amount of travel as part of his job with photos which show some of the places, and buildings, he visited among the collection Ella McFadyen images held by the State Library of New South Wales. In her 1972 interview Ella describes going with her father in a motor car from Kempsey to Grafton for a trip (his work) and being the first to do so. [3.] A bit about him: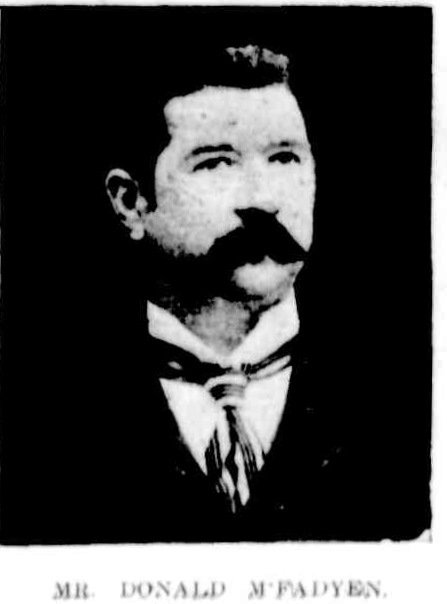 Ella's Father's photo from: The Produce Trade of Sydney.—Some Views of Sussex-street. (1903, August 12). Australian Town and Country Journal (Sydney, NSW : 1870 - 1907), p. 32. Retrieved from http://nla.gov.au/nla.news-article71484758

THE FRESH FOOD AND ICE CO.
The New Manager.
Mr. Donald M'Fadyen, who has been appointed manager of the Fresh Food and Ice Co., Ltd., in succession to Mr. Lance, was born at Morpeth on the Hunter River (N.S;W.), in July, 1863, and consequently is now close on 39 years of age. He came to Sydney 15 years later, and entered into the services of his uncle, Mr. J. R. M'Fadyen, who was then carrying on business In Sussex-street as a produce merchant. In 1881, three years after his arrival in Sydney, he joined the old South Coast and West Camden Co. (now known as the Farmers' Co-operative Co., Ltd.) as a junior clerk, and by degrees worked his way up to his present position as manager of the company.
During his 21 years service he has worked through the various departments connected with the business, and in February, 1899, was made general manager. The business connected with the company, It may perhaps be Interesting to note here, embraced every branch of agricultural product, but dairy produce forms the great bulk of the trade, The operations of the company are very extensive, as will be j seen by the fact that In April alone the turnover, so to speak, amounted to £55,643.
Mr. M'Fadyen has made a special study for many years of the export butter trade, and the administration of the company's affairs has naturally brought him in touch with the whole of the Australasian markets, and he has at different periods visited the several States in connection with the butter trade. At his special request the company sent a representative to England last year to supervise the distribution of the company's consignments in the home markets.
Mr. M'Fadyen takes over his new duties as manager of the Fresh Food and Ice Co. on July 1 next. The appointment to him is naturally the more pleasing seeing that he did not seek It. The high esteem in which Mr. M'Fadyen is held by his associates in the Farmers' Co-operative Co. may be perhaps best understood by the. following resolution passed by the directors at a recent meeting —
"That the board learns with regret of Mr. M'Fadyen's retirement from the Farmers' Co-operative Co., with which he has been associated for very many years, and to which he has In the position he has occupied, and at present occupies, given his able and loyal support: at the same time the board congratulates him upon his appointment to the very honourable and responsible position which he has accepted in one of. the largest firms of the State, and heartily wishes him every happiness and prosperity in his new career."
In addition to having had great experience in the commercial line of business, he was at one time connected with municipal matters. For eight years he was an alderman, and out of the eight four were spent in the chair as Mayor of Five Dock. MR. D. M'FADYEN. THE FRESH FOOD AND ICE CO. (1902, May 26). The Australian Star (Sydney, NSW : 1887 - 1909), p. 7. Retrieved from http://nla.gov.au/nla.news-article229059319
Ella's father was the son of John McFadyen who was born on the Isle of Coll, Argyll, Scotland in 1829 as had her great grandfather, Roderick, in 1801 and her great great grandfather Donald McFadyen in about 1773. In a 1972 interview Ella states that her grandfather spoke Gaelic and he and his wife, Margery (nee McPherson), would speak this in the house when they didn't want the children to know what they were speaking of.
Roderick McFadyen and his family came to New South Wales in 1856 as things weren't too good on the Isle of Coll and those living there were encouraged to emigrate to places such as Australia and Canada. John McFadyen was already 26 when he arrived here and took up farming with his brothers and sisters at Morpeth on the NSW Mid North Coast. Donald McFadyen was born at Morpeth on July 31st, 1863.
On her mother's side there was a strong Irish influence, her grandfather on her maternal side, was Thomas Wilson (1814 to 1871) while her great grandfather was a Tim Kelly who came to Australia aboard the ship, 'Isabella Watson' with the 99th regiment.
Her father bought a paddock at Five Dock which Ella described as then being a green place 'with just a few pegs to tell you where the new streets were to be'. Her childhood at Five Dock is described as having pets - including a pet wallaby!, horses, a vegetable garden and a swimming pool. Her love of drawing animals both from nature and at the Museum filled her days.
Her father's firm was one of the first to use electric lights and he told stories about using electric lighting to speed up the construction of the Garden Palace, which burnt down soon after. Her father also told stories of the Hunter River including rescuing a drowning cow and sustaining it on the second floor of the house, until the water subsided. Her father liked horses but not gambling. Her mother disliked horses and forbade the children to go near them.
Ella was home schooled by her Mother despite the old Five Dock Public School being just across from the McFadyen 'paddock'. She learned Latin and grammar and although ruminated over having mother as teacher credited her sound sense and use of 'Gardiner's analysis' as providing her with the correct use of words and as words became her career, of seven decades in length as a poet, wordsmith, story teller and editor, her mother did very well indeed. Ella remembers reading Shakespeare's 'Hamlet' when aged 10!

As biographer Emily Gallagher states in
A slight bias towards eels and lizards (Inside Story March 8th, 2019)
–
alike those on the Isle of Coll, Ella did not attend school but 'instead finding companionship in her dolls and the books her father scattered thoughtfully around the family home. In a sign of what was to come, she often spent her time reading, sketching birds at the local museum, looking through old diaries and notebooks, and pretending to publish newspapers…..'

[2.]


When Ella was almost 16 her mother fell in love with Brisbane Water - just across from Barrenjoey Headland, during a visit there during Autumn. It was at Brisbane Water that Ella's passion for writing rhymes, previously created for her younger siblings, began to be shared with others. While living there she visited places along the waters in a little skiff and on one adventure found the stone in which Australian poet Henry Kendall had carved his name. Ella climbed a tree and took a photo of this using her little box camera and it was published in the Sydney Mail years before she joined that paper to run the two page Children's Page - known as 'Cinderella's Page' to generations of children and young adults.
That little story and Henry Kendall rock photo taken by Ella:
KENDALL'S GLEN.
BY ELLA McFADYEN.
We left the road where it swerves upward through the orchards to Penang, and soon the mangroves aud ti-trees and wind-rustled swamp grass were left behind, and the bracken bristled up from the white sand track, all dimpled with the little hollows of the ant-lion.
The track leads down to the stone-paved ford, but we turned off past the old house beneath whose roof Kendall must many times have slept. Convict-built, of solid stone, and some 70 years old, it nestles among its grey orchard trees, and the sunlight draws warm tones from its weather-stained shingles and mellow-tinted stones.
Beyond Narara Creek our climb began up the rugged grey face of the range, till, breathless and weary, we halted upon a green tableland starred with flannel daisies and red Christmas bells, while from the slopes below us the coveted pink tops of the Christmas bush beckoned. Presently we came upon a little loitering stream, sunken under the sand here and there, only to reappear a few paces further on tumbling in a mimic cascade into little pools where the crayfish crawl and the dragonflies hover. Before us stretched a splendid panorama.
The stream led us to the abrupt, lichen-spotted lip of a rock-faced gully that dropped sheer at our feet. Over it the water leapt into music-haunted shadow, and the wind beat back on us a fine-spun veil of spray. A detour led us down steeply to the rocky floor of the gully till we stood beneath the fall—
that Silver singer far away
By folded hills and hoar.
Close by is the rough grey boulder with the clearly-cut inscription, 'H. KENDALL, 1874,' and below the letters 'G.L.F.'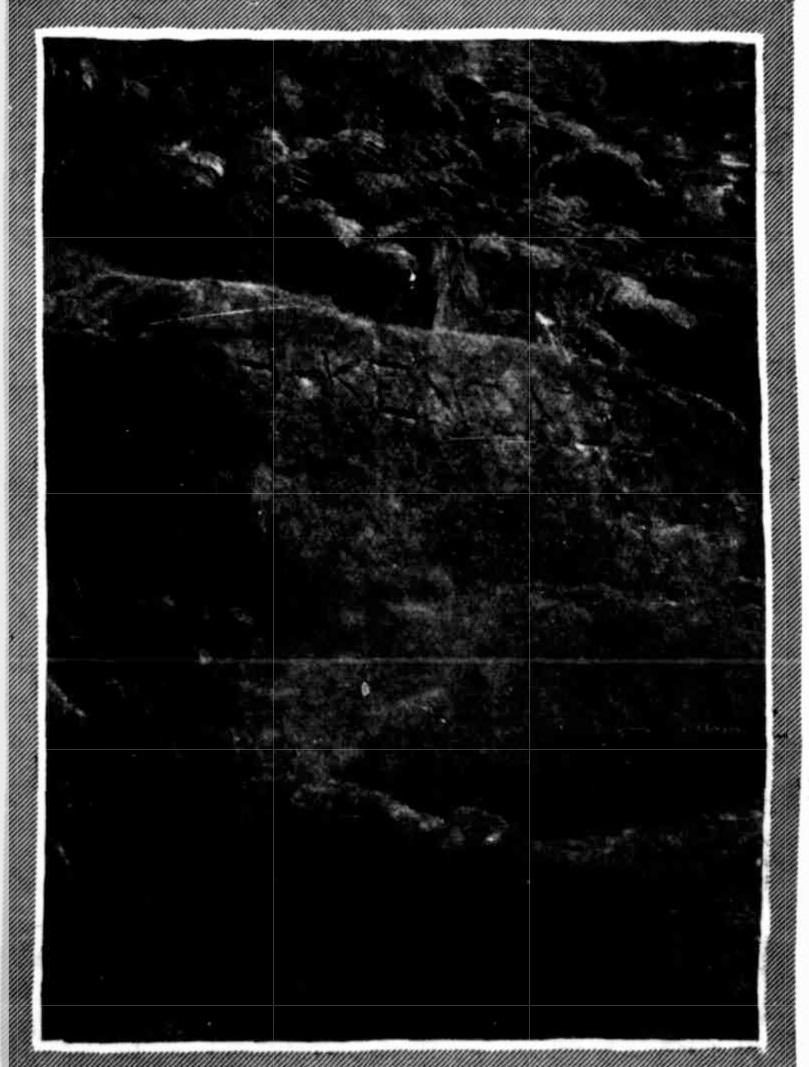 Standing in that remote and hidden sanctuary, with the written music of the poet blending in one's ears with the voice of the water dripping down the moss-boarded ledges, one might well indulge the hope that as it has lain undesecrated these 35 years past, so may it lie aloof and ever sacred from the hands of that old vandal — Change.
I wonder if the leaves that screen
The rock-pool of the past
Are still as soft and cool and green As when we saw them last-!
I wonder if that tender thing.
The moss, has overgrown
The letters by the limpid stream —
Our names upon a stone !
KENDALL'S GLEN. (1909, May 5). The Sydney Mail and New South Wales Advertiser (NSW : 1871 - 1912), p. 29. Retrieved from http://nla.gov.au/nla.news-article164294203
This wasn't the first item published under Ella's name, but is one of the earlier images she photographed. Ella also credits her time at Brisbane Water as being the place she commenced finding things she could write about.
At her mother's insistence, her father bought a property at Noonan's Point, near Point Clare but it was a long commute to Sydney then - almost a hundred miles in a round trip, and t
he family moved back to Ashfield, as Brisbane Water was impractical.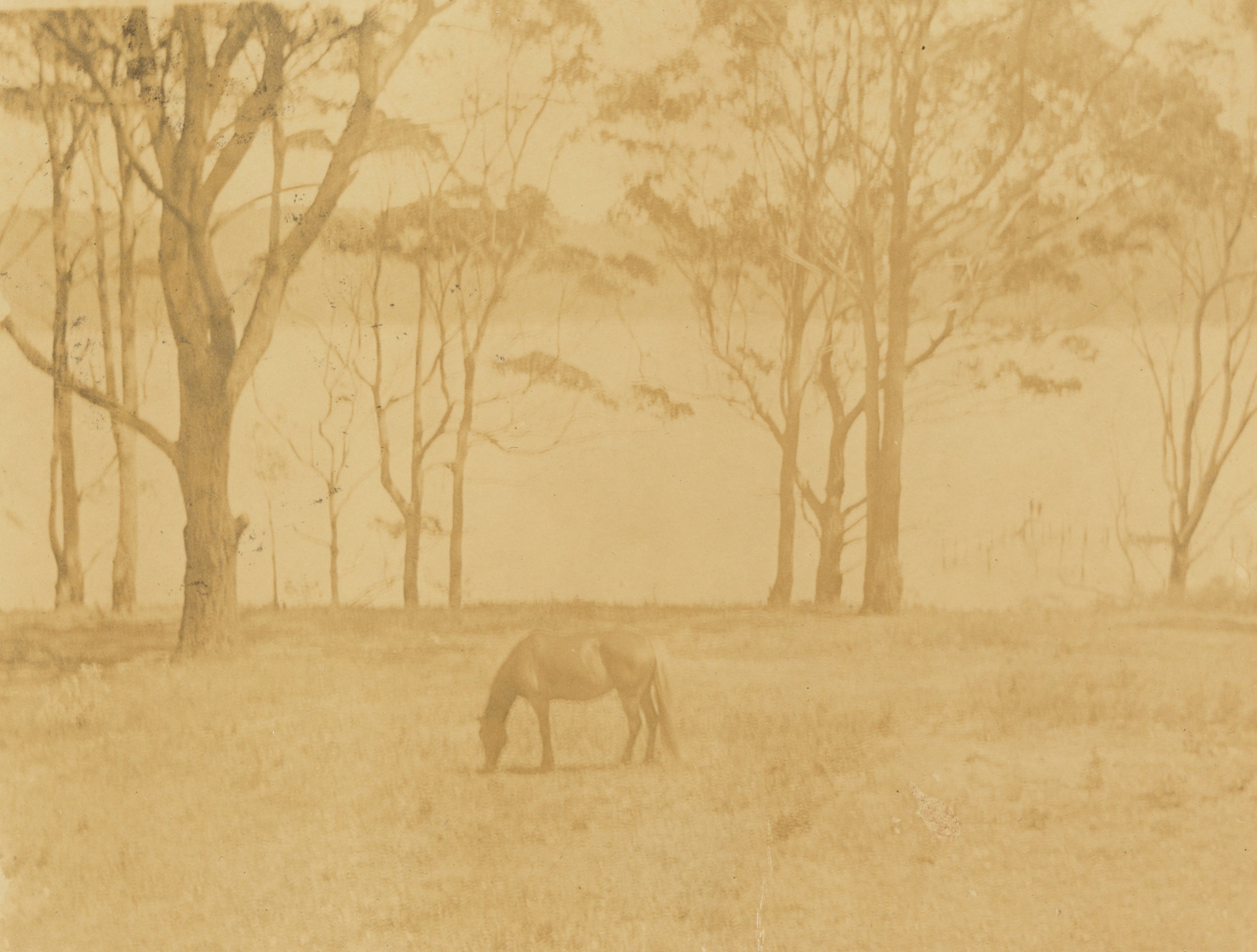 View from McFadyen Home - and Grounds at Point Clare - From Ella McFadyen photos held by and courtesy of State Library of NSW, Item No.: c078560075
Ella began getting poems published and despite her mother's disapproval she persisted writing and was having stories and 'rhymes' published while still a teenager. In a
1972 interview
[3.] she states the first ever published rhyme appeared in the old
Australian Town and Country Journal
and was written while living across the way from Pittwater at the Noonan's Point home. There is one published by this journal in February 1906, '
The Curlew
' and another in September of that year about Boronia's - those wonderful bright pink tiny flowers currently out everywhere.
THE CURLEW.
(Written for this paper by Ella M'Fadyen.)
Out of the dark, with low lone flight,
Wailing you came, I know not why,
And clamoured to the voiceless night,
And wept a space and then went by.
And so, thought I, some souls go forth,
With none to answer or to mark,
To carry all a lifetime's worth,
And lose it in the empty dark.
Life's Bedouin, that knows no rest,
That gropes in vain, that finds no goal,
That learns no answer to its quest,
And perishes-a futile soul.
Down where the mists lie low and white,
Where ebbs the tide and grey oaks moan,
You broke the silent-seeming night,
Still Nature's murmurous monotone.
Where man has carried doubts and fears,
You also seek, down to the sea,
The answer standing through the years,
Rebuking man's impatient plea.
That one insistent, frightened cry,
That echoed faintly down the track,
Through the night watches listened I,
But never heard you coming back.
A few of her poems that date from prior to that photograph published above and were sent from from or penned at Ashfield. Ella's stories began appearing at this time too. These can be quite long, and were even serialised over a few Issues of the journals and newspapers they appeared in. Ella would later edit and then write books, so these shorter stories were great practice for that.
These, from mid 1906 show the family was now residing at Ashfield:

MORNING.
You see, 'twas early when l woke,
And all the world was dim and grey,
I pushed my shutter open wide,
To see the night grow into day.
And first a little dawn wind came
And tossed the fleecy clouds about,
And where three bright stars stood arow,
He came, and blew their candles out.
And all the trees stood out so clear.
Like painted trees upon a screen,
And at their feet the mushroom rings
Where fairies overnight had been.
The cows came from the milking-shed,
In a long row. When they had gone
The mountains still were fast asleep,
I laughed, they had their nightcaps on.
Down in the grass the thrushes sang
Like rippling rills, and old grey Jack
Perched on his bough, laughed out aloud,
The mountains woke and shouted back.
That all the trees stood black as black,
Like moths against the candle light,
The sun climbed up the world's wide rim
And winked again, and it was light.
ELLA M'FADYEN.
PRIDE, AND THE PRINCESS.
Had'st thou been been a wanderer,
And I of proud degree,
I'd from my throne come swiftly down
And welcome give to thee.
Had'st thou been born a royal dame,
And I of humble state.
My heart were all too proud to beg
Thy heart to be its mate.
Had'st thou been born to beggar's lot,
And I to royalty,
Thy soul had pierced the ragged cloak.
And won my heart from me.
Had'st thou been born to luxury,
And I 'neath greyer skies,
Up had I ta'en my beggar's staff
And hidden from thine eyes.
' Then I had hasted after thee,
And I thy steps had stayed.
The queen who begs a heart may be,
Perchance a beggar maid."
ELLA M FADYEN.
Ashfield, Sydney.
Boronia.
Because you sprang amid the waste,
Amid the arid drouth and gloom,
So that the way you trod you graced,
I send you wild Boronia bloom.
Because the fragrance of your deeds
Has sweetened many a sad soul's doom,
Has ministered to many needs,
I send you sweet Boronia bloom.
Because within your heart of gold
I humbly pray there may be room
For one whose life lies drear and cold,
I send you brown Boronia bloom.
ELLA M'FADYEN.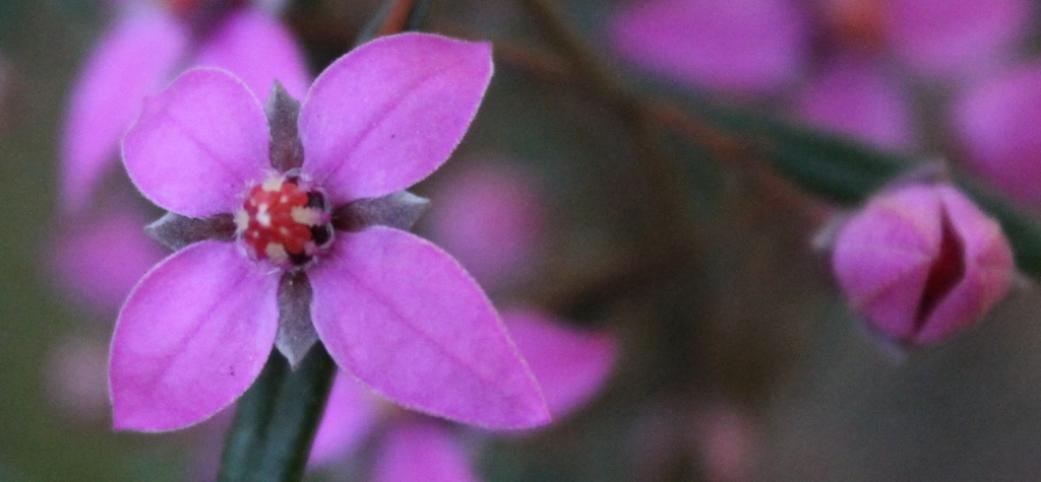 Boronia ledifolia - Sydney Boronia
The Rose Tree.
We wandered where the tail ferns fringed and
filled from bank to bank
The amber-watered, creek, and stooped, Narcissus-like, to wed
Their shadows, and the lillyplllies, berry-laden,
drank
The stream, and on the fallen trunks the
fungus blossomed red.
We followed from the stagnant creek, by narrow cattle path,
Where scarlet peas and tangled vines their
tendrils interlace.
And found the tumbled stones that marked a
long-deserted hearth,
A rose tree spread its thorny arms in vacant,
sad embrace.
More faithful than the other works that long-
stilled hand had raised,
More constant in its long neglect, the rose
that lingered there,
And may be lips, and laughing lips, its early
bloom had praised,
And one who reeks not now had judged its
fragrant burden fair.
The dying splendor of the sky illum'ed the darkened range,
Where rustling spirits of the night among the
shadows roam.
We left it with its untold tale, its tragedy of
change--
The rose amid the stones that once had borne
the name of Home!
ELLA M'FADYEN.
THE PATRIOTS.
BY ELLA M'FADYEN.
The sea that batters our storm-scarred front
Shall gather of them her toll,
In the hurricane raid from the coral isles
Or the sleet of the snow-sealed Pole.
And others shall find In the shifting sands
Of the outer plains their rest.
Or follow the fearless wanderer's trail
In the wastes of the Golden West.
Or spend their labours through patient years
In the humble fields of toil,
With hardened hands and with shoulders
bowed,
The sons of a grudging soil.
The silent grip of the untrod bush
Shall some from their kind estrange,
Whose last abode is a grey-grown cairn
At the foot of a lonely range.
A life lived out to the end, lived well,
In the rain or the blazing sun,
A task, though a humble task, complete,
And an honest race well run.
The toil of their hands to the thirsty lands,
Or their lives to the hungry seas,
I only pray when the roll Is called
That I may be one of These.
EMPIRE DAY
BY ELLA M'FADYEN.
Lay by the gaudy semblance of war;
Let vaunting and vain-glorious voices cease,
The little oracles be stricken mute.
On this, her day—would it might dawn in peace!
Small days, alas! suffice for little deeds,: v
And reverence may well; become; our mien, ?
Nor mar our keeping of the festival
That holds the memory of a Sainted Queen.
A season dedicate to retrospect,
To pacing memoried' aisles of history,
Among the ghosts of noble days gone by
That promise ever nobler days to be.
The folded hands have laid the sceptre by,
The worn and weary soul has found release;
But still her memory guides us and inspires—
Ah! Let us keep this day of days in peace !
A few years on Ella also was involved in doing her utmost, alongside many mothers and young children, for raising funds for mothers and children who were starving due to the conflict that was world war one in Belgium - which was called the 'Belgian Fund'. A previous page shares what local children and mothers in Pittwater were also doing to raise funds for little people and babies overseas. Everyone did what they can and gave what they could - some local farmers at Bayview, Newport, Mona Vale and Warriewood, as much of here was farms then, are listed as giving eggs or fish that would then be sold to put pennies into the Belgian Fund.
This is a poem Ella penned as part of that whole of Australia effort:
The following lines were written by Miss Ella McFadyen, the gifted daughter of Mr and Mrs D. McFadyen, late of Point Clare and now resident at Ashfield. The verses have, been printed on cards and sold at 3d, proceeds being devoted to the Belgian Fund: —
We cry, yet few have heeded;
'Tis writ, yet who hath read?
We beat against the border
That bars the quick from dead.
We plead above the turmoil
-Of battles lost and won;
We find no peace in Heaven
For that ye leave undone.
We plied our looms for plenty,
Yet Clotho's ruthless hand
Hath woven of our labors
- A torn and crimson strand:
We tilled our fields for harvest,
But August's searing breath
Brought in the bitter reaping,
The barren sheaves of death!
We died in aflame and ruin,
Beneath the heels of Huns,
While one by one, the nations
Boomed out like angry guns:
When France flung by the scabbard,
And Russia's' sword was bared,
In that dread hush of waiting . .
As Power by Power declared.
We perished— in our thousands,
Like grains to ravens fed;
We built your ramparts, England,
Breast-high of Belgian Dead.
We hurled ourselves upon them,
Wide-eyed — we knew our fate;
We barred the road to Paris,
We guarded Calais' gate.
"We sowed our land with ruin,
We wrung our vintage red;
Now in the streets of Brussels
Our women wait for bread!
The maids we lost unwedded,
The wives we left for war,
To nurse in siege and sorrow
The babes we never saw;
Can ye forbear to feed them,
Yet reverent bow your head
To pray in Christian churches—
"Give us our daily bread"?
If hearth, and home, and honor,
And faith be precious yet,
As ye are men and women
up and pay your debt!
Wounded Soldier and Nurse.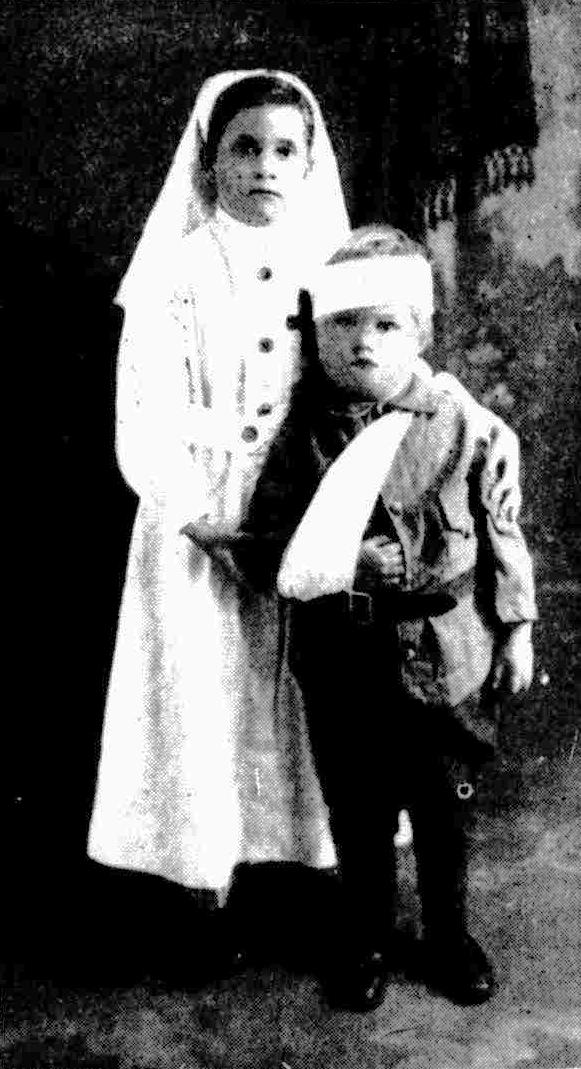 At a ball at Mona Vale, between Narrabeen and Newport, in aid of the Belgian Fund,
little Patty Maley (
daughter of Private Maley, who is now at the Dardanelles
) appeared as a wounded soldier; and
Mrs. Clamorgan's youthful daughter (whose brother is on the way to the front)
was attired as a Red Cross nurse. Photo: Sweeney. Wounded Soldier and Nurse. (
1915, July 14
).
Sydney Mail
(NSW : 1912 - 1938), p. 31. Retrieved from
http://nla.gov.au/nla.news-article162494200
Interestingly it is the paper she is doing some of this work for that publishes a photo of her brother while he is serving overseas during World War One:
IN GALLIPOLI: 'APART FROM THE REST OF THE WORLD.'
I DO hope our boys will wake up and come here of their own volition, and not through conscription. They will miss their home comforts, of which they think so little now; but isn't it worth while, when on their return they will value them so much? They will have to sleep on the ground in their clothes, and feed plainly and none too well. Some nights there will be no sleep for them, and when tired they will not be able to rest; but the consciousness that they are doing their duty for their King and country, and helping to ensure for their loved ones that peace without which life is unendurable, outweighs a hundredfold all discontent at hardships and monotony, endured, as it seems, right out of the sight of those for whom it is borne. For we do seem here right apart from the rest of the world. — Extract from a Soldier's Letter.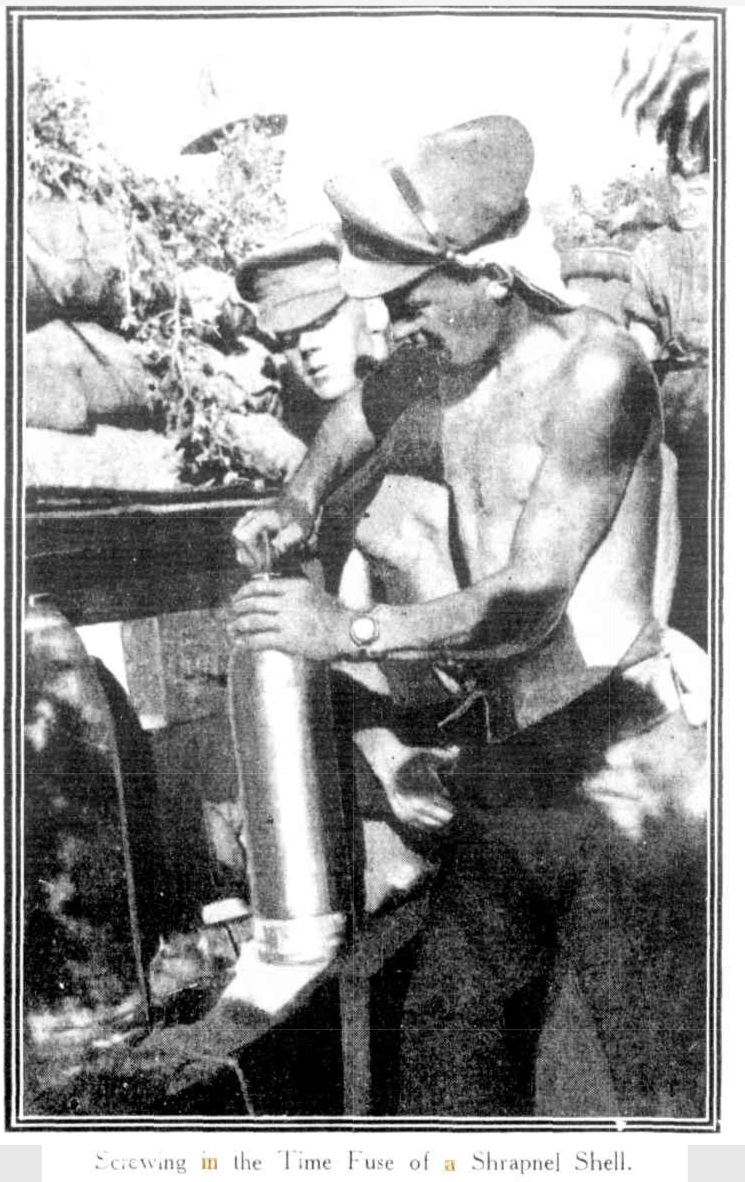 Screwing in the Time Fuse of a Shrapnel Shell.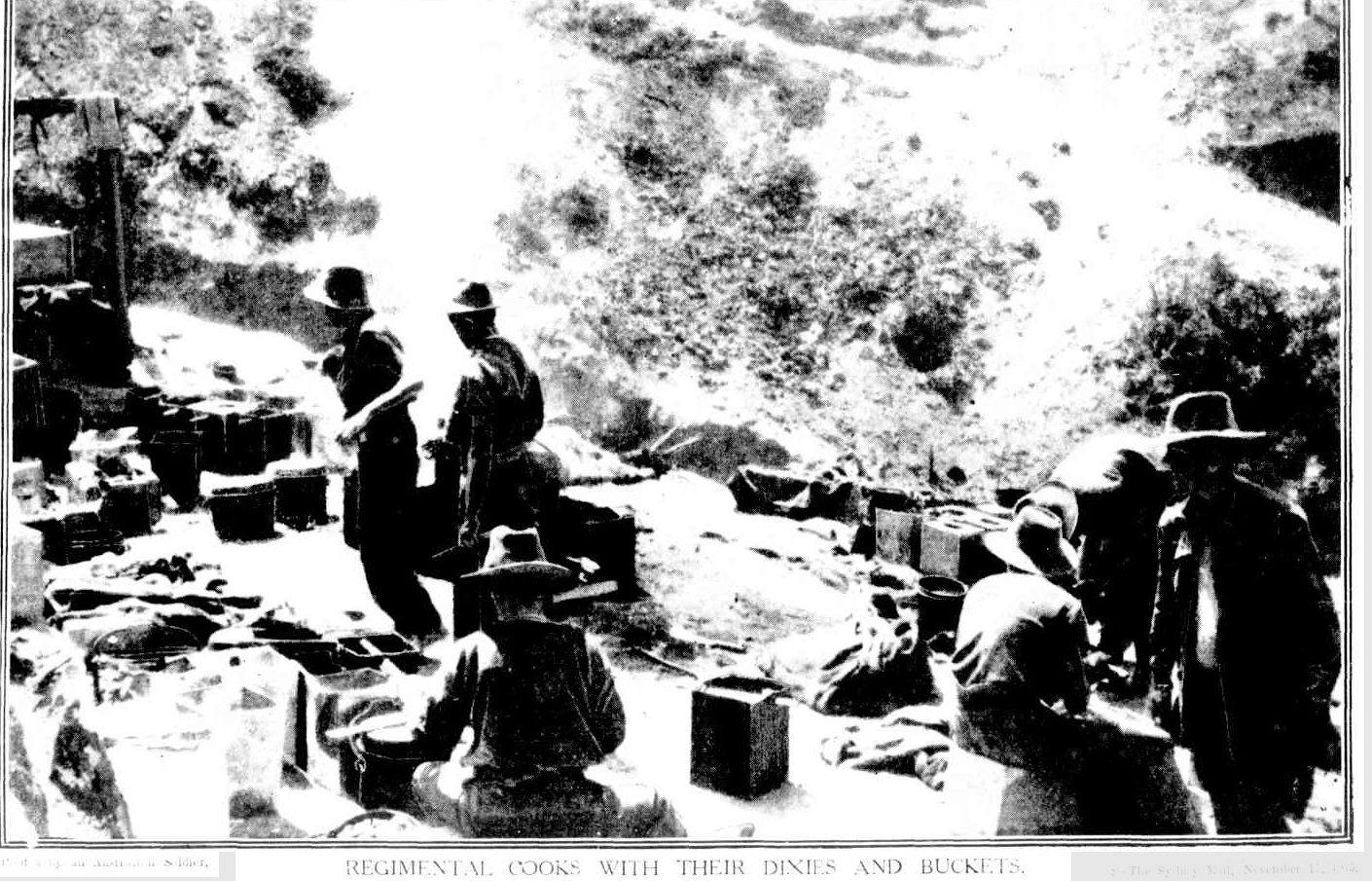 REGIMENTAL COOKS WITH THEIR DIXIES AND BUCKETS.
Mrs. M. McFadyen, of Ashfield, late of Point Clara and Penang, writes:—
In last week's "Sydney Mail," on page 8, there is a picture entitled "At work in a trench." The subject of the photo is a Gosford soldier Private D. W. L. McFadyen. Doubtless many of his acquaintances will recognise him, and the picture bears out the statement he made in one of his letters to his home folk, that he had not had an opportunity of washing his face for several weeks. He is an artist at trench digging, and his strong arms and broad chest and shoulders make the work comparatively easy to him. Since this picture was taken Lin. McFadyen has been in Hospital for many weeks with typhoid, but he is now convalescent, and is at present resting in England. The following verses have been written by the well-known young authoress, Miss Ella McFadyen:
A SNAPSHOT FROM GALLIPOLI.
(In a snapshot of a stalwart young Australian digging in a trench in Gallipoli, that was recently published in a Sydney paper, the writer recognises a portrait of her brother.)
I opened up the pictured page,
And found your likeness fronting
me —
A snapshot of a soldier lad.
Trench-digging in Gallipoli.
Then all the other pictures came,
That memory's secret springs release;
And showed me scenes that led to
this,
Through all your boyish days or
peace.
A schoolboy at your first review,
So proud to wear- — would you confess —
The green and scarlet of the Corp,
The silver badges "S.G.S."
Then student of your Hawkesbury
years,
A youthful champion of the plough,
An axeman of no mean repute.
The sweat-beads shining on your
brow.
Then, none too meek, an H.D.A.,
Perhaps you felt ambition's goad;
What golden fortunes have you
planned.
While jogging down the Mangrove
Road?
What strife was yours With forest
trees.
What toil to clear with winch and
blade
Your kingdom, from the virgin bush —
Aye, so a patriot is made.
What strength of limb and thew you
gained,
(That serve you now for other toil).
How straight and deep your trenches dug,
For fruitful use in native soil.
So sun and air and open days.
Sped all a mother's care began,
Completing for your country's need
God's noblest work— a perfect man.
Wide-browed, strong-limbed, and
- lightly poised,
With that true heart that will not
foil;
That fervent strength of loyalty,
That love of home that must prevail,
The laughing lips, the open gaze.
The strong brown hands — and for
these same
The fibres of my womanhood
Rise dear lad, and bless your name!
GALLIPOLI, how many are the graves
That in your barren furrows we have sown,
The broken rifle fashioned to a cross
For witness that the Lord may know His own!
WHAT costly spending saw the world in this;
Youth, courage, high adventure, loyalty,
Hoy lives of poets, loaders, leachers, saints,
Expended in an hour, Gallipoli!
AYE, so we made you ours in pride and grief,
Renewed our right with every life we paid:
Gay heroes in the battle of the faith,
The boy battalions of a late crusade.
'THOUGH duty's path proved steep beneath their
feet,
The way wound steeply once from Nazareth:
And meet our loveliest are for sacrifice,
While stands the Cross for victory — and death!
Fairies
Ella's early poems were romantic, patriotic, and showed her real interests lay in the environment, aboriginal people and wildlife and, after doing a few commissions, some of these appearing in the
Sydney Mail
, began to
pursue
what she was most
interested
in.
At the end of WWII the then editor of the
Sydney Mail,
William Robert Charlton,
told Ella they could return to pre-war publication sizes and offered Ella work running a big two page spread for the Children's section - her dream job!
Unfortunately Ella was ill in hospital when the offer was made and could not take up the job she had longed for until late in 1919.
The
Sydney Mail
was an Australian magazine published weekly in Sydney. It was the weekly edition of
The Sydney Morning Herald
newspaper,
and focused on content for rural Readers
and ran from 1860 to 1938 (Life dates: April 3, 1912 -December 28, 1938. Sydney : John Fairfax and Sons, 1912-1938).
In the January 14, 1920 Sydney Mail's Children's Page appears - (t
he 'Editor's Ideas' referred to from the previous Issue runs under 'Extras' below)
:
THE CHILDREN'S PAGE.
Conducted by ELLA McFADYEN.
Boys and GIRLS — all you young Australians who are going to be one big family of friends, as we come together each week in reading this Page of ours — what did you think of the Editor's ideas last week? If I know anything about boys and girls — and, really, I ought! — I think you were delighted with the idea of a Page of our very own where we can have discussions and stories and letters and all sorts of jolly com-petitions. Do you remember in the 'Jungle Book' (and I know that lots of you have read it, because it is some times given as a school prize) all the wild creatures of the jungle met together at the Council Rock, and made their plans? Lots of fun they had on those moonlit nights, and interesting gatherings there must have been. But I think that if we held a council together, for all the boys and girls, big and little, we would have things almost as wonderful to relate.
BUSH LORE.
FOR instance, I have a very warm spot in my heart for the boy who loves Nature-lore. A big boy was telling me the other day about the tricks the lyre birds play, and, as they have played a few on me, I was keen on hearing. This boy had been down wild, remote Moonee Creek, where the poet Kendall used to wander, and he told me how the lyre-birds there mimic every-thing in the bush, and how one led him out of his way by imitating the delicious gurgle of a little stream over stones. Onward and downward he went through the tangled timber, thirstily picturing that cool water to himself, only to find at last the lyre-bird having a little concert all on his own, and no stream there at all!
IDEAS AND DYNAMITE.
BUT, of course, there are boys who prefer motor-bikes, or stamps, or engineering. Or perhaps one of you is an inventor. I once knew a boy who had an idea for running an engine with dynamite; but I am glad to say he never got further than drawing plans. Even if the first inventions are not successes, it will be nice to hear all about them and to exchange ideas, be-cause all the world's great inventors were once little boys, and all the best ideas were once just notions be-ginning to grow in some child's mind. I would like this page to be a sort of Hobby Club, where we can talk about such things, and where you can write and ask questions.
WHAT GIRLS CAN DO.
BUT what about the girls? I have a letter here from a girl who is very earnest in wanting to be a poetess. And I am not going to give her that tiresome old piece of advice, 'Don't!' because, even if she never becomes a great writer, her verses will help her to appreciate the beauty and happiness of life. Besides, plenty of successful writers began just as she is beginning. All the good ideas must have a little beginning somewhere, you know. There is a saying that 'in the heart of every man a poet has died young.' I don't see why our poets should be allowed to die, nor our artists, inventors, or explorers. I think that with a little help we could keep the good ideas alive and give them a chance to develop as the boys and girls get older.
FUN AT SCHOOL.
I DARESAY you all love dressing up, and most of you would like to act in a play. Some school-girls wanted to give a play for the Red Cross, and their trouble was that they had only the shabby school-room to act in and the old forms and presses for scenery. That did look like a difficulty, didn't it? But if you have read the adventures of Nicholas Nickleby you will remember that, the first time he had to write a play, he was asked to write it around a pump and some tubs that his friends had bought cheap. So he wrote a play with a great Pump Scene, and it was a huge success. The girls and I decided we could do as well as Nicho-las, so we wrote a school-play to suit the furniture, only to make it attractive we had school-girls of the day when curls and crinolines were worn. One girl was the school marm with snow-white hair, and the rest were her pupils.
Did you girls in the sheep country know that the curly locks of Lincoln wool, all washed and combed and stitched to a little close-fitting cap, will make the love-liest white wig for an old lady? Well, just try it if you get the chance. It was a great play, and there was a little mechanical mouse that slipped out suddenly and made great fun by sending all the girls scuttling on to the forms. We even had an epilogue, which is a kind of complimentary speech, spoken in verse. Everyone wanted the play repeated; but the point of it all is that the girls did all this them-selves, with just the least little bit of help. It is wo-derful what you can all do if you will let yourselves believe you can. And so that you may all tell me what you are doing we will institute straight away
CINDERELLA'S POST-BAG.
CINDERELLA is my 'really truly' name when I have letters written to me, and you all know Cinderella, the girl who wasn't the least afraid of rats and lizards, and who had such wonderful luck in raising pumpkins. Who has a letter to drop into my post-bag this week?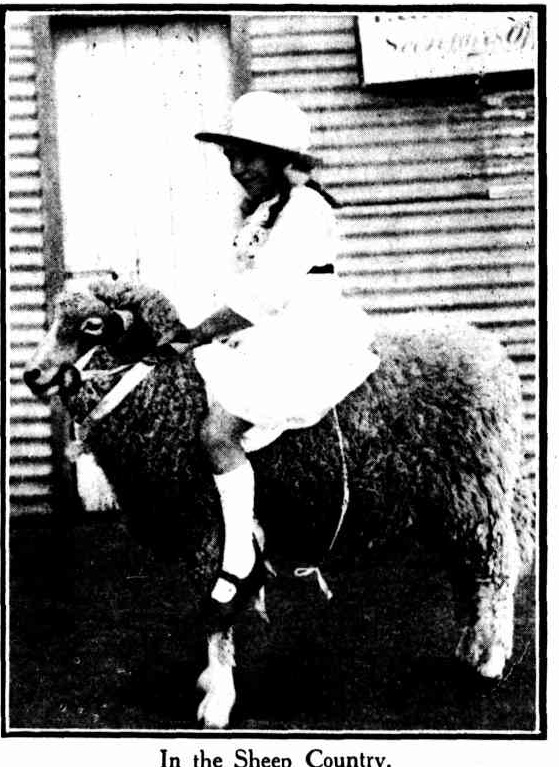 In the Sheep Country. This little girl, who lives in the Henty district, N.S.W., rode about the ground at the last Henty show on her pet lamb. She has two other lambs broken to saddle and harness.
OUR COMPETITIONS.
THE competition for girls is: 'MY FAVOURITE LESSON AT SCHOOL.' There is a Junior section, up to 12 years, and a Senior section, up to 17 years. A Certificate of Merit will be awarded for the best answer in each section. Write about 100 words. The competition for boys is : 'THE BEST HOLIDAY I EVER HAD.'' There is a Junior section, up to 12 years, and a Senior section, up to 17. A Certificate will be awarded for the best answer in each section. Write about 100 words. Note that the closing date for both competitions is FEBRUARY 4th. Send your name, address, and age with your letters. THE CHILDREN'S PAGE. (1920, January 14). Sydney Mail (NSW : 1912 - 1938), p. 27. Retrieved from http://nla.gov.au/nla.news-article159028090
From this first speaking to her Readers Ella is 'Cinderella' when they are sending letters to her. The Children's Page was also a place where Pen Pals were matched to each other, by 'Cinderella' many of these corresponding into adulthood with each other as well as with 'Cinderella'.
Faeries play a prominent and very important role in Scottish and Irish folklore, from the time that every waterway, well and loch had a name, and an ancient faerie that looked after or 'spoke' for it. Even people with strong religious beliefs embraced the notion of fairies, kelpies, and brownies in centuries past. Scottish fairy lore is rich with descriptions of these creatures and their habits.

"When the first baby laughed for the first time, its laugh broke into a thousand pieces, and they all went skipping about, and that was the beginning of fairies." - Sir J. M. Barrie, Scottish journalist, writer, and dramatist (1860-1937)
"Fairies use flowers for their charactery."

-

William Shakespeare, English dramatist and poet (1564-1616)
Ella grew up surrounded by these traditions and this may account for her strong ability to speak 'fairy' to her young audience throughout her career and apply these to the places she loved - all of them uniquely Australian. Ella herself credits her Scottish ancestry from the Highlands and Islands as having an incredible amount of poetry, to use own words, 'passing through our souls'.
Ella's
earliest
works, apart from the rhymes and short stories, began appearing in such places as the acclaimed Bulletin's monthly periodical 'Lone Hand' with
Bertram
Stevens telling her she had a 'lyric gift', although Ella believed that all Scottish folk had this and even showed and spoke about being 'fey' - which is a Scottish term for being able to see things that others may not.
It was 'fey' talk, and fairies she knew, and wrote as though one of them, even going on strike for her seven days off at Cronulla one year as a fairy:
A PAGE FOR THE CHILDREN.
THE FAIRY TALE
BY ELLA McFADYEN.
NAY, I've no skill for tale or rhyme,
Yet, little folks, you'd set me spinning.
Well, come then: Once upon a time
(I know that's held the right beginning),
THERE was a lady, fair to woo,
And eke a knight; she loved him dearly.
He loved her. (Were this story true
That might not follow half as clearly.)
THERE was a dragon in that land —
A fiery dragon that assailed her;
He slew it, and thus won her hand.
(Just as he would have had he failed her!)
THE fairies graced her wedding day,
And blessed with gifts the lovers' passion.
(Now grant this could befall to-day,
Who cares such things are out of fashion?)
WERE love a tale and life a rhyme,
And mine the keys of tears and laughter,
Perhaps our 'Once-upon-a-time'
Might finish 'Happy-ever-after!'
Fairy Bells.
OLD folks forget their fairy tales —
how sad the saying runs.
They don't believe in fairy lore be
loved of little ones,
In dancing fay and tripping sprite and
feasts by moonlight set ;
And when I'm old, as now they are,
may be that I'll forget,
Till some still night beside the sea,
dim tide and silver sand
Will bring to me, in memoried peal,
the bells of fairyland.
Children's Page
Conducted by ELLA McFADYEN.
A Fairies' Union
Cronulla.
DEAR BOYS AND GIRLS,—
I write this Ietter to the C.P. to break to you the dreadful news that, after all, there is a Fairies' Union, and as a member of it, I have gone on strike. Possibly you thought such a thing could never happen. I hardly believed in the possibility of it myself, and yet it has come to this. I will explain. To begin with, this is the last week of my holiday at Cronulla; the sky is blue again after the rain, the surf is very inviting, the beach is still gay, though the crowd on it is thinning daily. You know the last
few days of an ebbing holiday are as sweet as the last drop in your cup or the last peach on the tree. I have borne patiently with the fact that the postman is always pulling cards in the letter-box inviting me to call for packets when I go up town. I get these packets and out tumble a few score of your letters sent on from the city. Really, I have been a conscientious fairy. I have read letters, written answers, straightened out the metre of innumerable poems, named more calves, canaries and kittens than will bear thinking of, given away all my nice postcards of the South Coast, recommended books when I am dying to get to a really nice one myself, written to oversea correspondents to say what a lovely time I would have been getting in the surf had I been there, and all that kind of thing. I even got the 'Herald'' and
resolutely
read the Inter. lists for your precious names. And now I won't write another C.P. until I am back at work. I simply won't. I have struck for a good round week of seven days. And after that I suppose I will go back and resume work the same as ever. That is, if you do not declare a lockout and invite some horrible old hobgoblin to run the C.P. instead. I have been moved to this drastic action by the fact that the sun has gone down, and since breakfast-time I have read just exactly 75 letters and have not been near the surf all day. I am assured that in striking I have all the fays, elves, sprites, water-nymphs, pixies, gnomes, pixies, dryads', naiads, undines, oreads, leprechauns, banshees, trolls, goblins, hobgoblins, brownies, will-o'-the-wisps, and others of the Little People behind me. The Incorporated Society of 'White Witches highly commends my action, and the mermaids have offered to down tails in sympathy. So it is no good, my dear children: you will simply have to run the C.P. for yourselves this week. Carry on with all competitions as annnum-ed in last issue, and perhaps when I get back I will write again and tell you about my holidays. For the rest, I don't suppose the printers will have to bring out the C.P. this week with blank columns, because here are your own letters lo fill them up. Now I am going to look for a comb and tissue paper, on which to play 'Solidarity for Ever.' — Farewell. CINDERELLA.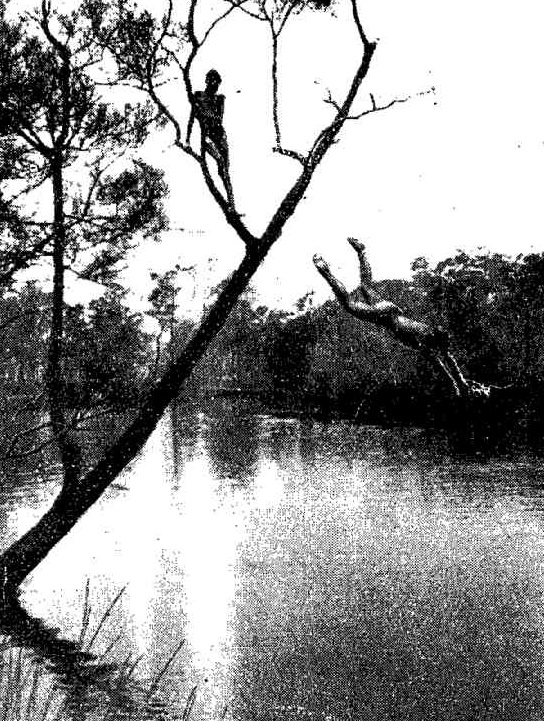 A HOLIDAY SNAPSHOT AT LAKE NARRABEEN.
The 'fairies' were not only another beautiful link with Nature they could also be prevailed upon to teach a little insight too:
Gossip
MIRANDA met a fairy
Last Tuesday week at four
(As she told Matilda Mary)
On the path beside her door.
Told tales are past retrieving;
Miranda's most upset,
In the fairies in her set.
There's Nell and Joan and Nan, I vow,
They'll tell you every one
They don't believe in fairies now —
It simply isn't done.
Miranda met a fairy —
The fact cannot be blinked.
She's in a sore quandary,
Though she's thinked and thinked and thinked.
For she told Matilda Mary,
And Matilda told the town
That Miranda met a fairy,
And she'll never live it down.
Cinderella.
Ella also began on the Junior Red Cross paper founded by Eleanor Mackinnon in Bridge Street, Sydney and was spread through the schools. Her work with and for the Junior Red Cross would go on for fifty years and many a Junior Red Cross member would appear in the Cinderella pages for decades.
Later she would be the 'camp mother' for Red Cross camps for children and marvelled, '
Funny thing isn't it, an Old Maid mothering camps, but apparently I was one of their best camp mothers
.'
Ella didn't speak down to youngsters, she included them and what was happening all around them as topics to discuss. As stated in this 1932 interview, '
"Few children really care for baby talk, or ideas too carefully broken down for their consumption. Children's stories, like their clothes, are best made a little on the big side — they'll grow into them,"
HUNDREDS OF CHILDREN
Miss Ella McFadyen's Family
A MODERN CINDERELLA INTERVIEWED
"The spontaneous joyousness of children is the best asset with which to continue life. Too much reliance on artificial entertainment saps the spirit, but to have one's own resources is always riches." With this as her healthy philosophy, it is no wonder that Miss Ella McFadyen has been so successful in one of the most difficult of all tasks to do Well the guidance and development of the Young Idea. Another interesting clipping from her book of experiences is this ' "Few children really care for baby talk, or ideas too carefully 'broken down for their consumption. Children's stories, like their clothes, are best made a little on the big side — they'll grow into them,"
Miss McFadyen certainly had large Ideas at four years old. "My favourite game was to sort out all the old diaries, note-books and letters I could find, and play at conducting a newspaper," she told a representative of "The Telegraph." "I don't know where the ambition came from, as there were no literary people in my family that I know of, but my ambition clung like a Scotch burr." - She was an accepted writer of verse while still a child, and her name Is still well known to readers of the "Sydney Morning Herald." She graduated straight from school into journalism, doing feature work for several weeklies. Then she was asked by the editor of the "Sydney Mail" to conduct a Children's Corner for that magazine, and when she accepted the offer she accepted what has become a life work.
FULL-TIME INTEREST.
"I am married to the Page and the members are all my children," she said. "It would take a very devastating divorce to separate us. Many who joined the Corner 12 years ago are now married and have babies of their own, but they refuse to resign their membership, contrary to the rule which disqualifies them at 17 years of age. They continue to write, and how can I desert such faithful friendship? Gradually the work has come to ' take up the whole of my time, and I have to make It my recreation as well as a full-time position: But It is happy work, and well worth the sacrifice." Besides the endless claims of her "children" she receives letters of consultation from parents and teachers, and her methods of developing youngsters along the right lines is admired by writers and teachers all over the State. A fact that helps to explain her influence for good Is that she spends all her leisure time outdoors with members of her Page.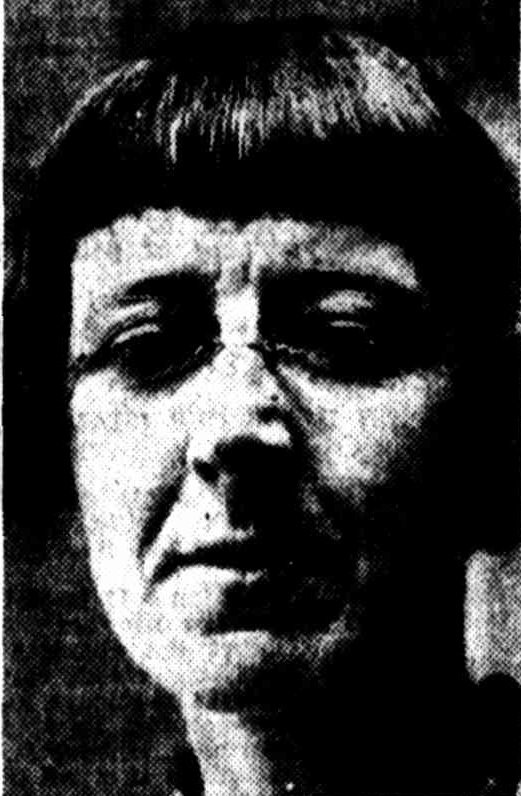 MISS ELLA McFADYEN
WALKING ENTHUSIASTS.
From her West Highland ancestors Miss McFadyen Inherits a love of walking and open-air pleasures — and the stranger gift of second sight. "Such an anachronism In Australia," she said laughing, "but there it Is, and the less Interesting habit of sleeplessness that goes with it."
One trait balances the other, however, as she can become sufficiently tired on a forty-mile walk to sleep the night through and go to work next day without a trace of fatigue or stiffness. On her long walks she Is accompanied by members of the "Boomerang Club," formed of members ot the Page who 'are capable of walking 30 miles a day, carrying their packs, without distress. They pursue botanical and bird-life studies during their walks, or talk about books, and they are trained in bushcraft of all kinds. Younger members have their own walking club, and Miss McFadyen has trained many youngsters of 10 and 11 years to walk 10 miles In an afternoon. She carefully supervises their food and footwear — the two most important details of successful long distance walking!
Ambitious young photographers also find outlet for their talent on these walks, and Miss McFadyen is the keenest of the camera enthusiasts. Her floral and animal studies rank high amongst amateur work, and she provides all the Illustrations for her pages.
QUEENSLAND CHILDREN.
The strong affection between herself and the children Is due partly to perfect confidence. She never uses an "understudy" for the page, and, no matter how heavy the pressure of correspondence, reads every letter she receives. While she refused to "talk down" to children, and believes that they take great Interest In serious aspects of study, she declines to preach. "I think the story with a moral concealed in its tail is just simply cheating," she declared. "Children are given too much powder in jam. If you told them it was powder and appealed to their will-power most children would prefer to take their medicine 'straight.' "
Many Queensland children are members of her page, and she is very Interested In them. "I think the Queensland high school boy is remarkably intelligent," is her comment, "and all Queensland children are very bright. I think they draw better than children of my own State; but that may be due to training in the- schools — I don't know. Some of my grown-up 'children' live In Queensland's farthest outback districts."
ROMANCE BLOWS IN.
Soon after she started her Page, Miss McFadyen received a visit from a Queensland boy. When he went home he talked about her so much that his people became curious. "How old Is Cinderella?" asked his mother. (Cinderella is Miss McFadyen's "Page" name.) The boy thought for a moment, and answered: "As old as the person she happens to be talking to;" "Cinderella" heard of this charming compliment after the boy's mother became a relative of hers, for eventually the boy married her sister! So romance, which can never be kept out of anything, is linked with "Cinderella's Page. And "Cinderella" herself, who is on a flying visit (In both senses) to Queensland, will spend a few days with her sister and brother-in-law, Mr. and Mrs. C. J. Cameron, at Beechmont, Queensland. HUNDREDS OF CHILDREN (
1932, September 28
).
The Telegraph
(Brisbane, Qld. : 1872 - 1947), p. 9 (FINAL). Retrieved from
http://nla.gov.au/nla.news-article181159874
The C.P. pages were filled with letters from children seeking a friend, all of whom were answered individually by Ella, a mammoth task. As The Sydney Mail was published for rural Readers, and isolation and loneliness could mark the lives of some of these young people, a friend they could talk to and hear from about the worlds outside their own cannot be underestimated - many of these letters started with announcing they too wanted to be her friend - and this lady, not immune by any means to the nuances and tone within these, also set up a Pen Pals section through the page so that when they were not writing to her they could have a pal to talk to elsewhere. Ella became, to thousands of children, over decades, another mother or auntie, and many kept in touch even into adulthood.
Even a century on the essence of Australia and Australians shines through these letters and shows not that much has changed where youngsters are out in the environment, playing - with the exception of ponies and horses giving way to motorised transport. The correspondence also reflects the events of their lives' times too and their being given a platform to express themselves, in an era where children were still largely expected to be 'seen and not heard', shows Ella recognised what was happening in their communities and the world around them also impacted upon them and must be given an outlet for expression.
A few examples:
CINDERELLA'S POST-BAG.
DEAR CINDERELLA,—
Bundella.
I would like to be one of your friends. I am nine years old, and I live in the country. There are two magpies that come here; they eat out of our hand. I am sending you a snapshot of the magpies. My baby brother is feeding' them in the snapshot. The nearest railway is 50 miles away. We get the mails three times a week — on Tuesdays, Thursdays, and Saturdays. 'We look forward to the 'Sydney Mail' on Thursday. I have been going to school 11 months; but it is only a half-time school. We have a nice teacher, and I am in second class, and will be in third class when I go back after the holidays. My two sisters go to school, with me. We have had some lovely rain, and I hope the grass will soon grow so that I can have my pony home. I am very fond of reading the letters that other little boys and girls write to you. Your little friend. RONALD EWBANK (9 years).
(Dear Ronald, — Thank you for the snapshot; it will appear one of these days on the page. I should like to hear from your sisters also.— Cinderella.)
Dear Cinderella,— Gundagai.
This is my first letter to the Children's' Page, and if you accept me as a member it will not be the last. Now, I'll tell yon .i bit about myself. My dad lias a wheat and sheep farm; he has over one thousand acres of land. When my three brothers went to the war five years ago I left school to help my father do the farm work, and I've helped him ever since. My' eldest brother was one of the first men to enlist from Gundagai, and he was killed at Gallipoli, 1915. My second brother was killed in action in France in 1917 ; and the third enlisted when he was 17, and he was wounded twice and gassed once. He came home last June. He is an Anzac. My hobbies are riding, horses' mostly, then push bike and motor bike, shooting, swimming, diving, and photography; in fact, I go in for all kinds of sports. We have a large Red Cross circle in Gundagai. I am president of the Junior Red Cross here. By the way, Cinderella, if you could tell me where I could obtain any views of the Prince's visit to Australia I'd be awfully pleased; or if any members of the Children's Page have any snapshots of his visit or of H.R.H. himself I would be very pleased to hear from t.hem. My address is Florrie Bell, Kimo-road, Gundagai. I was unable to go to Sydney to see the fun, as Gundagai is nearly 300 miles from Sydney. From yours sincerely FLORRIE BELL.
(Dear Florrie, — You appear to have a good all-round capacity for work and play both. I like your list of hobbies, and am glad that you have time for the Red Cross as well. Your brothers put up a record of which you must be. proud. Perhaps some of our young photographers will send you some snaps, meanwhile I am mailing you a quaint little likeness of the Prince, very tiny, but just like him. — Cinderella.)
Dear Cinderella,— Nowra.
We have been getting the 'Sydney Mail'' for a long while, but it is much more interesting since you started the C.P. We live very near the Shoalhaven River, and we have to cross it in a punt before we can get to Nowra. A launch runs up the river every day with milk. We have a lot of horses'. My pony's name is Jaeli; he is a chestnut, with a small white star on his forehead. I have, a calf which I rug every night, and I feed her on corn and chaff; she is dark red and very quiet. Could you suggest a name for her? I am very fond of music, and have passed five examinations in it. Hoping this letter is not too long for publication. Your new correspondent, JEAN -MACKENZIE (12 years').
(Dear Jean, — Why, I have not passed five exams, in the whole course of my life. A pretty name for the red calf would be Poppy. -—Cinderella.)
CINDERELLA'S POST-BAG. (
1920, July 14
).
Sydney Mail
(NSW : 1912 - 1938), p. 19. Retrieved from
http://nla.gov.au/nla.news-article159040185
During these early years of the 'Children's Page' (C.P. - also 'Cinderella's Page') the fostering of other writers and artists would
eventually
bear wonderful fruit for Australia. Ethel Turner (Curlewis) was also a frequent writer for the Sydney Mail(e.g. this 1921 story), and this may be one from her
niece
Claire Curlewis (born May 25th, 1909), daughter of Clive Pemberton Curlewis (later Judge) and brother to Herbert Curlewis, her husband.:
Dear Cinderella.— Neutral Bay.
I am sending in the missing syllable rhyme, and I hope it is correct. We have taken the 'Sydney Mail' ever since I can remember, and think it a very interesting paper, especially now that it has a 'Children's Page.' I would like to write to the page if I may because I like the idea of being able to use a nom-de-plume, as I am very shy. Are there any rules for becoming a member? I
am very fond of writing stories, and have written fourteen altogether, including some fairy stories
.
I don't know whether they are any good or not, because I have not enough pluck to let anyone read them, but I suppose I am fond of writing, because one of my aunties is an authoress, and has written several books, including some fairy tales
. Well, I must close .now.
From your little friend, 'DECIMA.'
Dear Decima— I should like you to send me a story one of these days
in order to let me see if my theory is right — namely, that shy little girls are the best writers, because they observe and think more than the other kind.
My Fairy Godmother whispered to me the other day the real name of a little girl who won a prize for clever needlework not long ago.
'
I wonder how she knew that?— (Cinderella.)
CINDERELLA'S POST-BAG. (
1920, March 10
).
Sydney Mail
(NSW : 1912 - 1938), p. 17. Retrieved from
http://nla.gov.au/nla.news-article159028576
Dear Cinderella,— Neutral Bay.
I am sending you one of my stories called ''Ann's Adventure in the Work Basket.'
as you said you would like to see one. It is not one of the best, I am afraid, but it is the only one that I have written out properly. It is rather long', but I hope it won't bore you too much.
Do you like cats, Cinderella? My favourite pets are cats, birds, and dolls. I have a darling little French doll called Dawn. She has a trousseau of 160 dresses. Isn't she extravagant? We have two cats, both black and white. The biggest one, Mowgli, is almost as big as a fox-terrier dog. He is a very intelligent puss, too; he knows his name, and whenever I call out 'Milkoo' he comes running up to me, because he knows I have a saucer of milk for him. The other cat is very affectionate, but she is' also very cunning. The other night she told the kitten to get upon the table and play around to amuse us, so that she could hop up on the sideboard and eat the cake. Of course, we had to give her the cake after she had sniffed at it; she ate the lot, and it was a wonder she wasn't sick after it; bub she wasn't. I am very busy at present making clothes for the little sick babies at the Renwick Hospital. Mowgli gave me a map of Catland the other day, and also an essay describing it. I will send you the map if you would like to see it; but I wouldn't think of sending the essay; Mowgli's writing and spelling are disgraceful.
How ever did your fairy godmother find out about that needle work? I wonder does she know a lady called Mrs. Makebelieve?
This is a terribly long letter; so I will close now. From your friend,
DECIMA.
(Dear Decima, — A very extravagant doll, I fear, in these expensive days. What tricks those cats can play! The story will appear one of these days.
As for fairy godmother, she knows that old lady very well; so you guessed right.
I am so glad you are working for those dear babies. I should like to see Mowgli's masterpiece. — Cinderella.)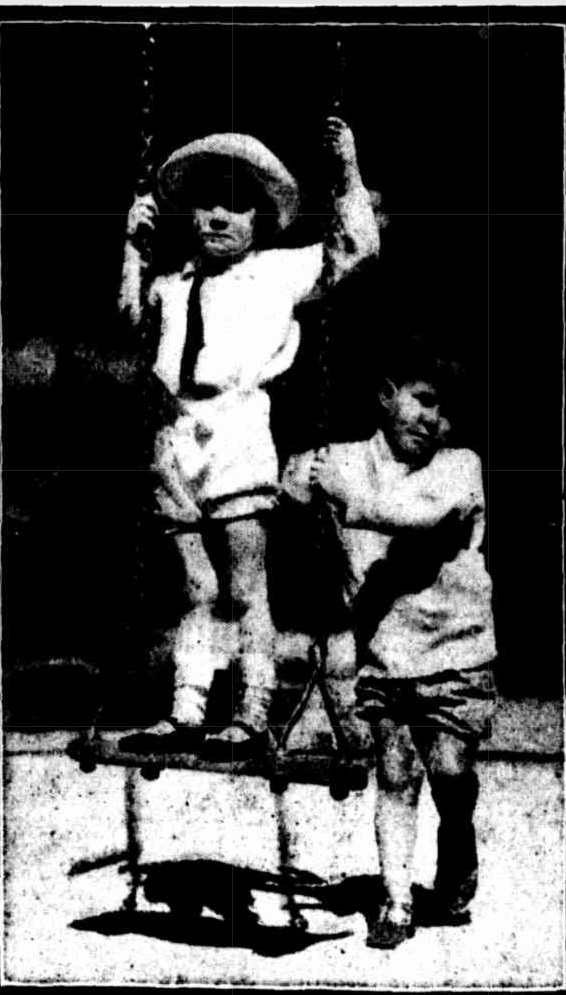 In the Children's Playground.
Many of these are now established in Sydney and around the suburbs

.
Conducted by ELLA McFADYEN.
OH, dear! Oh, dear! Whenever will I get this handkerchief finished?' sighed Ann. 'I've been nearly a fortnight over it, and it's not finished yet. Jennie's birthday is the day after to-morrow, and I'm sure it won't be done by then. I'm too tired to do any more to-night.'
She folded the handkerchief up and put it on the table with her needle, thimble, and scissors.
'Are you very tired?' asked a timid little voice beside her.
Ann looked up quickly, and beheld a small brown eIf sitting on the table.
'Why, what a funny little thing!' she exclaimed, opening her eyes wide with astonishment. 'How did you get here?'
'Just came,' answered the elf. 'And I'm sorry you're so tired. How would you like an adventure to brisk you up?'
'Oh, I'm not too tired for an adventure,' said Ann; 'but I am tired of sewing.'
'Very well; step into your thimble, and we'll go,' said the elf.
Ann did so, and was not at all surprised to find that she fitted into the thimble easily; it all seemed quite natural to her. She shut her eyes, and suddenly felt a whirring sensation, as if the thimble was springing through the air. Suddenly it stopped, and she ventured to open her eyes.
'Why, where are we?' she asked the elf.
'In your mother's work-basket,' he answered, merrily.
'I never thought it was so big before,' Ann said.
'Ah! that is because you have grown smaller,' smiled the elf. 'What do you think of it now that you are inside it?'
'It looks much handsomer than before. I used to think it rather shabby; but now that I am inside it, it looks quite different.'
She stepped out of the thimble and looked around her.
The inside of the work-basket seemed to have turned into a room, with one door at the back. The walls were lined with quilted rose-satin, and the floor had a smooth, shiny covering of the same material, and the whole place was spotlessly bright and clean.
'We are going to hold a sewing meeting in a few minutes.' said the elf. 'I do believe I hear Mrs. Scissors coming now.'
The door at the back of the room opened, and a tall, glittering pair of scissors entered.
'I feel so sharp and bright this evening,' Mrs. Scissors said to Ann. 'I was sharpened and polished this morning.'
'I know you were!' laughed Ann. 'For I took you out to the door myself to be sharpened by an old tinker.'
'Well, I feel excellent after it. Here come the others. Open the door for them, Elf.'
The little brown elf opened the door, and a long profession of coloured reels of silk, needles, thimbles, and pins entered, and behind them six little fairies, all dressed in the same rose-coloured satin.
'Be seated, and get to work,' said Mrs. Scissors.
Whereupon the six fairies each took a little white object out of their pockets. Then six needles jumped into the fairies' hands, and the reels of cotton each put a long piece of thread through the eye of the needles. Then the fairies started to sew, their glittering needles flying to and fro, whilst Mrs. Scissors ran around snipping off threads. As each fairy finished she came and laid her sewing on a little silver table at one end of the room.
When the six fairies had finished Mrs. Scissors stepped over to the table and rang a tiny golden bell. Immediately a pretty little rosebud fairy, clad in a dress of rose petals sparkling with silver drops, ran in with a large square box, which she placed on the table. Mrs. Scissors packed the sewing neatly into it, and then requested Ann to come forward, and when she did so she handed her the box.
It was a white box with gold edges, and on it was a picture of four pretty little fairies chasing some butterflies.
'Open the box,' said Mrs. Scissors.
Ann lifted off the lid, and inside were six pretty little white handkerchiefs edged with cobweb lace. She lifted a smiling face to Mrs. Scissors.
'May I give them to Jennie?' she said.
'That is exactly what I want you to do,' said Mrs. Scissors. 'And now you must return home, Ann, so hop into the thimble again.'
In a few seconds Ann was safely at home again with the pretty box of handkerchiefs for Jennie's birthday. THE CHILDREN'S PAGE. (
1920, July 14
).
Sydney Mail
(NSW : 1912 - 1938), p. 19. Retrieved from
http://nla.gov.au/nla.news-article159040129
DEAR CINDERELLA.— Ashfield.
You will be very pleased to hear that I am out of the hospital, after being there for six weeks. Mummy and daddy took me home in a taxi last Sunday. There was a lovely surprise for me when I went, into the dining-room. The room was decorated with heliotrope and gold streamers, as these are my favourite colours, and on the centre of the tea table was a beautiful Christmas tree, all lit up with little coloured candles. It looked so pretty. I would have loved you to see it.
Mavis is staying home from school for the rest of this term to act 'nurse'
. I think the etchings and drawings of old Sydney in this week's 'Sydney Mail' are most interesting. I love anything historical, don't you Cinderella?
Just before I left Prince Alfred they were putting on the wireless there. On every bed will be a crystal set and there will be a loudspeaker in each ward as well. Won't it be lovely for the patients to lie in bed and hear all the best music? I think the wireless is very instructive. Have you one? I wish we had.
Don't the Papuans look interested in Captain Frank Hurley's wireless in the 'Sydney Mail?'' I am sending you a piece of poetry which I composed while I was in the hospital — 'The Autumn Elves.' I hope you will think it good enough to publish some time. Well, Cinderella, I am getting tired, so will close. Wishing you every success.
With love and best wishes from DOROTHEA DOWLING (15)
.
(Dear Dorothea, — I am very glad to hear you are home again, and hope you will soon be quite strong.
Etchings
are very fascinating things — so sympathetic, and so much more suitable to an ordinary room than the more ambitious type of work. When I have some more money to spare I mean to acquire a few.
There is one that I saw exhibited a while ago (by Mr. Squire Morgan) of a coast scene near Pittwater.
The drawing of the rocks was lovely.
But then I am always wanting art' pieces. I badly wanted Sir Bertram MacKennal's bronze statuette of St. George. I'd simply love to have that little bronze boy-saint looking down at me as I worked. I saw Captain Hurley's new film. The plot is ordinary, but the life at Thursday Island is very interesting and well shown.
Your verses are very nice and will be used later on, when they will be seasonable.
I am afraid wireless would interrupt my reading if I had it. — Cinderella.) Children's Page (
1926, December 22
).
Sydney Mail
(NSW : 1912 - 1938), p. 24. Retrieved from
http://nla.gov.au/nla.news-article166522140
Dorothea Dowling, along with her sister Mavis (q.v.), were members of the Imperial Society of Dancing (Classical Ballet); and represented Australia in London at the Festival for Ballet Congress. The sisters also contributed verse, articles, and short stories to Australian periodicals and radio poetry sessions. They wrote the words for 'Carols for Unison Voices and Piano' (1969), to accompany music by Miriam Hyde.
One of the etchings of Pittwater James Squire Morgan completed during the 1920's: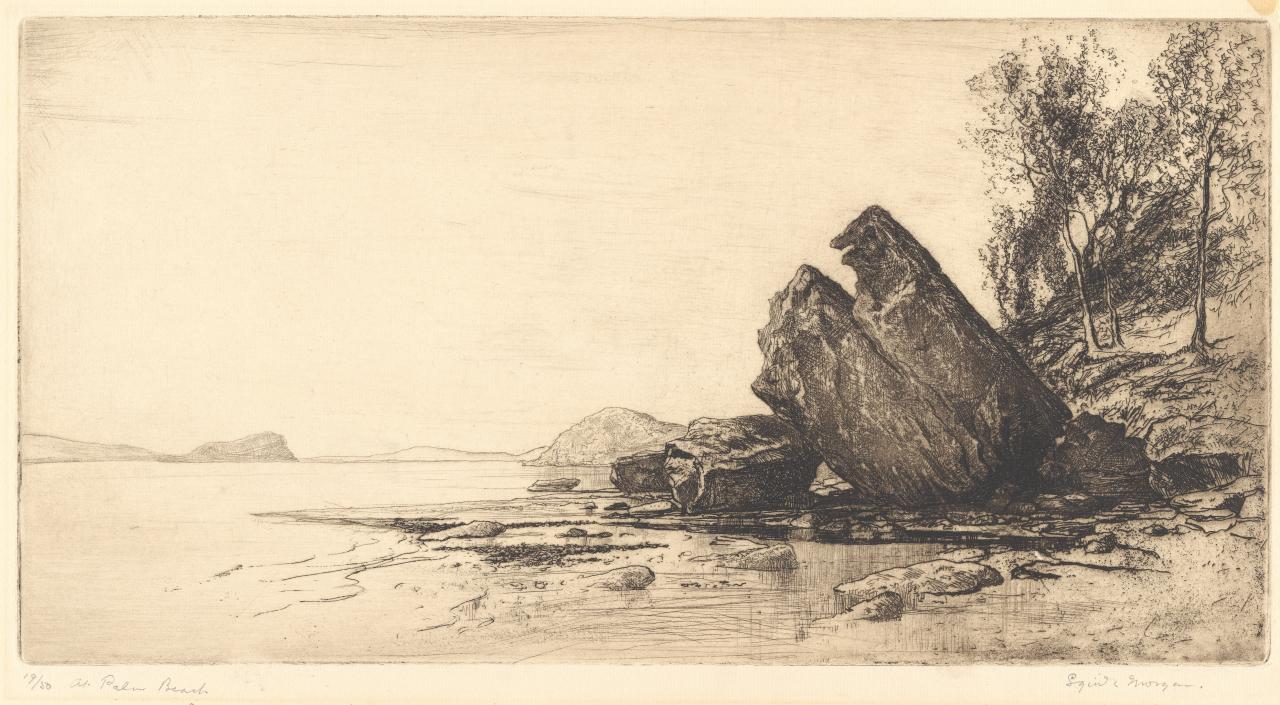 At Palm Beach (1920s) by James Squire MORGAN - from and courtesy National Gallery of Victoria, Melbourne, Felton Bequest, 1926 © Estate of the artist. Item: Df112248
Flowers-Seasons-Landscapes: The Boomerang Walking Club
Ella had a deep abiding love for her homeland and the outdoors and wrote about this in all her stories and 'rhymes'. Associated with the Children's Page was the Boomerang Walking Club whose members had to be
able to
w
alk 20 miles a day before they could go on treks and like boomerangs, return home under their own power.
Ella states in her 1972 Interview by Hazel de Berg that '
all our walks were in search of Nature subjects for me and things I could explain and show for the boys and girls and help them to become Conservationists
.
And beyond Conservation, earlier, you want a sense of Ecology
'
She speaks about the unfortunate destruction that may occur when a troupe of Scouts, as she uses as her instance, hike through the bush, breaking plants, leaving marks. Her and her fellow hikers method was:
'We were like the blacks; we wanted to live secretly, silently, have an unseen life'. [3.]
As she replies to her young Readers:
'KING INGODA' (Bourke) : The Boomerang Club purposely remains a small company with a high qualifying standard. We seek the solitude and peace of the bush; we detest noise and interruption and anything that spoils the native charm of our quiet excursions. Cinderella's Answers (1932, August 10). Sydney Mail (NSW : 1912 - 1938), p. 48. Retrieved from http://nla.gov.au/nla.news-article166226104

HELEN HOSKINS (Wollongong) : The Boomerang Club exists to train its members in efficient long-distance walking and to promote the study of bushcraft, Nature, etc. Most of our members are keen on botany, photography, bird-lore, and the literature of outdoor life. Only a small number of candidates can be accepted for this training, and, obviously, only those who live convenient to Sydney. Guests from the country are invited to share our walks when possible. Cinderella's Answers (1937, April 21). Sydney Mail (NSW : 1912 - 1938), p. 48. Retrieved from http://nla.gov.au/nla.news-article160502078
Living at Lindfield their walks frequently brought them to Pittwater, and Broken Bay, where she could gaze across to an old favourite home on the Central Coast, with many a tramp through the Ku-Ring-Gai Chase National Park and even to Barrenjoey. However, Palm Beach was also a place just for respite - the 'First Correspondent' referred to here is her sister Eunice, who would soon marry a pen-pal from Queensland:
The Children's Page
Conducted by Ella McFadyen
Little friends who wish to visit Cinderella are reminded that the time to call at the 'Sydney Mail' Office, ' Herald ' Building, Pitt and Hunter streets, is between 10 and 12 on Tuesday mornings. Cinderella is on the second floor.
A Sea Change
When First Correspondent and Fairy Godmother returned from their three weeks of holiday in Queensland Cinderella, said that it was quite time she took, if not a holiday, at least a change.
UNFORTUNATELY, holiday was not quite possible. There was too much to do. However, she put some things in a bag, bought new bathing shoes, and fiddled about with her typewriter till she discovered the locking gear that is supposed to ensure safe carriage to the portable models. Of course, it would have been more fun lo leave the typewriter and take the camera instead, but that could not be. Ali Baba, with a deep distrust in his golden eyes, got between the adventurer and the garden gate and wept aloud. No one needs to tell him what packed bags mean. Even a last-minute gift of sardines did not quite mend that small broken heart. It is sad business leaving one's pets; but that once over, heigh-ho! for Palm Beach and the surf.
At Palm Beach one may sit in a deep balcony (made from the rough stone which seems to be the typical architecture of that holiday land) and look up over the surf and the dunes to Barranjoey Lighthouse. See that spelling? Mr. Russell, who tends the lighthouse and really must know, says that Barranjoey and not 'Barrenjoey' is the correct form officially accepted, and he pointed to the lettering on a locker in proof thereof. In the early days (the lighthouse was opened in 1880) 'Barrenjuey' was the recognised form, but that has been discarded.
It is a windswept place, that lighthouse hill with the brown stone building of the lighthouse and its residence and high-walled garden looking rather like a fort built to defy invading elements. Lower down the slope, on the sheltered side next to Pittwater, there is pretty vegetation and a nice little rocky stair of rough stones. Flocks of wild goats wander about, not very brave in spite of big horns and long beards; and down at the foot of the hill there is a shed where a man once kept a little museum of snake-skins and such trophies he collected. He had the skin of an echidna there and some really fine snakes and iguanas.
A pity he could not have collected for his trophies the wobbegong some fishermen left on the beach. This, perhaps the only really comic member of the shark family, was about five feet long and very fat. He had a foolish face with fringy things like seaweed for whiskers, and such queer fins that they looked almost like little legs. He probably used them for scuffling along the bottom of the pools, for he hunts about on the bottom, I think
'When my glass slippers wear out,'' said Cinderella, I shall get a pair of shoes made from the beautifully patterned, carpet-like skin of a wobbegong — after having it soaked for a twelvemonth in eau-de-cologne.'
WHEN the morning dip was over and the morning work of getting together copy and answering letters (those letters that never cease for a day!) had been faithfully attended to, came freedom. They were mostly companioned hours, too. Francis Sherwood, our Nana Glen member, shared a day: and 'Split-pin.' who will be remembered only by our most ancient members as one who occasionally made daring lightning raids across the border of the Ingle Nook, shared another. Once there was David, who is going to be a member some day, but is only five as yet. Sheila, too, was a little girl-chum with a genius for showing one nice walks. In passing we must wish her success with her bursary exam. Then there was an old sea-eagle who was rather good company along the cliff at evening. He went out at that hour to do his perilous fishing, and once came back trailing something that looked like a slingaree with a long tail. Jock, a long-headed Scotch terrier with an approachable heart that really belied his extraction (Scotch terriers should be a little dour and slow to be friends, but Jock always loved at first sight anyone who would take him home to tea and biscuits), was always ready to accompany one on a walk.
Once a dauntless company of adventurers (three in number) set off on the Newport 'bus, with an enormous picnic basket, and made their way through the callistemon scrub, that seemed all afire with blossom, towards the cliffs where hides the Hole in the Wall. There was some good scrambling before the basket was set safely on a ledge and the steep path to the cave was discovered and essayed. It is a most impressive cave, full of the footmarks of little wild creatures, and very dark and cavernous towards the rear, where a fall of rock has blocked what, was, I believe, at one time a landward exit. Anyway, it was a good cave for adventures, and could quite suitably, have been used to hide a chest of pirate treasure. (Anyone want to fit out an expedition to go there and make sure ?) It was pity Cinderella did not have her camera along that day: but she could hardly have taken a snap of herself dauntlessly climbing up to the cave mouth, and the comrades below were too steeply below to have done so, either.
BEST of all times, probably, were the lonesome rambles along the cliff path, when one could shout reams of Gordon's glorious 'Song of the Surf' with no one but the sea-eagle to hear. Most people at the seaside murmur bits of 'Sea Fever' and other Masefield fragments, and lots more no doubt think of Byron, even if he is considered too out-of-date to quote aloud; but all proper Australians should get 'The Song of the Surf' by heart before they go down to the sea. Out on the rocks towards Whale Beach, where one can gloat over the pools of sea anemones (pools lined with crystal and velvet and sprinkled with jewels, where the many-coloured living blossoms quiver and unfold), one could hear the big waves whooping in over the sunken ledges and feel the shock of them as they surged through the hidden channel beneath, making all the rocky bases of the cliffs shudder with their force. Only then did one get in full the sonorous splendour of Gordon's lines —
You come, and your crests are hoary with the foam of your countless years;
You break With a rainbow glory through the spray of your glittering tears.
To watch the breaking of a high surf on these great rocks and realise the immensity of the force that sends them swinging in is to touch the verge of a very great discovery — a thing that breaks like a dazzling light and soars splendidly above the power of words into the realm of conviction. Then the waves fall back from the cliff in a smother of foam; the sea-eagle, swoops and wheels again to the land, and the great discovery, that a moment since was about to solve all mysteries, is caught up again just beyond human understanding. The mystery remains.
When against the rocks he was hurled, and sucked again to the sea,
On the shores of another world, on the brink of eternity.
On the verge of annihilation, did it come to that swimmer strong,
The sudden interpretation of your mystical, weird-like song ?
The lines ought to be graven on a stone slab along the cliff path for the joy of all who love poetry and the sea, and the swinging, rhythmical waves of both. And that brings us back to the earth and the realisation that the seaside days are spent; that there are hundreds of unopened letters lying everywhere, and the Poetry Competition ought to be judged. It has been held over quite long enough. Children's Page (1928, October 31). Sydney Mail (NSW : 1912 - 1938), p. 54. Retrieved from http://nla.gov.au/nla.news-article158404607
Which home Ella stayed in is not recorded - from the earliest though, her tenacity in wanting Australian stories for Australian children, as well as photographs of children's playgrounds, lends itself to the conjecture that she and Maybanke Anderson (nee Wolstenholme), who also was published by Angus & Robertson, must have known each other. Her eldest son Harry, a lawyer and passionate ornithologist, was also part of the Palm Beach Land Company and one of the early owners of a beachfront home and weekender at Palm Beach and the family had a terrier named 'Jock':
Social Surf Season Opens at Palm Beach
OCTOBER the first Is the official opening day of the surfing season
; and from now on the red-gold ocean beaches, so far almost abandoned in the still cool breezes of late spring, begin like magical molluscs, with gigantic invisible shells, to open and tip on the seashore in multi-colored hundreds-and-thousands the' first enthusiasts of surfboards, sun and sea. A foretaste of the striking beach ensembles for this year, has been already enjoyed by many women at recent mannequin parades, and soon the, 'season will be thoroughly and merrily launched. Palm Beach is one of the - most beautiful of Sydney's surfing places. The wide sweep of bay and free view of ocean, the soft curves of the gum-tree covered hills; the delightful bungalows, the, groves of satin-leaved palms, and stately Norfolk Island nines on the front, make It distinctive and unique, while the many well-known people who are' residents, or-have summer houses or bungalows here lend a greater interest to this attractive spot. Tucked among the trees is "Bob-stay," the blue and white snuggery of the Lord Mayor Hagon family, whose pretty daughter Margaret recently spent the first days of her honeymoon in these appropriate surroundings.
The Horderns' fine house and blossom and shrub-filled grounds on the front are well known
.
Beside them is the bungalow of Mr. and Mrs. C.P. Curlewis.
Their daughter Joyce and some of her girl friends add riding to other seaside joys, and are
often seen cantering along Palm Beach roads.

Mrs. Harry Wolstenholme, Marjorie and their Sealyham doggie, Jock

, live next door in a delightful bungalow,
whose garden plots glow with geraniums at the edge of a beautiful lawn.
...
Social Surf Season Opens at Palm Beach (
1933, October 1
).
The Sun
(Sydney, NSW : 1910 - 1954), p. 27. Retrieved from
http://nla.gov.au/nla.news-article229151667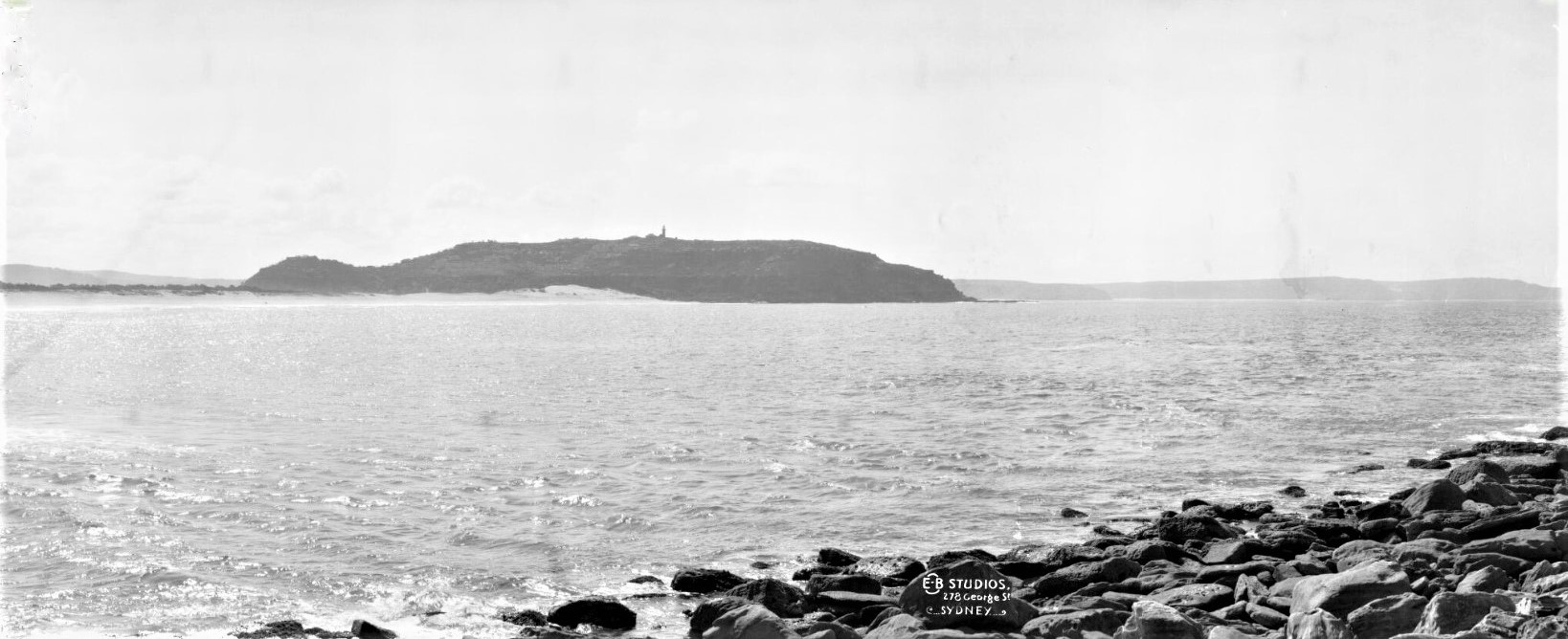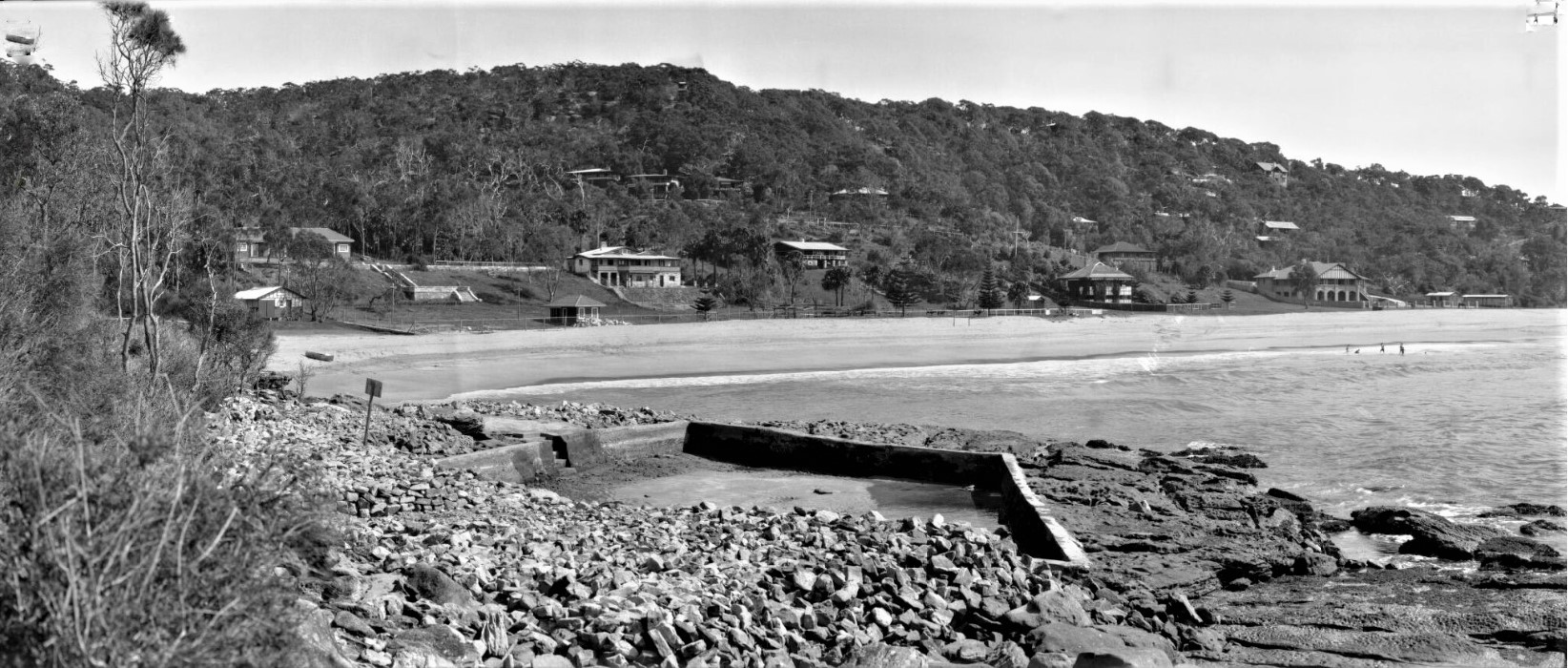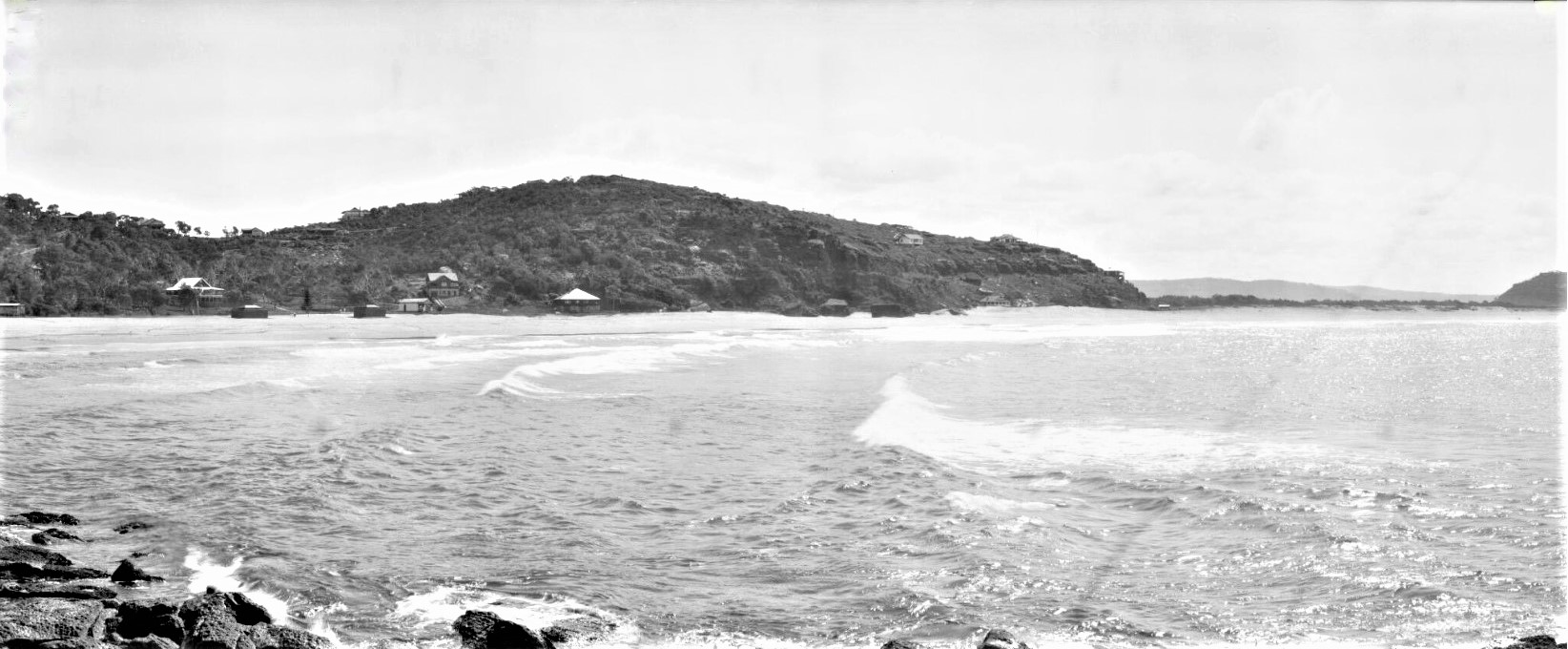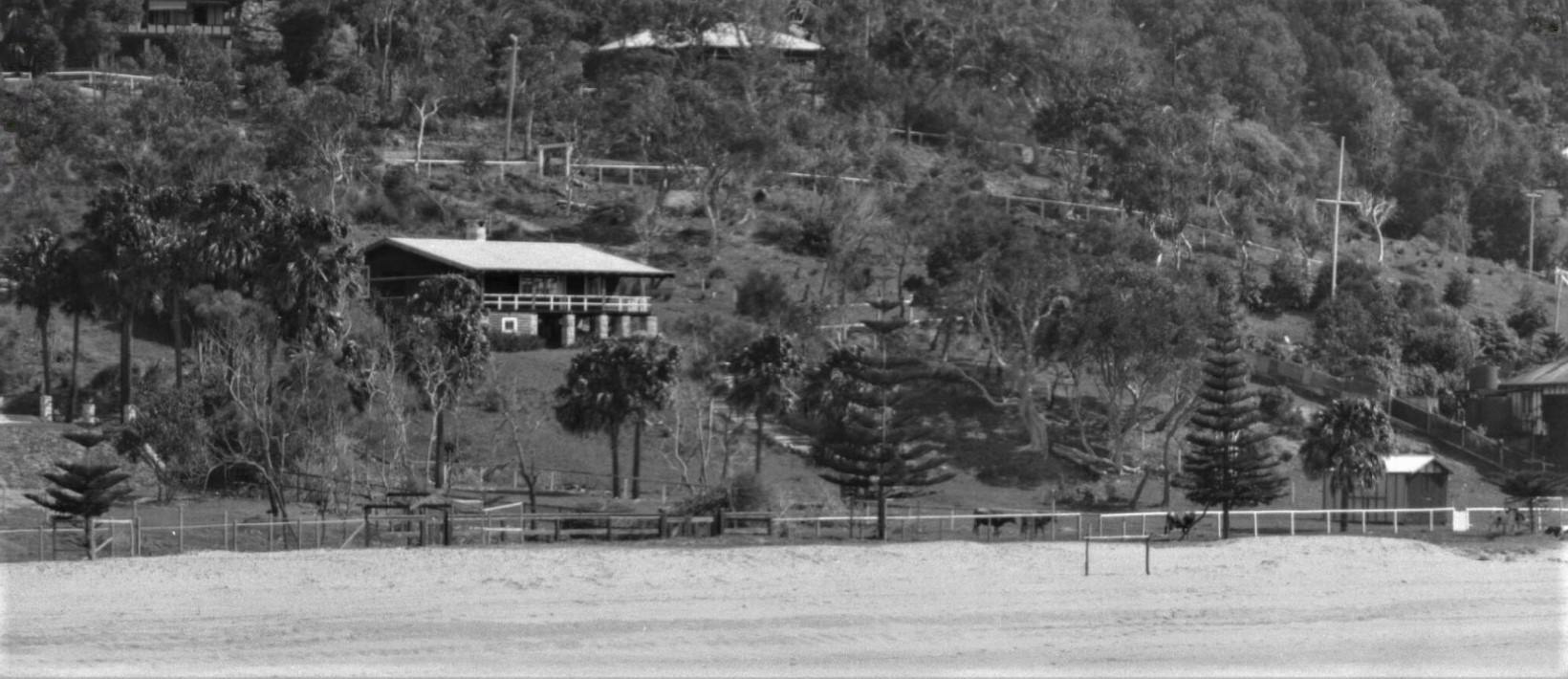 EB Studios (Sydney, N.S.W.). (
1917
).
Panorama of Palm Beach, New South Wales
, 7 Retrieved from
http://nla.gov.au/nla.obj-162484891
- enlarged sections from to show the Hordern place beside first Palm Beach SLSC Shed, Curlewis home, Wolstenholme residence(with cows in front yard!) and Peters' place, now Palm Beach SLSC members clubhouse (with horses in front!).
Maybanke was supported by the Gordon Craig family for decades in establishing children's playgrounds and kindergartens, and this family also had a home atop Palm Beach on Pacific Road (where their daughter, Artist Ailsa Craig, would entertain Thea Proctor when she stayed with them). Ella was a founding member of the Society of Women Writers NSW as well and all of these women and Artists supported each other's work, and women's financial independence, through that too:
INCLUDING stories of well-known Australian writers and artists, the first issue of "Ink," an annual sponsored by the Society of Women Writers of N.S.W., and edited by Constance Robertson, will make Its appearance on November 30. The proceeds of "Ink," which will be sold for 1s, comprising 128 pages of illustrations and interesting reading matter, will be devoted to the Women Writers' Friendly Society.
The two-color cover is original, and the 32 artists who are represented include J. O. Bancks, Tom Glover, Ted Scorfield, Unk White, Jack Quayle,
May Gibbs, Margaret Preston
,
Thea Proctor
, Betty and Esther Patterson, R. W. Coulter, Vio. Cowdroy, Mahdi McCrae, Will Mahony, Cyril Samuels, Sid Nicholls, Harry Julius, Aria and Frith. The 50 writers include M. Barnard Eldershaw, Velia Ercole, L. W. Lower, Harold Mercer, A. G. Stephens, Mary Gilmore, Dulcie Deamer, Pixie O'Harris, Gladys Owen,
Ethel Turner, Ruth Bedford, Amy Mack
, Myra Morris, Elliott Napier, W. J. Rock, Mary Marlowe, and Jessie Urquhart. "INK" (
1932, November 15
).
The Sun
(Sydney, NSW : 1910 - 1954), p. 16 (FINAL EXTRA). Retrieved from
http://nla.gov.au/nla.news-article230569874
Mary Brown Craig (wife of Francis Brown Craig - youngest brother) acquired three blocks on Sunrise Hill (No.s 161, 162, 163) where Craigie-Lee was built. James Brown Craig, the middle brother, had title to three blocks on Ocean road in 1921. Here a house named Tigh-Na-Mara (Scottish Gaelic 'the house of the sea') was built next door to The Palladium but no longer exists - a victim of fire. Ella may even have known Marie Byles, an enthusiastic bushwalker herself and similarly independent woman, whose family also had a home on Sunrise Hill looking towards Barrenjoey. They may even have just taken rooms at Florida House, which was a year round boarding house for visitors during this period.
SURFING enthusiast at Palm Beach these days is the
Hon. W. M. Hughes
, who is
staying at Tigh-Na-Mara
. . . goes for his dip in the early mornings and again in the afternoons.
At the same address are Joy Minnett, Betty Oxenham, and Gwenda Ashcroft.

ROUND THE TOWN. (

1940, January 5

). The Sydney Morning Herald (NSW : 1842 - 1954), p. 4. Retrieved from http://nla.gov.au/nla.news-article29889262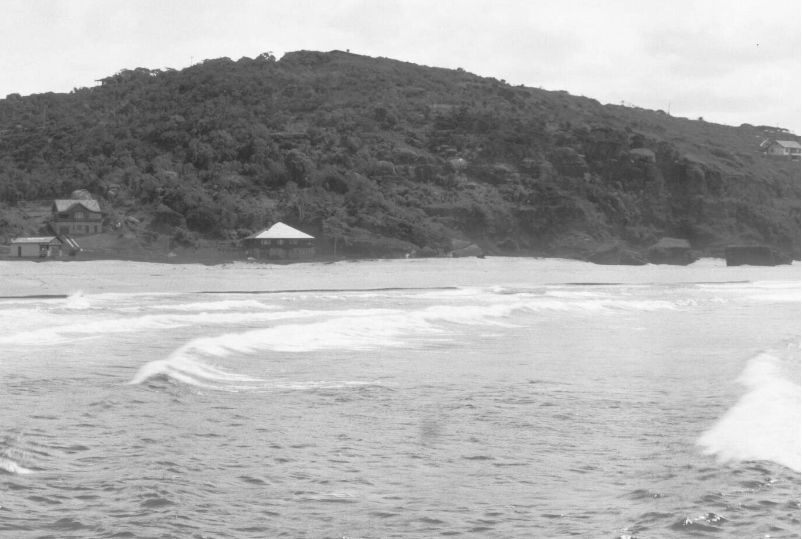 Tigh-Na-Mara.
Enlarged sections from EB Studios (Sydney, N.S.W.). (circa 1917-1924).
Panorama of Palm Beach
, New South Wales,
7
Retrieved from
http://nla.gov.au/nla.obj-162484891
Eunice's Marriage:
WEDDINGS.
CAMERON-MCFADYEN.
The marriage of Miss Eunice McFadyen. daughter of Mr. and Mrs. Donald McFadyen, of Wondabyne, Lindfield, to Mr. Clarence Johnston Cameron, elder son of Mr. and Mrs. J. B. Cameron, of Erracht, Beechmont, Queensland, took place at St. Martin's Church, Killara, yesterday morning. The Rev. L. Charlton officiated. The bride wore a gown of cream guipure Iace, finished with parchment-coloured satin, cut high to the neck, and with long tight-fitting sleeves. Her hat of hand-woven straw was trimmed with roses and she carried a shower posy of frangipanni and gold roses. Miss Ruth Wilson, cousin of the bride, acted us bridesmaid. She wore a period gown of pale pink georgette banded with folds of mauve satin, and a hat of amethyst hand-woven straw. She carried a bouquet of mauve gladioli, and pale pink carnations. Mr. Lindsay McFadyen was best man. After the ceremony the guests were received at the bride's home by Mrs. McFadyen, who wore a gown of black satin, with a black hat relieved with vieux rose. She carried a posy of pale pink roses, mignonette, and heliotrope. Mrs. Cameron, mother of the bridegroom, wore a fawn crepe-de-Chine frock, and hat to tone, and carried a posy of blue delphiniums and gold roses. The bride left for the honeymoon wearing an ensemble of kasha cloth, in tones of autumn brown, the coat being finished with leather trimming. WEDDINGS. (1929, February 27). The Sydney Morning Herald (NSW : 1842 - 1954), p. 11. Retrieved from http://nla.gov.au/nla.news-article16534461
Ella's Readers get to hear about it too:
An Interesting Wedding
A WEDDING which our correspondents have anticipated with interest look place at St. Martin's, Killara, on February 26th, when Eunice Graham McFadyen, of Lindfield, was married to Clarence Johnston Cameron, of Beechmont, Queensland. The pen-names by which the bride and bridegroom were known on the C.P. were "First Correspondent" and "Macnore." The bridesmaid was Ruth Wilson, who formerly corresponded under the pen-name of "Pandora." The ceremony took place in the morning, and it was a further happy connection with our club that the presence of Miss Maud Owen at the organ was due to her introduction to Cinderella by a group of our Eltham correspondents. After the wedding luncheon, at which only a few immediate relatives and one or two Ingle Nook friends were present, the bride and bridegroom left for a motor tour of the South Coast. After a brief stay on their return to Sydney, they will proceed by car to Beechmont, where they are to make their home. Among the gifts made to the bride were some charming mementoes from members of the Cinderella Club, the staff and pupils of Eldinhope, and the Old Girls' Union of Wenona College. The photographs were kindly taken by "Bing Boy," of the Ingle Nook. An Interesting Wedding (1929, March 13). Sydney Mail (NSW : 1912 - 1938), p. 54. Retrieved from http://nla.gov.au/nla.news-article166258076
LION ISLAND, AT THE MOUTH OF BROKEN BAY.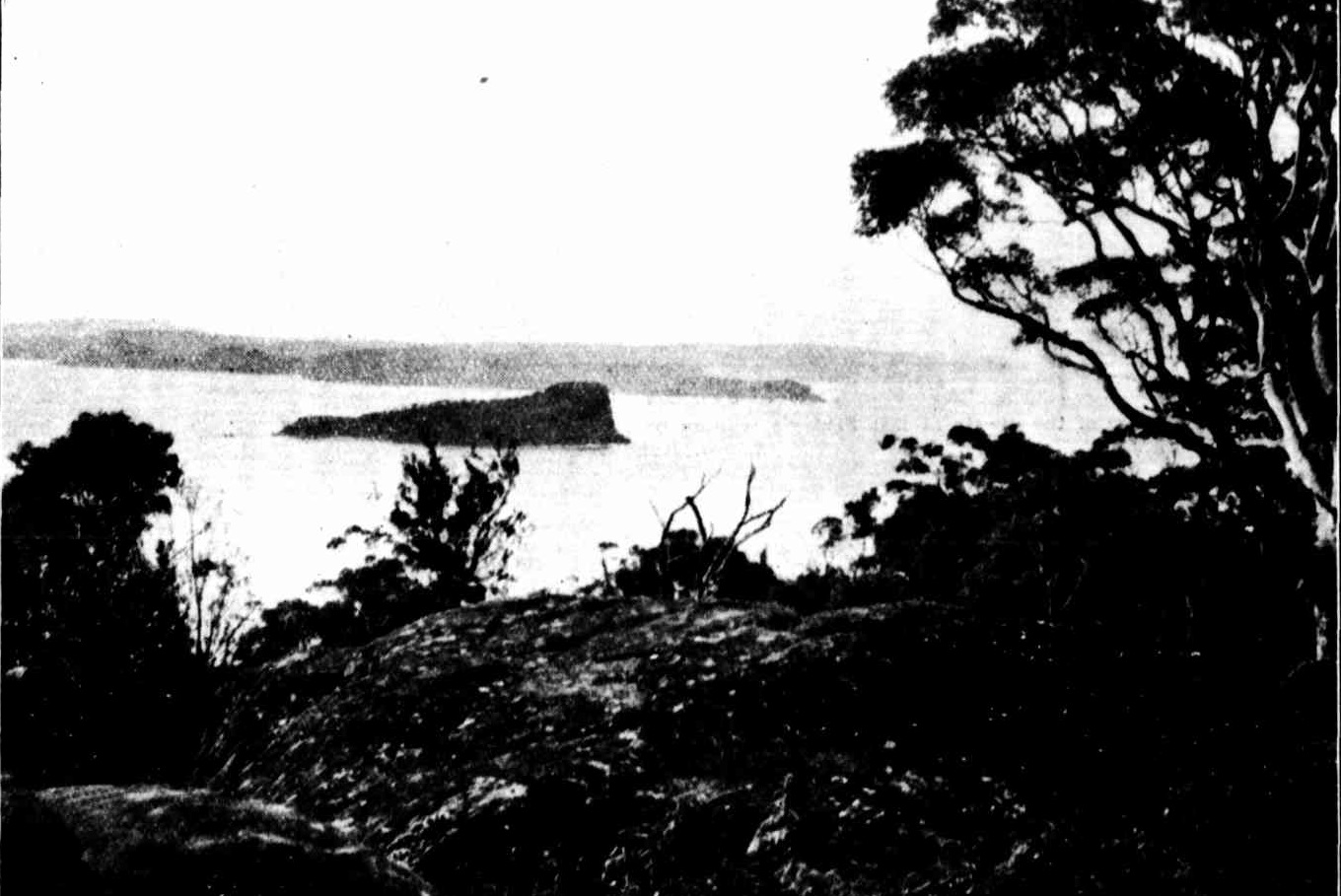 These rocky shores are a favourite haunt of our Boomerang Walking Club. LION ISLAND, AT THE MOUTH OF BROKEN BAY. (1933, November 22). Sydney Mail (NSW : 1912 - 1938), p. 47. Retrieved from http://nla.gov.au/nla.news-article165961286
For Queensland Readers a Boomerang Walking Club was formed for them too:
Boomerang Walkers
The annual meeting of the Boomerang Walking Club was held in the Young Women's Christian Association rooms, Adelaide Street. Miss Townson (president) occupied the chair. It was reported that enjoyable outings had been held to Seventeen Mile Rocks and upper reaches of the river, White's Hill, and Pine Mountain. Boomerang Walkers (1932, March 2). The Telegraph (Brisbane, Qld. : 1872 - 1947), p. 7 (FINAL). Retrieved from http://nla.gov.au/nla.news-article180053428
Her Readers and Letter Writers would share information about their own walks, including those taken here:
Cinderella' s Post Bag
MY DEAR CINDERELLA,— Wahroonga. It is such a long time since I last wrote to you that I thought I must drop you a line. At Christmas time we spent two glorious weeks at Narrabeen. The weather was ideal for surfing, so we made the most of it. I always had an idea that the surf was rather dangerous there, but only on two or three occasions we found the undertow strong. One day we hired a boat and went up Deep Creek. It was rather a hot day, and my arms got a bit sunburnt. On each side of the creek people had pitched their tents, and they looked so nice dotted here and there amongst the trees. People were bathing in the water, and we had to steer the boat in a zig-zag fashion practically all the way alone.
About half way up we pulled in towards the bank, and everybody hopped out to have a look round. After I having afternoon tea we started for home. My sister I took several snaps, and they came out very well. It was about five o'clock when we got back to the boatshed, and everybody said what a glorious day we had had.
Another day we walked up Deep Creek-road towards the Elanora Golf Links. After walking some distance we turned off the road, and climbed the hill. When we reached the top we were rewarded with a lovely view of Narrabeen Lakes. Walking further on we could seethe ocean and coastline. On reaching home everybody was feeling rather hungry, so we voted for an early tea. Our second long walk was from Narrabeen to Collaroy. Leaving the main road we went down a side street and then up a steep hill. Reaching the top we had a glorious view of the ocean, and could see all over Collaroy, and Narrabeen away in the distance. I enjoyed the holiday very much, but the two weeks went too quickly. Ruby Litchfield, my old correspondent, is quite well again. 'Darkie's' address is Carruchan, Kennedy, North Queensland, now. She still writes me nice long letters. Trusting you are quite well, and not forgetting Ali Baba. With love from 'CHERRY BLOSSOM' (O.I.).
(Dear 'Cherry Blossom,' — Like myself, most of our old brigade will be very much interested to see your name on the C.P, once more. I know Elanora as a place of very fine views, and you must have enjoyed your Narrabeen holiday very much. Thanks for sending me word of Ruby and 'Darkie,' to whom I owe a letter. — Cinderella.) Cinderella's Post Bag (1932, March 9). Sydney Mail (NSW : 1912 - 1938), p. 47. Retrieved from http://nla.gov.au/nla.news-article160081879
While Ella and her friends made frequent treks into Pittwater, gathering insights for her to share and inspire the Children with: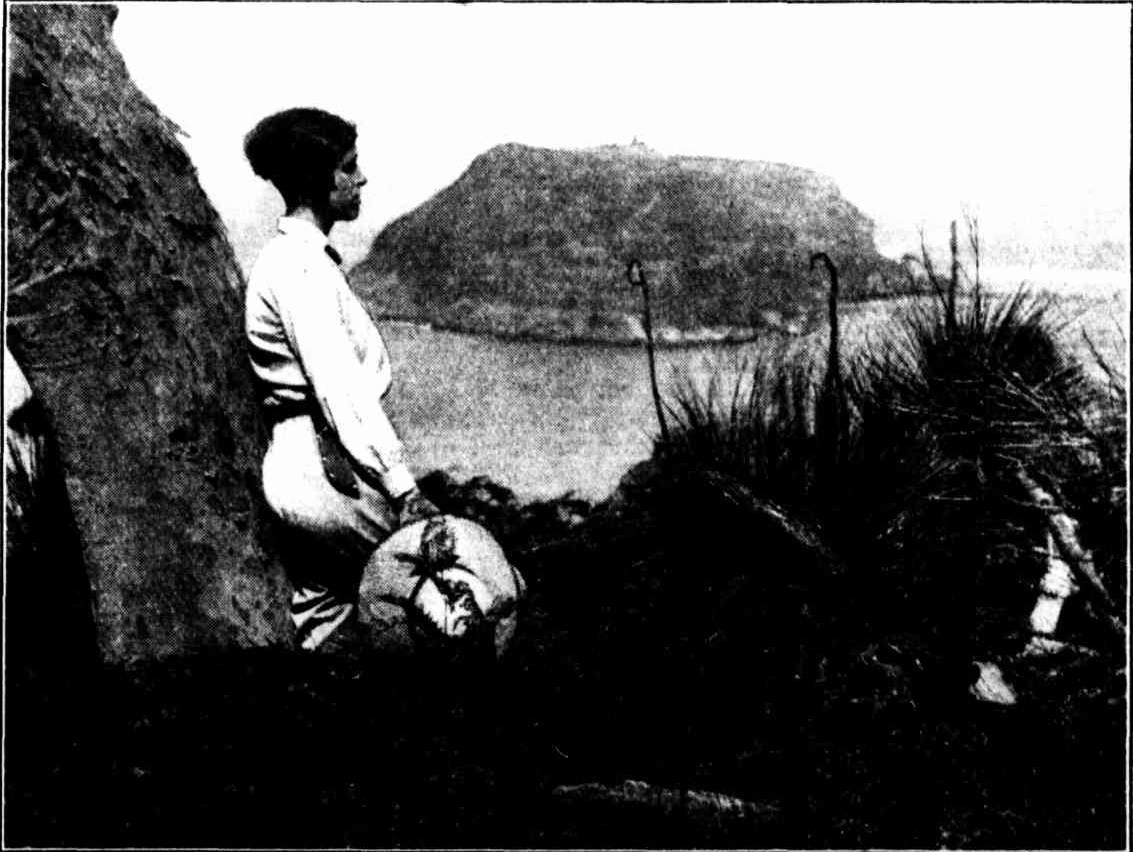 JEAN, Of the Boomerang Club. The picture was taken from the Pittwater shore, and shows Barrenjoey. Children's Page (1933, February 8). Sydney Mail (NSW : 1912 - 1938), p. 47. Retrieved from http://nla.gov.au/nla.news-article165958448
Boomerang Club Notes
By Number One.
OUR Easter walk from Gordon to Broken Bay added fresh laurels to those invisible wreaths that adorn our members' heads — their old felt hats notwithstanding. Cinderella had so little spare time at Easter that the walk had to be compressed between Sunday night' and Monday night. As speed was essential, only a small party likely to maintain an even pace was selected. To grade as a Boomerang one must, among other qualifications, be able to walk 20 miles in a day without serious fatigue. To graduate as Big Boomerang one must be able to face an emergency of 40 miles within 24 hours. Several senior members have possessed this qualification for years.
Starting from Gordon about 8 p.m., twelve moonlit miles brought us to our supper on a rocky site where uncontaminated water and plentiful firewood were available. The midnight march was resumed, despite a vivid electrical storm to seaward, and we lay down in the pre-dawn chill on our old camping ground at Elusive River. A camp-fire of redgum, a snack, and an hour or so of sleep under our coats, and we were off for the cliffs above Broken Bay and that lovely panorama of Hawkesbury River, the Bay, Brisbane Water, Pittwater, Lion Island, and the sunlit ocean, which we believe to be uneclipsed by any scene on the coast.
A hot breakfast, a doze, and a little loitering and we are back on Elusive River — which is only mapped as such by the cartographers of Fairyland — for lunch. Our last meal was at dusk, near country sadly desolated by road-making, and then with our backs to the bush it was the hard road under our feet again. The 'Secretary Bird' and 'Beetle' marched well and earned packs round about 20lb weight. 'Lilac Blossom' and 'Ashie' (a new recruit' from Queanbeyan, where 'Toad' has been training her) proved very stout fellas and finished swingingly at four miles an hour, making Gordon by 10.30 p.m. The mileage, irrespective of camp-making and rambling, was 20 miles of hard road and 26 of tracks, much of it cluttered with loose stone. The 46 miles total was a creditable performance — and everyone was able to get into city shoes and go to work next day.
Cinderella, will see her young friends every Tuesday morning between 10 and 12 at the 'Sydney Mail' Office, 'Herald' Building, Pitt and Hunter Streets. Business girls may call from 5 to 6.30 p.m. last Tuesday in each month. Cinderella's Page (1938, May 4). Sydney Mail (NSW : 1912 - 1938), p. 47. Retrieved from http://nla.gov.au/nla.news-article166227905
BOOMERANG CLUB.
ACTIVITIES of the Boomerang Walking Club have been slowed down by the fact that some of our senior boys are on active service, and many of our senior girls too busy with war work at week-ends to join outings. The Junior section, known as Greenwoods, are eager to carry on, but I have been obliged to limit walks in the interest of work for our J.R.C. Fair. Last week's walk was postponed while I made two little garments for children, finished a patchwork quilt, and made a bunch of needle-caps, which sell at sixpence a pair for our war funds. It was worthwhile missing a walk to get this done, when warm clothes for children and comforts for sick soldiers are so much needed. I hope some of you are planning to send something for the stall, and when that is over we will have bush days again.
How many of you could Join an all day walk for a Sunday in May? Distance from eight, to ten miles, and rather easy going, with bush cookery at our midday meal. BOOMERANG CLUB. (1941, April 23). The Sydney Morning Herald (NSW : 1842 - 1954), p. 28. Retrieved from http://nla.gov.au/nla.news-article17725251
The poems inspired along these walks ran in other publications - these are two favourites shared previously about Pittwater and Broken Bay:
WEST HEAD
Happy it is in the blossom time,
In the blossom time of spring,
When the morn is in its golden prime
And birds are on the wing.
Blue of the tide upon either hand,
From the sea to Broken Bay,
And the grey old lichened boulders stand
Knee-deep in flow'ry spray.
Blithe at the heart for the wattle's sake,
And the scent the warm wind spills,
Where the Hawkesbury lies, a gleaming snake,
Amid the deep blue hills— ;
Stirring the bee's with their honeyed load
From the blossom feast beneath,
Happy it is to take the road
That winds across the heath.
ELLA MCFADYEN.
WEST HEAD. (1929, January 4). Windsor and Richmond Gazette (NSW : 1888 - 1954), p. 2. Retrieved from http://nla.gov.au/nla.news-article85927422
SANDS OF MORNING.
by Ella McFadyen.
Summer breathed over the hills to-day,
A waft of the bush and a wind from the bay,
And my truant thoughts went straying:
Pittwater flickered with nor'east flaws,
The surf ran high 'tween the Lion's paws,
And the spring-fed runnels' were playing.
I saw the hills that drop to the sea,
And a honey-bird's call was a call for me
And the great grey sandstone boulders
Were elephant's browsing, heath to the knees.
And the rosy waxflowers, clotted with bees,
Fondled their lichened shoulders.
To-morrow I'll rise and be ready to roam
In the starlit hour when the cats come home,
Ere ever the birds are waking,
When each needlewood thorn is a dewdrop's place,
And her thread-like blossoms are fairy lace,
And the whole world's mine for taking!
I must seek the lairs where I used to lie,
Curtained by trees and under the sky;
I must find and touch and recover
The sights and sensations laid away,
Where the Lion lies couchant at Broken Bay,
To welcome me back like a lover.
The strong white feet of the winter rains
Have trodden the campfire's cold remains,
The lizards my hearth are keeping;
I must find the cave where the fairy-mouse
And her wee pouched kindred kept their house,
And-the nest where her babes are sleeping.
Grape-blue the hills in the dawn shall be,
And the sun shall rise from a white-gold sea,
With light for the day's adorning,
Where the rain-washed track is a virgin sheet
For the printed tale of a pilgrim's feet;
My feet on the sands of morning.
SANDS OF MORNING. (1935, March 14). The Sydney Morning Herald (NSW : 1842 - 1954), p. 2 Supplement: Women's Supplement. Retrieved from http://nla.gov.au/nla.news-article17171195
In December 1938 the Sydney Mail's last Issue ran. There is a slight tone of lament in 'Cinderella's' farewell, even though a new page would commence in January 1939 in the Sydney Morning Herald, and this may be because the Sydney Mail was published as a weekly journal for country Readers, for rural and bush places, where so much of what enriched what was run, was inspired, and what rang true with the very essence of Ella sprang from.
The world she had been born into was vastly changed by the 1930's – even her beloved Pittwater was experiencing a building boom. And even though the Ku-Ring-Gai Chase National Park was there, and remains so, and there were paddocks still between the holiday villas and homes of year round residents, the masses of waratahs were disappearing from the eastern hills of Palm Beach and all bushlands south to Manly, and the quick bounding sound through the bush of a wallaby or the call of a koala from the trees above, were not as frequent as they had been before.
Her farewell:
Cinderella's Page
Farewell, Old Days
Dear boys and girls,— And all friends who have kept the C.P. way with me, we have come to the end of a chapter, at the end of a day at the end of a year. When the sun rises on 1939 there will be no more 'Sydney Mail.'
But let us look forward. Changes have to come. Kipling said: 'All new things are sorrow,' and that is true of them at the first. But a seed has to fall before a new plant can grow. In the Big Scrub (where some of us have rambled together — remember?) on the slopes of the Rain Forest, when a great tree goes down with a crash it rends the green twilight and lets in the sky. Then things that needed the sun-light come to life and thrive, for the fertile soil has been waiting. If we keep our minds and hearts fertile with the old seed the C.P. has sown (you won't forget the 'Seed Plots,' will you?) then there will be friendship, loyalty, courage, gaiety, abounding interest in all the things we have ever loved, just waiting for that chance of new growth — the coming of the New Thing that is at first sorrow, but afterwards reveals the face of opportunity.
The Old Days Together
MY mind is crowded with pictures as I write. The tea-table at the party Alison Fraser gave when the C.P. was one year old, and I cut a cake with one candle and they gave me a little brooch I have always treasured, the fairy slipper in enamel against a heart rimmed with pearls. The boys and girls round the table that day are men and women now. . . . Wagga on a race day, flying cars filling the air with gold of suspended mica dust, against the green curtain of willows round Wollundry Lagoon, floored with azolla-weed turning from pale green to rosy red. Four little girls are with me, discussing the mystery of a parrot's egg we have found, and planning to give it to a certain long-suffering duck to hatch. The youngest little girl — the one who got excited and broke the egg — takes up an appointment at a great school in Armidale next year.
'MAC' and 'Macnore' are steering us round the bends of the Black Scrub track above Nerang, through a mountain mist that fills the Numinbah Valley almost to the top of the ragged hoop-pines by the roadside edge. 'First Correspondent' is with me on that Queensland holiday, and — had we known it — among the bags and bridles and the saddle and the tired drover's dog in the back seat, Cupid is tucked out of sight — a stowaway. . . . Tramping with Ben through Ten-Mile Hollow of a rainy midnight. How tall the red gymeah lilies were that spring, when we had waded the Mangrove Creek flood and climbed over Penang Moun-tain. . . . Marching with 'Toad' over Berry Mountain by the full moon, the weariness of 56 non-stop miles in our boots. 'Secretary Bird' came to our hotel next morning to see if we were alive and brought us Bundywalla oranges. Paterson River grows none sweeter.
SCRAMBLING for wildflower photographs with 'Mac' of the Boomerangs (not the former 'Mac') up the steepest trig. stations of the North Shore. . . . Camping out for New Year on Elusive River . . . groping out of Moss Vale in a black mist with 'Abeg-weit' at three of the morning, to spend the noon catching frogs below Fitzroy Falls. Tramping from Lindfield to Barrenjoey under the Easter moon all night, by the cliff road above the league-long loops of silvered surf. ... A tea with 'Puzzle' in a Melbourne tea-shop, when 'D.D.' was there. Now 'D.D.' has a name listed by book clubs and lives in Libya. 'Pandora,' who scrambled over Cambewarra hillsides with me, wrote last mail of rogue elephants in the Nilgiri Hills, India.
A WESTERN sunset shared with 'Mirran,' putting the car over the grassy flat to pick up motherless lambs, for the merinos had twins that year and no merino ewe can count above one. . . . Trudging from Tunglebung to Tabulam through rain that put 15 feet into the Clarence River, and Marjorie and I fighting off the young cattle that tried to ring us the whole three miles of the cut-road by the river. I rush the Kerrys, toreador-fashion, with a whirling rain-cape, and Marjorie, whose faith is grounded on a rock, stones the stubborn Herefords, and at length, wet and breath-less, we dash into the Rectory, and are received without a qualm and given tea and bread-and-honey by the fire.
A BLACK velvet night under the palms at Soraken, with moonlight insets patterning all the long perspective of the plantation floor. 'Bing Boy' is talking over his plans and the fireflies are flitting in the fern. . . . The day on Bungeroo Creek when I killed my first death adder with a sheath-knife and made a song about it. . . . A camp-fire 'Beetle' and I kept going one night of pouring rain. . . . The long room at Cooerwull House, looking out on the old stone mill, when we knitted and knitted and the plan for our Red Cross quilts was born. Jean Wetherall, such a little girl, coming to Warwick Building to pay the first personal visit of any C.P. member. I 'visited' Jean the other day when she turned on a radio talk and heard my voice in her own home. ... A day with 'Stout Fella' at Auchenflower. .... Feeding wallabies at Jenolan Caves. . . . Eating pawpaws atop of Kieta Hill. . . . The gecko who crawled into my camp-bed above the old Joadja Shale Mine. . . .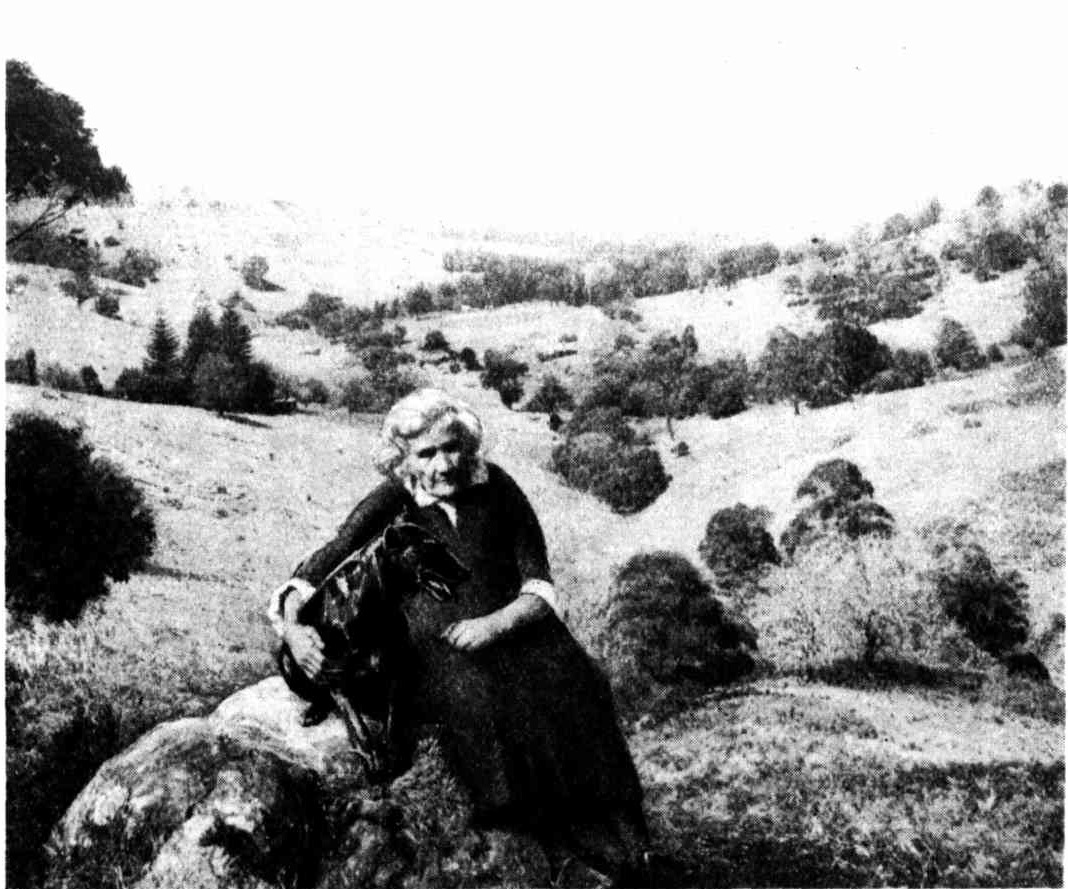 OUR HOSTESS, BUNDYWALLA — Snapshot by 'The Secretary Bird.' This old lady, one of the early settlers at Bundywalla, near Berry, entertained our Boomerang Club royally when we visited the district. Her home, typical of the old days, is hidden under the three pines to the left of the picture, in middle distance.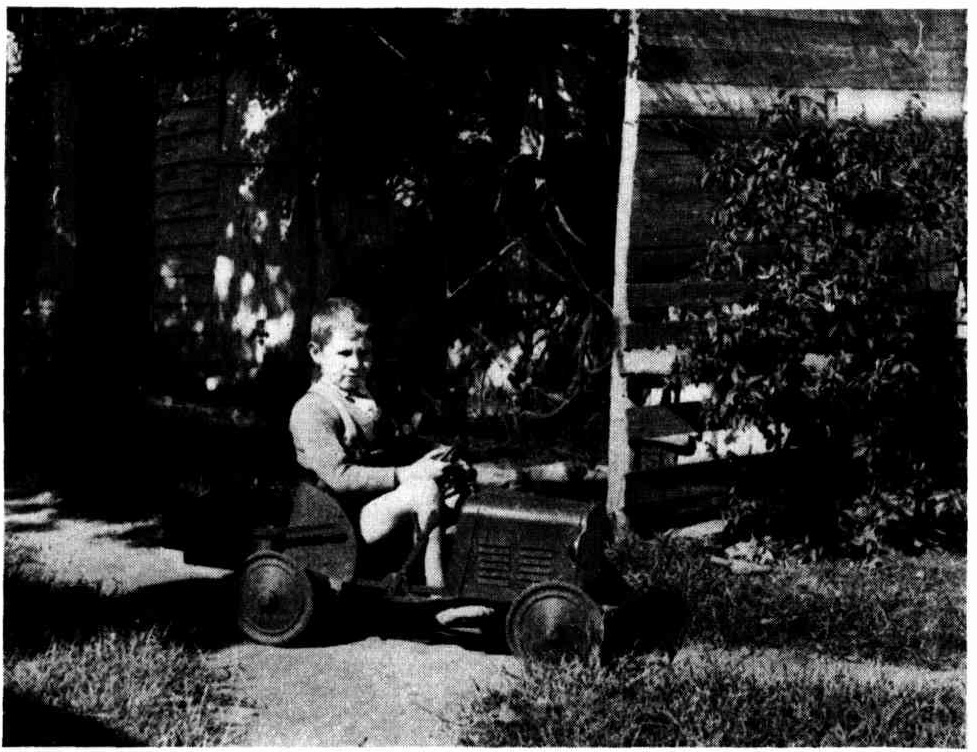 PETER AT THE WHEEL.
A last scene — the bush cave where we gathered a few evenings since. Friends with a wireless installation for their car brought us my little Christmas play, 'The Road to Bethlehem,' over the air. Then we had tea and the girls gave me a lovely pair of silken cushions subscribed by many and made by the clever fingers of 'Glass Slipper.' And we finished with 'Auld Lang Syne.' . . . Eighteen happy years that we could wish would go on and on, but that, as Browning reminds us,
A man's reach should exceed his grasp , or what's a heaven for?
Hail to the New!
DO this for me: Write to me, happy letters if you can, all about our old page and the things we have loved together, and about yourselves and your plans— just once more. I shall not be able to reply individually, but I want those letters to put in a big file for a treasure that I may keep. If you write on only one side of the paper it will be easier to file them.
And now Cinderella begins a new page on Thursday, January 5. You will find it in the Retail Section of the 'Sydney Morning Herald' on that day. Come to me, old friends, and let us make the new page as happy as the old. — Cinderella. Cinderella's Page (1938, December 28). Sydney Mail (NSW : 1912 - 1938), p. 47. Retrieved from http://nla.gov.au/nla.news-article166525375
Ella was also making recordings of her stories for radio:
MRS. PEG AND DANDY AND NOBBY.
There will be thousands, particularly among the young people, who will learn with special pleasure that Miss Ella McFadyen, nature student, poet and fairy story teller, is again on the air. Her page in the late-lamented "Sydney Mail" made her a multitude of friends throughout New South Wales and Queensland among old and young. Now her "Pegman" series is being presented by radio to very young listeners every Tuesday and Thursday evening in Tiny Tots session. It will be a popular feature for sure. No child could realise how alive clothes pegs can be until they have listened to Miss McFadyen's "Pegman" fairy stories. Tuesday and Thursday 5.20 p.m. MRS. PEG AND DANDY AND NOBBY. (1939, April 25). Macleay Argus (Kempsey, NSW : 1885 - 1907; 1909 - 1910; 1912 - 1913; 1915 - 1916; 1918 - 1954), p. 2. Retrieved from http://nla.gov.au/nla.news-article234330253
WHY BABY REPTILES QUARREL
By ELLA McFADYEN
"NATURE has a reason- for everything. It is fascinating to find out why animals do certain things.
Some creatures, like sea-birds for instance, live together in large colonies, and others, like deer and wild cattle and wild horses, form large family groups under one leader, stronger and wiser and bolder than the rest. As a rule, however, Nature finds it better for her wild families to split up. Even with the herd animals just mentioned, there comes a time when the old leader is too feeble or too cranky for the good of the mob, and then a young fellow starts up, fights and defeats him, and takes on the leadership.
One reason why all the little animals of a family do not stay together is that an enemy might kill them all in one attack. If they have scattered, some are sure to escape. But the chief reason why families break up and go different ways is that Nature insists that young animals learn to do their own hunting, instead of depending too long on their parents.
Savage animals, like lions and tigers, turn against each other as they become older. You never find a family living together once it has grown up. "
Among sea creatures, like the oyster, tides and currents carry the eggs here and there. The creatures that bore into piles and damage wharves, or attach themselves to ships, are another example of Nature's plans for scattering the young. Before they are full-grown, their bodies have limbs for swimming, but as soon as they make fast to a place that suits t hem, they change and become borers, or adapt themselves for sticking.
Many of our harmless, peace loving lizards have children who spend their early life quarrelling. The Big Skinks, like the Blue-tongue, the Pink-tongue, and the Giant Skink or Land Mullet, soon become so gentle as pets that they will take food from your hand. But they have big appetites, and their legs do not keep pace with their growth, so it is only as youngsters that they scamper about much. That is the best time for them to travel. And that is the time when you will see them snatching food from each other and nipping each other's paws.
This, pretty little striped skink is a finger-length of baby Pink-tongue, about a fortnight old.
In the Nature article In "Playtime" on July 16, the word "gills" was inadvertently substituted for "plates." The sentence in question should read: "Instead of scales, they have bony plates, callad denticles, embedded In their tough skins." WHY BABY REPTILES QUARREL (1947, July 30). The Sydney Morning Herald (NSW : 1842 - 1954), p. 5 (Playtime). Retrieved from http://nla.gov.au/nla.news-article18037323
A Literary Life
'Little dragons of the Never Never, 'Sydney : Australasian Publishing, 1949

Photography
Travel
Ella May McFadyen passed away on August 22nd, 1976, aged 88 - she had been working up until 4 years prior to her death. The Fairfax family's newspaper the Sydney Morning Herald, with whom she had been associated for so long, ran this Obituary on October 15th, 1976:
McFadyen, Ella (1887–1976)

As a child growing up on the outskirts of Sydney, Ella McFadyen wanted to read about Australia rather than childrens stories with an English setting.

So at the age of 15, she began writing her own — in nature pieces for weekly papers.

Miss McFadyen wrote four children's books, including the classic Pegmen Tales and over 37 years was a regular contributor of poems and articles to The Sydney Morning Herald.

Miss McFadyen's Big Book of Pegmen Tales was reprinted and published last year by Angus and Robertson, for whom she worked up till about four years ago as a manuscript reader.

She died recently aged 88.

The tales began originally as a daily serial for a Queensland newspaper and after running for three years were adapted for radio and then published into two books.

The Pegmen were a family of pegs made by children (cousin of the McFadyens) on the Macquarie River and launched in a flood for a trip around the world.

Miss McFadyen also wrote for a country newspaper,

The Farmer and Settler

.

For 20 years she edited the children's or Cinderella page for the Sydney Mail.

It was full of nature pieces, photographs and sketches of Australian animals and wildflowers.

Stories from the United States (about "Disney types with black nobs on their noses," as Miss McFadyen called them) were firmly rejected.

Associated with the page was a Boomerang Walking Club for which Miss McFadyen organised weekend adventure expeditions, teaching nature and bushcraft.

Members had to show they could walk 20 miles a day before they could go on treks and like boomerangs, had to return home under their own power.

Ella McFadyen developed her great love for the bush as a child.

She is survived by two brothers, Lindsay in Queensland and Clifford in Lindfield.
Sydney Morning Herald, 15 October 1976, p 14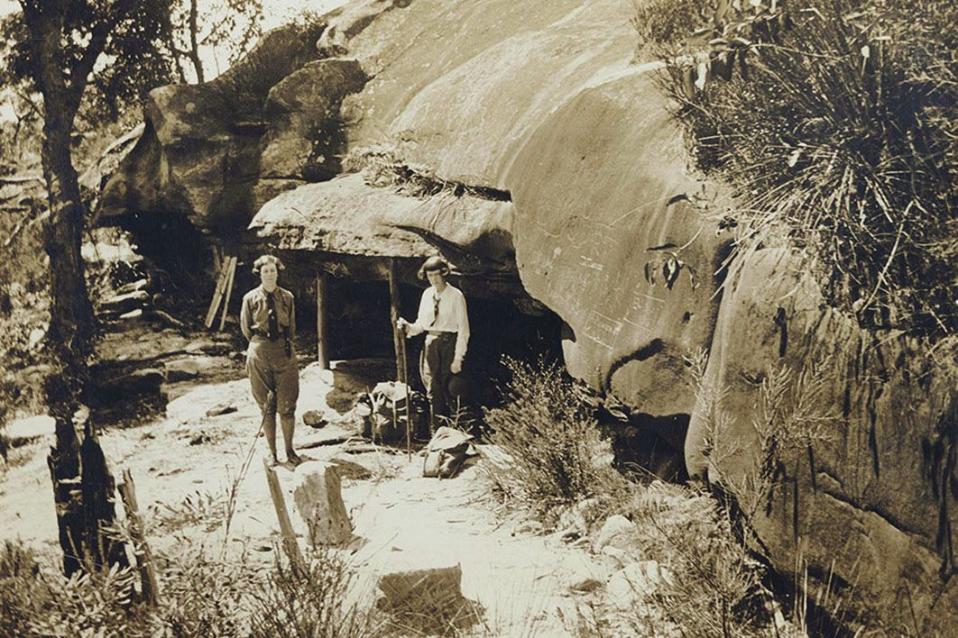 Ella McFadyen (left) and fellow Boomerang Walking Club member Jean Bransdon at West Head in the Hawkesbury River area, Sydney, 1932. photo courtesy State Library of New South Wales
References and Extras
Ella's Family:
father: John McFADYEN 1863–1950 (Parents: Margery McPHERSON and Donald McFADYEN)
mother: Mary WILSON 1862–1952
elder sister: Florence Grace McFADYEN 1885–1969
herself: Ella May 'Cinderella' McFADYEN 1887–1976
younger sister: Winifred Hope McFADYEN 1890–1970
younger brother: Donald Walter Lindsay McFADYEN 1894–1977
younger sister: Minnie McFADYEN 1896–1896
younger brother: Clifford Leigh McFADYEN 1902–1984
younger sister: Eunice Graham McFADYEN 1905–1952
''MAITLAND" PARK.
A New Proposal.
(BY MARIE B. BYLES.)
From the popular seaside resort of Palm Beach you look across the mouth of Broken Bay to a long line of coast-cliff and sandy beach interspersed by rocky headlands and crowned by virgin bush. Many people wonder what beauties lie hidden In these fascinating Tat-away beaches, and few realise that they are within easy reach of the launch which runs from Woy Woy to Empire Bay.
It Is this last remaining strip of unalienated coastline reaching from Wagstaff Point to MacMaster's Beach that the Federation of Bush Walking Clubs Is seeking to have dedicated as a national park and preserved for posterity with all Its pristine beauties. For In a country renowned for its lovely beaches this stretch of land contains some of the loveliest. There Is Putty Beach, an ugly name for a magnificent reach of sand and surf. And then there Is the secluded "Little Beach," rock-encircled with golden starred meadows dropping down to its silver sands, and many another sandy cove tucked away between rocky headlands and sea-battered cliffs. Behind the shoreline are forests of macrozamia or kurrawong, that living fossil unique In the botanical world, while from the tops there aro wide views over ocean-bounded moors to the capes and inlets south of Barrenjoey.
But the most beautiful beach of this coast-line is Maitland Bay, on whose northern head-land still Iies the remains of the wreck of the Maitland, which perished there in 1890, From the heights above Kilcare you drop down by a fern-green path, round some boulders and the exquisite half-moon curve. of Maitland Bay lies blue and gold below you, while away on Its further headland you can see the rusting boilers and tanks of that Ill-fated ship which have withstood the ceaseless beat of the ocean's surge for 30 years and more. And there they Iie to remind one, perhaps of the helplessness of many before the fury of nature, perhaps of the bravery of man when faced with danger, for the coolness and courage of the officers and captain of that ship make one proud to belong to the human race. As the blue sea breaks calmly at low water on the flat brown headland it Is hard to Imagine the Inky blackness and the howling of the tempest as they stood at their posts through a day and a night, but walkers who have camped on that beach with a fierce southerly blowing right up the bay know that those peaceful waves can often sweep up in tempestuous fury fatal to any ship too close to land.
Sandy beaches, historic wreck, towering cliffs, and primaeval forest all lend their fascination to the proposed parkland which still Iies unspoiled as in the days when the "Hernia" reporter, sent out to gather news of the wreck, remarked ruefully-probably thinking of his torn trousers-that it was very rough country. It is the beauties of this primitive roughness that the Federation of Bush Walking Clubs is hoping to preserve for all time to meet the needs of the growing population of a large city whose park lands are all too few.
[A photograph of Maitland Bay and Its fore-shores appears on the Illustrations page.] "MAITLAND" PARK. (
1934, March 22
).
The Sydney Morning Herald
(NSW : 1842 - 1954), p. 8. Retrieved from
http://nla.gov.au/nla.news-article17067062
The Sydney Mail Ella Years
The Editor, William Robert Charlton introducing Ella in January 1920:
The Children's Page : Our Programme For 1920
LET us suppose, for instance, that we — merely suggesting and guiding — invite the children to write little letters saying what lesson they enjoy most at school. Little Bess, six years of age, has her views. She is not likely to mention Ancient History, but it would be like a ray of sunshine to receive from her — in large capitals, no doubt — a claim that she likes singing best, and that her favourite song is — well,
what is it likely to be? Perhaps:
What are little girls made of made of?
What are little girls made of?
Sugar and spice and everything nice — That's what little girls are made of.
t is quite possible that later on we may find our 'Sydney Mail' Family blossoming out into poets them-selves. We have read nice little verses by children of nine or ten. And is it not easy? Here in one right on the spot:
Went to the beach at Coogee Bay,
And Dorothy lost her shoe.
Said Peter Pimple to Dorothy Dimple :
'Wear mine; I'm sure it will do.'
'Sir, you're a little gentleman!'
ONLY some could write verses, but all could write little stories and essays. Suppose, again, that we asked you to write a letter on: 'The Best Holiday I Ever Had.' Now, that is just the thing. Here is Christmas and New Year time, and you are all still on your holidays. About Christmas or during some earlier Christmas season you must have had a glorious time. Write about it, and let others know where to go to find similar happiness. We might vary things by asking you to write on:
'My Favourite Pet.'
We can imagine the joy with which you would respond to that. Your pony, your faithful dog (with a story of something clever he can do), or your par-rot and the wonderful things he can say. We have a picture in front of us now showing a dog climbing a ladder! And down in Riverina there is a little girl who has proper harness for her pet sheep. Yes, you could all write a beautiful letter about your favourite pet. You can see already what a wonderful Page this can be made, and you are the ones to do it. The children in the country will reveal their lives in little glimpses to the children in Sydney, and the Sydney children will reply, and you will feel that this Page has made you friends — and it will be true.
AND the boys! With a khaki neckerchief, a khaki tie, a white cord with a whistle, navy-blue pants, and the rest, the Boy Scout looks quite a young soldier. And those who have not a chance to join the scouts have their recreation in other ways. At all events they have their school life, and while this must not be a home-lesson Page, still there is a lot of fun at school, for healthy boys, in these days. When we were young — but it is a sad story! We can feel the sting yet, although we had rubbed resin on our palms to split the cane!
A splendid subject for a boy to write on is:
' What I Will Be When I Grow Up.' When a boy is five he will probably want to be a tram-guard.
When I grow up to be a man
Not what my brother says is best —
I want to be a tram-guard,
And fill my bag with pennies bright
When it is so easy to write rhymes it in hard to stop, isn't it? Well, at five a boy wants to be a tram-guard or a fireman, or to own a lolly-shop. At twice five his ideas have changed, and he wants to be a doctor, or a lawyer, especially if he hears those professions talked about at home. At fourteen or fifteen his character, inclinations, and physique point fairly accurately to what he should be. Whether you want to be a fireman, a doctor, a farmer, or a major-general, we can help you. If a boy wants to own a lolly-shop, he probably has some good reason. (We wonder what it is.) In his letter to this Page he will have to explain.
And the bigger boys will be
regarded by us in quite a serious way, if for no other reason than the one that we will be able to advise them. For instance, a boy might write: I have always liked drawing and carpentering. If I had a chance I would like to be an architect. We would tell him what it would mean; the examinations he would have to pass, the length of the University course, the elementary books required, and other important information.
ONE of these days we must have a competition for children who have cameras. After concluding an essay competition on 'My Favourite Pet' how delightful to be able to announce : We will now have a Picture Competition, Photographs, or Drawings, on the same subject, 'My Favourite Pet' As many of the pictures as possible would be published straight away on this Page, and others later on. Pictures must be very clear to be reproduced in print — keep that in mind. But that is for the future; we can't do everything at once. Our object is to let you know what we hope this Page will become, and, if you respond as we hope, you must have more space. As good children, you must have what you want; no, not quite — but what you need.
WE have not mentioned stories, except indirectly. They are going to be prominent on the Page. They must not be long. Stories show whether you have bright imagination. If you are not very imaginative the effort to write stories is helpful. Don't forget that imagination used in the right way is very important. No general is truly great unless he can imagine what the enemy is planning away in the distance. Hannibal, Caesar, Napoleon, Wellington, Foch, and many other famous soldiers owed much of their success to that gift. But we are becoming too serious.
Perhaps the best idea to work upon first would be to say to you:
Write A Little Fairy Story.
In the bush the flannel flowers are over the hill-sides. We read somewhere a little story of a boy who went out on the ridges and tore up the plants of the flannel flowers by the roots. He fell asleep, and the fairies flitted to him and pulled his curls out. Then they carried him to the Fairy Kingdom, and he was tried for having been cruel to the flannel flowers, He was guilty, of course; but they were good fairies, and gave him back his curls (the Queen Fairy waved her wand over his head to do that), and after he had promised never to pull plants up by the roots again, they let him go. He had only been thoughtless, and he learned his lesson from the fairies. We can't re-member who wrote that story, but it will do very well as an example.
Sometimes on a quiet evening by a river, or in a garden, when the moon is shining, but not too brightly, and now and again the clouds cover up the moon's face, one almost believes that fairies are there, and that they are talking to each other from the hearts of the flowers as they sway closely together in the gentle breeze. For the rest you have only got to imagine what they are saying to one another — and there is your story ! It is so easy, we wish we were a child again to write it all for the Page. And the Fairy Kingdom is so wide! There are fairies in the stars, and in the spray beside the sea (but only when the moon is shining), and all over Australia they are whispering messages to little children. You children must have some wonderful times with the fairies. And there are other stories! Think of the stories you can make up about the flowers and fruit coming, and how the rain comes, and what the trees and flowers think and say about it.
YOU can see what our plan is, and now (as they say in chess) 'It is your move.' Suppose — but we will suppose no longer. To make a start we must plan out an Age Scheme.
Here it is:
Girls : Senior Section ... To 17 years of age.
Girls : Junior Section ... To 12 years of age.
Boys : Senior Section ... To 17 years of age.
Boys : Junior Section ... To 12 years of age.
Little Bobbie aged 8 need not think 'It is no use for me to try to win a competition against boys nearly 12 years of age.' Think again, Robert. Have confidence and faith in yourself. Be a little Anzac! And remember editors of Children's Pages are very sympathetic. Some day you may be as famous as Thackeray, Tennyson, Dickens, or Kipling. You never can tell. And some time when we have a competition in drawing you may show talent that will go on expanding, as you grow older, until you become a great Australian artist.
Even if you don't become quite famous, you will have a lot of fun. A lot of grown-up people try to get their writings into print, and can't do it. But you can. Now, why? Well, you are children — that is the secret. And everyone wants to help good children who really try hard. We think we should get to work — or play — at once.
So we invite you one and all, in your four sections, to write on these subjects:
Girls : 'My Favourite Lesson at School.'
Boys : ' The Best Holiday I Ever Had.'
The girls will tell why the lesson they select is their favourite one. We always liked history, because, although like a story, it is true; but we can quite imagine a girl liking geography (if suggests a trip abroad), or cooking, or sewing.
And we will not be surprised if some of them like best a nature lesson in the bush. The little ones may find most delight in singing, raffia-work, or modelling in plasti-cine. And what of the school garden? — that is a lesson ? The subject given to the boys speaks for itself.
Now then, boys. What about fishing, and
swimming, and camping? . . .
How much will you write, and what time have you got?
(1) Write about 100 words.
(2) Competition closes February 4.
(3) Write name, address, and age on your manuscript.
THIS Children's Page will grow — we know it will. . .
New ideas will come to us or be suggested by you children. It really is yours to do as you like with, subject to our supervision. And as an incentive to you, or so that you will have some token of your efforts, we are preparing a beautifully designed CERTIFICATE OF MERIT. Our certificate can only be awarded to those whose contributions are judged to be the best. As there are four sections there will be four certificates. In this first competition the senior and junior sections each have the same subject, but it will not always be so.
So now the Page is launched, and the Editor has said all he can to give you an idea of his intentions. Henceforth the Page will be conducted by a young lady, who will be a good friend to you. Address your letters as follows: THE EDITOR, The 'Sydney Mail,' CHILDREN'S PAGE. Sydney, N.S.W.
This Page is for the Children, and what it is going to be, they are going to make it. Its form here is nothing beyond an introduction to the REAL IDEA. And the Idea is to let the children have this space. What they will be asked to do will be quite easy for clever Young Australians.
HOLIDAY SNAPSHOTS.
The Sydney Mail was first published on 17 July 1860 by John Fairfax and Sons. In 1871 the magazine was renamed for the first time, and it was published as The Sydney Mail and New South Wales Advertiser from 1871 to 1912. In 1912 it reverted to its original name, The Sydney Mail, and was published under this masthead until 28 December 1938 when the magazine ceased publication. It was published on a weekly basis and became known for its illustrations.

From the December 1938 last Issue of the Sydney Mail:
The 'SYDNEY MAIL'-1860 - 1938
THE LAST ISSUE
WITH this issue, dated December 28, the 'Sydney Mail' ceases publication. It was first published on July 7, 1860. Its history thus covers a period of 78 years. It is recorded in 'A CENTURY OF JOURNALISM — THE
SYDNEY MORNING HERALD — 1831-1931' that the founding of the 'Mail' was the outcome of a suggestion by Charles Fairfax, eldest son of John Fairfax. This was seven years after Charles Fairfax had been taken into partnership by his father. Of the founder of the 'Mail' we read that 'it would have been difficult to find one employee of the 'Herald' who did not regard him as a personal friend.' On December 26, 1863, while visiting a relative at Burwood, Mr. Charles Fairfax was thrown from a horse and was so seriously hurt that he died two days later.
The 'Mail' was established as a weekly journal for country people, and at first was "a sort of weekly resume or echo of the 'Herald.'' The first issue was 1000 copies and there were no illustrations. In 1862 the circulation was about 7000, and next to the 'Herald' the 'Mail' was 'the largest paper in the colony.'
By this time it had developed a distinctive character — it was no longer a mere echo, but spoke with its own voice. Bushranging and gold-mining were for a period its principal features. By the beginning of 1863 the circulation was nearly 12,000. A few years later bush-ranging did not figure so prominently, and enlarged space was given to sheep-breeding, farming, sport, and literary subjects, while here and there — but not too often — a poet was allowed to woo the readers with his limpid verse.
In 1871 pictures appeared in the form of wood-cuts. The first 'Mail' artist was Mr. Montague Scott. The first portrait published in the paper was of Anthony Trollope, the English novelist, who was visiting Australia. This was on October 14, 1871. There had previously been supplements, including a portrait of Queen Victoria. The first illustration of an event of the week related to the destruction by fire of the Prince of Wales Theatre in 1872.
During the 'eighties and 'nineties there were many pictures of events in the colony and in England, and fashion drawings were prominent. While rural pursuits and problems held first place, there were bright articles and verse for the general reader. In 1882 Rolf Boldrewood's famous 'Robbery Under Arms' first appeared in the 'Mail,' in serial form. In 1885 Mr. Julian Ashton — that 'grand old man' of Australian art who survives the 'Mail' — contributed some striking drawings of the despatch of troops to the Sudan War.
In 1888 appeared the first reproduction of a photograph by the half-tone process— the same process that, greatly improved, is used by the daily papers of to-day. The picture in the 'Mail' was hazy, but in that haze was the germ of a revolution in picture reproduction that in due time was to give the 'Herald' and great daily papers all over the world an enhanced interest and, beyond that, an influence on the public 'mind that could never have entered into the dreams of John Fairfax when he became proprietor of the 'Sydney Herald.' The wood-cuts, however, were destined to hold their place a little while until science had cleared away the half tone haze, and the 'Mail' had some very fine examples of the ancient art, including a portrait in 1891 of Rudyard Kipling, who looked info Sydney on a tour. In that year the wood-cuts were superseded, and a new era dawned which was to have its full effulgence when the daily Press solved the problem of the reproduction of photographs on ordinary newsprint. During that period of experiment for the dailies the 'Mail,' with its superior quality of paper, impressed the public with its remarkably clear pictures.
Doing useful work for the country, the 'Mail' made progress, and in 1912 the proprietors installed a modern Hoe rotary printing press, the largest of its kind in the Southern Hemisphere. At the same time the old standardised cover was discarded for a magazine cover in colour, the week's summary of news was considered out of-date, and, says the 'CENTURY' record, 'the whole character of the journal was changed.' When the Great War broke out the 'Mail' took possession of the field of illustrated journalism. During those dread years it reached its peak in circulation — a steady 120,000. For years afterwards the 'Herald's' advertising columns supplied evidence that there was a market for 'War Issues of the 'Sydney Mail.''
The list of notable contributors to the 'Mail' during its long history demands division info two parts. One is made up of the names of famous writers abroad; the other of the names of Australian writers. For example: Thomas Hardy, Mrs. Craik, Victor Hugo, Miss Braddon, Bret Harte, Clark Russell, Rider Haggard, Jerome K. Jerome, Walter Besant, Grant Allen, Stanley Weyman, Marion Crawford, Rudyard Kipling, Rafael Sabatini — many others.
The names of Australian contributors in fairly recent and in recent years are legion. Henry Lawson and Louis Becke were frequent callers with their manuscripts — so was Roderic Quinn. The coming of Dorothy Cottrell from her outback home with the MS. of 'Singing Gold' (which the 'Mail' accepted) was an event of literary significance. Mr. W. M. Hughes contributed some delightful articles. Sir Joseph Cook's articles on national finance were widely quoted. Mr. A. B. Paterson ('Banjo') wrote many sporting articles. He had been special correspondent for the 'Mail' in South Africa during the Boer War. Sir James Oswald Fairfax was an occasional contributor under a nom-de-plume — he had quiet humour and a light literary touch. There is a passage in the 'Century of Journalism' from one of his cheerful articles.
Colonel T. W. White of the Federal Parliament is on the list of contributors on national subjects. The late General Antill told in the 'Mail' the story of Anzac. Albert Dorrington, clever short story writer, went to England but maintained his connection with the 'Mail.' Many other writers will be recalled: E. J. Brady, J. H. M. Abbott, Hugh McCrae, Ruby Doyle, Hilary Lofting, Will Lawson, Zora Cross, Mrs. Forrest (Queensland), Ernest Wells (who has reached a high standard as a writer of short stories), Mrs. Drake-Brockman (Western Australia). This professes to be only a small selection from hundreds of valued contributors.
The work of Professor S. H. Roberts for the 'Mail' added to the prestige of the paper. At the time of his engagement it was not generally realised that ail Australia would soon be 'international minded.' His articles have been uniformly brilliant, and remarkable for their prophetic accuracy. The Professor, now famous as the author of 'The House that Hitler Built,' regards the 'Mail' office as having been his 'journalistic nursery.' The readers of the 'Herald' are now to have the benefit of his special knowledge.
When 'Outdoor Australia' was established as a feature there was a wonderful response which revealed the intense interest of Australians in bush life. The files of the 'Mail' contain priceless records of observations by Nature-lovers. Remarkable pictures and paragraphs poured into the office from all over Australia. Dr. Donald Thomson (D.Sc., Melbourne), now of Cambridge University, contributed articles and photographs of great value. His adventures in the Northern Territory attracted public attention. Other writers of distinction in this department included Archer Russell, Sidney W. Jackson, Keith McKeown, and the late W. W. Froggatt. 'Outdoor Australia' will survive in the 'Herald.'
About the year 1886 Norman Hardy, an illustrator of high standard in England, was engaged for the 'Mail,' and in 1888 the late A. H. Fullwood did some of his best work for its pages. R. Caton Woodville was at the height of his fame in England during this period and the 'Mail' obtained many of his drawings. About 1903 Fred Leist, a young Sydney artist, was attached to the art staff. He is now a veteran and is represented in many picture galleries. Other artists whose work graced the 'Mail' included the late George Lambert, A.R.A., Sid Long, George Coliingridge, Alice Muskett, Tom Roberts, J. M. Auld, Septimus Power, A. Dattilo Rubbo, Lionel Lindsay, Norman Carter, Florence Rodway, J. S. Watkins, Sydney Ure Smith, Harry Julius, John Allcot (marine artist), Frank Whitmore, Neville W. Cayley, Alex Gurney (cartoonist), Scaccia Scarafoni, Syd Miller, Keith Bryant, Kerwin Maegraith, Ray Lindsay, and Noel Cook. Douglas Fry was unequalled as a painter of the thoroughbred; in relation to the aristocrats of the stables he was on the same plane as Frank Mahoney with the bush horse.
Sporting writers of wide knowledge and popularity were regular contributors. Tom Willis ('Milroy') was a noted turf personality and a born writer. Andrew Lang ('Napier Lion' of the motoring section) was another born writer. He was nephew of the famous Andrew Lang. A flying man as well as a motorist, he and a mate broke the world's altitude record for a service machine. He was a dashing, fascinating, splendid type, predestined to die in the open. A motor smash in this State was the end of 'Napier Lion.' Dr. Barbour, L. O. S. Poidevin, and Arthur Gregory contributed splendid cricket articles — so did M. A. Noble. Of the group of six named in these references to sport only M. A. Noble survives. We thank the subscribers and other readers of the 'Mail' for their support. The letters we have received from homes where the Children's Page was greeted with joy will be a fragrant memory.
SOME LETTERS.
From, the Right Hon. J. A. Lyons , Prime Minister —
I feel I must tell you how sorry I am that we are soon to see the last of the 'Sydney Mail.' The disappearance of a weekly journal that has held an honourable place in the life of Australia for some three-quarters of a century is to be regretted on public grounds. The 'Mail' in its long career has undergone changes in substance and in form, but every change has been for the better, and in its later years it has furnished reading and pictorial features of a standard that must be rated high in any comparison. Our community is not so rich in weekly papers of this class that we can view with complacency the passing of a veteran whose pages have reflected so much of our history. I can well understand that the decision to discontinue publication was a hard one for the proprietors to make.
From the Hon. B. S. B. Stevens, Premier of New South Wales —
I was very sorry indeed to learn that the 'Sydney Mail' is to cease publication. I am certain that my feelings will be echoed by many thousands of people throughout Australasia who, in the 78 years in which the 'Mail' has been published, have come to regard it as almost as much a part of our national life as the 'Sydney Morning Herald' itself. I would like to take this opportunity of expressing my appreciation of the excellent standard which the journal attained.
From the Hon. T. W. White , ex-Minister for Trade and Customs, Commonwealth of Australia —
I have just learnt with much regret that the 'Sydney Mail' will shortly cease publication. With many others I have always felt that the 'Mail' represented what was best in Australian life, while at the same time preserving high literary standards. There will be many who will deplore the passing of so good a periodical.
From Dr. J. J. C. Bradfield, consulting engineer —
I have read the 'Mail' regularly for the past 40 years and have always found the articles informative, topical, and well illustrated. I recall that Professor Arnold Wood, one time Professor of History at the Sydney University, expressed the opinion to me that the 'Mail' articles were most interesting and of great use to historians. It was with regret that I heard that the paper was to cease publication.
From Mr. E. Goodland, General Manager, International Harvester Co. of Australia Pty. Ltd. —
It is with sincere regret that I learn of the intention to discontinue publication of the 'Sydney Mail.' I feel that its place in this State's journalism is going to be hard to fill. Besides reaching a section of the community distinct from any other, I have always regarded the 'Mail' as being more Australian than any other weekly journal, it being a true friend to Australian fauna, flora, and historical progress.
From Professor G. V. Partus, Professor of History, the University, Adelaide —
It is a source of great regret to me that the 'Sydney Mail' is going out of publication. It is a good, sound, sensible, well-balanced journal.
From Walter G. Henderson, Upper Wantanong, Holbrook, N.S.W. —
We took the 'Mail' when I was a little boy. I remember 'Robbery Under Arms' in it.
From W. G. Cousins, Angus and Robertson, Ltd. —
We shall miss the 'Sydney Mail' very much. More than that, Australian journalism will be poorer when the 'Mail' passes.
From Colonel Somerville, secretary, Royal Agricultural Society —
I feel that the non-publication of the 'Sydney Mail' is a distinct loss to the man on the land especially, as well as to the man in the city.
From a resident of Coogee —
When Wotan won the Melbourne Cup the year before last the silence was audible, but it was no deeper than when word was brought to us here a few days ago that the 'Sydney Mail' was to cease publication.
From a Public Schools Inspector —
It is hard for me to grasp the fact that the 'Mail' is to cease publication. It has become so much part and parcel of the community, especially in the country, that one can't conceive it not being there. To the schools the 'Mail' has been a god-send. It has supplied teachers and pupils with funds of real information; it has been looked for weekly for years in the outback school and home, and its non-arrival meant much sadness.
It is perhaps fitting that the cover of this issue depicts a rural scene. The last smile of the 'Mail' is for its friends in the country … A Happy New Year to all.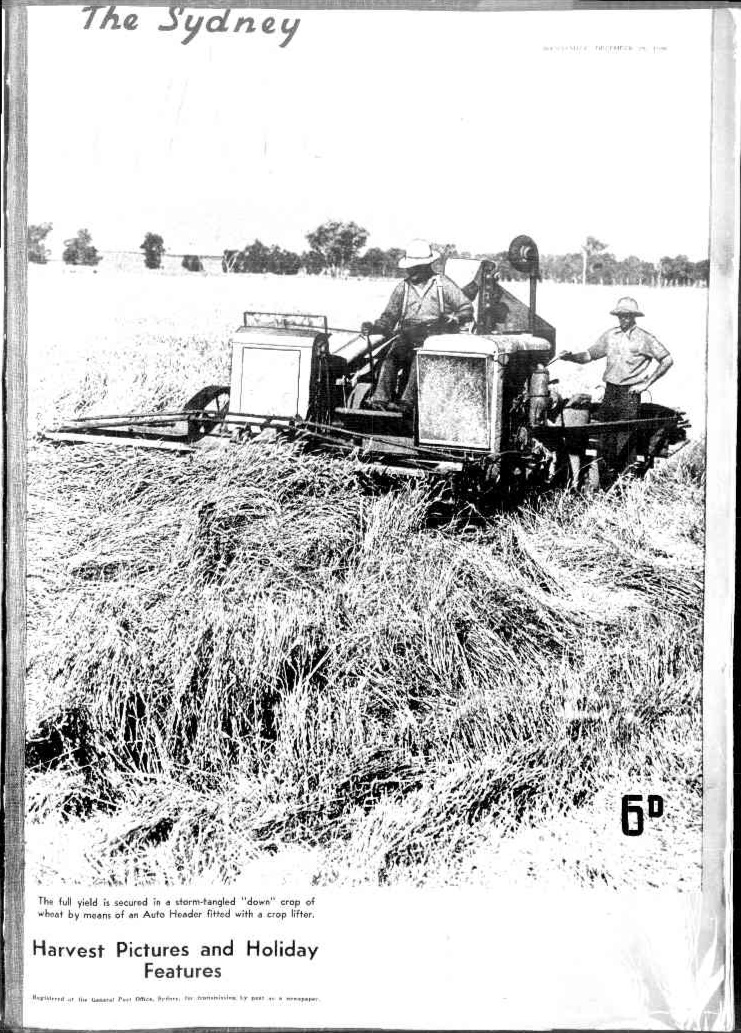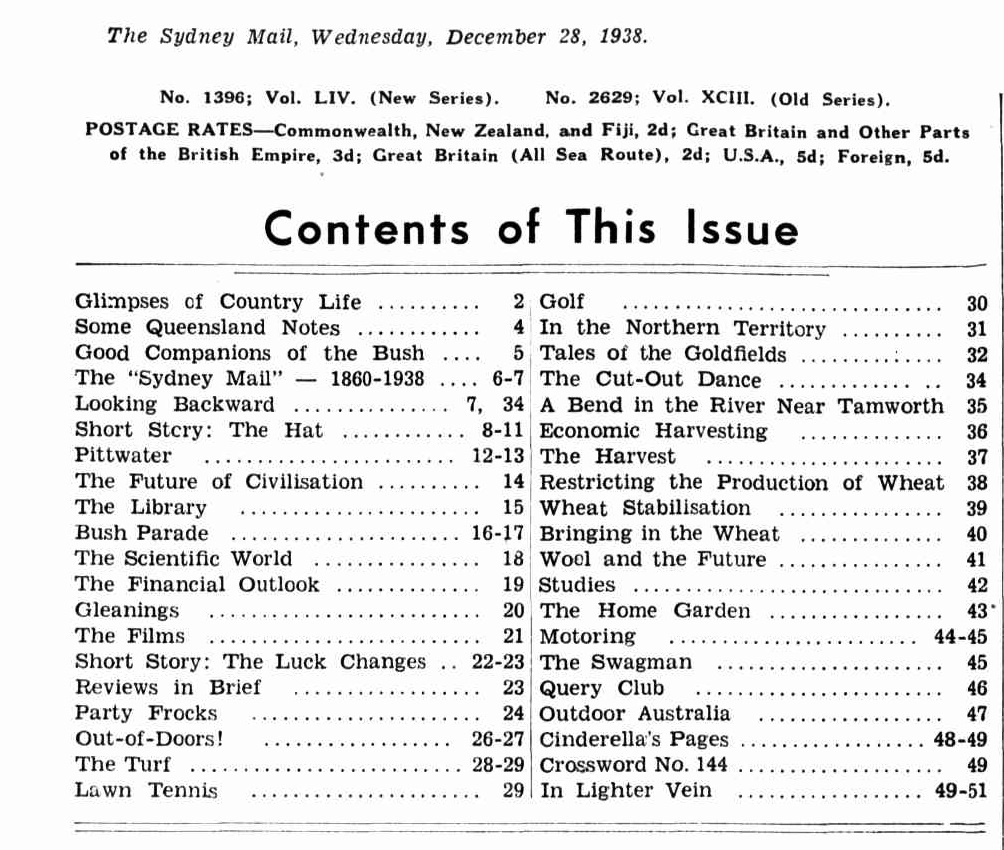 Contents list from that final Issue - below runs that 'Pittwater article from the last Issue.
Pittwater: Lovely Arm of the Hawkesbury
By NOEL GRIFFITHS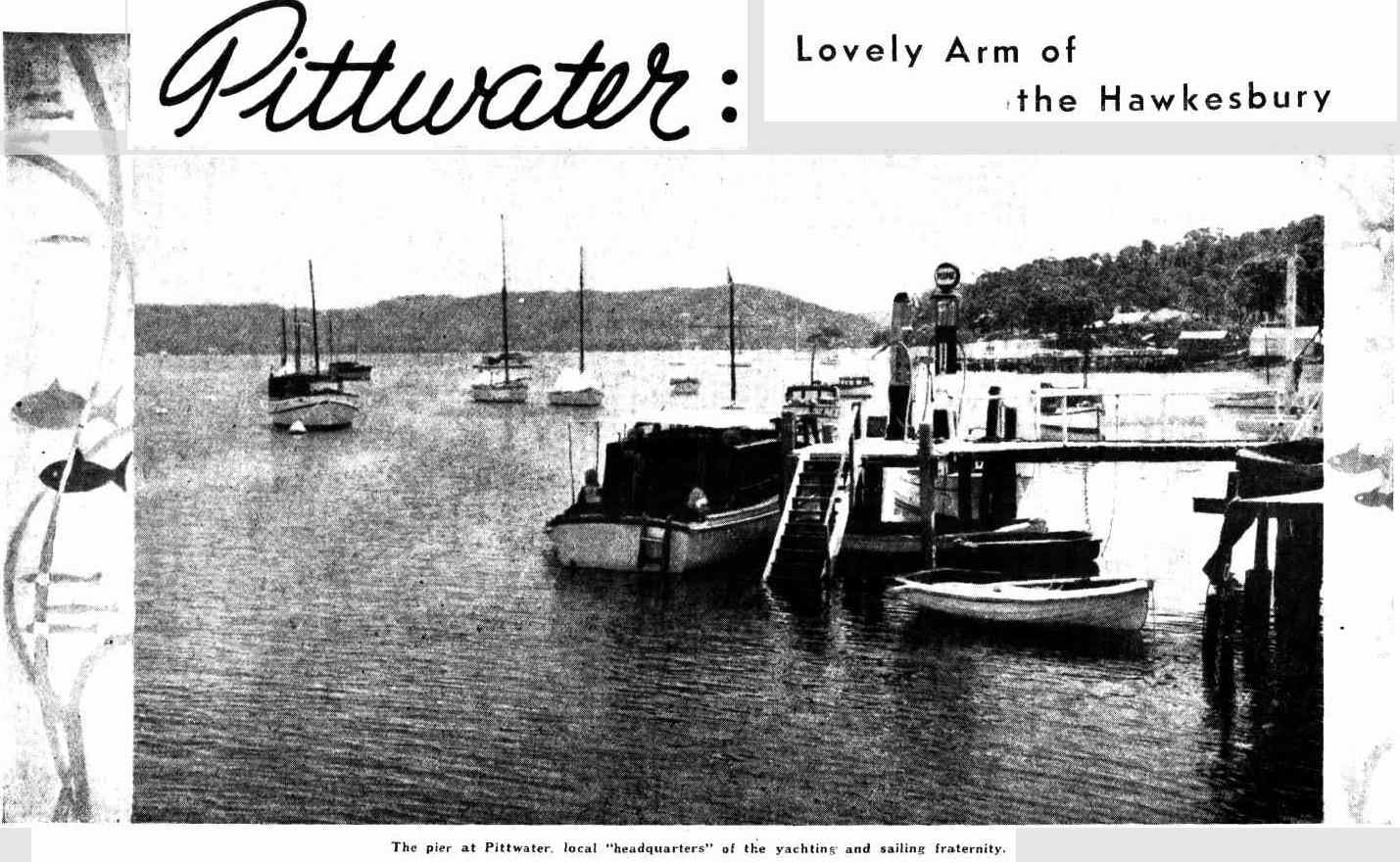 The pier at Pittwater, local 'headquarters' of the yachting* and sailing fraternity.
I HAVE before me a map of Pittwater, showing every bay and point, every beach and wharf and creek. This much-used map is not crowded with detail, but is just sufficiently complete to satisfy all the requirements of an imaginative mind. There is, in fact, all the material for the background of a novel— aboriginal lore, tales of pioneers, of piracy and smuggling, hidden treasure, shipyards and sailing races.
SEE, here at the mouth of Broken Bay, is Lion Island, officially known as 'Mount Elliott,' but its more popular name will live after the other is forgotten because of the island's amazing resemblance to a lion couchant. And here is Barrenjoey. Where the well constructed lighthouse now stands with its fixed white light, visible for fifteen miles, there was once only a fire basket and a tall white pillar. ' At that time smugglers crept round into Pittwater, for it was easy to discharge contraband there and send it to Sydney without paying duty. So serious did this illegal traffic become that, after the detection of a vessel aptly named the Fair Barbarian engaged in, this illicit trade, a Customs officer was stationed on the inner beach near the headland to report suspicious happenings. To bluff intending smugglers, this ingenious officer constructed a tall wooden soldier equipped with a drawn sword, to suggest, armed vigilance, but, alas, an irate skipper mistook the intention and hurriedly put ashore to 'rescue' the redcoat who 'was signalling in distress.
IT is hard to believe that in this serenely beautiful spot piracy preceded smuggling, yet we are told by Collins in his 'Account of the English Colony at -Port Jackson' that in September, 1797 — 'A boat, the largest and best in the Colony, belonging to the government, was, on her passage to the Hawkesbury, whither she was carrying a few stores, taken possession of by a part of the boat's crew, being at the same time boarded by a small boat from the shore, the people in which seized her and put off to sea, first landing the coxswain and three others, who were unwilling to accompany them, in Pitt Water in Broken Bay. These men proceeded overland to Port Jackson, where they gave the first information of this daring and' piratical transaction.' But there are earlier historical references to Pittwater even than that. In fact, in Governor Phillip's first despatch . from the settlement at Port Jackson to Lord Sydney he recounts how on 2nd March, 1788, he set off to explore Broken Bay, about twenty miles north, in an urgent search for land suitable for cultivation, and came across: '. . . . the finest piece of water I ever saw and ' which I honoured with the name of Pitt Water.* It would contain the navy of Great ' Britain'.'
Phillip described in this despatch his encounters with the natives, one of whom proved friendly and helpful, but when Phillip chided him with the theft of a spade 'this destroyed our friendship in a moment and seizing a spear he came close up to me, poised it and appeared determined to strike.' But Phillip fixed him firmly with his gaze, for he chose 'rather to risk the spear than fire on him,' so that at last the native capitulated and, dropping his spear, left. When the natives discovered that Phillip was minus a top tooth there was a great clamour, and the loss gave him some merit in their eyes, because the forcible removal of one of their own front teeth was an indication that they had attained manhood and the status of warrior.
*Wm. Pitt the younger was at that time Prime Minister of England.
LONG after the district was settled the aborigines proved troublesome, and present-day residents whose grandparents pioneered it describe how the 'Barrenjuee' tribe roamed the bush by day, calling at lonely bark and split-log shanties when the husband was away, demanding flour and tobacco of some lonely girl-mother who kept a musket near the door for her protection. At night these black marauders 'bandi-cooted' the crops of potatoes and stole the settlers' maize. Slowly vanishing memorials to this large and troublesome tribe are their rock carvings on the headlands of Kuring-gai Chase and their middens, great heaps of oyster, whelk and cockle shells.
As the settlements on the Hawkesbury flourished, so Pittwater grew in importance. It was a port of call for vessels bound for Sydney. Mails came from the north, via Gosford and Brisbane Water, to the wharf at Newport. Farms on the foreshores produced grain, vegetables, and butter. Shipbuilding began to rival farming in importance. There were shipyards at Stoke 's Point, Scotland Island and McCarr's Creek.
On Scotland Island, so it is recorded, is buried a three-legged pot full of 'holey' dollars, hidden by two men who came down the river in a stolen boat, laden with booty. These men, it is said, were arrested at Pittwater and sent back to confinement, never to return to retrieve their loot.*
*See Vol. VI (1920) Jnl. And Proceedings of the Royal Australian Historical society.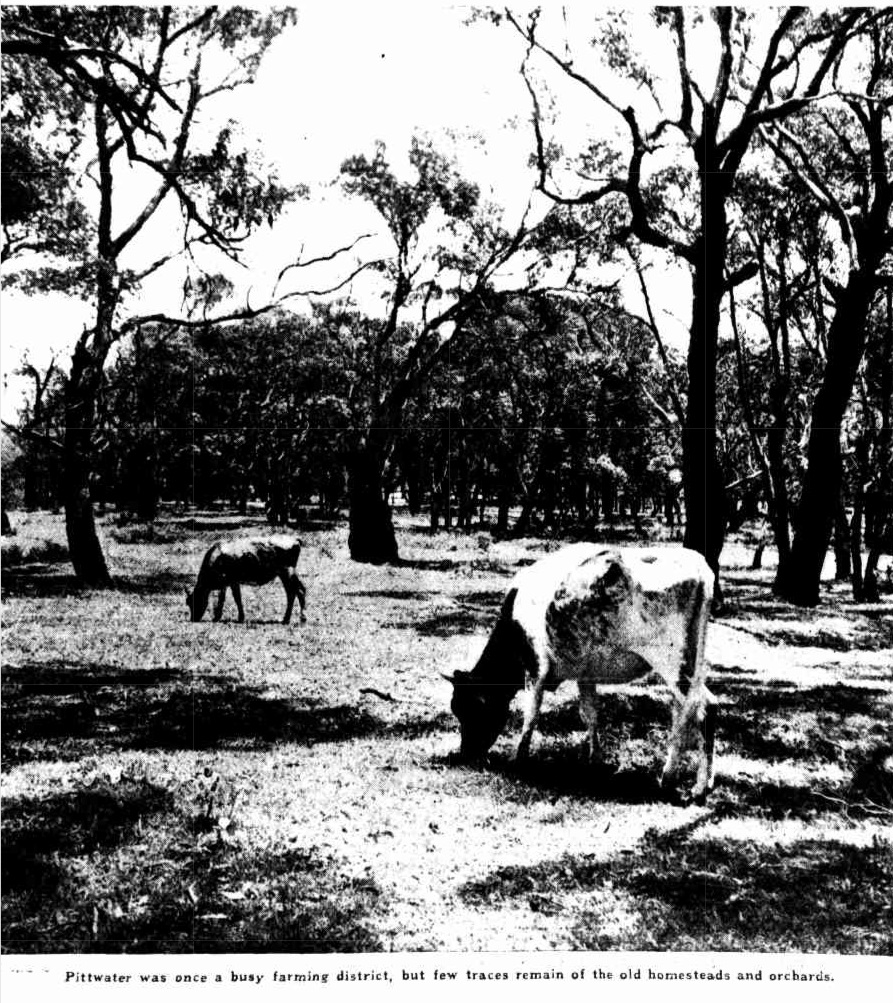 Pittwater was once a busy farming district, but few traces remain of the old homesteads and orchards.
PITTWATER has lost most of its economic importance since those stern days when sloops were tediously built on the different points and great logs of timber were hauled from the nearby woods, when there was a salt works on 'Salt Pan' Creek and Ah Chuey ran a flourishing fish-drying business near Careel Bay. But it has gained a new importance. Boats are still built on its foreshores — luxurious pleasure craft in sheds crammed with a wonderful assortment of masts, chains, canvas, spars, paint, and cordage. And in those peaceful, secluded retreats boats are being scraped, cradles made, masts repaired, and sweet-running engines overhauled.
Here are sunburnt men who carry on the traditions of a century and more who, if not lineal descendants, are worthy successors of the stout-hearted pioneers; men like Gus, the Swede, who lives on his launch and occasionally signs on for a cruise to the Barrier Reef — a man of Viking strain, holder of a mate's certificate, too old now for an active life, but who can't escape the lure of lapping water beside a boat or the tang of fresh salt breezes in his nostrils. Then there's Billie _________, who has fished the length of Pittwater for forty years or more, who knows every bend and nook of it and can read its every mood. When a southerly blows and ruffles its surface he is dull and listless, but when a sharp 'nor'-easter' sweeps across the hills he is all activity — fish will be plentiful and in no time he'll be chugging past Great Mackerel Beach with its two uncharted graves, past the Basin, past Soldiers' Point. Soon the bucket in his launch will be filled with bream and leather-jacket, flounder, mackerel and whiting. He'll 'threadle' his hooks as he goes along, with juicy earthworms from near the mangrove swamps, for the fishing itch is in his makeup and will be till he dies.
THE great occasion of the year at Pittwater is the annual regatta, when the week-end cottages nestling cosily at the water's brink all spring to life. The hundreds of neat white craft, riding at their moorings, assume a new activity. Boats are pushed out and sails unfurled, hydroplane engines 'rev.' and roar, and soon the blue stretch is graced with gleaming sails which sweep majestically past while luxurious cruisers plough importantly towards the club house. On them will be seen happy, charming girls and sun-bronzed men and older men with grizzled hair and keen blue eyes, and robust, clean-limbed youngsters growing up in the best traditions of yachting and cruising and a glorious outdoor life. Aye, it is a kind retreat, this beautifully clothed arm of the Hawkesbury. It is good to tramp its shores, to penetrate the almost virgin bush where wattle, waratahs, Christmas bells and flannel flowers luxuriate; to lie on some green, shady slope and watch the sun scintillating on its broad expanse the while large white clouds float majestically high above tall and stately trees. It is the peaceful playground of a busy city; meet place to retire to adjust one's perspective when work grows wearisome and details assume quite wrong proportions. A sunset behind Church Point, the vicious tug and flurry of a fish on the end of a well-baited line, the strong caress of wind against a sail, the tense moment after the skipper's curt 'prepare to go about,' bump and scrape of fender against wharf — and life resumes its zest again.
AS I have said, it is an ideal background for a book ... if you can resist the lure of it and settle down to work.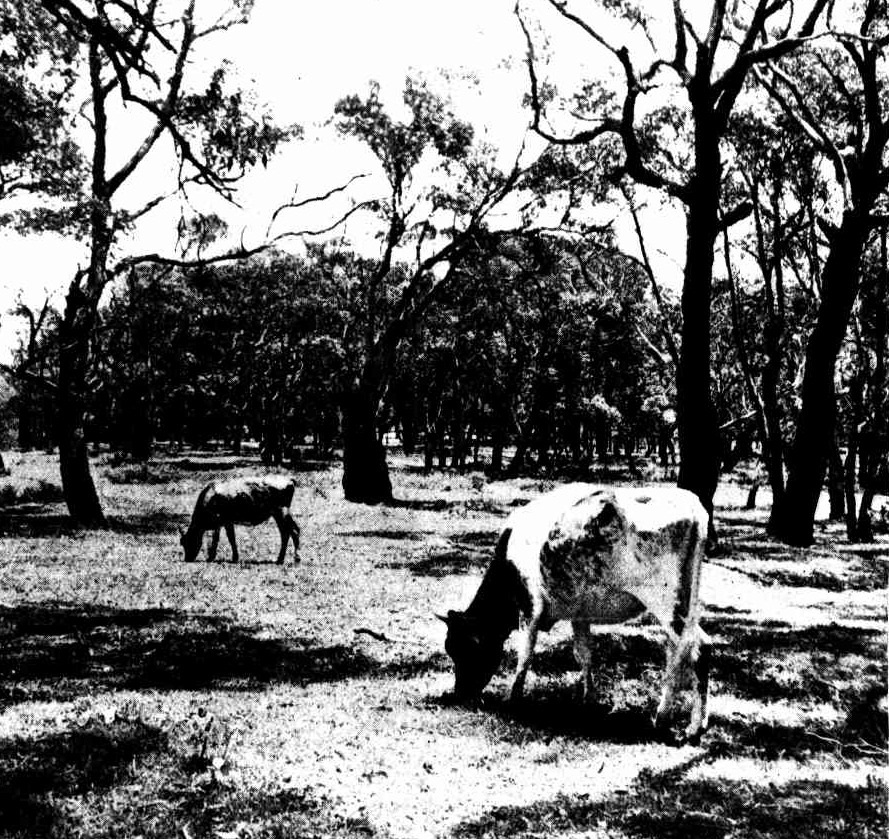 When the sun is setting behind Pittwater Nature is seen in one of her most peaceful moods.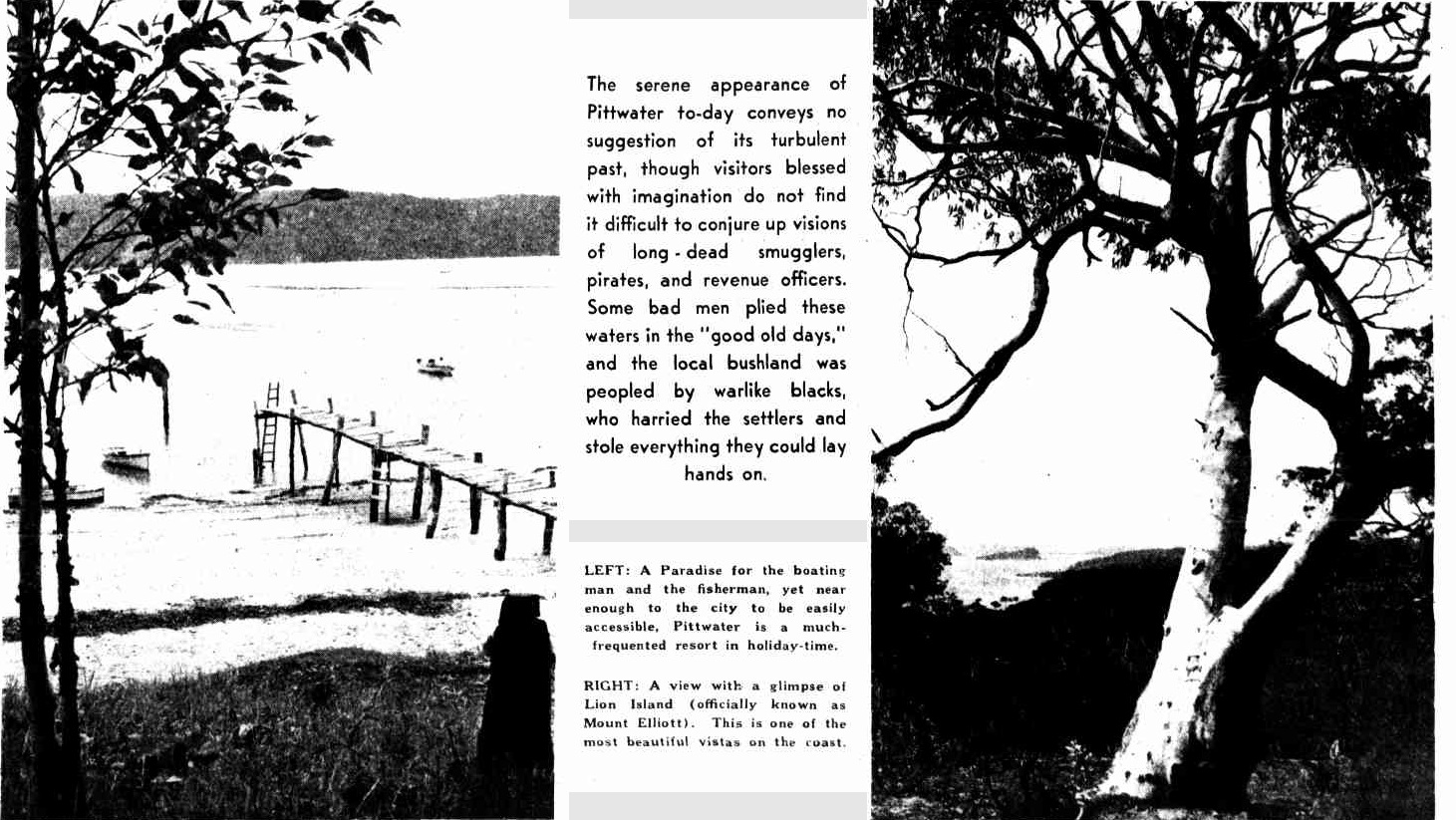 LEFT : A Paradise for the boating man and the fisherman, yet near enough to the city to be easily accessible, Pittwater is a much' frequented resort in holiday-time.
When the sun is setting behind Pittwater Nature is seen in one of her most peaceful moods.
RIGHT : A view with a glimpse of Lion Island (officially known as Mount Elliott). This is one of the most beautiful vistas on the coast.
The serene appearance of Pittwater to-day conveys no suggestion of its turbulent past, though visitors blessed with imagination do not find it difficult to conjure up visions of long - dead smugglers, pirates, and revenue, officers. Some bad men plied these waters in the 'good old days,' and the local bushland was peopled by warlike blacks, who harried the settlers and stole everything they could lay hands on.
Pittwater: (
1938, December 28
).
Sydney Mail
(NSW : 1912 - 1938), p. 13. Retrieved from
http://nla.gov.au/nla.news-article166525296
HARRIOTT—CHARLTON.—The Engagement is announced of Jean Elizabeth Scott, elder daughter of Mr. and Mrs. W. R.
Charlton, of Fidden's Wharf Road, Killara,
to Guy Edward Warre, son of the late Harold Prescot and Mrs. Harriott, of Berry Street, North Sydney. Family Notices (
1940, January 8
).
The Sydney Morning Herald
(NSW : 1842 - 1954), p. 8. Retrieved from
http://nla.gov.au/nla.news-article17661772
Engagement Announced.
Mr. and Mrs. W. R. Charlton entertained a number of friends at the Hotel Australia yesterday to announce the engagement of their elder daughter, Miss Jean Charlton, to Mr. Guy Harriott, son of the late Mr. Harold Prescot Harriott and of Mrs. Harriott, of North Sydney. Family Notices (
1940, January 9
).
The Sydney Morning Herald
(NSW : 1842 - 1954), p. 4. Retrieved from
http://nla.gov.au/nla.news-article17648431
CHARLTON
.—July 25, 1940, at a private hospital, Darlinghurst,
William Robert, beloved husband of Jean Charlton and father of William, Robert, Jean, and Nancy
, aged 63 years. Family Notices (
1940, July 26
).
The Sydney Morning Herald
(NSW : 1842 - 1954), p. 6. Retrieved from
http://nla.gov.au/nla.news-article17689142
Mr. W. R. Charlton.
Mr. W R Charlton, Editor of the "Sydney Mail" from 1905 till the end of 1938, when it ceased publication, died yesterday after a short illness He did not recover from an operation performed last Saturday week
MR. W. R. CHARLTON.
A talented writer with a fine record of jorunalistic achievement Mr Charlton began his newspaper career on the old Australian Star. He accompanied the Australian Eleven that visited England in 1902 and in brilliant style reported its tour for various Australian newspapers and for the London Daily Express. After the tour he was for some months attached to the London staff of the Manchester 'Daily Dispatch'.
Mr Charlton returned to Austialia in the following year and for the Australian Star proprietary editorially launched the Sunday Sun. In 1904 he joined the literary staff of The Sydney Morning Herald. Upon the death in 1905 of Mr J P Dowling, the then Editor of the Sydney Mail, Mr Charlton was appointed as his successor.
A man of high integiity, Mr Charlton was widely esteemed and led a particularly active and useful life. He was, as hon secretary of the movement, closely associated with Sir John Harrison in the establishment of the Matraville Garden Village for Soldiers after the war of 1914-1918 and was a great worker for the Red Cross Society during that period.
An enthusiastic bowler he was for a term president of the Warrawee Bowling Club and till recently was a member of the Rotary Club and a member of the Council of the New South Wales Institute of Journalists and of the Millions Club. He visited the United States in 1925 and played no small part in the arrangements for the visit of the American Fleet to Australia that year.
Tributes to Mr Charlton as a bowler, and in particular to his work in advancing the interests of the Warrawee Bowling Club were expresscd at the annual meeting of the New South Wales Bowling Association last night.
Mr Charlton is survived by Mrs Charlton, two sons and two daughters - Dr W S Charlton of London and Dr R S Chailton of Sydney and Misses Jean and Nancy Charlton.
The funeral will take place to day at the Northern Suburbs Crematorium at 2 30 pm. JOURNALIST'S DEATH. (
1940, July 26
).
The Sydney Morning Herald
(NSW : 1842 - 1954), p. 9. Retrieved from
http://nla.gov.au/nla.news-article17689012
DEATH OF MR. W. R. CHARLTON
Mr. William Robert Charlton, first editor of ."The Sunday Sun," when it was launched in 1903, died yesterday, aged 63 years.
Mr. Charlton began his journalistic career on the ''Australian Star," forerunner of "The Sun." and achieved a wide reputation as a writer. He accompanied the Australian Eleven to England in 1902 as the representative of a number of Australian papers and the London "Daily Express," and for several months remained on the London staff of the Manchester "Daily Dispatch," returning to Australia In 1903. In 1904 he joined the literary staff of the "Sydney Morning Herald," became editor of the "Sydney Mail" in 1905, and continued in that position until the "Mail" ceased publication at the end of 1938. In 1925 Mr. Charlton visited the United States, where he helped in the arrangements for the visit of the American Fleet to Australia that year. DEATH OF MR. W. R. CHARLTON (
1940, July 26
).
The Sun
(Sydney, NSW : 1910 - 1954), p. 8 (LATE FINAL EXTRA). Retrieved from
http://nla.gov.au/nla.news-article230917331
MR. W. R. CHARLTON
Prominent Journalist Dies Was 'Sydney Mail' Editor
Sydney, Friday night.
Mr. W. R. Charlton, editor or the 'Sydney Mail' for many years, died yesterday after a brief illness. He did not recover from an operation performed last Saturday week. He was 63 years of age.
Mr. Charlton joined the literary, staff, as a cadet, of the 'Australian Star.' Later, he accompanied an Australian eleven, and wag engaged by a London paper to tour England with the team. On his return to Australia he was offered, and accepted, the position of sub-editor on the 'Sunday Sun,' at that time in its infancy. A few years later he took up the position of editor of the 'Sydney Mail,' which he occupied until the journal ceased publication a couple of years ago. MR. W. R. CHARLTON (
1940, July 27
).
The Dubbo Liberal and Macquarie Advocate
(NSW : 1894 - 1954), p. 6. Retrieved from
http://nla.gov.au/nla.news-article132626513