November 10 - 16, 2019: Issue 428
Although Ella McFadyen covered a lot of ground, literally and in the physical sense, during her time; travelling in the Pacific to the Solomons and New Guinea in 1925, to Cronulla for another 'break', to Queensland and many an outback town, one of the places she visited frequently as a Boomerang Walking Club member, and for respite, was Pittwater.
Her love of the great outdoors, and sharing that with children, features in just about everything she did and wrote, while her passion for photography captured scenes and animals of here we may not recognise in some cases. Ella's words paid numerous tributes to our environment and bore witness to seeing the little things as much as the great landmarks that have not changed much since she first visited. Her responses to her child and young adult readers spoke of the peninsula and shared tidbits of information on everything from the flowers to the Seasons and weather and what can be found where.
Ella May McFadyen was born a second generation 'Australian' (or third generation if you take into account her mum was born here) on November 26th, 1887 at 'Burrundulla', John-street, Stanmore. Ella was one of five girls and two boys born to Donald and Mary McFadyen. Soon afterwards the family moved to 'Airlie' in Garfield street, Five Dock. The suburb of Five Dock was named, apparently, 'from the fact of there being five natural inlets or docks on the western bank' - or there were. The earliest documented reference to Five Dock is in the Sydney Gazette, February 3, 1805. In 1806, Governor King granted this bay to surgeon John Harris, who named it 'Five Dock Farm', and this comprised the entire bay, including the current-day suburbs of Five Dock, Abbotsford, Drummoyne, Chiswick, Russell Lea and Rodd Point.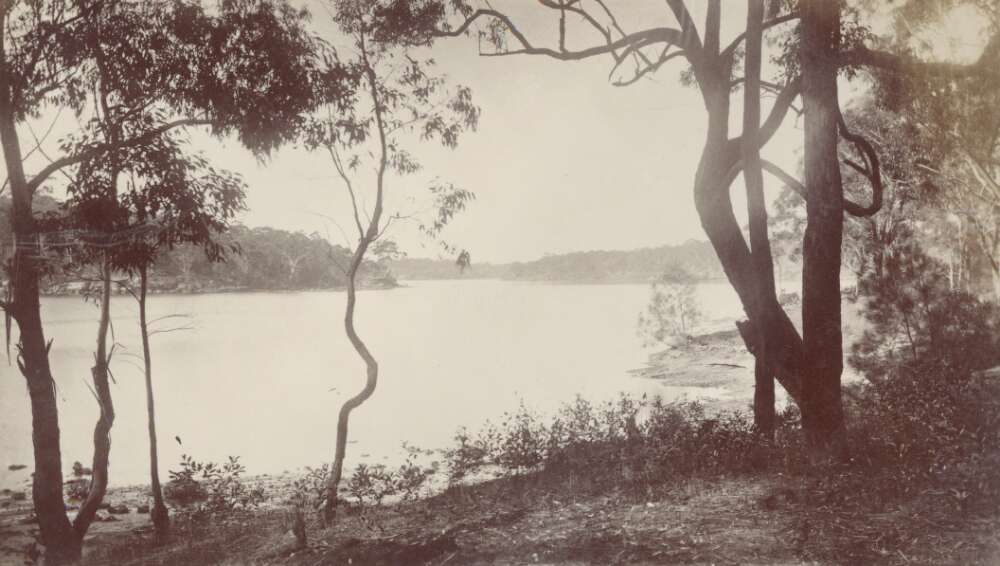 (1880). Parramatta River, Five Dock, Port Jackson, New South Wales, ca. 1880 Retrieved from http://nla.gov.au/nla.obj-140536671

The farm was eventually sold and broken up into smaller parcels of 30 to 60 acres and, being so close to town, began to be developed. By the 1890's, when the McFadyen family lived there, a tramway system had been installed making this area popular among those who had families who they wanted to have space and fresh air and who had to catch a tram to town to work.
While the family lived in Five Dock her two brothers were born as was another sister, while her youngest sister was born at Point Clare, Brisbane Water, in 1904, when the family moved there for a short time.
Her father was a businessman and did a far amount of travel as part of his job with photos which show some of the places, and buildings, he visited among the collection Ella McFadyen images held by the State Library of New South Wales. A bit about him: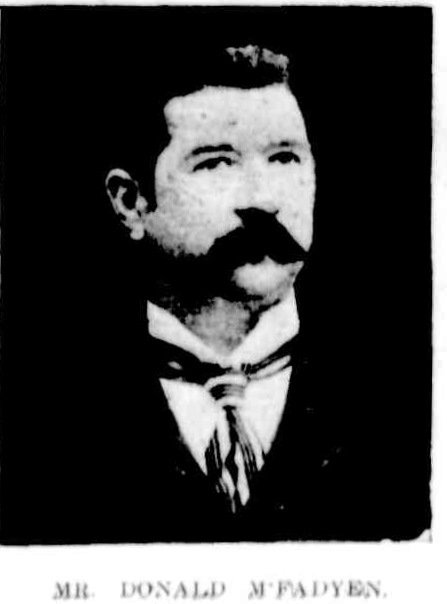 Ella's Father's photo from: The Produce Trade of Sydney.—Some Views of Sussex-street. (1903, August 12). Australian Town and Country Journal (Sydney, NSW : 1870 - 1907), p. 32. Retrieved from http://nla.gov.au/nla.news-article71484758

THE FRESH POOD AND ICE CO.
The New Manager.
Mr. Donald M'Fadyen, who has been appointed manager of the Fresh Food and Ice Co., Ltd., in succession to Mr. Lance, was born at Morpeth on the Hunter River (N.S;W.), in July, 1863, and consequently is now close on 39 years of age. He came to Sydney 15 years later, and entered into the services of his uncle, Mr. J. R. M'Fadyen, who was then carrying on business In Sussex-street as a produce merchant. In 1881, three years after his arrival in Sydney, he joined the old South Coast and West Camden Co. (now known as the Farmers' Co-operative Co., Ltd.) as a junior clerk, and by degrees worked his way up to his present position as manager of the company.
During his 21 years service he has worked through the various departments connected with the business, and in February, 1899, was made general manager. The business connected with the company, It may perhaps be Interesting to note here, embraced every branch of agricultural product, but dairy produce forms the great bulk of the trade, The operations of the company are very extensive, as will be j seen by the fact that In April alone the turnover, so to speak, amounted to £55,643.
Mr. M'Fadyen has made a special study for many years of the export butter trade, and the administration of the company's affairs has naturally brought him in touch with the whole of the Australasian markets, and he has at different periods visited the several States in connection with the butter trade. At his special request the company sent a representative to England last year to supervise the distribution of the company's consignments in the home markets.
Mr. M'Fadyen takes over his new duties as manager of the Fresh Food and Ice Co. on July 1 next. The appointment to him is naturally the more pleasing seeing that he did not seek It. The high esteem in which Mr. M'Fadyen is held by his associates in the Farmers' Co-operative Co. may be perhaps best understood by the. following resolution passed by the directors at a recent meeting —
"That the board learns with regret of Mr. M'Fadyen's retirement from the Farmers' Co-operative Co., with which he has been associated for very many years, and to which he has In the position he has occupied, and at present occupies, given his able and loyal support: at the same time the board congratulates him upon his appointment to the very honourable and responsible position which he has accepted in one of. the largest firms of the State, and heartily wishes him every happiness and prosperity in his new career."
In addition to having had great experience in the commercial line of business, he was at one time connected with municipal matters. For eight years he was an alderman, and out of the eight four were spent in the chair as Mayor of Five Dock.
MR. D. M'FADYEN. THE FRESH FOOD AND ICE CO. (1902, May 26). The Australian Star (Sydney, NSW : 1887 - 1909), p. 7. Retrieved from http://nla.gov.au/nla.news-article229059319
Ella's father was the son of John McFadyen who was born on the Isle of Coll, Argyll, Scotland in 1829 as had her great grandfather, Roderick, in 1801 and her great great grandfather Donald McFadyen in about 1773. In a 1972 interview Ella states that her grandfather spoke Gaelic and he and his wife, Margery (nee McPherson), would speak this in the house when they didn't want the children to know what they were speaking of.
Roderick McFadyen and his family came to New South Wales in 1856 as things weren't too good on the Isle of Coll and those living there were encouraged to emigrate to places such as Australia and Canada. John McFadyen was already 26 when he arrived here and took up farming with his brothers and sisters.
On her mother's side there was a strong Irish influence, her grandfather on her maternal side, was Thomas Wilson (1814 to 1871) while her great grandfather was a Tim Kelly who came to Australia aboard the ship, 'Isabella Watson' with the 99th regiment.
Her father bought a paddock at Five Dock which Ella described as then being a green place 'with just a few pegs to tell you where the new streets were to be'. In her 1972 interview Ella describes going with her father in a motor car from Kempsey to Grafton for a trip (his work) and being the first to do so.
Her childhood at Five Dock is described as having pets - including a pet wallaby!, horses, a vegetable garden and a swimming pool. Her love of drawing animals both from nature and at the Museum filled her days.
Her father's firm was one of the first to use electric lights and he told stories about using electric lighting to speed up the construction of the Garden Palace, which burnt down soon after. Her father also told stories of the Hunter River including rescuing a drowning cow and sustaining it on the second floor of the house, until the water subsided. Her father liked horses but not gambling. Her mother disliked horses and forbade the children to go near them.
Ella was home schooled by her Mother despite the old Five Dock Public School being just across from the McFadyen 'paddock'. She learned Latin and grammar and although ruminated over having mother as teacher credited her sound sense and use of 'Gardiner's analysis' as providing her with the correct use of words and as words became her career, of seven decades in length as a poet, wordsmith, story teller and editor, her mother did very well indeed. Ella remembers reading Shakespeare's 'Hamlet' when aged 10!

As biographer Emily Gallagher states in
A slight bias towards eels and lizards (Inside Story March 8th, 2019)
–
alike those on the Isle of Coll, Ella did not attend school but 'instead finding companionship in her dolls and the books her father scattered thoughtfully around the family home. In a sign of what was to come, she often spent her time reading, sketching birds at the local museum, looking through old diaries and notebooks, and pretending to publish newspapers…..' [2.]


When Ella was almost 16 her mother fell in love with Brisbane Water - just across from Barrenjoey Headland, during a visit there during Autumn. It was at Brisbane Water that Ella's passion for writing rhymes, previously created for her younger siblings, began to be shared with others. While living there she visited places along the waters in a little skiff and on one adventure found the stone in which Australian poet Henry Kendall had carved his name. Ella climbed a tree and took a photo of this using her little box camera and it was published in the Sydney Mail years before she joined that paper to run her two page Children's Page - known as 'Cinderella's Page' to generations of children and young adults.
We found that little story and Henry Kendall photo taken by Ella:
KENDALL'S GLEN.
BY ELLA McFADYEN.
We left the road where it swerves upward through the orchards to Penang, and soon the mangroves aud ti-trees and wind-rustled swamp grass were left behind, and the bracken bristled up from the white sand track, all dimpled with the little hollows of the ant-lion.
The track leads down to the stone-paved ford, but we turned off past the old house beneath whose roof Kendall must many times have slept. Convict-built, of solid stone, and some 70 years old, it nestles among its grey orchard trees, and the sunlight draws warm tones from its weather-stained shingles and mellow-tinted stones.
Beyond Narara Creek our climb began up the rugged grey face of the range, till, breathless and weary, we halted upon a green tableland starred with flannel daisies and red Christmas bells, while from the slopes below us the coveted pink tops of the Christmas bush beckoned. Presently we came upon a little loitering stream, sunken under the sand here and there, only to reappear a few paces further on tumbling in a mimic cascade into little pools where the crayfish crawl and the dragonflies hover. Before us stretched a splendid panorama.
The stream led us to the abrupt, lichen-spotted lip of a rock-faced gully that dropped sheer at our feet. Over it the water leapt into music-haunted shadow, and the wind beat back on us a fine-spun veil of spray. A detour led us down steeply to the rocky floor of the gully till we stood beneath the fall—
that Silver singer far away
By folded hills and hoar.
Close by is the rough grey boulder with the clearly-cut inscription, 'H. KENDALL, 1874,' and below the letters 'G.L.F.'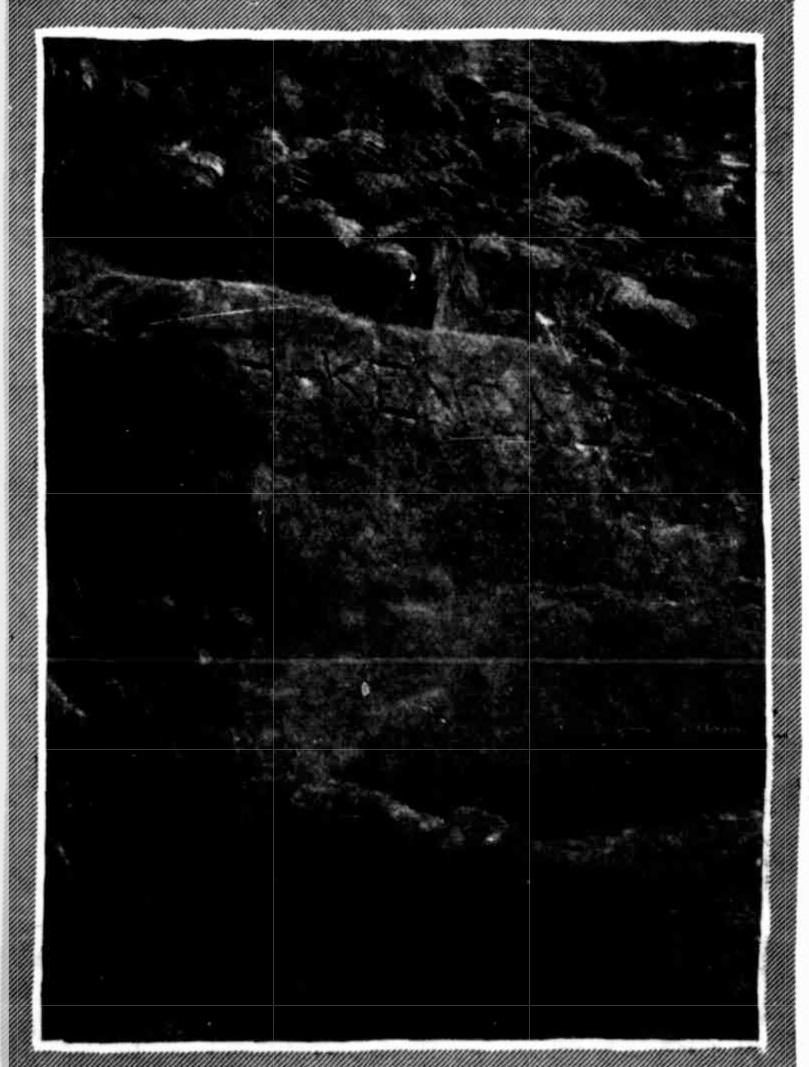 Standing in that remote and hidden sanctuary, with the written music of the poet blending in one's ears with the voice of the water dripping down the moss-boarded ledges, one might well indulge the hope that as it has lain undesecrated these 35 years past, so may it lie aloof and ever sacred from the hands of that old vandal — Change.
I wonder if the leaves that screen
The rock-pool of the past
Are still as soft and cool and green As when we saw them last-!
I wonder if that tender thing.
The moss, has overgrown
The letters by the limpid stream —
Our names upon a stone !
KENDALL'S GLEN. (1909, May 5). The Sydney Mail and New South Wales Advertiser (NSW : 1871 - 1912), p. 29. Retrieved from http://nla.gov.au/nla.news-article164294203
This wasn't the first item published under Ella's name, but is one of the earlier images she photographed that was seen outside the family fun times. Ella also credits her time at Brisbane Water as being the place she commenced finding things she could write about.
At her mother's insistence, her father bought a property at Noonan's Point, near Point Clare but it was a long commute to Sydney then - almost a hundred miles in a round trip, and t
he family moved back to Ashfield, as Brisbane Water was impractical.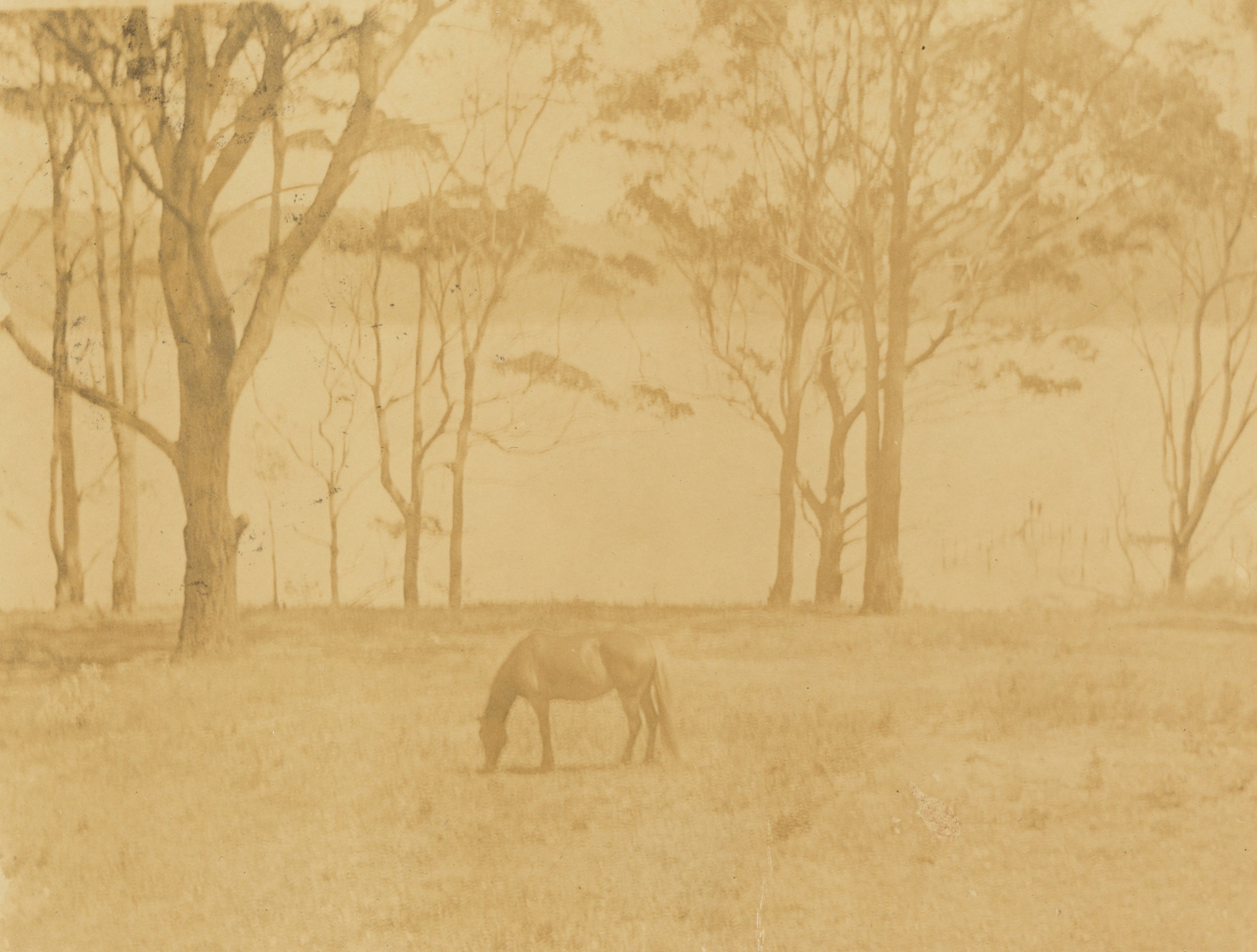 View from McFadyen Home - and Grounds at Point Clare - From Ella McFadyen photos held by and courtesy of State Library of NSW, Item No.: c078560075
Ella began getting poems published and despite her mother's disapproval she persisted writing and was having stories and 'rhymes' published while still a teenager. In her 1972 interview she states the first ever published rhyme appeared in the old Australian Town and Country Journal and was written while living across the way from Pittwater at the Noonan's Point home. There is one published by this journal in February 1906, 'The Curlew' and another in September of that year about Boronia's - those wonderful bright pink tiny flowers currently out everywhere.
THE CURLEW.
(Written for this paper by Ella M'Fadyen.)
Out of the dark, with low lone flight,
Wailing you came, I know not why,
And clamoured to the voiceless night,
And wept a space and then went by.
And so, thought I, some souls go forth,
With none to answer or to mark,
To carry all a lifetime's worth,
And lose it in the empty dark.
Life's Bedouin, that knows no rest,
That gropes in vain, that finds no goal,
That learns no answer to its quest,
And perishes-a futile soul.
Down where the mists lie low and white,
Where ebbs the tide and grey oaks moan,
You broke the silent-seeming night,
Still Nature's murmurous monotone.
Where man has carried doubts and fears,
You also seek, down to the sea,
The answer standing through the years,
Rebuking man's impatient plea.
That one insistent, frightened cry,
That echoed faintly down the track,
Through the night watches listened I,
But never heard you coming back.
A few of her poems that date from prior to that photograph published above and were sent from from or penned at Ashfield> Ella's stories began appearing at this time too. These can be quite long, and were even serialised over a few Issues of the journals and newspapers they appeared in - although links to some of them are in the Research PDF below. Ella would later edit and then write books, so these shorter stories were great practice for that.
These, from mid 1906 show the family was now residing at Ashfield:

MORNING.
You see, 'twas early when l woke,
And all the world was dim and grey,
I pushed my shutter open wide,
To see the night grow into day.
And first a little dawn wind came
And tossed the fleecy clouds about,
And where three bright stars stood arow,
He came, and blew their candles out.
And all the trees stood out so clear.
Like painted trees upon a screen,
And at their feet the mushroom rings
Where fairies overnight had been.
The cows came from the milking-shed,
In a long row. When they had gone
The mountains still were fast asleep,
I laughed, they had their nightcaps on.
Down in the grass the thrushes sang
Like rippling rills, and old grey Jack
Perched on his bough, laughed out aloud,
The mountains woke and shouted back.
That all the trees stood black as black,
Like moths against the candle light,
The sun climbed up the world's wide rim
And winked again, and it was light.
ELLA M'FADYEN.
PRIDE, AND THE PRINCESS.
Had'st thou been been a wanderer,
And I of proud degree,
I'd from my throne come swiftly down
And welcome give to thee.
Had'st thou been born a royal dame,
And I of humble state.
My heart were all too proud to beg
Thy heart to be its mate.
Had'st thou been born to beggar's lot,
And I to royalty,
Thy soul had pierced the ragged cloak.
And won my heart from me.
Had'st thou been born to luxury,
And I 'neath greyer skies,
Up had I ta'en my beggar's staff
And hidden from thine eyes.
' Then I had hasted after thee,
And I thy steps had stayed.
The queen who begs a heart may be,
Perchance a beggar maid."
ELLA M FADYEN.
Ashfield, Sydney.
Boronia.
Because you sprang amid the waste,
Amid the arid drouth and gloom,
So that the way you trod you graced,
I send you wild Boronia bloom.
Because the fragrance of your deeds
Has sweetened many a sad soul's doom,
Has ministered to many needs,
I send you sweet Boronia bloom.
Because within your heart of gold
I humbly pray there may be room
For one whose life lies drear and cold,
I send you brown Boronia bloom.
ELLA M'FADYEN.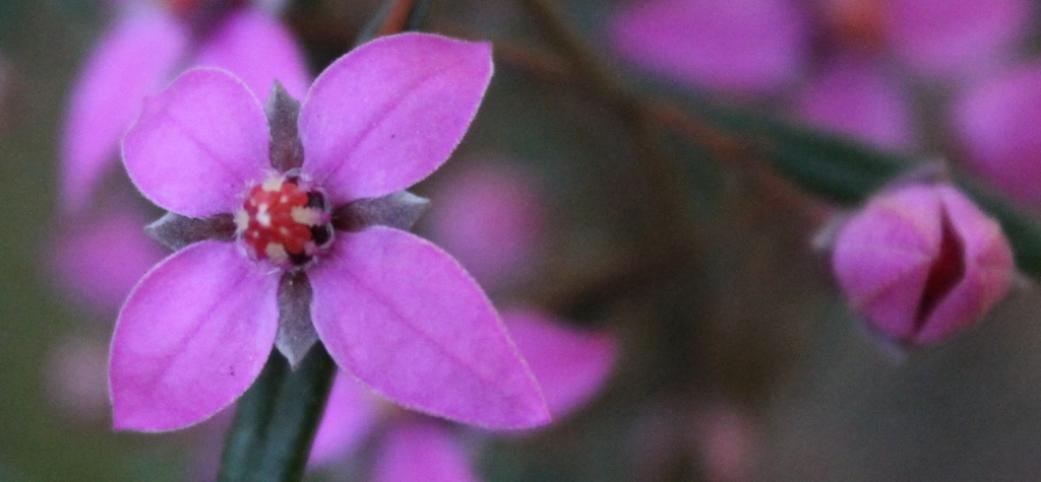 Boronia ledifolia - Sydney Boronia
The Rose Tree.
We wandered where the tail ferns fringed and
filled from bank to bank
The amber-watered, creek, and stooped, Narcissus-like, to wed
Their shadows, and the lillyplllies, berry-laden,
drank
The stream, and on the fallen trunks the
fungus blossomed red.
We followed from the stagnant creek, by narrow cattle path,
Where scarlet peas and tangled vines their
tendrils interlace.
And found the tumbled stones that marked a
long-deserted hearth,
A rose tree spread its thorny arms in vacant,
sad embrace.
More faithful than the other works that long-
stilled hand had raised,
More constant in its long neglect, the rose
that lingered there,
And may be lips, and laughing lips, its early
bloom had praised,
And one who reeks not now had judged its
fragrant burden fair.
The dying splendor of the sky illum'ed the darkened range,
Where rustling spirits of the night among the
shadows roam.
We left it with its untold tale, its tragedy of
change--
The rose amid the stones that once had borne
the name of Home!
ELLA M'FADYEN.
THE PATRIOTS.
BY ELLA M'FADYEN.
The sea that batters our storm-scarred front
Shall gather of them her toll,
In the hurricane raid from the coral isles
Or the sleet of the snow-sealed Pole.
And others shall find In the shifting sands
Of the outer plains their rest.
Or follow the fearless wanderer's trail
In the wastes of the Golden West.
Or spend their labours through patient years
In the humble fields of toil,
With hardened hands and with shoulders
bowed,
The sons of a grudging soil.
The silent grip of the untrod bush
Shall some from their kind estrange,
Whose last abode is a grey-grown cairn
At the foot of a lonely range.
A life lived out to the end, lived well,
In the rain or the blazing sun,
A task, though a humble task, complete,
And an honest race well run.
The toil of their hands to the thirsty lands,
Or their lives to the hungry seas,
I only pray when the roll Is called
That I may be one of These.
EMPIRE DAY
BY ELLA M'FADYEN.
Lay by the gaudy semblance of war;
Let vaunting and vain-glorious voices cease,
The little oracles be stricken mute.
On this, her day—would it might dawn in peace!
Small days, alas! suffice for little deeds,: v
And reverence may well; become; our mien, ?
Nor mar our keeping of the festival
That holds the memory of a Sainted Queen.
A season dedicate to retrospect,
To pacing memoried' aisles of history,
Among the ghosts of noble days gone by
That promise ever nobler days to be.
The folded hands have laid the sceptre by,
The worn and weary soul has found release;
But still her memory guides us and inspires—
Ah! Let us keep this day of days in peace !
Fairies
Faeries play a prominent and very important role in Scottish and Irish folklore, from the time that every waterway, well and loch had a name, and an ancient faerie that looked after or 'spoke' for it. Even people with strong religious beliefs embraced the notion of fairies, kelpies, and brownies in centuries past. Scottish fairy lore is rich with descriptions of these creatures and their habits.
"When the first baby laughed for the first time, its laugh broke into a thousand pieces, and they all went skipping about, and that was the beginning of fairies." - Sir J. M. Barrie, Scottish journalist, writer, and dramatist (1860-1937)
"Fairies use flowers for their charactery."

-

William Shakespeare, English dramatist and poet (1564-1616)
Ella grew up surrounded by these traditions and this may account for her strong ability to speak 'fairy' to her young audience throughout her career and apply these to the places she loved - all of them uniquely Australian. Ella herself credits her Scottish ancestry from the Highlands and Islands as having an incredible amount of poetry, to use own words, 'passing through our souls'.
Ella's
earliest
works, apart from the rhymes and short stories, began appearing in such places as the acclaimed Bulletin's monthly periodical 'Lone Hand' with
Bertram
Stevens telling her she had a 'lyric gift', although Ella believed that all Scottish folk had this and even showed and spoke about being 'fey' - which is a Scottish term for being able to see things that others may not.
It was 'fey' talk, and fairies she knew, and wrote as though one of them, ven going on strike for her seven days off at Cronulla one year as a fairy:
A PAGE FOR THE CHILDREN.
THE FAIRY TALE
BY ELLA McFADYEN.
NAY, I've no skill for tale or rhyme,
Yet, little folks, you'd set me spinning.
Well, come then: Once upon a time
(I know that's held the right beginning),
THERE was a lady, fair to woo,
And eke a knight; she loved him dearly.
He loved her. (Were this story true
That might not follow half as clearly.)
THERE was a dragon in that land —
A fiery dragon that assailed her;
He slew it, and thus won her hand.
(Just as he would have had he failed her!)
THE fairies graced her wedding day,
And blessed with gifts the lovers' passion.
(Now grant this could befall to-day,
Who cares such things are out of fashion?)
WERE love a tale and life a rhyme,
And mine the keys of tears and laughter,
Perhaps our 'Once-upon-a-time'
Might finish 'Happy-ever-after!'
Children's Page
Conducted by ELLA McFADYEN.
A Fairies' Union
Cronulla.
DEAR BOYS AND GIRLS,— I write I his Ietter to the C.P. to break to you the dreadful news that, after all, there is a Fairies' Union, and as a member of it. I have gone on strike. Possibly you thought such a thing could never happen. I hardly believed in the possibility of it myself, and yet it has come to this. I will explain. To begin with, this is the last week of my holiday at Cronulla; the sky is blue again after the rain, the surf is very inviting, the beach is still gay, though the crowd on it is thinning daily. You know the last
few days of an ebbing holiday are as sweet as the last drop in your cup or the last peach on the tree. I have borne patiently with the fact that the postman is always pulling cards in the letter-box inviting me to call for packets when I go up town. I get these packets and out tumble a few score of your letters sent on from the city. Really, I have been a conscientious fairy. I have read letters, written answers, straightened out the metre of innumerable poems, named more calves, canaries and kittens than will bear thinking of, given away all my nice postcards of the South Coast, recommended books when I am dying to get to a really nice one myself, written to oversea correspondents to say what a lovely time I would have been getting in the surf had I been there, and all that kind of thing. I even got the 'Herald'' and
resolutely
read the Inter. lists for your precious names. And now I won't write another C.P. until I am back at work. I simply won't. I have struck for a good round week of seven days. And after that I suppose I will go back and resume work the same as ever. That is, if you do not declare a lockout and invite some horrible old hobgoblin to run the C.P. instead. I have been moved to this drastic action by the fact that the sun has gone down, and since breakfast-time I have read just exactly 75 letters and have not been near the surf all day. I am assured that in striking I have all the fays, elves, sprites, water-nymphs, pixies, gnomes, pixies, dryads', naiads, undines, oreads, leprechauns, banshees, trolls, goblins, hobgoblins, brownies, will-o'-the-wisps, and others of the Little People behind me. The Incorporated Society of 'White Witches highly commends my action, and the mermaids have offered to down tails in sympathy. So it is no good, my dear children: you will simply have to run the C.P. for yourselves this week. Carry on with all competitions as annnum-ed in last issue, and perhaps when I get back I will write again and tell you about my holidays. For the rest, I don't suppose the printers will have to bring out the C.P. this week with blank columns, because (here are your own letters lo fill them up. Now I am going to look for a comb and tissue paper, on which to play 'Solidarity for Ever.' — Farewell. CINDERELLA.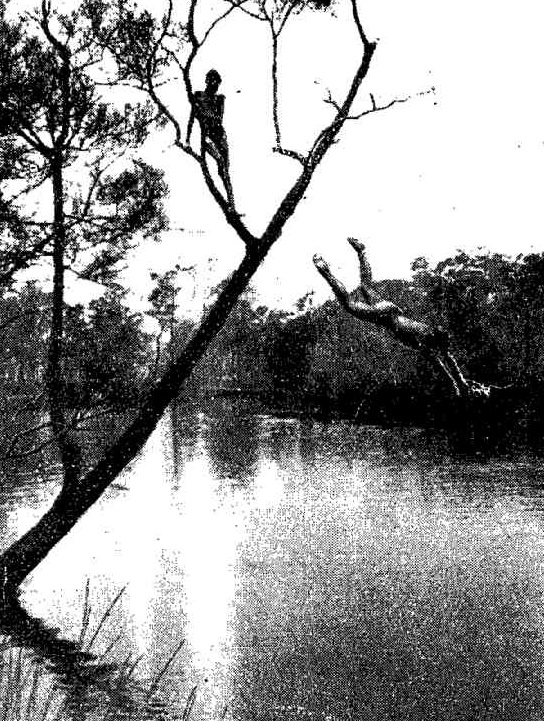 A HOLIDAY SNAPSHOT AT LAKE NARRABEEN.
Her early poems were romantic however her real interests lay in aboriginal people and nature and Ella, after doing a few commissions, some of these appearing in the
Sydney Mail
, began to
pursue
what she was most
interested
in. Ella also began on the Junior Red Cross paper founded by Eleanor Mackinnon in Bridge Street, Sydney and was spread through the schools. Her work with and for the Junior Red Cross would go on for fifty years and many a Junior Red Cross member would appear in the Cinderella pages for decades.
Ella didn't speak down to youngsters, she included them and what was happening all around them as topics to discuss.
During these early years of the 'Children's Page' (C.P. - also 'Cinderella's Page')
Ella also was involved in doing her utmost, alongside many mothers and young children, for raising funds for mothers and children who were starving due to the conflict that was world war one in Belgium - which was called the 'Belgian Fund'. A previous page shares what local children and mothers in Pittwater were also doing to raise funds for little people and babies overseas. Everyone did what they can and gave what they could - some local farmers at Bayview, Newport, Mona Vale and Warriewood, as much of here was farms then, are listed as giving eggs or fish that would then be sold to put pennies into the Belgian Fund.
This is a poem Ella penned as part of that whole of Australia effort:
The following lines were written by Miss Ella McFadyen, the gifted daughter of Mr and Mrs D. McPadyen, late of Point Clare and now resident at Ashfield. The verses have, been
printed on cards and sold at 3d, proceeds being devoted to the Belgian Fund: —
We cry, yet few have heeded;
'Tis writ, yet who hath read?
We beat against the border
That bars the quick from dead.
We plead above the turmoil
-Of battles lost and won;
We find no peace in Heaven
For that ye leave undone.
We plied our looms for plenty,
Yet Clotho's ruthless hand
Hath woven of our labors
- A torn and crimson strand:
We tilled our fields for harvest,
But August's searing breath
Brought in the bitter reaping,
The barren sheaves of death!
We died in aflame and ruin,
Beneath the heels of Huns,
While one by one, the nations
Boomed out like angry guns:
When France flung by the scabbard,
And Russia's' sword was bared,
In that dread hush of waiting . .
As Power by Power declared.
We perished— in our thousands,
Like grains to ravens fed;
We built your ramparts, England,
Breast-high of Belgian Dead.
We hurled -ourselves upon them,
Wide-eyed — we knew our fate;
We barred the road to Paris,
We guarded Calais' gate.
"We sowed our land with ruin,
Wo wrung our vintage red;
Now in the streets of Brussels
Our women wait for bread!
The maids we lost unwedded,
The wives we left for- war,
To nurse in siege and sorrow
The babes we never saw;
Can ye forbear to feed them,
Yet reverent bow your head
To pray in Christian churches—
"Give us our daily bread"?
If hearth, and home, and honor,
And faith be precious yet,
As ye are men and women
up and pay your debt!
Wounded Soldier and Nurse.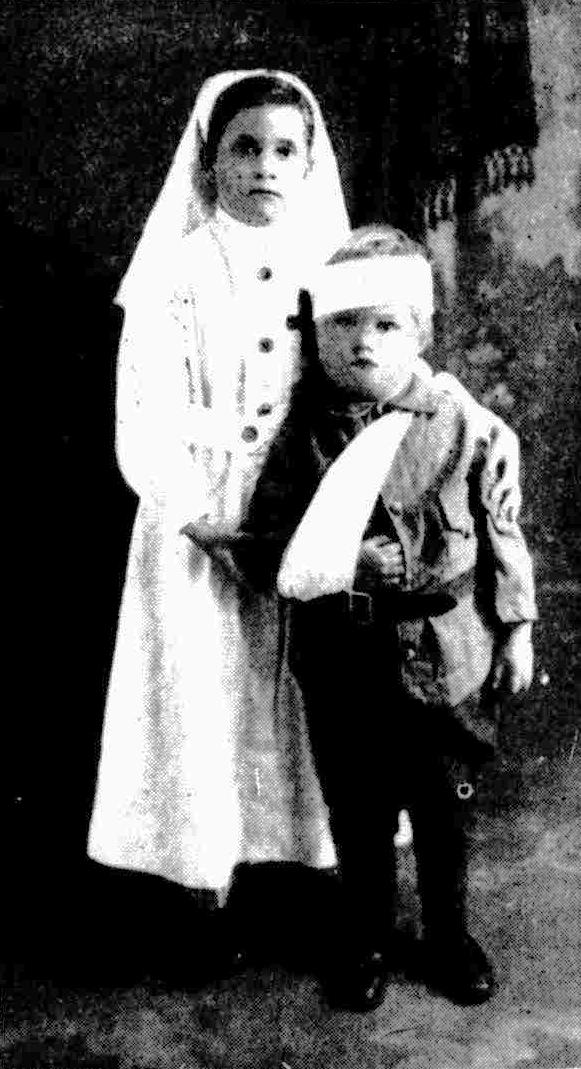 At a ball at Mona Vale, between Narrabeen and Newport, in aid of the Belgian Fund, little Patty Maley (
daughter of Private Maley, who is now at the Dardanelles
) appeared as a wounded soldier; and
Mrs. Clamorgan's youthful daughter (whose brother is on the way to the front)
was attired as a Red Cross nurse. Photo: Sweeney. Wounded Soldier and Nurse. (
1915, July 14
). Sydney Mail (NSW : 1912 - 1938), p. 31. Retrieved from
http://nla.gov.au/nla.news-article162494200
Interestingly it is the paper she is doing some of this work for that publishes a photo of her brother while he is serving overseas during World War One:
IN GALLIPOLI: 'APART FROM THE REST OF THE WORLD.'
I DO hope our boys will wake up and come here of their own volition, and not through conscription. They will miss their home comforts, of which they think so little now; but isn't it worth while, when on their return they will value them so much? They will have to sleep on the ground in their clothes, and feed plainly and none too well. Some nights there will be no sleep for them, and when tired they will not be able to rest; but the consciousness that they are doing their duty for their King and country, and helping to ensure for their loved ones that peace without which life is unendurable, outweighs a hundredfold all discontent at hardships and monotony, endured, as it seems, right out of the sight of those for whom it is borne. For we do seem here right apart from the rest of the world. — Extract from a Soldier's Letter.
At Work in a Trench.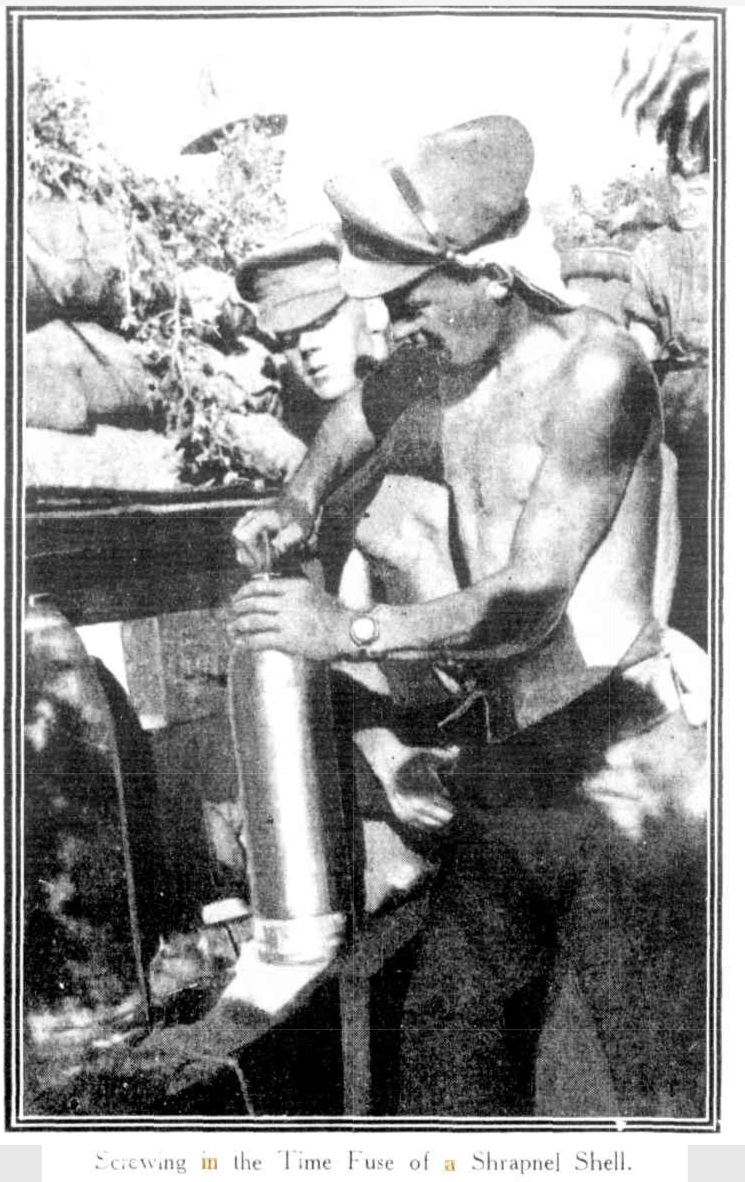 Screwing in the Time Fuse of a Shrapnel Shell.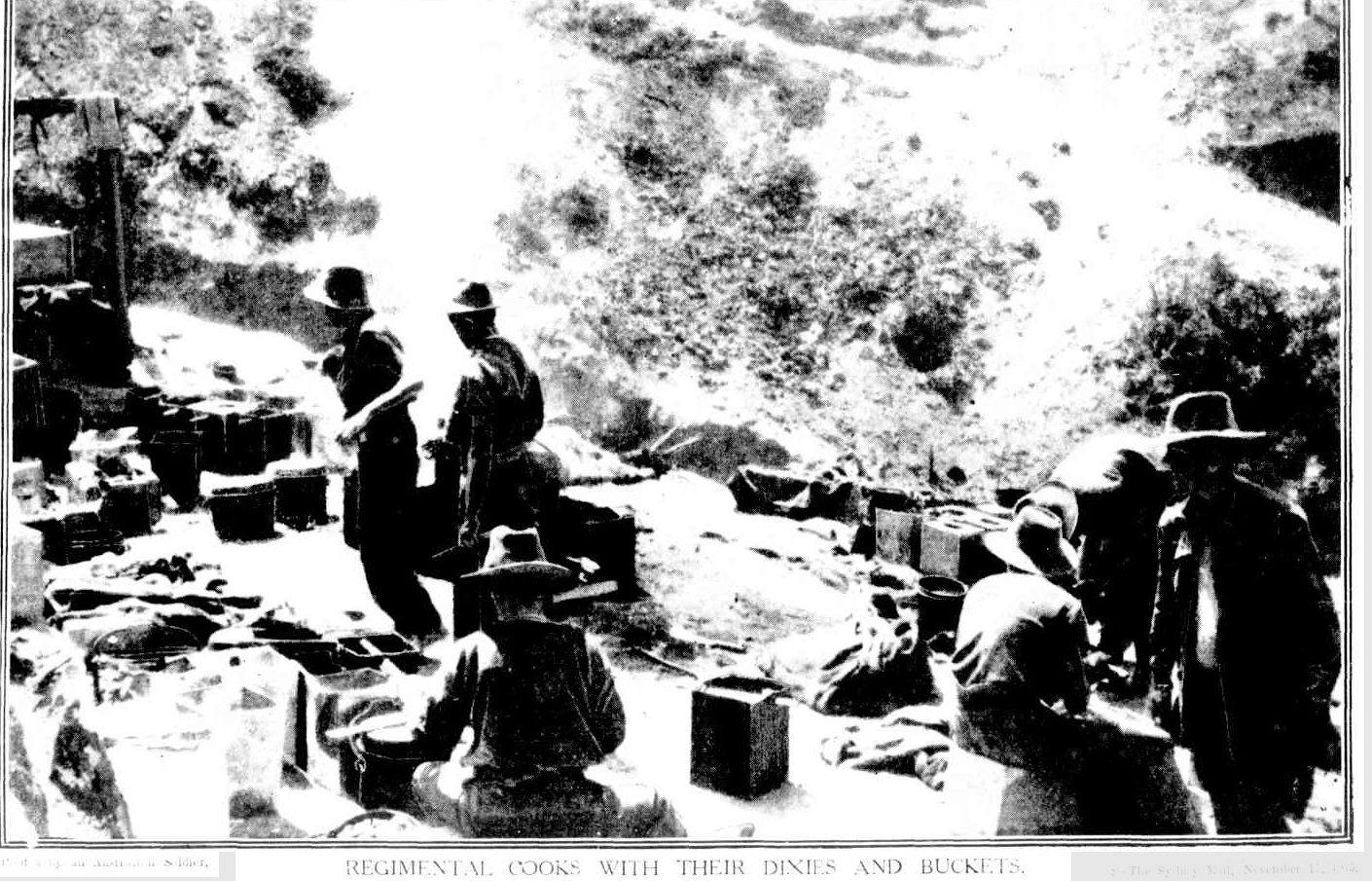 REGIMENTAL COOKS WITH THEIR DIXIES AND BUCKETS.
A Gosford Soldier.
" At Work In Trench."
Mrs. M. McFadyen, of Ashfield, late of Point Clara and Penang, writes:—
In last week's "Sydney Mail," on page 8, there is a picture entitled "At work in a trench." The subject of the photo is a Gosford soldier Private D. W. L. McFadyen. Doubtless many of his acquaintances will recognise him, and the picture bears out the statement he made in one of his letters to his home folk, that he had not had an opportunity of washing his face for several weeks. He is an artist at trench digging, and his strong arms and broad chest and shoulders make the work comparatively easy to him. Since this picture was taken Lin. McFadyen has been in Hospital for many weeks with typhoid, but he is now convalescent, and is at present resting in England. The following verses have been written by the well-known young authoress, Miss Ella McFadyen:
A SNAPSHOT FROM GALLIPOLI.
(In a snapshot of a stalwart young Australian digging in a trench in Gallipoli, that was recently published in a Sydney paper, the writer recognises a portrait of her brother.)
I opened up the pictured page,
And found your likeness fronting
me —
A snapshot of a soldier lad.
Trench-digging in Gallipoli.
Then all the other pictures came,
That memory's secret springs release;
And showed me scenes that led to
this,
Through all your boyish days or
peace.
A schoolboy at your first review,
So proud to wear- — would you confess —
The green and scarlet of the Corp,
The silver badges "S.G.S."
Then student of your Hawkesbury
years,
A youthful champion of the plough,
An axeman of no mean repute.
The sweat-beads shining on your
brow.
Then, none too meek, an H.D.A.,
Perhaps you felt ambition's goad;
What golden fortunes have you
planned.
While jogging down the Mangrove
Road?
What strife was yours With forest
trees.
What toil to clear with winch and
blade
Your kingdom, from the virgin bush —
Aye, so a patriot is made.
What strength of limb and thew you
gained,
(That serve you now for other toil).
How straight and deep your trenches dug,
For fruitful use in native soil.
So sun and air and open days.
Sped all a mother's care began,
Completing for your country's need
God's noblest work— a perfect man.
Wide-browed, strong-limbed, and
- lightly poised,
With that true heart that will not
foil;
That fervent strength of loyalty,
That love of home that must prevail,
The laughing lips, the open gaze.
The strong brown hands — and for
these same
The fibres of my womanhood
Rise dear lad, and bless your name!
CROSSES IN GALLIPOLI.
By Ella McFadyen.
GALLIPOLI, how many are the graves
That in your barren furrows we have sown,
The broken rifle fashioned to a cross
For witness that the Lord may know His own!
WHAT costly spending saw the world in this;
Youth, courage, high adventure, loyalty,
Hoy lives of poets, loaders, leachers, saints,
Expended in an hour, Gallipoli!
AYE, so we made you ours in pride and grief,
Renewed our right with every life we paid:
Gay heroes in the battle of the faith,
The boy battalions of a late crusade.
'THOUGH duty's path proved steep beneath their
feet,
The way wound steeply once from Nazareth:
And meet our loveliest are for sacrifice,
While stands the Cross for victory — and death!
At the end of WWII the editor of the Sydney Mail told Ella they could return to pre-war publication sizes and offered Ella a job to run a big two page spread for the Children's section. Unfortunately Ella was ill inm hospital when the offer was made and could not take up the job she had longed for until 1919.
Flowers-Seasons-Landscapes
Ella had a deep abiding love for her homeland and wrote about this in all her stories and 'rhymes'.
WEST HEAD
Happy it is in the blossom time,
In the blossom time of spring,
When the morn is in its golden prime
And birds are on the wing.
Blue of the tide upon either hand,
From the sea to Broken Bay,
And the grey old lichened boulders stand
Knee-deep in flow'ry spray.
Blithe at the heart for the wattle's sake,
And the scent the warm wind spills,
Where the Hawkesbury lies, a gleaming snake,
Amid the deep blue hills— ;
Stirring the bee's with their honeyed load
From the blossom feast beneath,
Happy it is to take the road
That winds across the heath.
ELLA MCFADYEN.
WEST HEAD. (1929, January 4). Windsor and Richmond Gazette (NSW : 1888 - 1954), p. 2. Retrieved from http://nla.gov.au/nla.news-article85927422
SANDS OF MORNING.
by Ella McFadyen.
Summer breathed over the hills to-day,
A waft of the bush and a wind from the bay,
And my truant thoughts went straying: Pittwater flickered with nor'east flaws,
The surf ran high 'tween the Lion's paws,
And the spring-fed runnels' were playing.
I saw the hills that drop to the sea,
And a honey-bird's call was a call for me
And the great grey sandstone boulders
Were elephant's browsing, heath to the knees.
And the rosy waxflowers, clotted with bees,
Fondled their lichened shoulders.
To-morrow I'll rise and be ready to roam
In the starlit hour when the cats come home,
Ere ever the birds are waking,
When each needlewood thorn is a dewdrop's place,
And her thread-like blossoms arc fairy lace,
And the whole world's mine for taking! I must seek the lairs where I used to lie,
Curtained by trees and under the sky;
I must find and touch and recover
The sights and sensations laid away,
Where the Lion lies couchant at Broken Bay,
To welcome me back like a lover.
The strong white feet of the winter rains
Have trodden the campfire's cold remains,
The lizards my hearth are keeping;
I must find the cave where the fairy-mouse
And her wee pouched kindred kept their house,
And-the nest where her babes are sleeping.
Grape-blue the hills in the dawn shall be,
And the sun shall rise from a white-gold sea,
With light for the day's adorning,
Where the rain-washed track is a virgin sheet
For the printed tale of a pilgrim's feet;
My feet on the sands of morning.
SANDS OF MORNING. (1935, March 14). The Sydney Morning Herald (NSW : 1842 - 1954), p. 2 Supplement: Women's Supplement. Retrieved from http://nla.gov.au/nla.news-article17171195
Pen Pals
The Boomerang Walking Club
Cinderella' s Post Bag
MY DEAR CINDERELLA,— Wahroonga. It is such a long time since I last wrote to you that I thought I must drop you a line. At Christmas time we spent two glorious weeks at Narrabeen. The weather was ideal for surfing, so we made the most of it. I always had an idea that the surf was rather dangerous there, but only on two or three occasions we found the undertow strong. One day we hired a boat and went up Deep Creek. It was rather a hot day, and my arms got a bit sunburnt. On each side of the creek people had pitched their tents, and they looked so nice dotted here and there amongst the trees. People were bathing in the water, and we had to steer the boat in a zig-zag fashion practically all the way alone.
About half way up we pulled in towards the bank, and K everybody hopped out to have a look round. After I having afternoon tea we started for home. My sister I took several snaps, and they came out very well. It was about five o'clock when we got back to the boatshed, and everybody said what a glorious day we had had.
Another day we walked up Deep Creek-road towards the Elanora Golf Links. After walking some distance we turned off the road, and climbed the hill. When we reached the top we were rewarded with a lovely view of Narrabeen Lakes. Walking further on we could seethe ocean and coastline. On reaching home everybody was feeling rather hungry, so we voted for an early tea. Our second long walk was from Narrabeen to Collaroy. Leaving the main road we went down a side street and then up a steep hill. Reaching the top we had a glorious view of the ocean, and could see all over Collaroy, and Narrabeen away in the distance. I enjoyed the holiday very much, but the two weeks went too quickly. Ruby Litchfield, my old correspondent, is quite well again. 'Darkie's' address is Carruchan, Kennedy, North Queensland, now. She still writes me nice long letters. Trusting you are quite well, and not forgetting Ali Baba. With love from 'CHERRY BLOSSOM' (O.I.).
(Dear 'Cherry Blossom,' — Like myself, most of our old brigade will be very much interested to see your name on the C.P, once more. I know Elanora as a place of very fine views, and you must have enjoyed your Narrabeen holiday very much. Thanks for sending me word of Ruby and 'Darkie,' to whom I owe a letter. — Cinderella.) Cinderella's Post Bag (1932, March 9). Sydney Mail (NSW : 1912 - 1938), p. 47. Retrieved from http://nla.gov.au/nla.news-article160081879
Boomerang Club Notes
By Number One.
OUR Easter walk from Gordon to Broken Bay added fresh laurels to those invisible wreaths that adorn our members' heads — their old felt hats notwithstanding. Cinderella had so little spare time at Easter that the walk had to be compressed between Sunday night' and Monday night. As speed was essential, only a small party likely to maintain an even pace was selected. To grade as a Boomerang one must, among other qualifications, be able to walk 20 miles in a day without serious fatigue. To graduate as Big Boomerang one must be able to face an emergency of 40 miles within 24 hours. Several senior members have possessed this qualification for years.
Starting from Gordon about 8 p.m., twelve moonlit miles brought us to our supper on a rocky site where uncontaminated water and plentiful firewood were available. The midnight march was resumed, despite a vivid electrical storm to seaward, and we lay down in the pre-dawn chill on our old camping ground at Elusive River. A camp-fire of redgum, a snack, and an hour or so of sleep under our coats, and we were off for the cliffs above Broken Bay and that lovely panorama of Hawkesbury River, the Bay, Brisbane Water, Pittwater, Lion Island, and the sunlit ocean, which we believe to be uneclipsed by any scene on the coast. A hot breakfast, a doze, and a little loitering and we are back on Elusive River — which is only mapped as such by the cartographers of Fairyland — for lunch. Our last meal was at dusk, near country sadly desolated by road-making, and then with our backs to the bush it was the hard road under our feet again. The 'Secretary Bird' and 'Beetle' marched well and earned packs round about 201b weight. 'Lilac Blossom' and 'Ashie' (a new recruit' from Queanbeyan, where 'Toad' has been training her) proved very stout fellas and finished swingingly at four miles an hour, making Gordon by 10.30 p.m. The mileage, irrespective of camp-making and rambling, was 20 miles of hard road and 26 of tracks, much of it cluttered with loose stone. The 46 miles total was a creditable performance — and everyone was able to get into city shoes and go to work next day.
Cinderella, will see her young friends every Tuesday morning between 10 and 12 at the 'Sydney Mail' Office, 'Herald' Building, Pitt and Hunter Streets. Business girls may call from 5 to 6.30 p.m. last Tuesday in each month. Cinderella's Page (1938, May 4). Sydney Mail (NSW : 1912 - 1938), p. 47. Retrieved from http://nla.gov.au/nla.news-article166227905
Photography
Travel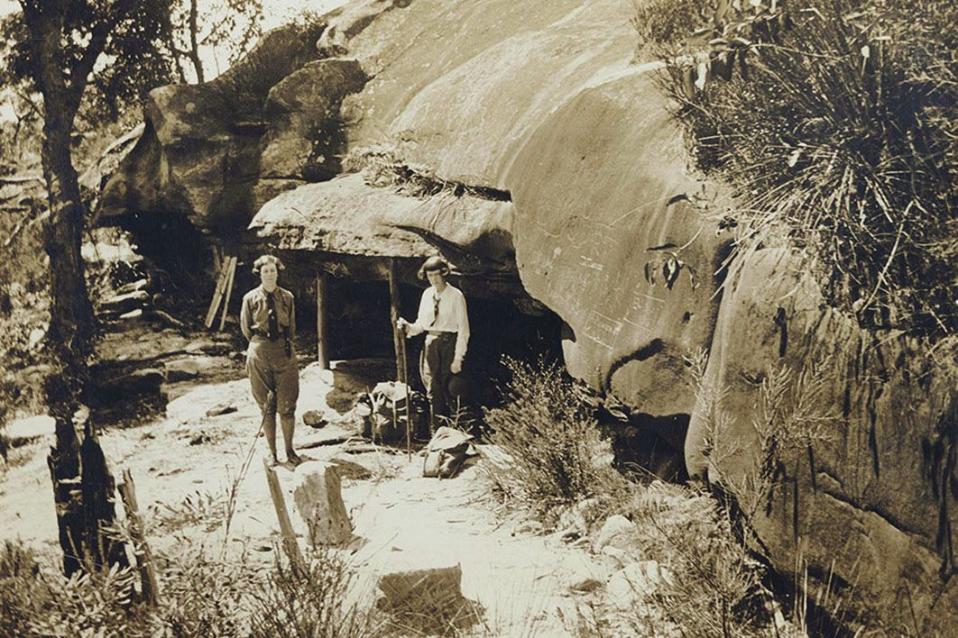 Ella McFadyen (left) and fellow Boomerang Walking Club member Jean Bransdon at West Head in the Hawkesbury River area, Sydney, 1932. photo courtesy State Library of New South Wales
References
TROVE _National Library of Australia
A slight bias towards eels and lizards by EMILY GALLAGHER, 8 March 2019, Inside Story, Retrieved from https://insidestory.org.au/a-slight-bias-towards-eels-and-lizards/