April 10 - 16, 2011: Issue 1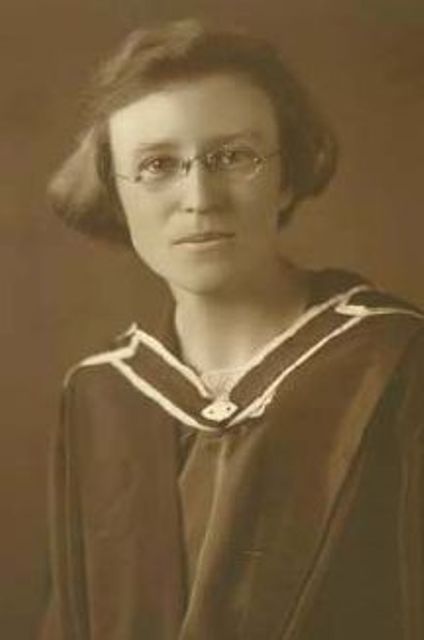 Our first month of historical pages celebrates the women who lived on waht was called 'Spinster's Hill) (Sunrise Hill) at Palm Beach, as most of the blocks were sold to single women in the 1912 sales by the Barrenjoey Land Company. In this series will will celebrate the lives and accomplishments of women such as Marie Byles of Seaview, the first woman Solicitor of NSW and Dr Luicy Gullet, who once owned Jeeda at 40 Sunrise Road.
We will get to some very fine men also, but as this first ever Issue also celebrates the historic victory of the Friends of Currawong ensuring, through many years of hard toil, that Currawong Beach remains public property, we shall lead off with Marie, one of our original Pittwater Environmentalists. Marie's love of Palm Beach and the bush instilled what would be a lifelong commitment to Nature and the saving of pristine places as permanent National Parks, including leaving her beloved home, Ahimsa, and its grounds, to the National Trust.
Of 'note' while researching 'Spinster's Hill':
"Palm Beach, contrary to popular opinion, wasn't named after Livistona australis, or cabbage tree palms. It was coined instead by the Barrenjoey Land Company in 1912 as a sales pitch, marketing this new seaside estate as Sydney's very own Florida strip..." 1912 sale of blocks at Palm Beach NSW by Barrenjoey Land Company. From: http://smh.com.au/news/property/what's-in-a-name/2007/01/12/1168105152671.html?page=2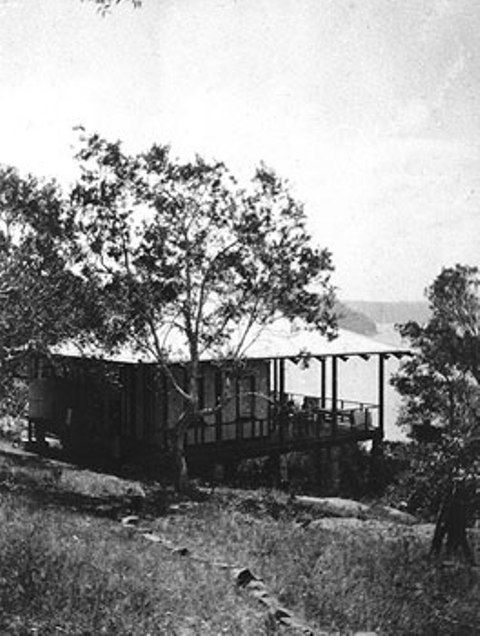 Seawards, Sunrise Road, Palm Beach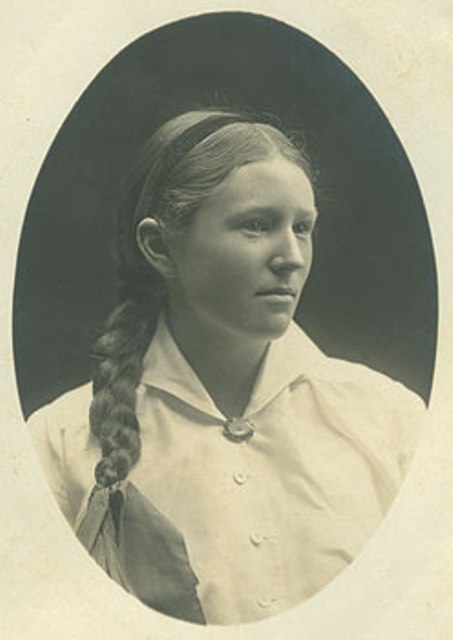 Marie Beuzeville Byles
8th of April, 1900 to 21st of November, 1979
Marie Byles' birthday was two days ago. Described by some as 'prickly', 'difficult' and 'intimidating' of presence, Marie remains a singular woman of strength whose actions and deeds are a truer manifestation of what lived in her heart. As New South Wales' first female solicitor Marie employed mostly women at a time when women working was considered unacceptable, even if they toiled all day and half the night as housewives. Marie encouraged and helped single mothers, when these were pariahs in our society, to find their own financial independence. To many she was refuge of common sense and decency. Her refuge was the Bush and views of trees, miles and miles of trees. Her gift to subsequent generations is spoken quietest by her battles for our environment.
"I do think that if we relax and let go and seek harmony with the natural things around, then Nature may be the goddess to us…Can the bush help us keep smiling? That is the test of its "spiritual value." I think it can – if we let it!"
(Byles, Bona Dea 1945, 11).
Her time spent at Seawards, Sunrise Road, Palm Beach was certainly inspiration for a lifelong love affair with the bush. Weekends were spent tramping up and down hills in the area, marvelling at the sprays of bush-flowers. Her list of places 'adored'; Bouddi, Sandy Beach, Sandy Cove, Barrenjoey, Empire Bay, Pretty Beach, Currawong, (Hindsight, August 2010).
Seawards was a simple cottage structure with open 12 foot verandas on which the family slept.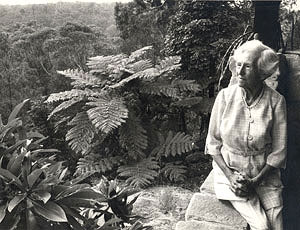 It is similar to what Marie later built at the home she named 'Ahimsa'. Marie loved the outdoors and slept in the open all year round on these wide porches, considering them "for eating, sleeping and living" (Hindsight, 2010). Marie's attitude towards structures is reflected in this, to build buildings that blend in with the landscape instead of attempting to block it out or overshadow it. Hers was a lyrical celebration of the beauty there, of a Garden that speaks softly with your soul.
Marie cultivated like minded individuals. "Byles was friends with Clare Stevenson and Stella James who had a Burley Griffin home designed for them in bushland on Sydney's northern beaches. According to Stephenson, the design of the Stella James house in Avalon reflected the relationship between these women as equal partners and their desire to fit in with their surroundings rather than dominate them." (Cadzow, p.16, 2007).
It was this love of the Bush and our area that made her and the Sydney Bushwalkers strive to ensure the preservation of what has become the Bouddi National Park. Bouddi, from Gurungai, meaning 'The heart'. From Seawards Marie used to look across the water at what would become Bouddi National Park, her 'fairyland' (Dufty, Hindsight, 2010) and want to walk and camp there. Our area was a lot wilder then and she and her fellow bushwalkers had to make their own trails.
Her belief and practice of seeking the Bush as her Sanctuary, her 'fairyland', gives her the last words in this small celebration of one of our community cognizant locals,
"There is something in the contact with the human being and Nature which is very hard to explain. (when) you lie on Mother Earth and look up at the stars, the life-force seems to bring a new health to your tired limbs and worried mind."
Marie Beuzeville Byles.
Further reading:
Ahimsa ( ) n. A Buddhist and Hindu doctrine expressing belief in the sacredness of all living creatures and urging the avoidance of harm and violence.
Ahimsa is a term in Sanskrit that refers to non-harming or non-violating self or others. The sutra, or aphorism on ahimsa, states that in the presence of one in whom this is solidly established friendliness prevails and violence and hostility dissipate.
In 1932, the National Parks and Primitive Areas Council was created in New South Wales with the objective of locating and identifying areas suitable for new national parks and primitive area reserves. By 1957 this group was known as the National Parks Association and was working to establish an authority to administer all national parks throughout the state. A decade later, the National Parks and Wildlife Act became law in New South Wales. This legislation created a single agency, known as the National Parks and Wildlife Service, whose responsibility was to care for, control and manage the national parks in the state. From: http://www.australianforests.org.au/managingforests/forest-conservation.htm
Marie Byles Lookout at Bouddi National Park: http://www.abc.net.au/rn/hindsight/galleries/2010/2855041/12.htm
And:
Marie Byles Lookout to Bullimah Lookout Marie Byles Lookout to ...
MB Images from State Librray of NSW and : http://www.abc.net.au/rn/hindsight/galleries/2010/2855041/
Hindsight, Adventurous spirit, Marie Beuzeville Byles, ABC Radio, 22 August 2010: http://www.abc.net.au/rn/hindsight/stories/2010/2855041.htm
References
Byles, Marie Beuzevill. Bona Dea, 1945, 'If We Let It,' Sydney Bush Walker, 141, November, 11.
Cadzow, Allison. 2007. Footprints, Imprints: Seeing Environmentalist and Buddhist Marie Byles as an Eastern Australian Journal of Multidisciplinary International Studies, vol 4, no 1. See At: http://epress.lib.uts.edu.au/ojs/index.php/portal/article/view/163
Maries' Books:
By Cargo Boat and Mountain (1931)
Footprints of Gautama the Buddha (1957)
Journey into Burmese Silence (1962)
The Lotus and the Spinning Wheel (1963)
Paths to Inner Calm (1965)
Stand Straight without Strain (1978)
Copyright Pittwater Online News, 2011. All Rights Reserved.