January 26 - February 1, 2014: Issue 147
36th Warriewood to Mona Vale Ocean Swim 2014 – the Don Jenkin Memorial Swim
The 36th Warriewood to Mona Vale Ocean swim was held last Sunday, 19th of January. This is a "Family, Friendly Swim", and the Mona Vale organisers mean it. The event is named, too, for Mona Vale club stalwart, the late Don Jenkin, who helped raise this swim to the standing it has today.
There were 510 Finishers - Males; 342, Females – 168 .
Chris Fydler, 41, of Turramurra was first in a time of 20 minutes 49 seconds and Alexandra Lee, 19, of Mosman was first lady back to the beach at Mona Vale in a time of 23 minutes, 49 seconds. Among the first ten and placed sixth was Charlie Young of Avalon, 14, who did the 1.6 klm swim in 23 minutes and 36 seconds
Christopher "Chris" John Fydler is a former freestyle swimmer who competed in three consecutive Summer Olympics starting in 1992. Eight years later, when he was a member of the Men's 4×100m freestyle relay team that defeated the United States and won the gold medal in the prestigious event, alongside Michael Klim, Ian Thorpe and Ashley Callus. It was the first time in Olympic history that the US had been beaten in that event. Since retiring from swimming in early 2001, Chris has continued to be active in the swimming and Olympic families. He was a board member of Swimming Australia Ltd from 2006-2010, and was appointed as the Deputy Chef de Mission for the Australian Olympic Team competing in London in 2012.
From our Mona Vale SLSC history page by Skye Rose: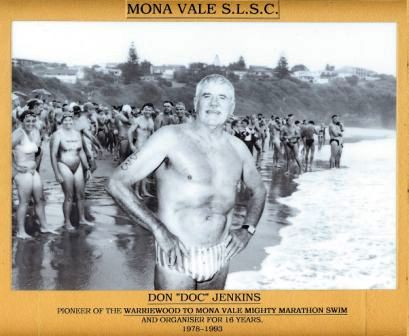 In 1977-78, our first Marathon Ocean Swim from Warriewood was held with 20 swimmers and years later it continues as one of our biggest fund raisers, named after founder and life member Don "Doc" Jenkin. It was one of the first swims held in Australia, and has been replicated by many other clubs to assist with their own fund raising events. MVSLSC is also now holding the "Cold Water Classic" winter solstice swim as a popular additional fund raiser.
See more HERE:
A few snippets about Mr Jenkins:
Ski Men Rescued - Two Miles Out From Beach
Mona Vale Surf Club's boat crew rescued two club members who were being swept out to sea on a surf ski two miles from the beach yesterday afternoon. The club's champion swimmer, Don Jenkin, 21, swam a mile from. the beach when he saw the surf club captain, Dick Jenkins, also 21, in difficulties on a surf ski. Jenkins had a cramp in his left arm. When Don Jenkin reached him they could make no head-way in the strong westerly wind, which swept them out to sea. Dick Jenkins then developed cramp in his left leg.
CREW TO RESCUE
The men were then two miles from the beach. They could barely see the beach, except when they were on the crest of a wave. The club's boat crew captain, Lindsay Small, organized a crew to row out and bring the two men in. Later Dick Jenkins said: "When I developed the first cramp in my left arm I thought 1 would be able to make the beach.
"However, I was swept quickly out and I was a mile from the beach when Don reached me. I was just about exhausted. When we tried to make our way back I developed another cramp in my left leg.
NO SHARK FEAR
"Porpoises were diving all around us, so we were not frightened of sharks.
"If the surf club members had not seen us we may have been swept right out to sea. "That is one experience both Don and I do not want to have again." Ski Men Rescued Two Miles Out From Beach. (1952, December 7). The Sunday Herald (Sydney, NSW : 1949 - 1953), p. 1. Retrieved from http://nla.gov.au/nla.news-article18505374
French Visitors
At Mona Vale, two lifesavers yesterday rescued two Frenchmen who had beens wept 350 yards out to sea by a strong rip. The Frenchmen, Raphael Desplechin, 24, and Jean deCreme, 23, both of Reed Street, Cremorne, are in the wool trade. They came to Australia recently, and were surfing for the first time. Barry Parks, captain of the Mona Vale Surf Club, said: "A club member, Don Jenkins, was swimming near the two men when they got into difficulties. He supported Desplechin and advised de Creme to swim across the current to some rocks near a rock pool. Ian Kearn, 23, who was on patrol, swam out with a belt and rescued Desplechin, who was then unconscious. Jenkins then swam after de Creme and helped him to climb ashore on the rocks. Both lifesavers and the two Frenchmen suffered multiple cuts to the hands, legs and feet as they came ashore. We applied artificial respiration to Desplechin and he responded after about 15 minutes." THREE MEN SWIM FOR 2 HOURS. (1954, October 31). The Sun-Herald (Sydney, NSW : 1953 - 1954), p. 3. Retrieved from http://nla.gov.au/nla.news-article12643190
BOAT IN DANGER
A capsized surfboat with three of its crew clinging to it was in danger of being smashed on to rocks by huge waves at Mona Vale.
However, lifesavers got a line to the boat in time and took 15 minutes to haul the boat and the three crew members to safety.
The boat had capsized when it went out to retrieve the marker buoys about 250 yards from the beach.
Two crew members, Eric Fryer and John Dunbar, clung to the buoys for half an hour before the seas abated sufficiently for them to reach the beach.
Vic Garisyne, Peter Drew and Don Dickson clung to the boat as it was driven toward the rocks.
EVENTS ABANDONED
Don Jenkins and Vina Kelly swam through the pounding surf and got a line aboard the swamped surfboat when it was almost on the point of being crashed against the rocks. The carnival umpires cancelled the carnival after the march past and the senior surf and teams race. Crowd Hampers Lifesavers In Mass Rescue. (1954, February 1). The Sydney Morning Herald (NSW : 1842 - 1954), p. 4. Retrieved from http://nla.gov.au/nla.news-article29608239
__________________________________________
Results: HERE
Michael Mannington and Mike O'Flynn of Volunteer Photography have put up a Public gallery HERE
A few shared here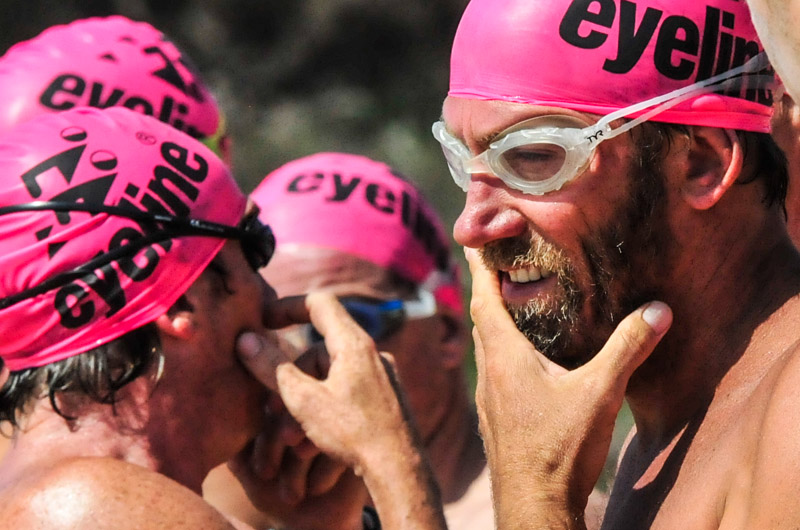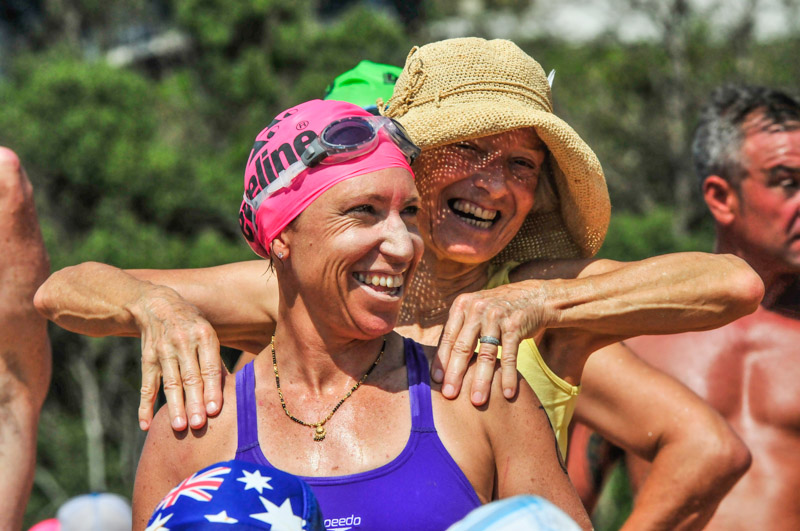 Nikki Drubot receives a late massage before the stat from Anneliese Buff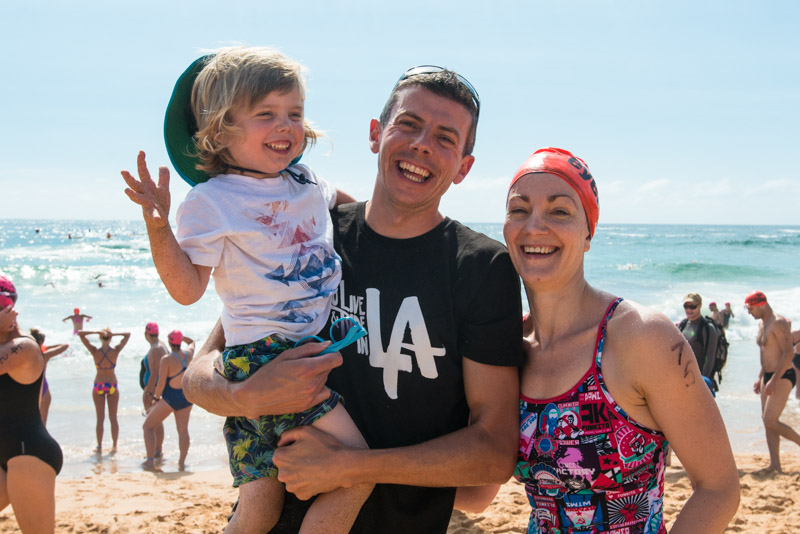 Competitor Barbara Keane with Liam and Neil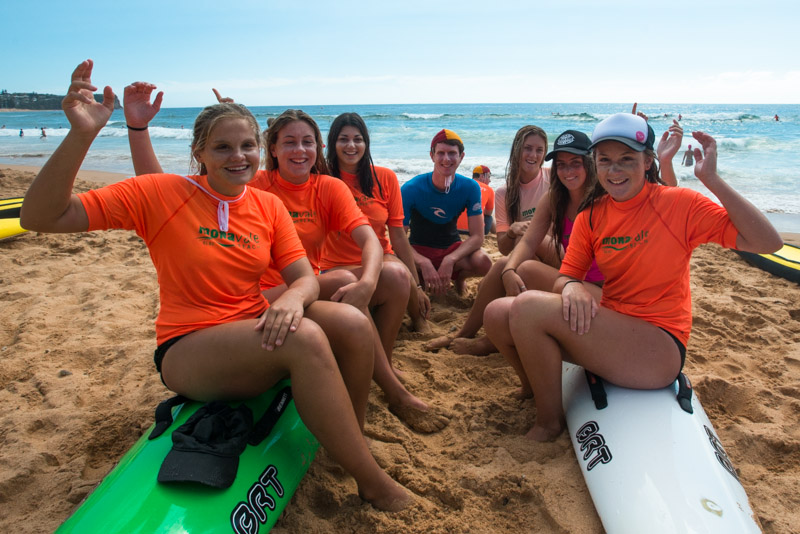 Water Safety Team - Molly Manning, Sam Wilcox, Bec Carbone, Justin Barford, Janice Quinn, Georgia Quinn, Caitlin Wilcox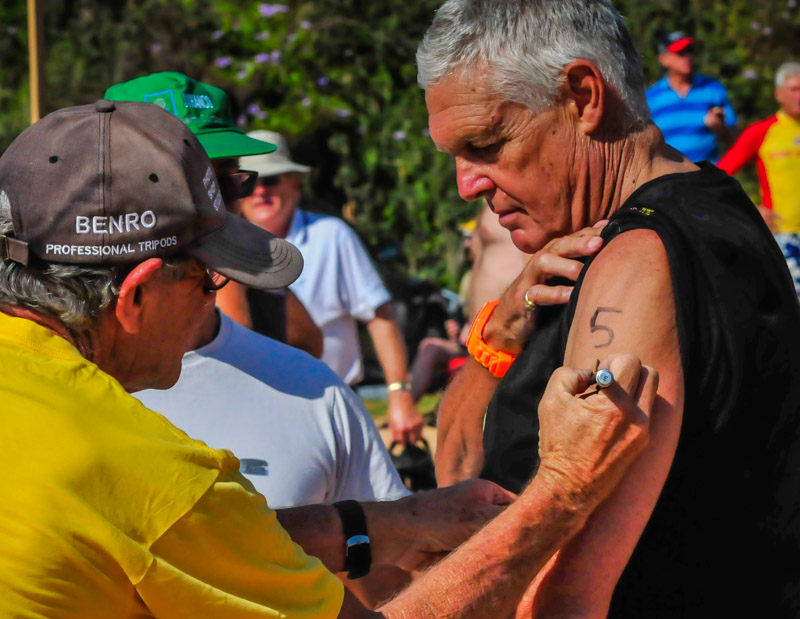 Numbers Man Brian Smith, Mona Vale SLSC