December 1 - 7, 2013: Issue 139
The Bilgola SLSC' s Sweet Cheeks – Young Ladies With A Great Attitude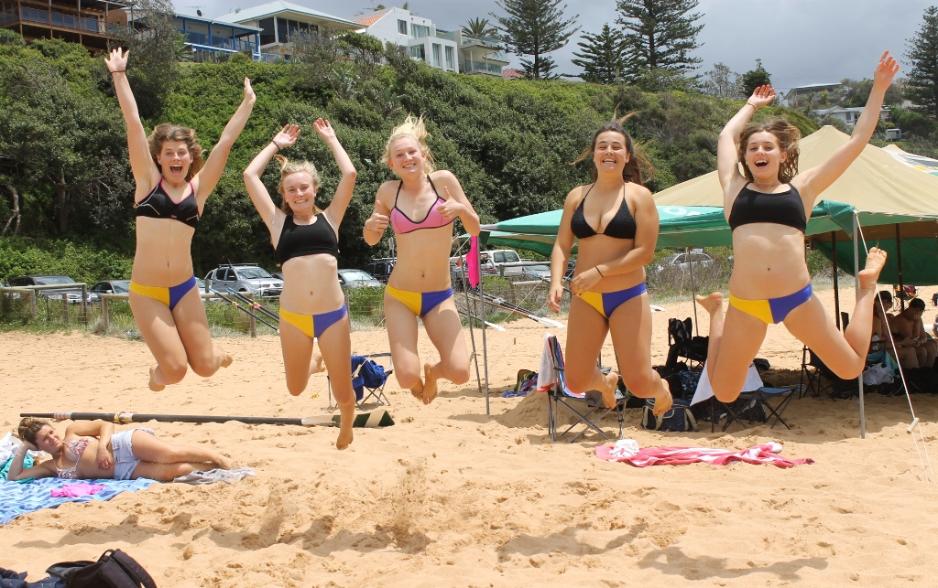 Bilgola Sweet Cheeks – Young Ladies With A Great Attitude
Over the past few months we've had the pleasure of encountering six wonderful girls who are also the youngest boat crew competing in the SNBLS Surfboat Premiership 2013.
Anna Galloway, Katy Hulton, Alicia Jackson, Molly Simpson, Sage Scott and their captain Darcy Smith should be posters girls for the sport. They are vibrant, great fun to be around, and their dedication to the sport and respect for their sweep, Don McManus, is proof that growing up as part of a surf life saving club sets you up for life. We here think they're wonderful.
The girls won their first race today at Warriewood, who were hosting Round Three of the Surfboat Premiership, and we took the opportunity to talk to them about their crew and plans for Summer. The girls all answered at once on occasion, clearly another 'working as one' principle they have, and so there are a few lines of answers to each query.
Five minutes with the girls:
You won your first race today girls, which isn't a fluke – we've all seen you working hard to achieve this result. How does it feel to win?
We're feeling proud of ourselves. We've been training quite hard.
It was nice to have a win.
We did get lucky, there was a lot of big waves on the way out, a few crews didn't get out as easily as us.
And Don's a fantastic sweep.
Yes, all credit to Don McManus.
Don McManus is a legendary sweep in surf life saving – what does he tell you to do when you're training?
Focus.
Focus.
Focus.
Yeah – focus.
And words of inspiration – clear instructions.
"Row … and in time with each other…"
And he keeps us calm as well.
He knows what he's doing.
What is the average age of your crew?
16 and 17.
How long have you all been part of Bilgola and its Surf Life Saving club?
Molly: I've been involved at Bilgola since under 6's
Sage: Since under 9's
Alicia: I used to eat sand on the beach at Bilgola when I was a baby
Katy Hulton: I'm relatively new – one year
Anna: since under 10's
Alicia: and a shout out to Darcy Smith, she's our captain and has been involved since the beginning too. She unfortunately couldn't be here today but she's great and her dad's quite involved in rowing as well. She's a big part of the team.
And we just wanted to say…we got new matching swimmers today!
I noticed that – they look fantastic – where did you get them from?
We've had about ten people ask already where we got them from – we got them online, from EPV Swimwear – they can sponsor us if they like…
Have you girls got shares in EPV swimwear?
Well, we have now!
They'll become more famous as we're talking about them.
Yes, yes, I quite agree.
They can offer us a modelling contract.
(all laughing).
Yep – we'll get a modelling contract, then a boat named after them.
I just wanted to say that our aim is to be on the weet-bix ad.
(all laughing more).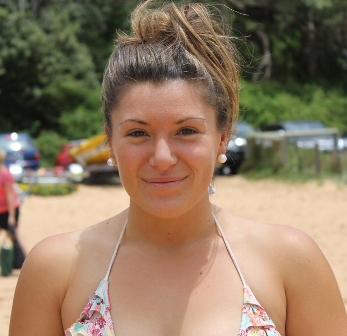 Right – so they can contact you girls through????
Through our trainer – Nikki Squire. (to right>)
Ok – seriously for a moment – what are you going to do over the Summer girls?
Train. Train. Row. Row.
Train – yep, rowing.
Train for rowing.
Be on the beach.
We're doing our HSC next year so…
So you're going to chill out a bit?
Yeah.
We'll still do it (surfboat crew) but we may have to wind down just a bit with our studies. We'll still compete.
So you'll be at the last one for this year's series at Long Reef?
Yeah.
Interview two then!
What would be the Sweet Cheeks motto for life?
Alicia: Live life in the moment because everything else is uncertain.
Molly: Yes! Nailed it!
As you can probably tell from the girls responses, and if you could hear how fast and astute each one is, they are indeed 'nailing it!' and are going to have a great Summer.
Thank you girls – see you at Long Reef!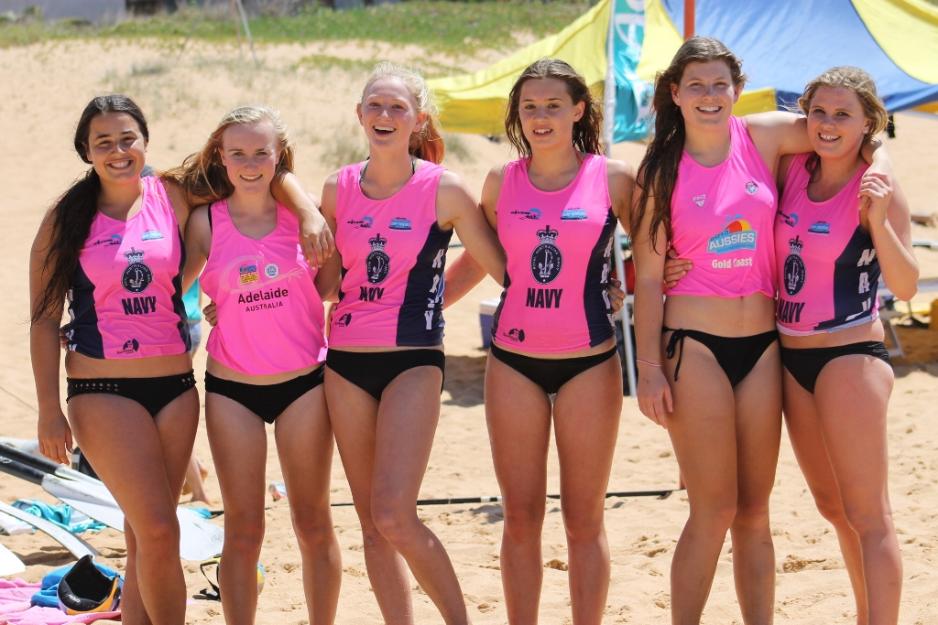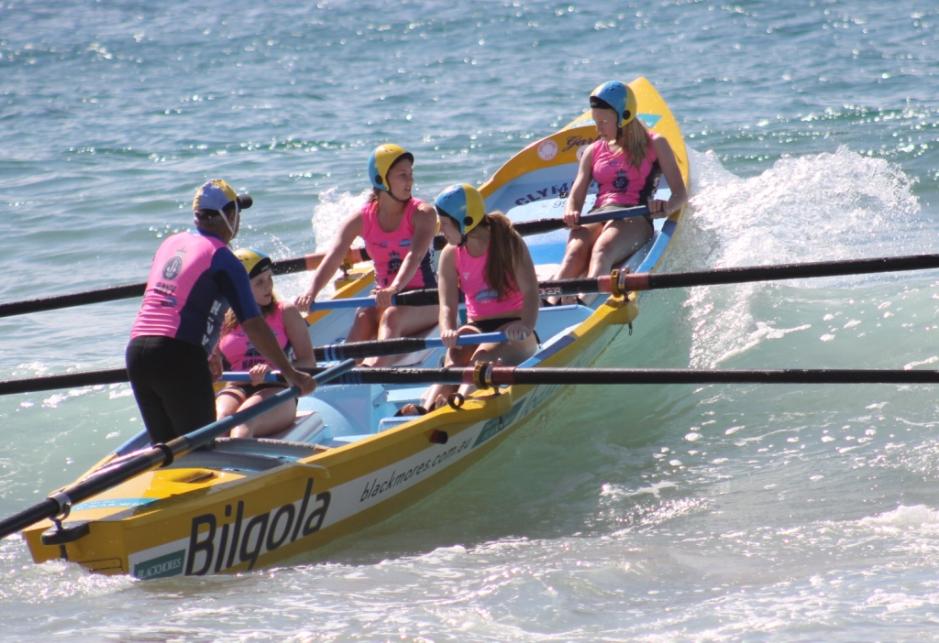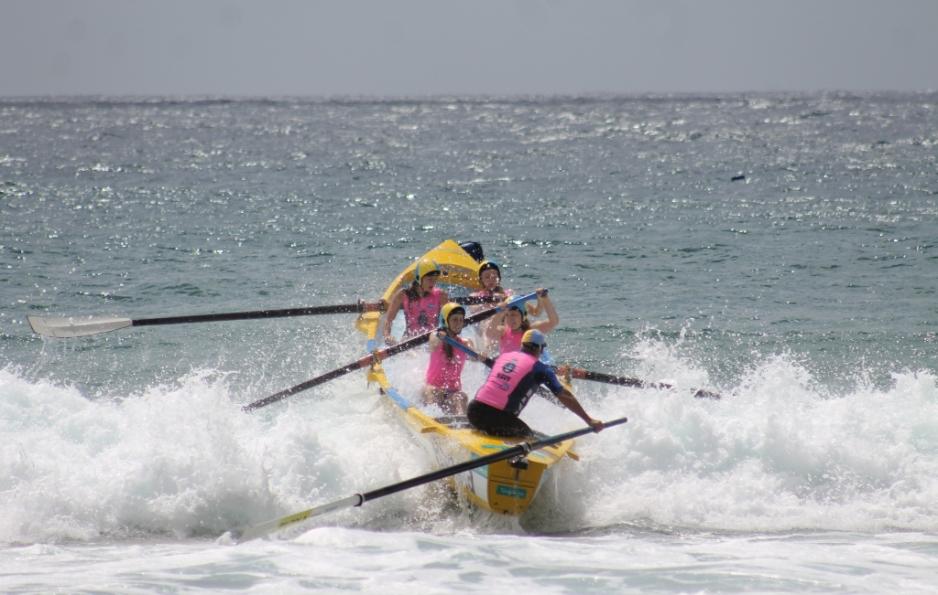 At Warriewood - 30.11.2013.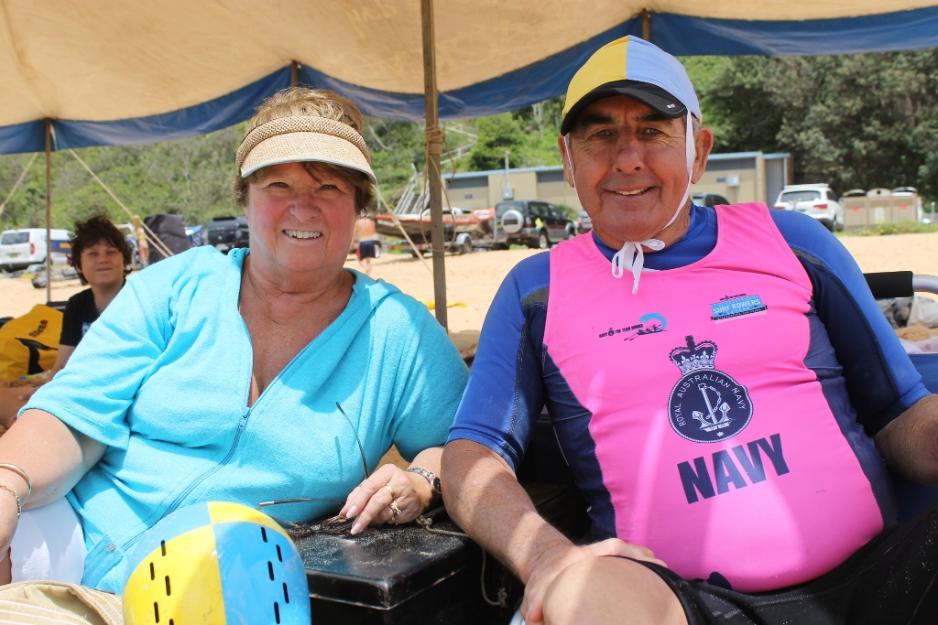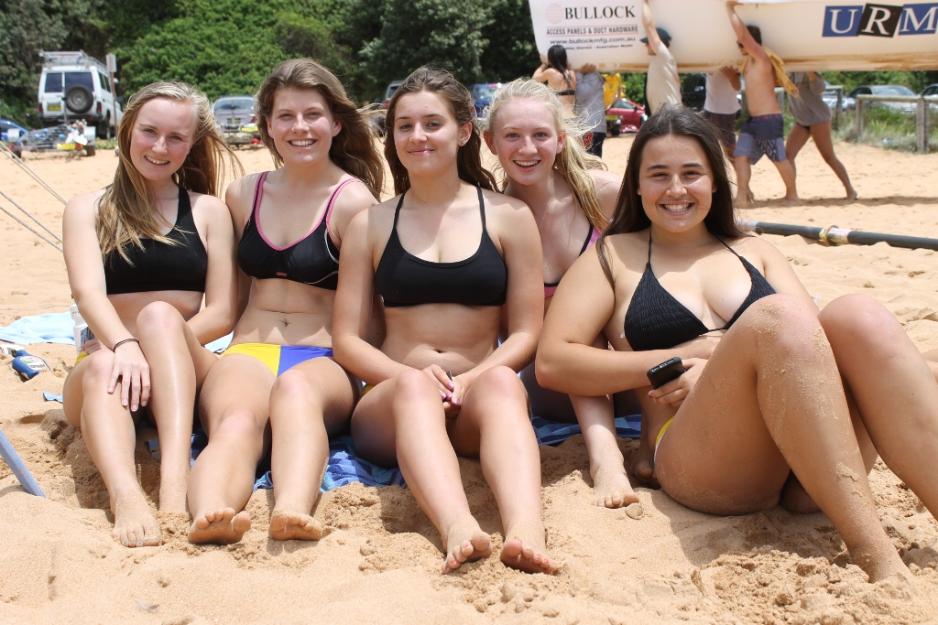 Left to right: Anna Galloway, Katy Hulton, Alicia Jackson, Molly Simpson, Sage Scott.
Report and Pictures by A J Guesdon and the Bilgola Sweet Cheeks, 2013.