October 27 - November 2, 2013: Issue 134
Bilgola SLSC Boat Carnival 2013 - Launch of the Boat Carnival Season and New Surf Boat the Carol McManus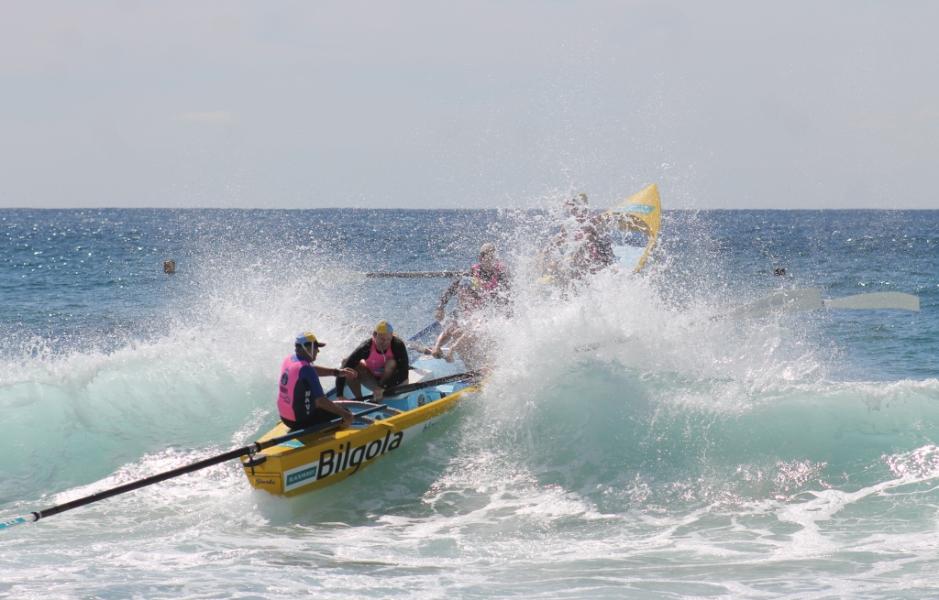 SLS SNB 2013/14 Carnivals have begun! Picture by A J Guesdon.
Bilgola SLSC had a double celebration yesterday, Saturday 26th of October 2013 - they hosted the first Boat Carnival of the season and first round of the Premiership, and launched a New Surf Boat – the Carol McManus named in honour of a wonderful lady.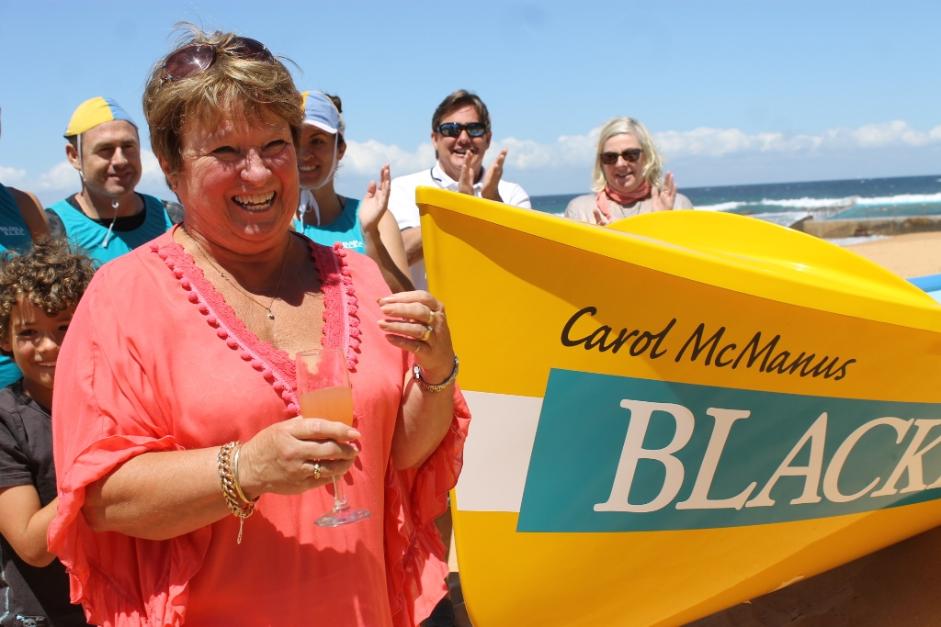 Carol McManus with the Carol McManus. Picture by A J Guesdon.
The annual Bilgola Surf Boat Carnival was held on Saturday, October 26. This is the first local carnival of the season and a great showcase of surf sports. The club's new surfboat, the Carol McManus, was christened at the conclusion of the day's racing.
Surf Life Saving Sydney Northern Beaches (SLSSNB) holds a large number of carnivals throughout the season culminating with the SLSSNB Branch Championships before the State and Australian Championships.
At least three Open Carnivals, three Junior Carnivals, the four rounds of the Boat Premiership and two Masters carnivals, with Masters carnivals increasing each year, as well as the Branch Championships form part of the calendar of surf sports.
The Boat Premiership has four rounds. Round 1 was completed yesterday at Bilgola with some strong rowing by crews from Bilgola, Newport, Avalon, Palm Beach, Warriewood, Mona Vale, South Curl Curl, South Narrabeen, Queenscliff and Collaroy competing.
Each of these clubs has very skilled women's and men's boat crews and yesterday brought some nail biting finishes, especially the final between the Bilgola Golds (State Champions) and the Mona Vale Blacks (National Champions) so this is bound to be a great series.
Round 2 is hosted by Newport SLSC on Saturday November 16th 2013. Warriewood SLSC hosts Round 3 on Saturday 30th of November and the last in this series of four events takes place courtesy of Long Reef SLSC on Saturday 7th of December.
From the Surf Life Saving Sydney Northern Beaches website:
Surf Sports consists of many events or disciplines such swimming, board paddling, surf ski paddling, flags, sprinting, surf boat rowing and the most prestigious of surf events – The Ironman. Traditional events such as the March Past and R&R are making a comeback with an increased number of competitors taking part over the last couple of seasons. There is also First Aid, Patrol competition and the Champion Lifesaver that make up our lifesaving events as well as the every growing Surfboard Riding.
Surf Sports begins in the U8s with the Junior Activities Program with the number and distance of events increasing as they progress through the Junior program until the U14s season is completed. Junior athletes must gain a relevant award every year and pass a competition skills evaluation test in order to compete every season.
Once an athlete has turned 15 and attained their Bronze Medallion Award they can then compete as an Open competitor with many more events available to them including ski and surfboat competition. The Sydney Northern Beaches Surf Sports Calendar caters for every athlete from carnivals for Juniors, Masters and Open competitors to special events such as the Oceanseries, Ocean swims, Ironman events and lifesaving events. SLSSNB recognises the need for variety in surf sports and have set a full calendar with a variety of events to cater for everyone.
Surf Sports provides an opportunity for participants to further develop whether it be as an athlete, official, manager or coach. There are many courses and seminars offered throughout the season to enhance the skills of all our lifesavers.
Surf Sports is there for our lifesavers to have fun, develop better surf skills, keep them active and serves as a major recruitment tool in attracting new members. There is also a high performance pathway for those looking to excel in the surf, more information can be found on this in the following pages.
Carnival Results
All carnival results will be available on the website on the first working day after the carnival takes place and listed on this page.
Resuts Surfboat Premiership - Round 1, Bilgola.
Open Boat: Good battle between Mona Vale Black (Bryce Munro) and 70years old (today) Donny McManus and his Bilgola Gold crew. Decision went to Bilgola on the wire.
3rd Mona Vale Green (Rudeboy)
4th Sth Curly White Stags
5th Collaroy Garricks
6th Collaroy Knights
Open Women:
1st Palm Beach Pokopanos (Dr Matt Giblin never lost a race x 5)
2nd Avalon Beach Assasins
3rd Sth Narrabeen Stingers
4th Avalon Beach Antiques
5th Sth Curly Canned heat
***Sth Curly Saphires withdrew with injury DNS
Under 19 (4 rds round robin)
1st Mona Vale Rude dudes (44pts)
2nd Bilgola Sweet Cheeks (33pts)
3rd Queenscliff RU pups (27 pts) **** missed 1st round.
Under 23 men;
1st Queenscliff Brazzers
2nd Collaroy Knights
3rd Avalon Beach
4th Bilgola Bickies
5th Bilgola Benny's
6th Newport Jollytails (wrong gate 4 lengths in lead, turned round and went back)
Under 23 women. 4 rnd round robin
1st Palm Beach Pups (44pts)
2nd ) Sth Narrabeen Shoveits (34pts)
3rd ) Avalon Beach (34pts)
4th ) Mona Vale Dumptrucks (27pts)
5th Bilgola Sweet Cheeks (25pts)
*** Special mention to Mr McManus and the Bilgola Sweet Cheeks who rowed 8 races on the day and they were 4 + 4 back-to-back
Reserves:
1st Bilgola Old Gold
2nd Mona Vale Black
3rd Mona Vale Perryere
4th Mona Vale Sorrikai
___________________________
Pittwater Online News is supplying a set of all images taken yesterday to Bilgola SLSC. We are also happy to supply, as a service, photos to any other clubs that would like them. If you want a picture of you email us HERE.
Michael Mannington of Volunteer Photography has also contributed a Public Gallery HERE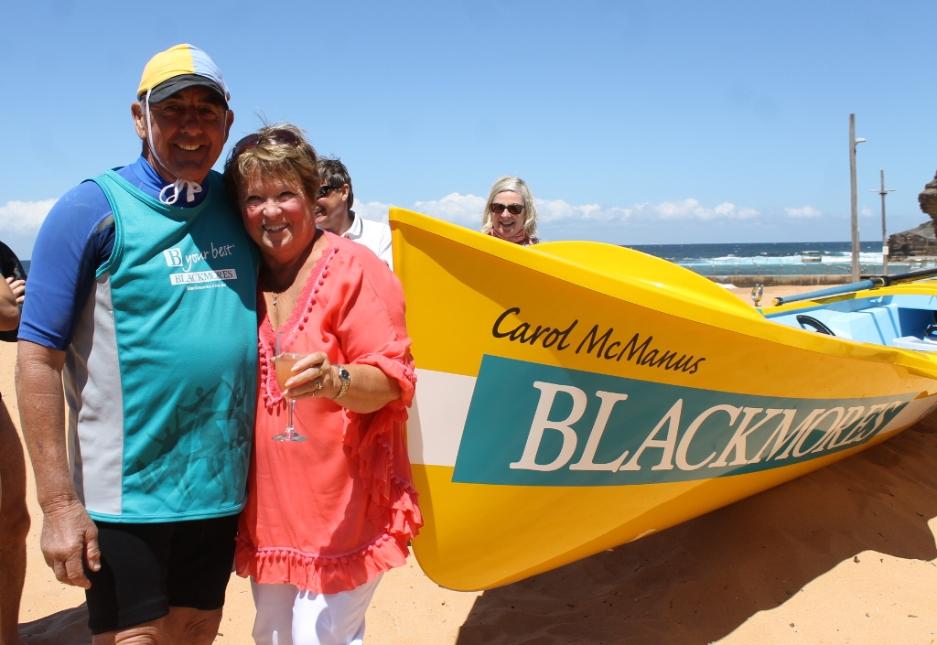 Don and Carol McManus with new surf boat the Carol McManus.
Christening of New Surf Boat – Carol McManus – from Bilgola SLSC
Bilgola Surf Life Saving Club has a long tradition of naming boats after people that have dedicated tremendous hours of support, effort and work into Bilgola Surf Life Saving Club and the rowing fraternity.
This year our tradition continues and the honour is bestowed upon someone who is thoroughly deserving of this honour and whom without, our club would not have enjoyed the successes it has.
Carol joined Bilgola in 1994 and has always been an active patrolling member and continues to do so. Prior to joining Bilgola, Carol was a long serving active member of Nth Narrabeen and Byron Bay surf clubs - a true clubby in every positive sense of the word!
Carol is a qualified surf sports official and works as the official recorder at every Ocean Thunder event. Carol also holds her own impressive competitive record in Surf Life Saving and has achieved the following successes in First Aid Competition.
1986 – Branch silver and state gold
1987 - Branch and Australian silver, State Gold
1988 – Branch gold
1989 – Australian Bronze
1990 – Australian Silver
1991 – Branch Gold
Carol is also a state premiership holder in Open Women Surf Boats. She filled in for an absent member of the crew at the Woolgoolga round in 2003 and placed 3rd. The crew went onto win the premiership and Carol now holds a State title as a result of her efforts.
For many years Carol has taken on the thankless role of accommodation organiser and tour manager for Bilgola competitors travelling all around the country to represent the club at major championships. She is a tireless worker at club fundraisers in particular the Golf day, ocean swim and the Bilgola carnival (where you'll see her slaving away in the kitchen all day). She is the surfboat section's most dedicated supporter and deserves every accolade that comes her way.
Carol is of course the wife of 'distinguished service' member Don McManus, one of the most successful sweeps in the history of our sport. She has been with Don every step of the way in surfboats since the 1960s, including attending just about every carnival in that time.
Without Carol, there is no doubt Don would not have achieved the great things he has for Bilgola.
She is one of the true unsung volunteers that make Bilgola the club it is and is thoroughly deserving of this honour.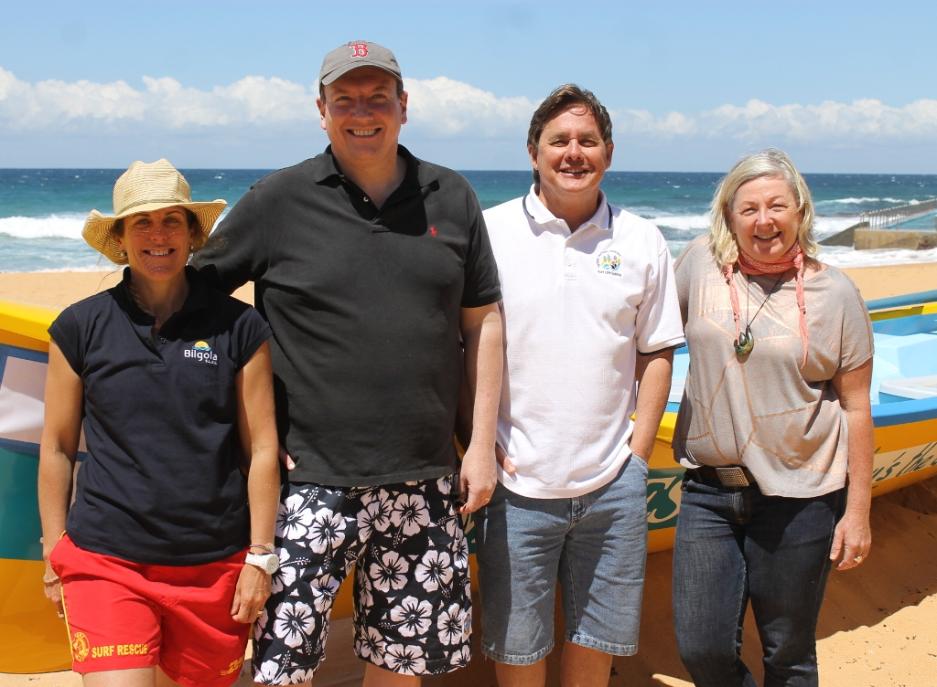 President of Bilgola SLSC Romilly Madew, John Brogden - Patron of Bilgola SLSC, Branch President of SLSSNB David Murray, Cr. Jacqui Townsend, Mayor of Pittwater.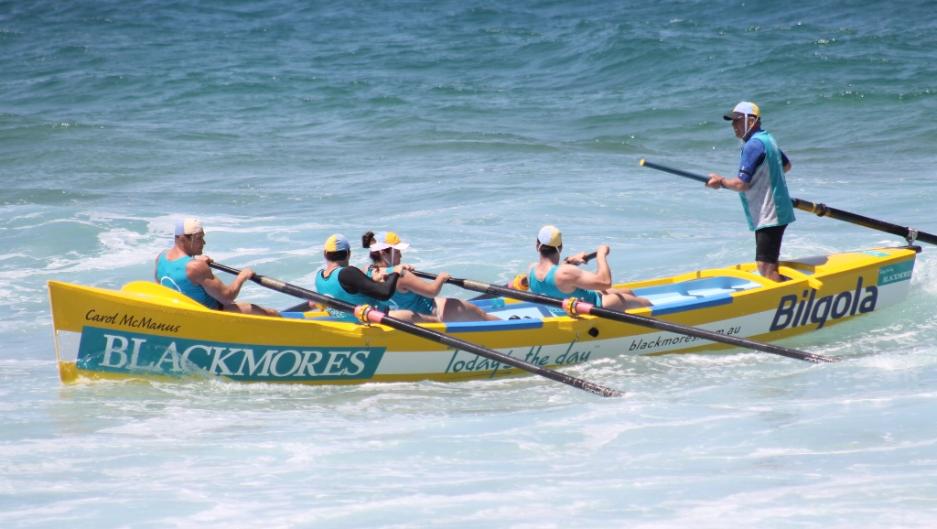 Boat Crew applied to be first to take her out - Mitch Foran, Natalie Gartner, Norm Pounder (Boat Captain), Anthony O'Toole and Don McManus (Sweep).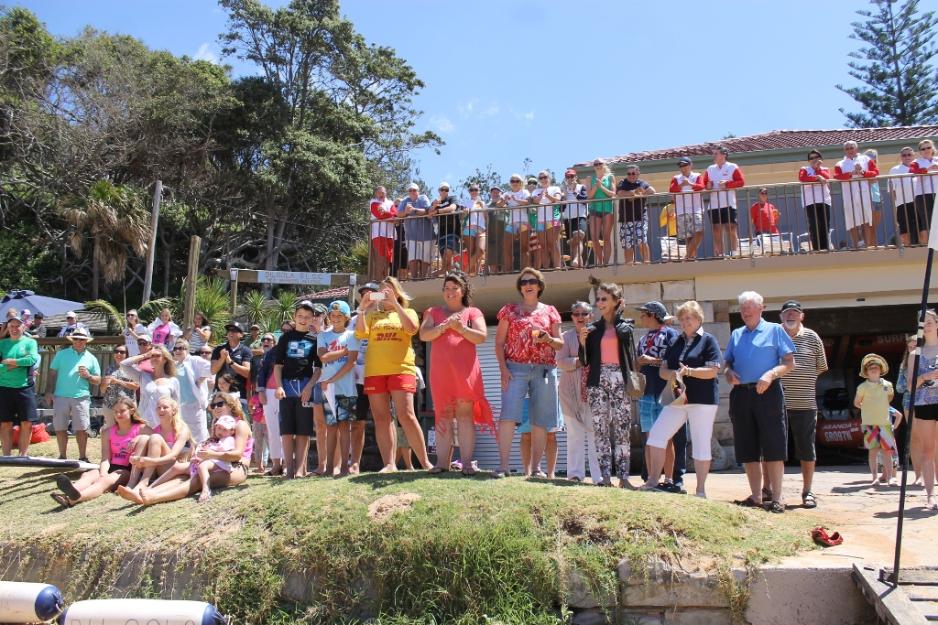 Boat Premiership - Round 1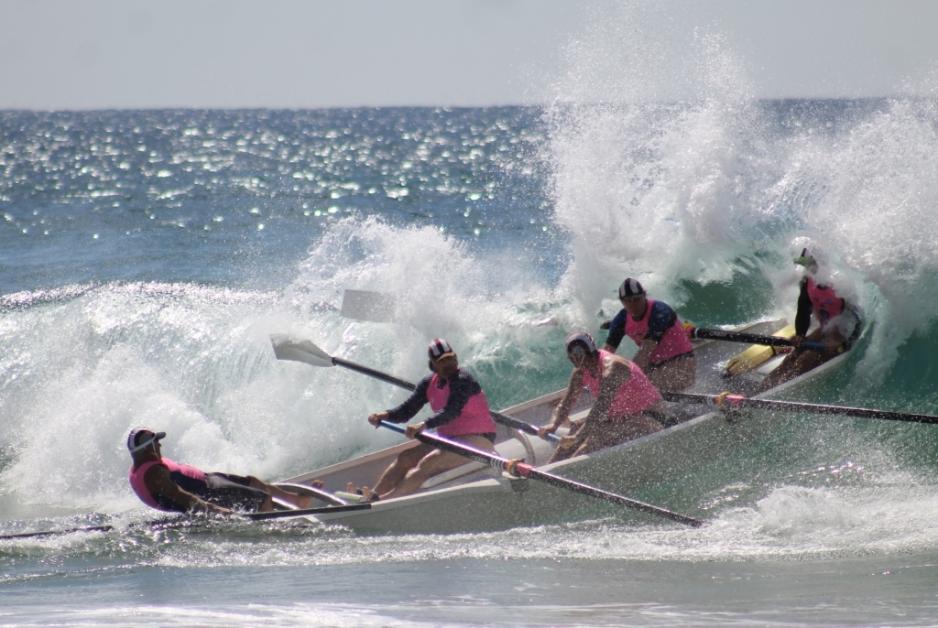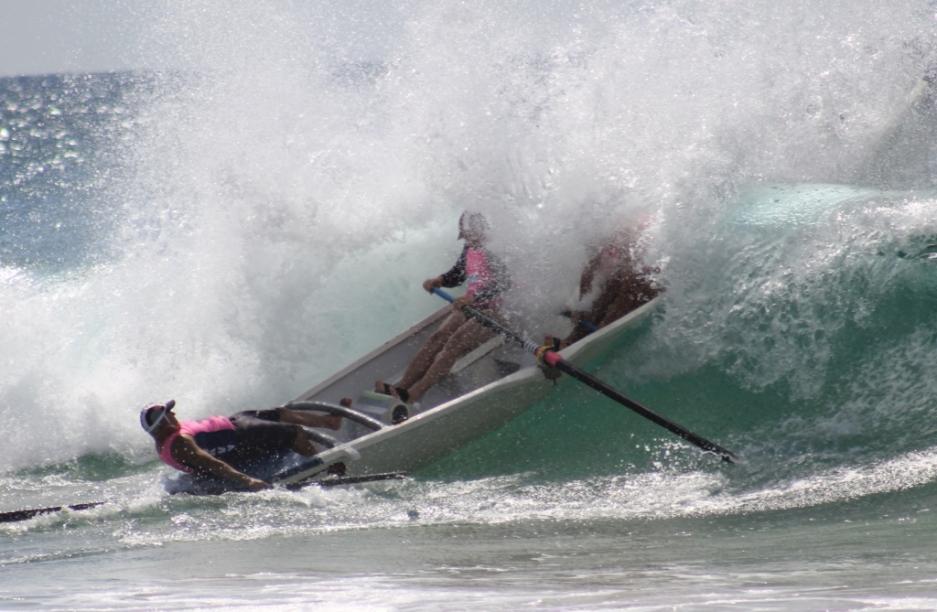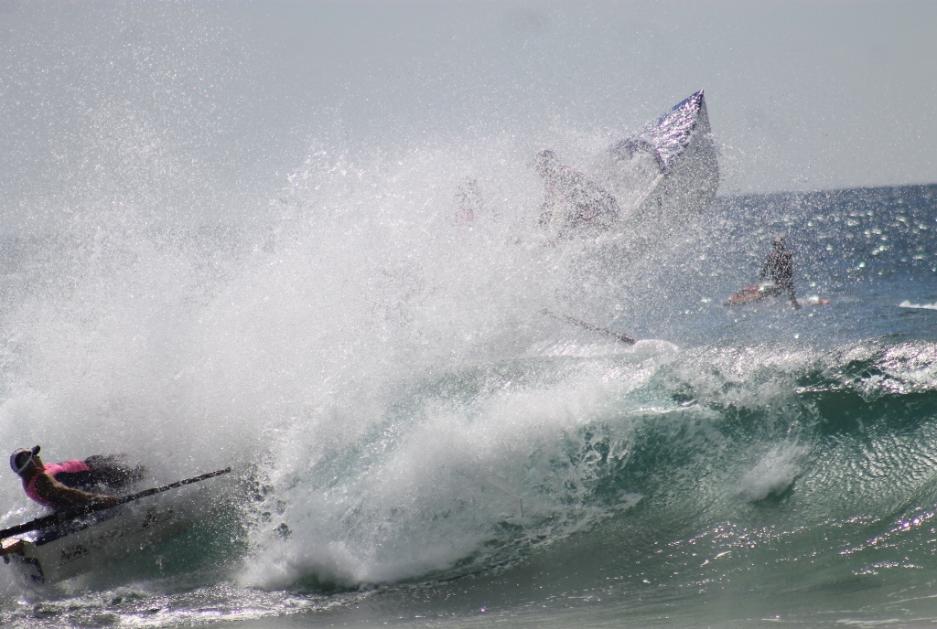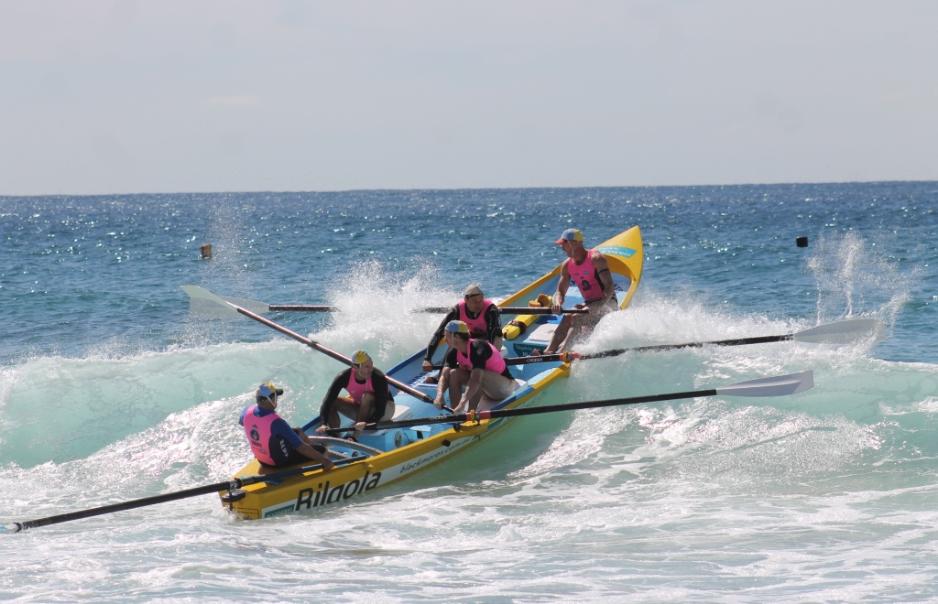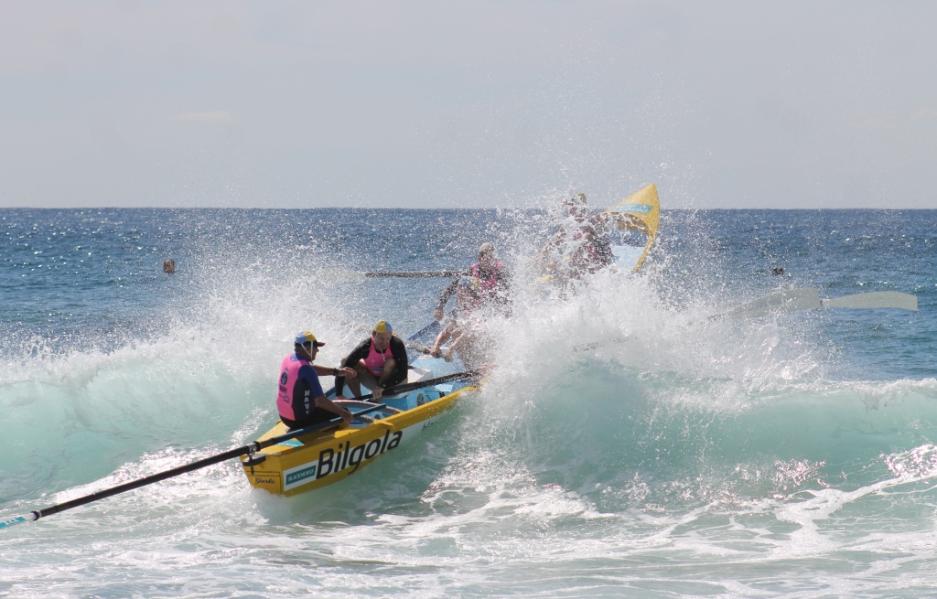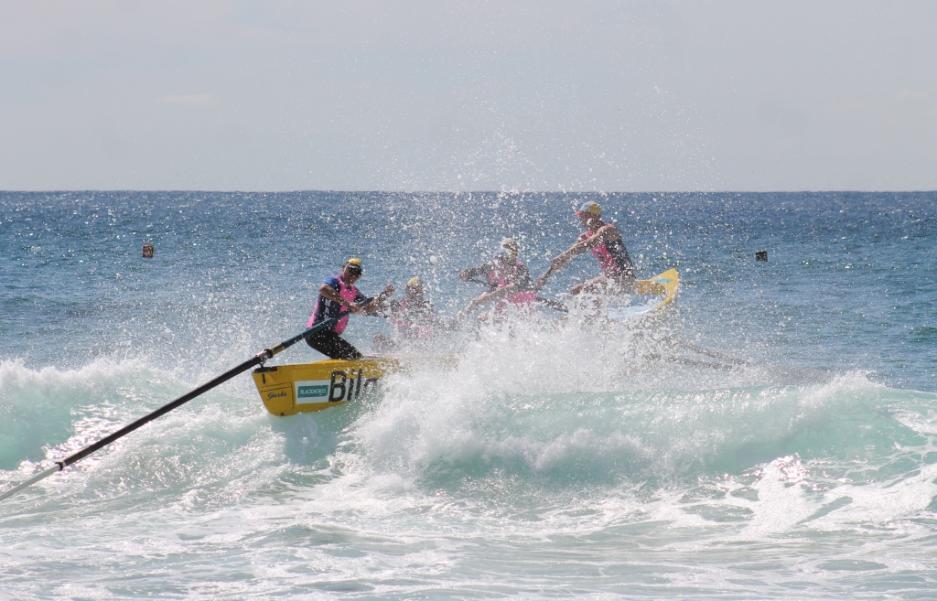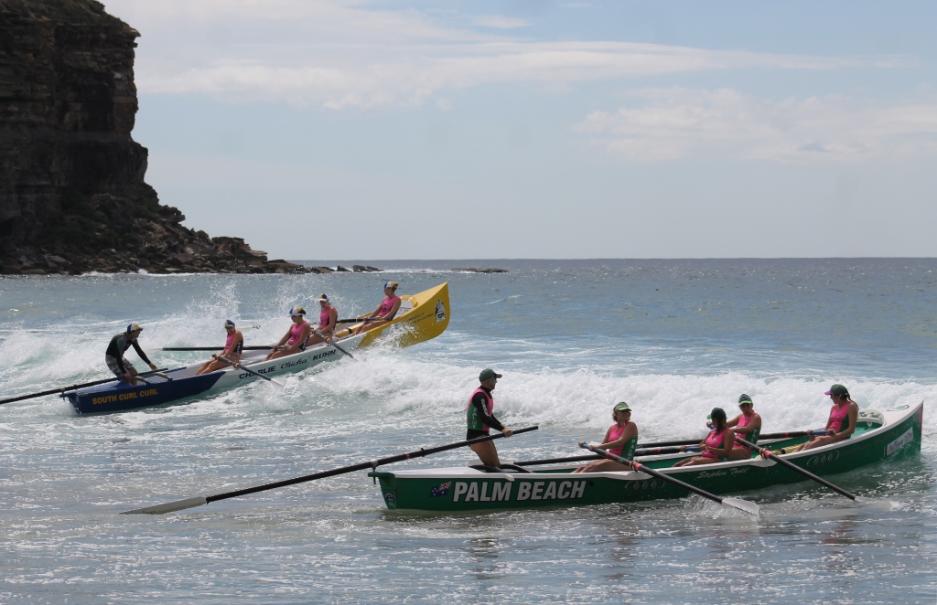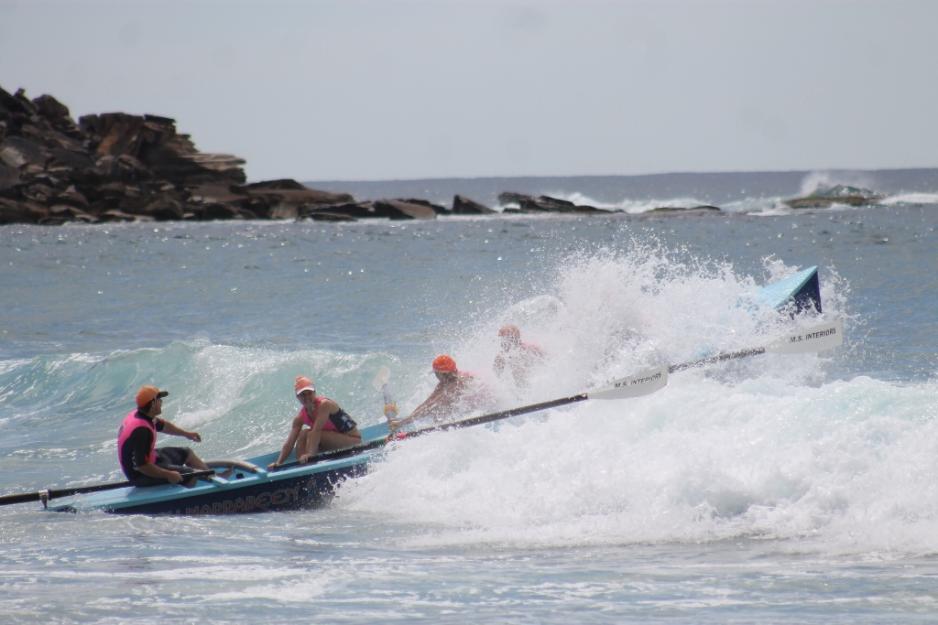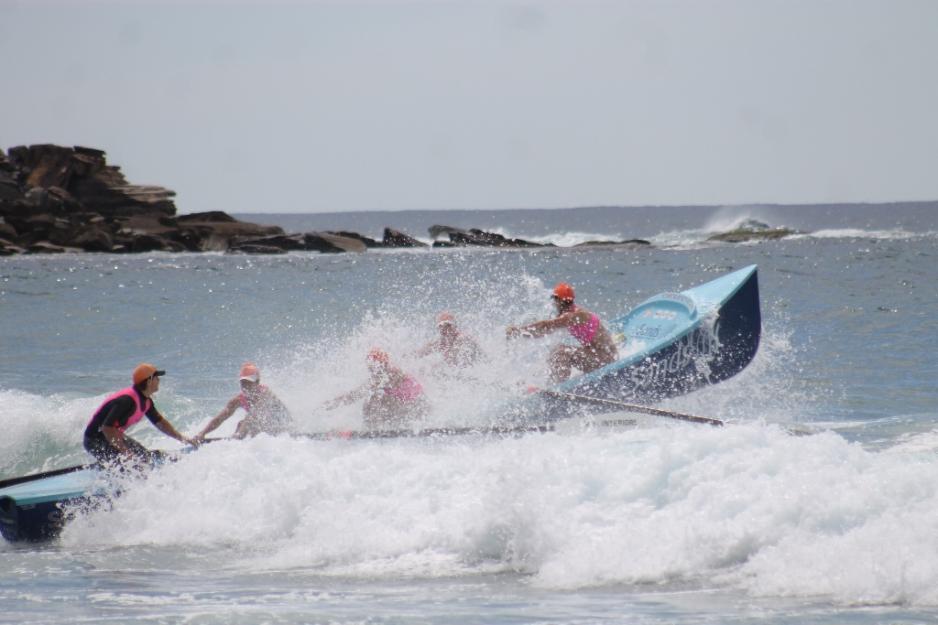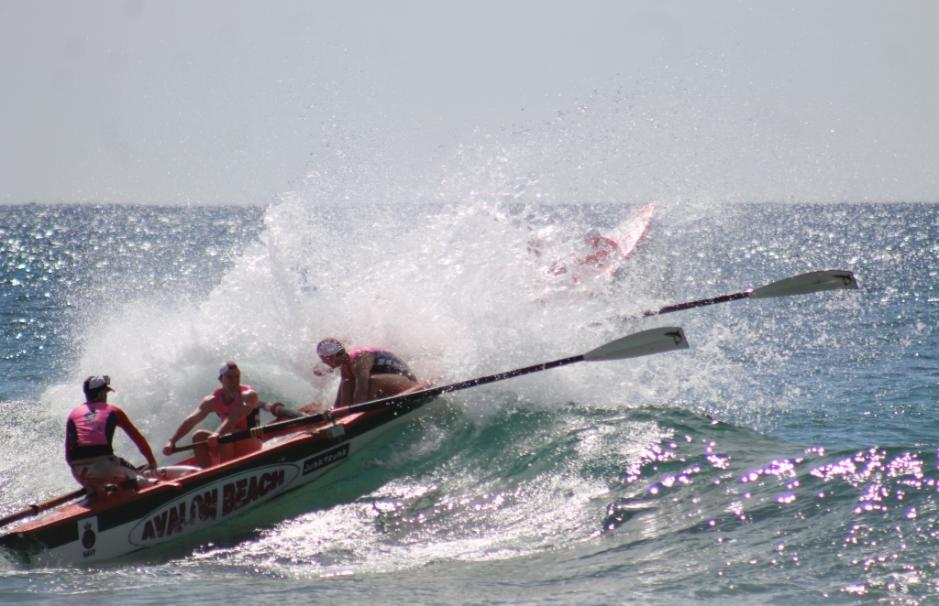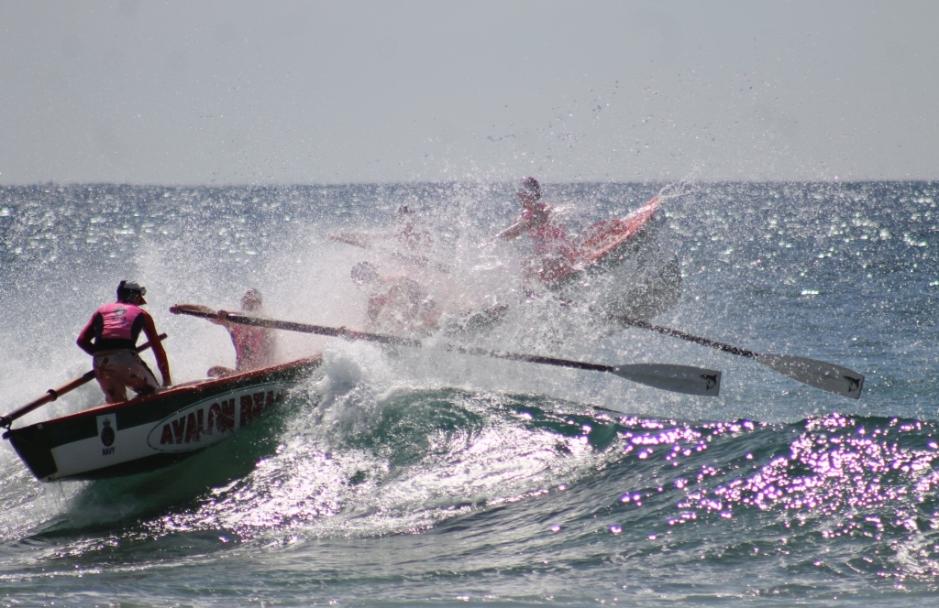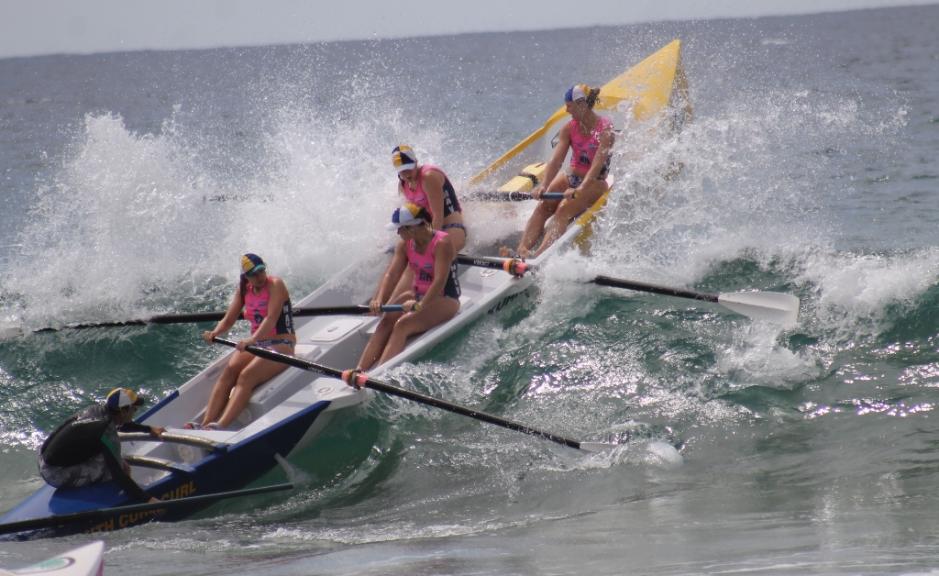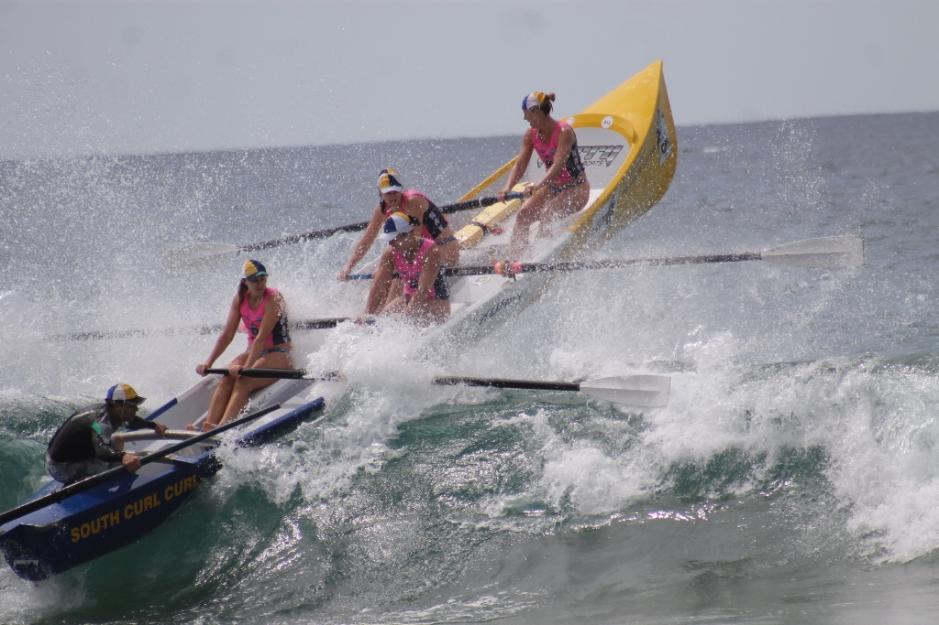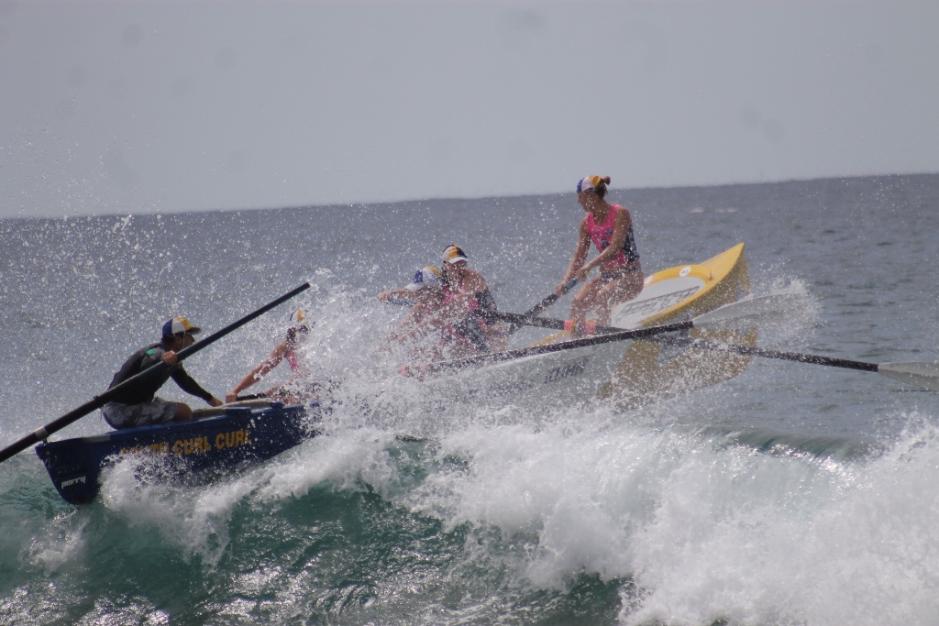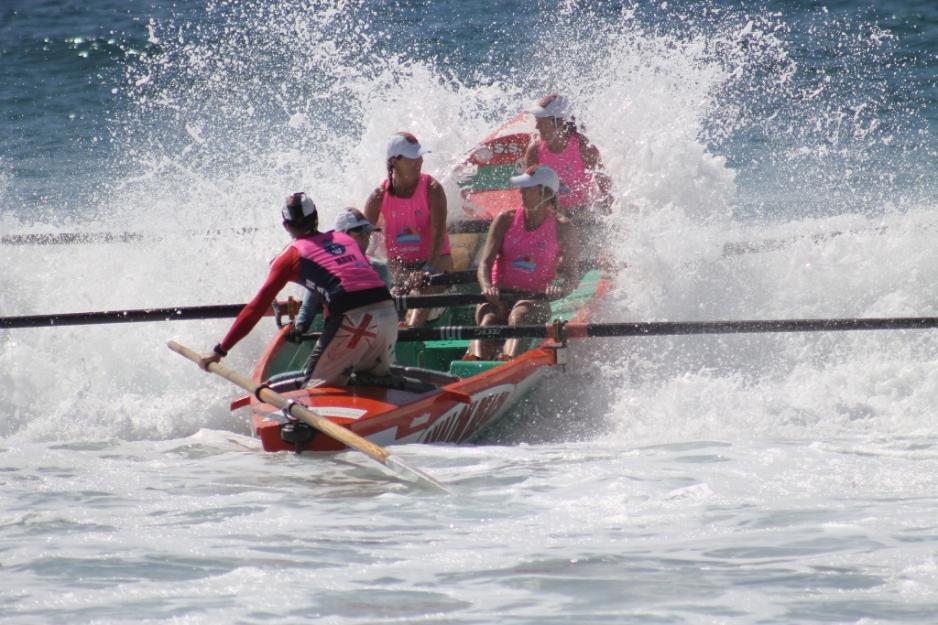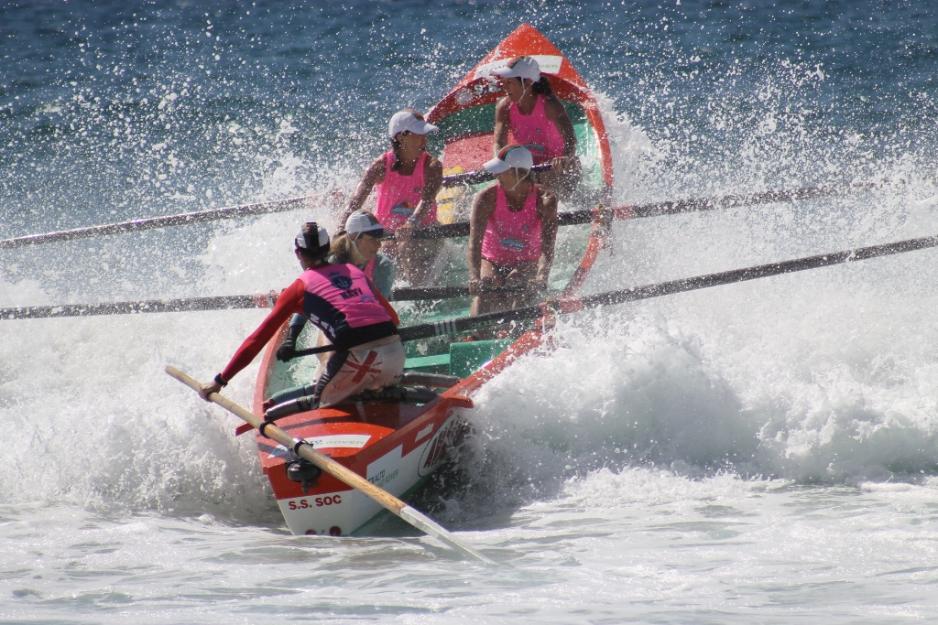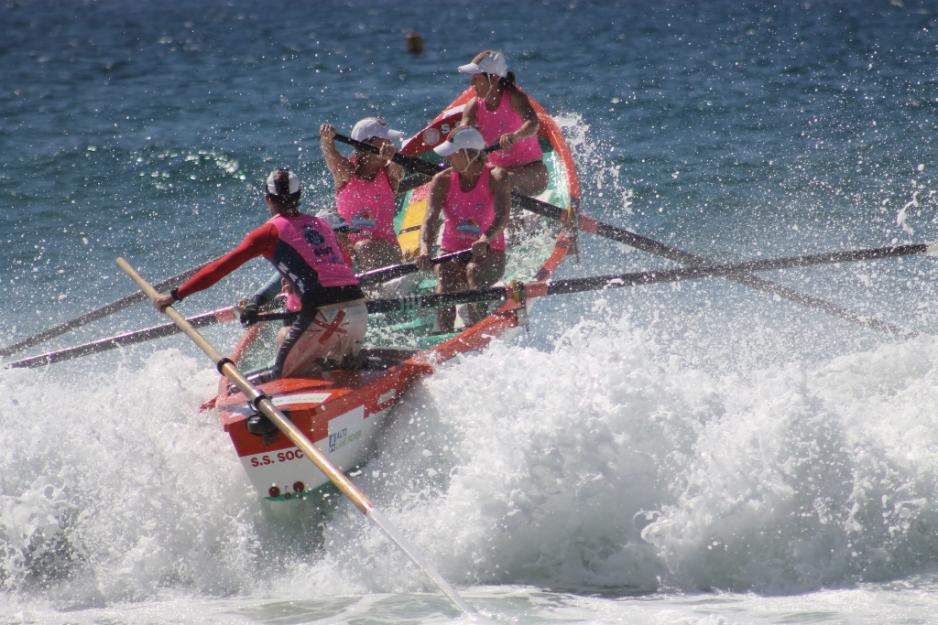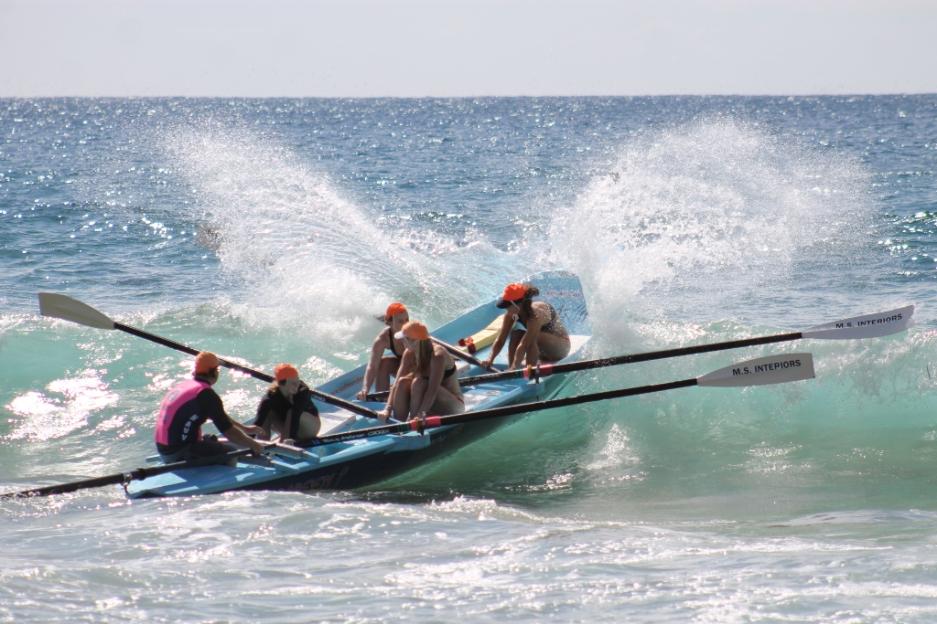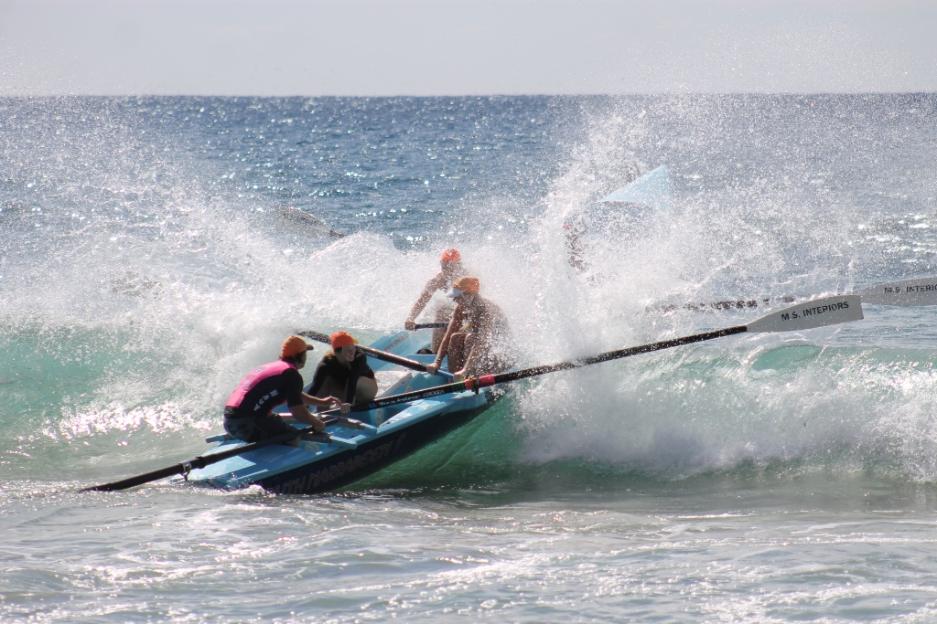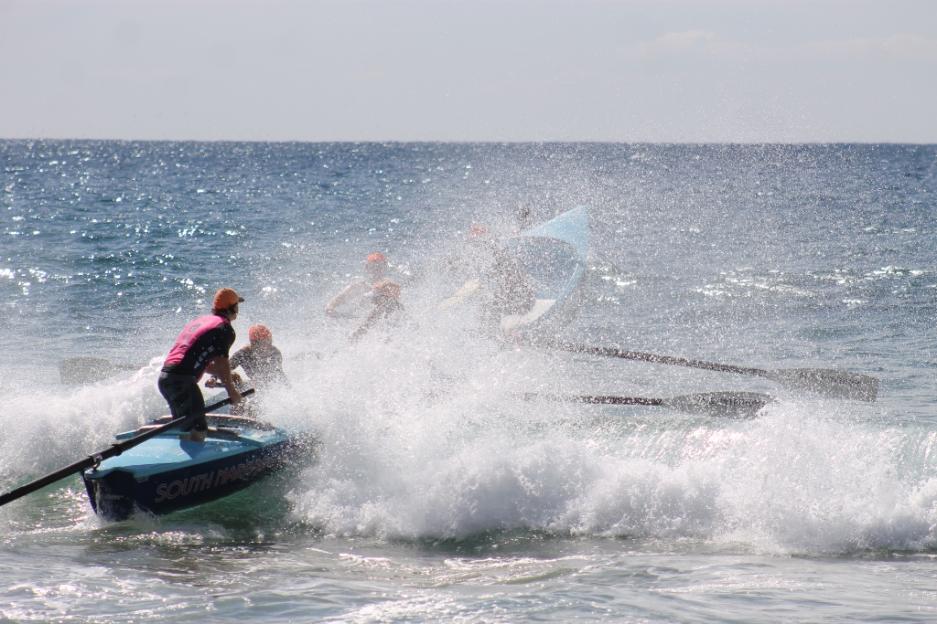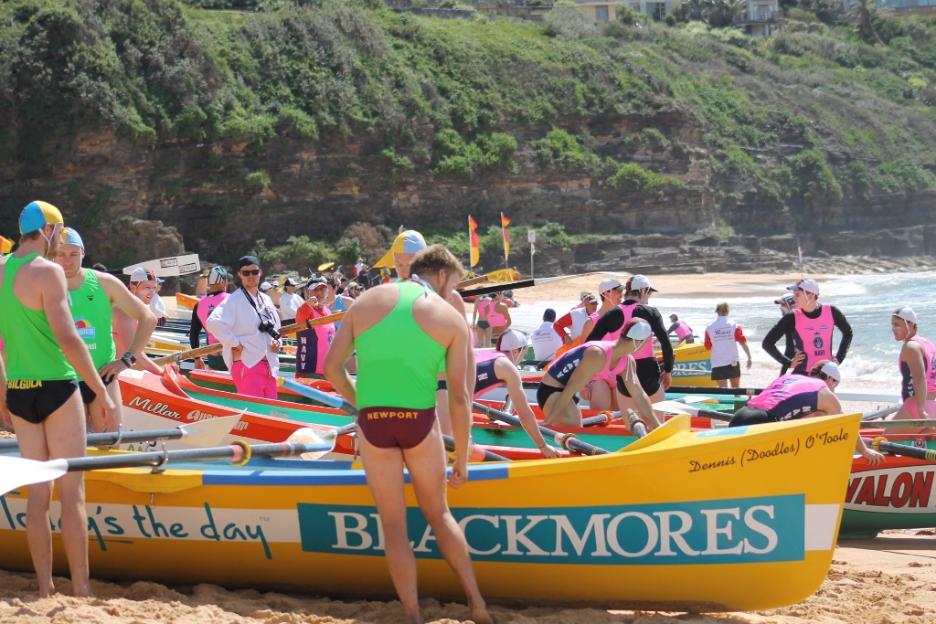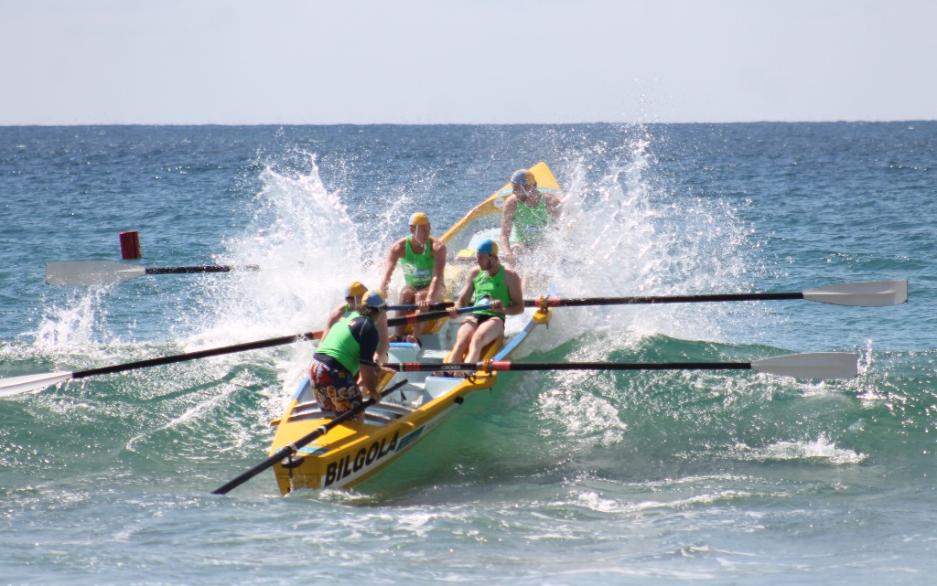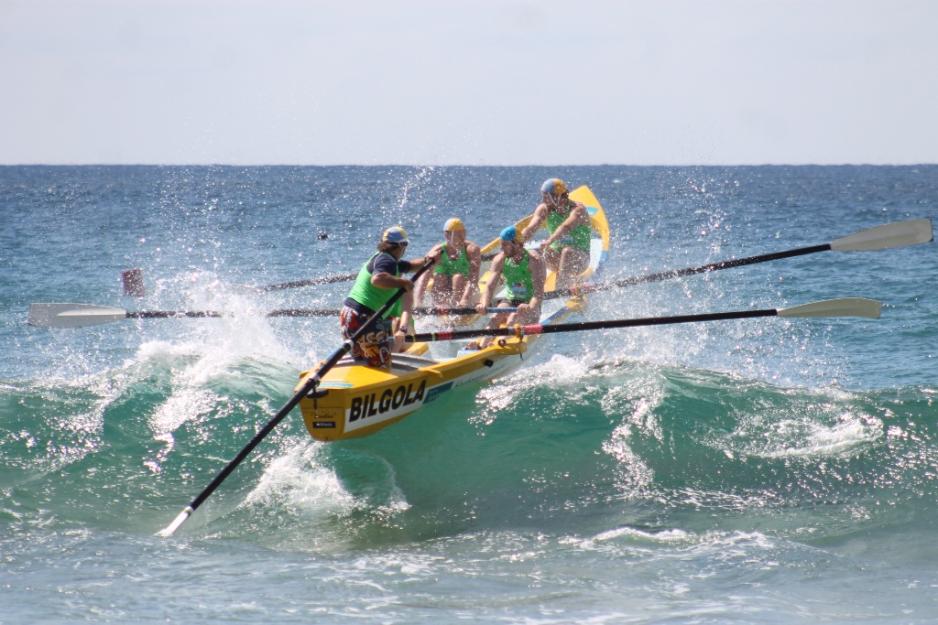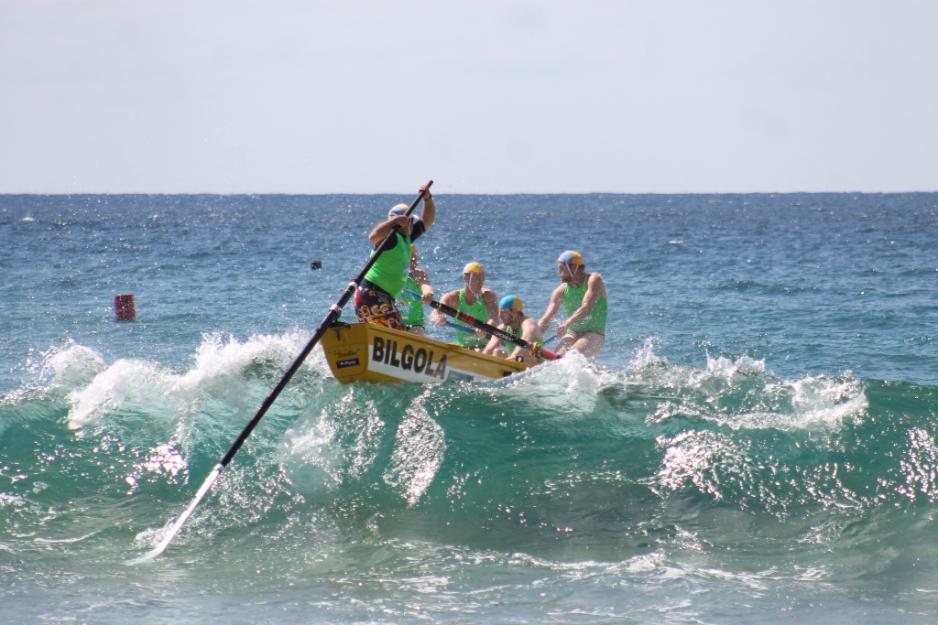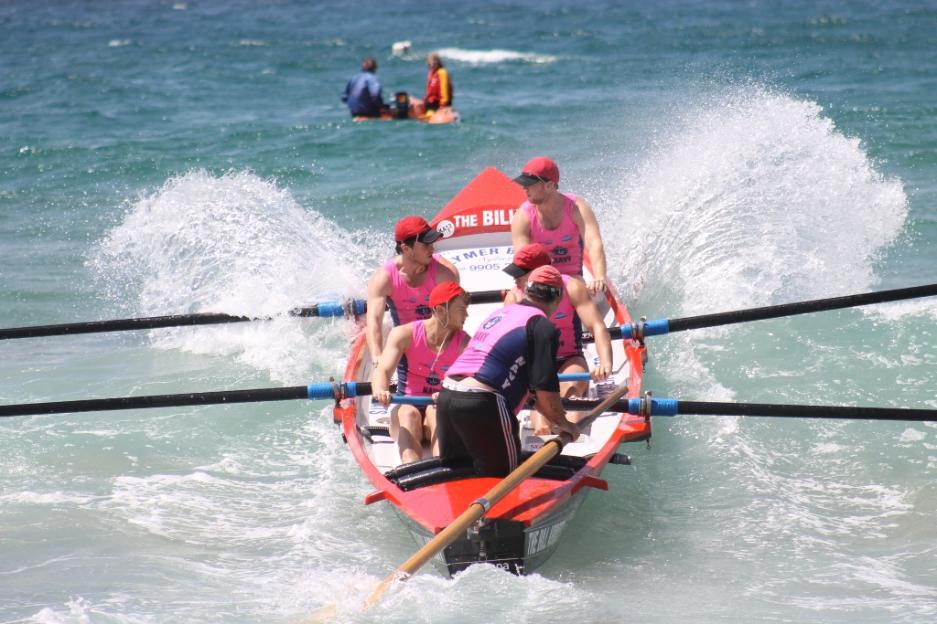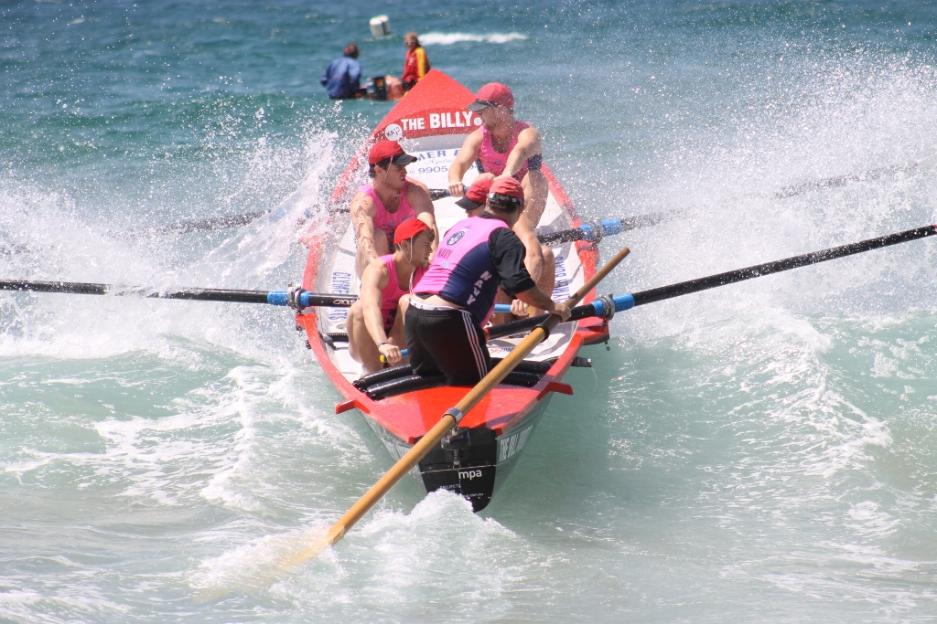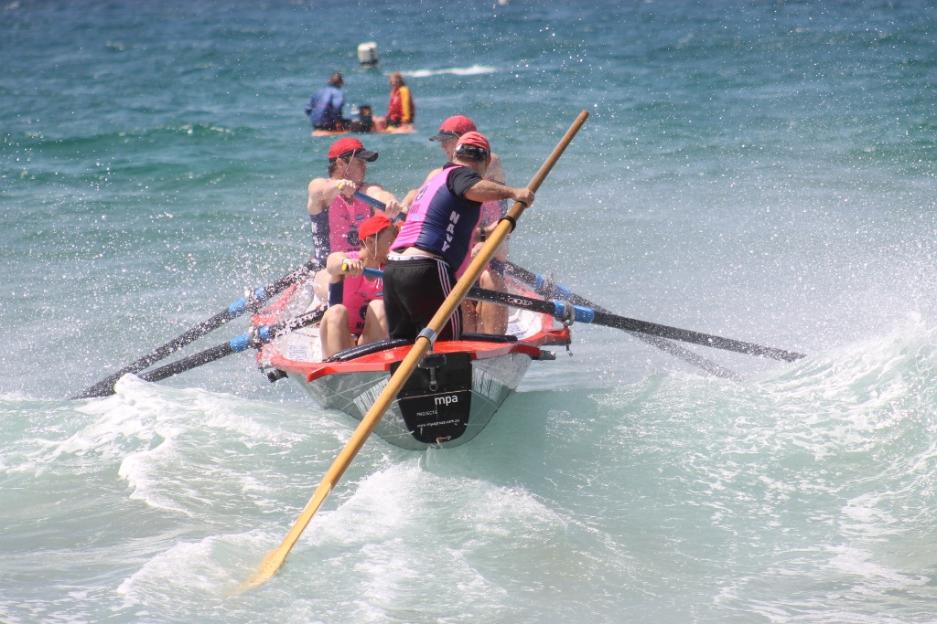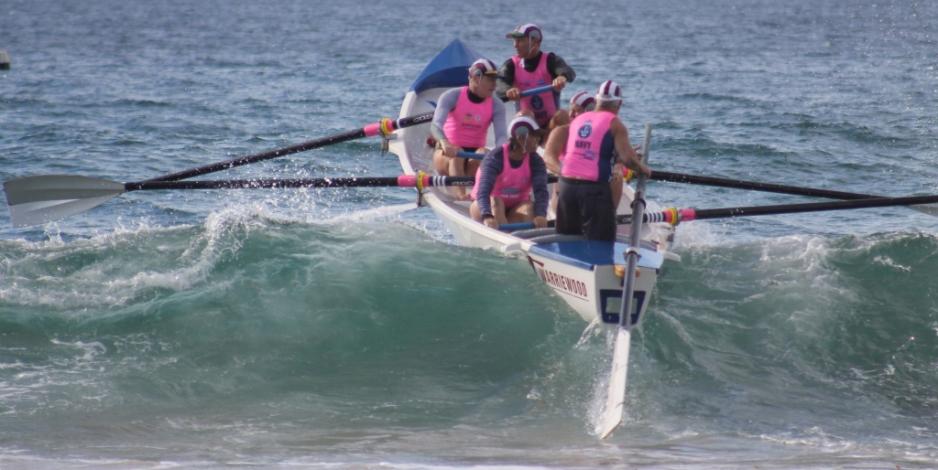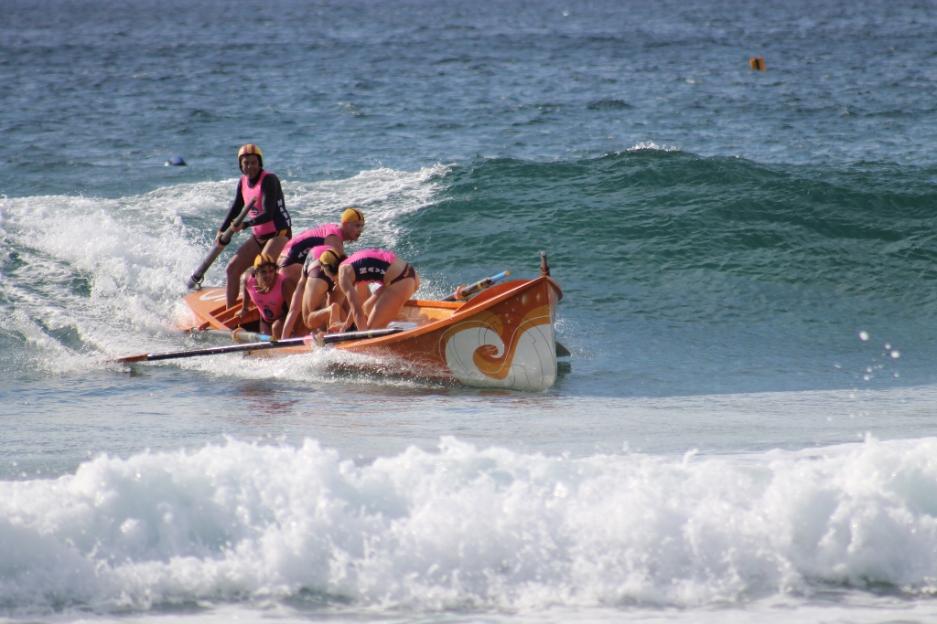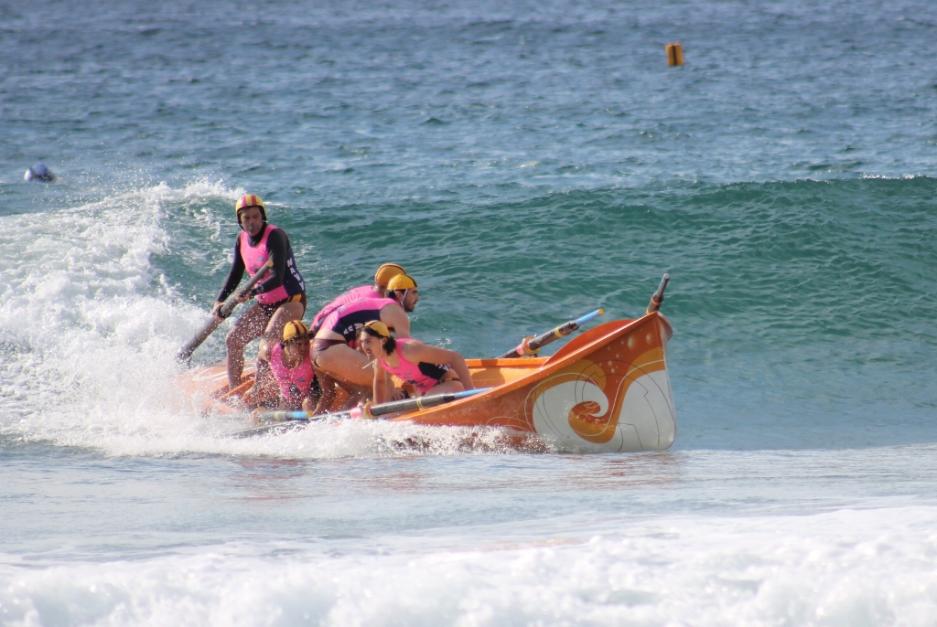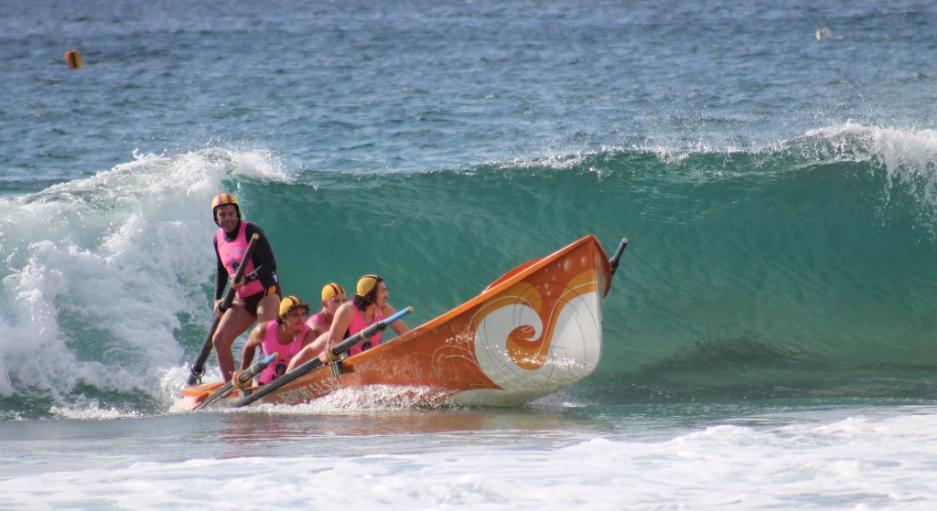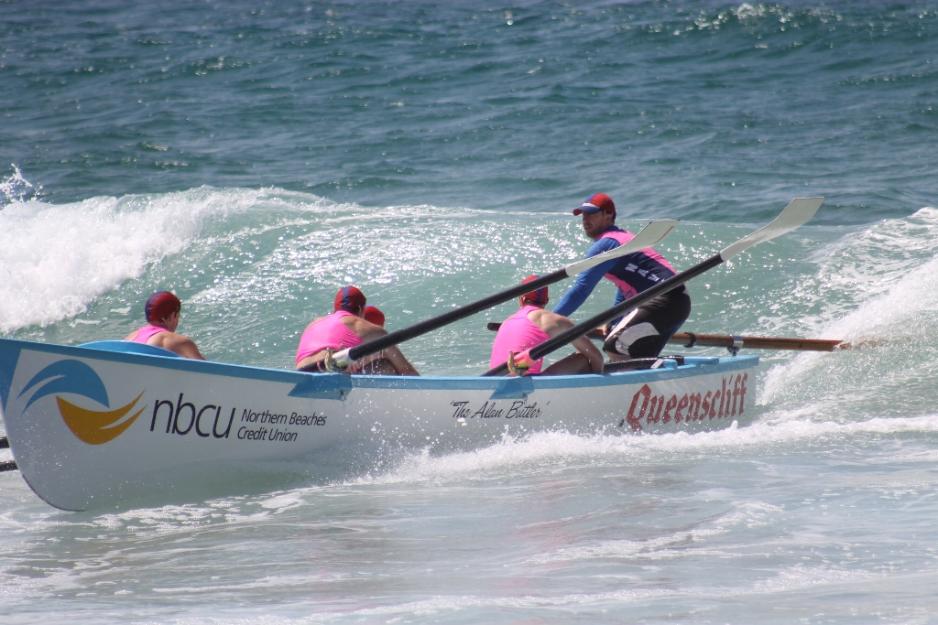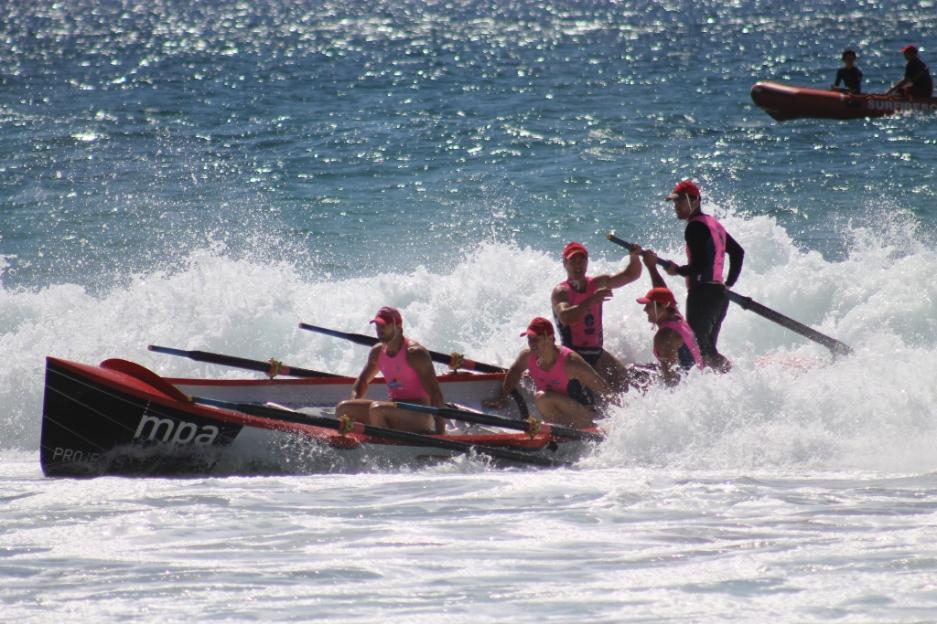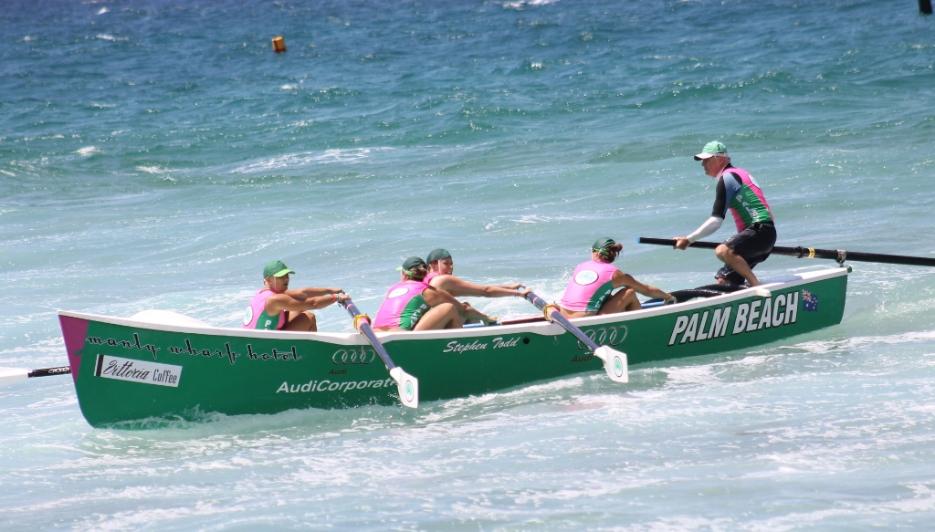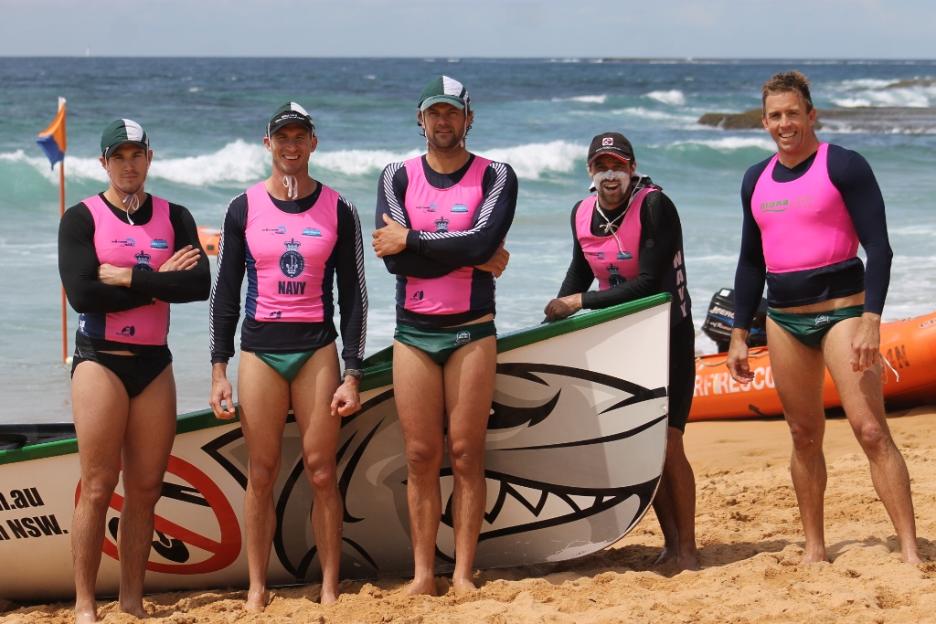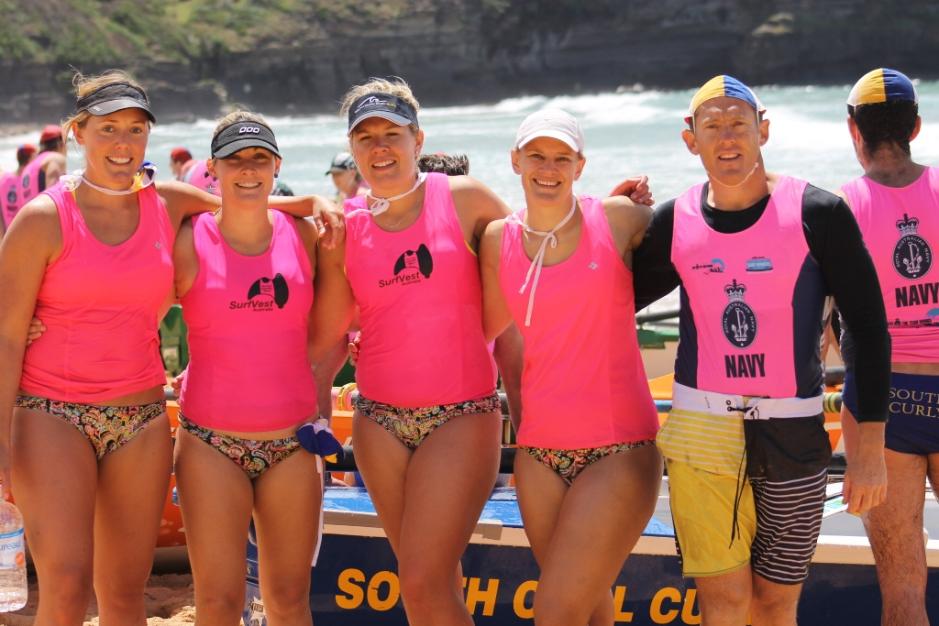 South Curl Curl - 'Canned Heat '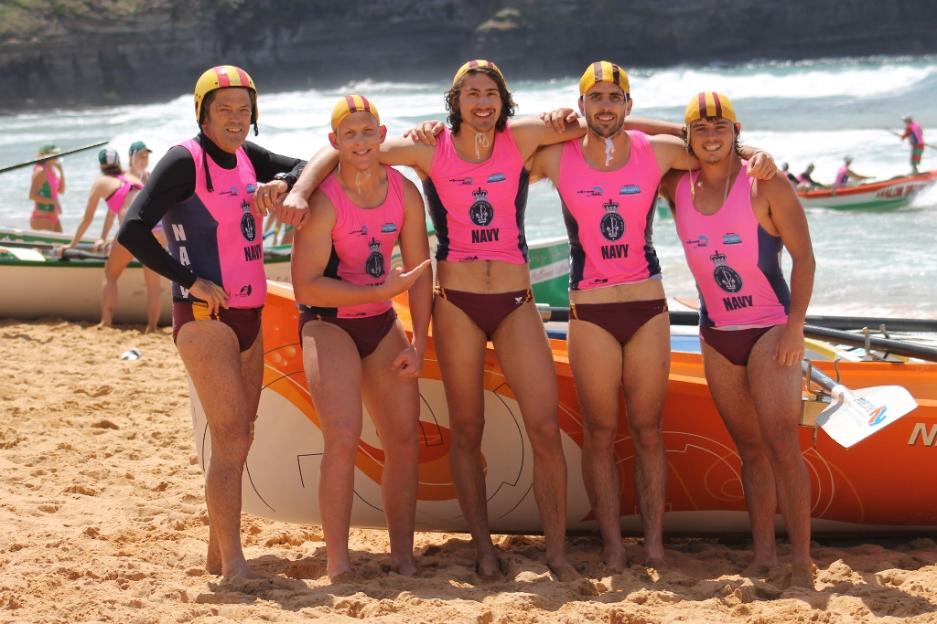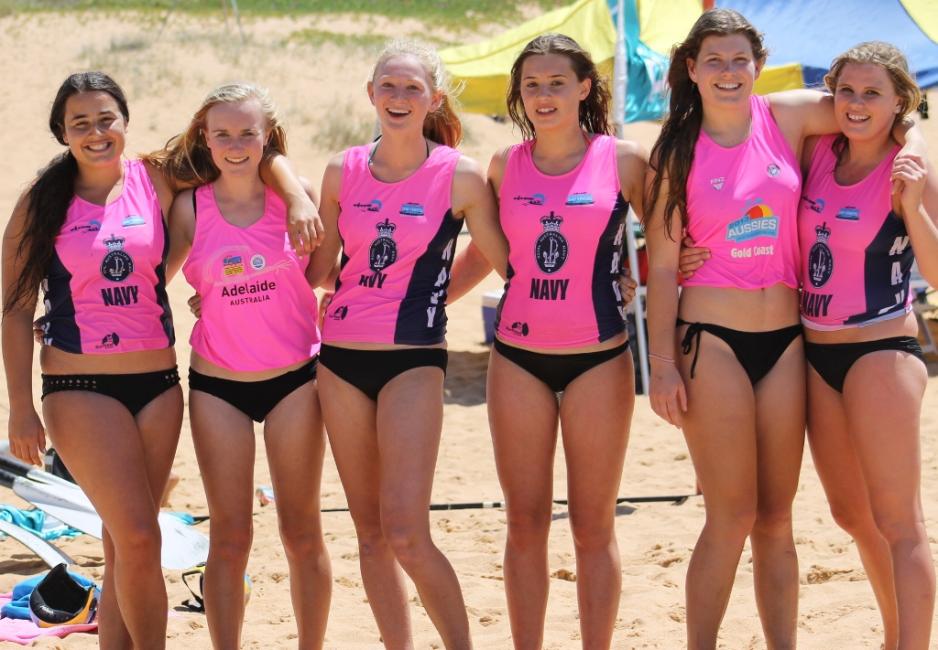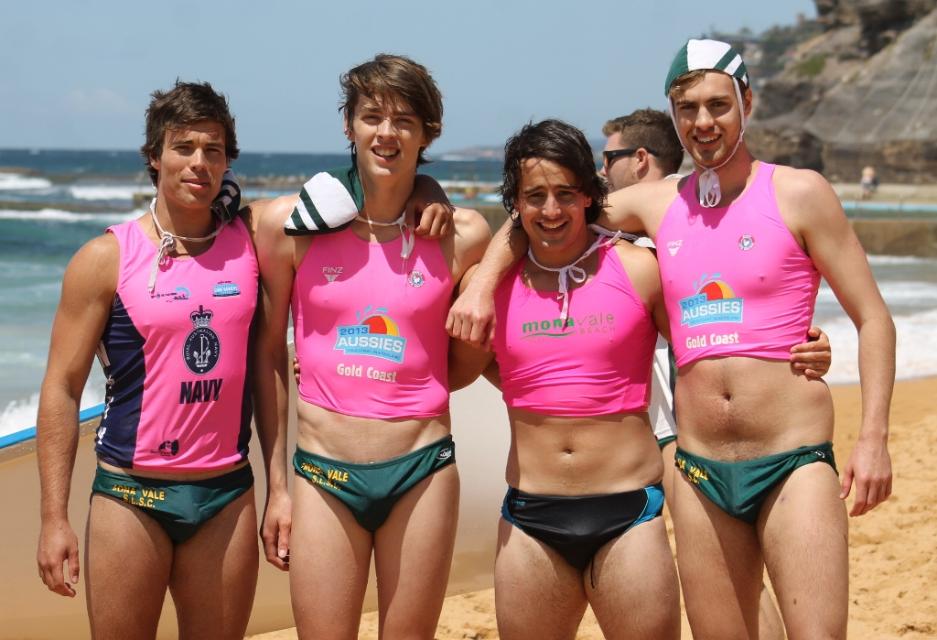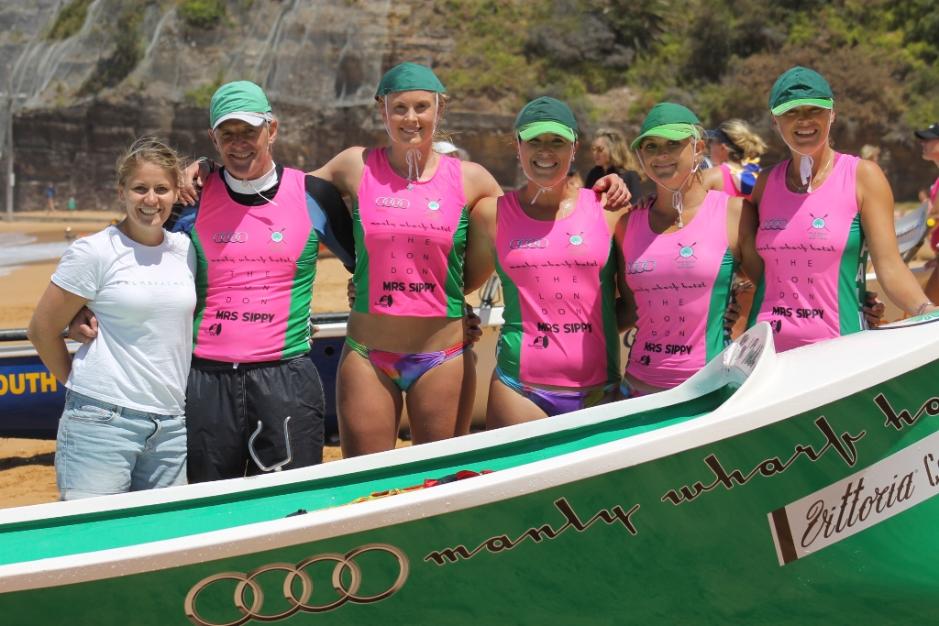 Palm Beach - 'Poconos' with Palm Beach SLSC President, Kate MacDonald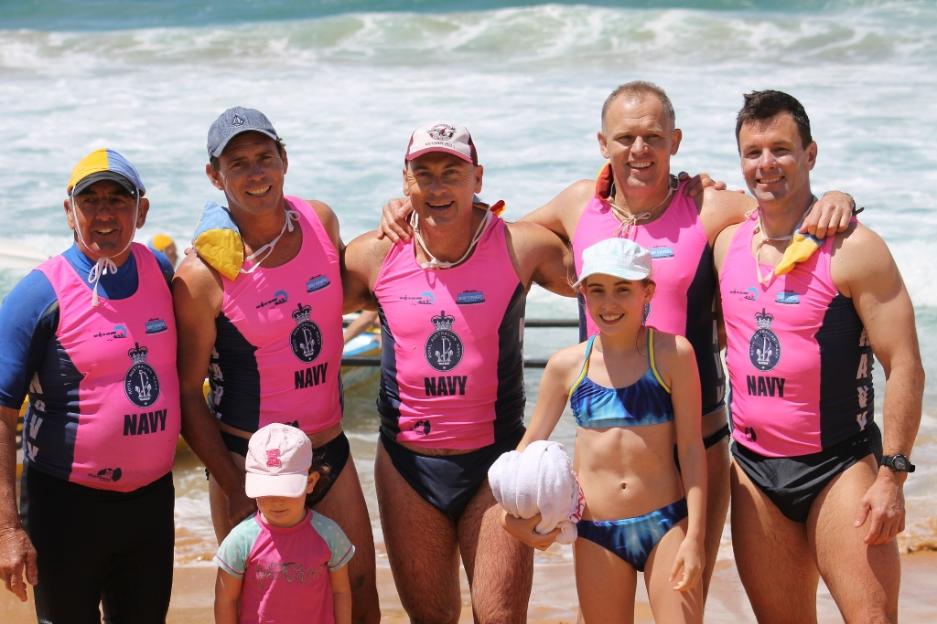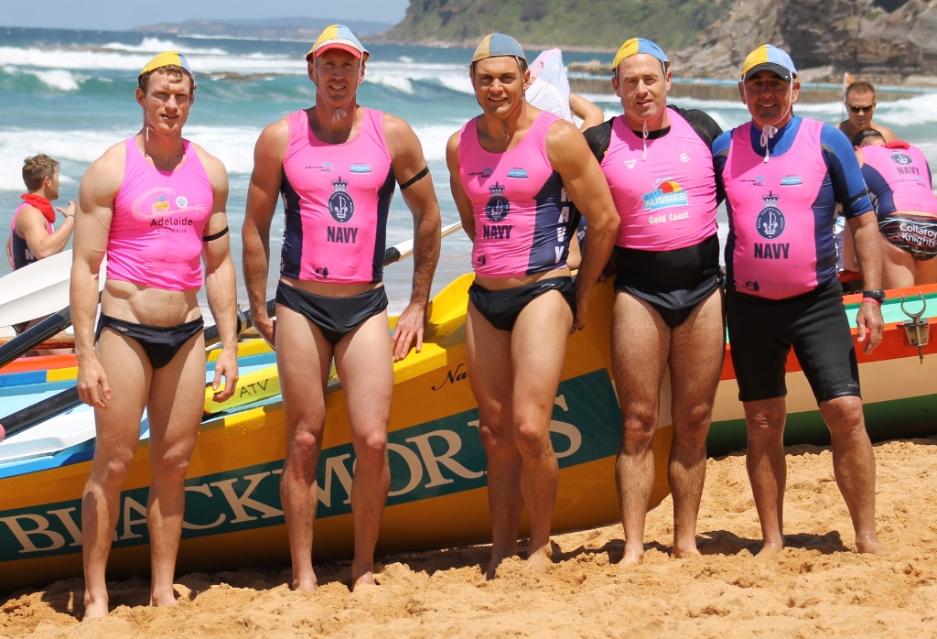 ADF CH-47D Chinooks Fly By During Boat Carnival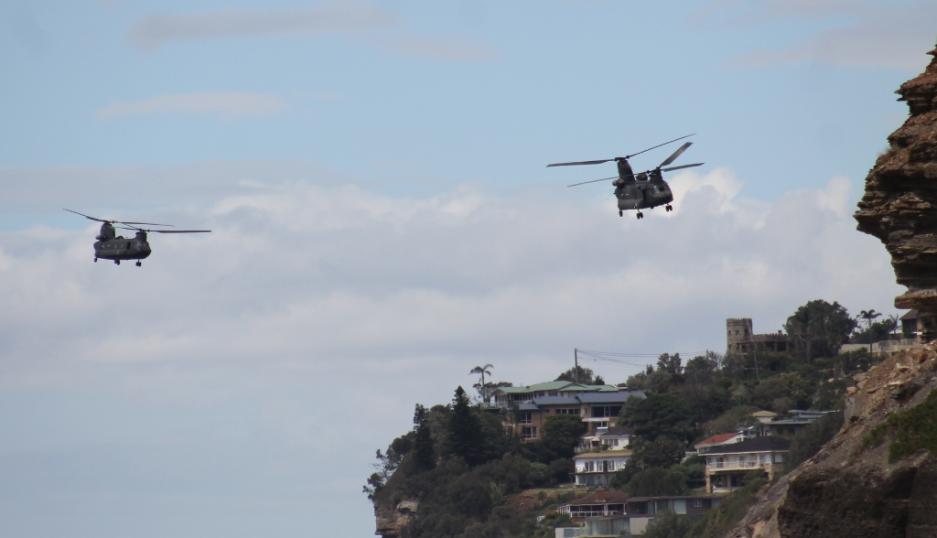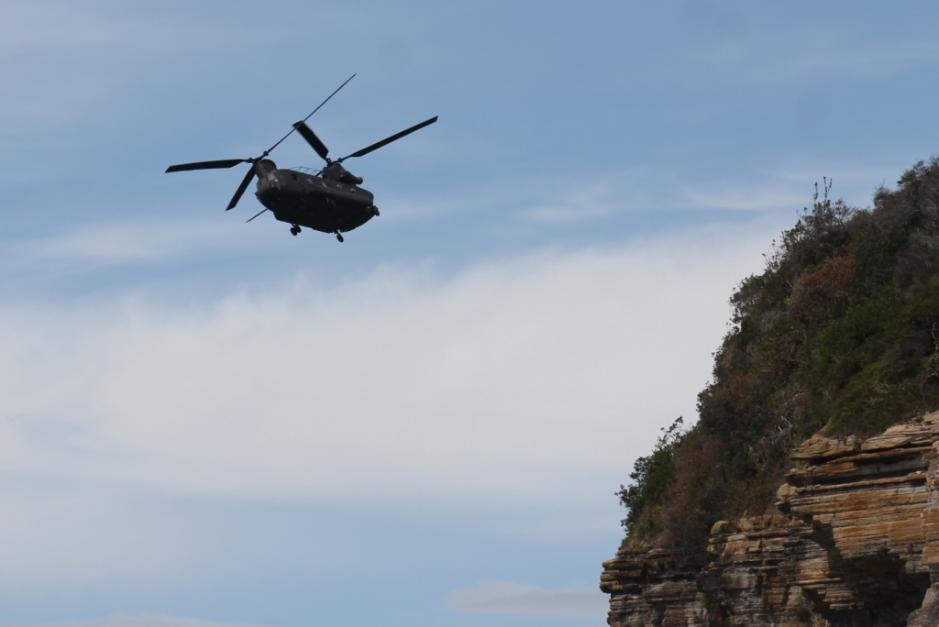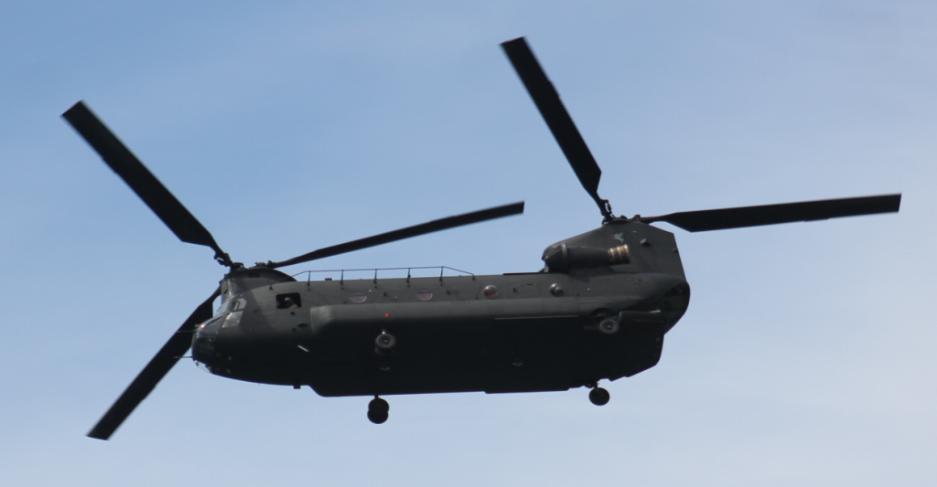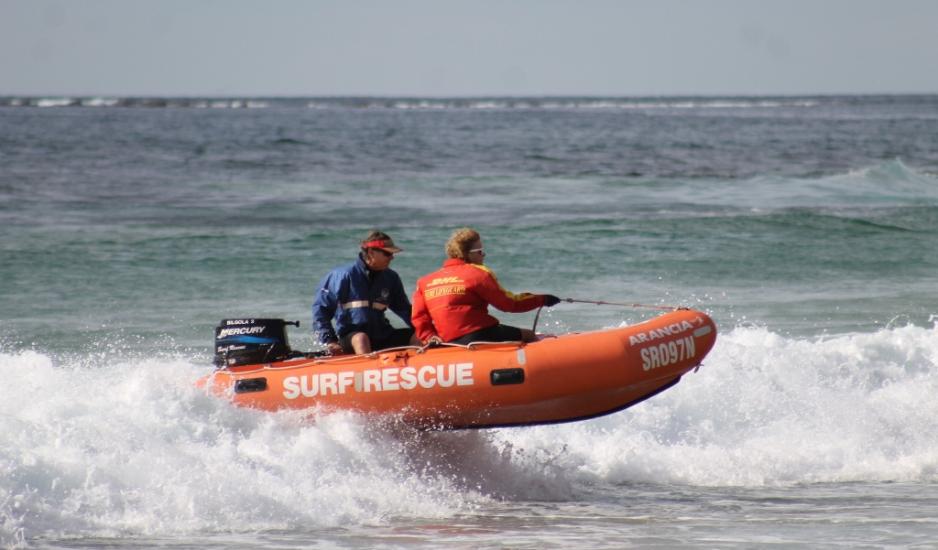 Photos by A J Guesdon, 2013.