October 20 - 26, 2013: Issue 133
Sydney Wildlife Volunteers Construct a Rehabilitation Flight Aviary for Southern Cross Wildlife Care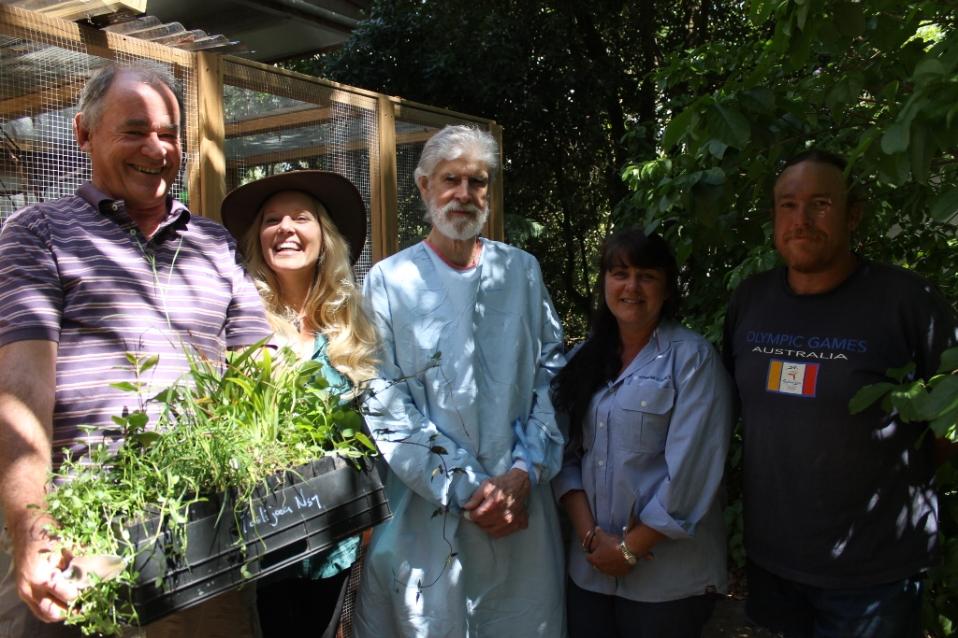 Left to right: Bob Bennett, Lynleigh Grieg, Dr. Howard Ralph, Sonja Elwood and Glen. Picture by A J Guesdon.
Sydney Wildlife Constructs a Rehabilitation Flight Aviary for Southern Cross Wildlife Care
During April of this year we became aware of Global Giving, an online facility set up to support vital projects worldwide that do not attract the kind of funding they need. Sydney Wildlife, an organisation of volunteers licensed by NSW National Parks & Wildlife Service to rescue, rehabilitate and release sick, injured and orphaned native animals, was among the list of those seeking funds for projects and so we forwent the Friday afternoon bottle of wine for a few weeks and invested in our native furred, finned, feathered and scaled getting some care instead. The Sydney Wildlife project was to establish a center or area to "Rehabilitate Wallabies and Kangaroos in Sydney".
Anyone who has stood quietly in the bush listening to the sounds of leaves and peace and then the thud, thud, thud, of a coming kangaroo before one glorious specimen bounds into sight, gazes through does eyes at you, before continuing off into the dapplings will know why you would want your children and children's children to experience such moments. Anyone who drives along Mona Vale road and has seen the small brown mound of a wallaby who could not cross the road because there is no crossing for them and speeders speed would confirm a tide needs to turn and it is people who can help this occur.
Soon after we were informed our gift had gone towards building and establishing an area at Waratah Park, the former home of 'Skippy' leased for a rehabilitation area which would enable Sydney Wildlife volunteers to:
"now start building a suitable facility that accommodates their complex requirements before release.
Our hardworking volunteers have started to clean the area in preparation to build our facility for Macropods. We have spent several days clearing out sheds, mowing and weeding. These areas will become our rehabilitation facility and quarantine room.
On top of the physical work we have been doing, we have also been taking measurements and getting quotes to get the best price possible to build our facility."
From: http://www.globalgiving.org/projects/sydney-wildlife-rehabilitate-wallabies-and-kangaroos/updates/
Early in December 2012 we attended a clean up of Careel Bay, collecting rubbish and other articles people thoughtlessly deposit in or near our waterways which are devastating our wildlife, particularly the many birds who make these wetlands their homes. Since one staffer has been collecting items foreign to this particular beautiful environment for over 30 years it seemed natural to join in and as a consequence of that, speaking to those also there to do the same work, heard about a little project to build a Rehabilitation and Flight Aviary desperately needed by Southern Cross Wildlife Care.
Our native birds are being devastated by habitat loss, by feral and domestic cats and by the rubbish people cannot dispose of correctly being mistaken for a shiny silver fish when in fact it is a poisonous wrapper or one of the countless plastic bottle caps each tide returns to our shores. Southern Cross Wildlife Care is the first stage of helping our Native fauna. Dr Howard Ralph is attending to every kind of 'critter' brought to him 24/7, pro bono, and part of this prior to their being placed with a carer is getting each creature to a stage where they may stand a better chance of successful release back to their homes by rehabilitation under this veterinarians care. As Southern Cross Wildlife Care is also a 100% volunteer organisation, funds for materials and labour must be drawn out of thin air.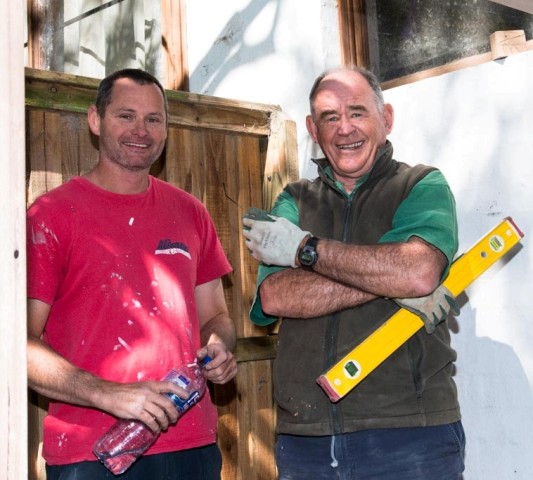 Bob Bennett, a Sydney Wildlife volunteer and the gentleman chatted with at Careel Bay in December 2012, was equal to the task. He spoke to the excellent community minded Johnson Brothers who gave him materials at cost, only the ten thousandth incidence of this, and asked his son in law, Tony Hulspas, a talented carpenter, to help him lay the foundations and construct the kind of aviary Dr Ralph described was needed.
Tony Hulspas and Bob Bennett. Picture by Michael Mannington:
On Thursday this week this completed air room for injured feathered beauties was planted out with natives donated by our own Pittwater Council. This is surely one of the best ways to celebrate National Bird Week (19-25 October 2013); a physical manifestation of many people's commitment to restoring what has been imperilled by humans and their urban development.
Dr Howard Ralph informed us he already has a Native Dove- Spotted Turtle-Dove (Streptopelia chinensis) that will soon be able to be transferred to this rehabilitation aviary to learn to fly again. Great news.
Glen, one of the Sydney Wildlife and Southern Cross Wildlife Care volunteers we spoke with on Thursday, stated Dr. Ralph cares for over 3000 animals annually, "Injured wildlife needs pain relief and treatment, just like any other living creature." Glen explained.
What is needed now to facilitate the vital work of Southern Cross Wildlife Care, and the next step, the carers who are members of Sydney Wildlife, are solar panels for the clinic at Braidwood as spiralling electricity costs are one extra worry that detracts energy from where it needs to be focused – saving our native critters.*
For those who wish to train as carers Sydney Wildlife is holding their Training Course on November 2nd and 3rd 2013 – Details HERE
The other way you can help is to simply provide maintenance funds to Southern Cross Wildlife Care to help with the purchase of medical supplies, to pay electric bills and all associated costs with saving our wildlife.
Planting native plants instead of exotics will also aid our native wildlife and give back to you as you will see how many birds and furred wildlife are attracted to your garden for the nectar, seeds and to dwell in an environment more like 'home' to them. A year round celebration of our native wuildlife is yours for the making!
Pittwater Council is again hosting a stall at which there will be a free native plant giveaway at Avalon Market Day on the 15th of November. These plants are available to all Pittwater residents until supplies run out. Just look for the Pittwater Council stall (usually located near Dunbar Park).
Southern Cross Wildlife Care Sydney Wildlife
* Pittwater Online News will provide one year's advertising or sponsorship on one of our weekly pages to any Solar Panel company or any local business for providing and installing the panels required. Please contact us to discuss details initially.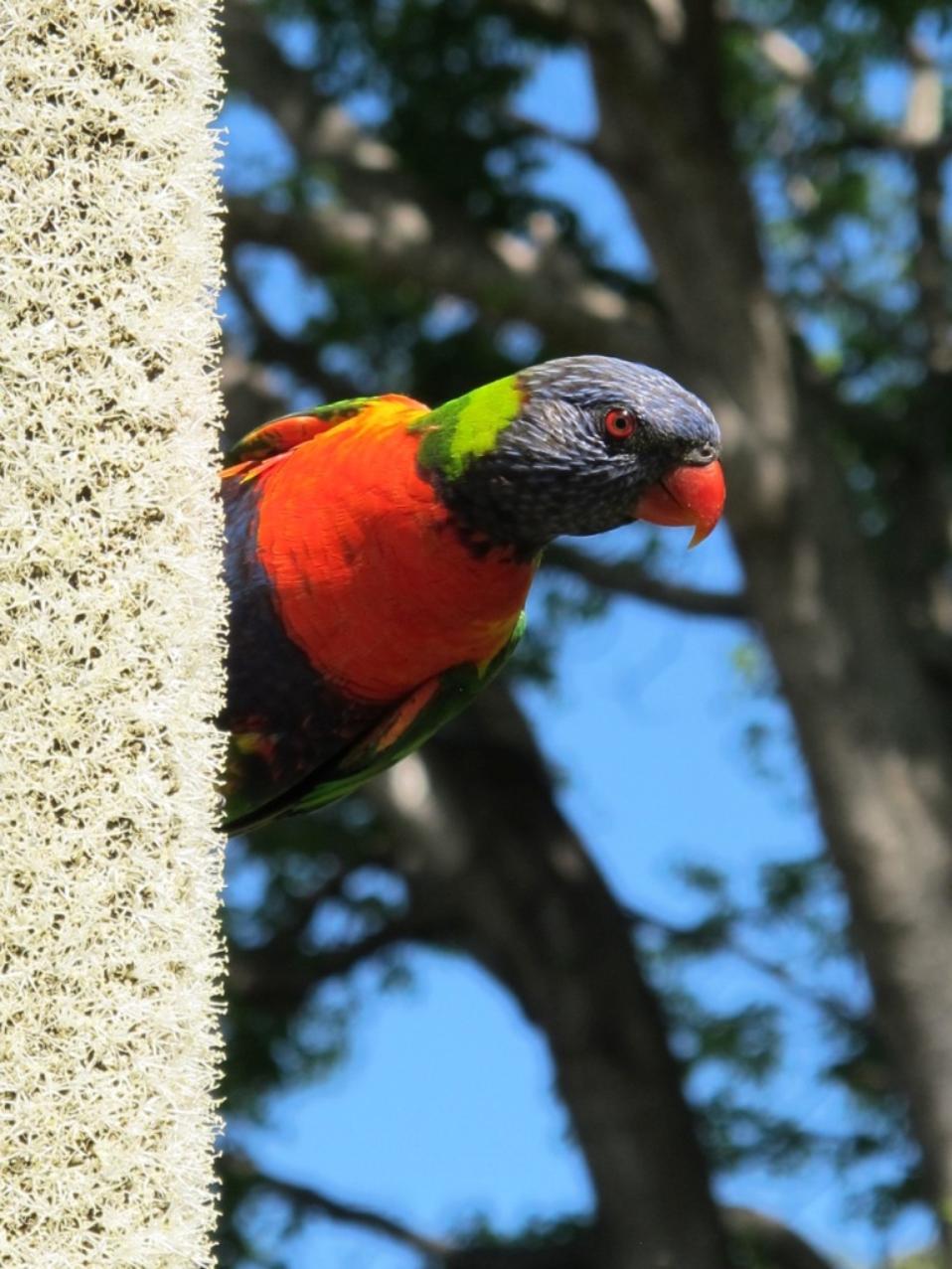 Picture by and courtesy of Geoff Searl: 25 years ago, after I lost my dear dad, Collette and I established a native garden in the front yard in his memory. We planted 2 grass trees and have just had our one flower. Its been a real treat, especially for the lorikeets. It's a gigantic 4+ metres tall and we can't believe our luck (we think Dad had a hand in it!). I enclose a photo of an especially cheeky lorikeet .
Report by A J Guesdon, 2013.