July 1 - 7, 2012: Issue 65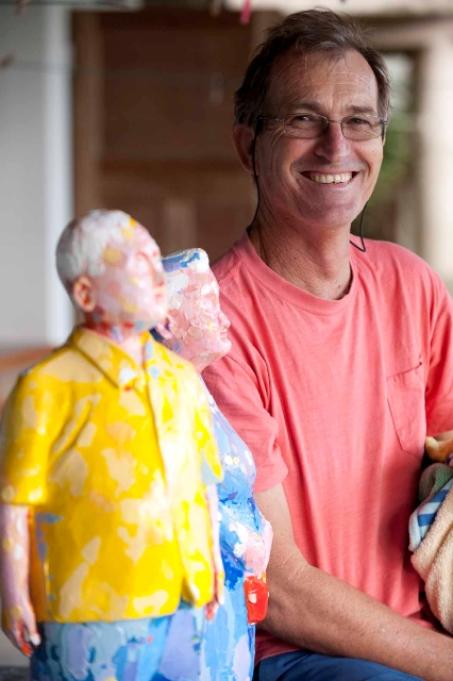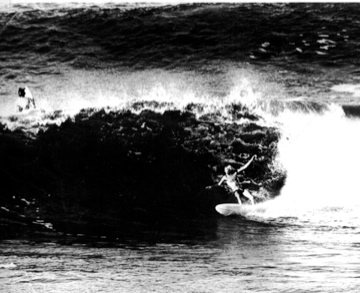 Steve, Angourie, 1970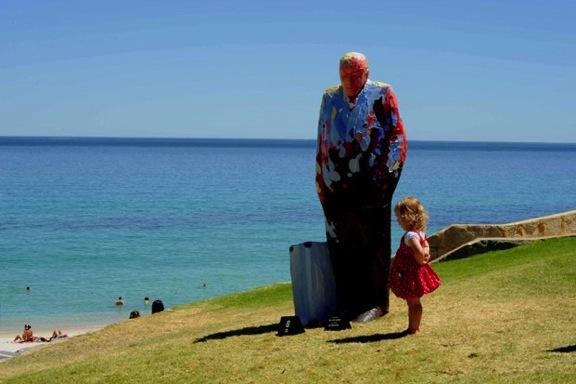 The Drifter was displayed at Cottesloe WA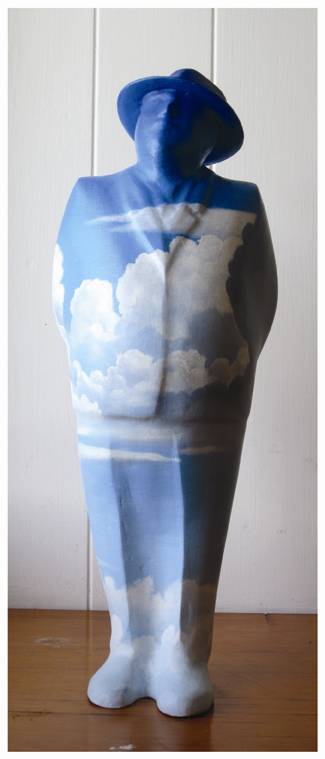 The Optimist
Stephen Marr
Our artists evoke times past, currentness and times to come. Their images and creations communicate not only their interior worlds but also essential aspects and natures of our society. Artists are those who contribute to, build and maintain an invisible but core infrastructure that speaks to and of our hearts and souls.
When asking to Stephen Marr what he thinks marks his works and nature he states he is 'an optimist', a man who invests his time, energy and essence into put the good vibes into the world.
Being a professional artist is also about working, continually, on developing yourself and your art forms. Invitations to work in parallel fields that not only financially support the creative time needed but also allow insights into other fields, ideas and may spark new works, are sought. Stephen Marr has worked as an Art Director in children and adults television (Return to Eden) and Production Designer in film (Young Einstein). He went on in this field to Direct and Design television commercials in the States.
A saltwater man, born in Yamba during the 1950's and 60's, his talent for drawing was soon apparent to his first teacher with positive encouragement of his depictions of shark surrounded trawlers heading out to fish.
After graduating from The National Art School in Newcastle, travelling through Asia, taking in all carving and painting that enriches these cultures, he returned to Australia and taught ceramics at the Technical College in Grafton. His first major exhibition was at the Newport Artworks in Pittwater and showed the range of his talent and its appeal as all paintings and sculptures created sold.
Subsequent solo and combined exhibitions have proved equally successful. In 2004, his Manly Regional Gallery show entitled, "Oceanic Phantascope", drew a response of. "The work had the effect of eliciting memories of long forgotten familiar places and events" in the visitor's book.
Mr Marr's hands have built his three homes, sometimes beginning with a chainsaw and guts only, developed true Australian perspectives in his paintings and created sculptures that have been accepted and displayed and sold in Sculptures by the Sea. His 2008 'The Drifter' was purchased by Melville Council, Perth, Western Australia, for display in their chambers. The second in the edition now resides on a client's property in the Blue Mountains, overlooking Sydney.
More of his evocative works feature on our Artist of the Month page for all of July 2012. A few insights on his work and workings:
You work in drawing, ceramics, sculpture and in paint; do you find you feel a shift within you working or a 'changing gear' sensation for each medium or do some inspirations naturally determine which medium they will best be created in?
I usually plan my work from the onset. Because my work is so time consuming the idea must justify the effort that will be exerted to realise the finished work, so after conceiving an idea I usually throw it away until one sticks. I will do some very simple line drawings. When I have this "right" I move on. I have developed a vivid imagination so I can project this quite rapidly into the execution of the artwork. Most work feeds on the work that came before so there is a constant evolution.
Who have been your main influences or your favourite artists when you aspired to be an artist, began working as an artist and now?
Most of my inspiration comes from music and the imagined imagery that comes from the lyrics or the way it feeds into and supports my personal objectives. I have spent a life time going to galleries and have enough reference and inspiration to last forever. I have been trying to discard influences to avoid being derivative. Now I want to "own" my style.
In 1991 you established Machine Age Art P/L facility for Film Design and Art. What is this facility?
This facility was set up to provide for the art department for film and advertising. It was a design space /business office/work space. I would bring in freelancers who specialised in the various mediums as required. I would subcontract to film production companies.
In Film Production work you have once again worked in a wide range of commercials, children's shows, feature film and moving into Directing as well. How has creating one vision inspired the next phase of this development of yourself and your skills' what would be the key factors you would identify ?
From childhood I could draw well with a pencil. This has stood me well over the years. I am rapid and accurate and deliver the final work directly relating to these original drawings, even when story boarding and designing for hi tech computer imagery it all came from the pencil. In the film world if you deliver what you set out to create in the first place you will be asked back to do it again. That's reliability. It's such an expensive medium that wasted time can not be tolerated and I loved the discipline of a schedule and budget.
Your first ever exhibition, knowing you were going to get to show your work ? Can you recall how you felt or what you did ?
I love exhibiting my work. It's so personal and to make a sale is somehow a justification of your endeavours, that someone will purchase something you make because it touches them personally as well. With my first show I was confident with my skills but unsure of this repartee aspect. I was trying to tap into a shared experience that we all have of childhood memories and old beach houses, the old cinemas, the seaside livelihood of my ancestors. The folks who owned the gallery were incredibly supportive and confident which carried me along. You cant underestimate how important this gallery/artist relationship is. Now my work is much simpler addressing the human condition.
You have developed and displayed sculptures in Sculptures by the Sea and shall do so again this October. What is the time frame from idea to fruition for these pieces?
The whole process from application to delivery is about 12 months. I make a Marquette or model that is put forward as my intention. It is backed up with a lot of detail and support material in the submission. You are up against a lot of very talented and capable artist so it is a serious undertaking. If successful I work on the sculpture until the delivery day. At the same time I will also be making other artworks.
Imagine you get to visit the realms of earth, air and water as a creature born for these for one day; what would you be?
One life is not enough for me. I'd like a second helping as a spirit that could inhabit all the elements, greedy for life. A gilled, flying, furry thing.
What is your favourite place in Pittwater and why?
My veranda with its northern views over the coast and sea. It brings a feeling of serendipity each day.
What is your 'motto for life' or a favourite phrase you try to live by?
I'm a hedonistic optimist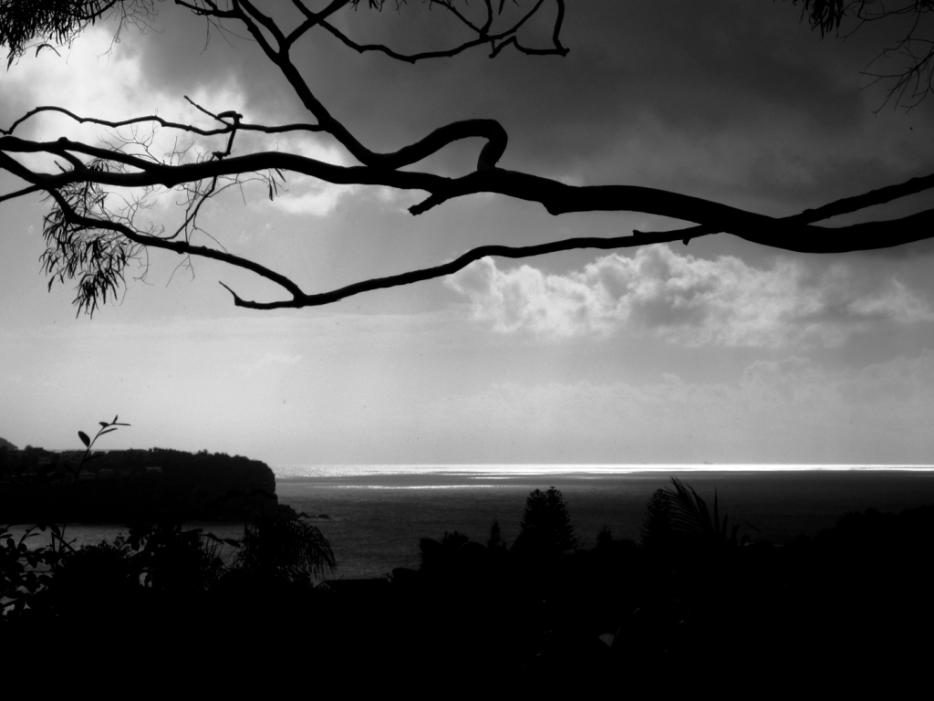 Steve Marrs "View from verandah'