February 15 - 21, 2015: Issue 202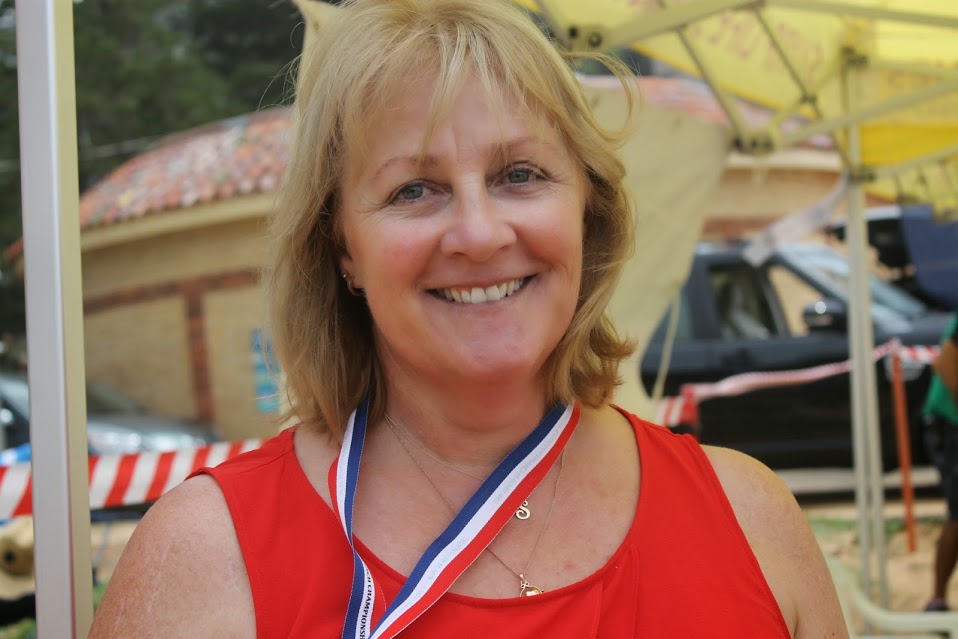 Sandy Menzies
A Clinical Nurse Specialist with the Cerebral Palsy Alliance, who has extended caring for others into her other passion, Surf Life Saving, Sandy Menzies has taken the inclusive, self-empowering and uplifting premise of the surf life saving movement forward by extending its reach through her role as Special Needs Coordinator for Surf Life Saving Sydney Northern Beaches.
Beginning as a Registered Nurse with the Moran Health Care Group, who are renowned for their focus on wellness and positive aging, and then School Nurse at Sir Eric Woodward Memorial School (DADHC), this Pittwater lady is a testament to what quietly caring and getting on with what she can do brings; wonderful results for many. And this has been a constant thread through her life.
In 2012 Doug and Sandy Menzies were awarded Pittwater Council's Volunteers Award for their contribution to the Newport Special Nippers Program over the previous 10 years, a program that is about inclusion for all children and integrating children with a disability alongside other children to help eliminate isolation and stigma.
Pittwater's MP Rob Stokes cited the Menzies family and Sandy and husband Doug in particularly during his 2009 Newport Surf Life Saving Club Centenary Address to the NSW Parliament on the occasion of the Club's 100th Year.
In 2009 Sandy was elected the first female deputy president of Newport Surf Club. On Sunday 27 July, 2014 Newport Surf Club elected Sandy Menzies as president for the 2014/2015 season at the club's Annual General Meeting, becoming the first female president of this great club in its 105th year.
As incoming President Sandy reiterated her strong advocacy for education in surf lifesaving. Although Sandy wants to see her Club continue to set high standards in surf sports, Sandy said when elected she would like to improve 'our process- es' in all areas of Education, Lifesaving and supporting the Club's Nippers.
"My plans, personally, are to introduce some First Aid skills to some of our more capable older Special Needs Nippers, with perhaps a view to looking at what awards they may be able to do going forward to the next couple of years." Sandy said.
Sandy likes to play down the fact that she has become the first female President of Newport. In fact, Sandy shrugs off much of her work's achievements and seems happiest just getting on with it, gently and quietly, perhaps indicating she has always been one of those very best of nurses and people; those that really care for others and will arrange everything around a person so they can be supported in ways barely visible to most, so that they can get on with what they do best too.
From being a mum taking her daughter to Nippers at Newport, through taking on a role as Branch officer for Lifesaving, Education and Surf School Coordinator through SLS SNB's Warriewood office, to her current work as Newport Surf Club's first female president, Sandy has been involved in Surf Life Saving for 20 years this year.
This week we get to celebrate a wonderful lady and a great community asset, one of our very best;
Where and when were you born?
I was born in the Mater at Crows Nest in 1963.
Where did you grow up – what was your childhood like?
I grew up in Forestville and lived there until I was married when I was 21. I went to Forestville Primary and The Forest High School. When I left school I decided to study nursing, which I completed at Hornsby and Ku ring gai Hospital, and was one of the last few groups that trained in a hospital
Mine was the usual childhood of the day. I lived in a cul-de-sac, so we played in the street, rode bikes, drove billy carts down the hill, and painted a tennis court on the road. We also had a pool so swimming was a large part of the day.
Which was the first beach you went on?
When I was young we would usually go to Freshwater Beach on weekends, and sometimes Long Reef Beach. I don't know if nippers was around then, but we weren't involved. In later years both of my brothers did their bronze medallions through school – one at Freshwater and one at Long Reef
How did you first become involved with surf lifesaving?
We became involved in lifesaving when my daughter Jess started Nippers in 1995. My husband was an Age Manager, then did his Bronze in 1998. Once he was patrolling all the time it made sense for me to do my Bronze as well, so I completed that in January 2000.
The Special Needs Program – how and why was that created and what is it for those who do not know?
I have worked in the disability sector for a long time, and a good friend has a child with an intellectual disability. The President of the time thought it would be a great idea to create a program to work with this community group to give them access to programs we take for granted.
As Doug and I had the experience and the Bronze Medallions we ran with the idea. It has been going now since 2002 and we were one of the first clubs within Australia to run a program for disabilities.
Initially we started it in a separate timeslot to Nippers, but about 8 years ago we took the step to fully integrate the program with the regular Nipper program. It has gone ahead in leaps and bounds and has been an incredible bonus for both our clubs and our members. We are both still heavily involved in the program as Age Managers.
Education and Safety – how can these be taken forward and expanded?
Newport has an incredible park and outdoor space and we get a lot of people from other parts of Sydney come to our beach. To be able to educate them is part of keeping them safe so they can enjoy their time. Many people are grateful if you point out why an area isn't safe, and hopefully it will help them if they are somewhere that is not patrolled.
Educating our young people through Nippers so they grow up water safe and can pass the message on to their own families.
What is the best thing about Surf Life Saving for you – A) when you began and – B) now?
When I began it was meeting new people from the community and putting back into our community. Making a difference.
Now the knowledge it has given me, an increase in my general confidence and to be able to help the community through training, patrolling and supporting members.
You have been elected the first lady President of Newport SLSC – what makes Newport unique?
Newport is unique because we are able to encompass everyone – families, young, old, people with a disability, male, female and take it in our stride. We pride ourselves on being a family club and being friendly and welcoming.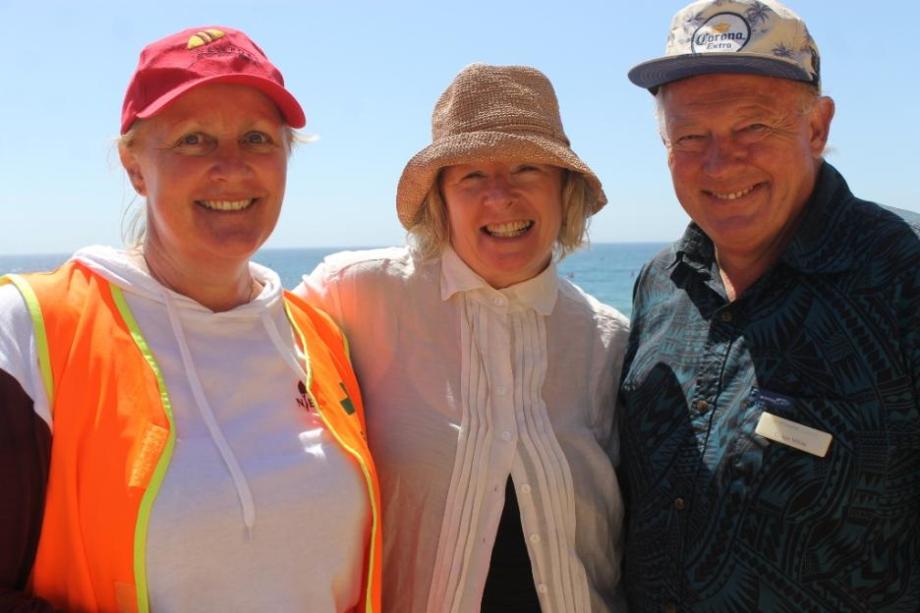 President of Newport SLSC Sandy Menzies with Mayor of Pittwater, Cr. Jacqueline Townsend and Cr. Ian White at 2015 Pool to Peak Swim at Newport.
Menzies family members all contribute to many areas of SLS – why did the whole family get involved?
I guess one in all in! Jess Kieran and Brendan have all found their own niche in lifesaving and so far still enjoy what they are doing.
What are you looking forward to doing this Summer when not on the beach?
I like to visit our friends in Port Macquarie and sit by the pool and read.
What are your favourite places in Pittwater and why?
I love driving along the Parkway on the way home from work and getting to the Pittwater sign with the lake view. We are so lucky to have the natural bushland and water – what a way to come home!
Newport Beach is a favourite – and walking up through the track to Bilgola at the northern end of Newport Beach.
Another is Palm Beach and the lighthouse.
What is your 'motto for life' or a favourite phrase you try to live by?
I don't know if I have a motto, but I believe everyone should be treated equally, and we should respect each other, our values and goals. Be kind and patient and look after each other.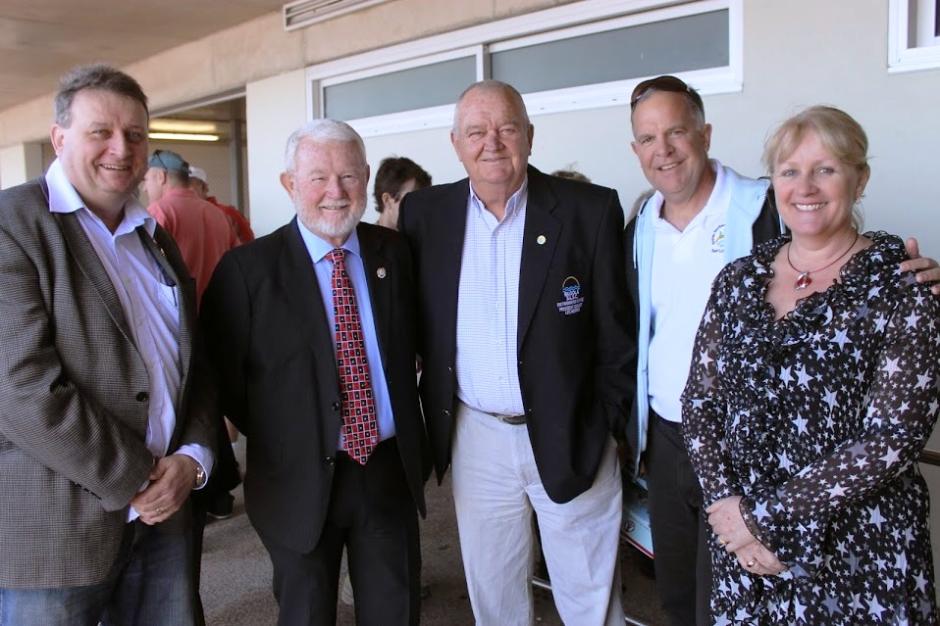 Left to right: Doug Menzies - Sandy's Husband and current SLS SNB Branch President), Tony Haven Surf Life Saving NSW President, Dennis O'Toole - Life Member of Bilgola SLSC, Steve McInnes - SLS SNB Chief Executive Officer and Sandy at the opening of the new Avalon Beach SLSC.
Previously:
Sandy Menzies Elected President of Newport SLSC
The Menzies Family Are Passionate About All They Do - from extracts of SLS SNB reports 2014
What a team this family is and what a contribution they make to Surf Life Saving on the Northern Beaches. Doug Menzies is the new President of Sydney Northern Beaches Branch and now wife Sandy has taken over the reins at Newport Surf Life Saving Club.
"I just hope I can do as good a job as what Rob Emerson [former club president] did,'' says Sandy, who becomes the first female president in the club's 105-year history.
"As much as we want to continue to do well in surf sports, we'll be looking to improve in education and lifesaving, thus become all-round.''
While Sandy leads the club, two of her children, Kieran and Jess, won Branch Awards this year ( the Raymond Matthew Brown [OAM] Radio Operator's Award and Dee Why RSL Facilitator of the Year award respectively) and youngest son Brendan helps with Special Needs program Sandy and Doug initiated in 2002 - A real surf family.
"I am very proud of my family and their achievements,'' Doug said last month. "They all do it for their own personal reasons. Each has picked up a different area of surf lifesaving that they have a particular passion or interest.
"Kieran, particularly, with the radio room, jet ski and IRB, Jess is the club [Newport] Vice-Captain, Patrol Captain and does lots of training and assessing and is a Facilitator and Brendan helps with Special Needs, trains and assesses.
"Well Sandy [wife] speaks for herself. All have found a niche within Club life.''
Sandy and Doug started the Special Needs Program back in 2002. "That has been one of our greatest achievements in terms of making surf lifesaving available to those with disabilities who traditionally haven't had an opportunity to take part in such a great culture,'' says Doug.
They also helped South Curl Curl SLSC set up a program.
"I have worked with SLS South Australia to provide some advice in relation to the program we ran,'' Doug said recently.
Husband Doug, who stepped into the Branch President's role vacated by former President David Murray at the Election Annual General Meeting on May 6, has also served at Newport SLSC as President for five terms.
He is a Life Member who has spent 14 of his 20 years at Newport on the Committee.
Doug stood down as the Club's Deputy President last year to take on the role of Deputy President of the Branch, replacing Christine Hopton when she became an Independent Director of SLSA.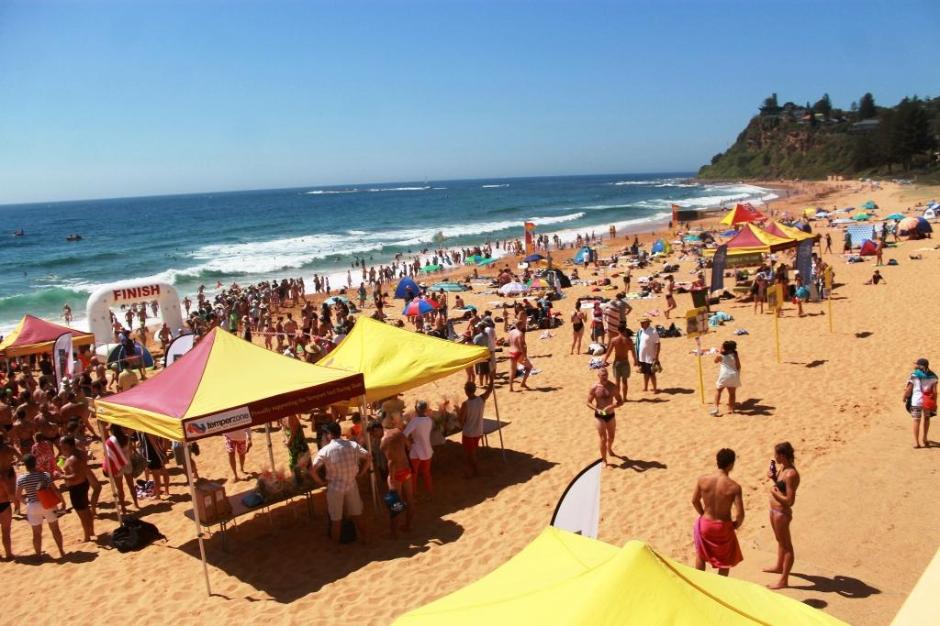 Copyright Sandy Menzies, 2015.