January 18 - 24, 2015: Issue 198
Ropers Lars Scott Brown Q.C.B.C. (Buster) Memorial Service - Tribute to a Waterman Extraordinaire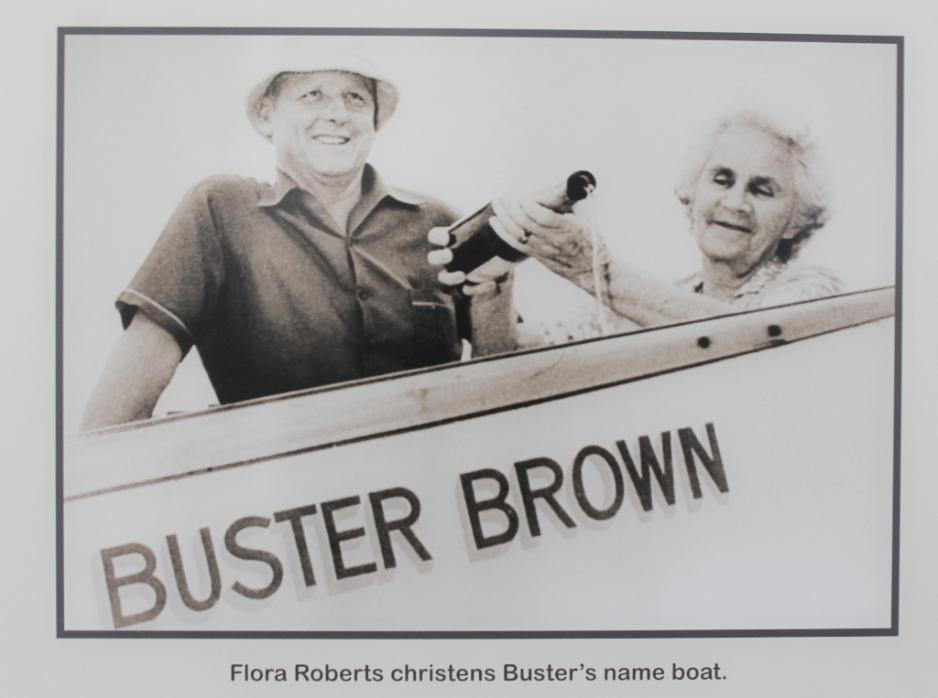 24 November 1930 - 25 December 2014
On Sunday January 11th 2015 hundreds of people gathered in South Curl Curl SLSC to pay homage to a gentleman who may have had as his life's mission 'safety at sea'. Retired Water Police, surf lifesaving members from North and South Curl Curl, Marine Rescue Volunteers (formerly Royal Volunteer Coastal Patrol) Buster's three sons and daughter, Heather, Eric, Alan and Jeffrey, grandchildren, and many friends packed South Curl Curl surf club to share tributes and raise a glass to the man nicknamed 'Buster'.
Pittwater retired Water Policeman Brian Friend OAM, Q.C.B.C., who worked beside Roper Brown in his capacity as the man who fostered police rescue work at Pittwater and out to sea,
We thank Roper's family for allowing us to record this small tribute to a giant of the local waters and all those who gave us their own speeches to make this permanent record:
Brian Friend OAM, Q.C.B.C.:
Good afternoon Family, friend's and acquaintances of our great mate Buster Brown (Q.C.B.C.).
My name is Brian Friend and I have been requested to act as sort of an MC for the proceedings here today to recognise a man who was a legend in our lifetime, not only at this club but where ever the sea was involved.
The proceedings here today will be sort of informal. Buster always stated "I don't want any suits worn at my funeral, just people with shorts and thongs" which pretty well sums up the man. He also stated "I don't want any Assistant Commissioner standing up here telling you how good I was BUT, didn't even know me". BUT he did request a guard of honour from his beloved Water Police together with his RVCP mates.
You never really know about a person until they have departed this life. In 2012, I sent an email to my old mate Buster stating……Dear Roper, I have often been asked "You know Buster, what's his history?" and I have always replied "I don't have enough hours in the day to tell you" BUT, when I sit down and think, there are a lot of things that I don't know about you. Today, here, in his beloved Surf Club you will hear just a small 'episode' of the Life and Times of one, Buster Brown Esq. Legend, Hero, Quiet Achiever and all round good bloke.
Mates who were closely involved with this man and knew him will be speaking about their thoughts and what effect he had on them.
I will now introduce you to Buster's family, Heather, Eric, Alan and Jeffrey, his children. Eric will now speak on behalf of the family.
Eric Brown:
'Dad
My Dad Roper Lars Scott Brown is a man that when I compare him with other fathers, stands amongst the best. He instilled in our family the correct traits and virtues to be a valued part of our great society. He was the guy that came home from a hard day at work and still was ready for me to jump on him and have a wrestle; he taught me important things like an indian death lock, sleeper hold and step over toe hold.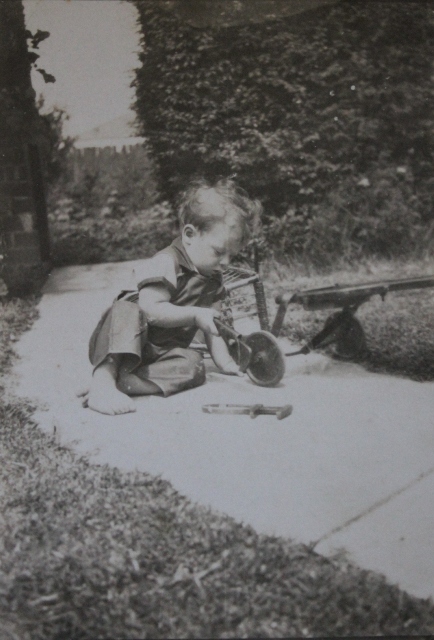 He was born in Willoughby and raised in Revesby and then Lidcombe, the eldest child of Eric Winters and Dorothy Elsie Brown. He joined the surf club at 15, joined the police force a couple of years later then realised that it was best to live in Harbord. He married and settled down with Agnes in 23 Evans St. Not long after Alan soon appeared then Heather then me then Jeff. He had a seven year itch with all of us boys where we are exactly 7 years apart to a month. When we rang him on the phone we boys had to identify ourselves with a number; Alan -1 me -2, Jeff -3.
From the beginning of my life he would bring me down here, this place was a second home in summer. He would swim with me out the back of the surf on his shoulders when I was around two years old. He also was my first coach in soccer, he could kick the ball the length of the field; I did not realise at the time it was a mini field.
He supported everything that we kids did, Jeff with cars, bikes and engines, Alan also with the surf club, Navy and motor bikes. Dad was instrumental with the start of Nippers in the early sixties, Alan being in the initial group. Heather loved travelling and they shared a trip to Europe where they had an audience with the King of Sweden. This was one of many Royal figures, heads of state and leaders that he met in his lifetime.
Dad would always take us all on a holiday either to the relatives or to some remote place, load us all in the car and away we would go. Sometimes the car would break down but he could always fix it and away we would go again.
During school holidays I would go up to Church Point and hang with him while he was working on the Police boat Falcon which always was having maintenance done on it. I caught some good bream whilst it was moored at Mitchell's Marina. On a day off once we went out in a small boat around Church Point and he would get us to pull up his fishing lines. On one occasion there was a great big blue swimmer crab about 2 and a half feet long. I was not going to pull that up so he did; it crawled into the small boat I went as far up to the bow as you can go, screaming but before you knew it he got the cork reel and line tied it up as quick as you like, just like a cowboy ties up cows, very impressive!!!
Another time we were on a trip down the south coast where dad was an official in the George Bass surfboat marathon. Near Merimbula we broke a windscreen, it shattered right across whilst we were on the highway. He casually smashed through the broken glass and kept driving as though it happened all the time
I got to know a lot of the east coast of New South Wales and Queensland because of our travels with him finding many great beaches and other unique places. A few years ago Heather, Alan, Dad and I shared a camper van across the Nullarbor, to go to Alan's daughter Sharon (Dads oldest Granddaughter) wedding. He was a bundle of knowledge he could still vividly remember where they stopped when they travelled across the Nullarbor to go to Scarborough beach for the 1951 Australian champs.
Coincidentally, whilst at Scarborough surf club for the wedding reception, on the wall was a poster advertising the'51 Aussie championships where the South Curl Curl crew was in the picture. They came 2nd that year but won the Aussies the next season '52 in Wollongong (the first Curly crew to do so).
For all you boaties out there Dad would always say that the double ended surf boats were better than today's boats because they would sit in a wave better. They also rowed with a style called the 'Curly chop', where they used mostly arms. They would also row to a carnival if it was in the Sydney region.
If you look at some of the pictures in the presentation you will notice that there is one where he is on the roof of the surf club doing a handstand right on the edge; do not try this at home! As a youth he trained as a gymnast before joining the surf club so could walk on his hands for a considerable distance.
He also told me that they used to ride their push bikes from Lidcombe to South Curly. I found out years later that they only did this once. He was one for not letting any little facts get in the way of a good story; I hope you all can share many other memories and stories like this today
He got the nickname Buster because of a neighbour when Nana Brown was pregnant. The neighbour said he was ready to bust out at any moment and it stuck. This is one version and there are many other versions on how he got this name. Let us know if there are other explanations.
Not many people actually knew his real name. For instance a local Northern Beaches paper, after he was given the Queens Commendation for Bravery, used Busters name in the headline and then on another rescue occasion story the headline read 'Buster does it again'. Even when he was living in Gympie and got a hole in one at the local course they put it in the local rag, the Gympie Times, as 'Buster'.
He was put on Police duty for the Rolling Stones when they came out on tour in the seventies. He took two pairs of ear plugs. He wasn't a fan of rock music, Mario Lanza was more his taste in all things musical.
It was about this time that he became a trendsetter way beyond his lifetime when he was the first to wear the bucket hats which are very popular today. One funny thing that would go on in our house was when he would ask Mum to cut his hair and she would ask 'which one?'....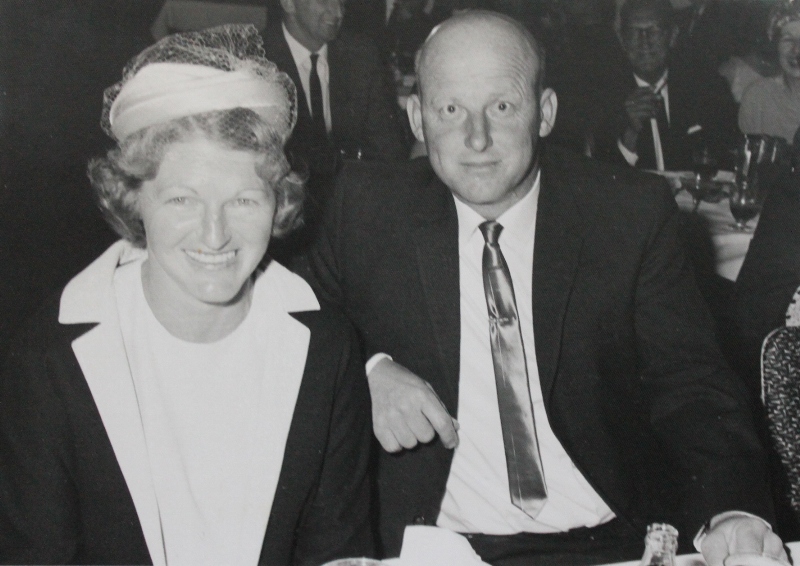 with wife Agnes.
When we got into trouble he would always help us, if we needed a kick up the bum for doing something stupid or wrong he would let us know in no uncertain terms, but he would still back us to the hilt through thick and thin. As teenagers we would not always do things that he would approve of but once I married and had children I really appreciated his advice and respected him so much more and realised how much he was devoted to all of us.
He could sum up a situation quickly and react accordingly; he would call a spade a spade and see through crap. To me he is and will always be my Hero.
Thank you very much.
___________________________________
Sth. CURL CURL SLSC : His old mate and sparring partner Charlie Chicka Kuhn will now speak on the early days of the South Curl Curl SLSC and his times with Buster.
Charlie Chicka Kuhn:
ROPER LARS SCOTT BROWN "Buster"– can you imagine a better name for a bloke of the sea? He started off on the water, in canoes, on skiffs and his father's yacht and then one day a mate at work said 'come down the surf club on Saturday – have a look at the club'.
So he did the trip from Lidcombe – got to Wynyard, caught a ferry, got on a bus at Manly and said to the conductor; 'can you put me off at Curl Curl beach?'
He was put off at Curl Curl, walked through the doors and met Bruce Buckingham here and George Crawley, who took his sixpence off him, which was his fees then, and they gave him a lovely weekend, he stayed up in the shack that we had up the back here.
While on his way home again, waiting for the bus, he said to someone 'I was looking for my mate Rod Taylor' ; 'Rod Taylor – he's in North Curl Curl – you've come to the wrong surf club' – and so we got Buster by accident.
Buster was a Lidcombe boy who joined South Curly on 17 November 1946 and earned his bronze on the 6th December 1947. He took to all activities around the club with great zest, with many Club championship placings in surf and beach events coming to him. He was also very particular about patrols, 100% attendance being his normal record. Buster's attitude of doing 100% of his patrols lasted for all of his time at the club.
The Honour Blazer was awarded to him in 1951-52.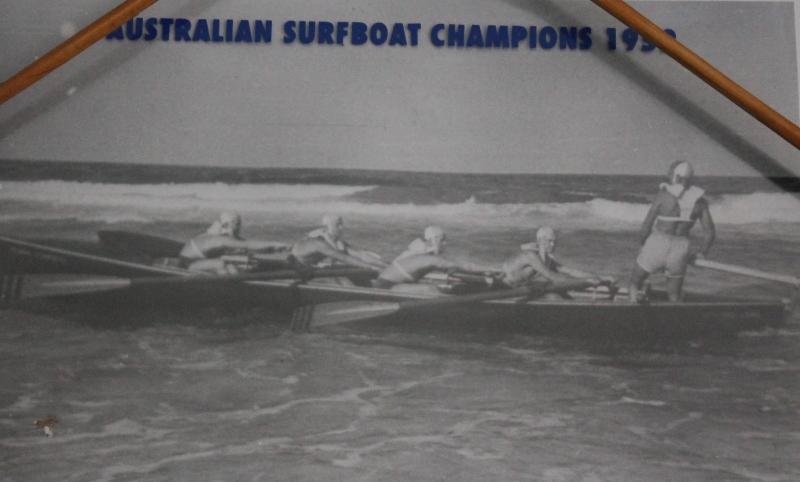 South Curl Curl – Boat Crew: Sir Adrian Curlewis was Patron of the crew's Jack Wilson surfboat.
However, Richie Robert's dulcet tones had enticed him to the boating world and he rowed in junior and senior crews until he won his first Australian gold medal at Wollongong in 1952.
But this was just an early step in his career. He took on just about every job in the club, from Gear Steward to Power Boat Chairman and as even a successful beach sprint coach- manager.
Buster was a policeman on motorbikes before he transferred to the Water Police in Sydney Harbour and then to Pittwater and it was from there that he and his crew were called out in June 1974 to perform the incredible rescue that is recorded elsewhere in this room and for which they were justly commended. His crew mates were Gordon Wellings and Brian Friend, and this day they really needed their confidence in each other. And of course the boat the Falcon was a very important part in that rescue.
I asked Buster later on about that rescue and he dsaid the wind was 102 miles per hour and every wave was 40 foot and breaking.
His boating interests were further directed when he gained his Jet Rescue Boat and Inflatable Rescue Boat Bronze Medallions in 1975 whilst he was on the Executive of NSW State Centre, holding the positions of Power Boat Officer for NSW and Mobile Services Officer.
Buster was here commissioned with Col Laughlin to devise a propeller guard to be standard equipment for all surf club IRBs in the State.
For all this work he was made a Life Member of South Curly Surf Club, Manly Warringah Branch of SLSA and the Jack Wilson Power Surf Rescue Group. Another interest was the construction of a viable two-way radio system for the water police boats.
Obviously safety at sea has always played a major part in his life. He filled positions from deck hand through to National Training Officer with the Royal Volunteer Coastal Patrol and was awarded with Life Membership of that group and is an honorary member and honoured guest at every boating club in Pittwater. The Water Police Base at Mona Vale is named for him.
Record of Achievement
Bronze Medallion 1947
Silver Medal, National Championships, Scarborough, WA, 1951
Gold Medal, National Championships, Wollongong, 1952
Senior A Boat
Honour Blazer 1952
Many positions held in Club in all activities from Gear Steward to Power Boat Director
Life Member South Curl Curl SLSC 1975
Life Member Jack Wilson Power Surf Rescue Group
Life Member Manly Warringah Branch SLSA
Member NSW State Centre SLSA
Life Member Royal Volunteer Coastal Patrol
Queens commendation Medal for Bravery 1974
NSW Volunteer Coastal Patrol "Seglinda" Trophy to Buster and his crew of Falcon for most efficient ship and crew of year 1974
Police "Award of Courage' for "the most incredible act of bravery by Water Police Personnel placed on -record" 1974
___________________________________
David Harrison (Life Member) will now speak on behalf of the members of the 'old' Royal Volunteer Coastal Patrol (now the VMR and Marine Rescue NSW - divisions) will now speak on the times that Buster was a member from the early 60's.
This is still a volunteer organisation and when I was in the Water Police, we couldn't do without these guys – they save the public so much by doing rescues when we are tied up rescuing people elsewhere. These are the people that jump in and help out. At the conclusion of David's address they have a special presentation.
David Harrison:
The first time I met Buster was when I'd just joined the organisation in 1974. my seniors skippers, whom I revered as being a lot more knowledgeable, were sitting in a corner talking about these three fantastic Water Police who had done a rescue at sea. It was in listening tot hem that I realised that this fellow called 'Buster Brown' was something pretty special.
When I was talking with Buster about him being brought into Pittwater to look after the waters aboard the Falcon he spoke of being alone at first and looking around for somebody to train to help him. He began with some of the local police and then looked around at who was at Church Point as well. he saw a lot of our volunteers alongside these men, many of whom had vessels of their own, many of them 40, 50 and 60 feet in length and thought they could be useful. When he discovered that half of them were ex-Navy or ex-Mariners he forged a union with the Royal Volunteer Coastal Patrol (RVCP) that is still working today with our Broken Bay Water Police.
If there was anything wrong Buster was always in the middle of it. if he called you and said 'I need crew' – instantly crew were made available. He was one of those men who when he said something you listened and jumped to it because he knew what he was doing and what he said to do was right.
During the period he was part of the RVCP and the Police he forged a very close relationship with the crew of the Maranui vessel and Sandy Mackinnon who became OC of the RVCP.
Buster joined this crew when he retired from the water Police and became an integral member.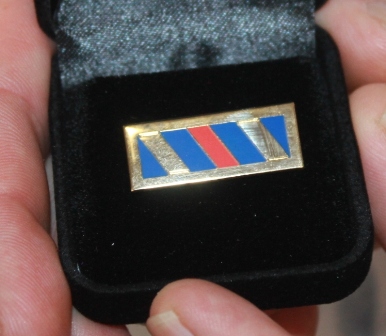 I was fortunate to be president when Buster was presented with a citation for Life Membership – an honour he was very proud of. When we went and saw him last September he proudly showed us his numerous other citations and atop all of these were two crossed paddles from South Curl Curl SLSC as his prized possession.
Buster was one of those fellows who always had a bit of a twinkle in his eye and had a sense of humour that would come through constantly. He would have saved hundreds and hundreds of people on the water during his career – people don't realise that if somebody doesn't go and give them a tow when they're in trouble they would probably end up on the rocks or further out to sea, in danger.
To me, Buster Brown is the father of Marine Rescue in Broken Bay – the effort he put in, the work he did in training people and putting everything together so vessels and crews were available to assist others, always backing things up with his own expertise, we would not have succeeded in having what we do have today.
This area has lost one of the most skilled and best watermen on the coast of New South Wales. He is certainly a man we won't ever forget.
In closing Keren Muir-McCarey of Marine Rescue Broken Bay and I would like to present Buster's Life Membership award to the family – the pin for which was not ready at our celebration of Roper's contribution late last year.
_____________________________________
WATER POLICE Brian Friend: I will now speak about his Police career although I will only touch on his Water Police era
Roper Lars Scott (Buster) Brown (QCBC) - 'LEGEND of the SEA'
I sat down the other day with Buster's family, his daughter The Duchess of Dee Why (Heather), Eric the Valley Football Legend, Allan the West Aussie Wanderer and Jeff the Motor Cycle Maniac to discuss what we were going to do to celebrate the life of one very important man. We had three venues that came to mind, 1. Was a Volunteer Marine Rescue Base, 2, Was a NSW Water Police Base and 3, Was the South Curl Curl SLSC where he first made his mark as a true legend. As you can see here today, this is the correct venue to express our love for a man who was known throughout the Surf Life Saving and Marine Rescue Organisation as a true champion of the seas. What this man did'nt know about looking after his fellow man, you could write on the back of a postage stamp. His life in depth was portrayed in Alison's 'Pittwater On Line News' interview in March last year. I will now relate to you my story of a man I admired right until the day he passed away.
I first came across this man they call Buster many years ago at a little Water Police Station at Church Point, Pittwater. At the time I was stationed at Mona Vale Police Station with a group of coppers that were versatile in the fact that not only did they 'protect and serve' on the Peninsular, they had a launch that also patrolled and protected the Broken Bay area.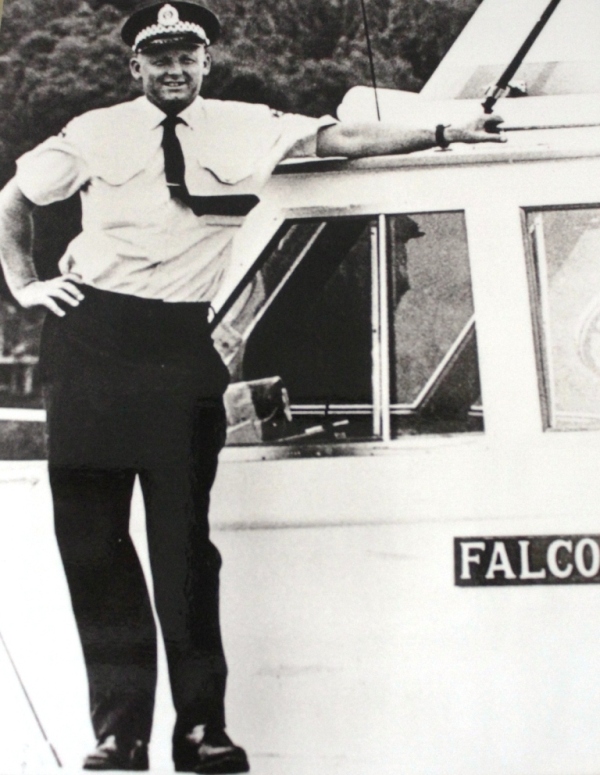 In March, 1969 a man appeared on the scene at Mona Vale Police Station and informed all and sundry that he was the 'be all and end all' of boat persons and that he was selected to be in charge of the good ship Vanguard, a 23 foot timber launch with a single V8 motor. This was a part time duty for Police at Mona Vale as every day a different crew were selected to utilise this vessel to patrol and serve the community.
Buster, in his own professional way, decided to change the way of this 'raggedy bunch of blokes' into a professional marine unit that would be the envy of all Water Police around the world. First he made extensive inquiries into what man power he had at hand, then, once selected, they would be extensively trained into a finely tuned marine unit. Part of the selection process was to utilise the 'talents' he had at hand. He was an Australian Champion in Surf Boats and had rowed for his beloved South Curl Curl Surf Club and had won many titles in this field so it was no surprise that he chose men who had knowledge of the surf and were involved in surf boats and surf clubs. John Dunbar rowed for Mona Vale, John McNamara rowed for Warriewood and I rowed for Avalon Beach and was an Automotive Engineer by trade. Gordon Wellings was an ex cadet so he was the 'legal eagle' of the team and John Gibbons was a former Fitter & Turner & Engineer.
With this team he spent many months finely tuning his men that earn't respect where ever they carried out their duty. He also stated that in his mind, it would take at least 2 years for us to sit for the exam to qualify us as a professional Water Policemen. I must say at this point, this man was the undisputed 'king of the seas' and what we learn't over a period of time could not be achieved by any other person I know than him.
When we went to sea to try and rescue the yacht Votan off Tuggerah in 1974, if he hadn't been at the wheel the whole time, I do not think I would be here today to talk about this mission. The men here today are part of that group that kept people safe on the water BUT, it was the leadership of this man that simply, cannot be explained to the average man for what he has achieved. That made us very proud to be part of his crew.
Together with the Royal Volunteer Coastal Patrol, the Australian Volunteer Coast Guard, Newport SLSC 'Bartender' power boat crews and Warringah Surf, we formed a great liaison and we worked tirelessly to protect the area off Broken Bay between Long Reef and Norah head and 200 miles to seaward. There are many 'missions' that we worked on together and most of them ended up with the right result. With a crew as small as ours we relied heavily on our volunteer mates and over the years, became very good friends, both at work and socially. This was something that Buster instilled in us right to his retirement. The respect that this man has throughout the community can never be judged by monetary standards as there would not be enough money in the world to pay him.
One of our work mates, David Ritchie stated, 'If we take a leaf from his book and follow the instructions, this world would be a better place'.
There are men that typified Busters approach and ethics in Water Police duties, Sans Souci had Keith Towers, Sydney had Hiliary Hansen and Broken Bay had Buster. I have worked with all three and would rate Buster slightly in front because of his Surf Life Saving skills. Some ex Wateries here today may dispute this but that is the way I feel. They were all great men in their chosen profession and we admire them all.
When you go through life as I have, I place people in three categories, acquaintances, friends and mates and Buster certainly fitted 'close mate'.
Brian Friend (OAM-QCBC)
Former Sgt of Police
_________________________________
Friendly also recalled that Buster's stomach and chest were bruised from continually having to restart the police launch during the rescue of people from the Votan
At the conclusion of the Service a group of South Curl Curl SLSC Surfboats formed a 'Guard of Honour' out to sea from the Clubhouse, with family members aboard, who spread Roper's ashes off the beach that was one of his favourite places in the world and what Roper called his other home. A Police Launch was stationed off the beach during the spreading of the ashes as a mark of respect to a wonderful man who typified true Water Police tradition. Marine Rescue vessels BB 30 from Broken Bay and MH 30 from Middle Harbour were also stationed off Curl Curl at the beginning of this celebration of a service filled and family based gentleman's life.
When we visited Buster last year to chat and go through his wonderful collection of memorabilia, part of what we discussed was putting some of the many aspects of this vast collection into some form of record – his carvings in miniature of surfboats, his time in contributing to volunteer rescue, as much as going looking for sapphires formed part of a far too short day with one of our favourites.
The first of these we ran as a request from Buster himself as: The Evolution of Powered Surf Craft In New South Wales by Roper Lars Scott Brown Q.C.B.C.(Buster)
Don't be too surprised if you see some more of all we talked of appearing in these pages in the future.
Thank you, sir, for all you did for so many for so many years – may you have fair winds and following seas … even after we meet again…
____________________________
Pittwater Online Photo Album of Roper Lars Scott Brown Service for Family and Friends HERE
____________________________
Previously:
Roper Lars Scott Brown Profile Q.C.B.C
A Cruel Sea by Gordon Wellings Q.C. B.C.
Brian Friend - Profile
Broken Bay Water Police - History
Broken Bay Marine Rescue - Volunteer Coastal Patrol - History
Roper Lars Scott (Buster) Brown - 'LEGEND of the SEA' by Brian Friend, OAM-QCBC - On Friday 7th of February, at the Point Clare Marine Rescue Base at Gosford, RLS 'Buster' Brown was presented with a his 'Life Membership' and 'Long Service' awards to the RVCP (now Volunteer Marine Rescue). Brian Friend, OAM, a fellow Retired Water Policeman was in attendance and shares an insight into one of Pittwater's finest.
The Story of the making of the paintings illustrating the "Falcon" rescue of "Votan" and her crew – Sunday 9th June 1974 by Christine Hill
The Evolution of Powered Surf Craft In New South Wales by Roper Lars Scott (Buster) Brown Q.C.B.C.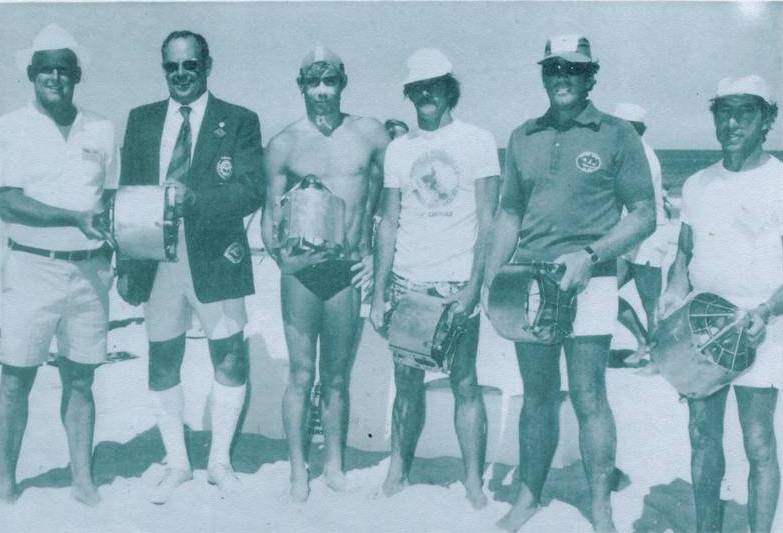 United Permanent Propeller Guard Presentations (left to right): Buster Brown (State Centre), Col Laughlin (Thirroul), M. Morgan (Whale Beach), Michael Coleman (Nambucca Heads), John Fallon (Soldiers Beach), Ernie Stephens (Wanda).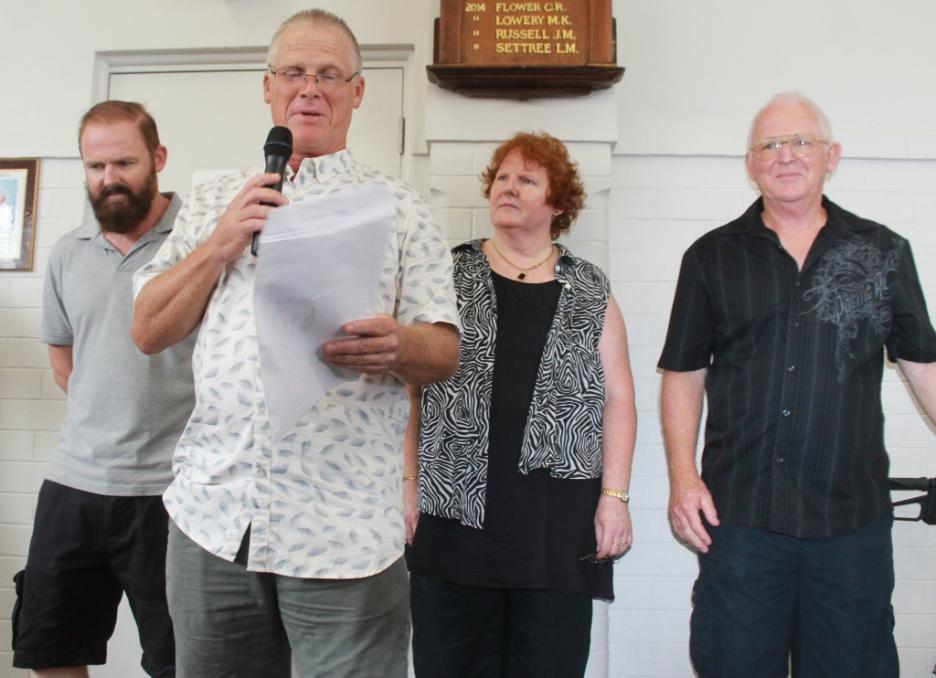 Roper's children: Jeffrey, Eric, Heather and Alan.