February 9 - 15, 2014: Issue 149
Roper Lars Scott (Buster) Brown
'LEGEND of the SEA'
On Friday 7th.February, 2014 at the Pt Clare Marine Rescue Base at Gosford RLS 'Buster' Brown was presented with 'Life Membership' and 'Long Service' awards to the RVCP (now Volunteer Marine Rescue). Brian Friend, OAM, a fellow Retired Water Policeman was in attendance and shares an insight into one of Pittwater's finest.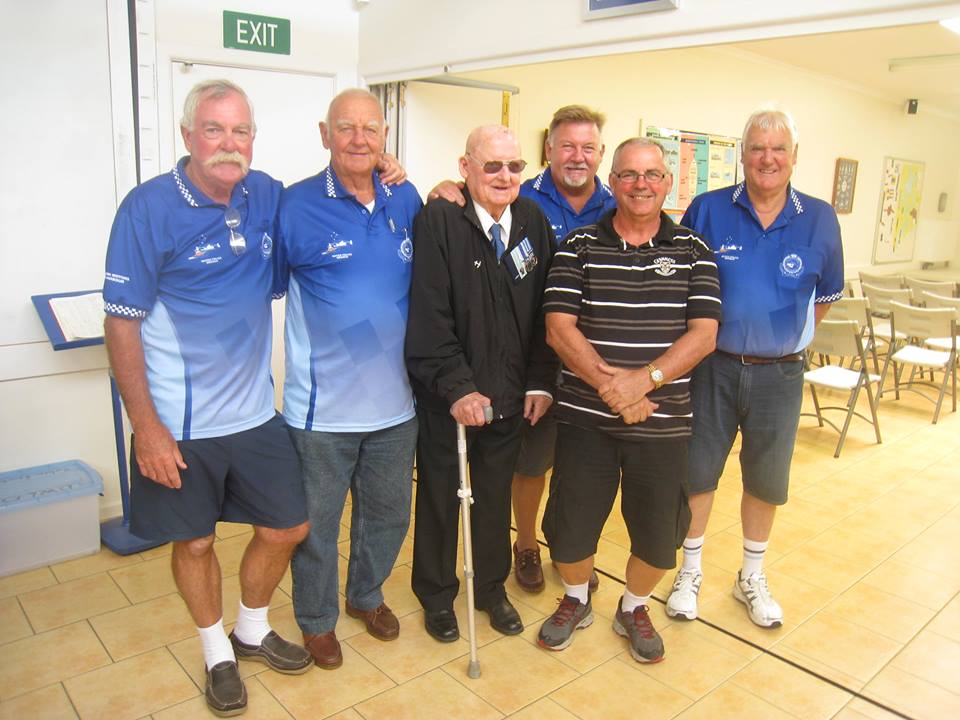 Retired Water Police celebrate the recognition of RLS 'Buster' Brown on his 'Life Membership' and 'Long Service' awards to the RVCP (now Volunteer Marine Rescue) at Pt Claire VMR base at Gosford.
Roper Lars Scott (Buster) Brown
'LEGEND of the SEA'
I first came across this man they call Buster many years ago at a little Water Police Station at Church Point, Pittwater. At the time I was stationed at Mona Vale Police Station with a group of coppers that were versatile in the fact that not only did they 'protect and serve' on the Peninsular, they had a launch that also patrolled and protected the Broken Bay area.
In March, 1969 a man appeared on the scene at Mona Vale Police Station and informed all and sundry that he was the 'be all and end all' of boat persons and that he was elected in charge of the good ship Vanguard, a 23 foot timber launch with a single V8 motor. This was a part time duty for Police at Mona Vale as every day a different crew were selected to utilise this vessel to patrol and serve the community.
Buster, in his own professional way, decided to change the way of this 'raggedy bunch of blokes' into a professional marine unit that would be the envy of all Water Police around the world. First he made extensive inquiries into what man power he had at hand, then, once selected, they would be exhaustively trained into a finely tuned marine unit. Part of the selection process was to utilize the 'tallents' he had at hand. He was an Australian Champion in Surf Boats and had rowed for South Curl Curl Surf Club and had won many titles in this field so it was no surprise that he chose men who had knowledge of the surf and were involved in surf boats and surf clubs. John Dunbar rowed for Mona Vale, John McNamara rowed for Warriewood and I rowed for Avalon Beach and was an Automotive Engineer by trade. Gordon Wellings was an ex cadet so he was the 'legal eagle' of the team and John Gibbons was a former Fitter & Turner & Engineer.
With this team he spent many months finely tuning his team that earned respect where ever they carried out their duty. He also stated that in his mind, it would take at least 2 years for us to sit for the exam to qualify us as a professional Water Policemen. I must say at this point, this man was the undisputed 'king of the seas' and what we learnt over a period of time could not be achieved by any other person I know than him.
When we went to sea to try and rescue the Votan off Tuggerah in 1974, if he hadn't been at the wheel the whole time, I do not think I would be here today to talk about this mission. The men here today are part of that group that kept people safe on the water BUT, it was the leadership of this man here today, being rewarded for what he has achieved, that made us proud to be part of his crew.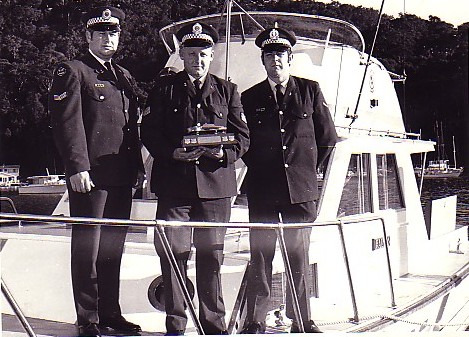 Picture: Police Launch Falcon crew (from left): Senior Constable Gordon (Boot) Wellings, Sergeant 3rd Class H. (Buster) Brown, Constable First Class Brian (Friendly) Friend. Image courtesy Brian Friend.
Together with the Royal Volunteer Coastal Patrol, the Australian Volunteer Coast Guard and the Newport SLSC 'Bartender' power boat crews, we formed a great liaison and we worked tirelessly to protect the area of Broken Bay. There are many 'missions' that we worked on together and most of them ended up with the right result. With a crew as small as ours we relied heavily on our volunteer mates and over the years, became very good friends, both at work and socially. This was something that Buster instilled in us right to his retirement. The respect that this man has throughout the community can never be judged by monetary standards as there would not be enough money in the world to pay him.
On behalf of your ex work mates, we congratulate you on your achievements and thank you for your leadership and friendship.
Brian Friend (OAM-QCBC)
The Falcon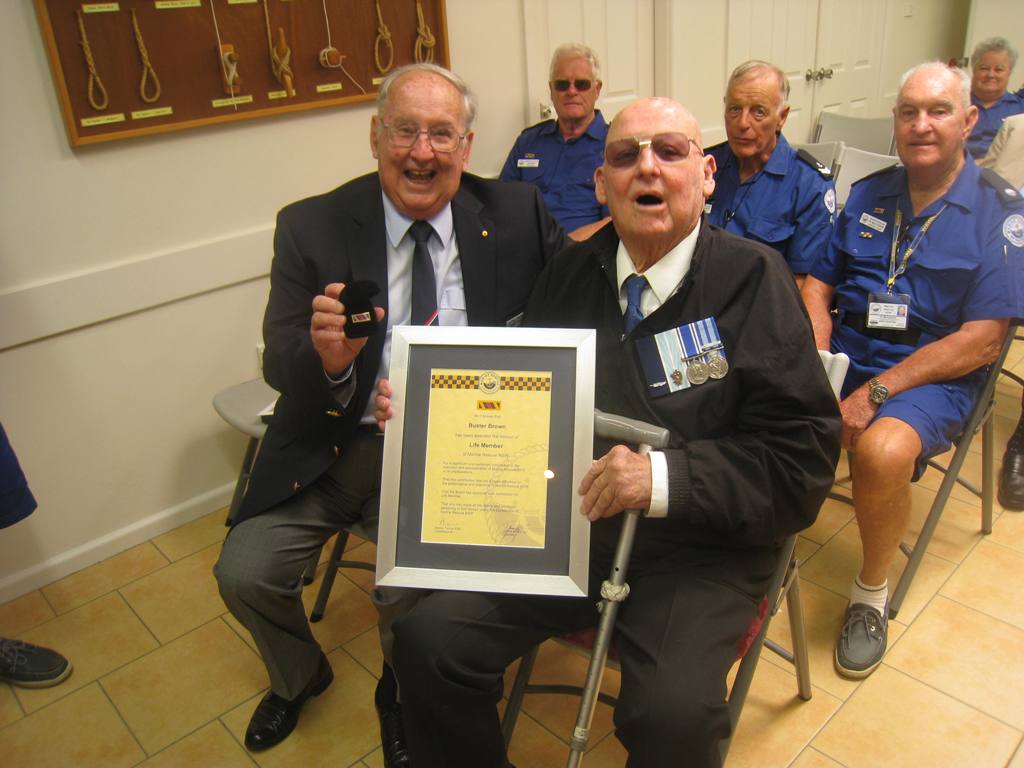 Mike Stringer with 'Buster'Brown - with 'Long Service Medal'.
Words and Pictures by Brian Friend, - OAM, Q.C.B.C., and A J Guesdon, 2014.
Royal Coastal Volunteer Patrol Shield - Broken Bay.