March 11 - 17, 2012: Issue 49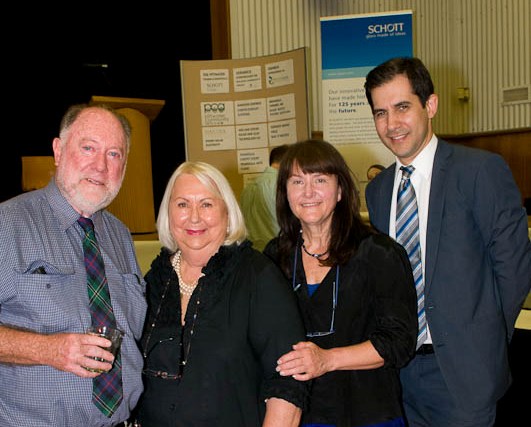 Mayor Harvey Rose, PCA President Lorrie Morgan, Chrissy Holland and Gonzalo Muslera of Schott Solar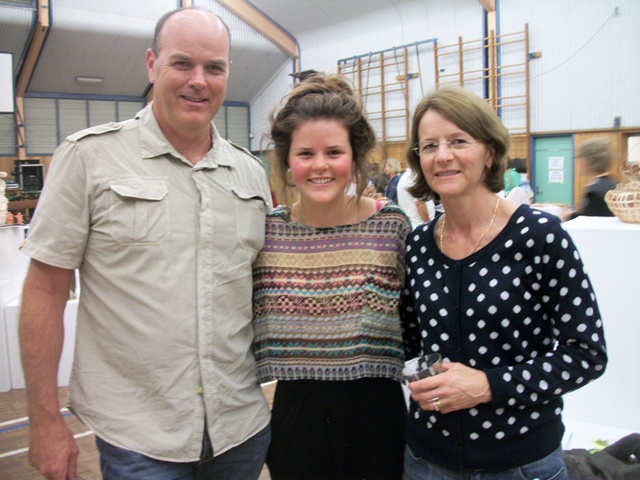 Andrea McDowell with her mum and dad from Point Clare, Central Coast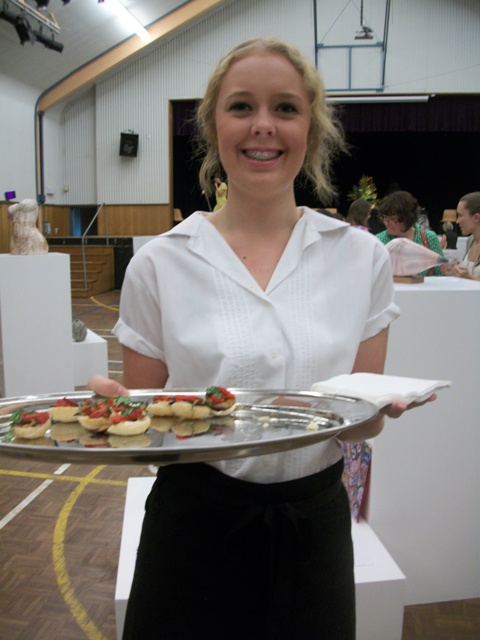 Katie Gurman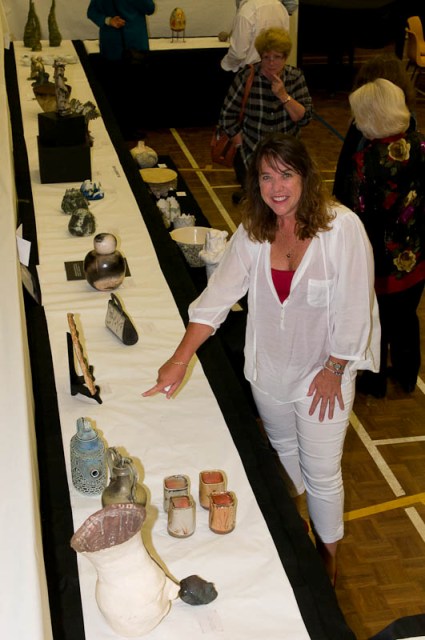 Cr.Julie Hegarty liked that one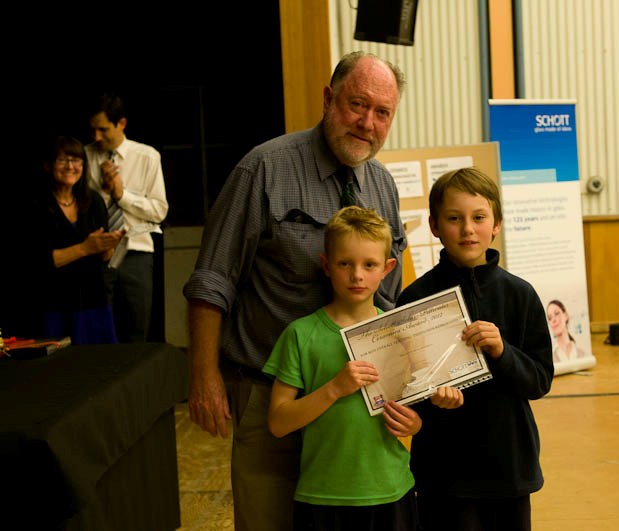 Leura Boys accepting their award
Pittwater's Inaugural Ceramics Awards
9th of March, 2012 @ Pittwater High School
O Attic shape! Fair attitude! with brede
Of marble men and maidens overwrought,
With forest branches and the trodden weed;
Thou, silent form, dost tease us out of thought
As doth eternity: Cold Pastoral!
When old age shall this generation waste,
Thou shalt remain, in midst of other woe
Than ours, a friend to man, to whom thou say'st,
"Beauty is truth, truth beauty,"—that is all
Ye know on earth, and all ye need to know."
From Ode On A Grecian Urn, John Keats, spring of 1819
Mayor Rose read this and the first stanza of this great ode to a 2000 year old urn to emphasise the immortality of all pottery in opening the first Pittwater Ceramic Awards on Friday evening. In introducing our Mayor, organiser Chrissy Holland had also expressed the immortality of ceramics and how archaeologists, in excavating any site, find the culture of times past in the shards of pottery found and can thus determine when a pot or amphorae shard was made, how it was made and even, from the glaze used, where it was made. Ceramics is an art form for and of all Ages which allows the cultural aspects of humans long gone to be glimpsed and marvelled.
Pittwater Council's and the Pittwater Community Arts Organisation's inaugural Ceramics Awards attracted entrants from New South Wales, Victoria and Queensland. The range of art forms filled the big space of Pittwater High School's hall and was arranged so people could see the works from all angles. Children from local schools, the PLC and Barker College and resident Ceramicists also entered the competition, displaying works of such high quality that most belong, as Mayor Rose stated 'in a museum dedicated to celebrating such works'
Gonzalo Muslera, who was representing Schott Solar, a company that has 54 years of experience within the solar industry and had provided the major prize of 28 Solar Panels to be given to the teaching establishment with the best overall result, expressed how pleasant it was to start the weekend viewing these artworks. Mr Muslera cited the kilns used by ceramists and the energy provided by solar panels as a vision for the future that will ensure this artform lasts. He took pleasure in knowing Schott Solar is contributing to technology and investing in the future in a way that compliments the essentially earthy Ceramics world, recalling the journey Schott Solar began with Pittwater High School a few years ago. This High School is home to the Pittwater Solar Power Station, the 4th largest solar installation in Australia. Chrissy Holland's son, Amnon, iniated this project at Pittwater High School and recently won the Young Citizen of the Year Award at Pittwater's Australia Day ceremony at Newport in recognition of his initiative and hard work.
Students from PHS, who had earlier prepared the scrumptious food offered to those attending, also provided wonderful music. Their smiles and attitude tells you this school is getting it right. Chrissy Holland also gave thanks to the generous contributions and support of Hot and Sticky Kilns & Clay Technology, Walker Ceramics, Cesco and Feeneys, FreshStart Wellness & Fitness Centre, Mona Vale and Sydney Solar Electricity. Brookvale Ceramics were thanked for firing for free the works of the children of Bilgola Public School so they too could enter the competition, and Paul Purvis of AvPals who constructed the Pittwater Ceramics website.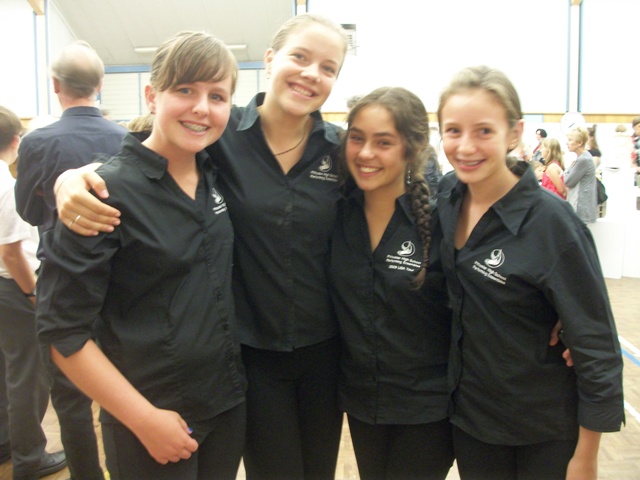 Voilinists left to right: Kate Armstrong, Neesha Weiss, Natalie Mavridis, Isabella Lorimer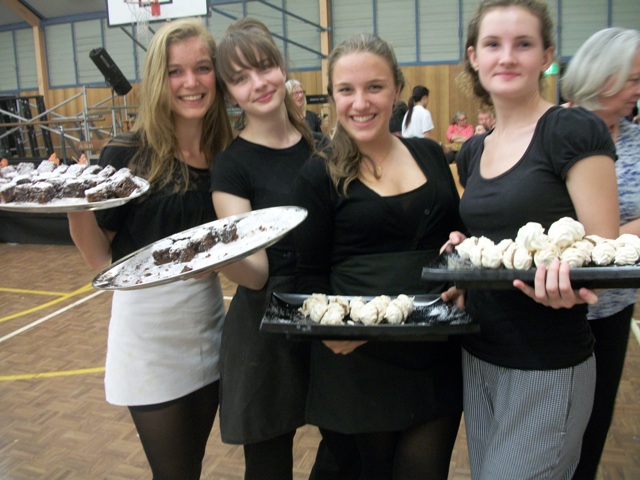 Brownies and Meringue girls: Emi, Mez, Natalya, Kate
President of the PCA, Lorrie Morgan, in thanking Chrissy for all her dedication and hard work said it was very very difficult to judge the winners as all the works were excellent. Lorrie stated she couldn't wait for next years Ceramics Awards to see what new creations may be entered.
Here are the winners in order of categories.
Primary School's Award 1st :Conor Bastow Barker College, 2nd: Lucinda Coolee Mona Vale Art Club, 3rd: Lachlan O'Sullivan Bilgola Plateau Public School
Secondary School's Award 1st: Solomon Frank from Redlands school, 2nd: Tom Bailey Barker College,
3rd: Equal 3rd between Hannah and Ebony Tarry Narrabeen Sports High

Tertiary Student's Award 1st: Margaret Shipton, 2nd: Kylie Lobel Hornsby Tafe, 3rd: Rona Sissons Hornsby Tafe.
Teacher's Award 1st: Peter Anderson Kambala Girls, 2nd: Trisha Dean Hornsby Tafe, 3rd: Nola Kaney Brookvale Ceramic and Stone Sculpture Studio, 4th-Highly commended: Ellen Macdonald Barker College.
Ceramicist's Award 1st: Karen Niblock-Stuart, 2nd: Izette Felthun, 3rd: Kieko Matsui.
Schott Solar Prize For The Overall Best Teaching Institution went to Leura Primary School for their environmental work that included recognising endangered species "bugs and plants" and making tiles of them. Amazingly the whole school participated in making an architectural mosaic sculpture from them and presented the10 best for the exhibition with a photographic display of the finished work.
More at: http://www.pittwaterceramics.info/ More Michael Mannington Pictures