October 18 - 24, 2015: Issue 236
Pittwater Dragon Boat Racing Club Medallists from 2015 International Dragon Boat Federation's 12th World Nations Championships in Canada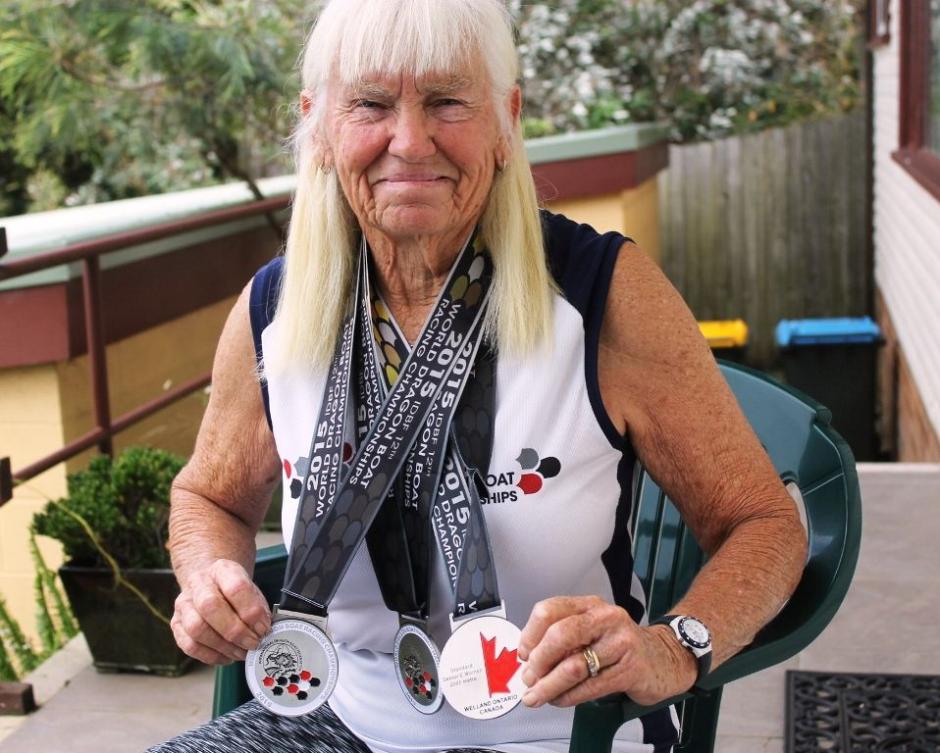 Avalon's Virginia Head and her three Silver Medals from IDBF's 2015 World Championships
Pittwater Dragon Boat Racing Club Members competed at International Dragon Boat Federation World Nations Championships held in Welland, Canada, from 19 to 23 August, 2015, representing Australia as part of the Australian Aurora's Team.
Pittwater resident Virginia Head, a member of Avalon Beach SLSC and Barrenjoey Breakers Swim Group, Therese Cerneaz, winner of five medals (three silver and two gold) as part of the 2014 Australian Team at the World Dragon Boat Racing Championships in Szeged, Hungary, along with Gary Finnigan, Head Coach of the Pittwater Outrigger Racing Club as well as six years representative for NSW in Dragon Boats and Karen Peek, all members of the Pittwater Dragon Boat Racing Club, were also members of the 2015 Australian Dragon Boat Federation Aurora's squad and paddled for Australia in Canada, which hosted the 2015 World Dragon Boat Racing Championships, August 19 – 23, at the Welland International Flatwater Centre North Course. All four came home with silver medals, a few of them!
The International Dragon Boat Federation holds a World Nations Championships every other year in odd years, 2013 being the previous competition.
The best dragon boat teams from around the globe attend and this year the event drew teams from Australia, Canada, China, Chinese Taipei, Czech Republic, Germany, Great Britain, Hong Kong, Hungary, Italy, Japan, Macau, Puerto Rico, Sweden, Switzerland, Thailand, Philippines, and the United States.
The Australian Team, with family members who travelled with them, was close to 5, 000.
Each day, this event attracted another 5,000 individuals to Niagara to watch the racing.
Virginia, Gary and Therese all formed part of the Senior C team while Karen was a member of the Senior A team.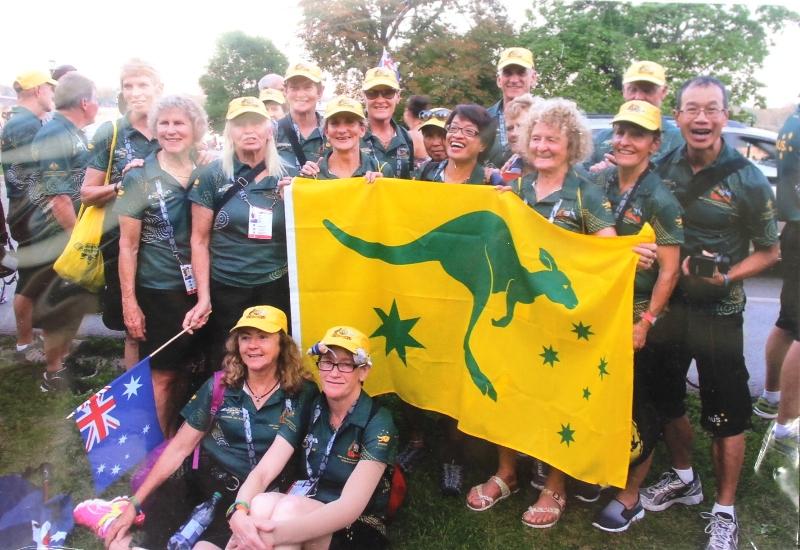 Virginia with team mates - Therese Cerneaz is 3rd from right)
Virginia, who at 73 was the oldest member on the team, has a definite 'use it or lose it' attitude to life and this septuagenarian shows no sign of slowing down although she will shift more towards coaching those who want to 'try it out' now.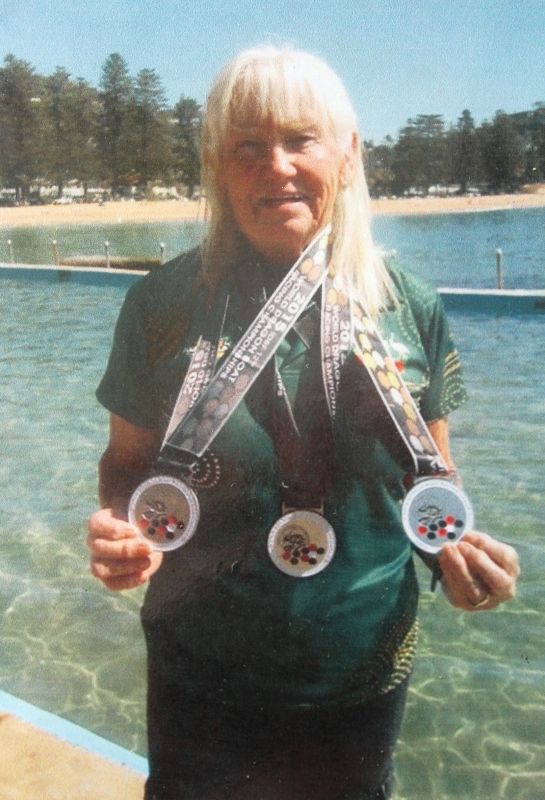 Virginia in her team shirt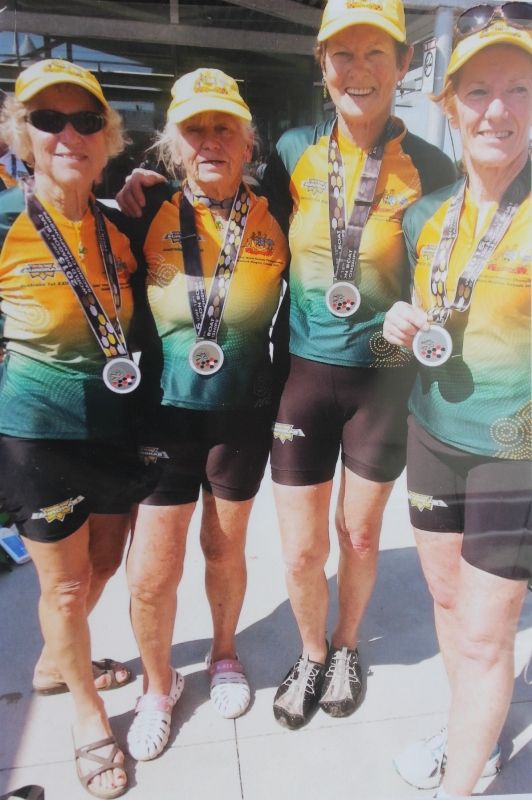 In Canada with Team Members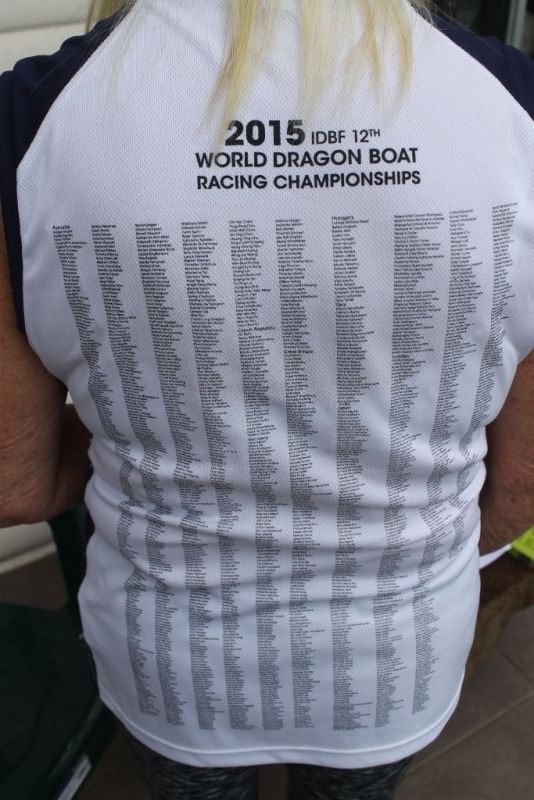 Everybody's name is on this event t-shirt
The youngest member of the Australian team was 13.
Virginia estimates the Australian Auroras had at least 62 medallists from the 2015 International Dragon Boat Federation (IDBF) 12th World Dragon Boat Racing Championships, some of whom, like herself, brought home more than one.
About the Australian Auroras
In 2010 the Australian Dragon Boat Federation (AusDBF) unveiled the first national team to be open to paddlers from all states and territories, following a move away from the state-based selection system of previous international campaigns.
To mark the occasion, AusDBF asked the Australian paddling community to submit their suggestion for a team name that would become our national crew's identity. Among the diamonds in the rough, a small number of names were selected for final consideration before the paddlers selected for the 2010 Asian Championships cast a secret ballot to select the new national team moniker.
The Auroras was adopted for our national team, and was readily embraced by the membership.
To mark the 2011 World Championship campaign, which saw paddlers drawn from all eight state and territories for the first time in a bid to represent Australia, AusDBF again turning to the national paddling community to enhance our image, and this time, design an emblem for the Auroras.
Nathan Cain from Brisbane River Dragons, Queensland, was the winner of the concept design. His design and descriptions of the artwork's components provide a particularly Australian and powerful symbol and logo representatives wear proudly on the international stage.
The triangular base shape portrays a position of strength and power while a simple colour pallet of Australian earth tones provides high contrast and maximises visual impact. The theme of the Aurora is maintained with the graphic bands of light across the logo. The subtle inclusion of Aboriginal style imagery is used to help truly identify the Auroras as our national team.
When we caught up with Virginia this week, apart from being thrilled at bringing home some of Australia's extraordinary tally from the 12th World Dragon Boat Racing Championships, it was the team's reception in Canada, where people are very much like Australians in their outlook and approach to life, that has stuck with her.
"Everywhere we went the crowds would cheer 'Aussie, Aussie, Aussie'," Virginia explained. "When we attended a baseball match, 'Aussie, Aussie, Aussie'. When we were part of the parade of all teams at Niagara Falls – 'Aussie, Aussie, Aussie!'. People recognised the green and gold and they all cheered us – that's how well known Australian sportspeople are, and how well they are welcomed, wherever they go."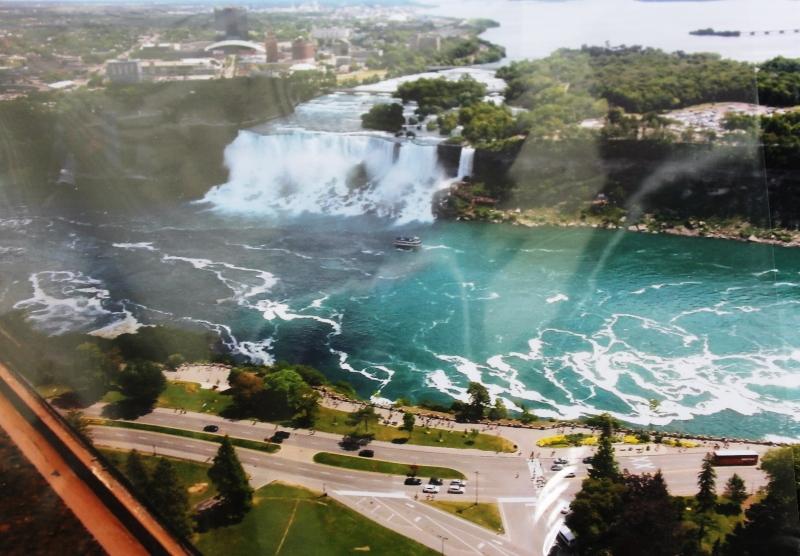 One of Virginia's views at world famous Niagara
Congratulations to our Northern Beaches paddlers for their selection into the Auroras 2015 Squad and thank you for the wonderful way you represented Australia at the IDBF 12th World Nations Championships. Full Australian Auroras 2015 Team
To celebrate this great news for our Northern Beaches in this fast paced and exciting sport, the
Pittwater Dragon Boat Racing Club runs as this Issue's Profile of the Week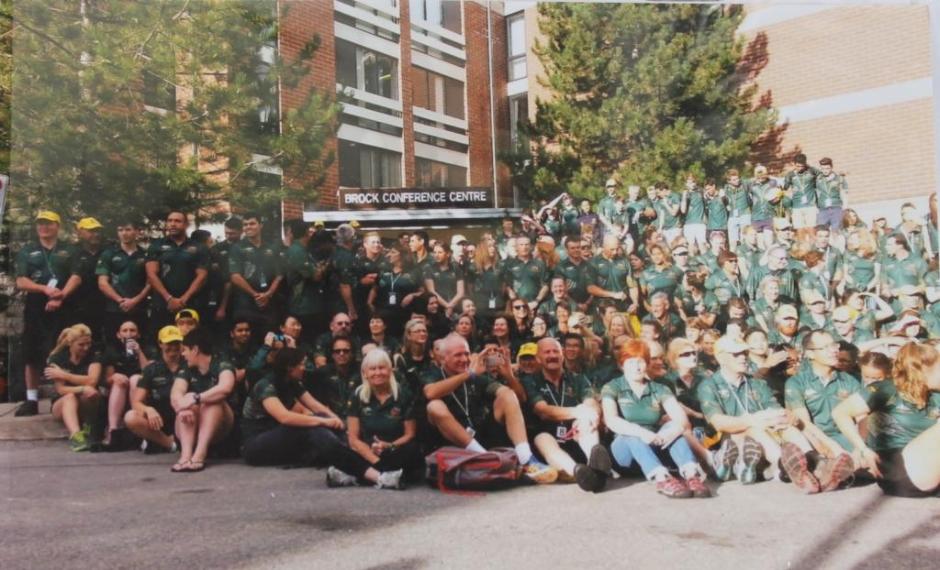 Australian Aurora's Team 2015 - Aussies ! - image courtesy Virginia.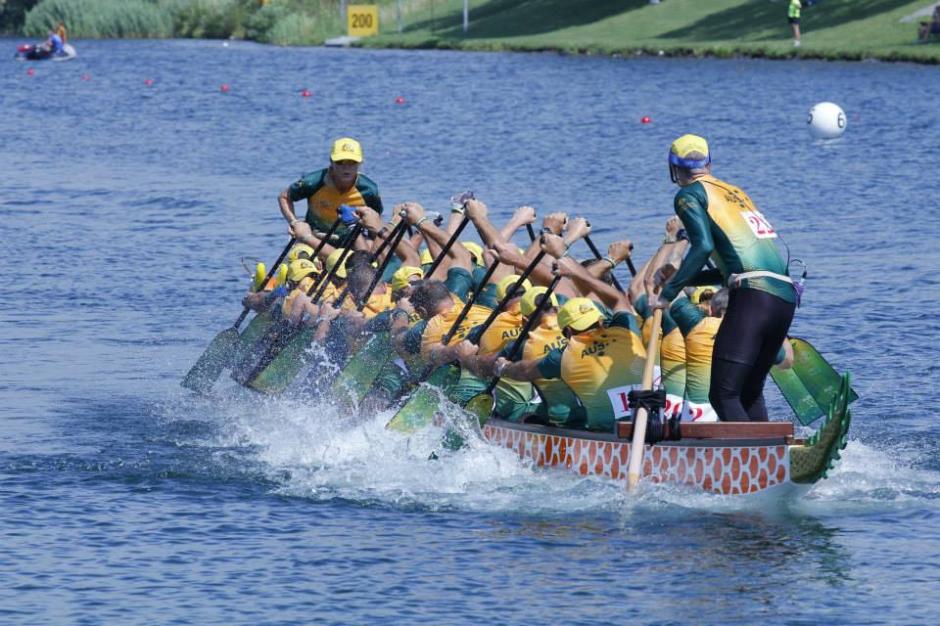 Australian Men's Team with thanks to Mark Smith for capturing these wonderful pictures of the 2015 World Dragon Boat Racing Championships, Day 1