December 4 - 10, 2011: Issue 35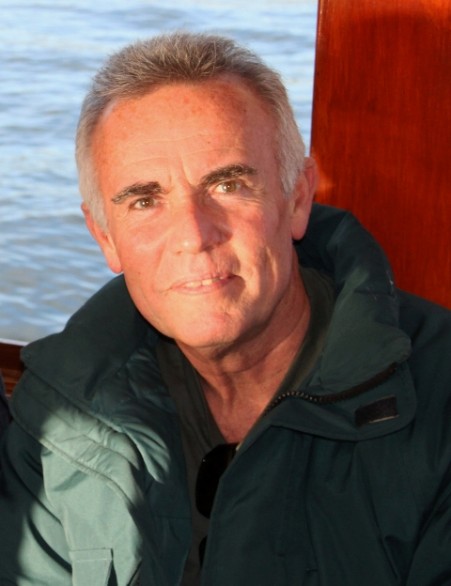 Above: Mondo Rock at The Boat house, Palm Beach, last month. Below: The Living Ocean People with Paul Watson of Sea Shepherd, at front (on couch).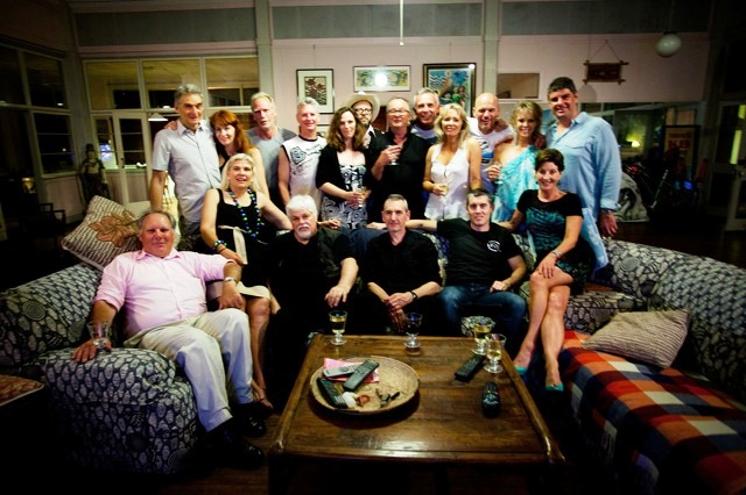 Further:
Websites:
Written works:
The rock music self management manual : a guide to understanding and surviving the contemporary music industry in Australia / by Paul Christie.
Chatswood, N.S.W. : Povare,
How to survive and succeed in the music business : a guide to understanding and surviving in the contemporary music industry / Paul Christie. - 2nd ed.
North Sydney, N.S.W. : Warner Chappell Music Australia,
A rock music self management program : a young person's guide to understanding and getting started in the contemporary music industry in Australia / by Paul Christie. Avalon, N.S.W : Provare,
Weekend Warriors Program: http://www.allansbillyhyde.com.au/promos/weekend_warriors.aspx
FROM Wikipedia: some incorrect entries here (Paul is still part of Mondo Rock) http://en.wikipedia.org/wiki/Paul_Christie_(Australian_musician)
Paul Christie
Paul Christie is one of those Pittwater gents who remind us of Summer. Nights spent dancing to the Party Boys at Moby's at Whale Beach with Australian musical greats such as Ian Moss from Cold Chisel or Angry Anderson of Rose Tattoo leading the tunes, or leaving PC's, a nightclub opened and run by Paul where the dance studio is now, upstairs in Avalon's Barefoot Boulevard, in warm two a.m.'s are part of the memories of many residents.
Paul's contribution to music as bassist for Mondo Rock, his initiating and organising The Party Boys, or being a Lecturer at the Australian Institute of Music and author of numerous books, such as, How to survive and succeed in the music business : a guide to understanding and surviving in the contemporary music industry and penning 'Chemistry' with Mondo Rock guitarist Eric McCusker classify him as a veteran in the Australian music industry. He's also community minded in being a judge for BL's Blast Off Idol competition and someone who will contribute his considerable talents to protecting our oceans by playing at or organising benefits for Sea Shepherd as part of the group of locals who are Living Ocean.
What and when was your first contact with music and how did this lead to your becoming a musician ?
My first contact was through my parents. My father was a very gifted piano player who could not read music and did not know what an A minor chord was. He played everything by ear with the most fantastic ability to groove on the piano and so too did my mother, who played the Hammond organ and ukulele. So when we had parties at home, long before people were staring at flat screens and had iPods and iPhones they engaged with each other, which was quite an extraordinary thing. A large group of people in a suburban lounge room stomping away with dad or mum or both of them playing real, funky beats.

Paul's love of the beach culture and the ocean itself are demonstrated in getting in the water but also in taking an active role in doing something about protecting our ocean. In recent times his involvement with charity shows to raise funds for projects that support and protect our oceans illustrates a 'hands on' approach; we asked him how this came about:
I'm a part of an organisation on the beaches called 'Living Ocean'. A group collective of actors, photographers, musicians and filmmakers and water based people. Living Ocean involves itself in fund raising events for Sea Shepherd. In September 2010 I put a band together with Rob Hirst from Midnight Oil, Iva Davies from Icehouse, Randall Waller, Daryl Beaton, Angry and Dai Pritchard to play at the inaugural event. We raised quite a lot of money form that event at Ripples, Whale Beach
On November the 6th 2011 we undertook another fundraising night for Sea Shepherd with Paul Watson in attendance. Mondo Rock performed (I've been the bass player since 1980) at the Boathouse at Palm Beach and we raised $50,000. So that was a great result and again another group of fairly important people on the northern Beaches worked on this and were involved. Living Ocean: http://www.livingocean.com.au/
What one or two pieces of advice would you give anyone aspiring to making a living via music?
Buy Shane Simpson's book on Music and Entertainment Law http://www.musicroom.com.au/en-AU/se/ID_No/0410802/details.html
Number one; read it from cover to cover. He's an entertainment lawyer who's been around for a very long time. The music industry attracts a lot of people who want to go out and have a good time and live that lifestyle as against having a career.
Sometimes people who wanted that lifestyle they get the mechanics of it and it becomes a career for them. The Rolling Stones are a great example of that, they keep doing it and get better at it and have spent forty years being Rolling Stones. That's a very good thing; I think that's the most remarkable thing, it's tremendous that a band can stay together that long and do so many records and entertain so many people.
But you've got to have an understanding of it all; you've got to have an understanding of what a business partnership is, you've got to understand how publishing works and licensing and all that kind of thing, all aspects associated with successfully running a band. If you understand that from the start, I honestly believe that a band's rise to fame can be far quicker if they don't go blindly out into the industry.
The Weekend Warriors Program, what is that about ?
The next season commences at Mona Vale in March 2011!
It's an initiative by Allen's Music and Billy Hyde. I've just finished another season at Alexandria. It's for people that love music, that are into guitars and pianos and bass that don't play professionally. It provides the opportunity to get together in groups to be trained by myself over a month of rehearsals and then perform at a public venue.
The previous season ran out of the Billy Hyde store in Mona Vale. We had a large number of people attend the show, family, friends and outsiders. They're remarkably entertaining; there's so much energy and excitement and adrenalin running around in that space. They dance and have a great time. For the vast majority of those people it's the first time they've been on a stage.
So I have to train them in the fundamentals, the technical things. In some instances how to play in a certain way. I teach them all the very basics, like things you learn from playing in a band for so many years that you take for granted that everyone knows. You have to realise that everyone doesn't have all that knowledge stored in their head.
It's a great joy to create a euphoria amongst defined groups of people; they're like schoolkids on their first excursion; they're so excited and so gleeful that it's a good environment to be around. It's a far better environment then watching the Channel 9 news or having anxiety fed into your life by talkback radio.

What was the first album you bought with your own pocket money?
The first record I ever bought was a 45rpm of Satisfaction by the Rolling Stones
What is your favourite song or album now; if you had to choose just one ?
It would probably be a Joni Mitchell album from her 80's period of all things; Chalk Mark In A Rain Storm:
What are your favourite places in Pittwater and why?
My favourite place in Pittwater is shared between two places; one is Sandy Point at dusk in Summer, off Iluka Road Palm Beach. The other is the very northern end of Whale Beach to the left of the three big pine trees. There's this little patch of scrub and in afternoon light, that's feels like my spiritual home.
What is your 'motto for life' or a favourite phrase you try to live by ?
You're dead a long time
Paul has also nominated our Artists of the Month for December, musicians Suspect Behaviour from the Weekend Warriors Program and Taking the Drop; Life is for Living !, a great new book written by local ladies Danille Dubois, Sheree Da Costa, Debbie James and Jillian Flitton.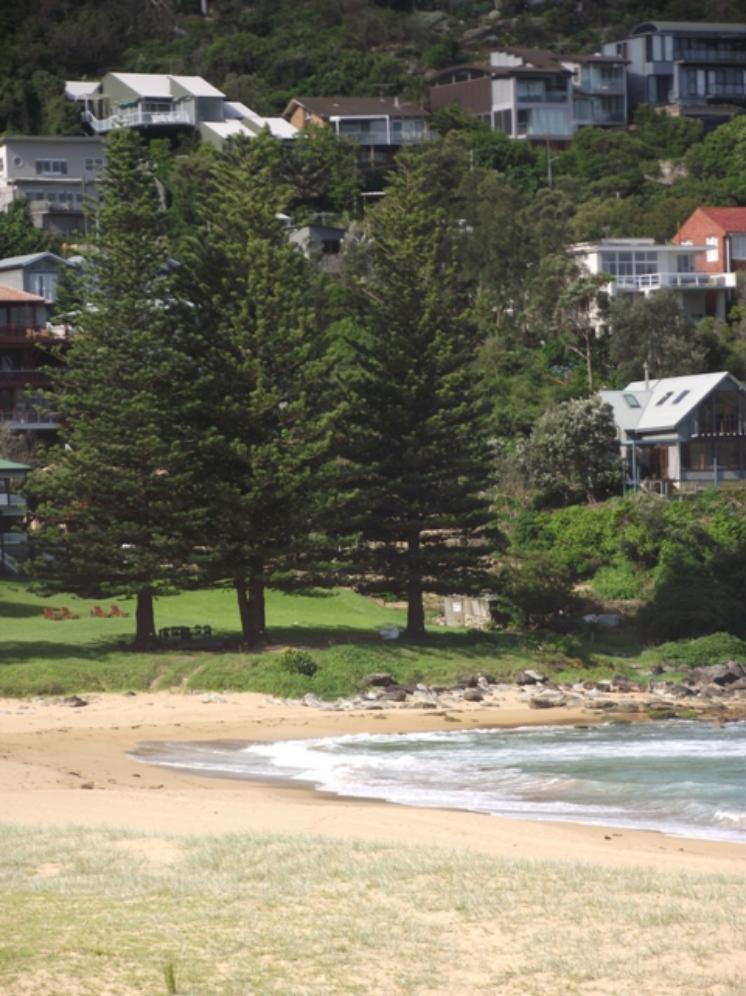 Above: North Whale Beach.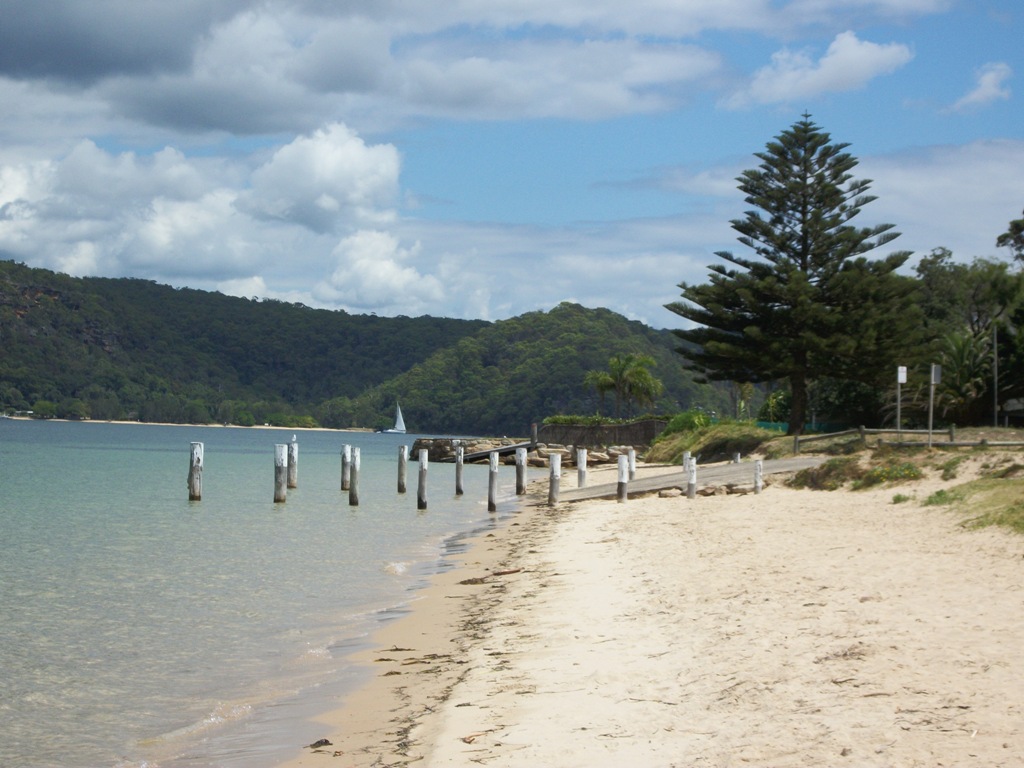 Sandy Point foreshore, Palm Beach, 2011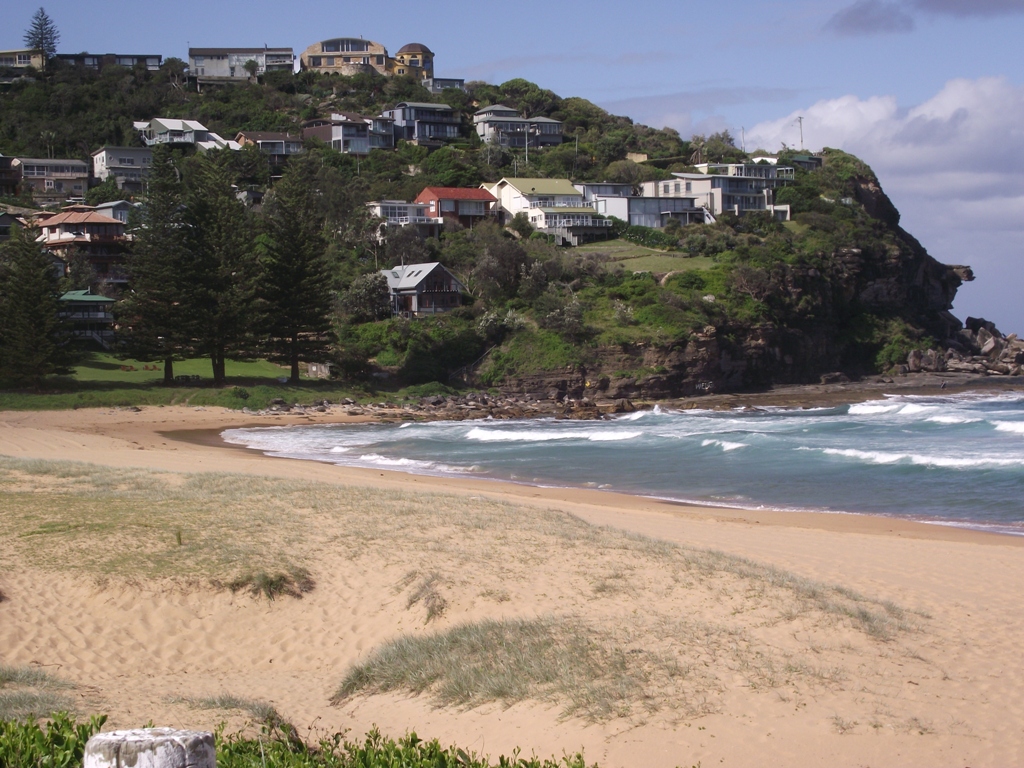 North Whale Beach, 2011