January 26 - February 1, 2014: Issue 147
Palm Beach SLSC – Four Summer Traditions - 2014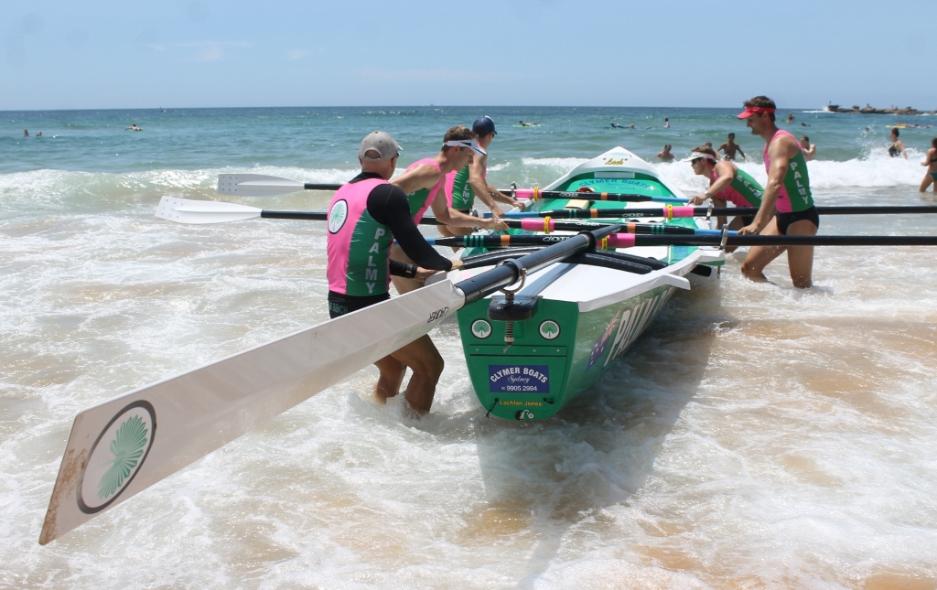 Palm Beach SLSC – Four Summer Traditions - 2014
On Sunday morning the Brats, Brutes and Bruisers contest took place between members of the Palmy Life Saving club. A tradition since 1967, this is a rite of passage that brings generational groups together where new or probationary members (Brats) meet active members (Brutes) and those we all still learn from, the reserves (Bruisers) in a small quick carnival of Swim, Board, Ski, Taplin and on the sand fun like tug of war and log throwing.
Kate MacDonald, President of Palm Beach SLSC and Gordon Lang, Masters Captain, assured us at the commencement of 'the testings' that "Bruisers have won!"... 'What, already? But...you haven't started yet…'… "Yes, already!"
For the next two hours some very fit young men and women pitted their strength against maturity, skill and experience. There were a few traditional 'methods' employed to keep things even, mostly directed at competitors of a faster ilk (Brats), to stop them crossing the line by any means possible, usually tackling them just prior to the finishing flags beach rugby style, but this only cemented the determination within the 'Brats' team.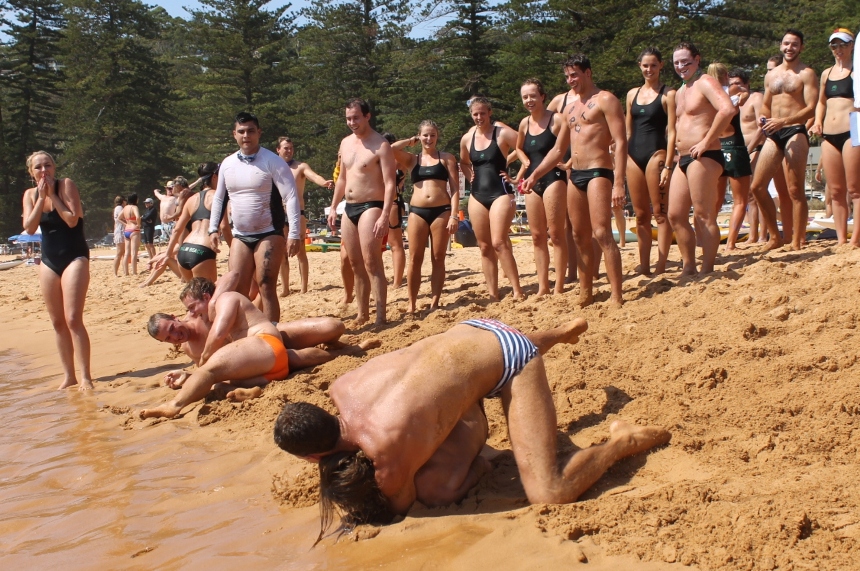 You shall not pass!
It is indicative of the level of fitness and finesse in this Life Saving Club that the Brutes, those currently on patrol all summer, led the victories count, closely followed by the Bruisers – in fact, we may get a few protests disputing our assessment but the tally shouted to us after each event was mostly 'Brutes win!' ...albeit by a Brutes member...
We did speak to Palm Beach SLSC President Kate MacDonald after the event who confirmed that it was in fact the Bruisers who won this year, and by quite a big margin too. They had some fit 30 year olds among their team members, as well as the indomitable Gordon Lang and Kate. Go Bruisers!
The edge goes to those who are clearly at their peak, with Bronze Medallions and a few seasons under their belts, they have learnt from those who came before them and calmly and with clear heads as much as high levels of fitness, can still show the Brutes and Brats how's it's done! The quick run carnival was great fun for all and promotes and affirms camaraderie between age groups and every member as part of one team.
The second tradition last weekend was a Casino Royale fundraiser held by the Pacific Club ladies. Since 1937 contributing to the club and its requirements for keeping qualified Life Savers on the sand during the season has been a priority for Pacific Club Ladies. We have a growing file on this aspect of a great old club so shall keep that for Spring 2014 and simply impart that a great time was had by all. The most expensive surfboard ever was auctioned during the evening, a Midget Farrelly board of course, raising $145k!...in Palm Beach 'dollars'… – which equates to a bit coin and certainly a decent boost to ensuring equipment and aspirations for future generations of life saving members are supported and met by Palm Beach Surf Life Saving Club. Congratulations and high praise from the just over 300 people attending go to Fi Rae and Liz Powis, the Pacific Club Committee Chair and Secretary respectively.
A third tradition was the launch of the Lachlan Jones Surf Boat. Palm Beach SLSC currently has 18 Boat Crews, 16 of which competed at the Saturday the 18th of January, 2014 Queenscliff carnival and six of which gained places, the Palm Beach Pokopanos placing first in the Open Women's division.
"Palm Beach SLSC and Surf Boats are synonymous." Kate MacDonald, President of Palm Beach SLSC said, "When I read the old stories of crews taking 'a simple row' from here to Newcastle to compete in carnivals, or look at the photographs on the walls of the club, it reinstates how important and vital this is to our club. What is also great about this new boat is that it has come from our community… that affirms our commitment and is recognition from supporters of rowing in Palm Beach SLSC."
Peter Spence (Boat Captain), who received a rousing chant of 'Spencey…Spencey…Spencey' from the Brute and Brats contingent, prefaced his introduction of Lachlan Jones the man with a few insights into the Boat Club arm of Palm Beach SLSC. Members pay a two hundred dollar fee for maintenance of the club's surf boats and are responsible for their own oars or sweep oar. Peter also emphasised how important women's rowing was to the club. During the late 1990's women weren't included in the competitions and there was a drive within the club to get this changed. Palm Beach SLSC women's Boat Crews have won back-to-back Australian gold medals in open women's surf boats, and now represent a large proportion of the rowing squad.
The fourth tradition was of course the call to get back to work from President Kate MacDonald at the close of the carnival and launch. Although nine members were on patrol when we arrived for a pre-carnival dip, every member on the sand also had duties to attend to, training to do, equipment to clean or store…. the thousand tasks that are not seen on the beach.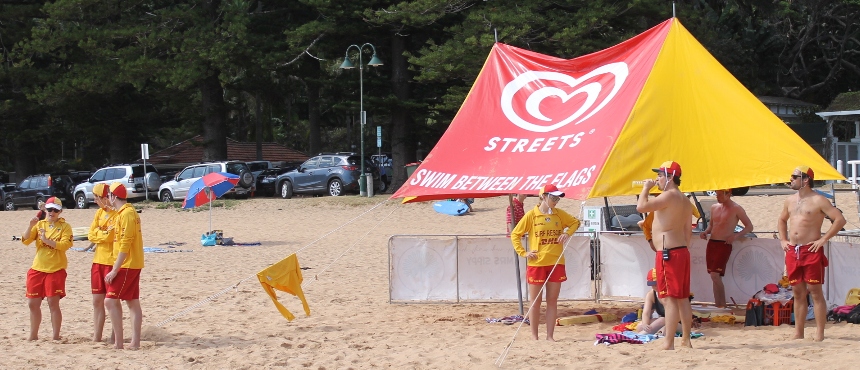 Palm Beach Surf Life Saving Club remains one club where people, even when they don't reside locally, or once did and have moved away, remain members and return each season – to go on patrols, to save lives, to keep themselves fit, to learn everything from new skills to more about other people, to experience the inter-generational camaraderie that marks this and every club in Surf Life Saving, but mostly to serve others, to give something back from themselves and of themselves. Once a member, always a member…why wouldn't you be?
___________________________________________________
An insight into Lachlan Jones courtesy of Peter Spence, current Boat Captain of Palm Beach SLSC
LACHLAN JONES
• Joined the PBSLSC for the 1983-84 season. He was the stroke of the Open Boat swept by John Windshuttle from 1983-1989 with crew members of Stephen Todd, Andrew Todd, Ian Jones, John and Ross Erickson.
• Made 2 Open Men's Australian Finals — 3rd in 1986 (Bronze Medal) and a 4th in 1988
• Rowed in a Reserve Grade crew from 1990 til approx. 1998 with John Vanderwallen sweep — made and won many finals and were one of the only crews rowing at Palmy through these years
• Stroked the 140 Masters and won a National Gold Medal in 1999 Swept by Laurie • Total years of continuous rowing for Palmy —17 years
• Stayed with Palm Beach through the yeas where there was a lack of senior sweeps and support (late 80's-mid90's). Matt Clymer asked him to follow the Todd brothers to Manly SLSC. Lach decided to remain at Palm Beach and focus on building a more competitive Boat Shed.
• Rowed with many Palm Beach boat sweeps -Mark Walsh, Mel Gillespie, Ed Day, John Vanderwallen, John Ashenhurst, John Rasmus and as stated, started with John Windshuttle
• Lach was instrumental in renewing the passion for surf boats at Palm Beach by way of convincing the then management committee led by Mat Andronicus of the need to get some external sweeps in to help build up the boat section that was not strong in numbers through the 1990's (mainly due to lack of sweeps!). Lach introduced Ron
Payne, Laurie Murphy, Lyle Clarke and Ross Jorgenson along with a couple of senior rowers back into the club. Those 4 sweeps are 4 of the greatest in the sports history and to have them all at Palmy through the late 90's and early 2000's helped pave the way to where we are today!
• From Lachlan's introduction of the 4 sweeps to Palmy this set the Club up for amazing success with the following over the past 15 years as these great sweeps showed the club that we could use our internal rowers, train hard and correctly and if we did this we would be successful:
1. 22 Palm Beach SLSC crews have made Australian Finals since 1998
2. 5 National Champion Crews
3. The largest and one of the most respected Boat Clubs in Australia
4. We now have 7 solid club members as sweeps, all great Palmy Club Men that have driven what Lachlan started – Cos, Rastus, JB, Hightower, Matty G, Coxy and myself – Peter Spence (with Nick W learning!)
Lachlan served on committee holding both Boat Captain and Competition Captain positions in that order while the club underwent a significant shift in thinking and support for Competition. I support acknowledging `unsung heroes' like Lachlan in naming this new boat as he has not been truly recognised for the outstanding contribution to Palm Beach Rowing both as a rower for 17 years, committee person and in introducing the 4 great sweeps that helped us as a club learn to win and be competitive.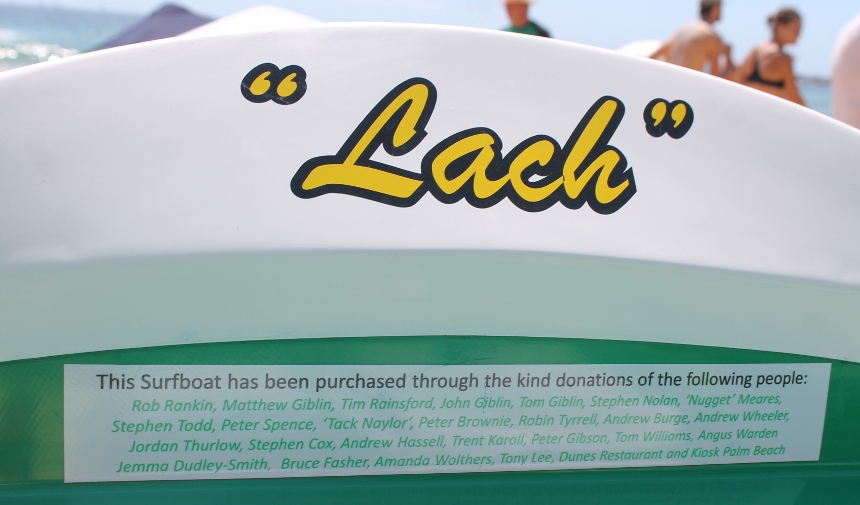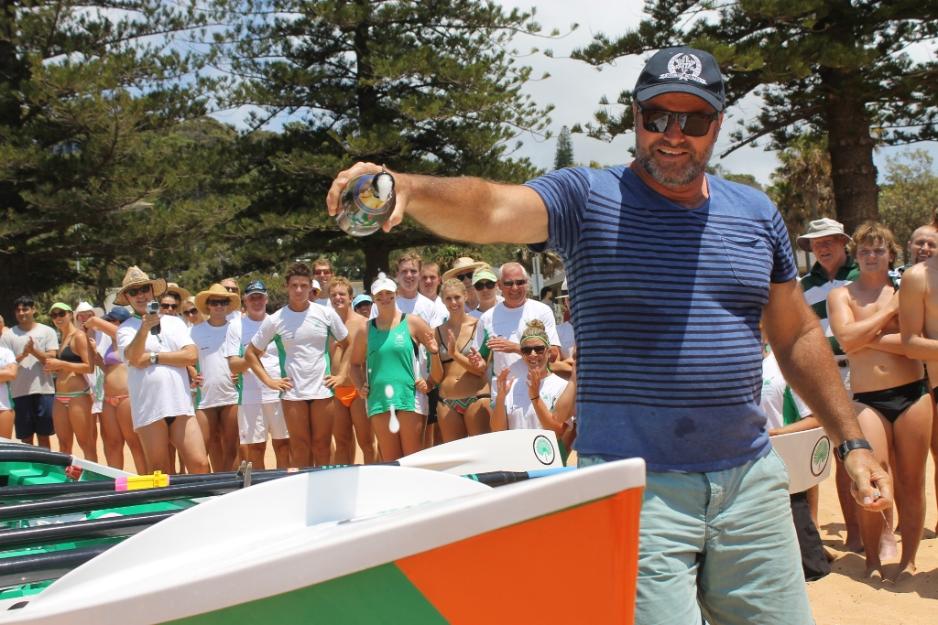 Lachlan Jones christens the Lachlan Jones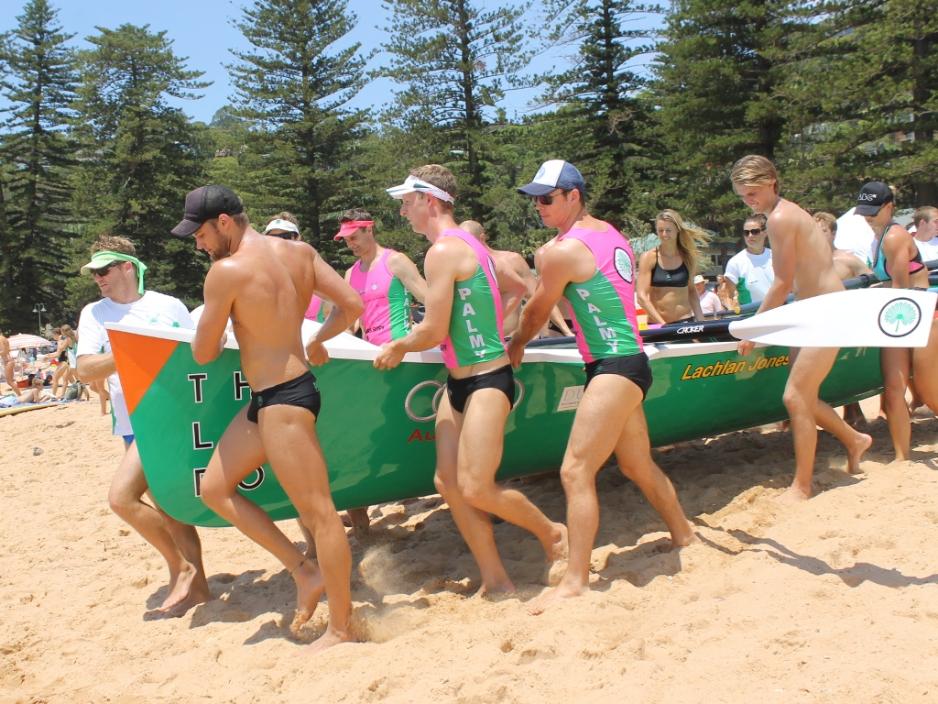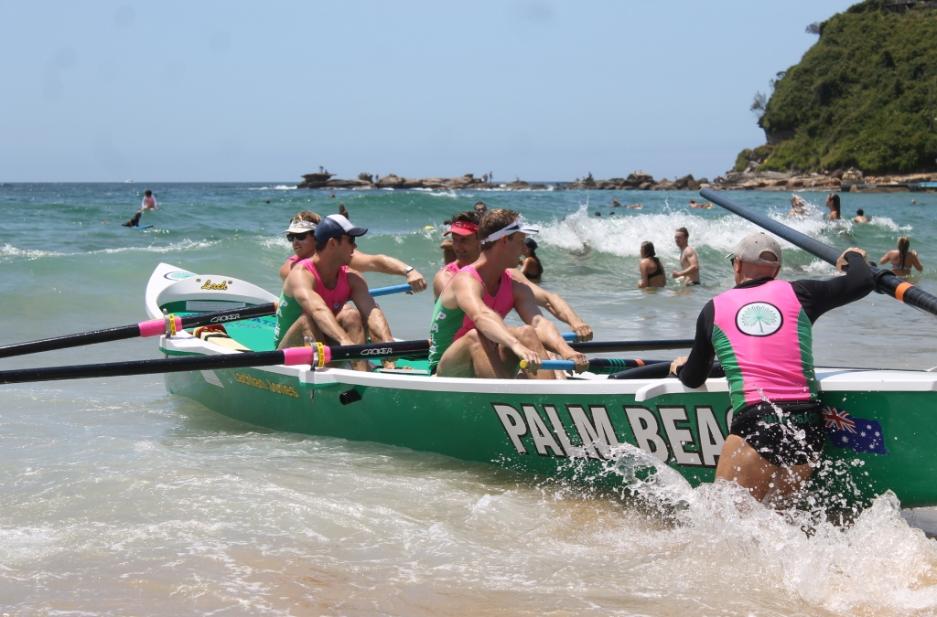 Some Action from the Brats, Brutes and Bruisers Carnival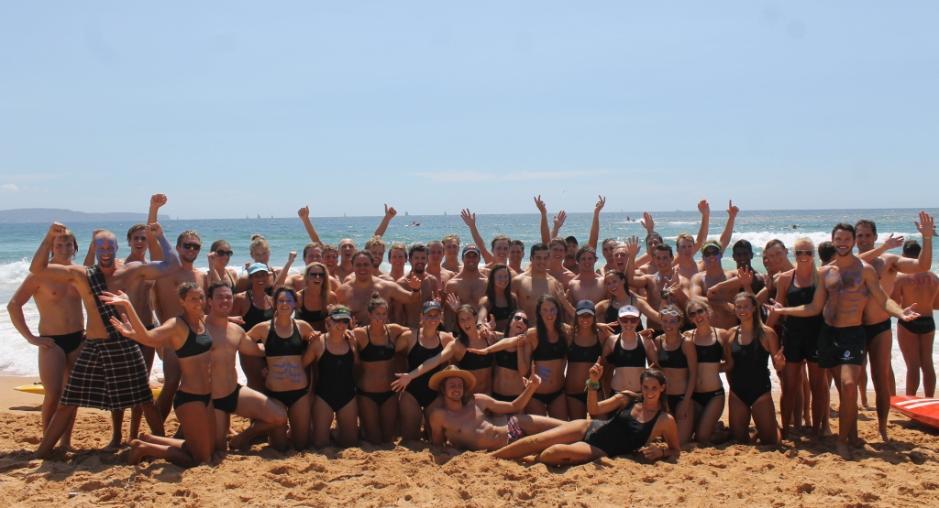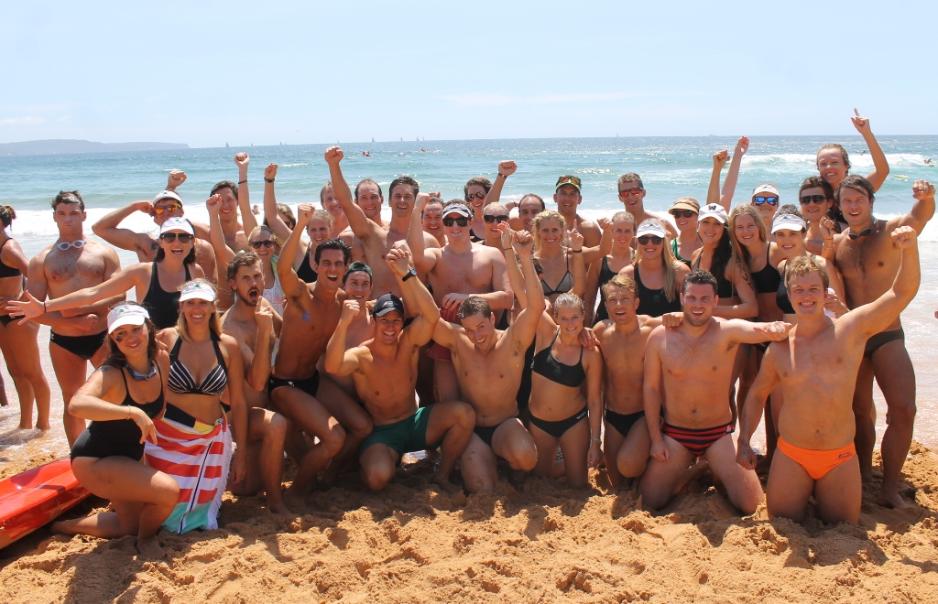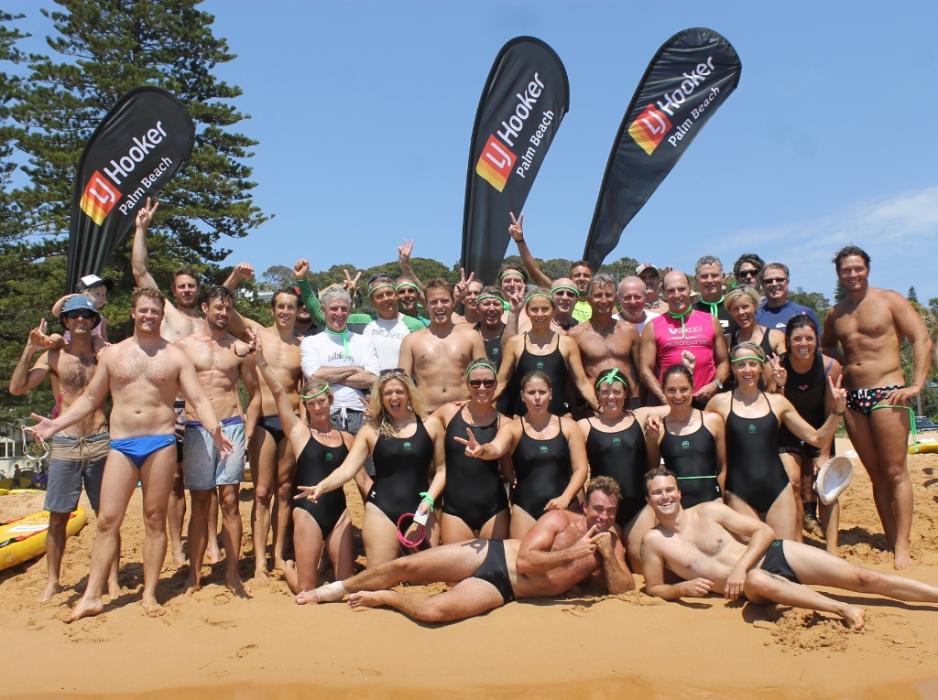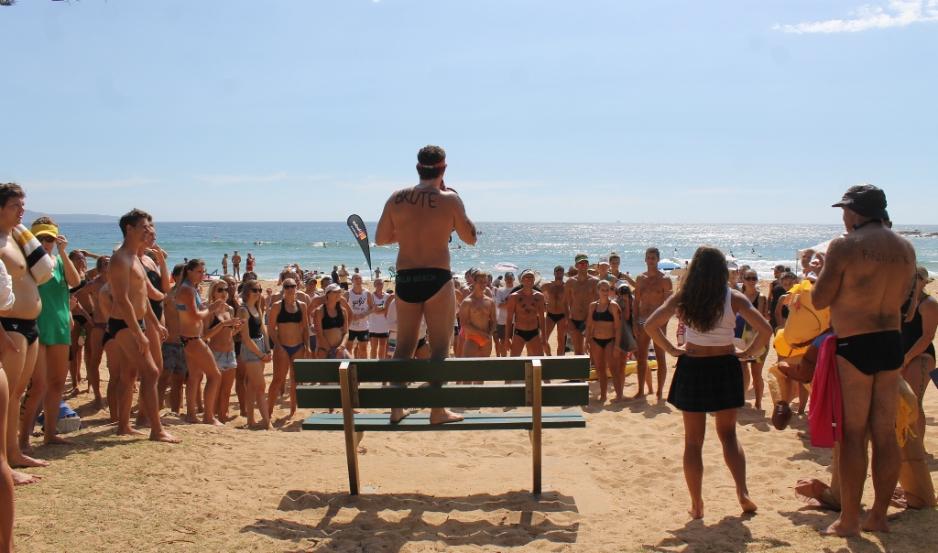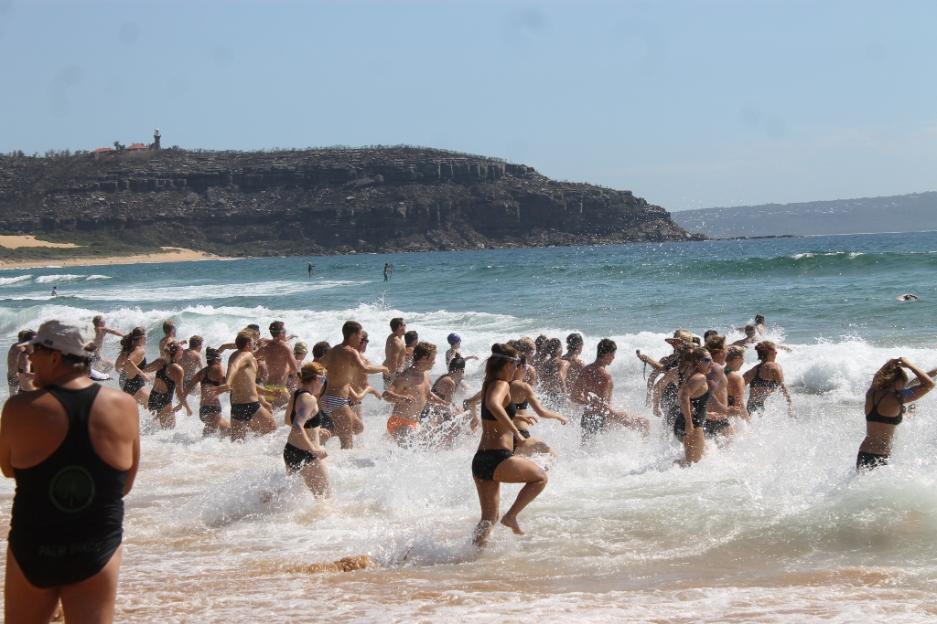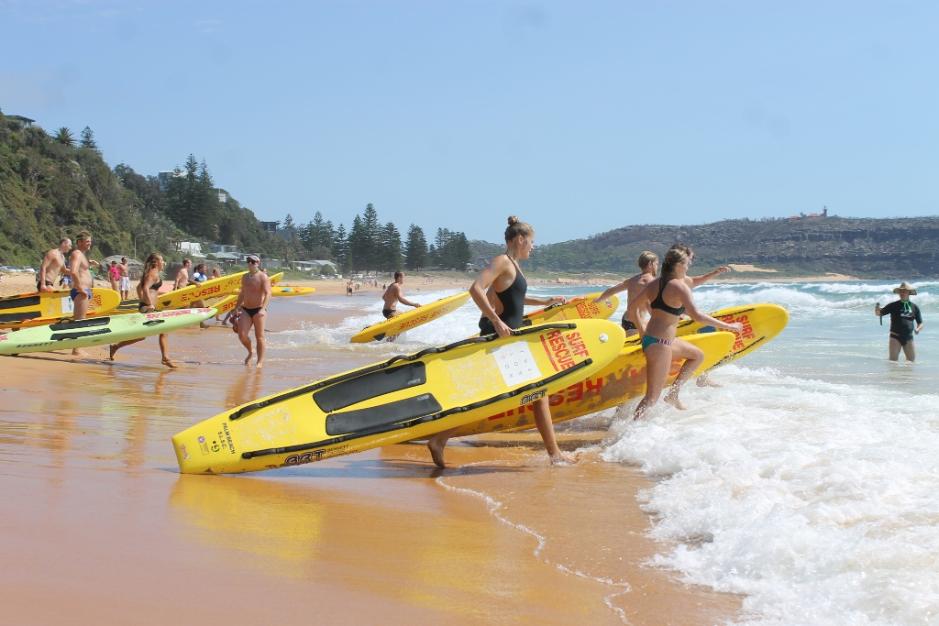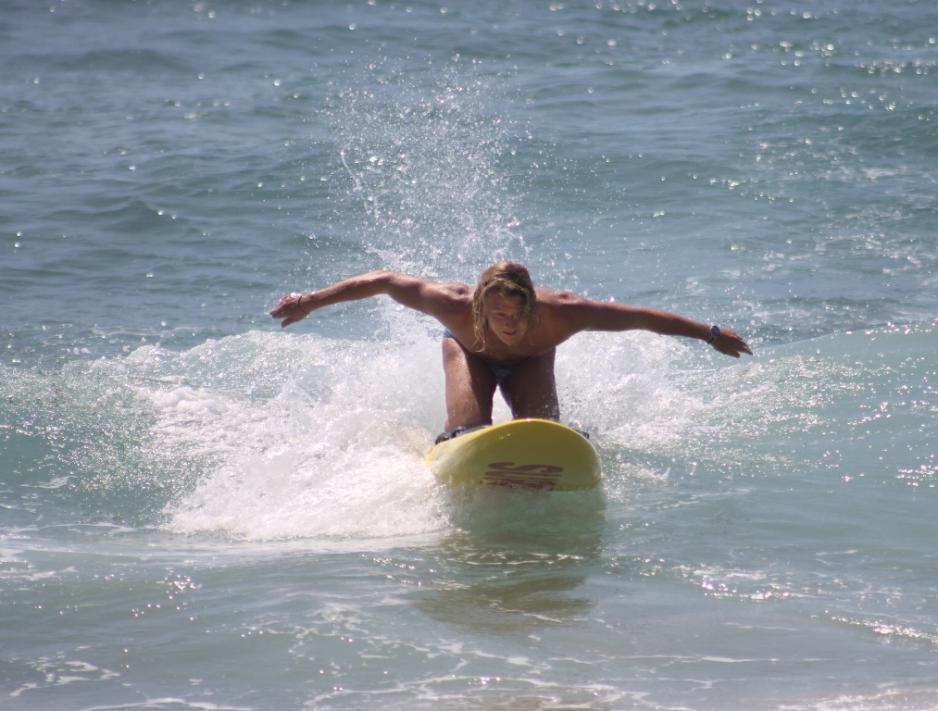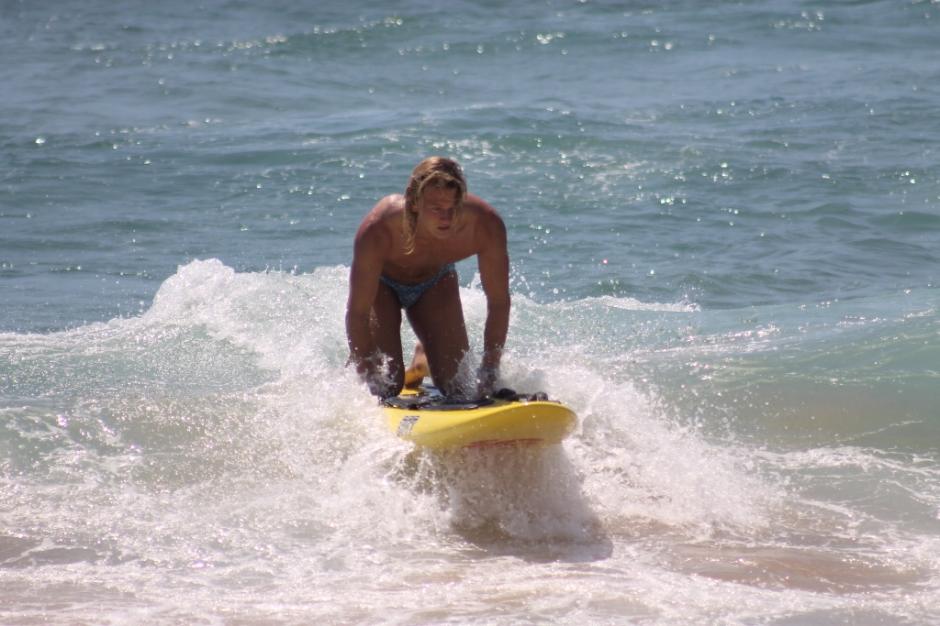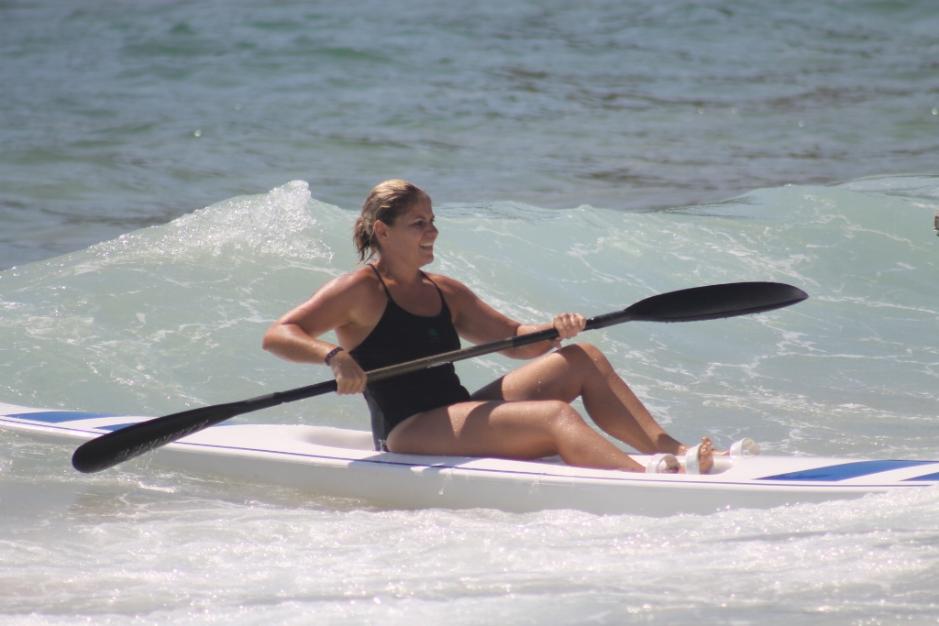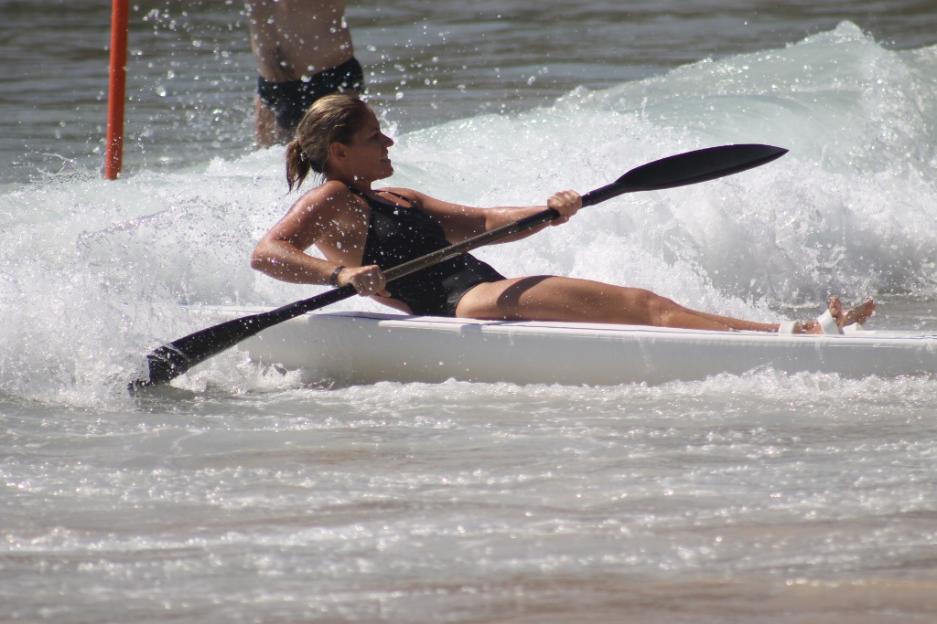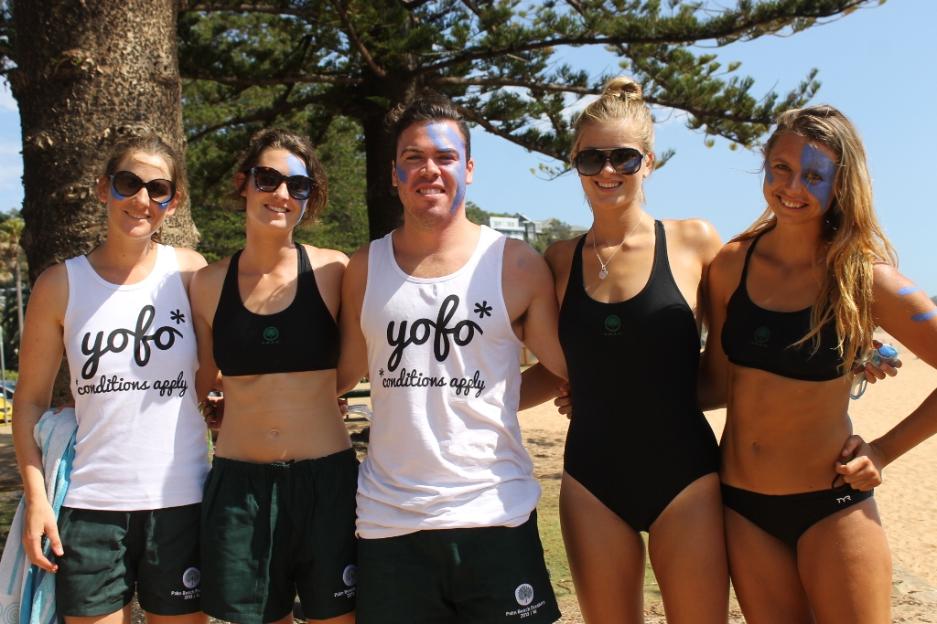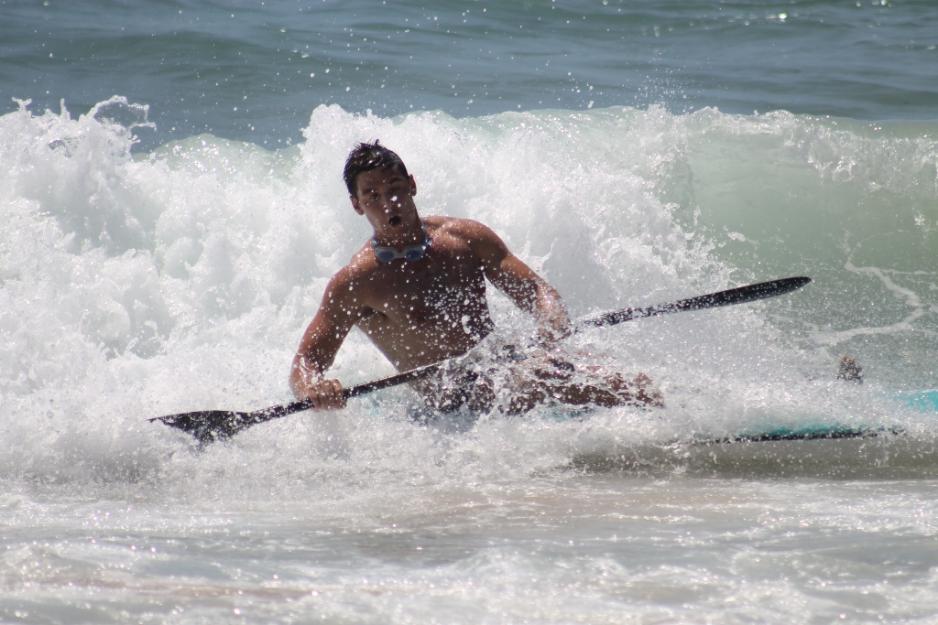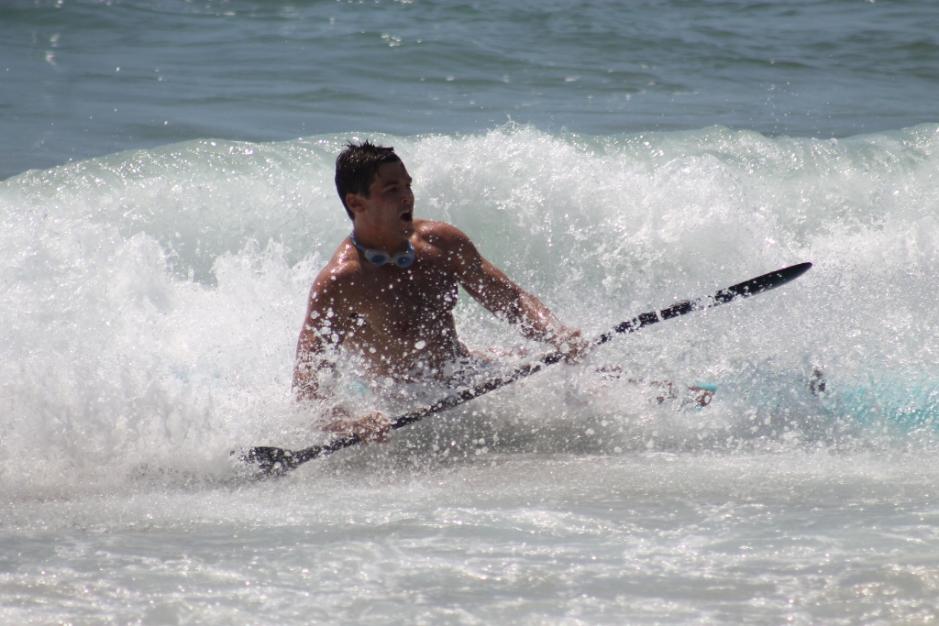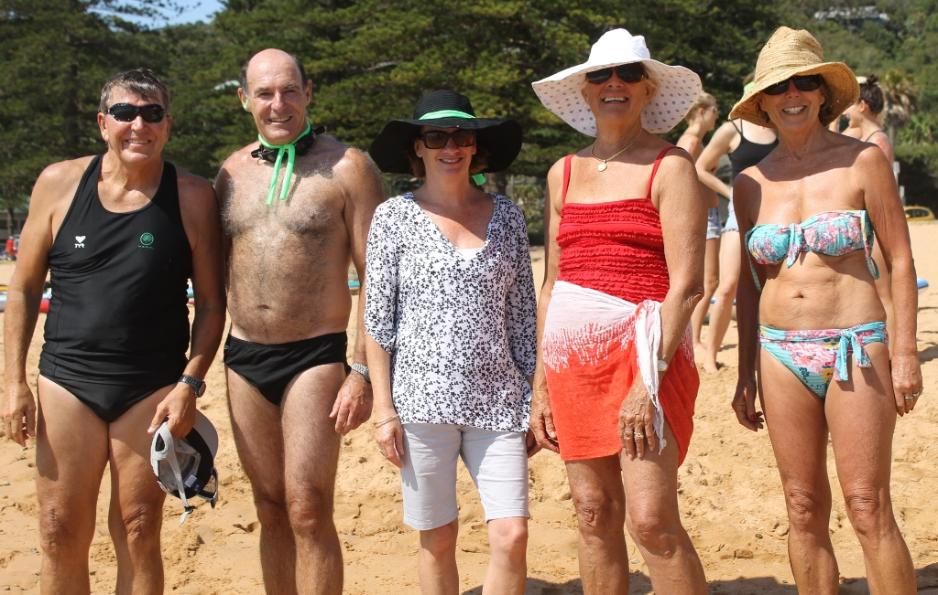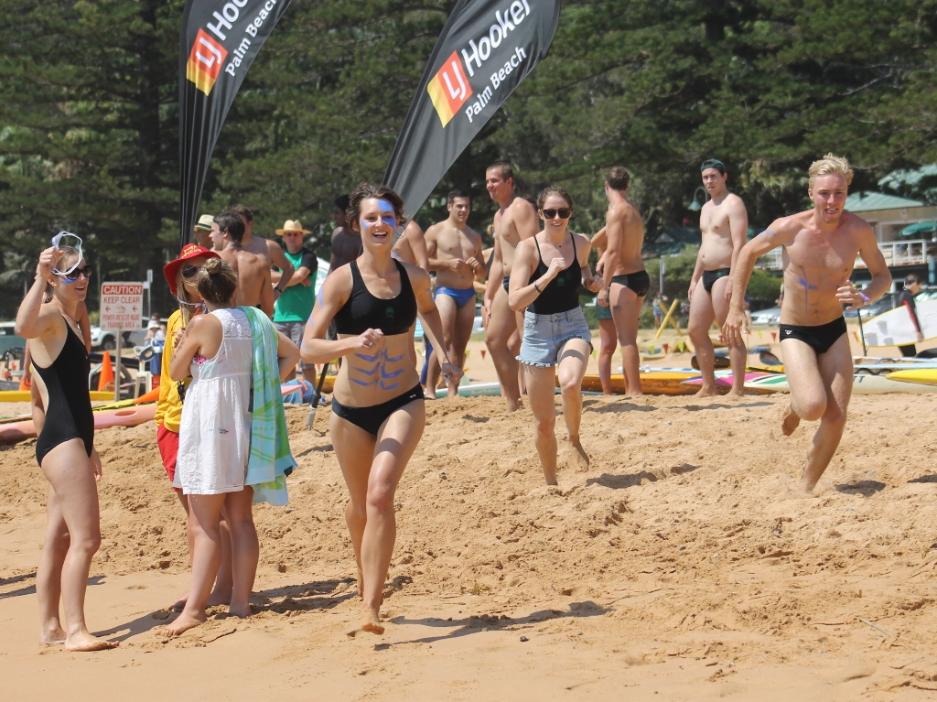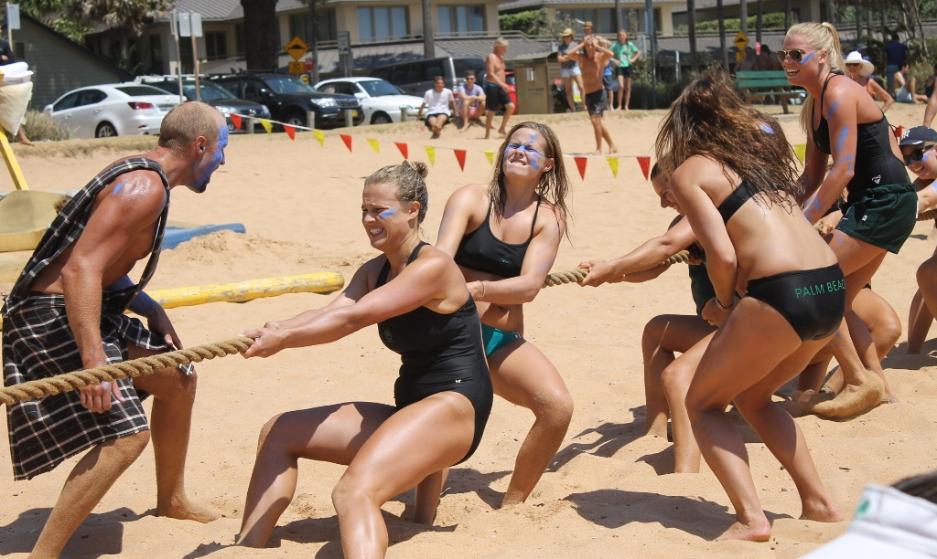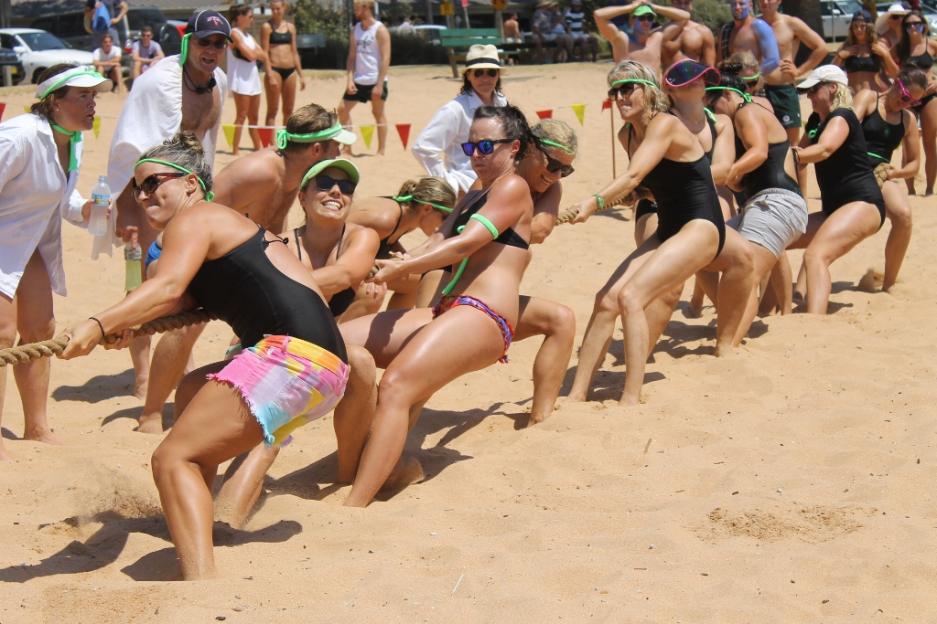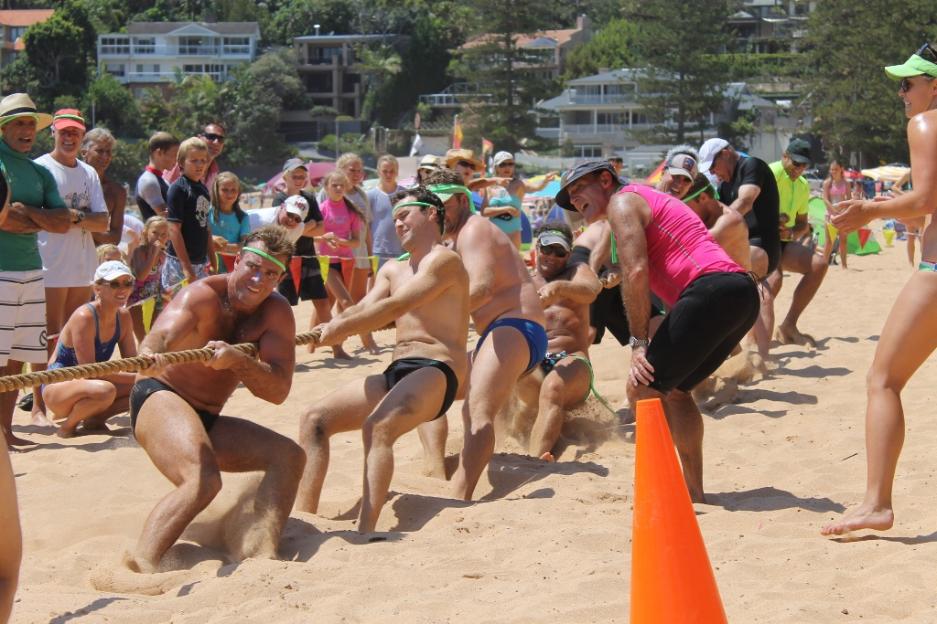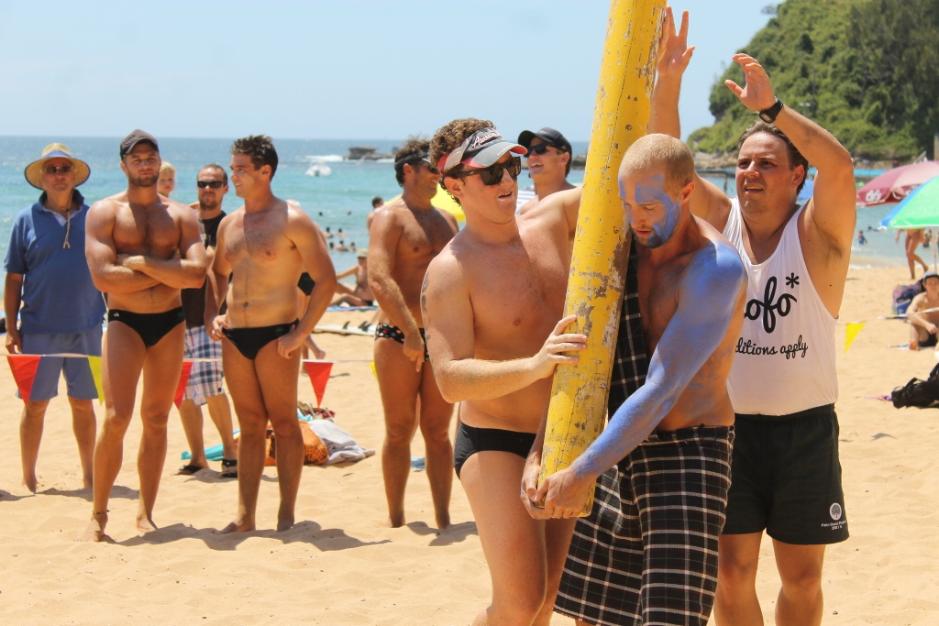 Longest Throw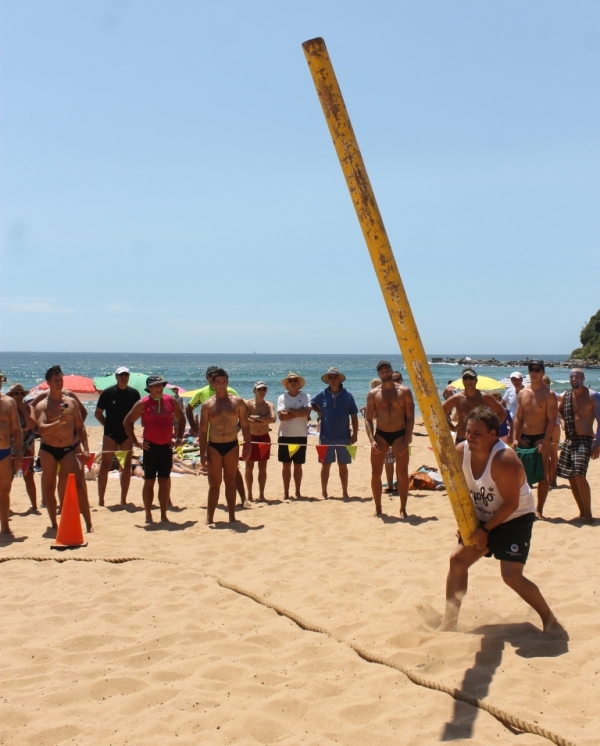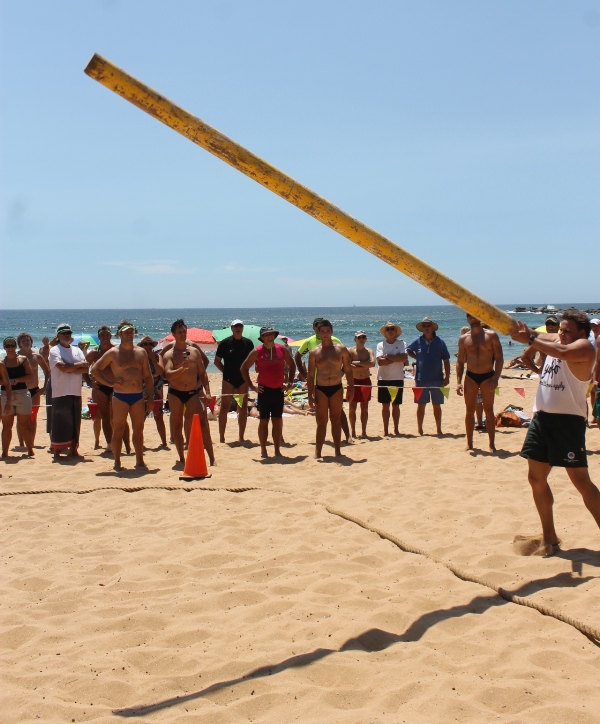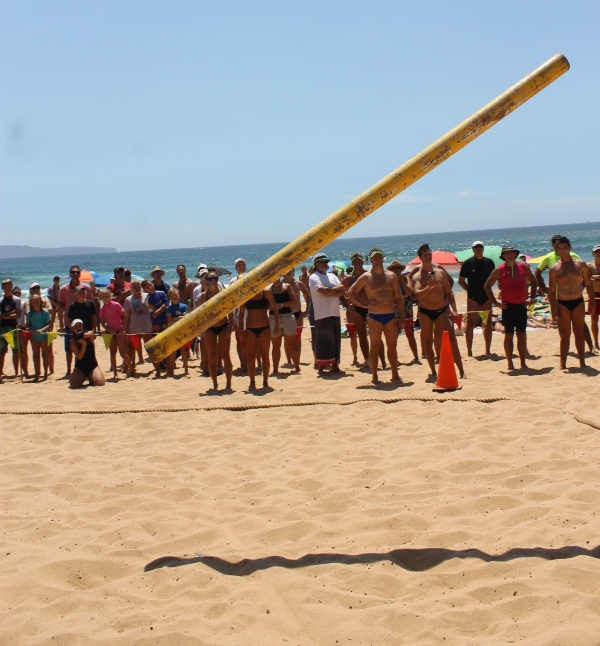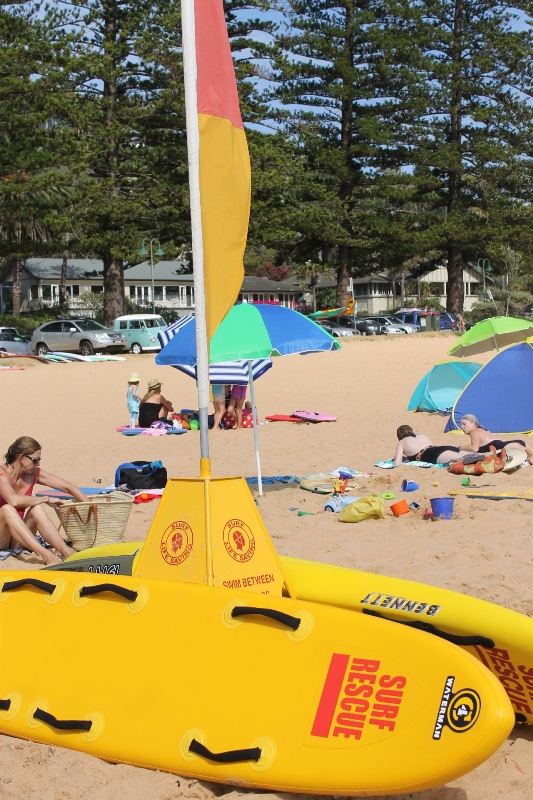 Words and Pictures by A J Guesdon, 2014.