January 12 - 18, 2014: Issue 145
Kate MacDonald
Kate was the first female club Captain of Palm Beach SLSC (2009/2010), and now is the first female president of this great old club. An open friendliness, with energy to burn, Kate is an example of how women holding down demanding positions are also making time to invest back into the community. Stating her work/life balance is to plan a schedule for your week and be disciplined but then be flexible when things go awry, this lady has a definite 'just get on with it' attitude. There's also a quiet humbleness about Kate, an Australian selflessness replaced by a passionate dynamo the moment you ask about Surf Life Saving at Palm Beach.
When and where were you born?
I was born in North Sydney at the Mater hospital and have lived in Cammeray my whole life and still live in Cammeray now. I lived in Manly for a year or two while at university. I went to the Hospitality College at Manly which is affiliated with Macquarie University. It was beautiful being up there in that big castle and so close to Manly beach – being able to go down for a swim in between classes.
You have been elected the first lady president of Palm Beach SLSC – how long have you been associated with Palm Beach SLSC?
This will be my eleventh season. I started quite late in Surf Life Saving, when I was 22; I joined my brother who had joined a couple of years before me. A lot of people said 'why wouldn't you have joined Manly or closer to Cammeray' but Palm Beach has an exceptional and very unique social aspect to its club and my brother joined because he had some friends up there and said I should really join. I didn't know anyone apart from him, but I did it regardless and it was the absolute best decision I've made in my life. I joined initially for the social aspect… but then I fell in love with Life Saving.
Once I got through my first probationary year I was chief instructor, training everyone in the Bronze Medallion. A year after that I was elected onto the Management Committee and my love affair with Life Saving began from there. I was always in the background assisting because I wanted to give back to what had given me so much; the friendships and the camaraderie and the fitness, all that came with joining the club was such an exceptional experience. So I always wanted to give something back.
The annual Adrian Curlewis Twilight Masters Carnival was held on Friday, January 10th 2014 named for the gentleman who is known as 'the father of surf life saving' – how does it feel to be part of such an iconic Surf Life Saving Club who has this man as one of its founding members?
It's wonderful. The history of this club is one of the things that I love most about our club, it's one of the things that made me fall in love with Surf Life Saving – once upon a time I ran a rugby club on the North Shore(Northern Suburbs Rugby Club), and apart from being a bit of a boy's club, it is quite a similar environment – people who are members of these clubs are members until they die. With Surf Life Saving it's even more so – these guys who have grown up around the water, you see them when in their 80's and 90's still swimming, still involved on the beach. As with many of the clubs … one week I might be invited to an 18 year olds birthday party and the next week go to a 70 year olds birthday. Everyone is included and everyone is invited – the friendships that you build out of this Australian culture is priceless. On the beach everyone is in the same pair of swimmers and everyone is equal.
In terms of the history of our club, which is too long for me to go into here, what stands out for me was the fact that we were able to acquire the club properties that we currently possess. This was only possible due to the foresight of the founders and those that came after them. We still live by so many of the traditions that were started up by those who began and built the club – and I think this is what makes our club so special.
The Adrian Curlewis Twilight Masters is a great carnival and we have some wonderful competitors who get involved each year. At Palm Beach we have a very strong Masters Division, we always have – the guys and girls who compete for us are passionate – we love hosting the Master's Twilight Carnival, one of the few Twilight Carnivals there is.
(Palm Beach SLSC is one of only two SLSC in Pittwater that are owned solely by members and independent of Councils – once Warringah, now Pittwater. The other being the newly renovated Whale Beach SLSC.)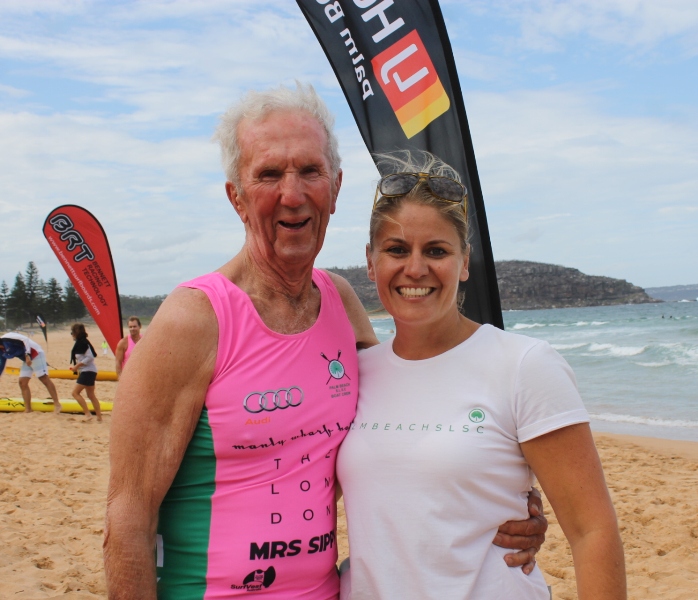 Kate with Ian Curlewis, son of Adrian Curlewis at Twilight Masters 10.1.2014
You're a young lady president – what plans do you have for the club or what do you envision for its future?
To be honest … it's just more of the same. I think we've got the recipe right at Palm Beach. We still get, every year, over 100 people wanting to join our club, usually younger people between the age of 18 and 20 but we still get mums and dads, people in their 40's and 50's joining up as well, brand new life savers who have never done their Bronze Medallion, and it's still inclusive – that's the way our club is run. As far as I'm concerned, I'm not here to change anything.
We do have some fundraising goals we want to achieve and I've always been heavily involved with sponsorship – I want to continue to ensure that Palmy has good support from like-minded companies that will take the financial pressure off us. I think there is an assumption that we're a very wealthy club and therefore we don't need any assistance but that is not the case. As with every other club we have to purchase equipment for Life Saving and because we have so many interested participants, our turnover of boards and tubes and associated equipment is very very high. These cost a lot of money on such a scale so it's vital we maintain sponsorship.
If someone is interested in becoming a sponsor what should they do?
They could contact me. This year we're looking good – we've just had LJ Hooker at Palm Beach come on board as a brand new sponsor and they're a wonderful assistance to us and a like-minded company. Next year who knows what will eventuate in terms of our current sponsorship so if anyone's keen, absolutely contact me at president@palmbeachslsc.com. We're not the kind of club that likes to have a million sponsors – we prefer less than five that we can service really really well and look after and who will want to be a part of our club.
The recent bushfire at Barrenjoey – I understand Palm Beach SLSC helped out there?
We obviously had a patrol on the beach at that time and we were in constant contact with North Palmy who were obviously very close to the action. Recently we received a letter from the Fire Services thanking both our clubs, as we sent some of our members up to the base of the headland's pathway to get people to safety. We also had our all terrain vehicle took firefighters up the hill to fight the fires. One of our committee members, the secretary, was with the Patrol Captain that day and he took them all up in the vehicle – he has got some great photos of it – one especially of the helicopter dumping the water is spectacular.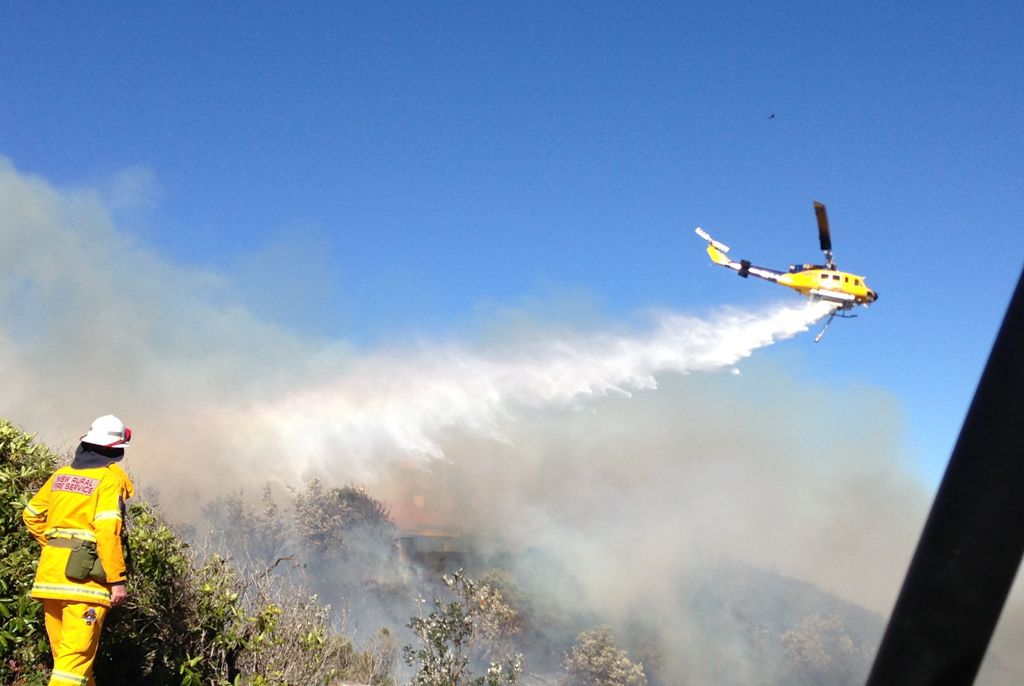 Palm Beach SLSC like many of our local surf life saving club's has a place at the core of its community – how is the club developing that in the future?
A few years ago we purchased a property behind our surf life saving club and one of the intended uses for that property is to become a Training facility. We recently had the Downer Rail Group perform a community project on the current dwelling that resides on the land. They approached us through our club Captain at the end of 2013. They spent a week at the club donating their time and skills to this old deceased estate 1950's house by painting walls and putting up new lights and donating chairs etc… and now it has turned into a very usable training facility for us to teach our Bronze Medallions in. Out of our 100 new members each year that would average around 30 who already have their Bronze Medallion but there would be upward of 50 that we put through each year.
We don't just train Bronze Medallions, we also teach IRB Drivers – this year we're training 16 of these as well. There's also ARC – we do it all!
So this facility in coming years, as we pay off the debt, and can reinvest more money into it, we hope to develop as a proper training facility that we can share with the community as well.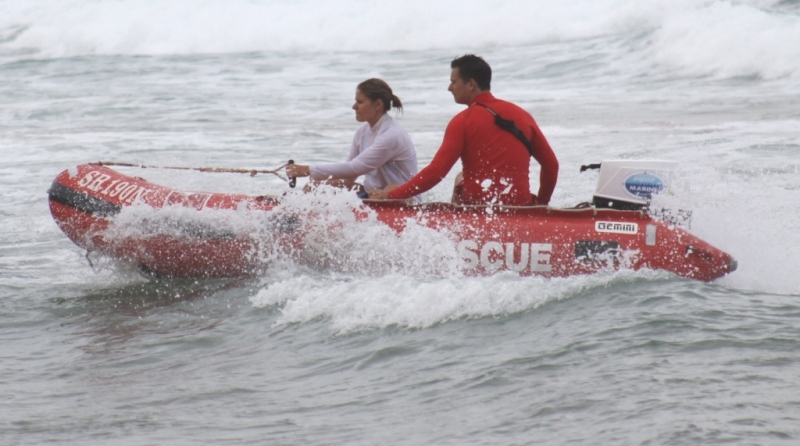 Kate on IRB Duty
Did you spend much time on the water while growing up?
My family used to spend time in America's Bay and Refuge Bay – I loved it on Pittwater. We would bring our boat up out through the Heads in Sydney and up the coast and we'd live here for one or two months over Summer, water skiing, eating fresh prawns off the back of the boat, swim, hang out around America's – it's just a lovely part of the world.
What are you doing when you're not on the beach?
I'm a hospitality consultant. I've been managing pubs and clubs since I was 18. I did a Hotel Management and Business degree. Now I'm on the other side in Consulting and work for a number of varying pubs and clubs. Our major sponsor, The May Group, which consists of Manly Wharf Hotel, Mrs Sippy and The London, (so a couple of eastern suburbs pubs as well as the manly pub) - they are contacts of mine so I got them involved through that aspect of my work and as a resident of the Northern Beaches, the major shareholder was very happy to be involved.
I've also recently become a shareholder (along with my brother) in the White Cockatoo Hotel which is a little pub out in Petersham. It's a good combination as my brother is in Property and I'm in Hospitality; he understands that aspect, as the pub is a freehold purchase, and I the other Hospitality side – so fingers crossed, it all works out. But that is taking up a little bit of our time at the moment too. We're having a little bit of the coast and a little bit of inland as well. www.whitecockatoohotel.com.au/
If you could be another creature for a day, furred, finned or feathered – what would you be and do?
A sea eagle – it's tempting to say dolphin because I love the water, but a sea eagle can go into the water. I'd just fly up and look down at everything – up around Pittwater and the beaches would be spectacular.
Have you encountered any 'glass ceiling' in working as a lady in your chosen field?
I don't think there is such a thing as a 'glass ceiling'. I think it's all about the attitude of us girls – you can't sit back and hope that a man is going to pull you into a position. You've really got to get out there and be hungry for it. I was lucky at Palmy – I had a lot of people encouraging me to take on the role and do what I'm doing, and that's because I've been involved for so many years helping out and doing one thing or another. If there was something I wanted to go for, I didn't encounter any glass ceiling stopping me from getting there, it was simply a matter of going for it. That was literally it.
If young girls out there want to achieve something it's simply a matter of putting in the hard yards and doing it, that's it.
You seem to be working seven days a week – what do you do when you get some time off?
On the couch – Sunday afternoon, if it's a rainy one. If it's not I'm usually up on Palmy for a little bit later, but then it's home and I catch up on all my TV shows that I've taped throughout the week.
What is your favourite place in Pittwater?
Palm Beach of course and also all the places we spent time at during Summer holidays while I was growing up.
What is your 'motto for life' or a favourite phrase you try to live by?
Don't be concerned about what people think of you or how you live your life – it's about how YOU want to live; no judgements, no concerns, just do it. Maybe the Nike slogan 'just do it!'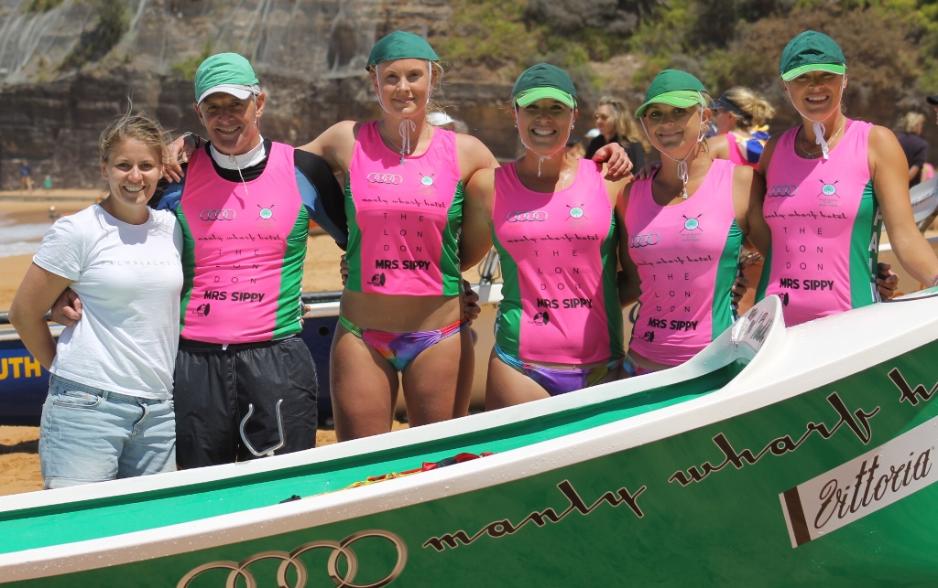 At Bilgola SLSC - Ropund 1 of 2013 SLSSNB Boat Premiership with PAlm Beach SLSC Boat Crew - Palm Beach Poconos.
Copyright Kate MacDonald, 2014.