August 23 - 29, 2015: Issue 228
NSW Clubbies Honoured For Top Rescues: Warriewood Avalon Beach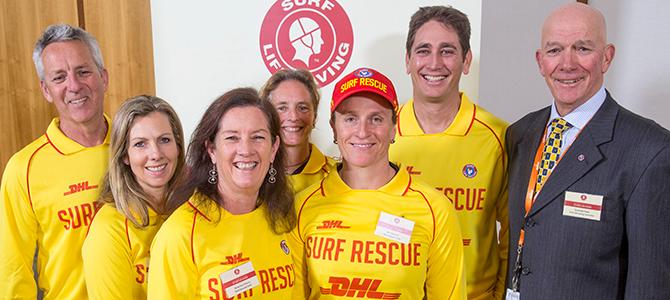 NSW Clubbies Honoured For Top Rescues
Thursday 20 August, 2015
A group of dedicated lifesavers received national recognition for recent rescue efforts at a ceremony in Parliament House Canberra on Thursday.
Avan Christie from Evans Head-Casino SLSC took out the National Rescue of the Month award for April, while Kate Munro, Kerry McEwan, Donna Wishart (Avalon Beach) and Bev Tilbury, Jen Spencer and Russell Lamb (Warriewood) received their award for the May/June period.
The group were presented their awards at ceremony attended by representatives from the Parliamentary Friends of Surf Life Saving as well as Mackellar MP Bronwyn Bishop.
Avan Christie won his awards for his efforts on Easter Monday where despite not being a patrolling member, he rescued 4 people in two separate incidents at Evans Head Main Beach and Airforce Beach before getting in trouble himself.
Mr Christie's feat is made all the more significant as he is from a small club, with Evans Head only having around 25 patrolling members. After the story of his brave rescue spread and with pressure from his fellow clubbies, Avan says he has decided to do his bronze medallion, when he can find the time away from the club treasurer's duties.
It was extremely fortunate for one fisherman that the Avalon Beach Masters crew along with their Warriewood sweep were out for a training session in the early hours of 27 June. The team spotted the fisherman falling around 5 metres onto rock and roll partly into the water.
The surfboat crew realised that the fisherman had suffered significant injuries which ultimately resulted in him having to be evacuated off the rock platform by helicopter.
Warriewood sweep Russell Lamb said the combined Warriewood/Avalon effort was the result of the right people being in the right place at the right time.
"He was lucky that there were well trained Surf sports competitors there outside of patrol hours to respond. We need to encourage more participation in surf life saving at all levels for this reason, as it means more people who know what they're doing are there," Mr Lamb explained to the attending MPs.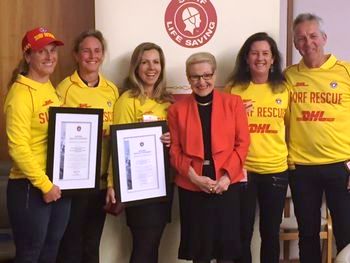 Each month a 'Rescue of the Month' is awarded at State level for the most outstanding rescue performance for that period. Monthly winners have the chance to win the Australian Rescue of the Month and become finalists for the SLSNSW Rescue of the Year which is presented at the annual Awards of Excellence.
The SLSNSW Rescue of the Month aims to recognise excellence in lifesaving.
Top - Winners are grinners. Avan Christie and the Avalon and Warriewood Surf Boat Team with Graham Ford. Credit SLSA
Centre - The Avalon and Warriewood crew show off their spoils with Hon. Bronwyn Bishop MP. Credit SLSNSW
Below - Avan Christie is all smiles with Sarah Henderson MP, Federal Member for Corangamite, Victoria and Matthew Thistlethwaite MP, Federal Member for Kingsford Smith, NSW. - Parliamentary Friends of Surf Life Saving - co-chairs. Credit SLSNSW.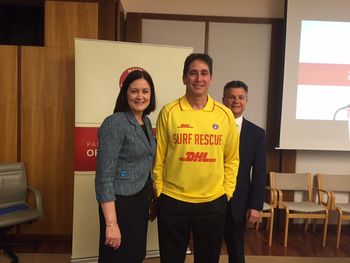 Further see:
Avalon Beach SLSC Women's Antiques Boat Crew Rescue Rock Fisherman
Warriewood and Avalon Beach Win NSW Rescue of the Month - May/June 2015 - by SLS NSW