June 28 - July 4, 2015: Issue 220
Avalon Beach SLSC Women's Antiques Boat Crew Rescue Rock Fisherman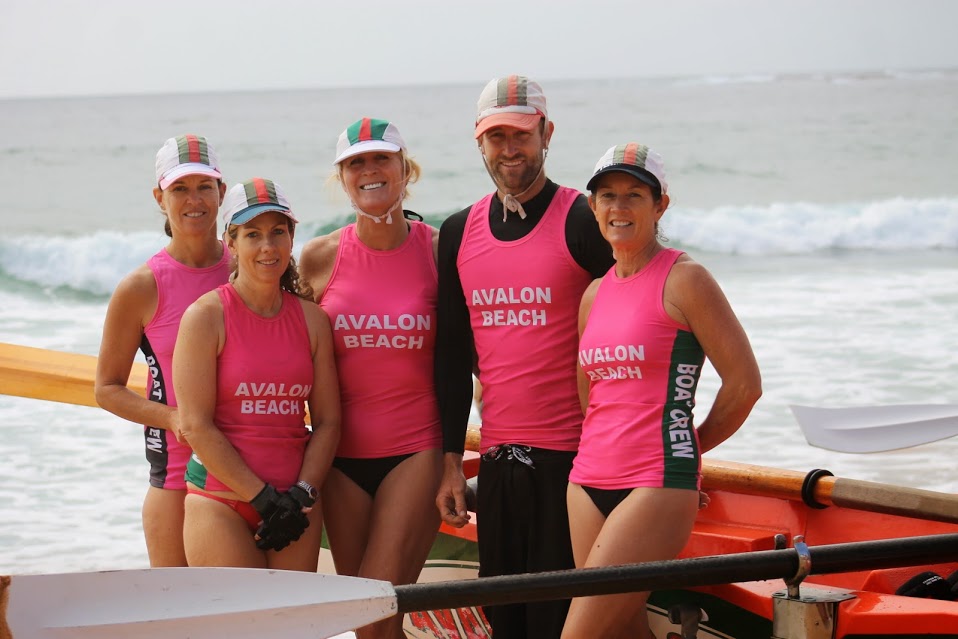 Avalon Beach SLSC Antiques girls with Nathan Wellings -sweep
Sat 27 Jun 2015 - SLSNSW
They may have missed out on winning Team of the Year at the Sydney Northern Beaches Awards of Excellence Friday night, but less than 12 hours later, the Avalon Beach Antiques masters women surfboat crew had redeemed themselves, rescuing a fisherman who had fallen from rocks at Warriewood Beach.
The crew were rowing off Warriewood at 7.20am when they saw a man fall more than 5 metres into rocks and roll partly into the water. When he wasn't moving, two of the rowers jumped into the water and swam over to the rock platform with a rescue tube.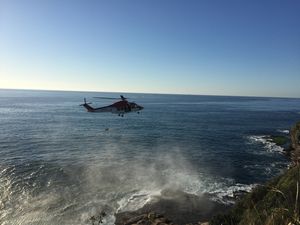 The remaining two rowers and the sweep headed back to the beach to raise the alarm and launch the IRB.
Police and Ambulance were called and the IRB sped back out around the headland with first aid, spinal board and oxygen gear.
The 5 times Australian Masters surfboat champions stabilized the patient and waited for help as it was thought too risky to try to get the man into the boat with possible spinal injuries.
"He was in a lot of pain, groaning and shivering from shock," said one of the rescuers, Bev Tilbury. "We couldn't walk him out either because we were trapped under a rocky overhang."
The Ambulance helicopter arrived and a paramedic was winched into the rocks, secured the patient in a stretcher then winched him aboard the aircraft.
"It was all a bit scary but I guess this is what we train for as lifesavers. We were talking a lot of rubbish trying to keep him distracted from the pain until help arrived," laughed Kate Munro.
The man was wearing a lifejacket, but was extremely lucky the crew were out training and were able to reach him so quickly.
"Who says surfboats no longer play a part in surf rescue," said the Avalon Beach crew.
It was a multi-club effort with Warriewood clubbies also involved, crewing the IRB and coordinating the rescue effort from the clifftop.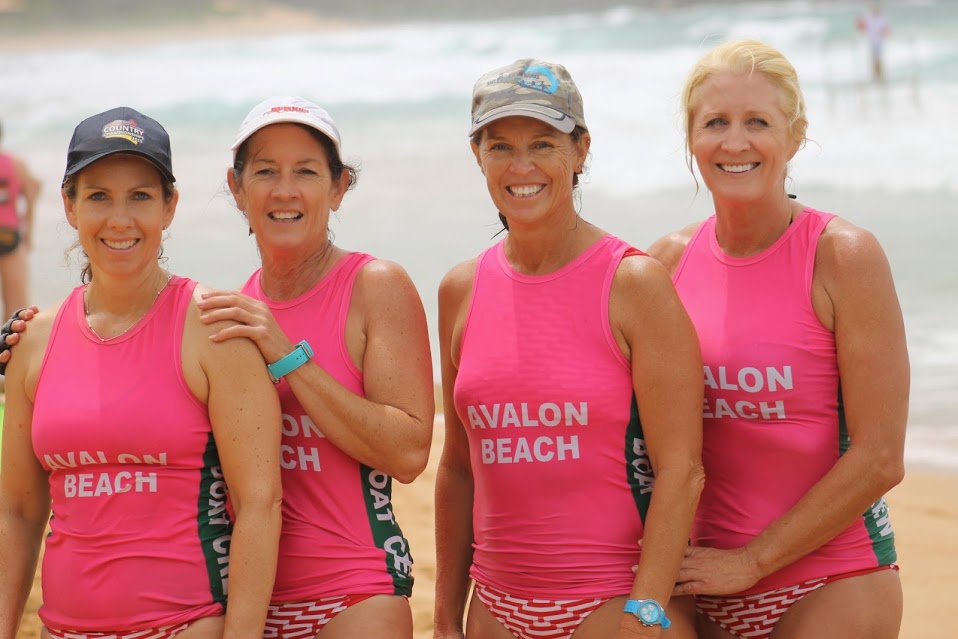 Avalon Beach Antiques at Branch Championships this year: Donna Wishart, Bev Tilbury, Kerry McEwan and Tracey McSullea. AJG Pic.
Avalon Beach SLSC's Antiques Women's Boat Crew Clean Sweep 2015
Avalon Beach SLSC's Antiques Women's Boat Crew Win Branch, States, National and Worlds in One Year - Palm Beach, Whale Beach, Avalon, Bilgola, Mona Vale, Newport and Warriewood Champions at 2015 National Titles
April 18, 2015
In deference to today, April 19th, being the last day of this year's Aussies we will hold off running a quite long list of Pittwater results until Sunday 26th of April, 2014, the day the 2014-15 Patrol Season closes and run something after all the results are in – as well as a celebration of a brilliant season by every Pittwater Surf Life Saving Club.
One of the biggest stories to come out of this year's surf sports calendar, and just completed this week as part of Aussies 2015, has to be that of Avalon Beach SLSC's Masters Boat Crew – the ladies who comprise The Avalon Antiques. In one year these girls have won the Gold Medal in Branch, State, National and Worlds. Two members, Kerry and Bev are rowing with a group from Warriewood Beach SLSC have already left our beaches to be part of the Gallipoli 100 surfboat race*.
Donna Wishart, Tracey McSullea, Kerry McEwan, Bev Tilbury and Sweep Nathan Wellings currently comprise this superlative team who won Gold at the Aussies last season in Perth, defended their Gold at Worlds and have done the George Bass Marathon a few times too.
We contacted Donna for a 'congrats' and 'how does it feel?' earlier this week. This Mum of a few, who also works, answered:
"We are certainly breathing a sigh of relief at getting the Aussies title again as the surf was big and tricky and it could have gone either way. Crews were wiping out all over the place and a rollover in those conditions would have spelt the end to our season's campaign for sure.
For a few years we've had the goal of trying to clean sweep the competition by getting gold at Branch, State and Nationals along with the ASRL Open and World Championships. Each year at least one of these eluded us but this season it all fell into place.
It's been a great season, but a long one as we began training back in July as we were heading to Worlds in France in September. Our sweeps Rick Millar and then Nathan Wellings for the last part of the season were amazing and really focused on our technique instead of just fitness in the boat.
Two of the crew flew straight out after the race to Gallipoli and are rowing 100 kilometres into Anzac Cove for the memorial next week so we didn't even get time to celebrate properly. Kerry and Bev are rowing with a group from Warriewood Beach SLSC.
Medals aside though, we just love the thrill and the challenge of surfboat rowing and we have a great supportive club at Avalon Beach so we'd like to continue rowing as long as we can. Most of us are in our 50s but we think we go alright. We joke to our young Under 23 boys that one day they'll be picking us up from the nursing home to take us out for a row!'