March 2 - 8, 2014: Issue 152
2014 Pittwater Festival Launched by Hon. Bronwyn Bishop and Surf Boat Shoot Out on Pittwater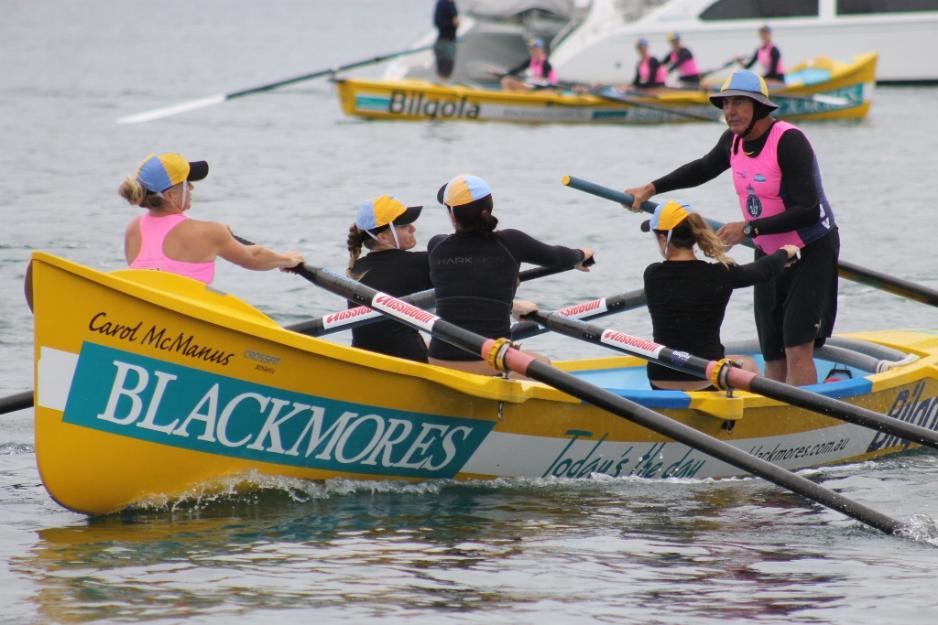 2014 Pittwater Festival Launched by Hon. Bronwyn Bishop and Surf Boat Shoot Out on Pittwater
Saturday the 1st of March was the official opening of the 2014 Pittwater Festival - Celebrating Pittwater and all that it offers, and the launch event was one dear to the hearts of most in Pittwater – a Surf Boat Shoot Out.
Rob Brown OAM was MC for the official opening and introduced the Commodore of the Royal Motor Yacht Club – Broken Bay, Mr. Peter Haig.
Royal Motor Yacht Club- Broken Bay Commodore Peter Haig:
I would like to welcome the Hon. Bronwyn Bishop, Member for Mackellar, Speaker of the House of Representatives and our Club Patron, the Mayor of Pittwater, Councillor Jacqueline Townsend and the gentleman who is CEO of Riley Riviera, Mark Riley, main sponsors for the 2014 Pittwater Festival, the Boat Crews from Surf Life Saving Clubs of the Northern Beaches and all members and their guests.
The Royal Motor Yacht Club has always been a strong supporter of Community based events and we are very proud to be hosting the inaugural Pittwater Festival. It is very exciting that are so many varied water events are happening right in front of the Club in March from Surf Boat Shoot-outs and Stand-Up Paddlers to Classic Yacht races and Cruiser's Navigational Trials.
Throughout the Festival we are offering substantial membership discounts, so please go and visit our girls at the RMYC Marquee. If you join as a member on a Festival Day you go into a draw and if you win your membership fee will be reimbursed.
Good luck to all Boat Crews!
Our Worshipful Mayor Jacqueline Townsend, expressed Pittwater Council's role as sponsors and supporters of the 2014 Pittwater Festival falls in line with the Enliven Pittwater program's aims to bring new, exciting and more events to Pittwater. This inaugural Pittwater Festival would be a great showcase of our waterways and reiterate what Enlivening Pittwater is all about.
Councillor Townsend stated in closing, "I thank this fantastic community Club for hosting the inaugural Pittwater Festival, I thank Rob Brown for initiating a return of a lively program of aquatic events on our beautiful estuary, a regatta format and programme first seen here in 1888, and I hope all RMYC members, their guests and visitors to this first Pittwater Festival have a wonderful time."
Hon. Bronwyn Bishop as Patron of the RMYC Broken Bay and as Patron of the 2014 Pittwater Festival had the pleasure of officially opening the 2014 Pittwater Festival and with characteristic eloquence prefaced a Message from our Prime Minister by remarking that the damp conditions that prevailed yesterday would not put off the many Surf Life Saving Clubs represented by their Boat Crews as it is the water that brings them out.
"This month long Festival with its many fantastic variation of events, which on its first day brings the surf side of our beaches to the Pittwater side, the squeals of the children in the pool, the families gathered here today, epitomises what this inaugural Pittwater Festival is about; community celebrating all that is Pittwater and opening its doors to welcome those not familiar with all available here to visit, meet and experience all our beautiful waterways offer."
MESSAGE FROM THE PRIME MINISTER
OFFICIAL OPENING OF THE 2014 PITTWATER FESTIVAL
I send my best wishes to everybody participating in the 2014 Pittwater Festival.
The Pittwater Festival showcases one of the world's most pristine waterways, which in 1788 Captain Arthur Phillip described as "the finest piece of water I ever saw".
Pittwater has always attracted people who have a love of the sea. In 1906, a group of sailing enthusiasts held a race along the water and around Lion Island, laying the foundation for an annual regatta.
Since the early 1920s, the Pittwater Regatta has been a highlight event on Australia's yachting calendar.
Hundreds will converge on the water this year for the Surf Boat `Shoot Out', the Game Fishing Tournament, a Classic Yacht Regatta and the Blue Water Navigation Event.
No doubt it will be a fantastic Festival for competitors and spectators alike!
I congratulate the Organising Committee and the Royal Motor Yacht Club for making this event possible and I wish everybody an enjoyable Festival.
The Hon. Tony Abbott MP
Prime Minister of Australia
27 February 2014
_______________________________________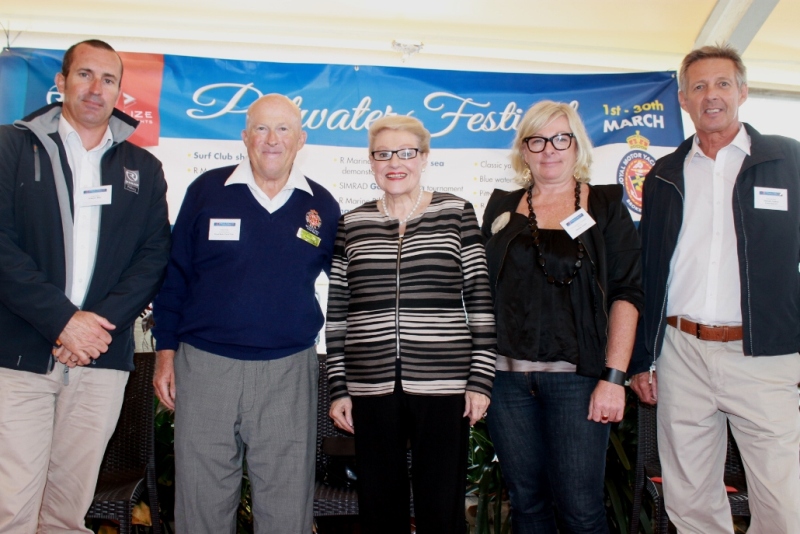 Mark Riley, CEO of Riley Riviera, Commdore of the RMYC Borken Bay Peter Haig, Hon. Bronwyn Bishop, Mayor of Pittwater Jacqueline Townsend, Rob Brown OAM
The action on the estuary showed how fast these crews can move those boats over still water. 33 teams from Manly, North Steyne, Queenscliff, Harbord, South Harboard, South Curl Curl, Dee Why, South Narrabeen, Mona Vale, Newport, Bilgola, Avalon and Palm Beach competed from the early hours until around 2.30 in the afternoon over a straight course just off the breakwall. This close you could see every muscle straining, hear the sweeps urging their crews on and there were no waves to help boats pip each other at the post, coordinated crew rowing and stamina won the day.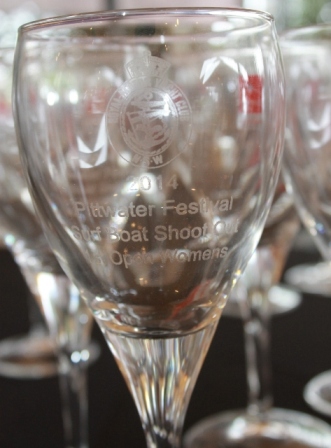 In between races an Australian Pelican, Pacific Duck, Little Pied Cormorant and Little Black Cormorant made use of the clear waterway to glide on past, keeping more 'oohs!' coming from spectators.
All who competed were winners but those listed as fastest and winners of the finals are:
Fastest Young Women's Crew: Palm Beach Pups. (2mins,31secs)
Fastest Young Men's Crew: Palm Beach Pistons (2mins,15secs)
Open Women's Runner's Up: Bilgola Black (2mins, 25secs.)
Sweep: Mitch Foran, Bow: Hayley Beckerleg, 2nd Bow: Annelise Allan, Stroke: Claire Cupitt, 2nd Stroke: Rhiannon Lea.
Open Men's Runner's Up: North Steyne Nuthuggers (2mins, 12 secs)
Sweep: Col Stanford, Chris MacKinnon, James Ellis, Samm Wallrock, Chris Ried,
Open Women's Winning Crew: Palm Beach Pokopanos (2 mins, 23 secs)
Sweep: Matthew Giblin (Dr.), Bow: Bec Mobbs, 2nd Bow: Alex Tyrell, Stroke: Alex Hill, 2nd Stroke: Jamie-Lee Patterson.
Open Men's Winning Crew: Bilgola Gold (2 mins, 10secs)
Don McManus (sweep), Brendan Murray (bow), Mitch Foran (2nd bow), Anthony O'Toole (stroke) and Jarrad King (2nd stroke)
The winning crews were presented with a $1000.00 cheque, Vaikobu helmets provided by Patrick Langley, a collectors items instantly in a Pittwater Festival chamois and the etched glassware you see on this page.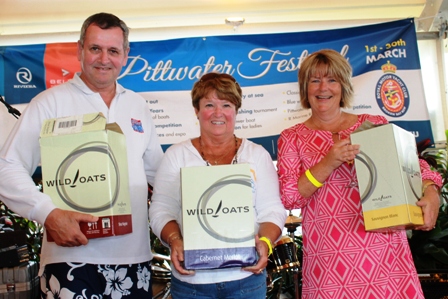 The official Pittwater Festival Wine sponsors – Wild Oats, provided gifts of an assortment of wines as thanks to those officials who worked on time keeping and associated tasks with the Surf Boat Shoot-out: Richard Crayford, Carol McManus and Trish McDermott.
The raffle for a hamper of Blackmore's goodies, with all funds raised going to Westpac Rescue Helicopter Service, was won by a very pleased boatie!
Last words must go to Dennis O'Toole, a surf life saving legend and Bilgola SLSC member who organised this year's Inaugural Surf Boat Shoot-out and coordinated all the little details that make such an event a success. Mr O'Toole thanked all the Surf Life Saving Clubs and crews who had attended and wished all the boat crews the very best at the States next week being held at Ocean Beach, Umina and hoped the Northern Beaches Clubs would do well. Further thanks went to the Royal Motor Yacht Club, its Directors and staff for their whole hearted support, Mr Mark Riley and R-Riley Marine for their sponsorship of this great series of events, the Surf Life Saving Officials who attended and assisted and finally Rob Brown OAM, the man who has brought to reality the 2014 Pittwater Festival – Celebrating Pittwater and all that it offers!
________________________________________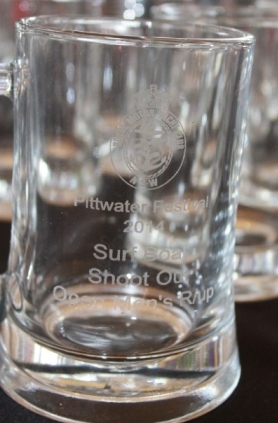 Today is the second day of the 2014 Pittwater Festival and a grand Boat Parade – R-Marine Riley - 34 Years of Riviera, is in the offing. This is a great way to not only appreciate these historic vessels and their progressions but also a good reminder, for all of we who are not mega-rich, that a boat is one of the best ways possible to enjoy our waterways and the beautiful pristine landscapes that adjoin them.
If you can't afford a weekender, you may be able to afford a boat. You can leave it moored at a marina and be on the water, or cruise to any destination of your choice and anchor there for a night, a weekend, a week, and see sights rarely experienced in the crowded channels.
Those we spoke to yesterday all listed generations within their own families who have done just this – had a permanent weekender floating on the water, affording them precious memories and long seasons of bliss.
A Full Program of all the 2014 Pittwater Festival events may be seen on the Royal Motor Yacht Club website at: HERE
Our 152nd Issue's Pictorial features images of the Surf Boat Shoot Out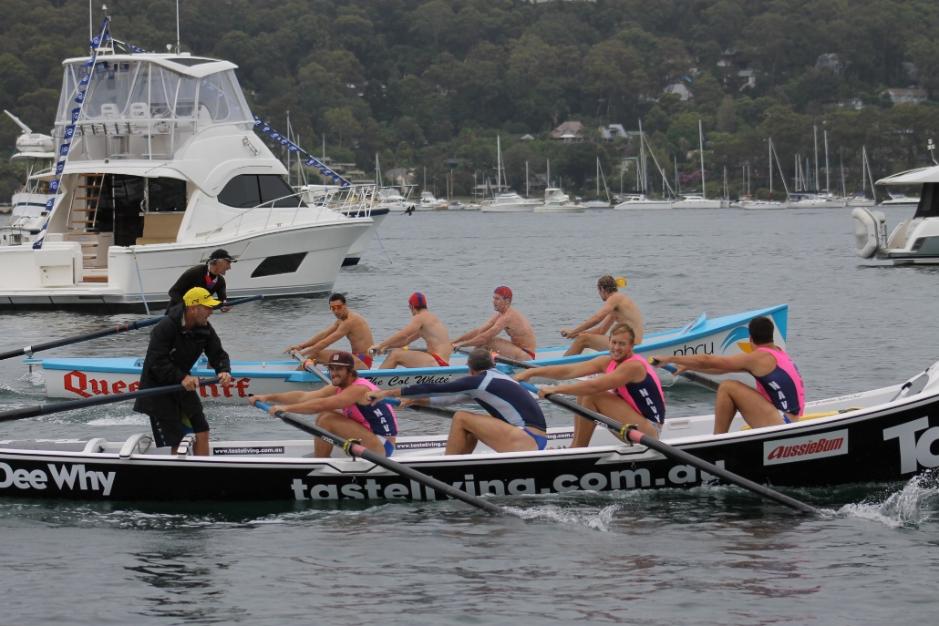 Report and Pictures by A J Guesdon, 2014.