March 6 - 12, 2016: Issue 254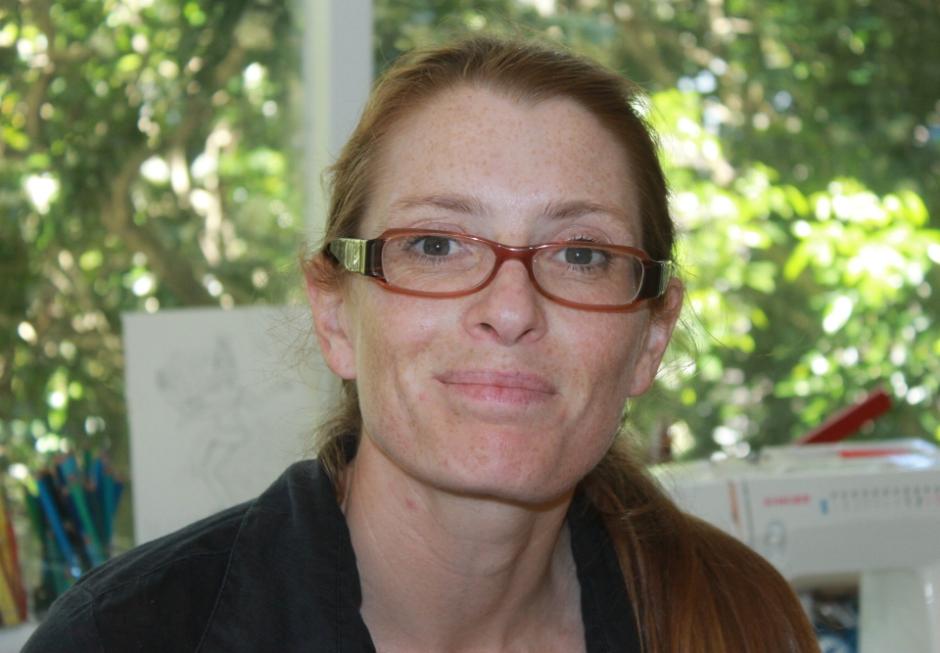 There is something quite revolutionary work going on in the works and workings of Jessica b Watson, a love of everything "Stitched" has transcended into creating Artworks that combine and bring forward ancient methods and techniques so you may discern a trace of archaic knowledge made contemporary. These traces, or 'threads' if you like, of bringing in other cultures so is there, but not blatantly so, wonderful nuances of what are ancient art patterns as fabric patterns in 'stitched collages', screen printing and even drawings that seem to communicate how threads gather, weave, create one whole.
Photos cannot do justice to the vibrancy in these works, the colours, the layers and a sense of being able to fall into them - they are mesmerising, and as with all great art, communicate something without a word.
Jessica b Watson has a contemporary voice, and is spot on here too. A Drawing Virtual and cyber journeys was selected for the Adelaide Perry Prize for Drawing 2016 and days ago was announced as a Finalist. This week her Symphony, - Ink and silk with stitching on linen and hemp was announced as a Finalist in the inaugural SEED STITCH textile exhibition at Warringah Creative Space, Opening 17 March, 6-8p, 105 Abbott Rd, North Curl Curl.
Last week Jessica was officially announced as the 2016 Eramboo/Enliven Pittwater Artist in Resident while in the past few days. A current public art project, a large-scale interactive textile mural Dreams and Demons was conceived as part of the 2015 Avalon Art Carnival and continues to be added to by the community, slowly becoming part of the 'fabric' of Avalon. Her three month residency begins this month, March 2016, and her art activation is planned for Avalon village in June.
As well as these fast flowing announcements of recent days and weeks, Jessica has been busy in town readying and displaying 'Pulling it Together', another Art Installation piece as part of 'DIP' – 'Darlington Installation Project', at the corner of Golden Grove and Abercrombie streets, Newtown.
A working Artist this lady is in large measure. Add to that part-time work at Opera Australia in their costumes department, yes, more glorious threads and thread entwined and enmeshed with culture, with people, and proving one knowledge extends in more directions than may be apparent when you shift outside recognisable classrooms or the 'niche' at the end of the study, pile on that a home to run and a child to raise, and you get an inkling of a lady who is dynamic in everything else too.
Jessica is a quiet person though, the quietness apparent in her works, that allows their busy voice to come through, surrounds her. A sense of where she has been is in that air. This is someone who has been doing what she does for decades - 'this is what I can do, so I do it'.
Jessica b Watson is Artist of the Month for March 2016 and shares a small insight into her works here:
Where and when were you born?
I was born in Mona Vale Hospital in 1976.
Where did you grow up?
In Avalon.
Have you seen many changes here during that time?
Definitely, there's been a major facelift. I think it would be depressing to come back and see nothing has changed though.
I'd go into the bush, to the beach. We did lots of outdoors activities – my family loved doing lots of that.
Did you go to school here?
I went to school at Avalon Public school and then SCEGGS Redlands in Cremorne. I then went up to The University of Newcastle and spent a year and a half studying Visual Arts there.
I then went to Sweden as an exchange student, where I studied to get a Master of Fine Arts in Textile Art and a Bachelor of Fine Arts in Textile Art from the University of Gothenburg, Sweden.
I went there for a year as an exchange student and then transferred. Because, up until two years ago, you didn't have to pay for university as a foreign student in Sweden, this was doable. I received some grants and was able to do it this way.
You obviously fell in love with Sweden, you were there 15 years. What was the attraction – the landscape, people…?
I did fall in love with Sweden. I think I fell in love with the landscape, it was so exotic – it was so opposite from what we have here; cold, snowy. Gothenburg is part dark, it can be a bit hard. It took me a long time to get used to it, if you ever do.
I guess when my daughter was born I really felt that it was a case of 'who cares about the weather – we've just got to get out there and do things'. I think you have to have that sort of mentality, if you're a stay at home kind of person it can be difficult, but if you get the right clothes and get out there you're fine.
How did you cope with the Winters, and such long periods of darkness after sunny Australia?
Well that is difficult, definitely. But I think that's why their textiles and their crafts and their arts are so developed, and that is what drew me to Sweden, because their textile art is so developed and refined the contemporary textile work is daring, cutting edge and provocative as well as subtle. It's difficult to describe imagery with words, perhaps 'honest' and 'raw' are good words to describe Swedish textile art.
Did any of your teachers stick with you from what you learnt?
Yes, definitely, I stayed in contact with a few of them and ended up sharing a studio with one of them. It took about 8 years for me to really find my feet, I was there for 15 years, which is a long time.
I had a great setup over there; I had a half an hour's bike ride to my studio… and shared this with five other textile artists who were all in different stages of life – I was the youngest.
What are these artists using these Textiles for after producing them: are they used in Garments, as Installations in Buildings…?
They are purely Art. These are shown in Exhibitions, they do them for commissions for buildings. There isn't just one major Textiles Art Exhibition each year. There is a major Nordic Textile Prize, which is worth around 40 thousand dollars in Australian terms. This is restricted to Nordic citizens.
Why were you drawn to Textiles?
I started sewing as soon as I could get my hands on a needle. Both my grandmothers were very craft orientated. One in particular worked a lot with needlework, little did she know I would take it into Contemporary Art. I used to constantly make things and still do.
You have been selected as a finalist for the Adelaide Perry Prize for Drawing 2016 this year, congratulations. This shows you draw as well?
Yes, I do draw, I like drawing with colour pencils to explore the possibilities of colour though recently I have taken up candid drawing, just to keep my hand-eye contact. I always have my drawing pad and pencil case with me to catch a moment in time. It was one of these drawings that became a finalist in the Adelaide Perry prize.
I also create limited edition prints using screen-printing. My most recent series is coastal stories which depicts elements of the Northern beaches, Palm Beach lighthouse, Norfolk pines and seagulls.
I create stitched textile artworks- this for example I did when I was on residency in Rimbun Dahan, Malaysia. I received a fully funded Residency for a year in Malaysia and created an Exhibition out of that: - Gecko on my Shoulder – Rimbun Dahan, Malaysia in 2011. That was an amazing experience.
These look as though you have been very inspired by where you were...?
Definitely, and a lot of pattern work too. I was interested in pattern. Having travelled quite a lot and having been lucky enough to have met a lot of different cultures, my partner is from the Philippines, but lived in Sweden, just in our own little family we have quite a multicultural mix. So I've been inspired by that too and have tried to project that into these works. Malaysia is quite intense and so I was trying to communicate that. a lot of the other young contemporary artists working there are pushing out these really quite dark artworks with really dark subjects.
I really wanted to communicate something about the culture, its bright colours, that intensity, the fact that there is so many cultures in one place, and I did that through pattern. I worked a lot with the Chinese patterns, I would take rubbings, and the arabesque patterns from the Malay and would incorporate that into these works.
These are beautiful Jessica - those traces and elements, introduces those lovely echoes. Why do you think the young Malaysian artists are producing dark themed works?
I think it's because a lot is going on in Asia at the moment, in the whole world it's a reflection of that.
There is a long list of successes in your works, what does it feel like when, for instance, you are nominated as a Finalist like the Adelaide Perry Prize for Drawing?
Well, it feels wonderful, and also it makes you feel like you might be on the right track.
Virtual and cyber journeys selected for the Adelaide Perry Prize for Drawing 2016 – where does this come from?
The drawing selected was one I did while travelling on the E88 into town. I work casually at Opera Australia and so have a long commute. Rather than just sitting on my phone I practice my craft – you have to keep your drawing going, you can't stop or take it for granted. So the long commute gives me a period of time where I can do that.
These are only little drawings but I thought I'll enter one of these. I've drawn a woman using her mobile phone – we're all doing this, it's everywhere. I also like drawing people and using this old age technique, it's so basic, and catching people constantly on their phones – we're always caught up, there's always something. People always commuting and on long commutes, that's also something of today, this three hours out of your day, everyday. So what are you going to do?; you're going to try and catch up with your emails or watch a film or you find some way to step outside where you are – so 'Virtual and cyber journeys'.
You were a participating Artist in the Avalon Art Carnival, exhibiting 'Dreams & Demons', and this led you to apply for Eramboo, which you have succeeded in securing. I know Artists don't like to talk about future works, but what will you be focusing on?
Well, 'Stitching" and 'thread' I would say is my main theme or art-form at present, what I'm focusing on and what has developed from what came before it.
When did you first notice a 'thread' or theme developing in your work?
The first real major series was called 'Sketches from Rio' – this was 31 stitched sketches, all around A3 size and all of hawkers selling their wares on the beaches of Rio de Janeiro. I spent some time travelling there over two years and ended up spending six and then two weeks there during this time. I loved it, this was so different from the beaches of Sydney, that these people could just walk up and sell you everything,-it would be considered harassment here.
I went to the beach everyday, sat under an umbrella as I'm not one for sunbaking, I'm red hair, white skin, but I loved drawing these people. I had a chat to quite a few of them and got to know them.
I would do quick sketches, was drawing en plein air, or drawing in the open air, and then translated these into embroideries, which was a very slow process. But when you look at the drawings from a distance they do look like sketches, you wouldn't know that they were stitched. I only have a few of these left, the rest sold.
'Sketches from Rio' – Was there something discernible as a development from that?
Definitely – my thread is 'Identity', I'm always looking at Identity – in people, individuals, in cultures. Identity helps us define 'what is a culture' – Identity helps us define a culture's places too.
A lot of these works, for example, are about the Identity of this area, Pittwater and the Northern Beaches. In this I've done a seagull, this is the Lighthouse on Barrenjoey
This is the Dreams and Demons – the real identity of people, their dreams and demons – what we hope, what we may fear.
After 'Sketches from Rio' I did a lot of work which had been influenced by Sweden, natural when I was completing my courses.
This involved working with Swedish Collections and spending quite a few years simply developing my technique and looking at different ways to develop this. After finishing university I needed to find my own path. Rather than doing what everyone else is doing you do need to spend time finding your own method and style and technique.
That was one great thing about living in Scandinavia – you could nip down to Europe for an exhibition, nothing was too far away, and you can learn from looking at what is in these – that's part of developing your art.
The next major work that followed on from this was a year long Residency in Malaysia and the series called 'Gecko on my Shoulder'. The Exhibition for Gecko on my Shoulder – was held at where I did the Residency -Rimbun Dahan, Malaysia.
What followed on from that?
We moved here. I then had my first Australian solo exhibition at the Tamworth Regional Gallery at the beginning of 2015. this was a bit of a mini-retrospective and compilation of different periods over the last 15 years. I created a series of works specifically for that show all based on this area. This was a technique which I developed while in Malaysia. My first work was using this technique – this is collaged silk, which I handpaint, I then cut each form freehand and then stitch it in place, no glue, just thread.
I didn't continue with this while in Malaysia because I couldn't find the silk, all of those materials are quite expensive. I would use what I could get my hands on while there. When we returned here I thought I'll go back to that technique and try and develop it further. That is what I'm working on now.
Beautiful works – the use of patterns, which is part of textiles and fabric of course, but also as a reflection of nature is just amazing.
Absolutely – I'm influenced a lot by nature and by patterns, by repetition, by colour. I've also worked with costume, and so have crossed over between worlds.
That's right, you do work for Opera Australia as well – what does that involve?
I work in the Art Department there. When the wardrobe makes a beautiful costume and it has to look old, I make it look old; I paint it and airbrush it and rip it to shreds, that type of work. This work can also involve a lot of dyes, I do a lot of dying. We have specific colour matching. Wardrobe will come out with samples; 'we need this dye to be exactly like this', so I do that. Or they say, 'we need to remake this costume from two years ago – colour match this sample' – and I do that too. At present I am working on Turandot (Hosh) which requires a lot of hand painting directly onto garments. No room for error there!
So working in Art Textiles is not just restricted to creating Art Works, there's all these other fields that require what you have learnt?
Yes. It is pretty specialised but one develops skills over the years and as you develop those skills people become aware of your being able to do that.
How do you do it Jessica – you're clearly extremely busy developing your art and working in town, and you're a mum, you're running a home – how do create that balance to get it all done?
I'm not sure if I do really. The washing may be on the line today, and the house clean, but it's hard, really hard. I wouldn't say I'm really great at it – I'm doing this because this is what I can do in life. It can be frustrating, this is not a lucrative job, it's just what I can do, so I do it.
When you are creating a series do you have that creative energy where you wake at 2 or 3 a.m. and just have to get up and write down those ideas or work on it?
Yes. I actually woke up at 3 a.m. this morning and got up and wrote down an idea, and thought, I may as well go on from there for today. Sometimes I know I have to sleep but there's no point when that happens, I can't go back to sleep, I may as well just get up and do it.
So how many years have you been doing this?
I began at Newcastle in 1995. I haven't gone out and had a high-flying job and then gone into Art. I've always done this, or done this all my life.
Even when at your grandmother's knee really?
Yes, that's right.
Do you see evidence that you are coming into your own now, have your own voice?
I feel like I am. It has taken a long time though.
So what is your voice, or style?
I would say thread and Identity, I think those are two words which speak most through or describe what my work is about. Currently I'm beginning to move into Installation. In fact the Dreams and Demons project pushed me in that way because of what the Avalon Art Carnival wanted. This made me think in different ways, gave an outlet for an idea that I had which I felt didn't really fit in with what I'd been doing before, and brought me to 'who cares' – just do it.
I think there's quite a lot of pressure within the art world that artists have to have a style – they get out of uni, have to have a style, a brand, and just do that, for all their career. It then is easy for the commercial art scene to put them into this little box of 'this is what this person does' - but art is not really like that. People develop. An Artists sees new things, they try new things – it's a dynamic medium.
The Avalon Art Carnival: The Game, inspired you to move into Installations?
Yes. I'm going to set up an Installation called 'Pulling it Together' in town at the end of February 2016. This is an on the side project which I was fortunate to learn about through Tony Twigg, an Australian Artist who runs this- he also undertook the artists Residency at Rimbun Dahan, Malaysia.
He is an established Artist whop has a few projects going. One of the these is called 'DIP' – 'Darlington Installation Project'. This is an old shopfront where he puts artists in there for 3 or 4 months at a time and I'm doing the artwork, 'Pulling it Together', for that.
What are your favourite places in Pittwater and why?
One of my absolute favourites is the lighthouse, Barrenjoey. I love it because it's a fantastic walk up there. The view is just spectacular, you get to look back at the whole of Pittwater and it's just beautiful.
It is also definitely old country, makes you think about how it was before white people were here and brings in that discussion as well. It's beautiful country, is a very special place.
Bangalley Headland is also a special place for me, and also a very ancient place.
You seem attracted to very ancient things – landscapes where you can still see yesterday as well as tomorrow, art-workings that can echo forward too..
Definitely – places such as Bangalley clear your head.
What is your 'motto for life' or a favourite phrase you try to live by?
I don't have a 'life's motto'. I do like this thought at present though;
"Light must come from inside". - Sogyal Rinpoche
Jessica b Watson
www.jessicabwatson.com/
Email: jessica@jessicabwatson.com

Visual Artist exploring the idea of identity through colour and pattern in her drawing, printmaking and textile based artworks.
'Somewhere between a pencil and a fine needle lies the mediative and cathartic process of art making...'

Conversations are fundamental to my art-making. I am interested in the stimulus and symbolic meaning of colour and pattern and use them within my drawing, printmaking and textile-based artworks to explore the idea of identity –whether it be a person, culture or place. I am also very interested in the idea of the 'double-take' and drawing in the viewer to explore more nuanced subtexts. The preoccupation with identity emerged and developed while I was living in Sweden between 1996 and 2011 – initially as a foreigner and then as a naturalised Swede.
Jessica b Watson is Australian-by-birth and Swedish-by-choice and is presently based in Sydney, Australia. Her work is held in public and private collections in Australia, Sweden, Malaysia and the UK.

CURRICULUM VITAE
Master of Fine Arts in Textile Art
University of Gothenburg, Sweden
Bachelor of Fine Arts in Textile Art
University of Gothenburg, Sweden

Solo Exhibitions
2016
Pulling it Together
'DIP' – 'Darlington Installation Project', Cnr Golden Grove and Abercrombie streets, Newtown, Sydney. March to May 2016
2015
15 year sojourn, Tamworth Regional Gallery, Tamworth, NSW
2012
Catching the Last Leaf, Gallery two little birds, Gothenburg, Sweden
2011
Between Clouds and Butterflies – Alpha Utara gallery, Penang, Malaysia
Gecko on my Shoulder – Rimbun Dahan, Malaysia
2009
Sketches from Rio – Art in Motion, Gothenburg, Sweden
2008
Sketches from Rio – Galleri Mitt i Centrum, Gothenburg, Sweden
Sketches from Rio – Galleri Mosebacke, Stockholm, Sweden
2005
Butterfly Stomach & Hunter – Gothenburg City Library, Sweden
2000
flickers – Gothenburg City, Sweden

Group Exhibitions
2016
January
Finalist Virtual and cyber journeys selected for the Adelaide Perry Prize for Drawing 2016.
Adelaide Perry Prize 27 February – 25 March 2016
Adelaide Perry Gallery, The Croydon Centre for Art, Presbyterian Ladies' College, Sydney Boundary
March 3
Finalist in the inaugural SEED STITCH textile exhibition at Warringah Creative Space, Opening 17 March, 6-8p, 105 Abbott Rd, North Curl Curl, NSW
For Symphony - Ink and silk with stitching on linen and hemp
2015
Avalon Art Carnival: The Game
Dreams and Demons - large-scale interactive textile mural
Installation Art around Avalon Beach Village
2014
Finalist Kennedy Foundation Art Prize, SA
A4 4A, 4A Centre for Contemporary Asian Art, Sydney
8th International Fibre Biennale, From Lausanne to Beijing, China
2013
Cultivating the Garden – Rimbun Dahan -Light Square Gallery, Adelaide
2010
WWF, Art for Nature – Rimbun Dahan, Malaysia
Miniartextil – Como, Italy
2006
Broderia Fantastia – Flores Rike Gallery, Gothenburg, Sweden
2004
Hunter – Galleri D Lyx, Malmö, Sweden
2003
wouldwork – Knot Gallery, Sydney, Australia
2001
flickers – Watt Space, Newcastle
Omfång – 25m2, Stockholm, Formargruppen, Malmö, Galleri 5 Visby, Sweden
2000
Talente – Munich, Germany
Omfång – Galleri Koch, Stenungsund, Sweden
Grants / Artists Residencies
2016
2016 Eramboo/Enliven artist-in-residence
Eramboo, in partnership with Enliven Pittwater, has announced that Avalon-based artist Jessica B Watson has been awarded this year's three-month residency at the beautiful Eramboo Artist Environment in Terrey Hills.
2010 -11
Rimbun Dahan, Malaysia, One year Artist Residency
2010
IASPIS Travel Grant, Sweden
2009
Swedish Artists' Committee, One year Artists' working grant
2008
Association for small business grant
2005
Swedish Artists' Committee, Travel grant
2002
Gothenburg City Arts Grant
2000
Markarna Lindeqvists scholarship
Estrid Eriksons Scholarship – group
Slöjdskolans Scholarship
Anna Åhrenbergs Scholarship
1999
Goteborg&Co sponsorship
Stiftelsen Erik and Lily Philipsons Minnesfonds's scholarship
Theodor and Hanne Mannheimers fond
Slöjdskolans Scholarship
1996
University of Newcastle Student Exchange Scholarship
Collections
Tamworth Regional Gallery
Gothenburg City Arts Council
Private collections – Australia, Sweden, United Kingdom and Malaysia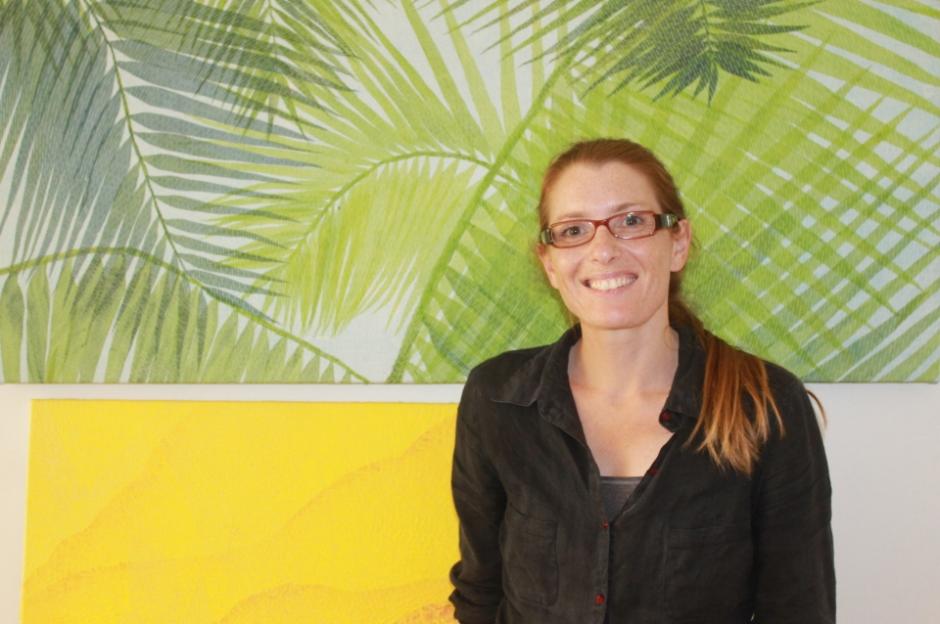 Artist Jessica b Watson in front of two of her beautiful works - photo does not do justice to vibrancy of the works.
Copyright Jessica b Watson, 2016.