August 9 - 15, 2015: Issue 226
Mermaids of Palm Beach on a Beach in Western Australia!!: 2015 Variety the Children's Charity Car Bash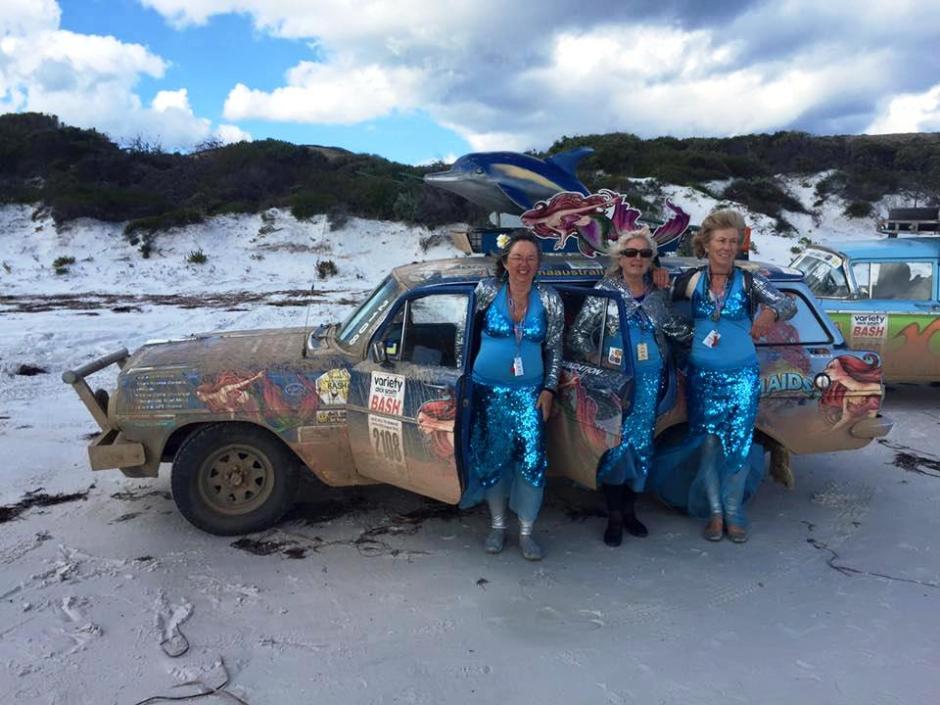 Mermaids of Palm Beach are at Esperance - Western Australia (8.8.2015): left to right Elyse Cole, Beryl Driver and Viktorija McDonell - picture courtesy Brigit Kirk - looks like it's been a bit dusty getting to here!
Last Sunday, August 2nd 2015, these wonderful Mermaids left Bass Hill. Since then they have driven 3600 kilometres, stopping at Narrandera, Mildura, Port Pirie, Ceduna, Eucla, Balladonia and as we go to Press they have reached Esperance.
Pittwater's Beryl Driver appeared on Channel 9's Today show at the beginning - Day One - you can see that here - and the girls report they've had a great time so far - if a little dusty on the way across to Western Australia!
Today, Sunday the 9th, they head off to Albany and on Monday complete the first part of this year's Variety Bash in reaching Bunbury, a total of 4,598 kilometres in 10 days!
The girls will have a day's rest then, possibly find some saltwater to keep those mermaid tails in order, then head off to complete the Bunbury to Beagle Bay Bash and in doing so, circumnavigate Australia, Bash style and add a mere 3,801 kilometres to what wil be, by the time they complete that leg of another six days, a total of 8,399 kilometres!
Along the way they enjoy meeting children in outback areas as well seeing landscapes most of us dream of - we're sure everyone in Pittwater is very proud of these ladies and wish them happy and safe trails - and a good rest day this coming Tuesday.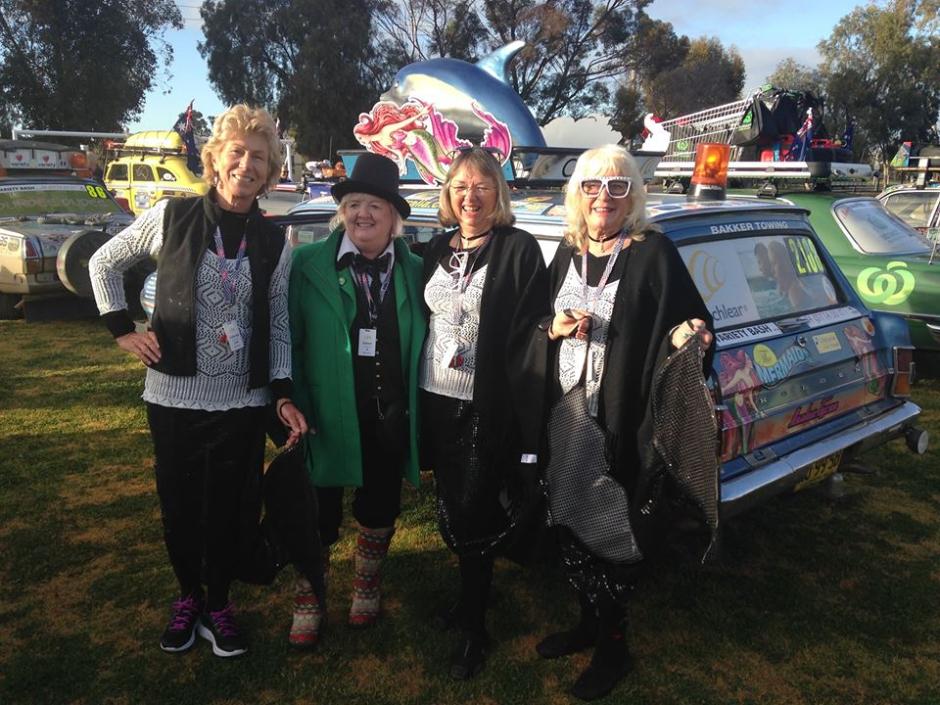 Day 3, leaving from Mildura Public School. Black and white Mermaids find a leprechaun!
Pittwater Rural Fire Service Brigades on Duty in Blue Mountains This Week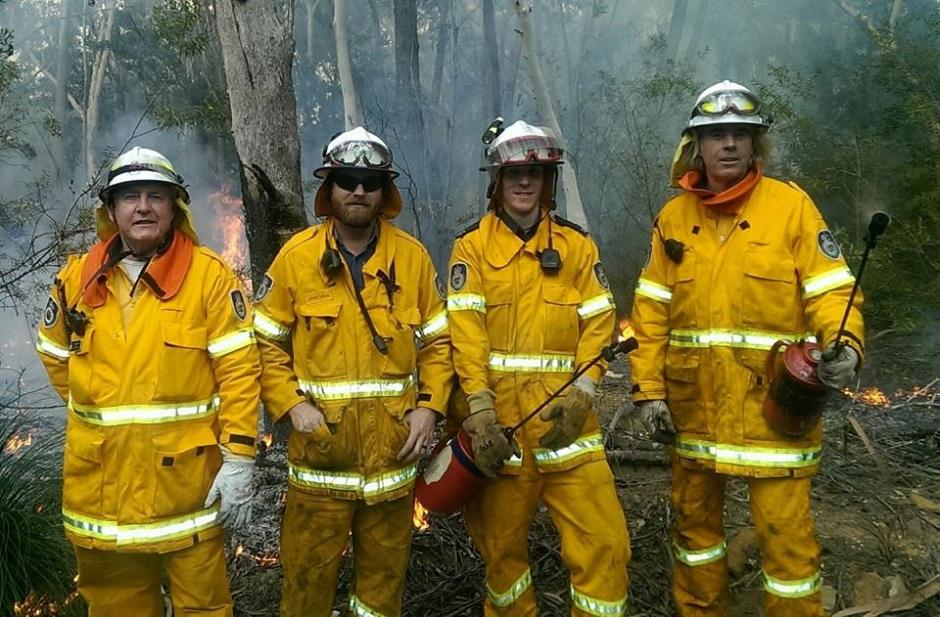 Ingleside RFS Members in Blue Mountains this week - photo courtesy Ingleside RFS
Ingleside RFS (3 Ingleside, 2 West Pittwater) and Tumbledown Dick RFS were among five tankers and a strike team leader from Warringah/Pittwater who were tasked to strengthen containment lines around the Wentworth Falls fire on Tuesday this week. A number of other strike teams along with local brigades worked through the day.
The Warringah/Pittwater crews put in a backburn along the western edge down Tablelands Road; from the area burnt by the initial run, around the old Queen Vic Hospital and nearby residences through to the southern containment line and along that some distance. Working to deepen the containment lines in depth ahead of incendiary work Tumble worked through nearly 5 jerry cans of drip fuel; an indication of the conditions and the size of the backburn.
Crews departed shortly before dusk with additional Warringah/Pittwater crews tasked for the Wednesday. Tumble 7 were in the mountains on that shift.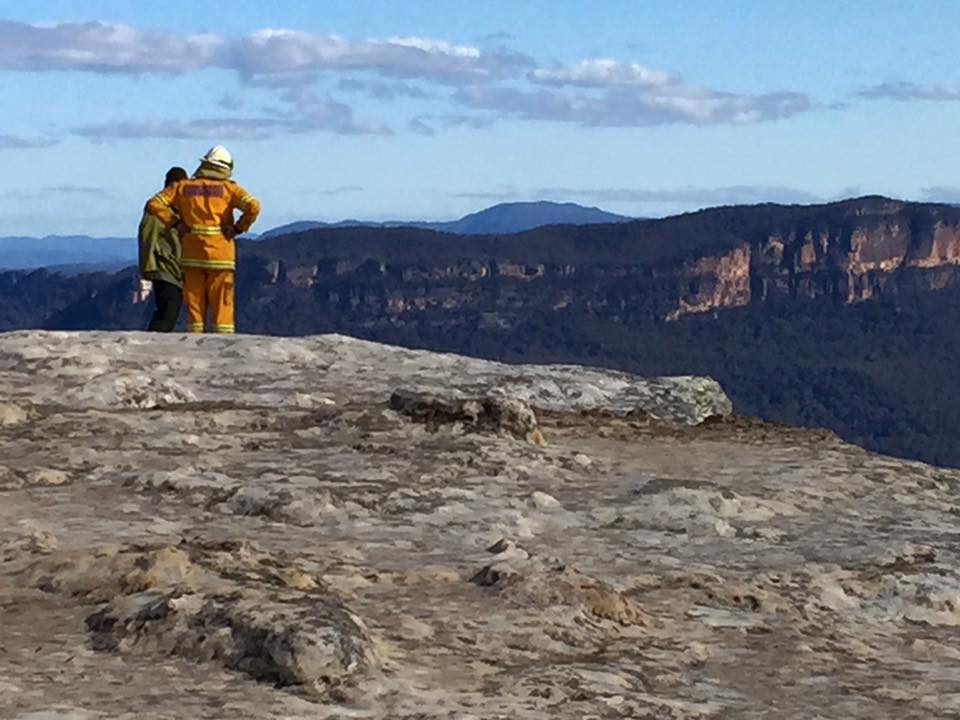 Tumbledown Dick RFS Members at Blue Mountan this week - Picture courtesy Tumbledown Dick RFS
Peninsula Paddlers are Pure Inspiration and Fit for Summer 2015/16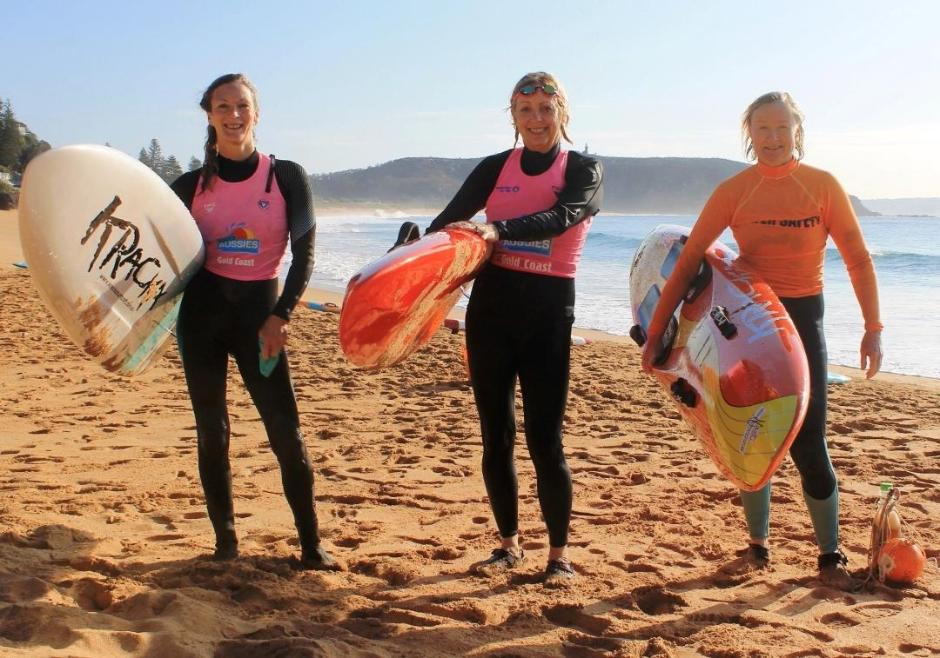 Karen Begg, Di van Ooi and Chris Hopton - Peninsula Paddlers Training Group 8.8.2015 - photo A J Guesdon, 2015
All Winter these girls have been keeping their fitness levels high and they look great, they make you wish you were out there with them!
A glorious morning at Palm Beach - a great time of the year to be in the water and plenty of the Peninsula Paddlers Training Group made the best of late Winter conditions: and only six more weeks until Patrol Season begins again (September 19, 2015).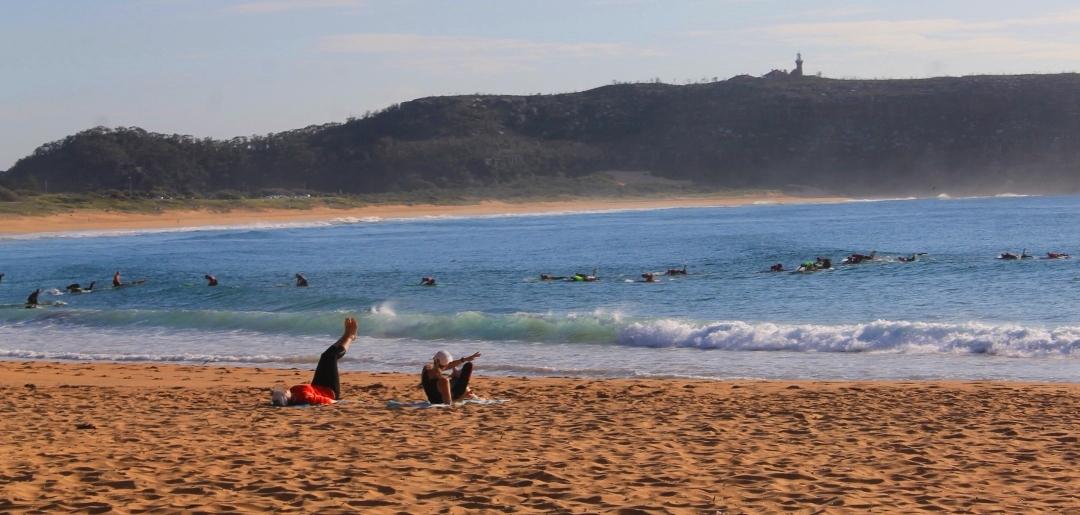 The Inaugural Sydney Harbour & Coast Walk A Year On: Inspirational Invitation to Enjoy Sydney's Coastal Walks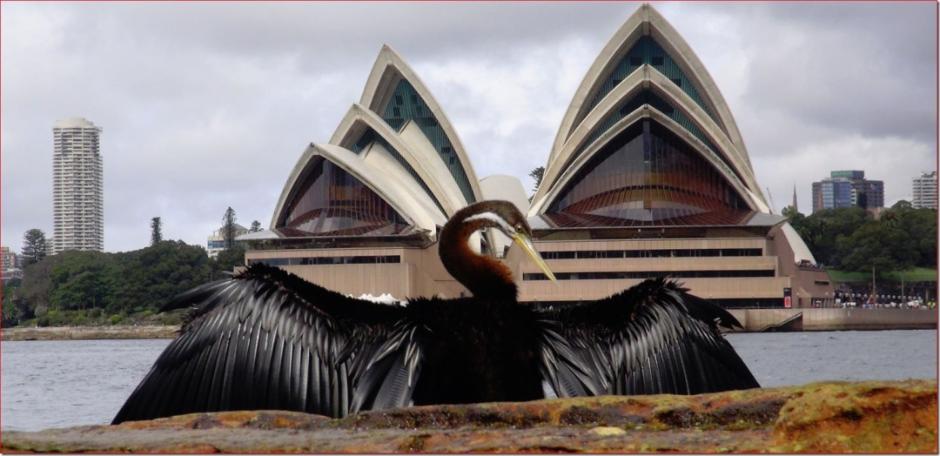 Australasian darter or Australian darter, Anhinga novaehollandiae before the sails of the Sydney Opera House- picture by John Illingsworth
On August 16th 2014 the Inaugural Sydney Harbour and Coast Walk was launched by our Mayor, Cr. Jacqueline Townsend, and Pittwater's MP, then Minister for the Environment, now Minister for Planning and Environment, Hon. Rob Stokes.
The vision of Walking Coastal Sydney is to promote public access to, and enhance the appreciation and recreational enjoyment of Sydney's coastline, harbour and estuaries for the people of Sydney and visitors to the city. The first day was cool with a few drizzles, perfect walking weather, and the Inaugural Walkers, led by Phil Jenkyn OAM, began a 30 day 315 kilometre celebration of the easily accessible beauty and an historic investigation of all points between Barrenjoey and the Royal National Park from North Palm Beach.
Pittwater's John Ilingsworth went with the walkers and produced a series of wonderful films filled with wonderful images of this route and the history encountered along the way.
As Pittwater's MP, Hon. Rob Stokes said this week, "This walk is a terrific showcase of our city's spectacular natural coastline - which is far too often overlooked and taken for granted."
"With so many environmental and natural heritage assets right on our doorstep – it would be great to see more people outdoors enjoying them.
"A huge amount of work went into making the inaugural walk a success and everyone involved should be enormously proud."
This week we share an insight on how John became involved and Phil Jenkyn OAM, Chair, Inaugural Sydney Harbour & Coastal Walk Steering Committee, outlines how this series of walks, and whole route, may inspire you to step outside and revel in all we have on our doorsteps...
More HERE