May 31 - June 6, 2015: Issue 216
Indigenous Veterans Commemoration Service 2015 - Hyde Park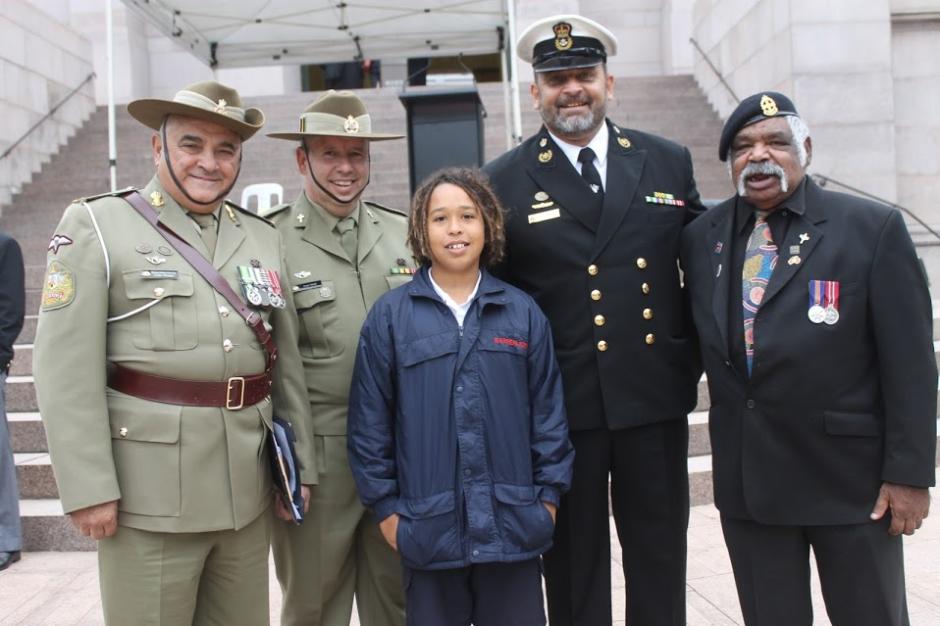 Oliver Wyatt with (L to R): Warrant Officer Class One Colin Watego, Indigenous Australian Army chaplain, Ivan Grant, Indigenous Adviser to Chief of Navy, Chief Petty Officer Ray Rosendale, Trevor Wilson - who travelled from Coffs Harbour for the Service.
Indigenous Veterans Commemoration Service 2015
As part of National Reconciliation Week, the 9th Indigenous Veterans Commemoration Service took place in Hyde Park on Friday 29 May.
Doreen Cherry OAM, representing the Women's Land Army, accompanied by Barrenjoey High School student Oliver Wyatt, attended the service to pay their respects and lay a wreath as part of the Commemoration Service.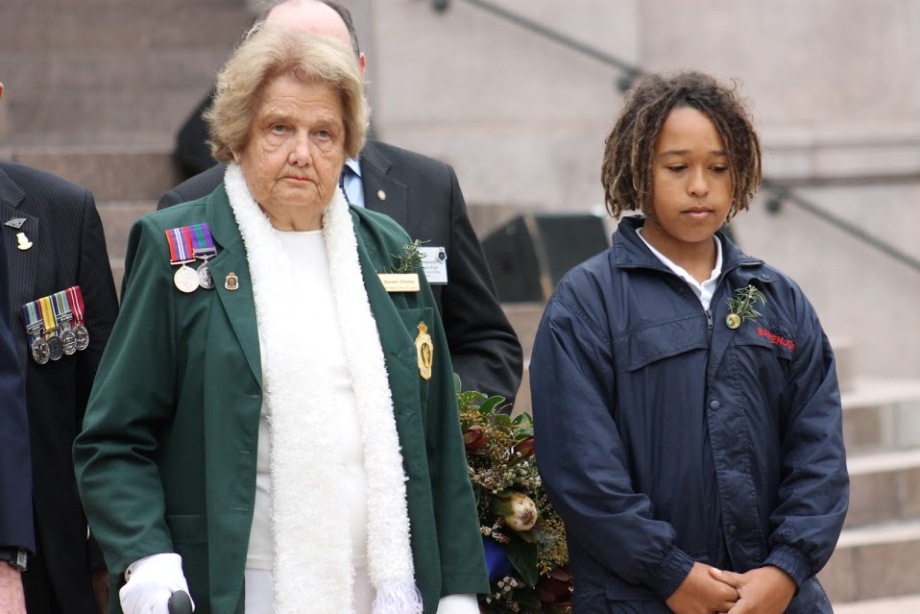 Doreen Cherry OAM and Oliver Wyatt at the Cenotpah
Since the Boer War, Aborigines and Torres Strait Islanders have served Australia in all wars, conflicts and peace operations. During the First World War (1914-18) many Aboriginal people volunteered. While exact numbers will never be known, it is estimated that a minimum 500, and maybe more than 1,000, Aboriginal diggers served in WWI — more than 200 of them from NSW. Five Aboriginal diggers are known to have died fighting at Gallipoli.
Anywhere from 3,000-6,000 Aboriginals served in WW2 (1939-45), and from 1942 Indigenous Australians were seen as an integral part of the defence of our northern coast. Aboriginal people have seen action in the Korean War (1950-53), the Malayan Emergency (1948-60), the confrontation with Indonesia (1962-66), the war in Vietnam (1962-75) and in the ongoing conflicts in Iraq and Afghanistan as well as on peacekeeping operations since 1947.
'Protecting Country — Serving Country', printed on the Commemoration Service programme places a quiet emphasis on an ethos thousands of years old.
Those attending received the ceremonial Coolamon, a smoking ceremony of cleansing and warding off bad spirits. The most wonderful Welcome to Country many have heard yet was given by Aunty Fay Carroll. A Welcome Dance by the Sydney Catholic Schools Performing Arts Aboriginal and Torres Strait Islander Ensemble.
His Excellency Lieutenant General The Right Honourable Sir Jerry Mateparae GNZM QSO, Governor-General of New Zealand was among the many dignitaries and a larger every year representation by schools who attended.
The Key Address was given by His Excellency General The Honourable David Hurley AC DSC (Ret'd), Governor of New South Wales:
ACKNOWLEDGEMENT OF COUNTRY
I would like to pay my respects to the traditional owners of the land on which we gather, the Gadigal of the Eora Nation, for whom Hyde Park South has significance as 'a ritual ground, a crossroads for traditional walking trails, and an important site for Aboriginal ceremony, gathering and camping.'[1]
I acknowledge the Gadigal people and their living culture, and affirm my respect for their ancestors and descendants.
On 31st March this year, I was privileged to unveil our State's newest War Memorial, 'Yininmadyemi', translated as 'Thou Didst Let Fall.'[2] This long-awaited memorial, designed by artist Tony Albert, honours Aboriginal and Torres Strait Islander servicemen and women and is a powerful physical reminder of their contribution to the Australian armed forces.
This Memorial is a significant part of the Eora Journey and, also, a significant part of our State and nation's journey towards Reconciliation.
Aboriginal and Torres Strait Islanders were present in almost every campaign during the First World War and their contribution was even greater during the Second World War, but they received little or no recognition on their return, nor in the decades afterwards.
In 1914, when the world went to war, Indigenous Australians could not vote, were not counted in the census, and, officially, were not allowed to enlist.[3] However some Indigenous soldiers chose not to mention their Aboriginality in their attestation papers.
By 1917, the recruitment of volunteers was falling short of the numbers required to keep the Australian Imperial Force up to strength, so these restrictions were eased.
Once in the AIF, Indigenous men served under the same conditions and received the same pay as other volunteers.
In the army, Indigenous soldiers experienced equality for the first time in their lives.
It is thought that over 1000 Aboriginal and Torres Strait Islanders fought, and several were recognised with medals for their distinguished service.
William Allen Irwin (33rd Battalion) and Albert Knight (43rd Battalion) both received the Distinguished Conduct Medal in 1918.
The citation for Private Irwin, a shearer from the Aboriginal mission at Caroona, near Tamworth[4], arefers to operations on the Western Front, in August 1918:
Single-handed and in face of extremely heavy fire, Private Irwin rushed three separate machine gun posts and captured the three guns and crews.
It was while rushing a fourth machine gun that he was severely wounded.
On his irresistible dash and magnificent gallantry this man materially assisted our advance through this strongly held and defended wood; and by his daring actions he greatly inspired the whole of his Company.[5]
Sadly, Private Irwin was fatally wounded near Bouchavesnes in 1918.
Of those who were fortunate to return home, they found the same prejudice and discrimination as before they left, with few rights, unemployment, low wages, and poor living conditions. Their homecoming was often marred by racism, or – at best – their service ignored.
They were prevented from marching on Anzac Day with their comrades, or joining in after-March events, and denied the same benefits or entitlements from their war service, including soldier settlement land, which, in some cases, was appropriated from missions or Aboriginal land.
In short, they were accepted during their war service, but when they returned home, they were not.
The contribution of Aboriginal and Torres Strait Islander servicemen and women is well-recognised within the Australian Defence Force today.
During my time as Chief of the Defence Force and in the last 10 years, the Australian Defence Force has made significant steps to acknowledge and include our Indigenous brothers and sisters in all military ceremonies.
This includes Acknowledgement of Country and an Indigenous Memorial Service. The Defence Force has also appointed Indigenous advisors to service chiefs, formed an Indigenous Dance Company and is building and trialling projects and programs in remote localities.
The Babana Men's Aboriginal Group has been a driving force in the movement to recognise the significant contribution of Aboriginal and Torres Strait Islanders to the Australian Armed Forces.
The efforts of many people - including Pastor Ray Minniecon, whose grandfather Private James Lingwoodock served with the Lighthorse Regiment - have restored Aboriginal and Torres Strait Islander heroes to their rightful place in the canon of Australian war history.
On behalf of the people of New South Wales, I congratulate all those involved.
Today, on this Centenary of Anzac, we remember all our Indigenous brothers and sisters who served.
Lest we forget
_______________________
The poem below, written by Sapper, H.E. "Bert" Beros, NX6925, RAE, 2nd AIF, while on active service, at Donadabu Rest Camp, Kokoda Track, Papua New Guinea, tells the story of the bravery of his mate, Private West, an Aborigine, who attacked a Japanese machine-gun pit single handed.
It was read by Senator The Hon. Michael Rondaldson, Minister for Veterans Affairs – representing the Prime minister, The Hon. Tony Abbott.
The Coloured Digger
He came and joined the colours, when the War God's anvil rang,
He took up modern weapons to replace his boomerang,
He waited for no call-up, he didn't need a push,
He came in from the stations, and the townships of the bush.
He helped when help was wanting, just because he wasn't deaf;
He is right amongst the columns of the fighting A.I.F.
He is always there when wanted, with his Owen gun or Bren,
He is in the forward area, the place where men are men.
He proved he's still a warrior, in action not afraid,
He faced the blasting red hot fire from mortar and grenade;
He didn't mind when food was low, or we were getting thin,
He didn't growl or worry then, he'd cheer us with his grin.
He'd heard us talk democracy--, They preach it to his face--
Yet knows that in our Federal House there's no one of his race.
He feels we push his kinsmen out, where cities do not reach,
And Parliament has yet to hear the Abo's maiden speech.
One day he'll leave the Army, then join the League he shall,
And he hope's we'll give a better deal to the Aboriginal.
Sapper Bert Beros
The Veterans Address, given by Warrant Officer Class One Colin Watego, a gentleman who has served in the Australian Army for 40 years, was a stirring focus on empowerment spoken directly to the hundreds of children from many schools who lined the Pool of Remembrance.
Warrant Officer Class One, Colin Watego, is a Bundjalung and Torres Strait Islander, and the Senior Indigenous Mentor, overseeing pre recruits from their applications to graduation.
He spoke of family, he spoke of being a proud warrior and shared a little of his own history;
My own father was artillery, he was a gunner, and I think for me, when I took over as the Regimental Sergeant Major of the 8th/12th Medium Regiment, Royal Australian Artillery – which is now located in Darwin – their colour patch, the patch that those soldiers wear to identify themselves to that unit, is exactly the same colour patch my father wore when he was a serving soldier. So, to me, that's very important. I put a lot of emphasis and a lot of significance on ceremony, protocol and tradition and, for me, I must admit that that was one of the highlights of my own military career. The pinnacle for me was what we call in artillery, the Regimental Master Gunner, which is the absolute top job in artillery for the Warrant Officer Class 1. I was the Corps RSM for artillery, and that was a fantastic appointment and obviously with it comes a lot of responsibility and a lot of challenges. Given that my family, the men in my family, have been gunners – it has even more significance for me.
Warrant Officer Class One Colin Watego closed with exhorting the children to understand that they are the future and there are no limits to what they can do and aspire to.
References
[1]Yininmadyemi: Thou Didst Let Fall – Program
[2] Second Lieutenant William Dawes' language notebooks from the first years of the colony translated Yininmadyemi as 'Thou Didst Let Fall' – Yininmadyemi Program
[3] The Defence Act of 1903 forbade their enlistment of any 'persons not of substantially European origin or descent'
[4] http://blogs.slq.qld.gov.au/ww1/2014/07/31/aboriginal-medal-recipients-of-ww1/
[5]Too Dark for the Light Horse - Aboriginal & Torres Strait Islander people in the defence forces, Australian War Memorial, Canberra
_________________________
Some of the moving parts of this Service are shown below.
Pittwater Online News has placed a Photo Album for those attending to download images for their own photo albums HERE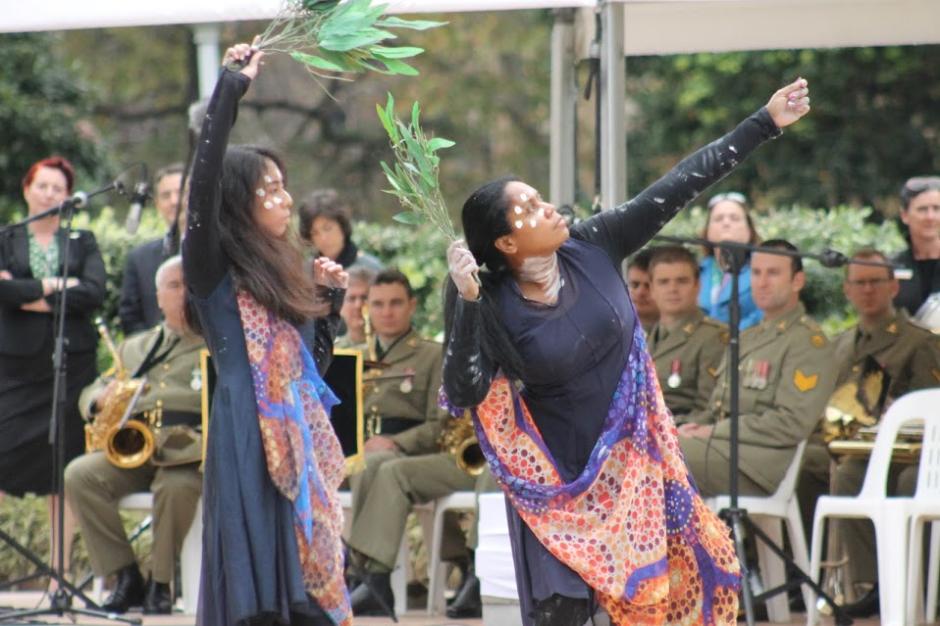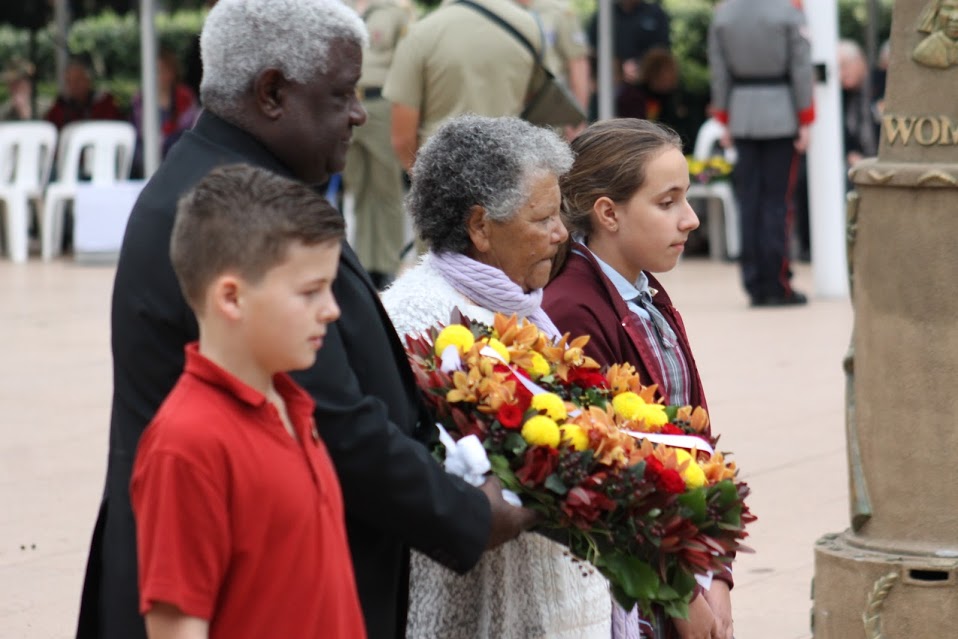 Aunty Fay Carroll and Mr. David Williams - Wreath Floated by Community Elders in the Pool of Rembrance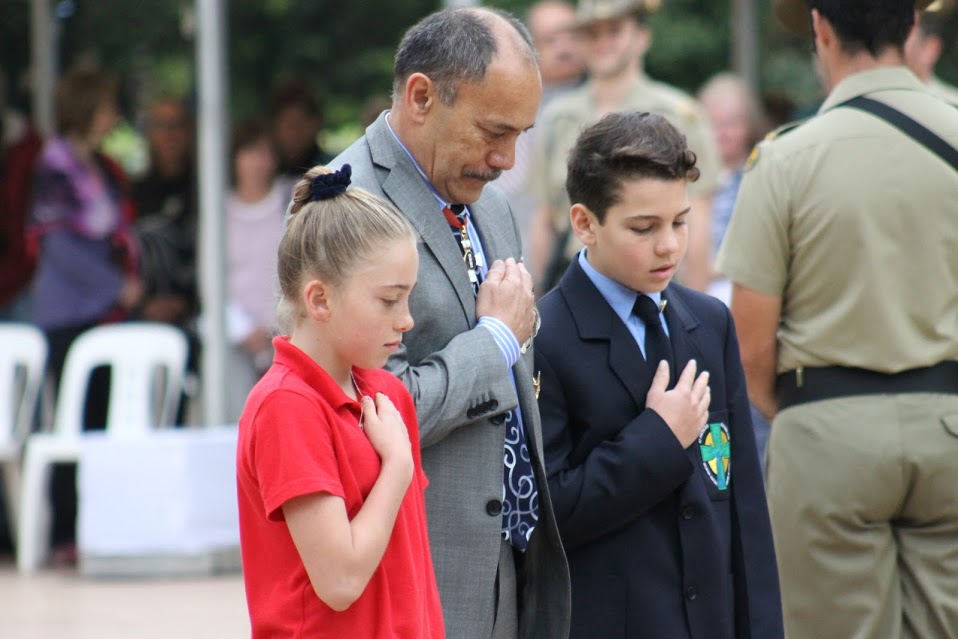 His Excellency Lieutenant General The Right Honourable Sir Jerry Mateparae GNZM QSO, Governor-General of New Zealand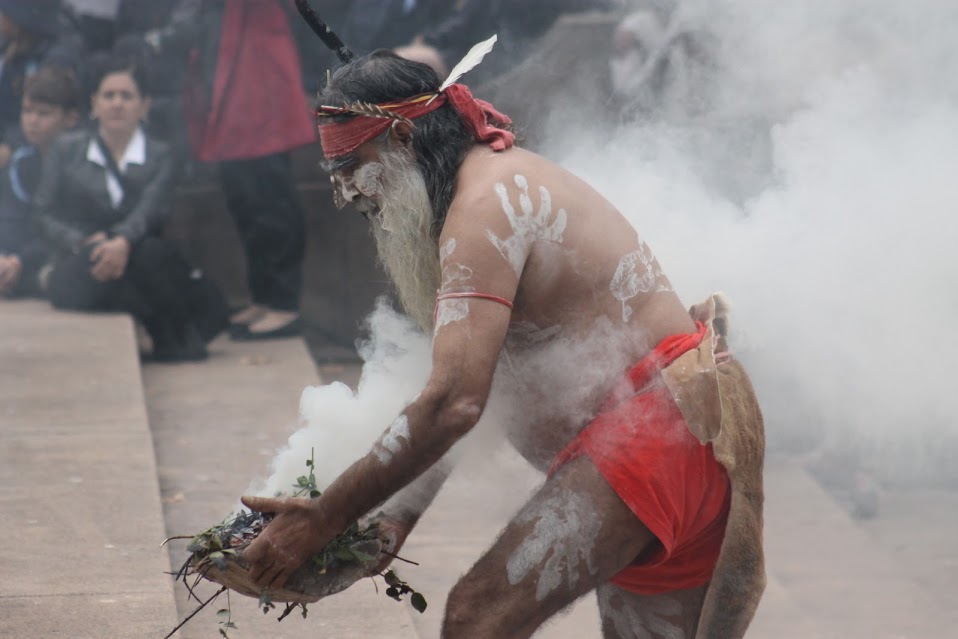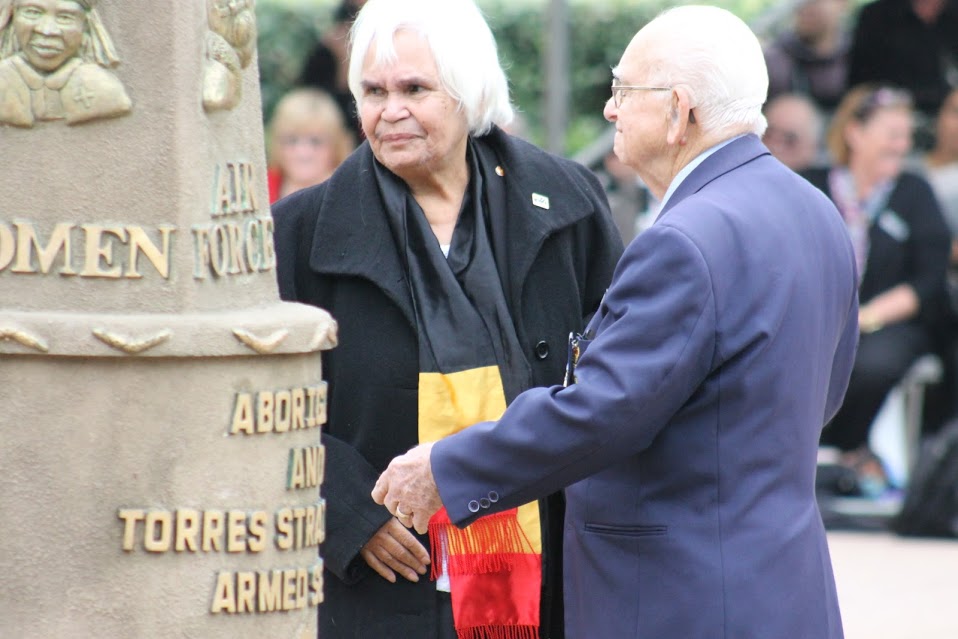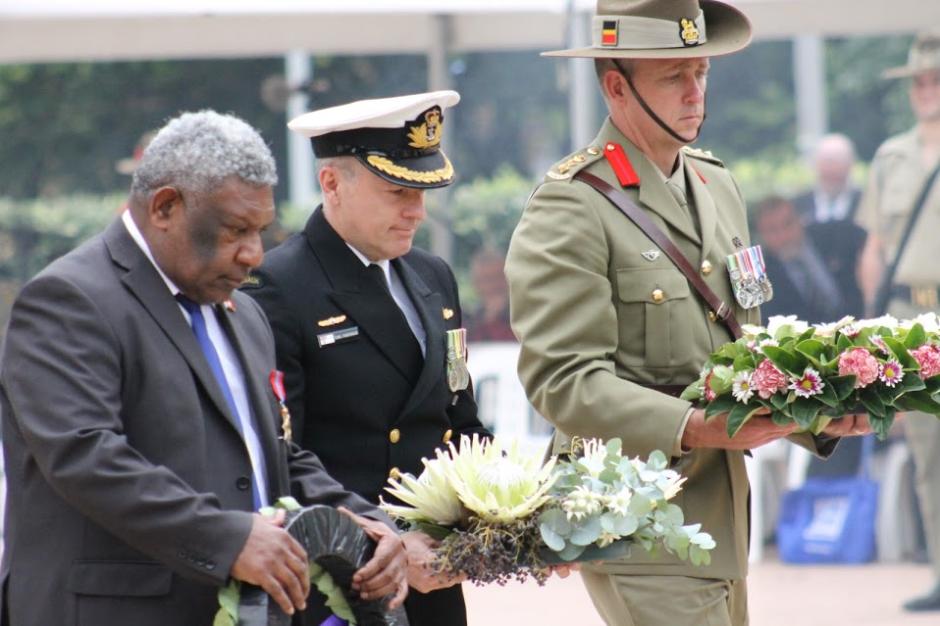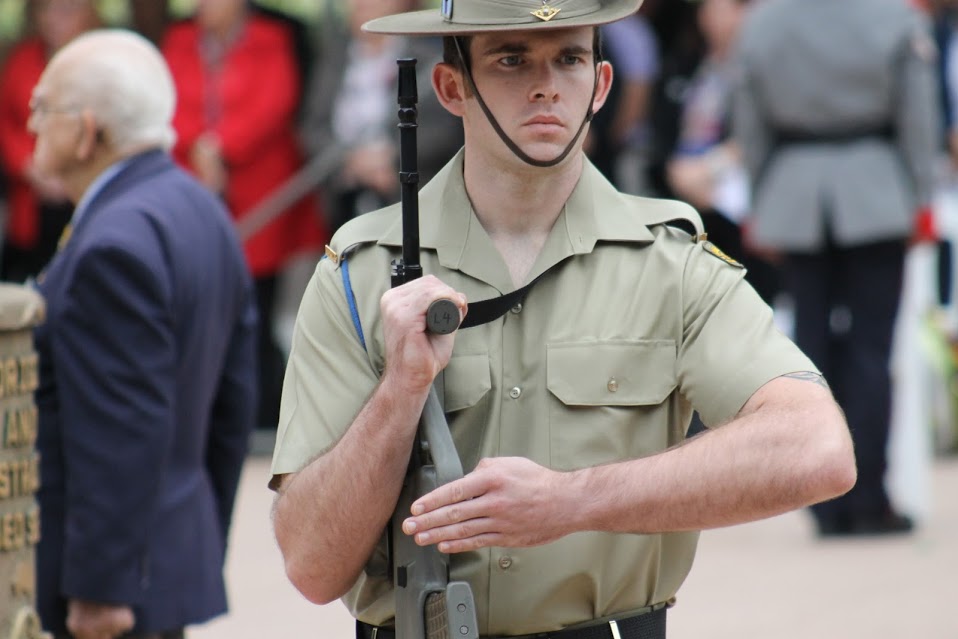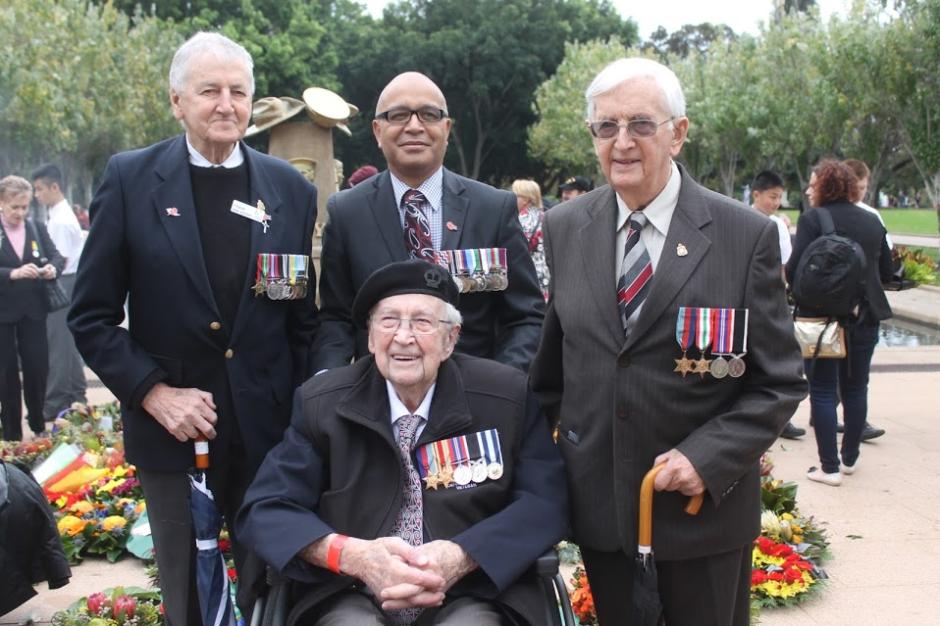 Frank Harlow (101) - served on Greece and Crete, Ken Frank (90) - served in Bougainville and Korea - Bruce Harris (94) - served in Italy.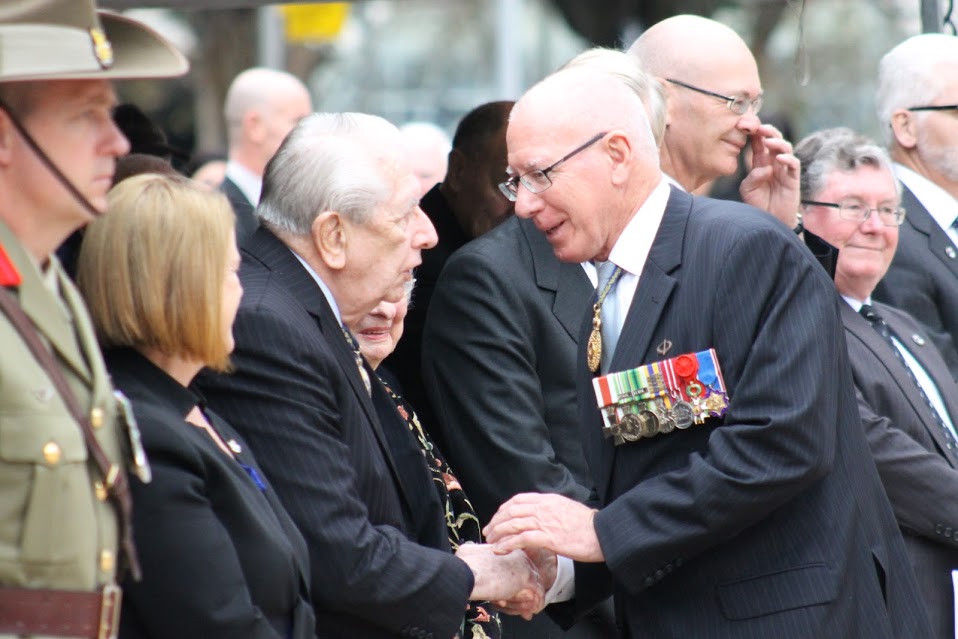 His Excellency General The Honourable David Hurley AC DSC (Ret'd), Governor of New South Wales stopped to greet and talk to some Veterans after the Service.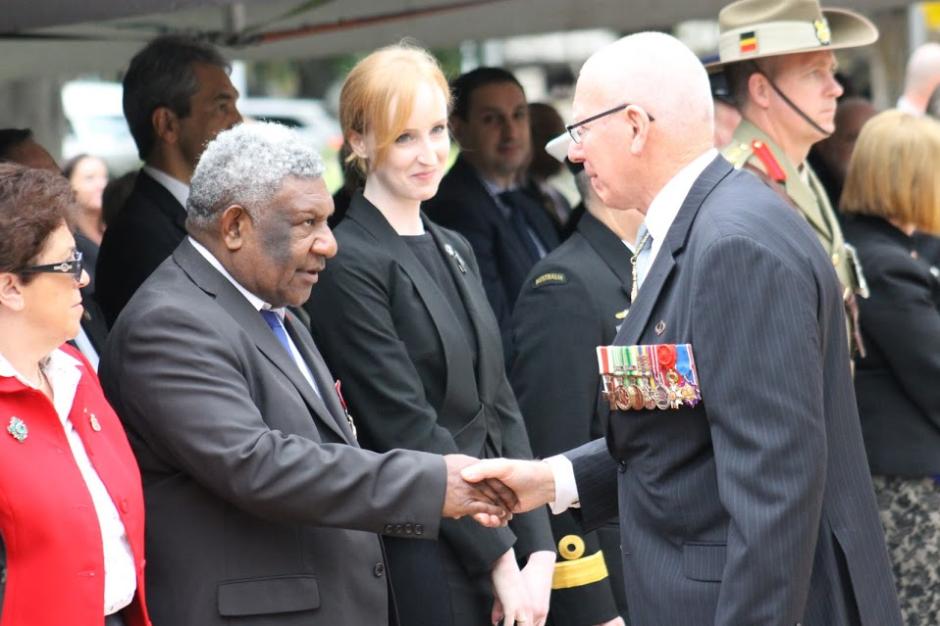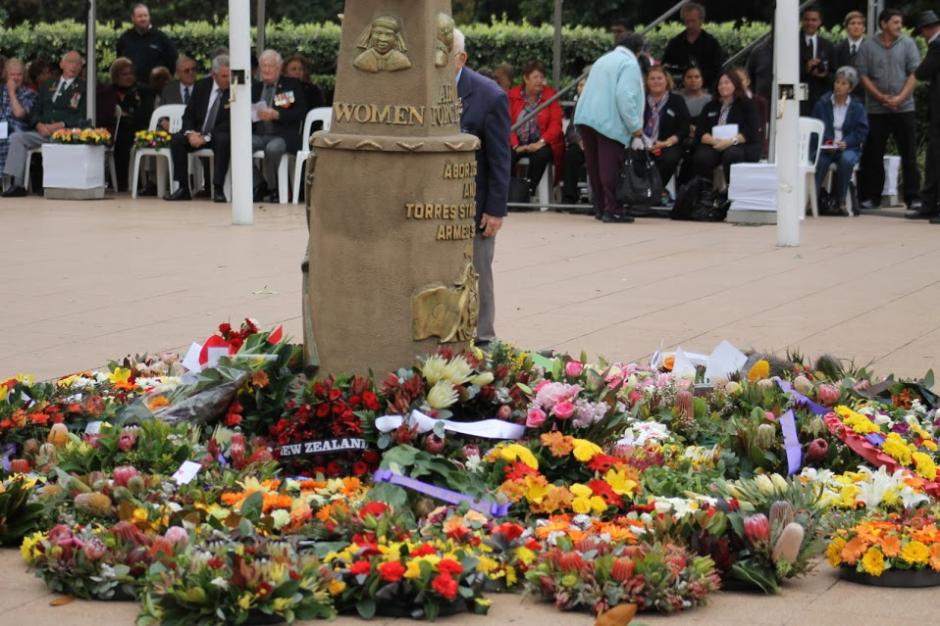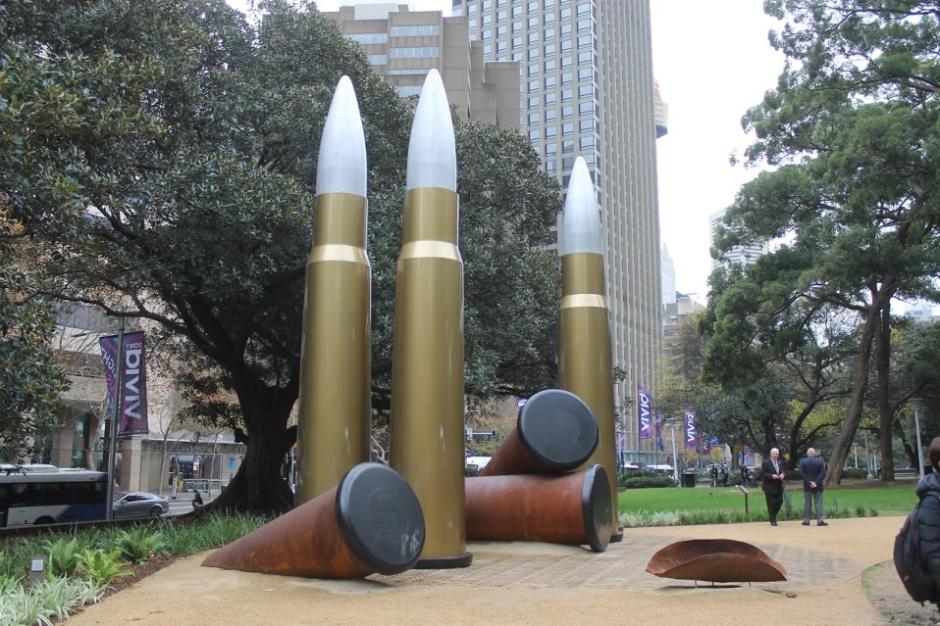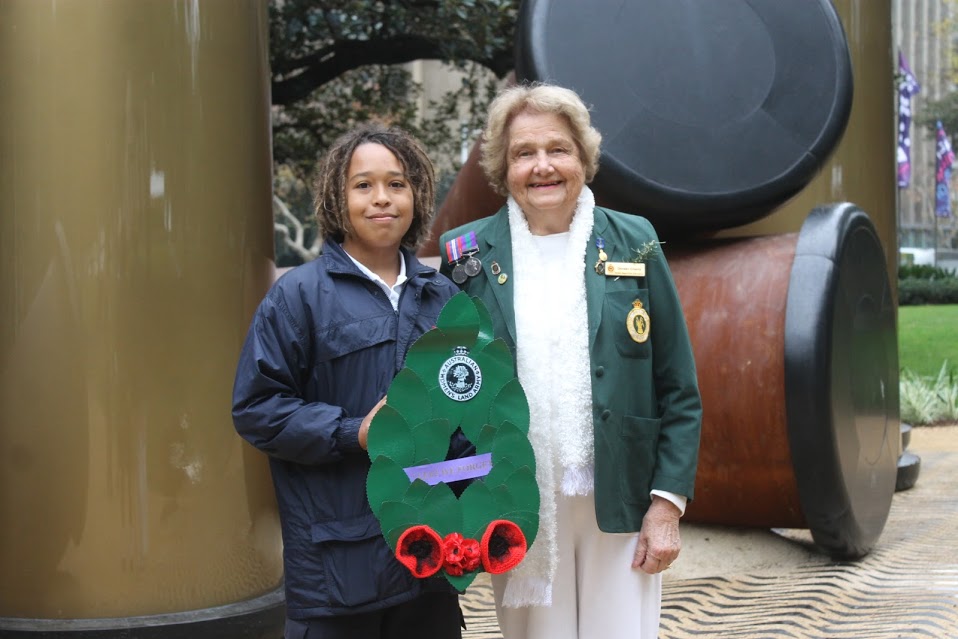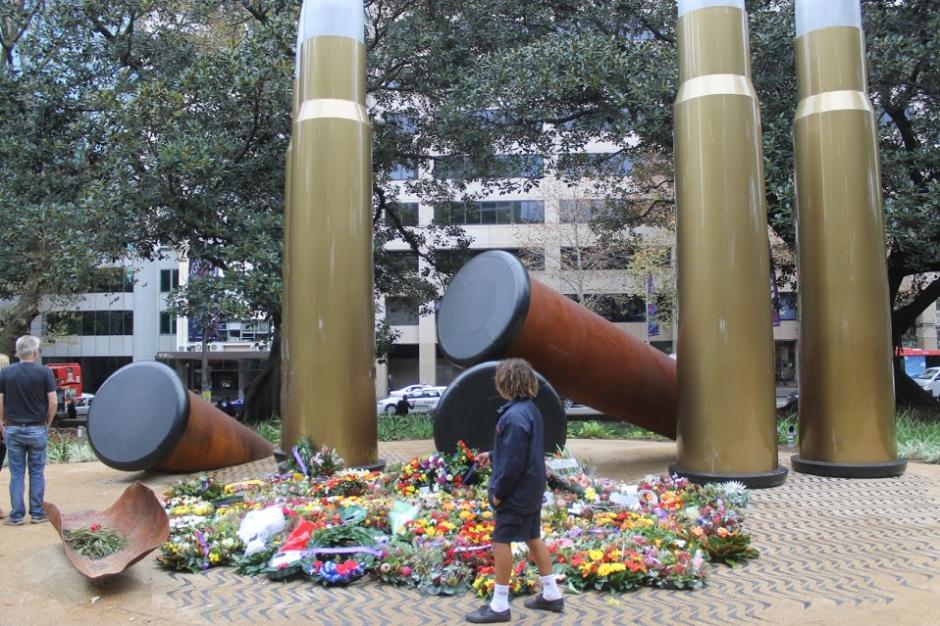 Pictures by A J Guesdon, 2015.