May 17 - 23, 2015: Issue 214
Scotland Island Rural Fire Brigade Turns 60 in 2015 - A Volunteer Community Unit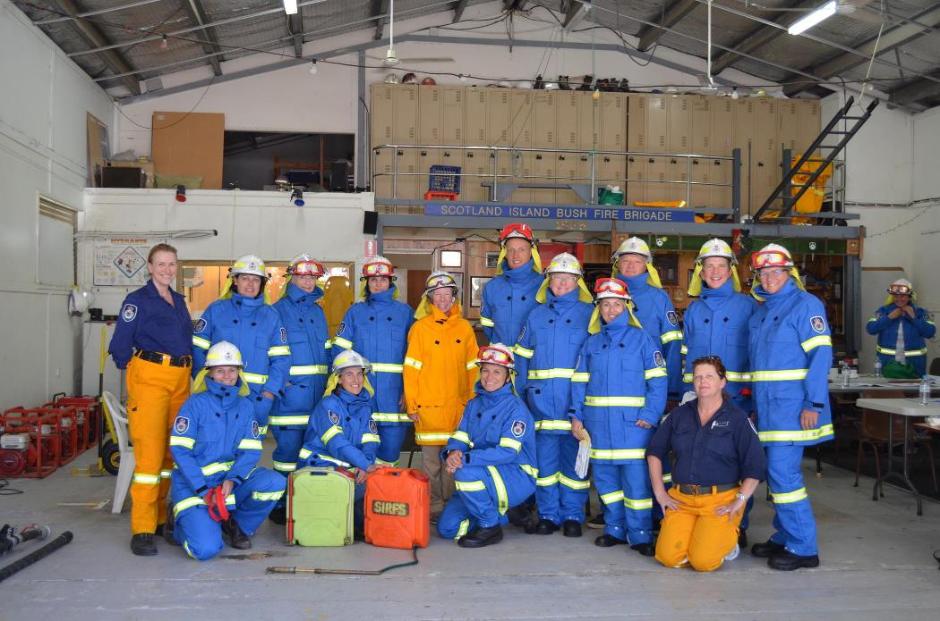 Scotland Island RFS current volunteer members - 60 years of Volunteer Service this year - picture courtesy SIRFS
Volunteer Week 2015 finishes today, May 17th and apart from being a week long great way of sharing all the many ways and fields in which people may become volunteers, and generate those endorphins that come from doing something for others, the week long focus is also a good time to remember to thank the 25% of all Australians who do for others all year round and have for months, years and decades.
Since 1955 the Scotland Island Rural Fire Brigade has been the provider of fire fighting capability on Scotland Island and beyond. At Elvina Bay more great men and women give their time, money and energy to training just so they can be there when needed and know what needs to be done.
Regular multi-station training sessions on the Hawkesbury in their fire-boats, the 2011 commencement of the brigade's Community First Responders (CFR) program, that has operated successfully since, responding to over 50 calls, attending to medical emergencies and in some cases evacuations off the island mark progressions at this end of sixty years of volunteers.
In 2013 the Community Fire Unit (CFU) was founded. The CFU is (wo)manned by over 30 Scotland Island men and women, who have received fire awareness and basic fire fighting training. They are available to help with property protection or to help with patrolling and extinguishing spot fires during a major emergency such as a fire in the Ku-ring-gai Chase National Park. (1.)
Today, at 9 a.m., the monthly Maintenance Day will take place at the Fire Shed, whether it's cool, damp or stormy, or at year's end, too darn hot.
These Scotland Island Firies, and their 60 years of volunteer service, which certainly warrants a mighty big cake and three score of candles, are just one solid example of Pittwater volunteers - find out more about others HERE
1. Courtesy SIRA website.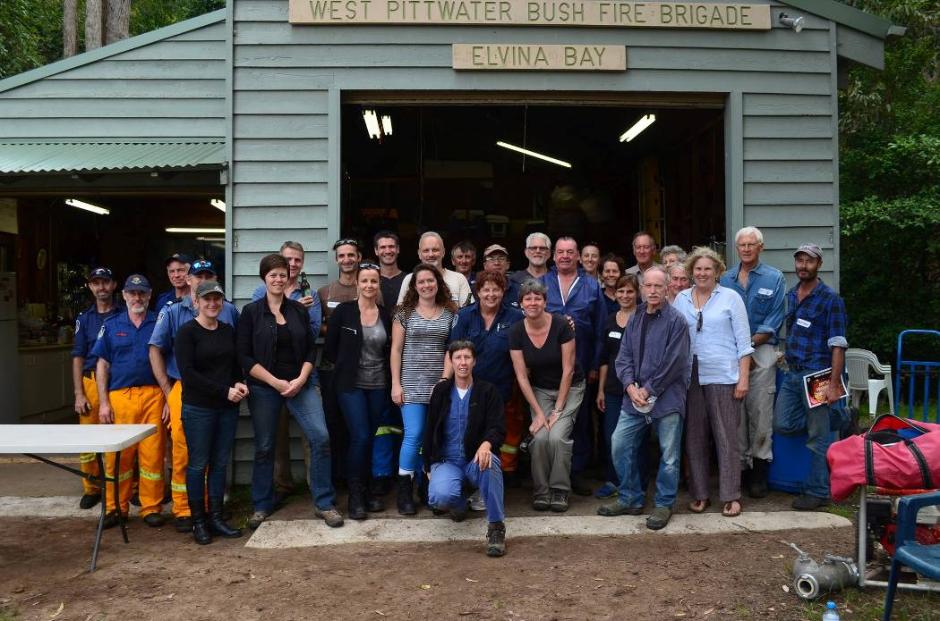 West Pittwater RFS current volunteer members - picture courtesy West Pittwater RFS
11th Biggest Morning Tea for Palm Beach Couple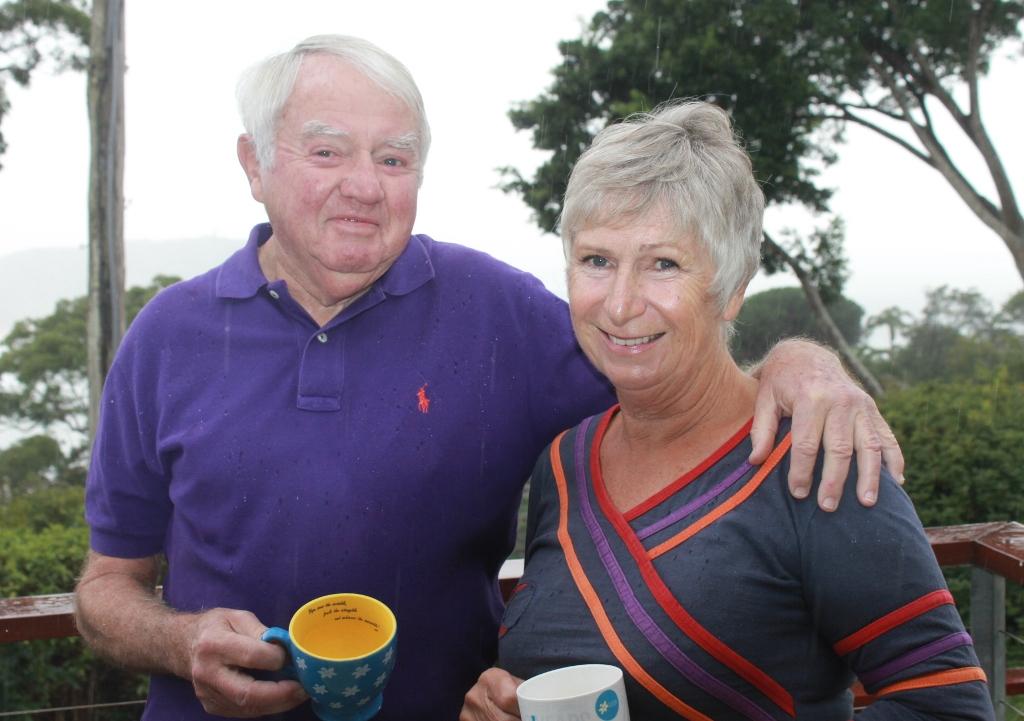 Max and Janet Petrie - picture by A J Guesdon, 2015
On Saturday May 23rd Janet and Max Petrie will host, for the 11th year in a row, a Biggest Morning Tea event and the 10th at their Pacific Road, Palm Beach home.
This is a community event with their neighbours helping with the distribution of over 700 invitations by letterbox drop prior to and contributing cakes and finger food for the occasion as well as attending from 10 a.m..
Janet and Max's home is kept open from 10am until it begins to get dark and all visitors are issued with two tickets, no matter how much they contribute, for the lucky Door Prizes. Many local businesses have contributed towards these prizes in the past including such great establishments as Barrenjoey House and Village Living (now at Furniture on Consignment - Avalon). Jonah's is always generous with a voucher and The Boathouse always provide a voucher too. This year they have contributed vouchers again along with Tom Warren from Circuitry and Avalon Organics.
More HERE
Royal Australian Navy scores Barrenjoey High School gig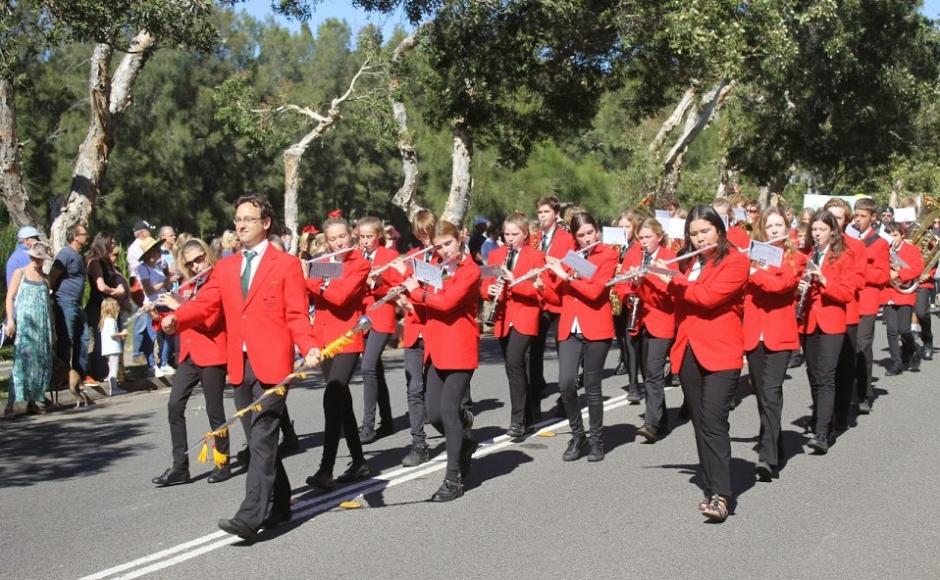 Barrenjoey Concert Band at 2015 Avalon Beach ANZAC Day Commemorative March and Service - April 25th, 2015
The Royal Australian Navy band will visit Barrenjoey High School on Saturday the 23rd of May to run a workshop with the school's Concert Band, culminating in a community concert at the school hall from 6.00pm to 7.30pm.
Admission will be by gold coin donation.
Popular movie soundtracks from movies such as "The Man from Snowy River" and the "Star Wars" series will come alive in Avalon, and the Barrenjoey High School Concert and Stage bands will showcase their talent alongside the Royal Australian Navy band.
The Royal Australian Navy Band will also present a concert and the Ceremonial Sunset at the Avalon 2015 Tattoo on Saturday 13th June 2015.
This will be the 10th Avalon Tattoo - more HERE
FOUNDATION LAID FOR $30 MILLION MONA VALE HOSPITAL COMMUNITY HEALTH CENTRE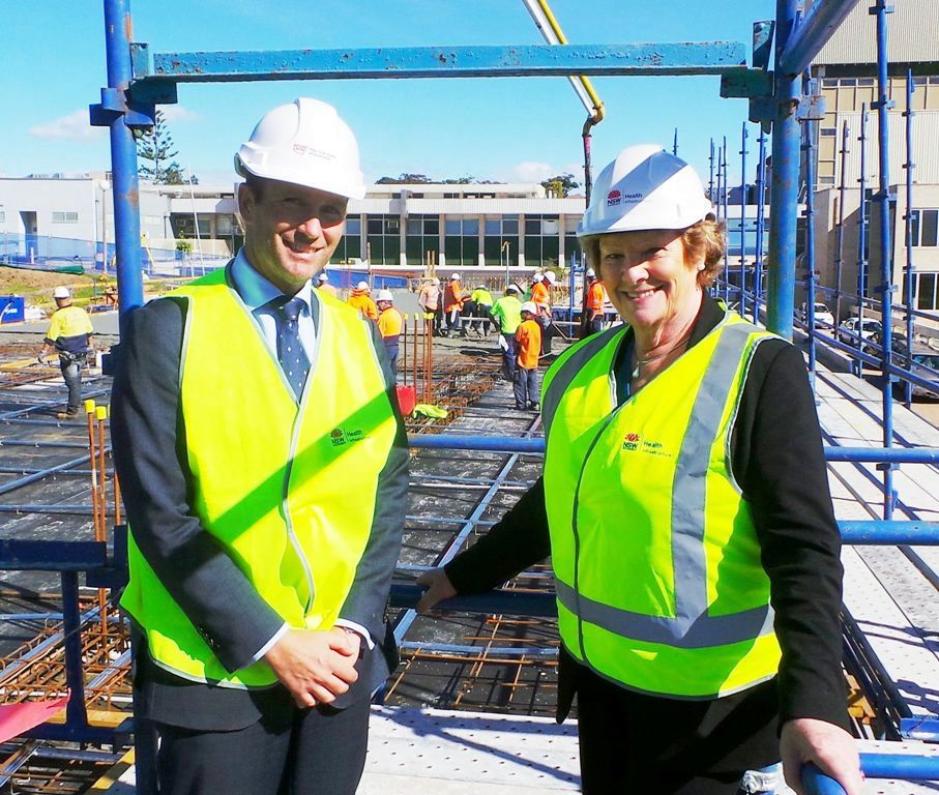 Pittwater MP Hon. Rob Stokes and Health Minister Hon. Jillian Skinner at Mona Vale Hospital on Monday, May 11th.
Health Minister Jillian Skinner and Pittwater MP Rob Stokes visited Mona Vale Hospital on Monday to see the foundation laid for the $30 million Community Health Centre.
Fifty trucks delivered a total 450 cubic metres of concrete to the site for the ground-floor pour.
More and fly-through video of new facility HERE
Autumn in Pittwater 2015 - Winter Birds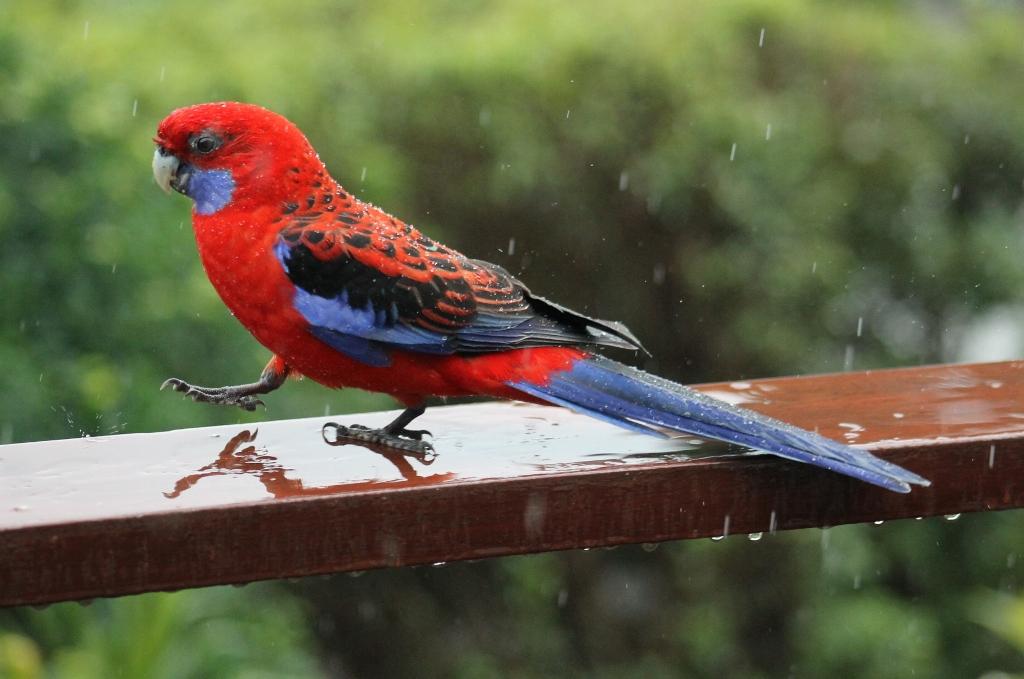 Crimson Rosella finishes successful rain dance - 16.5.2015 - Picture by A J Guesdon.
Glossy Black Cockatoos have been heard and seen in bushland places along hillsides at Palm Beach this week - those who know will also know where to go, to sit quietly, to listen until you see them by hearing them first.
All the resident parrots seem quite at home still, despite this week's snow winds, and are hunkering down in the lee sides of the green banks of Pittwater hills or doing quite successful rain dances to call in a long cool drink for their roosting trees. Long may they stand.
Pittwater Online News is Published 8 a.m. Every Sunday Morning and is By, For and About Pittwater - and all that adjoins her green hills and blue waters.