March 15 - 21, 2015: Issue 206
2015 NSW Surf Life Saving Masters Championships - Ocean Beach-Umina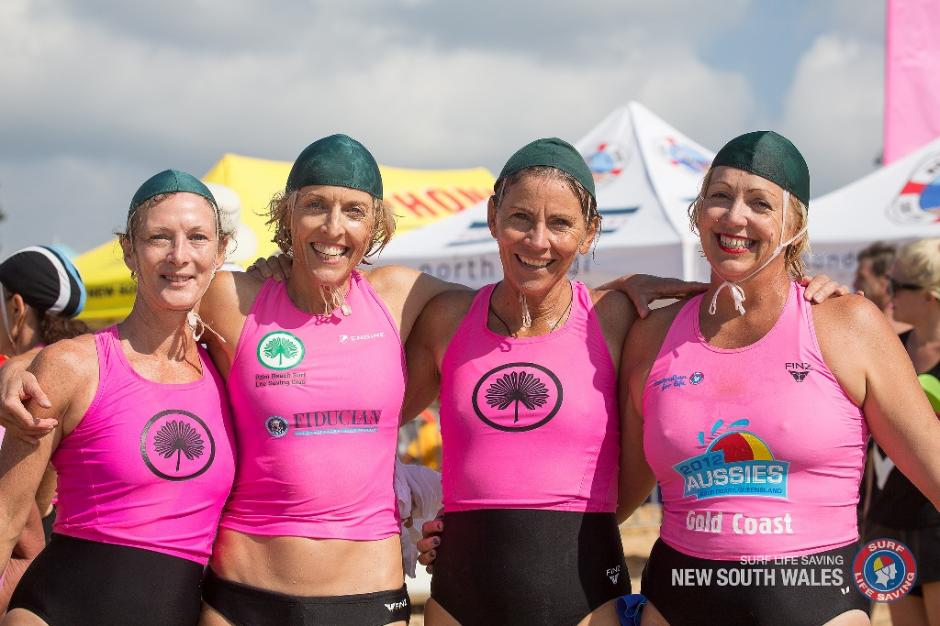 Palm Beach SLSC gained 7 Gold Medals by Fi Rae, Annabelle Chapman, Di van Ooi, Karen Begg, Tim Gates, Doug Ferris and Sarah Webster. - Picture SLSNSW
After a few days of highly entertaining competition at the 2015 Surf Life Saving NSW Masters Championships, Queenscliff have held on to win the Masters Club Point-Score for the third consecutive year.
Palm Beach SLSC have excelled this year, finishing 9th overall while every other Pittwater club that particpated; Avalon, Newport, Mona Vale, Warriewood, North Palm Beach and Whale Beach had their colours in action and gained points by doing so.
Report and great pictures from Surf Life Saving New South Wales HERE
Day One of 2015 NSW Surf Life Saving Opens Championships HERE
Pittwater Woman of the Year 2015 -
Jo-Ann Steeves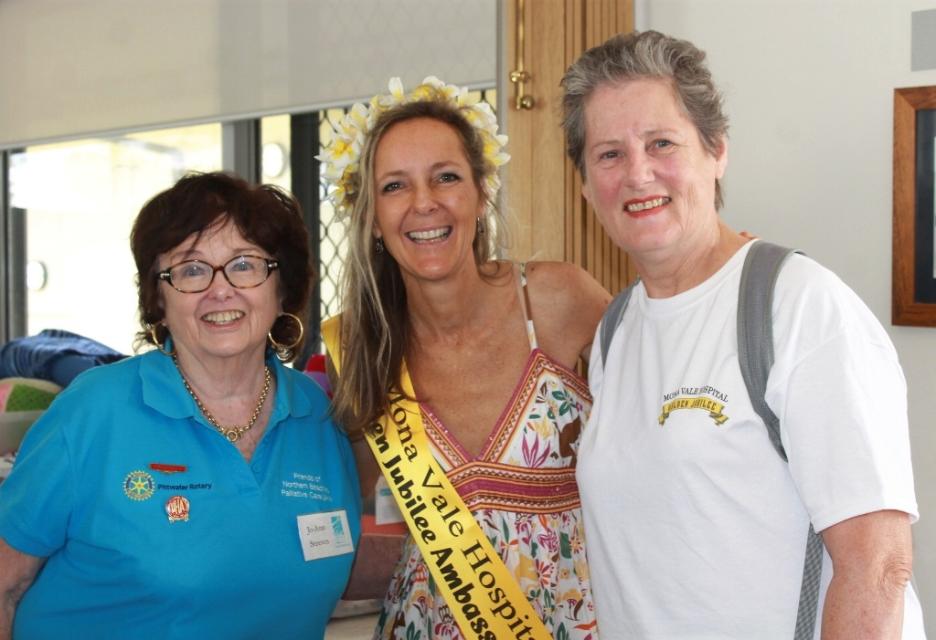 Jo-Ann Steeves, President, Friends of Northern Beaches Palliative Care United Hospital Auxiliaries NSW Inc., with Chelsey Baker Mona Vale Hospital Jubilee Ambassador, and Eunice Raymond Chair SMVHC - Picture by A J Guesdon, 2014.
The Zonta Club of the Northern Beaches hosted the annual Pittwater Woman of the Year announcement on Wednesday 11th of March 2015. Over 200 Pittwater women gathered at the Royal Prince Alfred Yacht Club for a good breakfast, to hear some inspiring speakers and celebrate the achievements of their counterparts in our community.
Pittwater's MP, the Hon. Rob Stokes presented the award to Jo-Ann Steeves, a lady who has been a volunteer with Northern Beaches Palliative and Supportive Care for over 15 years and played a key role in Mona Vale Hospital's recent Golden Jubilee celebrations. Jo-Ann also volunteers with support group 'Look Good Feel Better' which works with cancer patients to help manage appearance related side effects following treatment.
"Jo-Ann epitomises volunteerism and is a beacon of inspiration and compassion," Rob Stokes said on Wednesday. "There isn't a challenge, initiative or task which Jo-Anne doesn't embrace head on. Despite the emotions involved, Jo-Ann has assisted countless local residents during some of the most difficult circumstances imaginable.
Interview with Jo-Ann HERE
Waratah Park - State Heritage Listing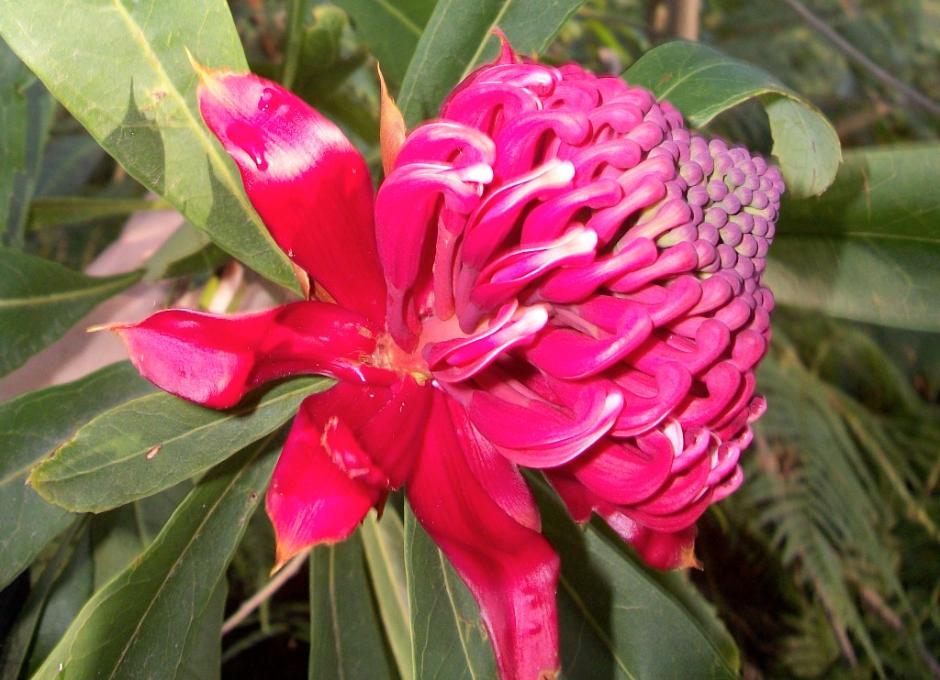 Waratah (Telopea speciosissima) - Picture by A J Guesdon.
Heritage Minister Rob Stokes announced Waratah Park, The home of Skippy the Bush Kangaroo, has been given the state's highest level of heritage protection on Thursday March 12th, 2015.
Mr Stokes said the park at Namba Road in Duffys Forest has been placed on the state heritage register, recognising it as the location of the iconic children's television show filmed between 1967 and 1969.
"Waratah Park is a really special part of our community," Rob Stokes said.
"The adventures of a boy and a kangaroo in the Australian bush held huge appeal for both Australian and overseas viewers and achieved outstanding success with international sales to more than 100 countries.
"Running to 91 episodes, plus a feature film, the TV series can be considered as one of Australia's most successful exports.
_____________________________________
In October 2011 Crown Lands issued a 'Letter of Authority" to Duffys Forest Residents Association over Waratah Park for "temporary occupation of crown land to undertake beautification, eradication of noxious weeds, hazard reduction /bushfire prevention at Duffys Forest." A submission in favour of SHR listing of Waratah Park from Jenny Harris, Secretary of the Duffys Forest Residents Association dated 21 October 2104 stated:
'Duffys Forest Residents Association (DFRA) has been working tirelessly with volunteers from outside the community since November 2010 (under a Letter of Authority from Crown Lands) to suppress weeds and to support and promote resilience of bushland across the site. We have developed a significant database of volunteers now exceeding 150 people who volunteer at regular monthly working bees because of their emotional attachment to the 'Home of Skippy'.
'Volunteer contributions have exceeded 3500 hours since work began and the passion of these volunteers epitomizes community sentiment that the home of Skippy should be preserved in perpetuity for all Australians and international visitors.'
NEXT WARATAH PARK WORKING BEE ON SUNDAY 29 MARCH 2015
More HERE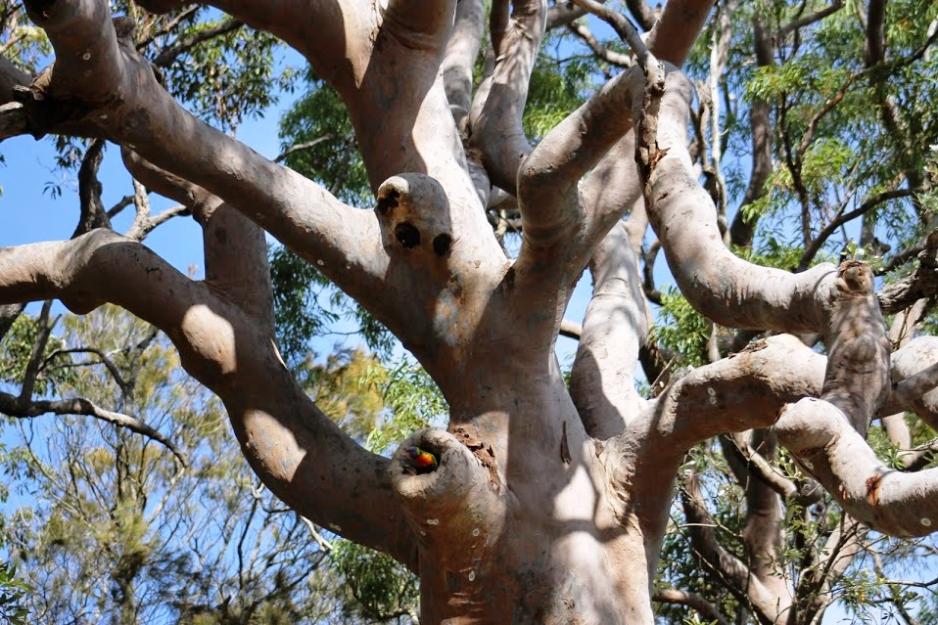 Autumnal coolness allows us to go on bushwalks without getting hot under the collar - this week's Pictorial celebrates that wonderful bush reserve with estuary vistas atop Palm Beach - McKay Reserve.