April 27 - May 3, 2014: Issue 160
Surf Patrol Season Closes Today - Saving Lives On The Road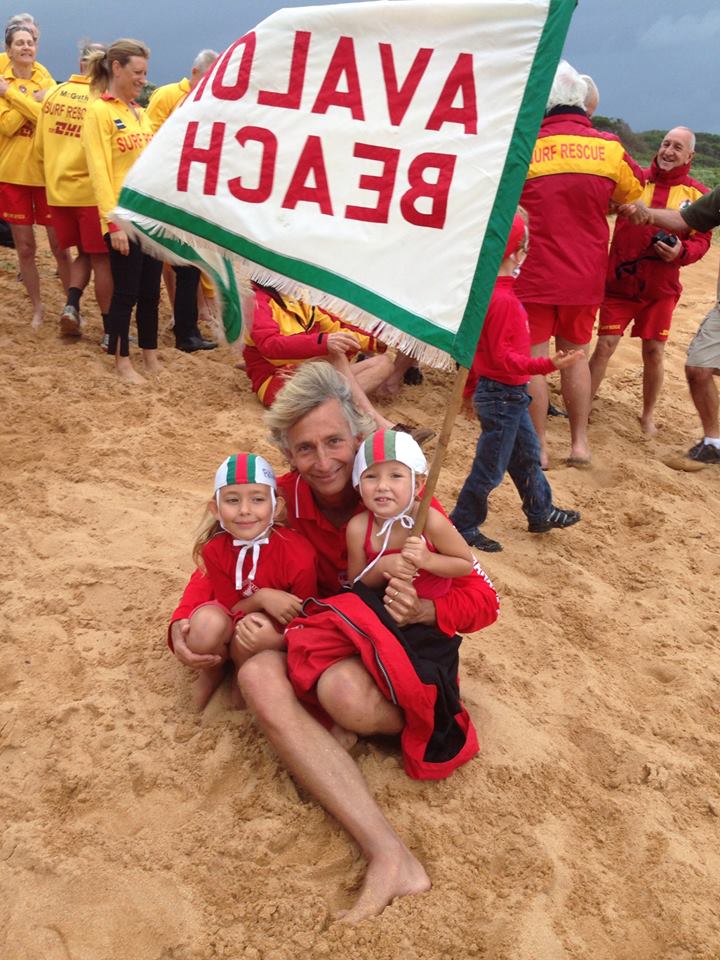 Adriaan Van Der Wallen at Avalon Beach SLSC Members 2014 Annual Picture - Photo courtesy Christine Hopton.
The 2013/14 Surf Patrol Season for Volunteers closes today, 27th of April, 2014, and news from the Avalon Beach Club this week highlights the inestimable gift every single member of every club in Pittwater has given from Spring through to Autumn.
"SAVING LIVES on the road....Adriaan Van Der Wallen was on holiday returning from a family surf trip at Boomerang Beach and stopped at Foster unintentionally and went for a quick dip. Adriaan had only just hit the beach when he saw a surge come in immediately take 20 people at least 10 metres off shore and it was immediately noticeable that they were unable to swim.
Adriaan raced in with a small foam nipper board with 6 handles, needing to pull some of the children's hair to grab them as they sank. All up four children and five adults holding the board. Two other adults were over to the left and three were holding onto each other to the right. Managing to get to the shore relief swept the beach. We are positive that if Adriaan had not been on the beach that day that a tragedy would have been all over national news."
Adriaan is a great waterman - a Nipper Age manager at Avalon Beach SLSC and a Long Service member of Palm Beach SLSC - he has competed for both clubs.
_________________________________________
An overview of the 2013/14 SLS Season runs this week as a small tribute to all here who have 'Service and Vigilance' as their creed.
Our
Profile
this week is the Palm Beach SLSC's Boat Crews, our
Aquatics
page a compilation of our northernmost club's early surf boat crews and a decade of rowing to and from the Newcastle carnival with a little on the '
Tom Thumb
' a Gow built boat launched in 1907 that was in Pittwater until at least 1947 and was 'the genesis' of surf boats according to Joe Palmer.
The staff and contributors of this 'mag.' would like to thank all clubs and club members for allowing us to share some small insights into your season and its many aspects; and we look forward, after the flags lower at end of today, to keeping out the way next season.
The 2014-2015 Patrol Season will commence on Saturday 20 September 2014.
Pittwater Congratulates Hon. Rob Stokes NSW's Minister for the Environment - Minister for Heritage and Assistant Minister for Planning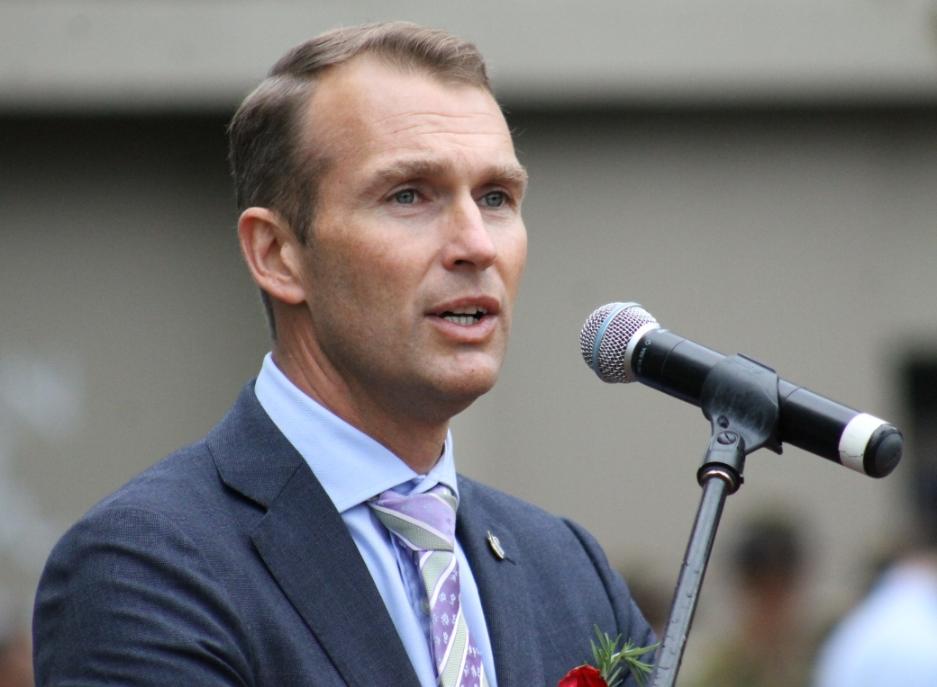 Hon. Rob Stokes during his ANZAC Day 2014 Commemorative Service Address. Picture by A J Guesdon.
Pittwater's NSW representative was inundated with congratulations from residents at Friday's ANZAC Day Service at Avalon Beach RSL Club. The announcement by newly elected Premier Mike Baird of his Cabinet on Wednesday 23rd of April including "Pittwater MP Rob Stokes, who becomes Minister for the Environment, Minister for Heritage and Assistant Minister for Planning." is cause for celebration in Pittwater.
Residents will remember all the work Rob put into Saving Currawong as soon as elected to represent Pittwater in 2007. Working with Friends of Currawong members he made a huge contribution to ensuring inclusion of Currawong Beach on the State Heritage Register and the creation of Currawong State Park.
A whole three weeks ago we ran the wonderful announcement of the creation, through the hard and persistent work of Friends of Narrabeen Lagoon Catchment members and Rob's tireless efforts, of the Narrabeen Lagoon State Park.
In between and way before these landmarks Rob has persistently pursued the betterment of quality health care with over $50 million towards the maintenance and redevelopment of Mona Vale Hospital, including the renovation of maternity services, extension of palliative care services, construction of short stay unit within the emergency/urgent care centre; expansion of rehabilitation services and ongoing master-planning of Mona Vale Hospital as a centre for excellence in a range of sub-acute services.
Under Rob's watch a $32 million upgrade of Warriewood Sewerage Treatment Plant to address environmental and water quality concerns has happened, in September 2012 a 250k grant to restore Ingleside and Epworth park to their original states was won. In a June 2012 Press Release Hon. Rob Stokes stated; "This grant builds upon earlier NSW Government funding to the Narrabeen Lagoon catchment and will contribute to the long-term rehabilitation and protection of this unique green space. The Warriewood Wetlands are the largest freshwater wetlands in northern Sydney an integral part of the Narrabeen Lagoon catchment – which must be preserved. The project will include control of noxious weeds, protection of surrounding wildlife corridors, restoration of watercourses and community education."
Rob has always taken the approach that he is working with his community - he is one of us - a member of Mona Vale SLSC, Board Member of the Northern Beaches Christian School; an Honorary Fellow with Macquarie Law School; and an Assessor with the Northern Beaches Branch of Surf Life Saving Australia - just a few of an increasing list of work and works. He and wife Sophie also have three young children too!
On Friday Hon. Stokes gave the ANZAC Day Address at the 11.00 a.m. Avalon Beach RSL Club Service, the first time he has spoken publicly in his community since this week's events. After the Commemorative Service Rob was surrounded by people who wanted to congratulate him, were happy that a passion of this gentleman's and Pittwater's - the environment - will have one of its great champions as NSW Keeper.
As we do each week, we check the NSW Government's Environment website and found some wonderful news - see our header in this week's Environment page - apart from the announcement of Rob's election to Cabinet.
Hon. Rob Stokes Address forms part of this year's ANZAC Day record, here, but his Media Release should get the final word here:
NEW OPPORTUNITY FOR THE ENVIRONMENT AND HERITAGE- Thursday, 24 April 2014
Minister for the Environment, Minister for Heritage and Assistant Minister for Planning Rob Stokes today welcomed the opportunity for better coordination across key portfolios following the establishment of the Department of Planning and Environment.
"This decision demonstrates a commitment from the NSW Liberals & Nationals Government to focus on better environmental outcomes and greater coordination of planning, environment, heritage and local government issues," Mr Stokes said.
"The Environment portfolio has been one that I have long had a passion for and I am honoured to be given this opportunity by the Premier.
"The chance to deliver better environmental protection will require careful planning and robust consultation with stakeholders to ensure we move away from the current patchwork of regulatory approaches.
"The State needs to assist sustainable agricultural and economic development while providing best practice laws that deliver better environmental protection.
"I look forward to this opportunity to help deliver coordinated thinking across planning, environment, heritage and local government departments with my new colleagues Pru Goward and Paul Toole.
"I would also like to pay tribute to my colleague and friend Robyn Parker, who delivered the toughest environmental regulations in the country, established an independent environmental regulator and pioneered ground-breaking new approaches to threatened species conservation."
Rob Stokes MP
Minister for the Environment
Minister for Heritage
Assistant Minister for Planning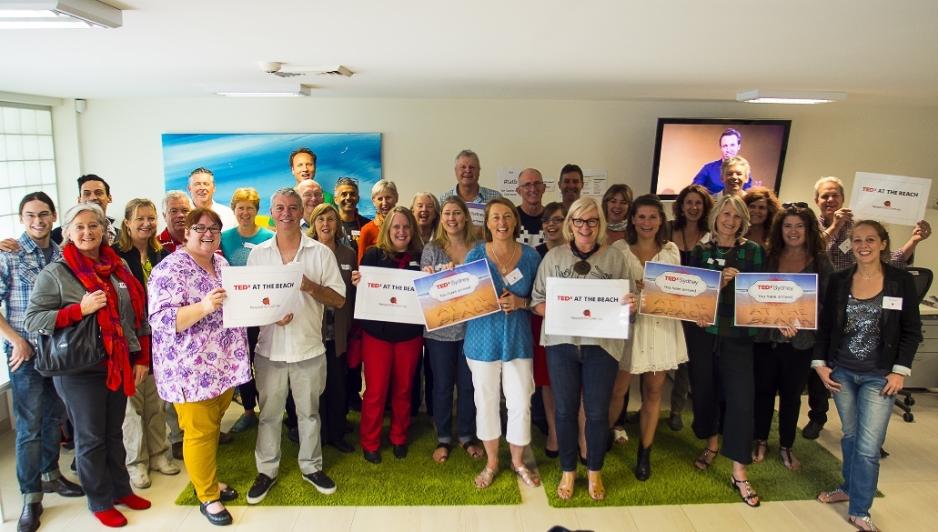 TEDxSydney at the Beach 26.4.2014 - image courtesy Big Review TV.
More than 100 people gathered together at NewportNet Coworking office yesterday for TEDx At The Beach, to enjoy the live stream of TEDxSydney 2014 live from the Sydney Opera House.
Officially opened by Pittwater Mayor Jacqueline Townsend, guests not only enjoyed the inspiring program of TEDxSydney, the northern beaches locals witnessed talks from local identities including Simon Euers from Newport Surf Racing Academy, Natalie Isaacs Founder on 1 Million Women, Cristo and Francesca from Basic Bananas, Tony Hollingsworth the Head of Community at DIGIVIZER and Duncan Adams from Spinal Cure Australia.
The local community had a great opportunity to discuss the inspirational and educational talks that have made TED famous, and to appreciate local talent. Founders of NewportNet Karen and Simon Bond said the event was a fantastic opportunity for the locals to connect, network, share and collaborate.
"We love the fact that we provide a local space for people to connect and share ideas - its all part of the
NewportNet
approach. TEDxSydney put together an amazing program and we congratulate and thank everyone involved."
ANZAC Day March and Commemorative Services at Avalon Beach RSL Club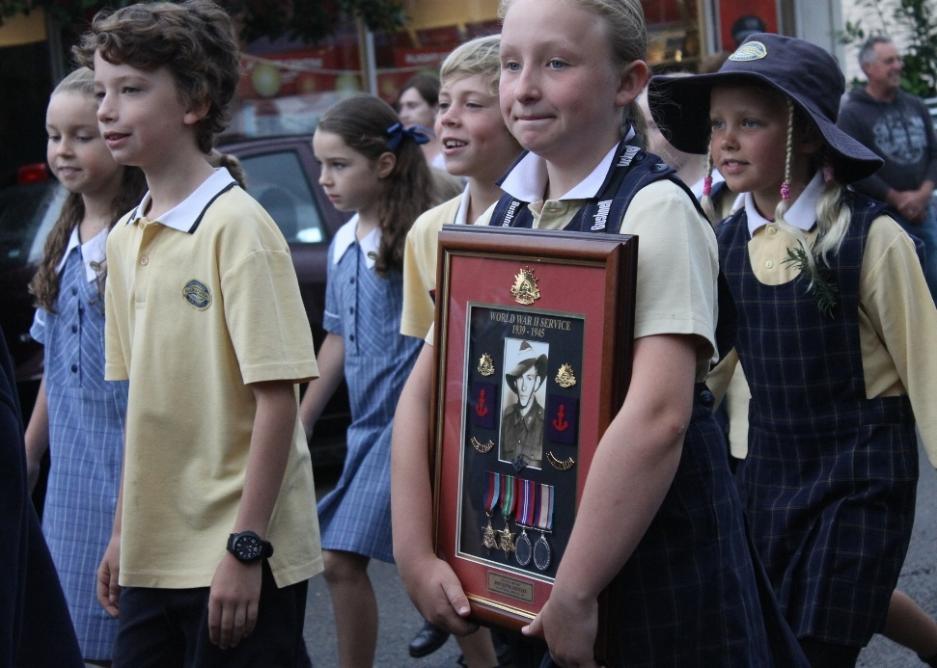 Bilgola Plateau Public School students. Picture by AJG.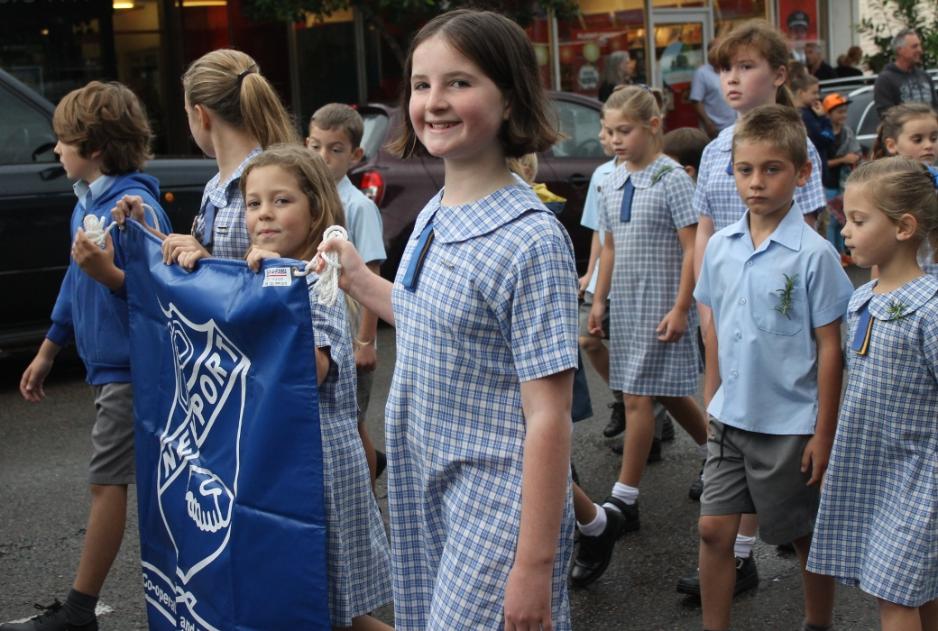 Newport Public School students. Picture by AJG.
Dawn Services were held at Pittwater RSL and Avalon Beach for ANZAC Day in Pittwater. The 11am March in Avalon, led by Returned Service League members was followed by 305 Squadron Australian Air Force Cadets and children from Avalon Soccer Club, Avalon Beach SLSC, Avalon Junior Rugby League Football Club and students from Barrenjoey, Newport, Bilgola, Maria Regina while the Avalon Public School Band led the parade at the Palm Beach March.
President of Avalon Beach RSL Club Sub Branch Graham Sloper reports that attendances at the Dawn Service this year were just over 2000, the March 1500 and the Commemorative service 7500.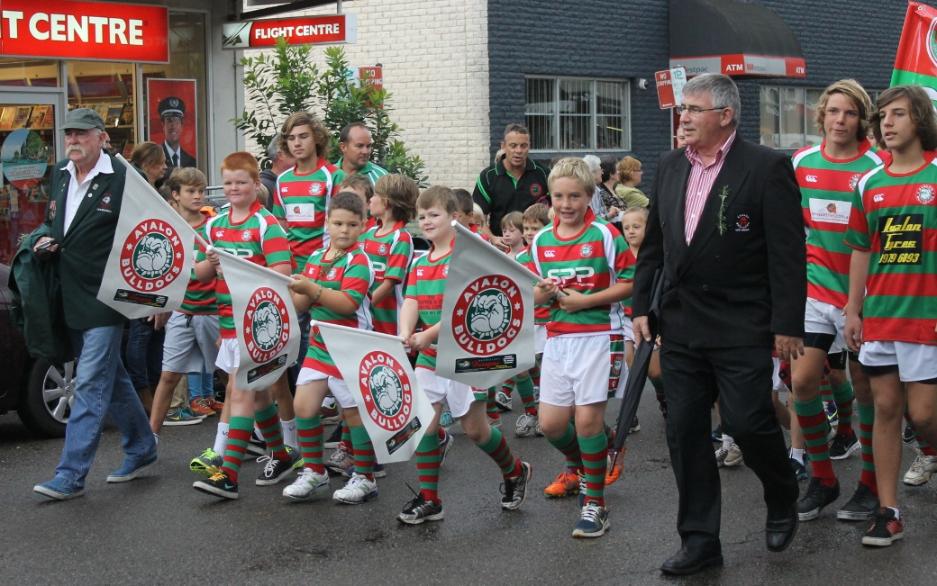 Avalon J.R.F.L.C. members flanked by coaches/mentors. Picture by AJG.