May 3 - 9, 2015: Issue 212
EcoTreasures
As the weather cools down our passion for being outdoors does not abate. This week we speak with Damien McClellan, founder of EcoTreasures, to share a small insight into a local business that conducts Eco Tourism in Manly, The Basin in Ku-ring-gai Chase and in the Sydney Harbour National Park.
Through EcoTreasures you can enjoy educational beside the water walks and talks, and in water snorkelling experiences or on water paddling explorations.
When and why did EcoTreasures begin?
I founded EcoTreasures in 2010. The idea was to create unique eco tours around Sydney's Northern beaches promoting environmental awareness.
EcoTreasures mission is to provide people with an unforgettable fun, relaxing Australian experience while increasing your knowledge about Australian wildlife, environment, culture, heritage and fun things to do in Sydney. I believe the best way to learn and appreciate the environment is to have fun while you're in it. I want to help spread the message of conservation across the world while having a good time with new friends.
What is your background to support these activities?
I graduated with a Bachelor Degree in Environmental Management from Macquarie University and then after University I completed a Diploma in Transport and Logistics from Sydney University, Certificate IV in Tour Guiding, Certificate IV in Small business Management, Certificate III in Sport and Recreation, Certificate II in Hospitality Operations. I have experience working as a community environmental educator for Local Council, Surf and Paddle Board Instructor for Manly Surf School and nature tours guide for Boutique Tour Australia.
In the last decade after University, along with starting my own small Business EcoTreasures, I have worked as a Sydney Wildlife Tour Guide, Sydney Surf Tour Guide (Australia East Coast), Snow Tour Guide (Japan), Wine Tour Guide (Hunter Valley) and various other customer service roles. I was lucky to gain experience in the corporate world for over 2 years as State sales management roles, which is where I witnessed the need for new unique team building/bonding exercises between colleagues.
Why 'Eco' Tourism?
Eco tourism is a great fun and interactive asset to help conservation.
"Eco tourism is ecologically sustainable tourism with a primary focus on experiencing natural areas that fosters environmental and cultural understanding, appreciation and understanding" – Eco Tourism Australia
What are the range of activities involved at:
1.Manly
Sydney Snorkelling Tours are available as an Aquatic Reserve Tour at beautiful Shelly Beach where you may Snorkel, walk and talk with your local guide around Shelly Beach, Manly, or there is also the adjacent Sydney Harbour Aquatic Reserve Tour where participants can Explore North Sydney Harbour Aquatic Reserve for local marine species from Quarantine Beach.
There are also guided walks we conduct which include Whale Spotting from May to November – a great time of year to take one to these!
EcoTreasures Manly coastal walk tour
These Tours are conducted at The Basin, part of the Ku-ring-gai Chase National Park. We have on offer Paddle Board, Kayak, Snorkelling and Walking tours. There are guided and self-guided tours on offer and we also offer a wonderful Snorkelling activity where we look for sea horses and other species at the Basin estuary in the calm protected waters with an experienced guide.
EcoTreasures also provides custom outdoor educational programs for students at The Basin. This is our new "Water World" program showcasing Sydney's water ways above and below the water. We can manage programs to suit large and small group requests for Primary, High School and University age students. Our tours have been awarded advanced eco tourism certification from Eco Tourism Australia which demonstrates the high quality immersive nature experiences your students will receive.
3.Ku-ring-gai Chase NP, Sydney Harbour NP
This is known as our Sydney Wildlife Camping Tour to "Immerse yourself in Ku-ring-gai Chase National Park".
In this you can now join EcoTreasures on a unique Sydney Wildlife Camping Tour eco experience within Ku-ring-gai Chase National Park. EcoTreasures expert local guides will help you immerse yourself over 2 days and 1 night into the Australian bush and coastal lifestyle. Enjoy the serenity of the bush away from the big smoke on a truly unique Sydney Wildlife Camping tour. Participants explore West Head, Ku-ring-gai Chase National park and the surrounding majestic Pittwater for native wildlife with a local nature tour guide from your campsite Base camp at the Basin Campground. Meals and Camping Fees are included as well as on water, in the water and guided bushwalks.
Please give us an example of a day with Eco Treasures at Manly and Pittwater –
Depends on the tour. Our snorkelling and paddle boarding tours are very popular. We start the day meeting up with clients and then the adventure begins.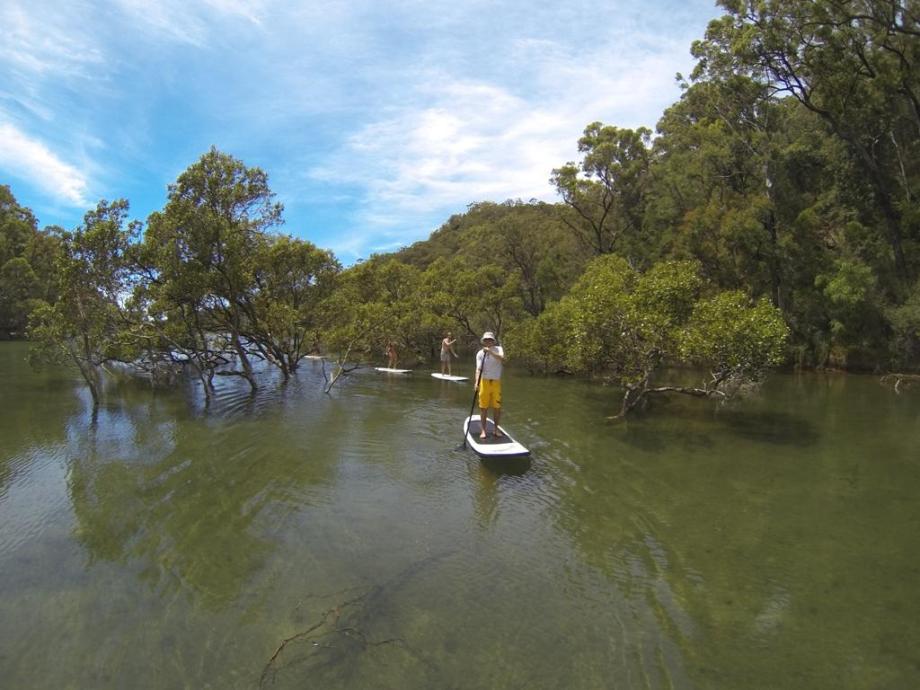 EcoTreasures paddle board safari
Contributing to community – how does EcoTreaures do this – and what programs/studies do you contribute to?
We conduct beach cleans on our coastal walks. We collate the data and submit the findings to a national database run by Tangaroa Blue Org. We also help run tours for Indigenous and Pacific Islander mentoring groups. We have also been honoured to host people from Make A Wish from the USA who wanted to see the underwater world of Sydney.
The future – are there plans to expand the activities or educational aspects?
Yes we will soon be taking client on extended trips to some iconic locations. For example next year we will launch or Whale Shark swim adventure to West Oz. It will be a multiday trip with some amazing activities around Ningaloo Reef.
What will a participant need to go on one of these EcoTreasure Tours?
We take care of insurance. Customers are always advised to have travel insurance if they are not from Australia. Customers need to bring sun smart clothing, hat, drink bottle, swimming gear for beach activities, towel and walking shoes for walks. We supply everything else.
What is EcoTreasures 'motto'?
"Guiding the experience seeker since 2010"
What are EcoTreasures favourite places in Pittwater and why?
There are too many to choose from. Wherever is quiet on that day or has good waves. It all depends on the time of year and weather.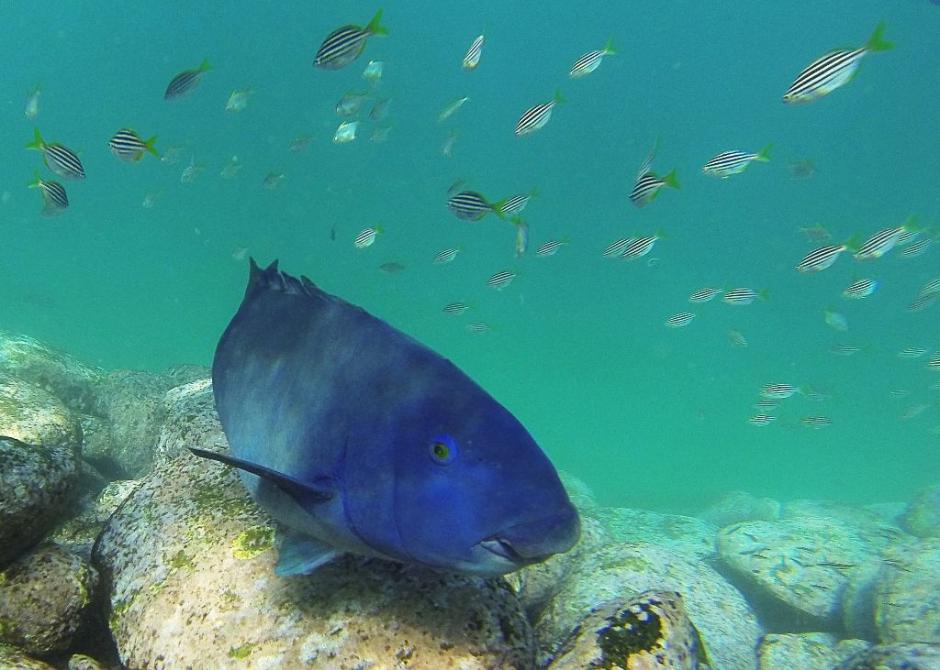 Copyright EcoTreasures, 2015.