March 22 - 28, 2015: Issue 207
Cabbage Tree Aquatic Reserve
An Eco Treasure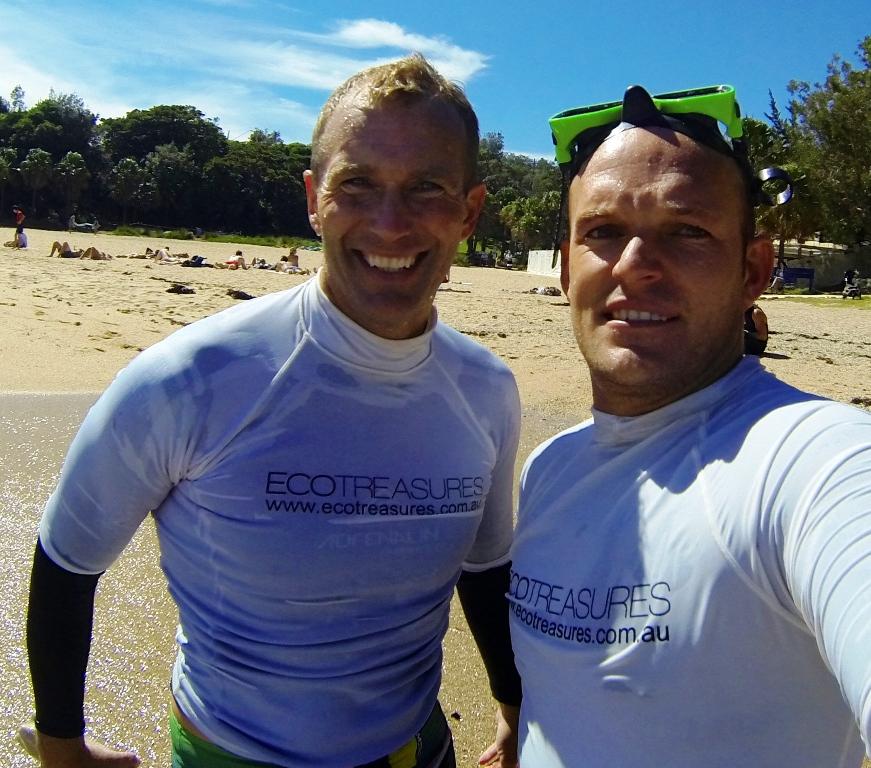 Rob Stokes and EcoTreasures founder Damien McClellan - happy after the snorkel tour.
Cabbage Tree Aquatic Reserve an Eco Treasure
"Eco Tourism creating a connection to Sydney's natural treasures"
Sydney eco tourism specialist EcoTreasures hosts the NSW Environment Minister Rob Stokes and other VIPs for a guided snorkel tour of the Cabbage Tree Aquatic Reserve
March 18, 2015
The launch of the Australia Tourism, National Parks "Sydney Harbour National Landscape" in 2014 identified the natural treasures of Sydney and the benefits nature tourism creates to the local economies while helping educate about local community values. Since 2010 local ecotourism specialist EcoTreasures has based their business mission on having fun in the outdoors whilst educating their clients about the environment and heritage of the areas visited. Founder Damien McClellan has invested heavily in achieving the highest accreditation and best practice standards in the ecotourism industry. EcoTreasures has successfully been awarded a 10-year National Parks and Wildlife (NPWS) Eco Pass and Advanced Eco Tourism & Respecting Our Culture certification from EcoTourism Australia.
On Friday 6th March 2015 EcoTreasures was honoured by the opportunity to host Rob Stokes, NSW Environment Minster, and the local Pittwater Member, along with folks from the Wilderness Society and Nature Conservation Council on a guided snorkel tour of the Cabbage Tree Aquatic Reserve. The aim of the guided tour was to bring together key stakeholders to build relationships and witness first hand the successful conservation management outcomes of the Cabbage Tree Aquatic Reserve.
EcoTreasures donated the event to the Wilderness Society as a community service.
"It is absolutely vital we protect and nurture the spectacular environmental treasures of the NSW marine estate, like those here at Cabbage Tree Bay," Environment Minister Mr Stokes said on March 6th.
"That is why the Baird Government has commenced a 12-month study to assess greater marine protection along Sydney's coast and harbour. The study takes in Manly Cove; Collins, Store and Quarantine beaches; Chowder Bay; Long Reef; Narrabeen Head and Barrenjoey Head.
"Monitoring and research from key sites will be used to inform decision making on the creation of an integrated marine protected area along the metropolitan coast by 2016.
"The NSW Government supports well located marine protected areas that improve marine biodiversity, enhance fish stocks and provide great recreational opportunities.
"This research will enable decisions about enhanced and integrated marine protection along the entire Hawkesbury Shelf Bioregion, which extends from Newcastle to Wollongong and includes Sydney Harbour, Broken Bay, Botany Bay and Port Hacking.
Cabbage Tree Bay in Manly is a no-take aquatic reserve. Fish species that have been recorded include blue groper, cuttlefish, wobbegong shark and protected species such as seadragons, elegant wrasse and black rockcod.
Since the "No take zone aquatic reserve" was implemented in 2002, the biodiversity of Cabbage Tree Aquatic Reserve has increased. Dave Thomas from dive conservation group Eco Divers reports they been conducting marine surveys of the areas over the past three years. Mr Thomas said they have surveyed up to 300+ species in the reserve. Mr Thomas stresses he "would love to see more places like the Cabbage Tree Bay Aquatic Reserve".
"The community has come together through their love of conservation, which is a special thing for everyone involved". Mr. Thomas said
EcoTreasures owner Mr McClellan said, "We are lucky to see first hand the enjoyment people received when they snorkel the Cabbage Tree Bay Aquatic Reserve. Even if it is for the first time or the hundredth time people still leave the beach smiling. Locals and visitors all benefit from this aquatic playground created through the protection of the area".
The local area is home to a very passionate community who want to protect this natural asset for the current and future generation. Robynne Millward from the Manly Environment Centre told how proud she is of the Friends of Cabbage Tree Bay recent achievements. The group received the 2014 Keeping NSW Beaches Beautiful community and partnership award. Robynne said,
"The aim of the group is to educate locals and visitors about the unique biodiversity of the area. The Friends of Cabbage Tree Bay volunteers spend time at the reserve monitoring activities along with recording marine sighting with ID charts and talking to the public about the benefits of the reserve".
Mr McClellan said "The Australian coastal culture shapes our lifestyle and the ocean is a true asset which we should all learn about, enjoy and respect. We hope to be involved helping spread the message of conservation through our nature based experiences for many years to come. I have the best job in the world".
According to Damien McClellan from EcoTreasures, Ecotourism in Sydney has been a underrated niche market of the Sydney tourism market for too long. Tourism operators and locals are all doing their part to help educate visitors and locals about the environment through guided tours and community volunteer groups.
EcoTreasures also runs Tours in Pittwater which are designed to give people a unique insight and aquatic experience of our wonderful Basin Estuary with one designed to "Immerse yourself in Ku-ring-gai Chase National Park" - see link below.
Further
For more information on the Sydney marine region study, or to find out how you can get involved, go to the Marine Estate Management Authority website at www.marine.nsw.gov.au.
Cabbage Tree Bay – from Manly Council's website
Cabbage Tree Bay is recognised as being of special value. The small north facing Bay, with its north and west facing beaches, is extremely popular due to its protected tranquillity, ease of foreshore access, rocky outcrops, parkland and bushland as well as the diversity of marine habitats and species living within the Bay.
Strong community feeling for the protection of CabbageTreeBay resulted in a request to Manly Council in 1990 to protect the bay from exploitation and essentially being "loved to death". This was followed by the ManlyOceanBeach listing on the National Estate in 1991. The area has been a nominated Intertidal Protection Area since 1993.
In 1995 Manly Council formed the Cabbage Tree Bay Consultative Group to advise Council on matters relating to the Bay's conservation. Manly Council, through the consultative group identified the need for effective and sustainable management of the Bay's resources and its unique marine and terrestrial environment. In mid 1999, external consultants were commissioned to develop a comprehensive management plan for the area including extensive community and stakeholder input throughout the development of the plan.
The Cabbage Tree Bay Management Plan extends to areas beyond the care and control of Manly Council and aimed to provide a comprehensive approach to the identification and resolution of issues affecting the study area, including those that relate to the land-water interface. It was also to provide an opportunity to bring together the various government agencies involved and through a whole of government approach identify strategies and actions for the future management of the area.
The process in preparing the Plan involved extensive consultation, including establishing a steering committee to guide development of the plan and a working group including representatives of the diverse mix of people who know and use the area.
Many issues, including some conflicts, were identified between different user groups. The ongoing difficulty in resolving the significant issues in relation to the biodiversity and management of the aquatic component of the study area resulted in the working group agreeing to participate in a conflict resolution/mediation session attended by representatives of the conservation, fishing and commerce groups.
The user-friendly Cabbage Tree Management Plan was adopted by Council in 2000 making way for a collaborative approach to implementation. One of the major outcomes from the Management planning process was the NSW Fisheries designation of Cabbage Tree Bay as a 'No Take' Aquatic Reserve in March 2002. Prior to the declaration of the Aquatic Reserve, the area was considered to be under pressure from a number of user groups and activities namely commercial and recreational fishing (including spearfishing), boating, the removal of aquatic life by divers and collectors and from beach combing. However, at this time little scientific information was available on the marine environment within Cabbage Tree Bay.
Cabbage Tree Bay 'No-Take' Aquatic Reserve
Cabbage Tree Bay was declared a 'No Take' Aquatic Reserve on 31 March 2002. Its declaration will help to conserve the Bays natural aquatic habitats, processes and unique biodiversity for our future enjoyment, understanding and sustainable use. Being a 'No Take' Aquatic Reserve means that only passive-use activities are permitted, you are not permitted to fish by any method, mine, destroy marine life or collect dead or alive organisms including empty shells.
The small but highly visible Cabbage Tree Bay 'No Take' Aquatic Reserve will provide a focus for marine awareness and ecotourism amongst residents and visitors who come to Manly each year.
Council has elected to monitor the Bay's recovery over time due to the little information available on the effectiveness of Aquatic Reserves in protecting aquatic ecosystems, habitats and species. The surveys and analysis will also contribute to broader scientific discussions regarding the effectiveness of such reserves. The general aim of the surveys is to assess the effectiveness of the Aquatic Reserve's designation. This can not be achieved through one year of sampling, it is recommended that the surveys of both the Aquatic Reserve and selected control sites be extended.
Results from the initial years of surveying are highly encouraging and suggest that Cabbage Tree Bay:
• has a diversity of habitat
• contains relatively high numbers of fish that would otherwise be subjected to harvesting; and
• has a good larval supply of fishes.
These are all important attributes for the selection and maintenance of an Aquatic Reserve.
Read more at: www.manly.nsw.gov.au/environment/marine-and-coastal/cabbage-tree-bay
About EcoTreasures
EcoTreasures is a local Sydney based nature tours business, which has seen explosive growth since starting in 2010. EcoTreasures was awarded a Trip Advisor Certificate of Excellence for the 2nd year running, 2013 & 2014. This special distinction is only awarded to the top 10% of businesses on Trip Advisor globally. This local Sydney Eco Tourism Company also holds advanced ecotourism accreditation, which is the benchmark for high quality ecotourism experiences across Australia.
EcoTreasures is also one of only a handful of tour operators in Sydney, which is a Premium 10 years NPWS Eco Pass Holder. This special authority allows EcoTreasures to conduct tours in NSW National Parks. This also demonstrates the commitment for a long-term partnership between NPWS and an ecotourism business providing a fun and educational service to the community.
EcoTreasures was recently included in Australia Tourism's new "Naturally Australia app". The app was developed in collaboration with Australian Traveller magazine and each of the National Landscapes Steering Committees. The app covers around 200 different nature products and experiences that can be enjoyed across 16 of Australia's natural icons. EcoTreasures operates in the newest National Landscape, Sydney Harbour, which stretches right across Sydney. The National Landscapes program was developed to combine tourism and conservation to promote natural areas and locations across Australia.
EcoTreasures Runs Tours in Pittwater: SUP, Kayak, Snorkelling and Walking Tours.
CONTACT
For more information call 0415 121 648, email info@ecotreasures.com.au or go online to www.ecotreasures.com.au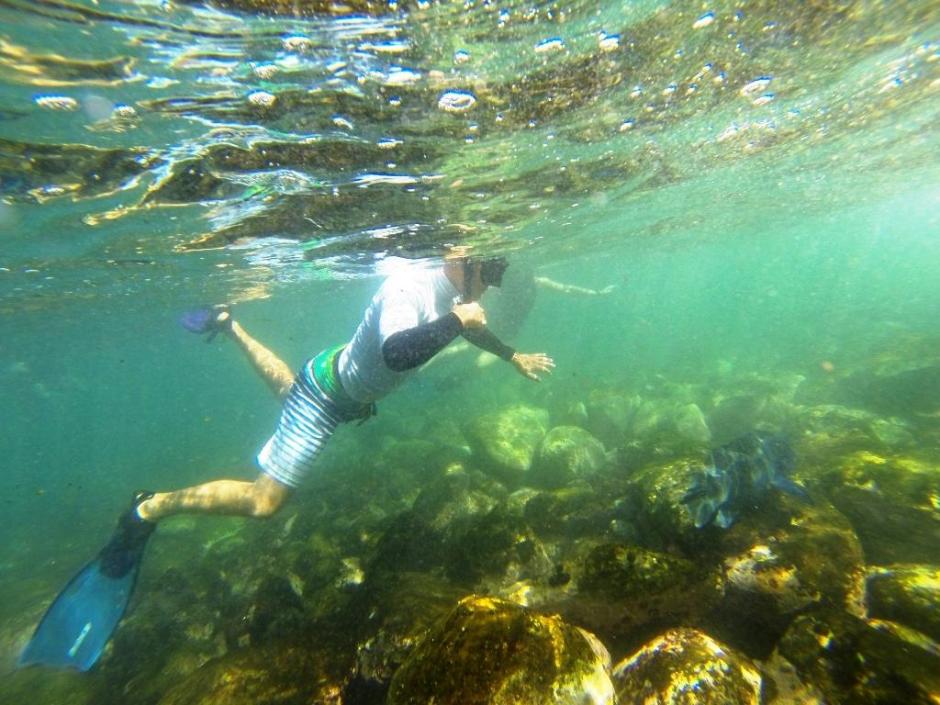 EcoTreasures Hosts Rob Stokes at Manly Snorkel Tour.
EcoTreasures Snorkeling Tour Giant Cuttle Fish Encounter
by Damien McClellan
Amazing encounter with cuttle fish very close to shore in Cabbage Tree Aquatic Reserve, Manly, Australia. Giant Cuttle fish come into Cabbage Tree Aquatic Reserve in Winter to breed. With sunny skies and clear winter water an amazing natural spectacle is created for you to see. For information about EcoTeasures eco tourism options go to www.ecotreasures.com.au