November 13 - 19, 2011: Issue 32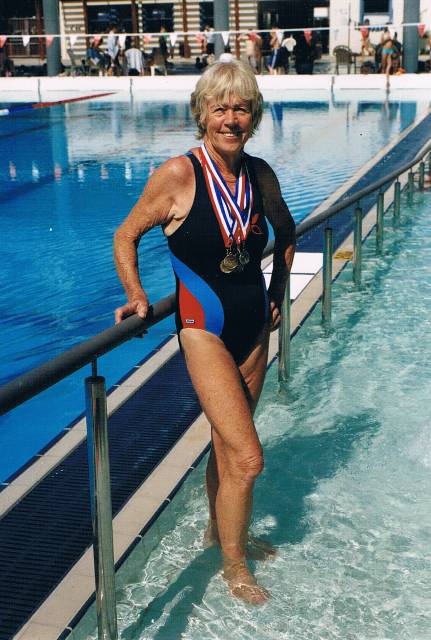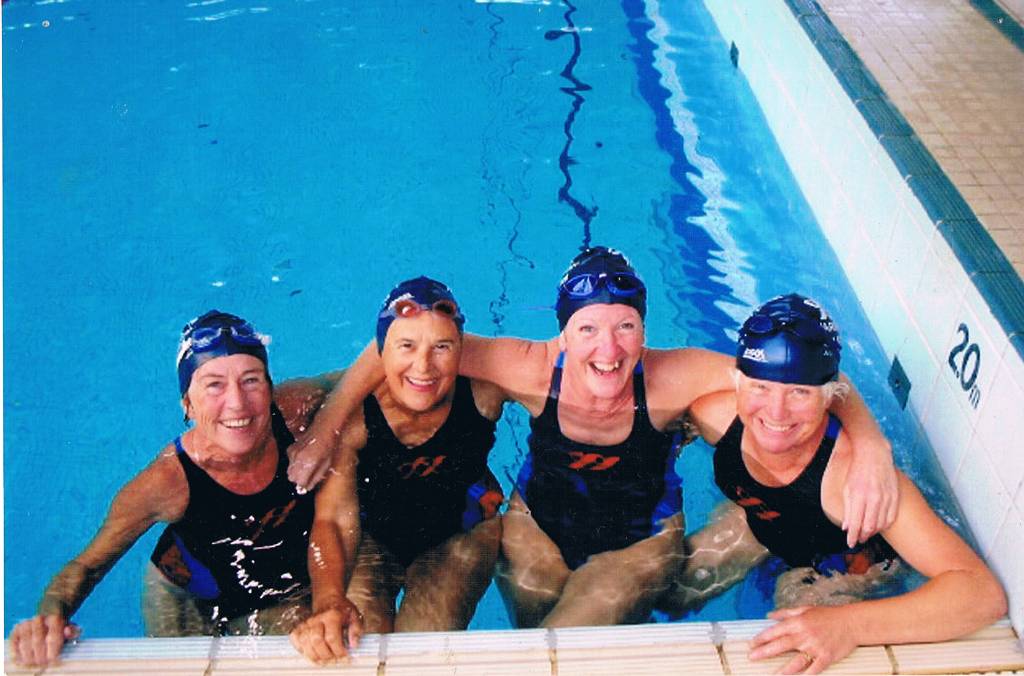 Above: Relay Team 3/4/2004 in Adelaide; (l to r) Denise Casey, Diana Moore, Jan Shannon, Bev Green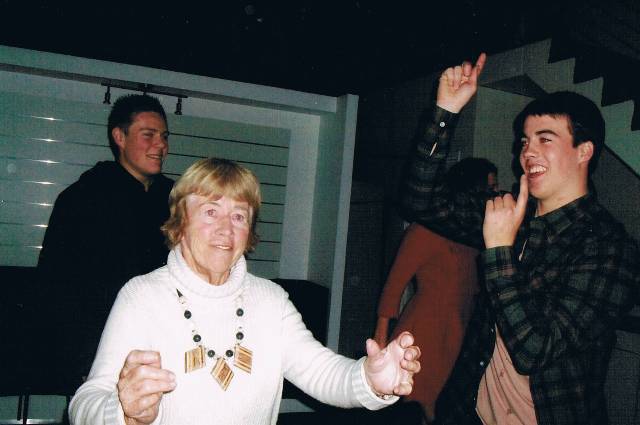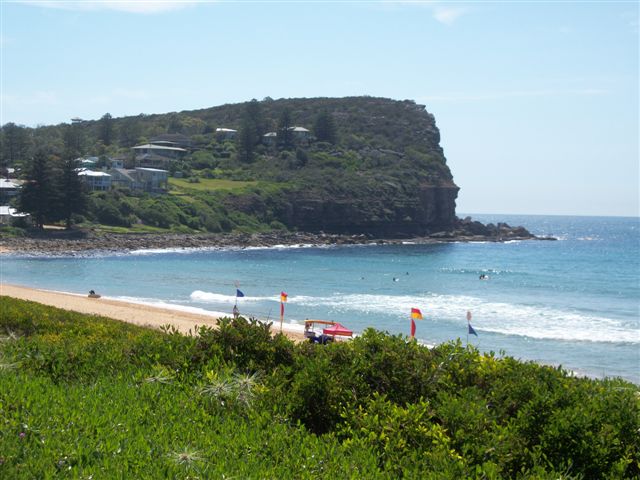 Below: Denise and Colin's dogs

Denise Casey
I was born in Caulfield on 14th of July, 1935. My mother received a large bunch of freshly picked wattle from her mother, Emily Telfer. I was fortunate to have a healthy childhood, and learned to walk and talk rather. As a toddler I learnt to love animals. My dogs, my cats became the love of my life, as did my dolls and teddy bear. At 76 I still love these things.
When I was three Mum and Dad shifted to Frankston, a beautiful bayside suburb in Melbourne. Here I learnt about the beach, the lake and the swans. When I was four my family moved from Frankston to an inland suburb called Vermont. I thought with my young brain I would go back and live at the beach forever. Now at 76 I live at a beautiful beach called Bilgola, but it is a Sydney beach, not Melbourne.
World War II worried my family very much. I had two Uncles in New Guinea where there was a lot of action fighting the Japanese. My Uncle Sam was a paratrooper and parachuted into the north-west region of New Guinea Finschaven River to drive the Japanese out of New Guinea. My father having volunteered three times for Army service and being rejected because his skin is unfit for tropical service was finally accepted as a Medical Orderly serving on a Hospital train based in Melbourne. They conveyed the wounded from the Hospital Ships to Heidelberg Hospital for treatment.
Mum and I had a great time, 8 cats, 12 bantams,3 laying hens and one little dog called 'Noodle'. By then I was five and had started school at Vermont State. School was very easy for me. I remembered easily and listened in class. When I was eight I began Scotch Dancing. This gave me years of fun. I also did square dancing and ballroom dancing which was the foundation of social success. About 8 years I started to play tennis and at 16 I played a School Girls Final on the Centre Court of Kooyong. That was my best achievement. I then started work in an office and at nineteen I got married.
I had a baby boy three years later. We called him Peter. Three years went by and then I had another baby boy. We called him Roger. My husband (Colin Casey) decided we needed a dog. A friend had a spare puppy which she gave me. We called him Nasser. He was a brown curly haired retriever.
We lived at Ferntree Gully a suburb of Melbourne until Peter was about five years old. Then we had a big change. My husband, who was an Air Force Officer, was posted to Darwin to work for two years.
It was a long trip from Melbourne to Darwin so we stopped in Brisbane or two days. It was very hot and the boys were covered with heat rash. I was very worried how they would cope with the much hotter Darwin. The next stop was Mt Isa which was much hotter, it was like hell, but after a few hours off we went again. Next stop Darwin; What sheer delight. A few lights out of the darkness and we landed, no criticizing in-laws to greet us, a relatively cool aerodrome to go into and someone pleasant to take us to our new home. Nasser escaped at the airport and was chased by personnel but eventually caught so we could take him to our new home.
Life in Darwin was very different from what I was used to in Melbourne. There was no Mother or Father there for moral support. There was a swimming pool big enough to swim laps. The boys and I spent many hours becoming reasonably good swimmers. This skill has given us fun for the rest of our life. There were two tennis courts as well. This was also great for me because the C.O. of the Base saw me having a hit and thought I looked good enough to arrange a small club of officers and friends to play twice a week in the cool of the evening.
Although the RAAF base was a very nice place to live Darwin itself was a very small rough town then. There were four streets of shops in which you could purchase food and clothing but not the latest fashion.
You have had to live in different places as the wife of a Serviceman, was that difficult?
Living in different places did not worry us. The boys were only small when we were moving and we lived the same way at all places. It was lovely teaching them what was right and fun. Moving house was no problem, the Air Force did that for us. One thing I will stress is we always had a dog. The boys grew up with animals which taught them to love, look after and always have your best friend waiting when you came home.
You're a very active lady, still swimming every morning. Can you tell us about your swimming?
My swimming is one thing I enjoy. I swim for a Club called Warringah Masters and Killarney Heights Swimming, training one hour a week for each Club. I swim competitively in Inter Club and State Championships. I have many medals for State Championships and I competed in two Ocean Swims. My children and grand children have also competed at Club and State level.
You are also still a very active dancer. Where do you dance nowadays ?
I love to dance and have had lessons and belonged to Clubs. The last Club was a Square Dance Club 'Newport Ocean Waves'. Now I dance at Avalon Bowling Club where there is a band on Sunday. Quite a group dance there, mostly younger but I enjoy it. I know the steps from my younger days.
What is the best thing about being a mum ?
The best thing about being a Mum is having two boys. They love me and do many things to help me and still treat me as a teenager most of the time.
What is your favourite place in Pittwater and why ?
My favourite place in Pittwater is Avalon. There I enjoy shopping, walking the dogs, coffee and socializing. I love Avalon Beach and walking from the south to the north end and swimming in the summer.
What is your 'motto for life' or a favourite phrase you try to live by?

WINNING MAY NOT BE EVERYTHING BUT LOSING IS NOT ANYTHING.