September 25 - October 1, 2011: Issue 25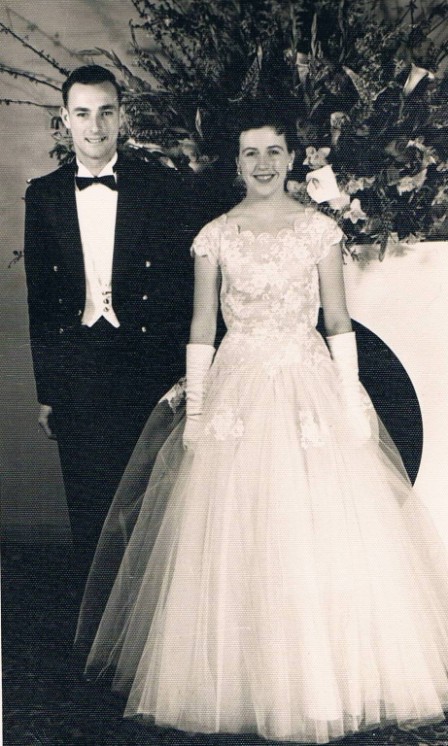 Above: Colin and wife Denise, 22 and 21 years at RAAF Ball, 1956.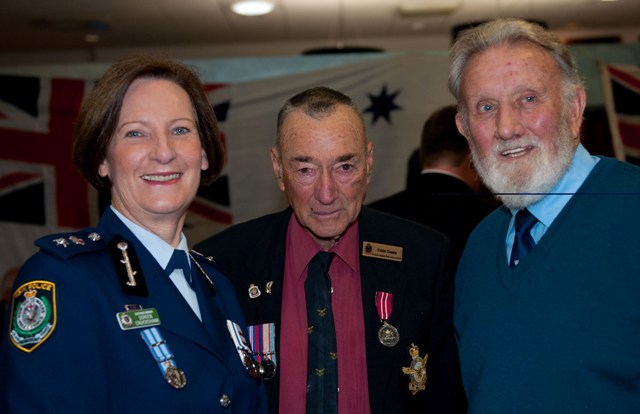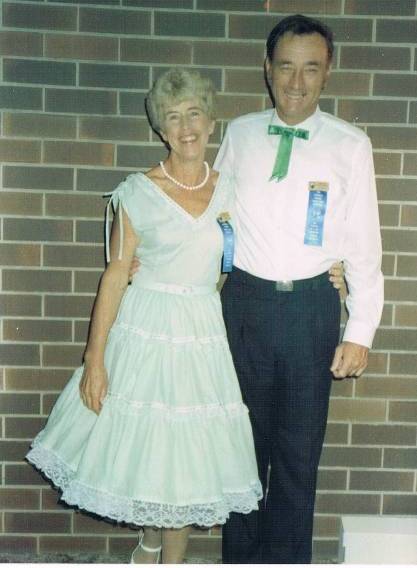 Above: Denise and Colin were avid Square Dancers until recently as part of the Newport Ocean's Waves, now at Warriewood. Photo from the 1988 Bicentennial Sqaure Dance Convention.
Copyright Pittwater Online News, 2011. All Rights Reserved.
Colin Casey
I was born in Brisbane 2/3/34. When I was five years old Mother took up employment as Housekeeper on a farm on Sunshine Coast. Within 2 years married a farmer at a nearby banana farm. I completed Primary School at a one teacher school and then started secondary school at Nambour which involved catching Rail motor from Eudlo to Nambour Monday morning then home on Friday afternoon.
Because of my interest in the RAAF I joined Air Training Corps. As Cadets we had a weekly parade plus once a month we had a weekend camp at Amberley where we sometimes got rides in RAAF aircraft. The more I saw of the RAAF the more I like it. At 15 years in March 1950 I joined as an Apprentice and moved to Melbourne to do 3 years training to become a Radio Engineer.
When I graduated I was posted to No6 Squadron then shortly to Woomera for the Atomic Bomb Trials. This involved cleaning radio active dust from the planes, servicing and refuelling them.
Six months after return to Amberley I was posted to Melbourne for a further 2 years training as a Radio Engineer. When completed I was commissioned as a Radio Officer and posted for two years as the Officer in charge of No 1 Transmitting Station Laverton. This was a great posting with good Technicians and the station on the air 24 hours a day communicating with Air Forces around the World.
Another 6 years were spent in Headquarters St Kilda Road Melbourne before I was posted to Darwin for two years, which was also a great posting. After a year in Canberra at Department of Air, I resigned and started 6 years as an Engineer followed by 25 years in Sales before retiring
How did you come to join the Services?
I joined RAAF as an Apprentice at 15 years leaving home in Brisbane to train in Melbourne for 4 years. My motive was to able to complete my education and escape an unhappy home life. My step father believed I should work full time on banana farm but I thought this was a lot of physical effort for little return. Also the chance to see Melbourne and other towns later was appealing. I had 17 years in the RAAF and I was a Flight Lieutenant when I resigned.
You were part of the Australian soldiers involved in the first Atomic test at Woomera, could you tell us about this and what was involved?
I was a Radio Technician with No6 Squadron flying Lincolns. The Squadron with support personnel was sent to Woomera where 6 aircraft were to track the path of the radio activity released by the blast so a warning could be given if it headed towards Sydney or Melbourne. The first blast was at Emu Field about 100 miles from Woomera but our aircraft operated from Woomera which had a longer strip. When they returned the radio active canisters were removed and the radio active dust was washed from the wings and fuselage with soap and water. After refuelling they returned to follow the cloud. Because the aircrew were in radio activity for long periods they were more affected than ground crew. To some of us it was an adventure. I was 18 years at the time. Veterans Affairs have recently granted me a Health Card.
You have been at Avalon sub-branch for ex-service personnel for a number of years now. Could you tell us what the RSL means to you?
The RSL to me when I joined meant a group of people with shared experiences and camaraderie with dedicated members looking after our rightful entitlements.
What is your favourite place in Pittwater?
My favourite place in Pittwater is West Head the nearby walking tracks the Rock Art, Aboriginal Midden close to the World War 2 Gun Emplacements.

What is your 'motto' for life or a phrase you live by?
Leave the World as a better place
Further reading
From Daily Telegraph 23/9/11: "Help for nuke vets; a small number of Veterans of British nuclear test in Australia in the 1950's and 1960's will be entitled to health care and compensation. Veteran's Affairs Minister Warwick Snowdon said yesterday the former RAAF personnel had been excluded because their involvement had fallen outside the currently legislated nuclear test areas or time periods. Mr Snowdon said others would also be eligible."
Colin is a former President of Avalon/Bilgola Amateur swimmers: still involved in Vice President Role
http://www.avalonbilgolaswimming.asn.au/committee.html
SA A Bomb in Press of Adelaide: Courtesy and with kind premission of SA State Library; http://www.slsa.sa.gov.au/exhibitions/boland/eventOz1953.htm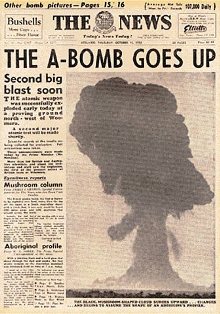 ARTICLE: At dawn on 15 October 1953, the British detonated the first atomic bomb on the Australian mainland at Emu Field, about 480 kilometres north west of Woomera in the desert of South Australia (testing had begun at the Monte Bello Islands off the north coast of Western Australia the previous year). Contemporary accounts reported that the plume of smoke produced by the explosion resembled the profile of an Aboriginal person. A second bomb was exploded at Emu Field on 27 October.
After these detonations at Emu Field, the British decided that their program of tests might continue for 10 years or so and asked the Australian government if a more permanent proving ground might be established. Maralinga was chosen and regular British atomic testing began there on September 27, 1956. Seven atomic bombs were detonated at Maralinga in 1956 and 1957 with a further series of "minor trials" in which at least another 300 nuclear devices were exploded.
Atomic testing at these sites, and at Woomera, has left a lasting legacy. The sites were officially "cleaned up" in 1967, However, there are continued concerns about the effect of radiation exposure on the people involved in the tests. There have been numerous incidences of radiation sickness, chronic illness and birth defects amongst the Australian and British service personnel and in the Aboriginal communities on whose lands the tests occurred.
Royal Commission into British Nuclear Tests in Australia. The report of the Royal Commission into British Nuclear Tests in Australia, Canberra: Australian Govt. Pub. Service, 1985
The day the black and red cloud came for us - Maralinga testimony: http://www.adelaidenow.com.au/news/south-australia/the-day-the-black-and-red-cloud-came-for-us-maralinga-testimony/story-e6frea83-1225835368593