August 14 - 20, 2011: Issue 19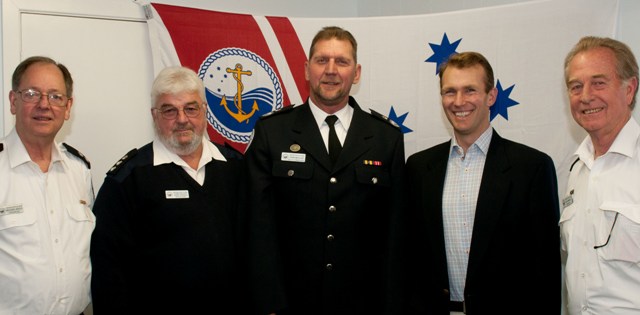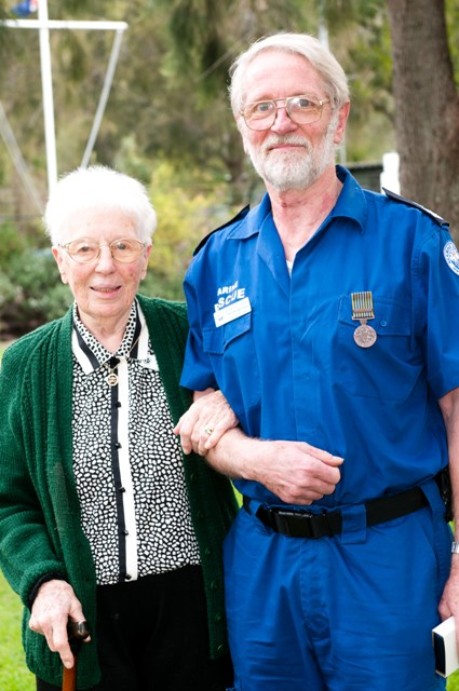 Top(left to right): Deputy Commander BBMR, Michael Seale, Regional Co-Ordinator, Greater Sydney, Chris Gillett, Marine Rescue NSW, Deputy Commissioner Heinz Mueller, Hon. Rob Stokes MP, also Patron of BBMR, and Unit Commander Victor Lawrence
Above: Peter Woods, who has served for over 35 years at Marine Rescue Broken Bay, with his mother Joan, who also served at the unit for decades up until four years ago.
Broken Bay Marine Rescue Long Service Awards
On Saturday 13th August 2011, local member for Pittwater the Hon. Rob Stokes MP and Patron of Marine Rescue Broken Bay, presented Long Service medals to nineteen members of the Broken Bay Unit of Marine Rescue NSW at the Marine Rescue Base, Rowland Reserve, Bayview.
Marine Rescue Broken Bay whose motto is 'safety of life at sea' is staffed totally by volunteers. Many of these long service medal recipients are trainers in courses designed to foster boating safety amongst the public. Other members perform duties that assist in the rescue service for vessels in trouble or in the running of the Unit. The combination of dedicated volunteers trained to a professional standard of seamanship or shore-based activities provides a rescue service on a 24/7 basis.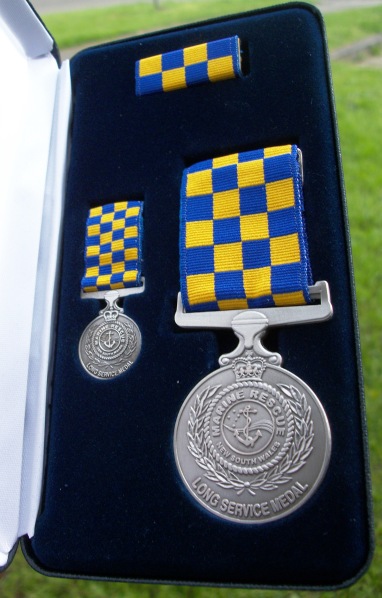 The members who received awards are; over 10 years: Ron Allsop, Tim Evans, John Fleming, Peter Francis, Terry Joyce, Robert Reid, Martin Thorn, Warwick Settree, Terry Walsh, over 20 years: Rob Baker, Noel Draper, Ken Hibbins, Tom Hughes, Mike Seale, Jan Walton and over 30 years: David Harrison, Brain Kelly, Don Southwell, Peter Woods. (Pictured below).
Unit Commander, Victor Lawrence, explained in his introduction, that the BBMR, operational since 1947, will become 65 years old next year, pointing out that those who were receiving 30+ years awards have been a part of the Unit for half its lifetime, those receiving 20+ years, a third. Commander Lawrence stressed that in any Organisation the greatest asset is the members. He explained it was not only the dedication and commitment to assisting people on the water, it was also the other areas, like radio duties, finance, personnel, IT and maintenance where the Broken Bay Marine Rescue Unit are fortunate in having volunteers from all walks of professional life to bring their skills to the tasks at hand. All members of BBMR are volunteers. They are rostered into 'Watches' and give up their weekends to remain on the base at Rowland Reserve, Bayview.
Hon. Robert Stokes, MP, in prefacing presenting the awards, recalled some more of the history of the Unit during the years of World War II to illustrate how long others have been at service to the community, describing BBMR's commitment to the community, and those who visit Pittwater in a boat, as an 'extraordinary legacy of Service'. He thanked all present for their hard work and dedication over many years. Deputy Commissioner Mueller addressed the significant factor of all Coastal Rescue Organisations members being volunteers, 'people who are drawn out of the local population and all share a willingness to serve the community.'
When award recipients were asked what stood out for them through their many years of service, and why they stayed committed even now, they all replied that it is the camaraderie and working as a team they experience that is uppermost. One recipient, agreeing that the camaraderie is prevalent, also liked that they had received blue uniforms in recent years as the old orange overalls were too bright. They have all 'thoroughly enjoyed every year' and shall continue to ensure we all experience 'safety of life at sea'.
Find out more at: Marine Rescue Broken Bay Profile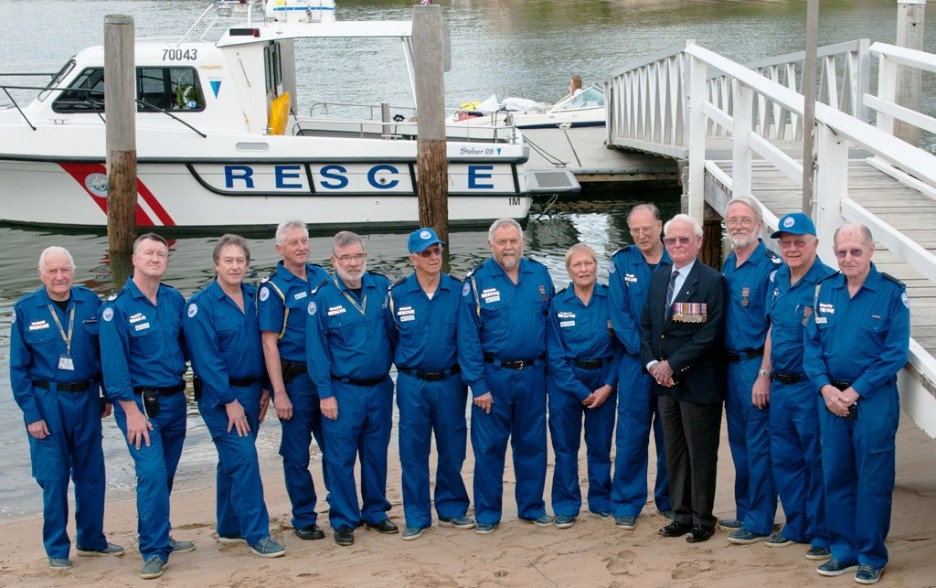 Long Service Awards Recipients.