September 15 - 21, 2013: Issue 128
Art and Soul's 'Coffee Break' Art Installation for Art In Odd Places 2013
"Coffee Break" is an art installation, one of 25 artists' projects for the Art in Odd Places festivals scheduled for 14, 15 September at Dee Why, The Strand and 21, 22 September at Manly, The Corso.
"Coffee Break: is a wave tower of recycled takeaway cups & lids highlighting the up swell of community collaboration in Dee Why and Manly.
Residents and tourists of Dee Why and Manly, who frequent the some 90 cafes in the areas, consume 2,676 kg of coffee weekly representing some 53,520 takeaway cups & lids or 2.78 million barista interfaces a year!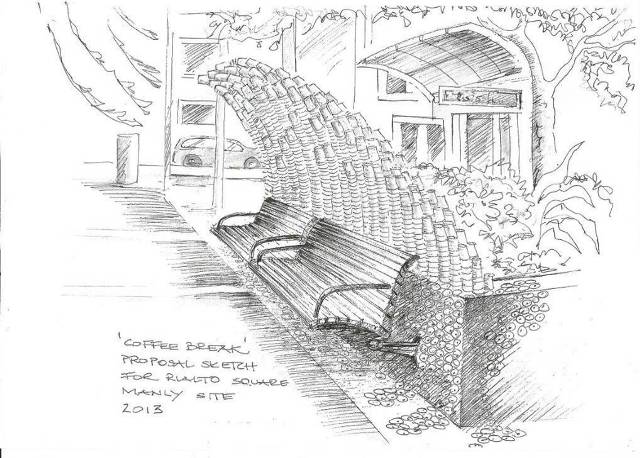 "Coffee Break" is an art installation by Art & Soul Collective Inc. which quantifies local coffee consumption and highlights the merge of coffee culture with surf culture in local coastal communities. Towers of recycled takeaway coffee cups and lids form a wave representative of a changing cultural and environmental swell," stated artist Cherry Corr.
The art installation is created by 7 artists from Art & Soul Collective including Cherry Corr, Maria Romeo, Mary-Anne Barnes, Penny Polkinghorne, Pru Smith, Amanda Farquharson and Cindy Goode Milman with assistance from Pam Henry May and Leonie Niven.
Left: Coffee Break image by Mary-Anne Barnes
The 3 x 3m tower of cups and lids will rise up over seating benches as part of Art in Odd Places (AiOP) 2013: NUMBER - an international art event founded and directed by New York artist Ed Woodham which explores public space at Dee Why (14 & 15 September) and Manly Corso (21 & 22 September) amongst three American and twenty-five Australian artists in the overall event.
The artists are attending workshops at Eramboo Artist Environment (curators Susan Milne and Greg Stonehouse) and free talks with presenters Warringah & Manly Councils, responding to Art in Odd Places 2013 thematic concept of NUMBER by:-
• Canvassing the 90 coffee dominant cafes in Dee Why and Manly which became the tower number for each of the two installations – 90 coffee cup towers
• Provided café figures that show this periods weekly coffee consumption of 2,676 kilos which became the number of cups featured in each installation – 2,676 coffee cups in each of the two waves
• Collaborative efforts that directly involved some 200 persons over the 3 month planning period from July to September 2013
"The structure consists of 90 lengths of conduit and bamboo stems drilled into a plywood platform with plaster reinforced cups at the base for weight and recycled cardboard used as spacers for the height" says artist Mary – Anne.
The artists met regularly devising the structure at Northern Beaches TAFE open studio, receiving mentoring and installation advice from well-known Sydney artist Julia Davis who said:-
"Collaboration is not an easy thing to achieve in art projects. It cannot be contrived but needs to have its own impetus and motivation.
It is a rewarding experience to observe how this group of artists have not only collaborated together but with the community at large…. from the people working in local cafes, tourists and locals in the streets and on the ferries, to the gardeners, cleaners, students and staff at TAFE. The ripples from this creative project travel far."
The artists found this public collaboration a truly engaging part of the project receiving whole hearted community support and some interesting anecdotal stories, mused artists Penny and Amanda, noting a favourite by Espresso Head at Dee Why who received a customer request to "burn the milk for her cappuccino".
"It only happened once," says owner Sten, "as it was against every fibre of our barista profession!"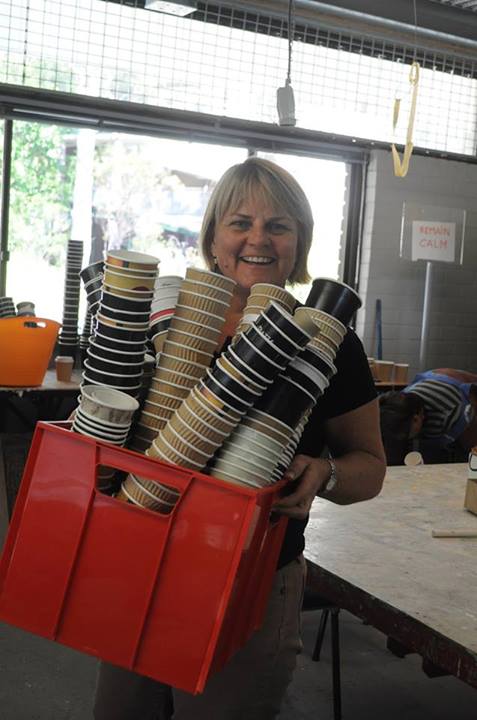 Artist Cherry Corr with collected and washed cups for the art installation Coffee Break
Artist Cindy Goode Milman pointed out that almost 100% of the cups are paper and thus bio-degradable, with only a single Styrofoam amongst the almost 3,000 collected and that was from country town in Grafton that somehow made it to our Manly's Gallery used cup collection point.
These favourite cups can be seen on the groups' Facebook page for Coffee Break (facebook.com/CoffeeBreak.ArtandSoulCollective) constructed by artists Maria and Pru with further engagement planned over the two event separately located installations which will be asking the general public to vote on the artists favourite chosen cup design.
The Art & Soul Collective Inc. is proud to present Coffee Break and celebrate the positive impact our café culture has on coastal communities whilst acknowledging an awareness of environmental concerns and the swell of change it makes on all our lives.
The Art & Soul Collective Inc. is a not-for-profit incorporated association that aims to connect member artists in their artistic endeavours and encourage creative arts in the community.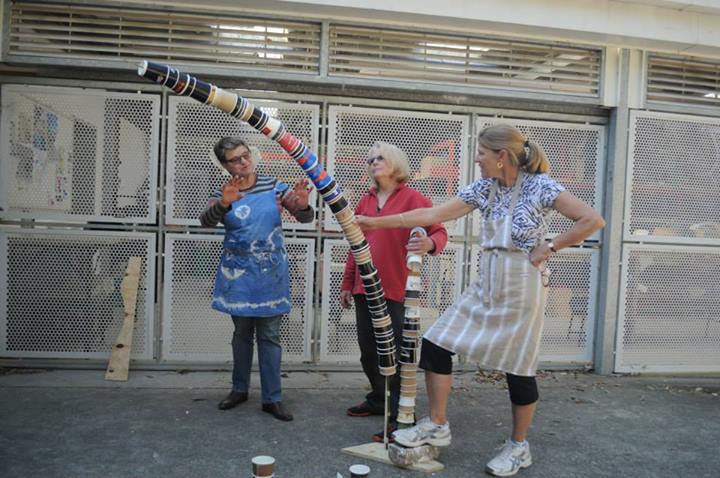 Constructing 'Coffee Break'
_____________________________________________________________________________________________
ABOUT ART IN ODD PLACES:
Art in Odd Places (AiOP) is a thematic annual festival that presents visual and performance art in public spaces along 14th Street in Manhattan, NYC from Avenue C to the Hudson River each October. Active in New York City since 2005, AiOP aims to stretch the boundaries of communication in the public realm by presenting artworks in all disciplines outside the confines of traditional public space regulations. Using 14th Street as a laboratory, this project continues AiOP's work to locate apertures in public space policies, and to inspire the popular imagination for new possibilities and engagement with civic space. www.artinoddplaces.org
_____________________________________________________________________________________________
LISTING INFORMATION
Event: Art in Odd Places 2013: Number / Australia
Location Dates: Saturday – Sunday 14th & 15th September, 2013 Dee Why Beach
Location Dates: Saturday – Sunday 21st & 22nd September, 2013 Manly Corso
Times: 11am – 3pm
Free Entry: All welcome, no bookings necessary