June 24 - 30, 2012: Issue 64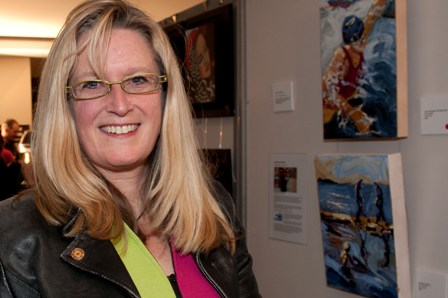 Above: Cindy Goode Milman by Michael Mannington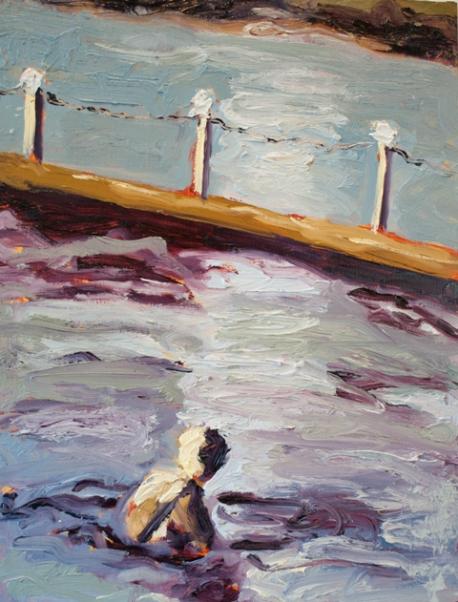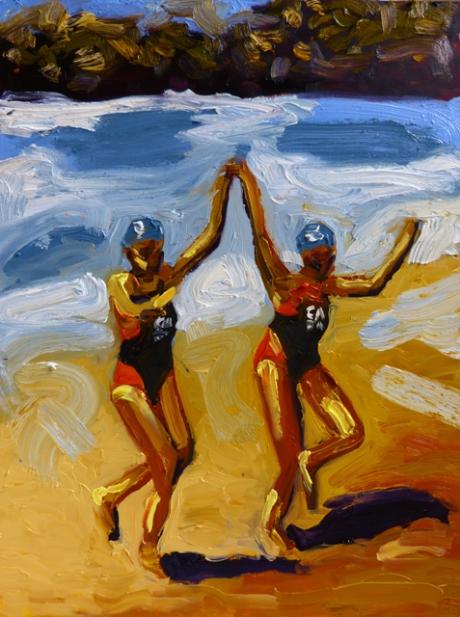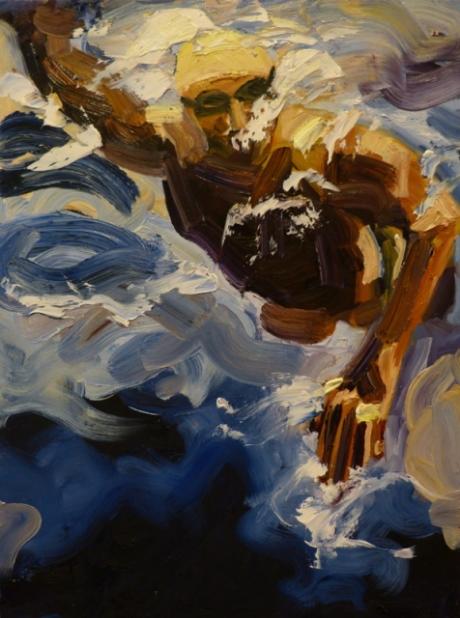 Cindy Goode Milman
Former PR Lady for Pittwater Community Arts, generous of spirit and kind to all, who greets you with a smile, Cindy Goode Milman is one of those quietly working Pittwater people who simply by being themselves make a big contribution to what is essential Pittwater; casual, laid back, with a deep appreciation of the bush, ocean and bays, generating a sense of delight when experiencing this place and its people or merely reflecting.
Cindy is an Ocean Swim and Ocean Pool painter. Her works communicate motion in water and even its breath. An abiding love of our ocean pools and ocean swims immerse those who view her works not only in this vital part of our culture but also the elements that come together to make them; sea, sand, the shapes of waves and pools against the skies. Cindy gives 10% of all her ocean swim painting sales to CAN TOO, the wonderful swimming organisation raising money for cancer www.cantoo.org.au.
Cindy Goode Milman paints from her 'Saltwater Studio' at Clareville in Sydney's northern beaches.
Please tell us about your artworks
The artwork celebrates our everyday interaction with the unique mostly heritage listed, ocean pools as well as the super popular (1.) ocean swims, both of which have fascinated me since emigrating here from Montreal in the 80's.
This obsession entails a continuous study of the seasonal enjoyment by people surrounding saltwater ocean pools, their unique architecture and the absolute dedication as well as attendance at the popular ocean swims.
'With 29 ocean and 45 tidal pools in Sydney and over 8,500 registered swimmers (2.) for the two key northern beaches whims of Cole Classic (Manly) and the Big Swim (Palm to Whale Beach), Ills an all-consuming fascination which I capture through sketchbooks and digital camera - roaming the beaches from Coogee to Palm Beach and back and attending ocean swims from start to finish.
Your technique and influences?
Using a limited palette of seven colours, with a focus on tonal value, inspired by the Misty Modern tonalists such as Max Meldrum and Clance Beckett, each artwork is 40x30cm oil vignettes on board wherein a quick response, almost sketch like and certainly seemingly unlaboured, image emerges to create a contemporary expressionist painting evocative of saltwater experiences, very reminiscent of 1960's Avalon painter Herbert Badham.
Experiences that convey people's enjoyment of the ocean pools - from a ritual exercise routine, surfers jumping off the edge to those reflective moments we all cherish that restore some balance to our lives. An essence of the place — I simply describe as soulful.
To the ocean swim experiences - from the frenetic, pushing head start of the race, the deep water isolation and chaotic surrounds of the swim to the pounding surf adrenalin fuelled rush to the finish.
John Konrads (Olympic swimming champion) said 'you capture the stroke of a swimmer perfectly as well as the thrashing entry and exhaustion filled finish'. (January 2012)
You participate in the Pittwater Artist's Trail and also open your studio on the first Sunday of each month.
I am really excited about opening my studio for people to take a look at what I call my SALTWATER fascination with Ocean Pools and Ocean Swims. There is a range of works from singles (300x 400cm) to panels of eight (1.2 x 800) and fifteen (15 x 12) as well as cards of the paintings and my miniatures of people in humorous beach scenes and dioramas of the ocean swim.
If you could be a creature of air, water or land for a day, other then human, what would you be and why?
Eagle, simply observing and easily gliding with life
What is your favourite place/s in Pittwater and why?
Paradise beach in winter on the boardwalk, Clareville at sunset, Bilgola's surf.
What is your motto for life or a favourite phrase you try to live by?
At this time in my life my motto is to be present in a 'fertile void'
I am feeling in transition having just turned 50 and experiencing menopause, fertile with creativity and void of not sure what is next – embracing my life in the moment
References:
(1.) Survey of Harbourside & Ocean Pools, The National Trust of Australia (NSW), 2006, p.2
(2.) Swell of Surf Swimmers, Sydney Morning Herald, January 7. 2011 p. 4
Cindy is collected both nationally and internationally and held in corporate collections.
Solo Painting Exhibition & Prizes
2011 Mosman Put Show Finalist, Mosmanx Gallery
2011 Northbridge Art Prize Finalist, Gallery 307 (selection by Wendy Sharpe)
2011 Warringah Art Show Finalist, Art Focus Gallery. Sydney
2010 Mosman Art Show Finalist, Mosman Gallery, Sydney
2009 Saltwater, Meyer Gallery, Darlinghurst, Sydney
More at: cindygoodemilman.com
Copyright Cindy Goode Milman, 2012. All Rights Reserved.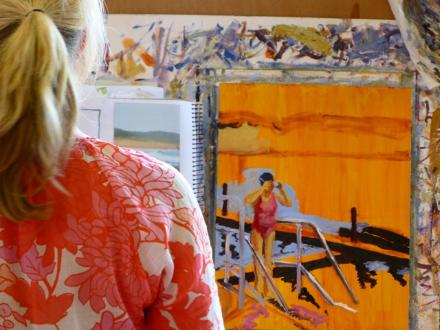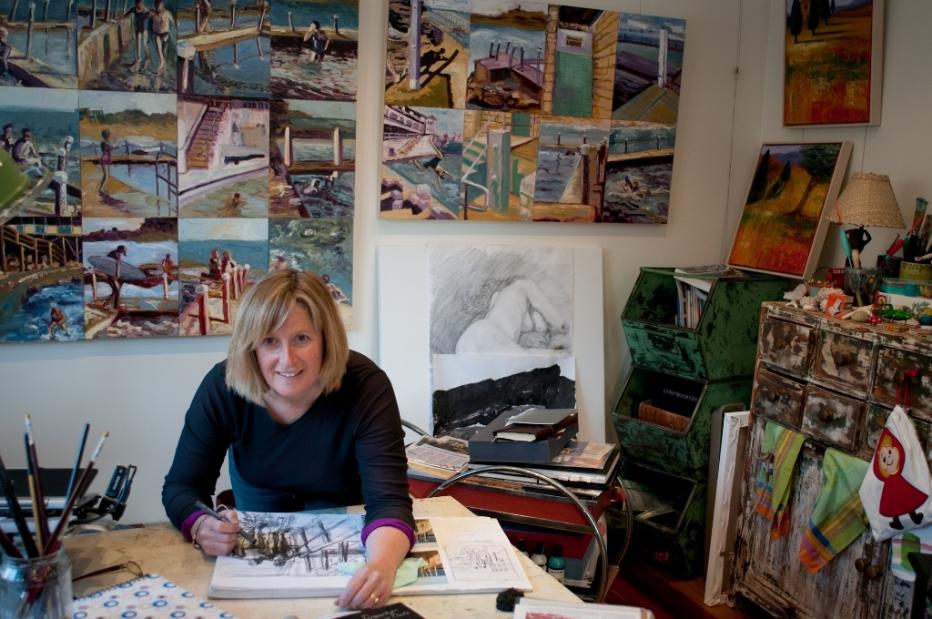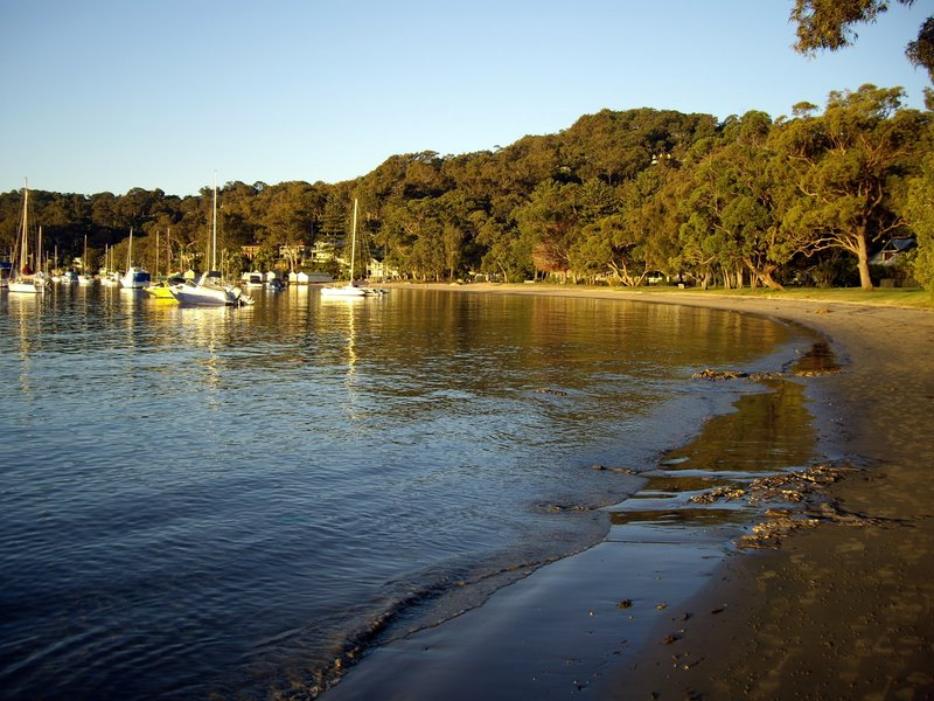 Above: Clareville Beach in late afternoon light. Photography by Geoff Clarke, 2009. All Rights Reserved.